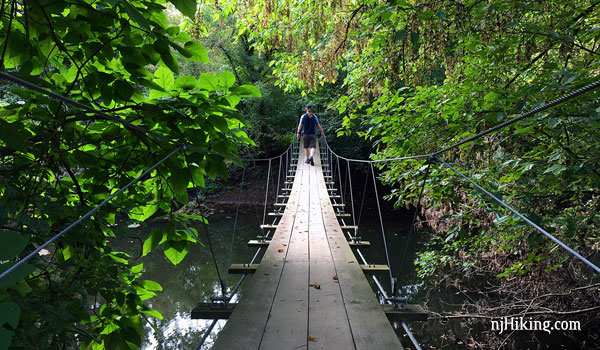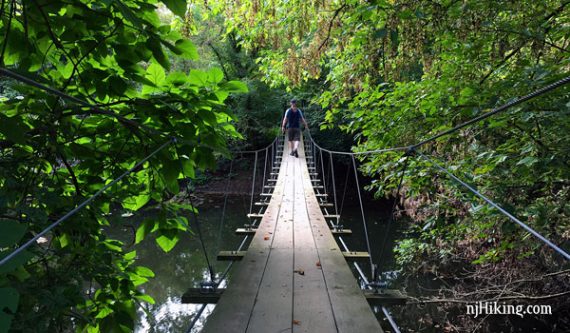 Wander easy trails, cross a swinging bridge, do some birding, and explore a Revolutionary War battlefield.
3.6 or 2.2 miles, mostly level, mix of wide paths and trail, very muddy when wet.
3.6 miles: Full route – Institute Woods, Swinging Bridge, Princeton Battlefield.
2.2 miles: Direct to swinging suspension bridge and loop back. Also described below.
Longer: Meander around more of the inner trails, more into Rogers Woods, or hook up with the D&R Canal Towpath from the hanging bridge.
Our two cents:
This area leans more toward a casual stroll than a hike but some trails can be very muddy and hiking boots might be a better choice than sneakers.
The cool swinging bridge is sturdy and easy (and fun) to cross.
Bonus: The adjacent Clarke House Museum is furnished in the period of the Revolution. For history and maps of the Battle of Princeton on January 3, 1777 check out pbs1777.org.
Update: 5/2021 – page refreshed, description changes, shorter version and map added, not re-hiked. 9/2019 – Re-hiked, new photos, minor description tweaks.
---
500 Mercer Rd, Princeton, NJ 08540. The parking lot is for Princeton Battlefield State Park.
Route 1 – South of New Brunswick area; R on Alexander Road exit; L on Mercer St.; L into park entrance. Small gravel lot with a trail kiosk.
Restrooms:
None. There is a Sunoco on Route 1 South not too far from the park.
Books:
Similar routes in Hiking New Jersey and 60 Hikes Within 60 Miles: Philadelphia.
---
Map:
Follow along on your smartphone with our Institute Woods Interactive Map. Or, print the trail maps linked above. We've never seen a paper map available.
Note: This hike goes through multiple parks: Princeton Battlefield State Park, Institute Woods, and Charles H. Rogers Wildlife Refuge so there isn't one official park map with the entire route.
---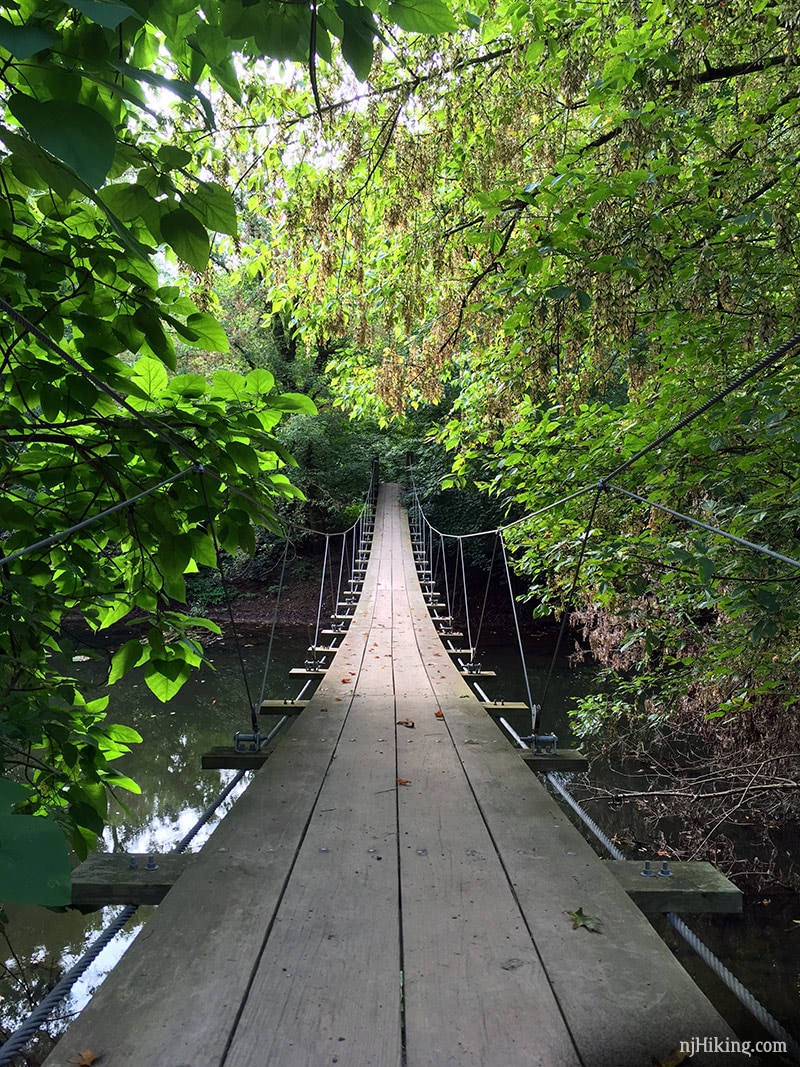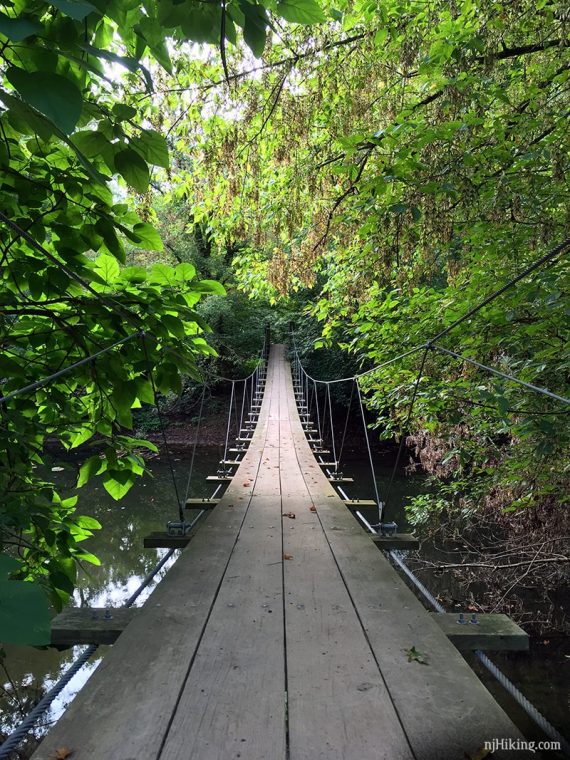 Where is the Swinging Bridge Trail?
The swinging bridge is in Institute Woods but the parking lot is at Princeton Battlefield State Park. This suspension bridge crosses Stony Brook and is tucked away at the back of Institute Woods along the River's Edge Trail.
How do I get to the Swinging Bridge?
Maybe you've seen a photo of this cool swinging bridge online and are wondering how to get there – or perhaps you went but never discovered the bridge. The network of unmarked and not-well-marked trails can be hard to follow.
Our detailed 3.6 mile hike guide below has directions and the swinging bridge is marked with a red star on our Institute Woods Interactive Map.
We've had requests for a shorter version that goes directly to the swinging bridge so we've created a 2.2 mile round-trip loop option.
Both hike guides and trail maps are below.
---
Hike Directions for 3.6 mile version:
Overview: Gravel – Pipeline – River's Edge – Marsh – Olden – Pipeline – Founder's Walk – Trolley Track – Fool's/Bike – Unmarked field walk
The network of criss-crossing trails are a mix of unmarked trails, stone markers at intersections, metal markers in Rogers Refuge, and occasional letters/symbols painted on trees that are on the Institute Woods trail map – "F" for Founders, a WHITE LINE for Pipeline etc.
The trail map matching these new trail markings was not available when we last hiked it. And while trails are named on the map there may not be any indication of the name on the actual trail.
This makes it hard to give a detailed turn-by-turn description and we've not noted many of the unmarked intersections because it gets too confusing.
The trails are mostly in a grid, so if you miss one turn there are usually several others to get back. Be sure to have the trail map or use our Institute Woods Interactive Map.
0.0 – Start at the parking lot at Princeton Battlefield.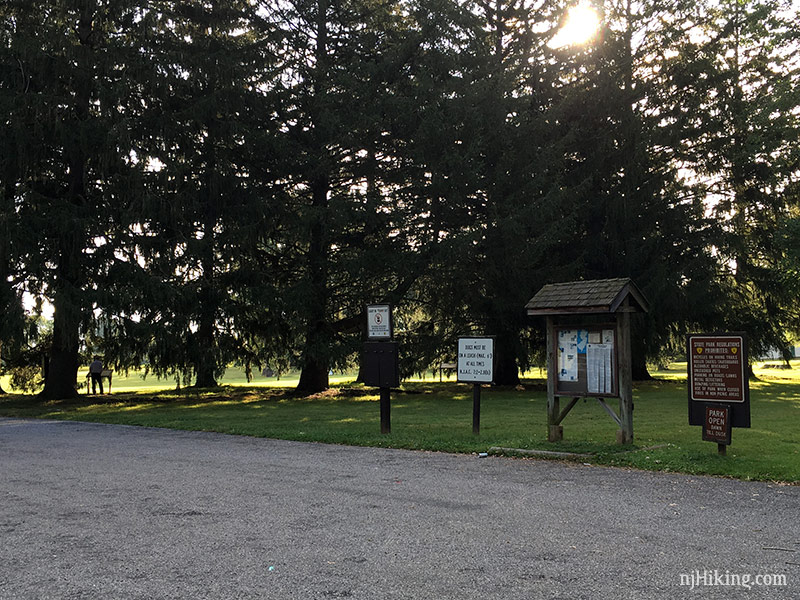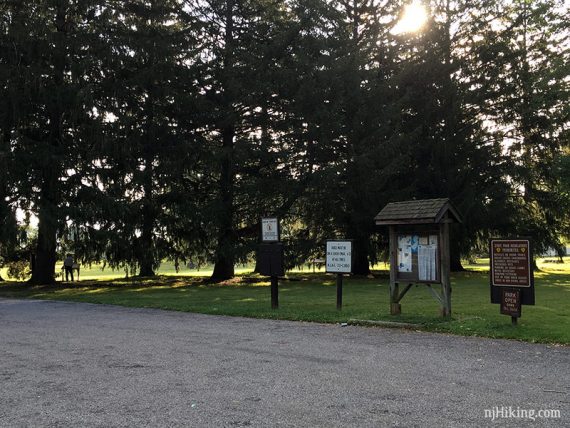 Follow the gravel trail from the lot, passing the Clarke House buildings off on the left.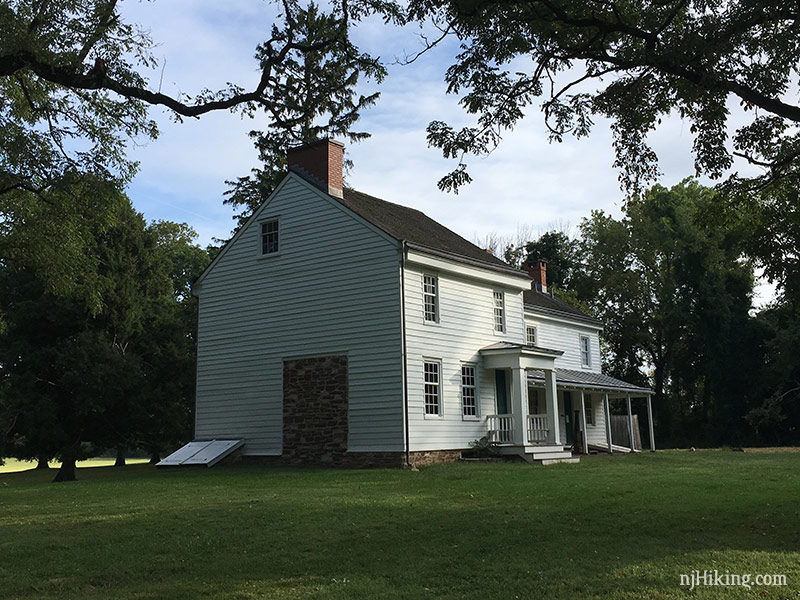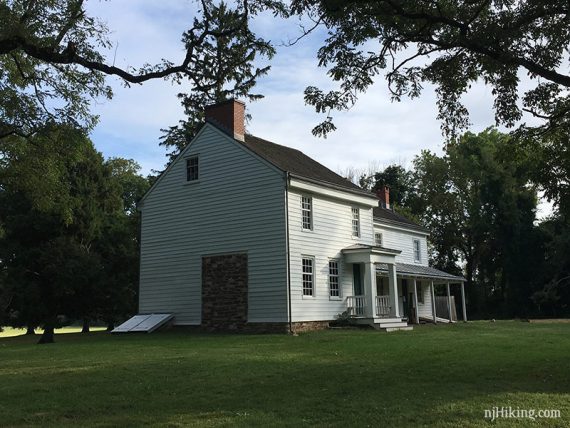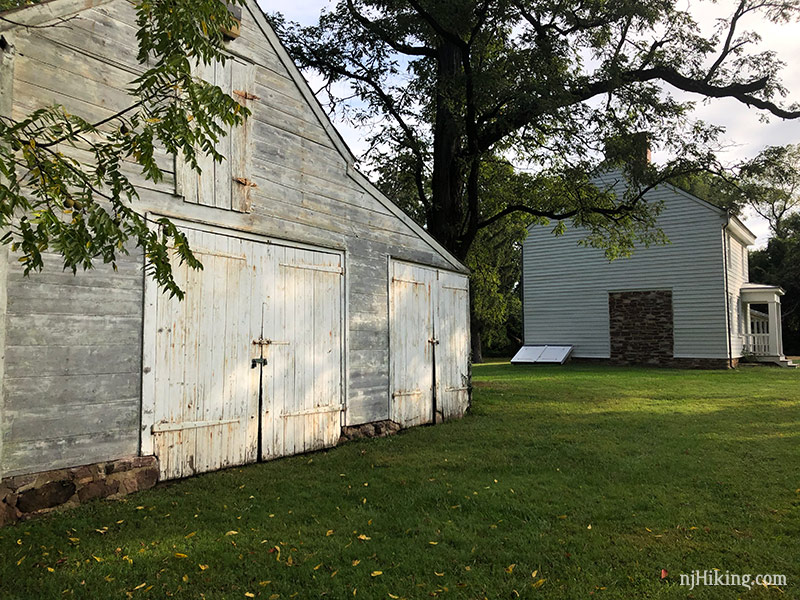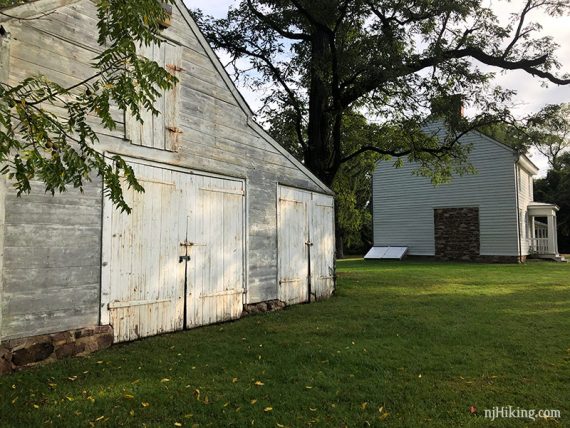 Turn RIGHT at a stone marker. This brief section was grassy and overgrown the last time we hiked (9/2019).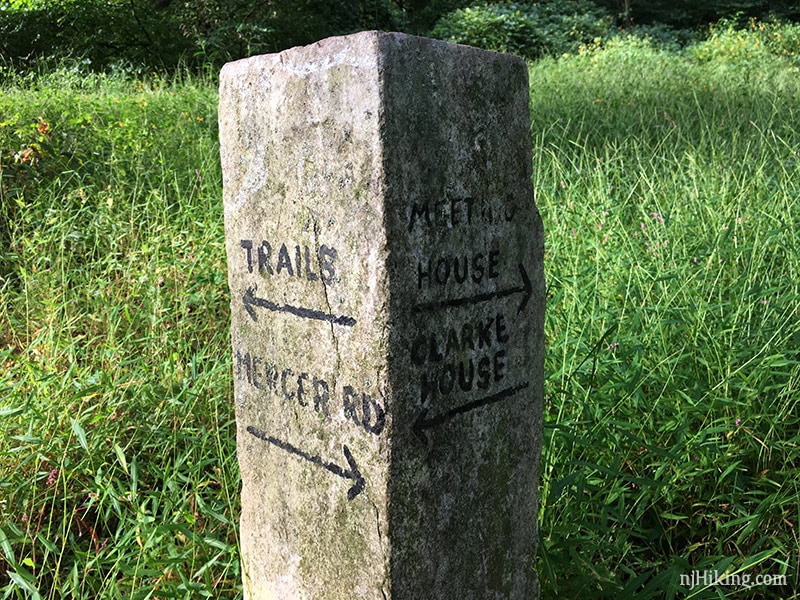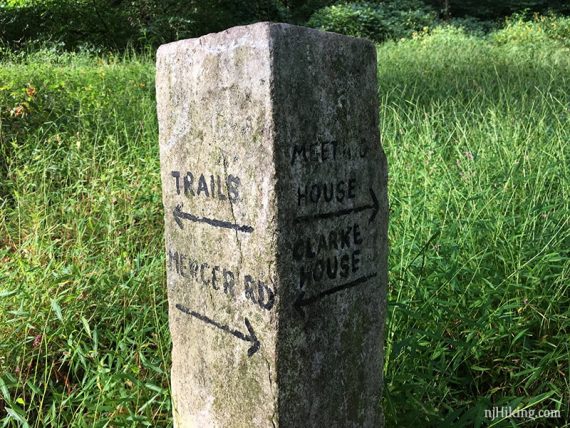 Turn left on the gravel path.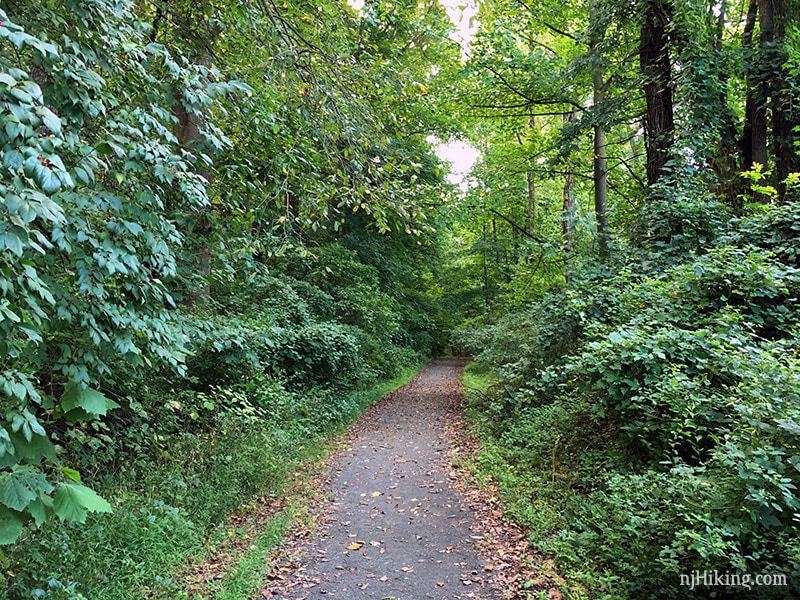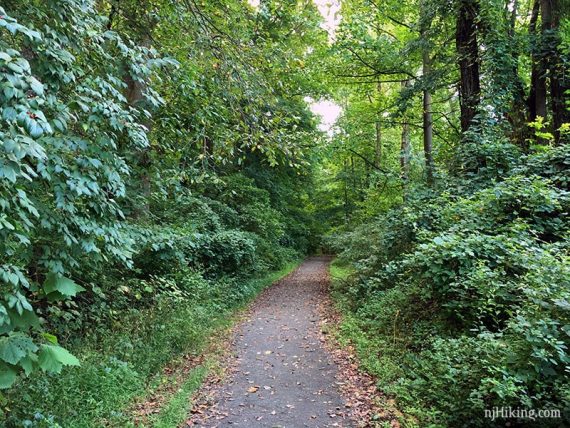 Soon, the Meeting House appears on the right, take a short path to it and a cemetery.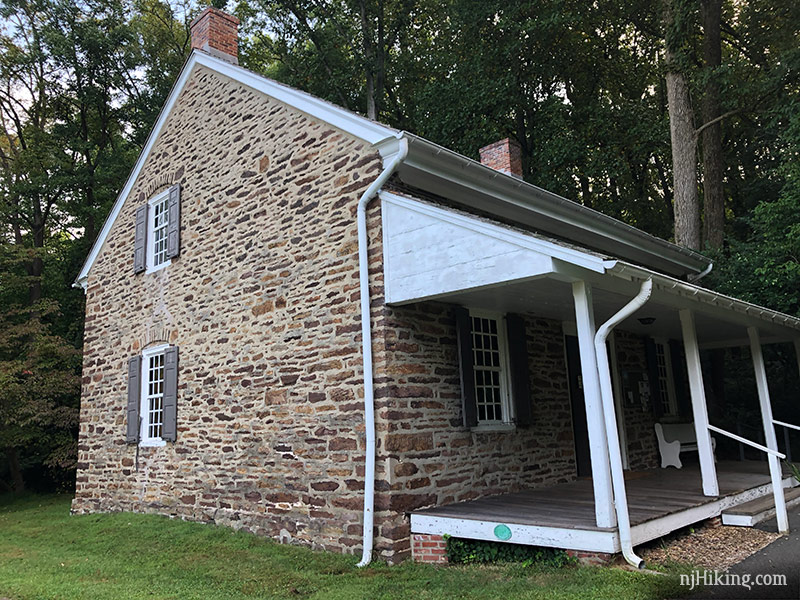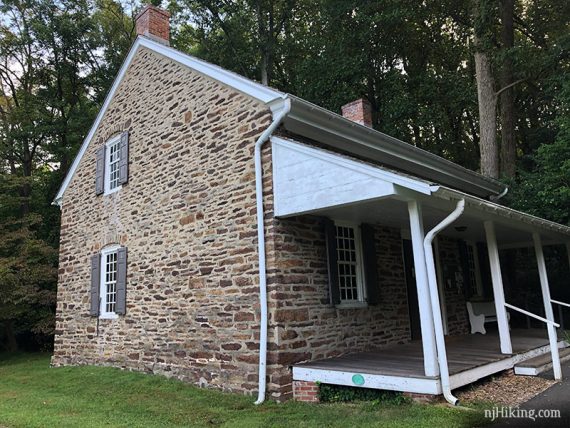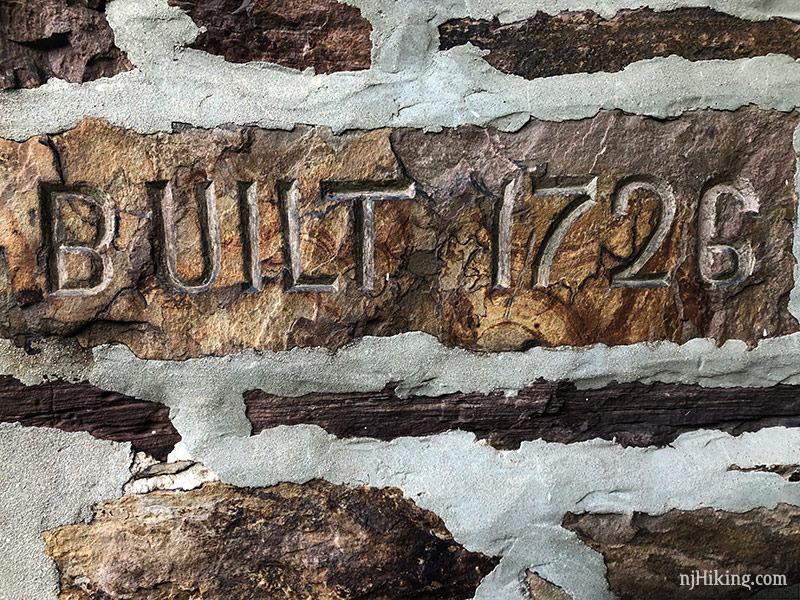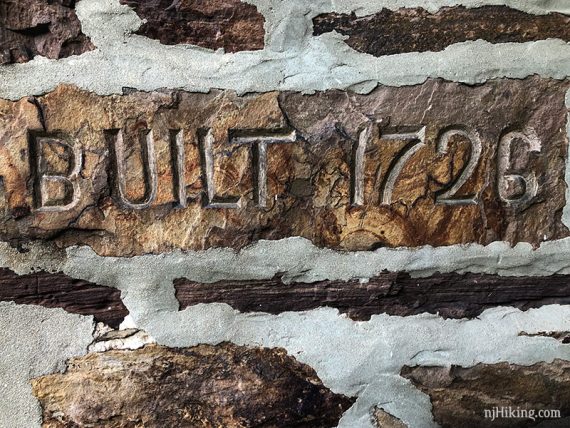 There is a cemetery adjacent to the Friends Meeting House.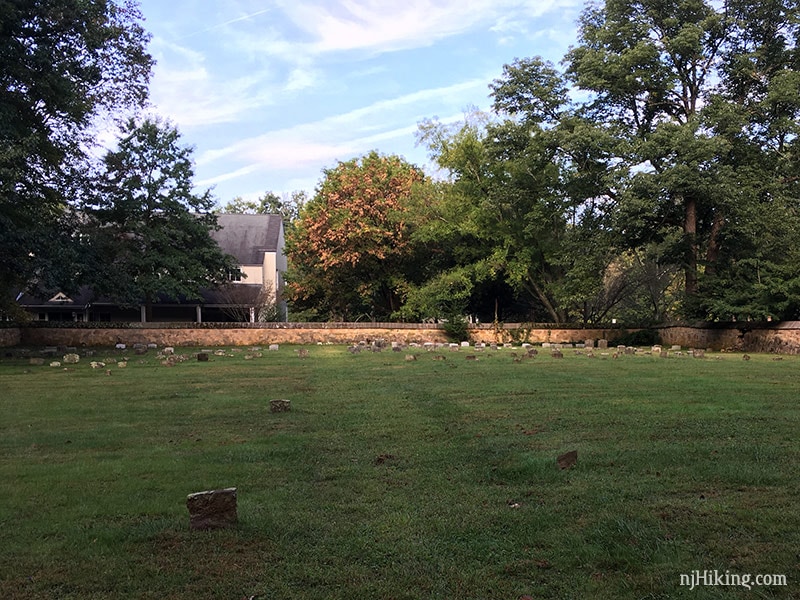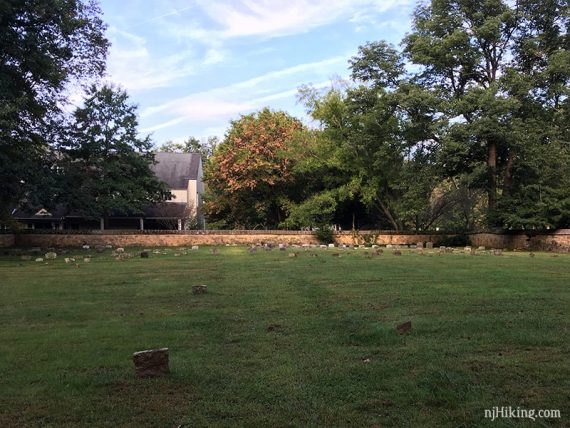 Return to the gravel trail.
0.5 – Follow the wide trail as it curves to the LEFT (should be Pipeline on the map at this point).
Many of the paths are flat and pretty easy.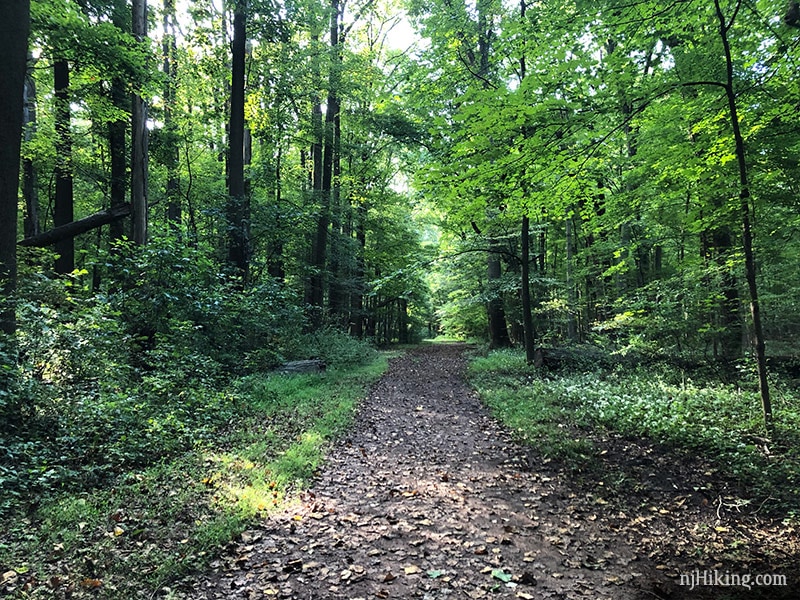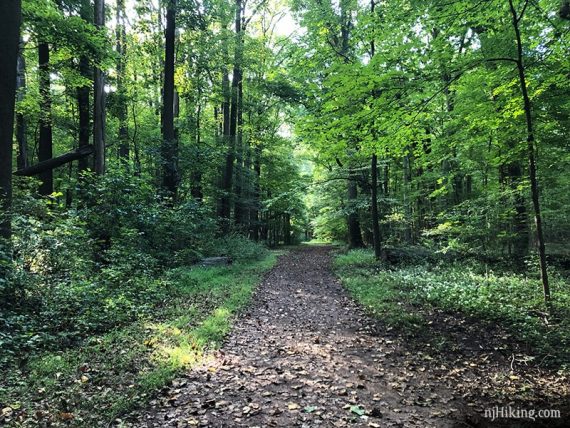 0.7 – Turn RIGHT on Far Trail.
1.0 – Near Stony Brook, turn LEFT to follow River's Edge Trail along the water.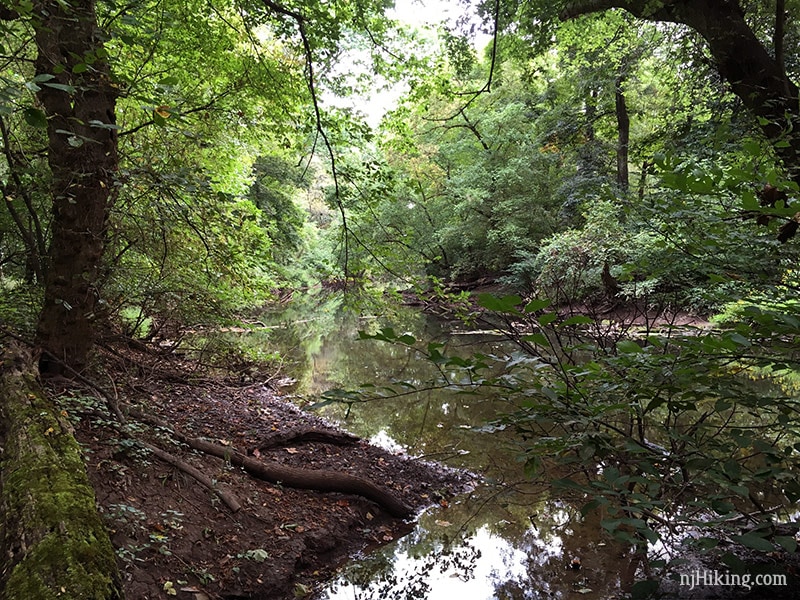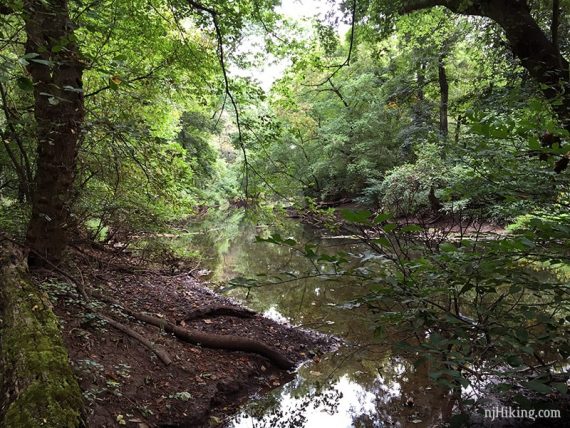 1.4 – Arrive at the Swinging Bridge.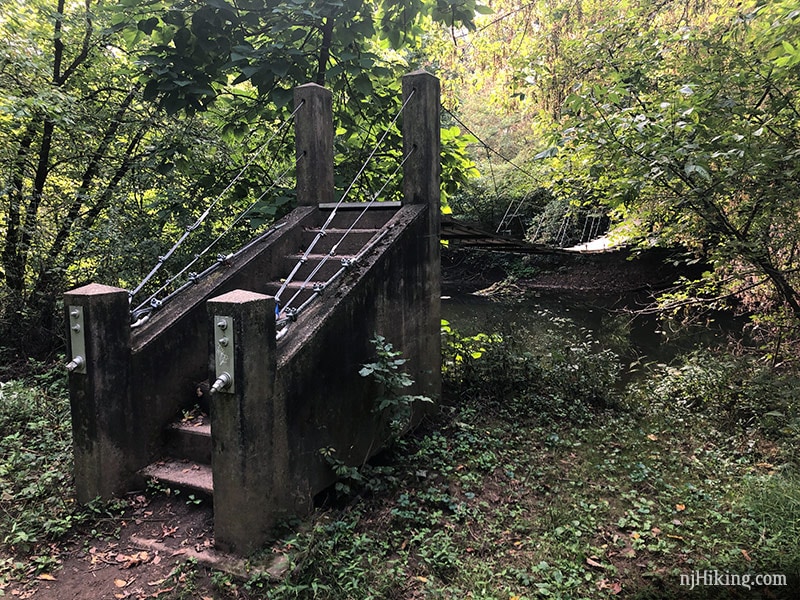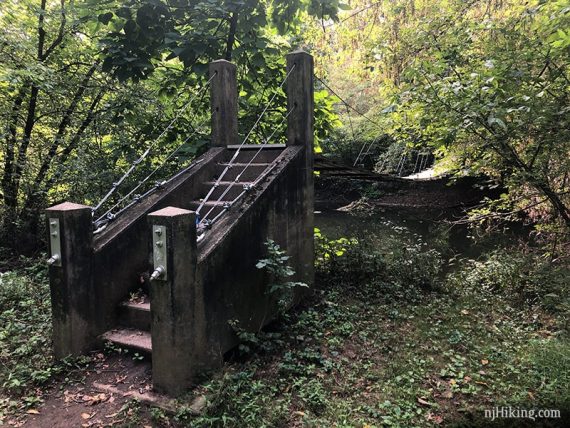 We just crossed for fun and then came back.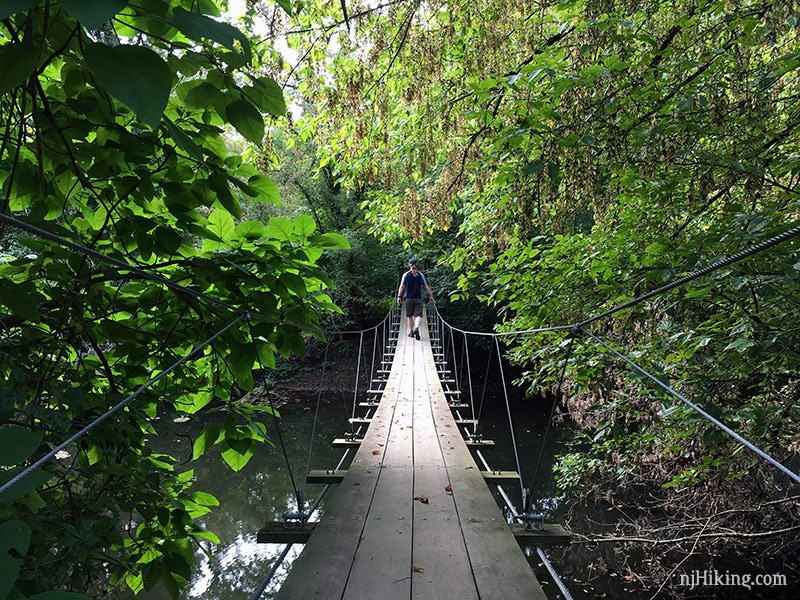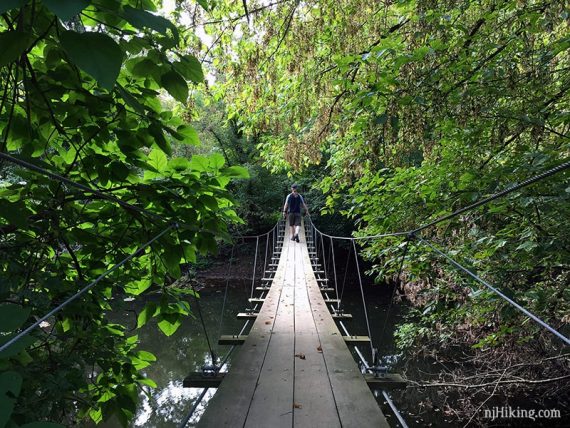 Looking down…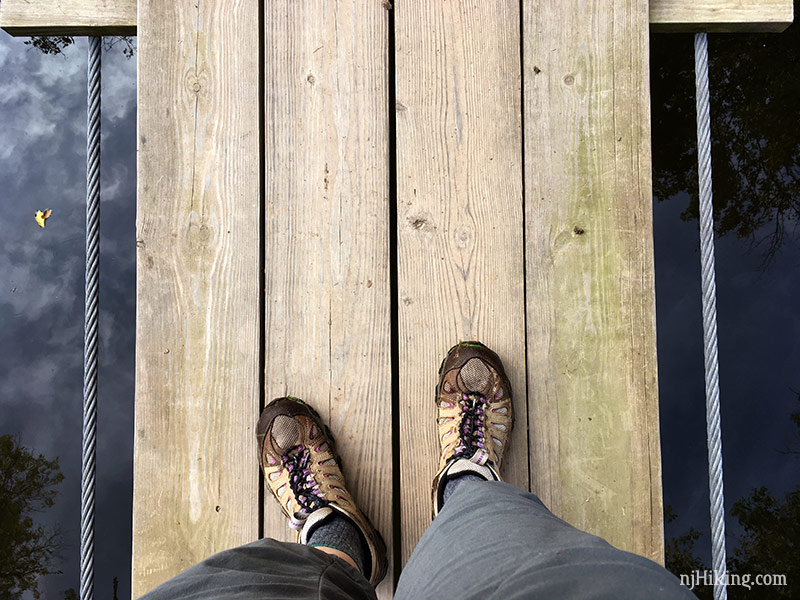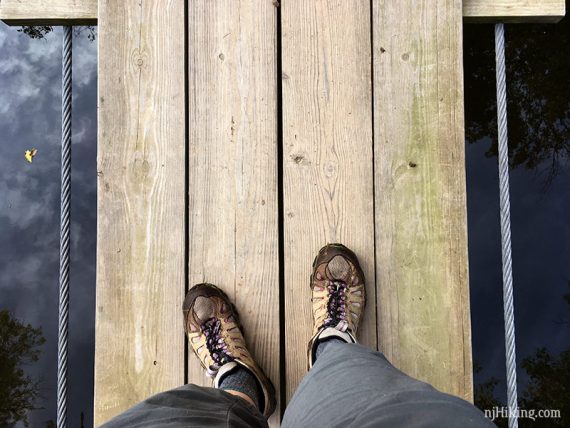 View of Stony Brook from the swinging bridge.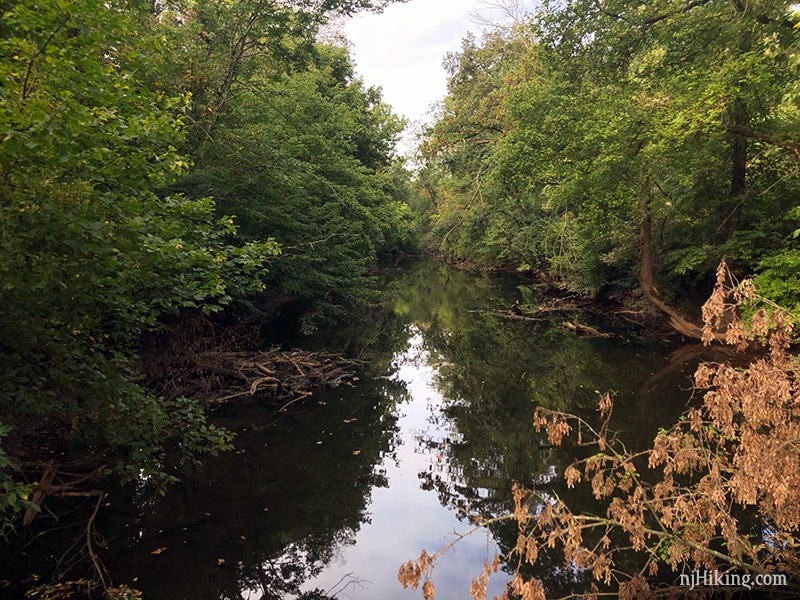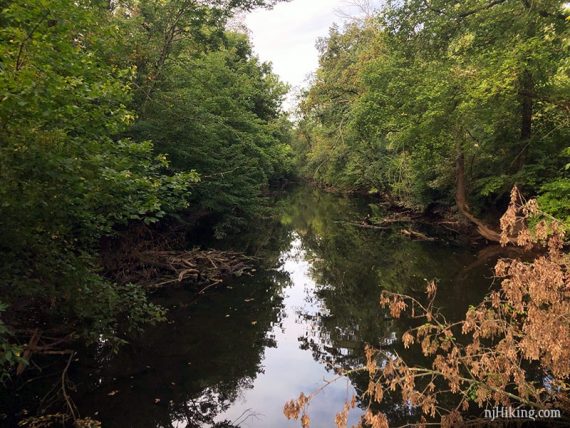 Crossing back over the swinging bridge at Institute Woods.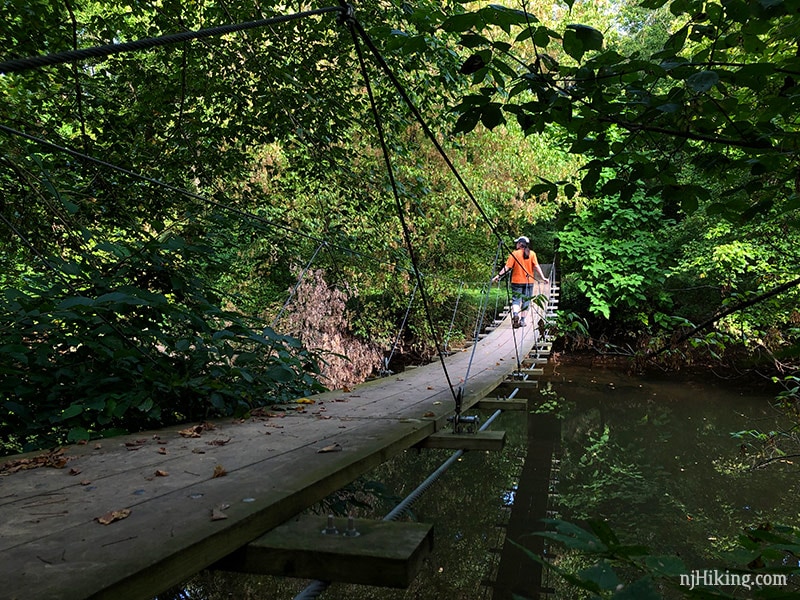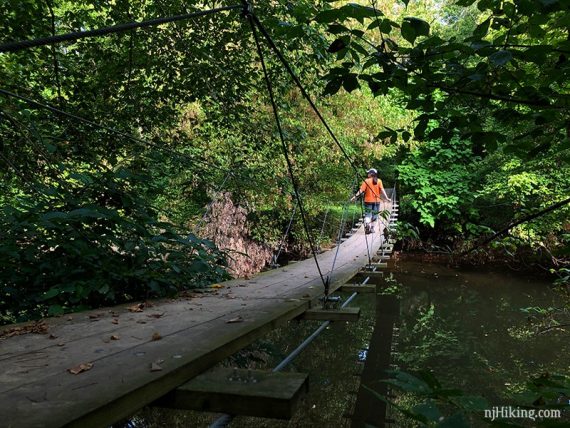 // Longer option: After crossing the bridge there is a spur trail that leads to the D&R Canal Towpath which continues in either direction for many many miles. //
With the bridge at your back, walk straight for just a bit (it's marked BLUE now) and turn RIGHT on the Marsh Trail.
[Near the swinging bridge is another wooden footbridge that also goes into the refuge – not that direction.]
The Marsh Trail skirts the edge of Rogers Refuge.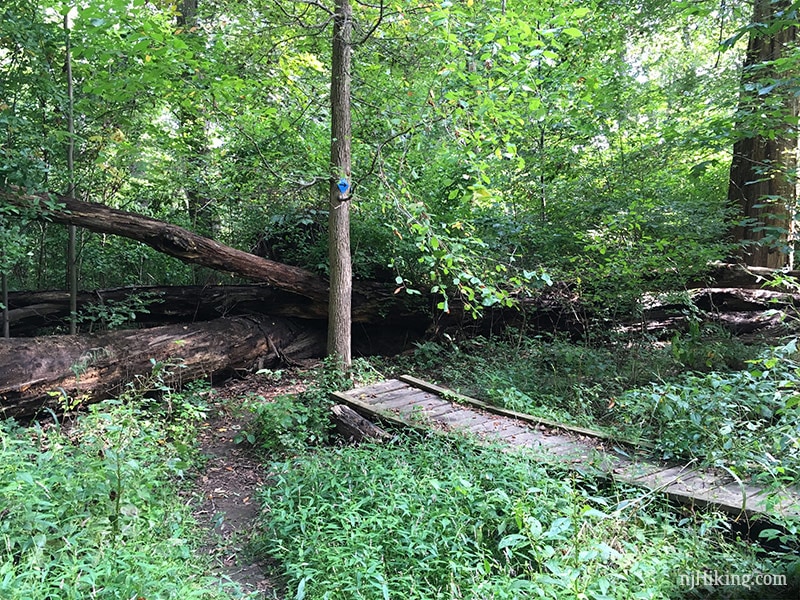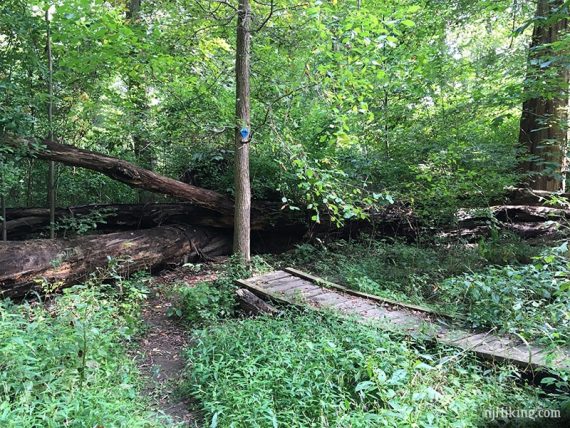 1.7 – Pass a raised viewing platform that looks over the marsh and is used to spot birds.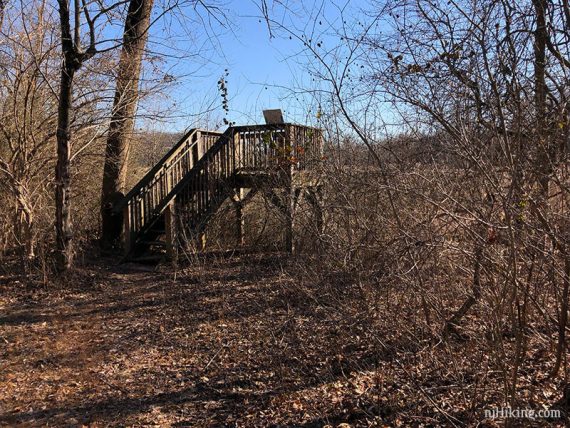 The view from the platform: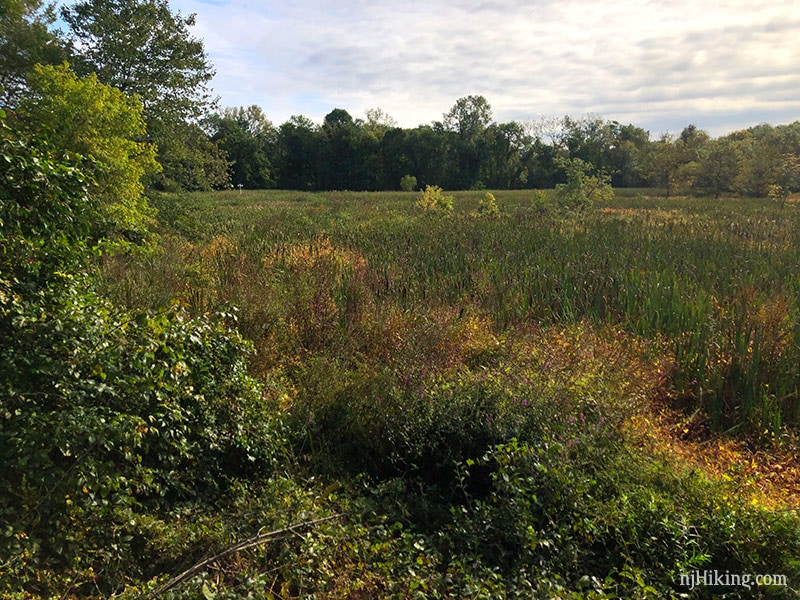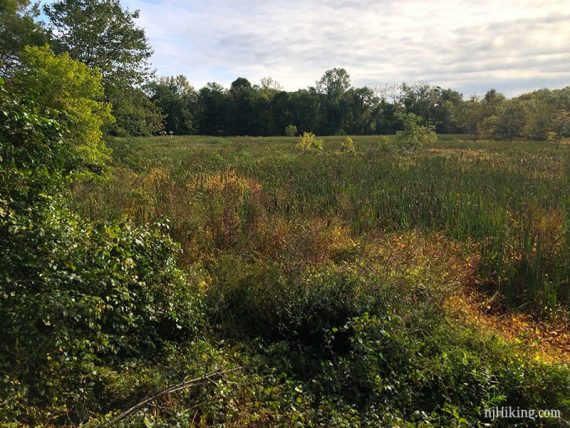 1.8 – Don't follow blue as it turns right – continue ahead on the Marsh Trail which is marked with a 3-pronged RED symbol painted on a tree. Blue leads into Rogers Refuge.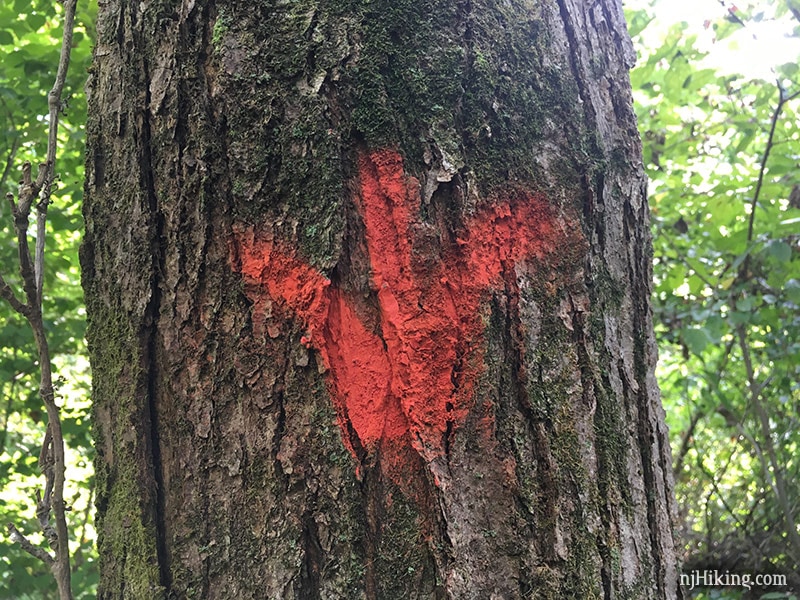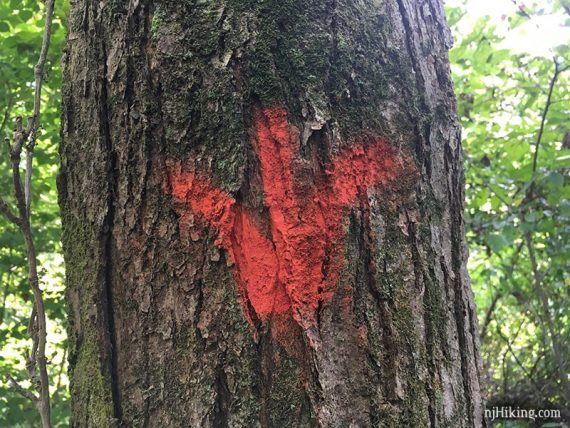 Cross a footbridge. This bridge is shown on the map and is just before reaching an intersection with Olden.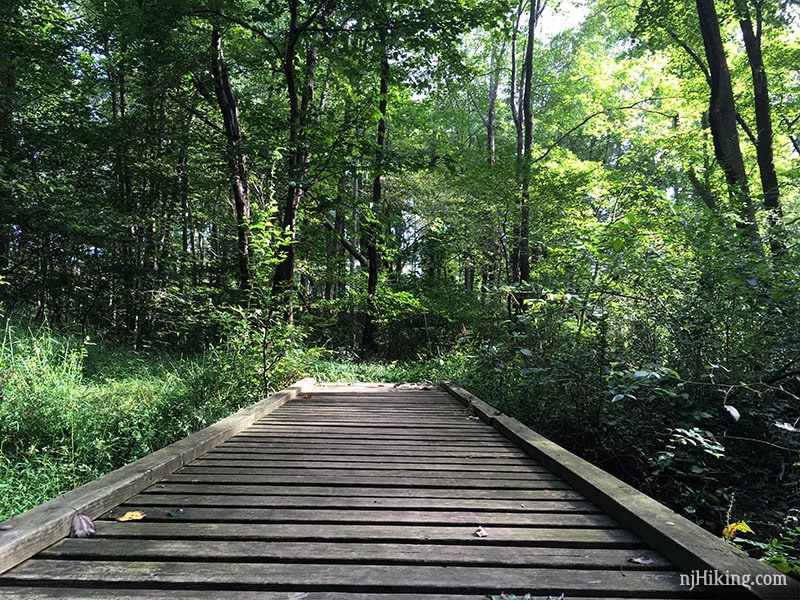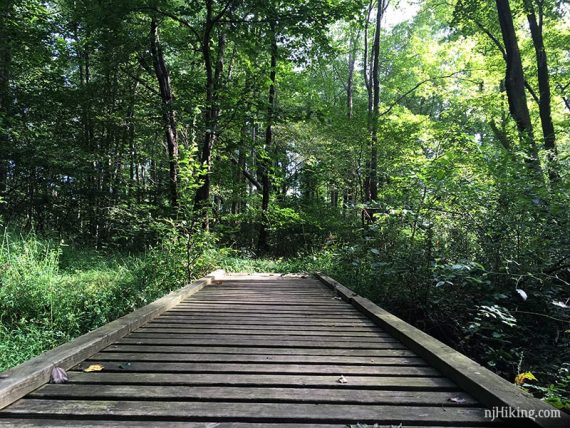 1.9 – LEFT on Olden Trail. [Marsh continues ahead].
2.0 – LEFT on Pipeline Trail. [It also goes left.]
2.3 – Turn RIGHT on Founder's Walk. There was an "F" painted on a tree to the left but don't recall seeing any to the right. [Founder's Walk also goes left. Pipeline (WHITE LINE) continues ahead].
2.5 – A rock marker (Founder's Rock) at the intersection of the Trolley Track Trail, near a grassy area at the edge of the Institute for Advanced Study grounds. Turn LEFT onto Trolley Track Trail.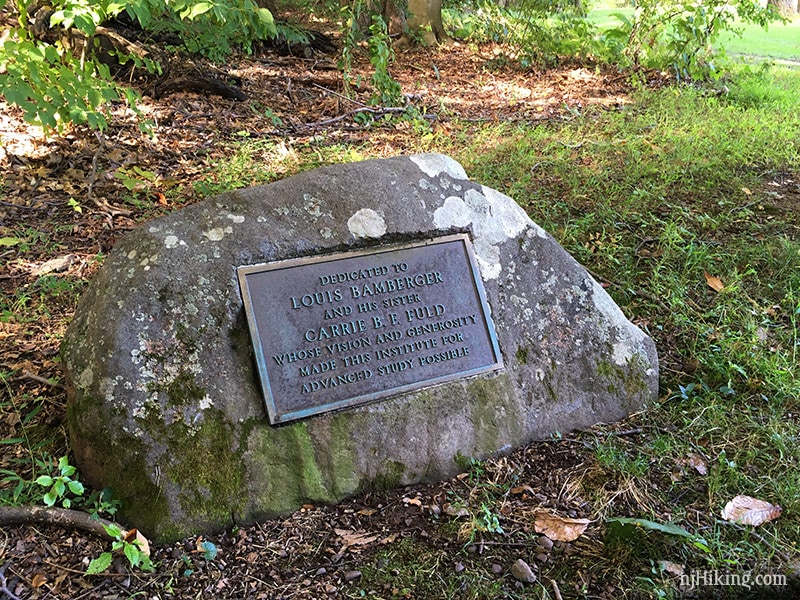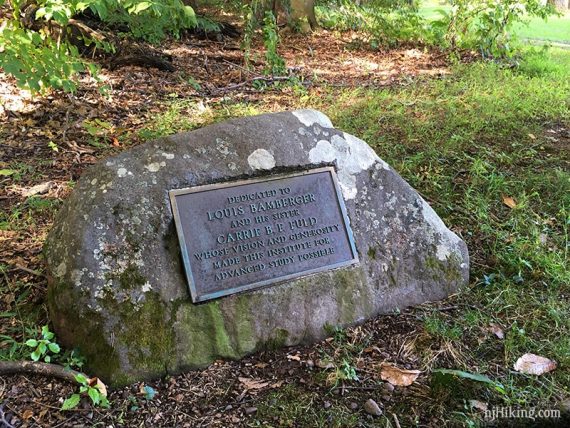 The Trolley Track Trail (try to say that fast three times).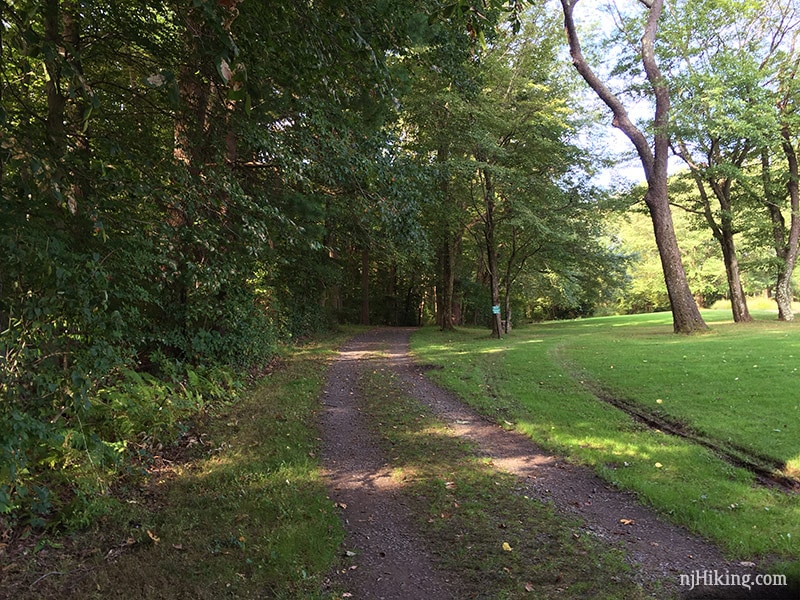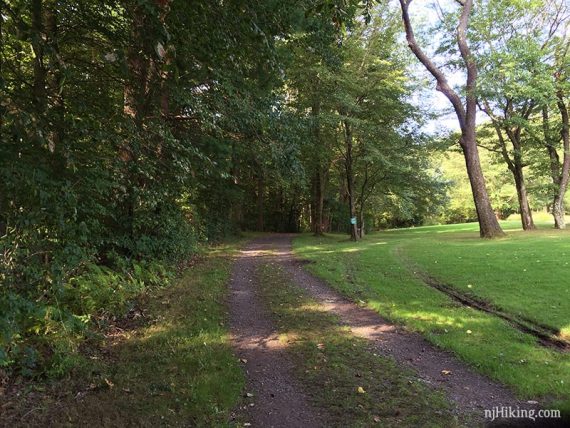 Trolley Track runs along a grassy area with a view of the Institute for Advanced Study across a grassy area.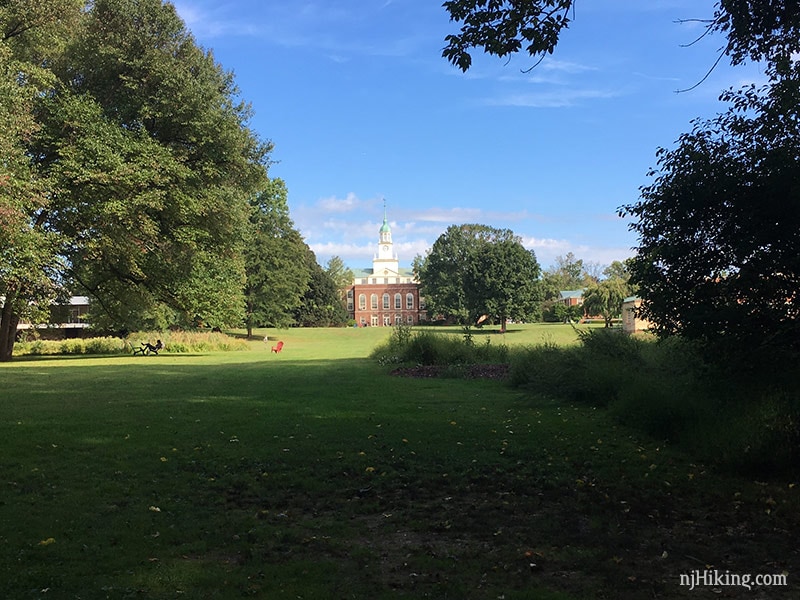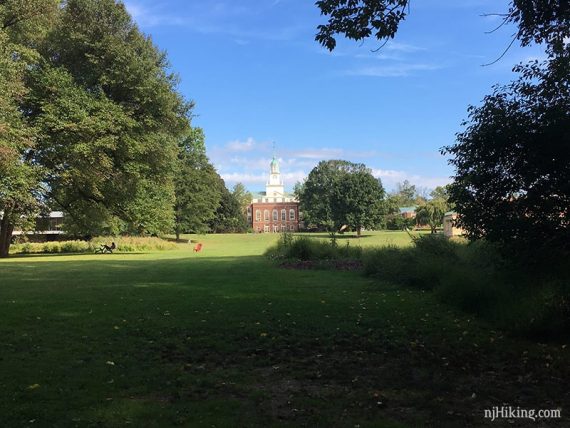 Pond on the grounds of Institute Woods.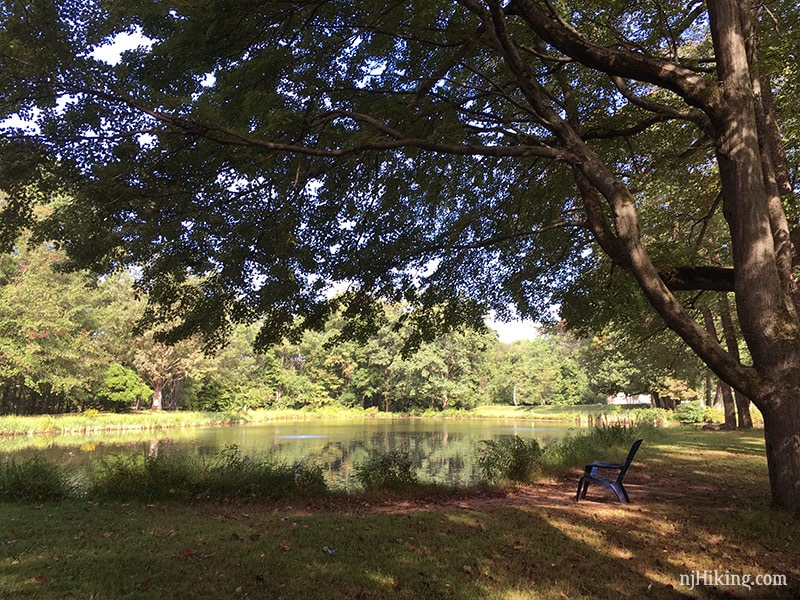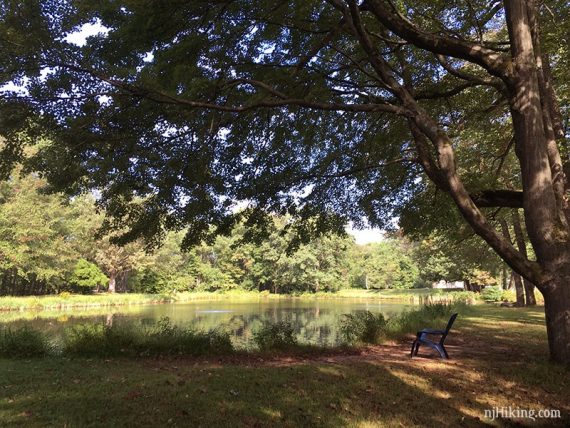 2.7 – Turn RIGHT on a gravel/mowed bike path (at the intersection of Fool's Trail on the map) that follows the edge of a field in Princeton Battlefield State Park.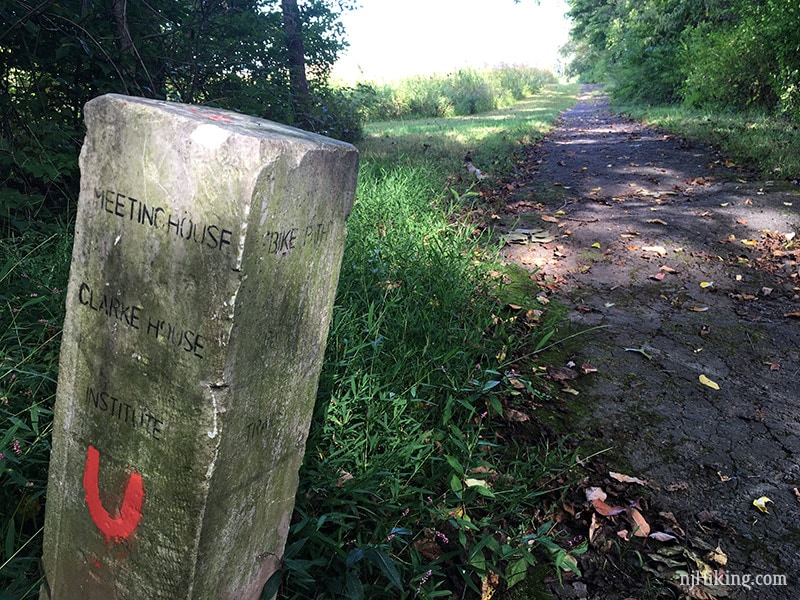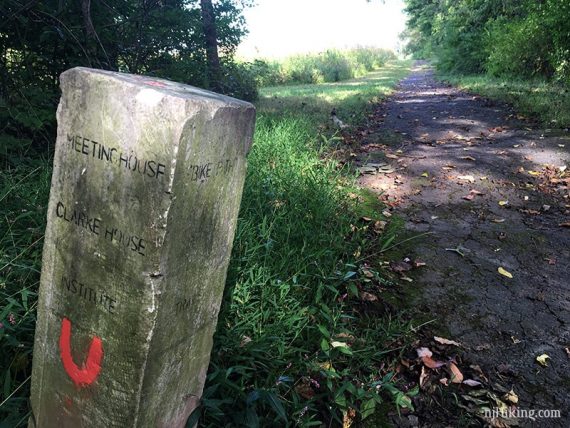 // Shorter option: Continue following Trolley Track ahead instead to return to the Clarke House and the parking lot. //
Continue following the gravel/mowed path next to a field.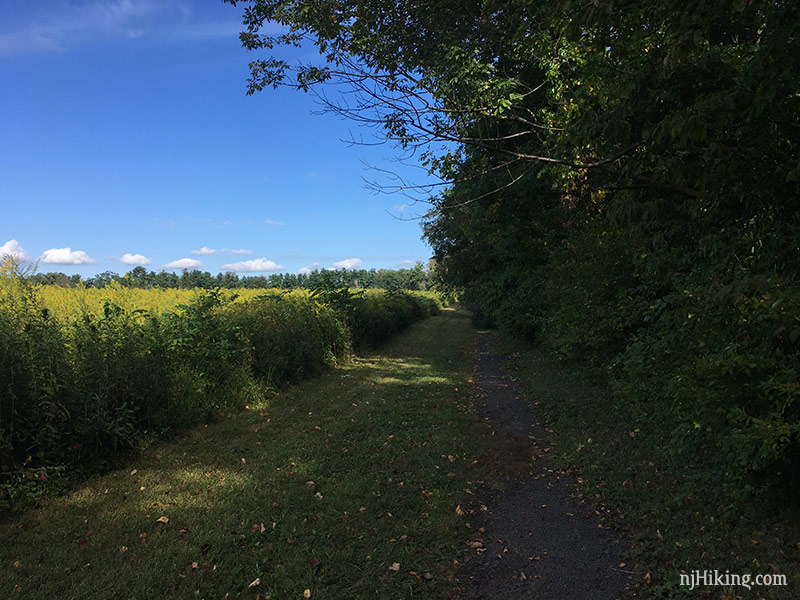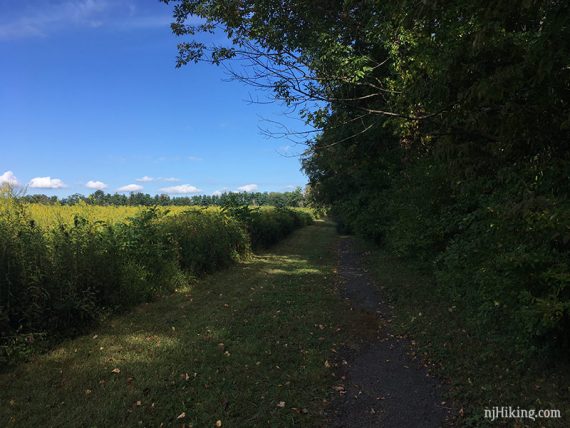 The field contained tall wildflowers when we last hiked it.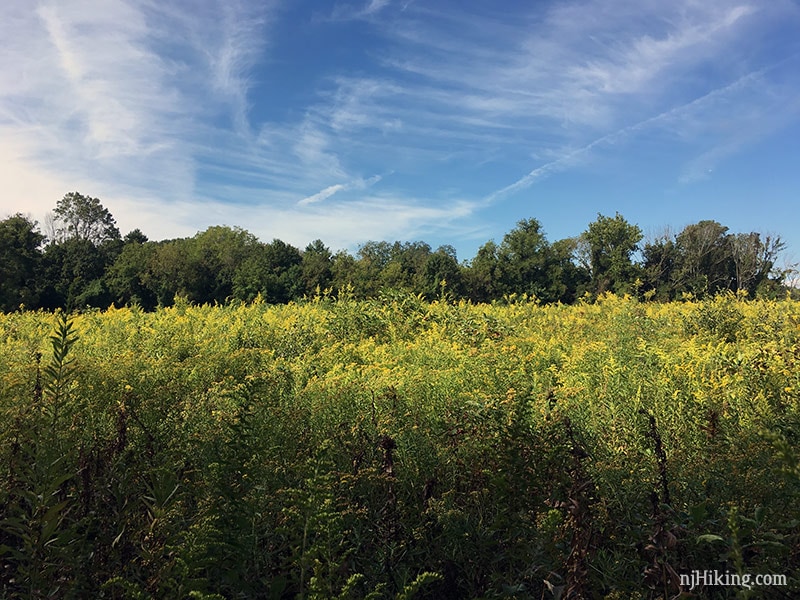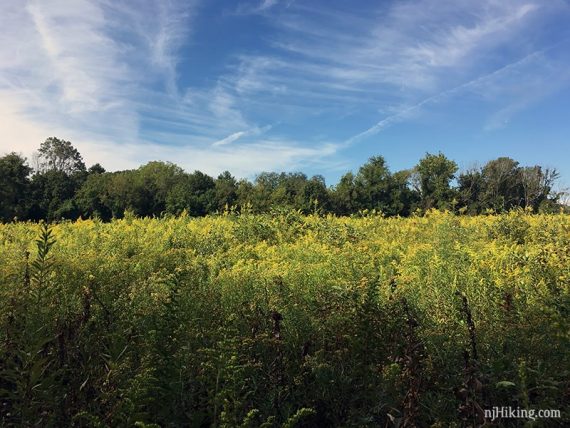 3.1 – Cross Mercer Road and walk across the grass to the Ionic Colonnade.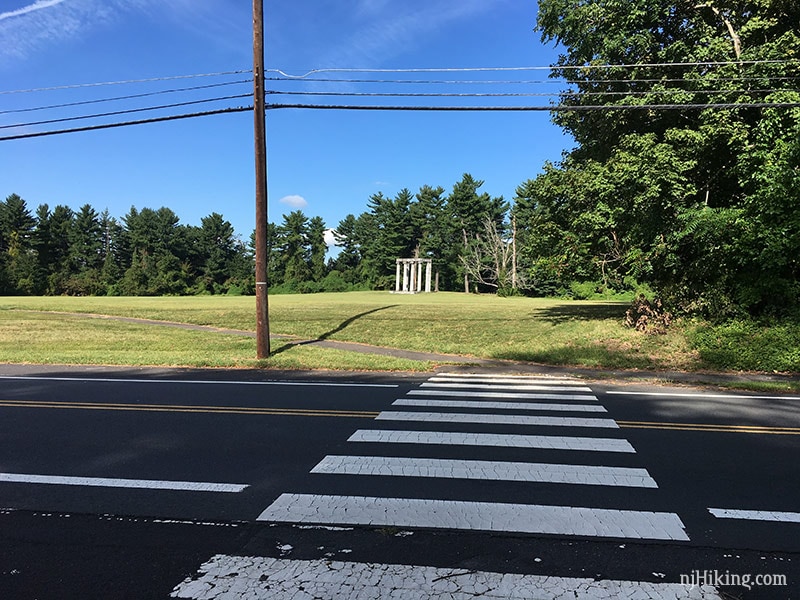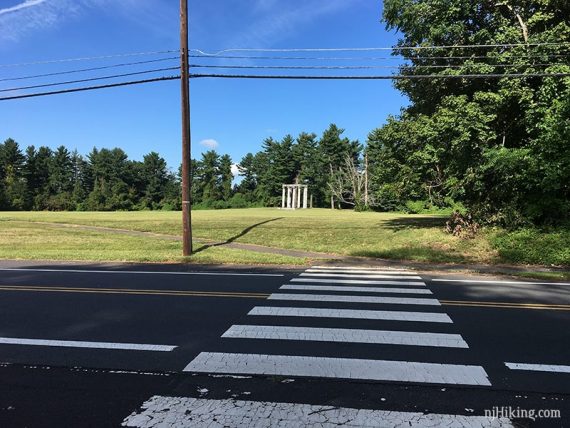 The Ionic Colonnade and stone grave marker is a memorial for the Battle of Princeton on Jan. 3rd 1777.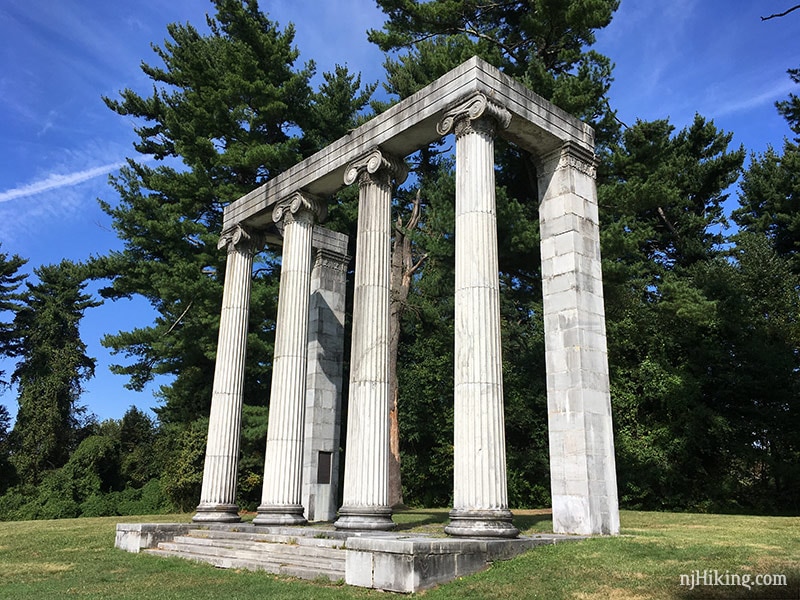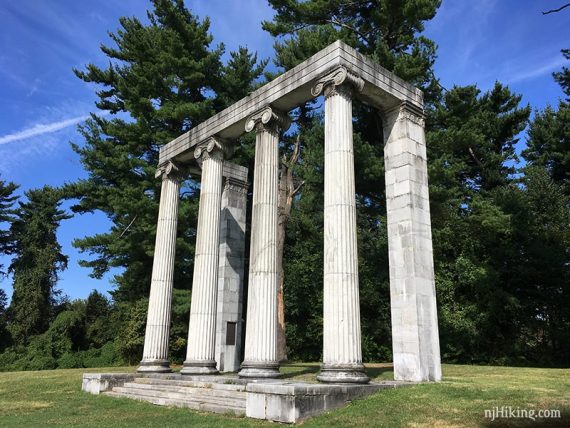 The grave marker is behind the colonnade.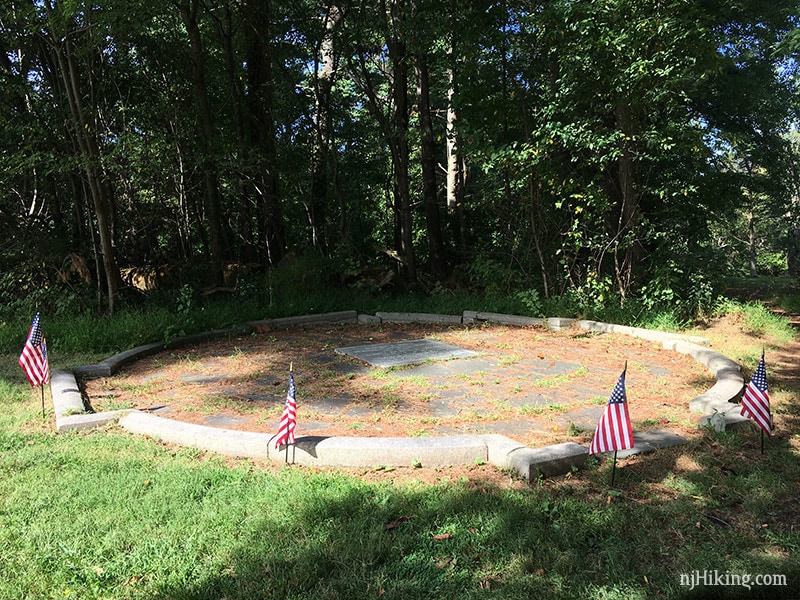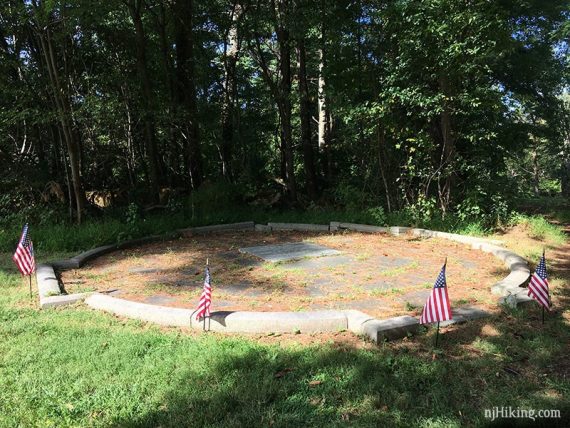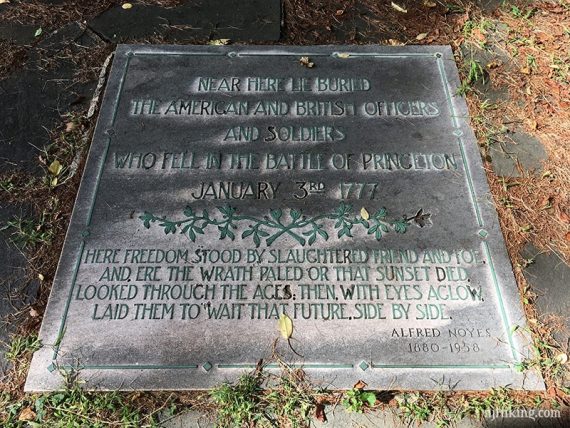 3.4 – Cross back over Mercer Road over to the site of the Mercer Oak.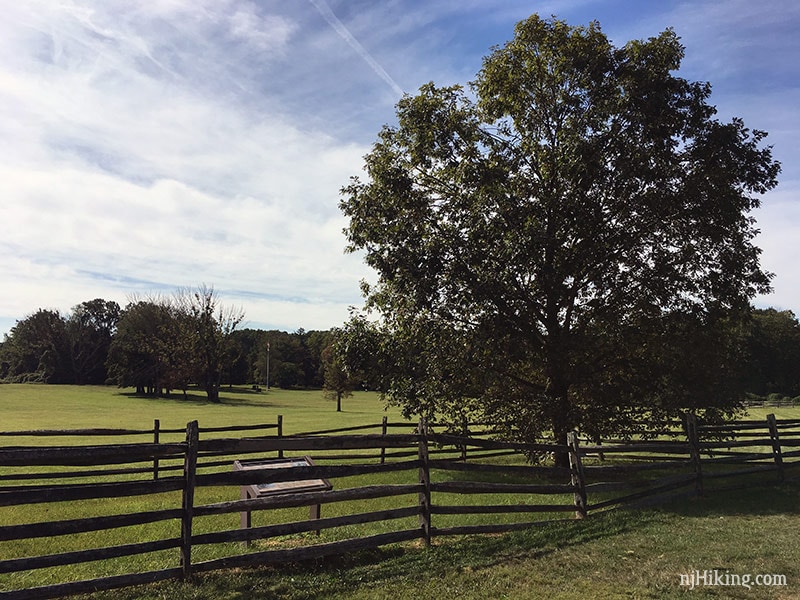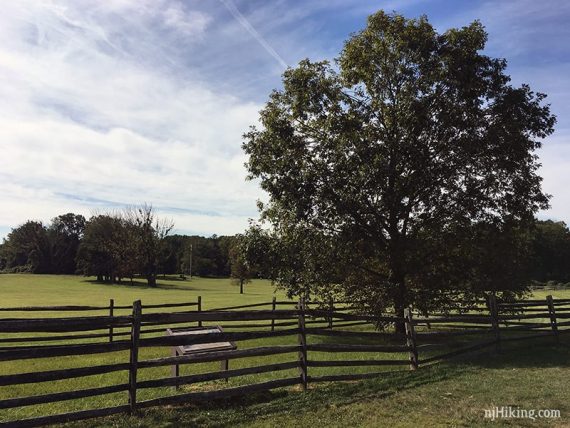 Walk across the field towards the entrance road to get back to the parking lot.
---
Hike Directions to the Swinging Bridge (2.2 miles):
From the parking lot, walk down the road and pass the Clarke House. Continue ahead on a mowed trail. Follow the Far trail to Rivers Edge trail.
Turn left and follow Rivers Edge to the suspension bridge.
To return from the bridge, follow Founder's Walk until it ends at Trolley Track.
Turn left and take Trolley Track back to the mowed trails near Clarke House and return to the parking lot.
Use our Swinging Bridge Interactive Map to follow along on your phone, or print a larger version of our Swinging Bridge Trail Map.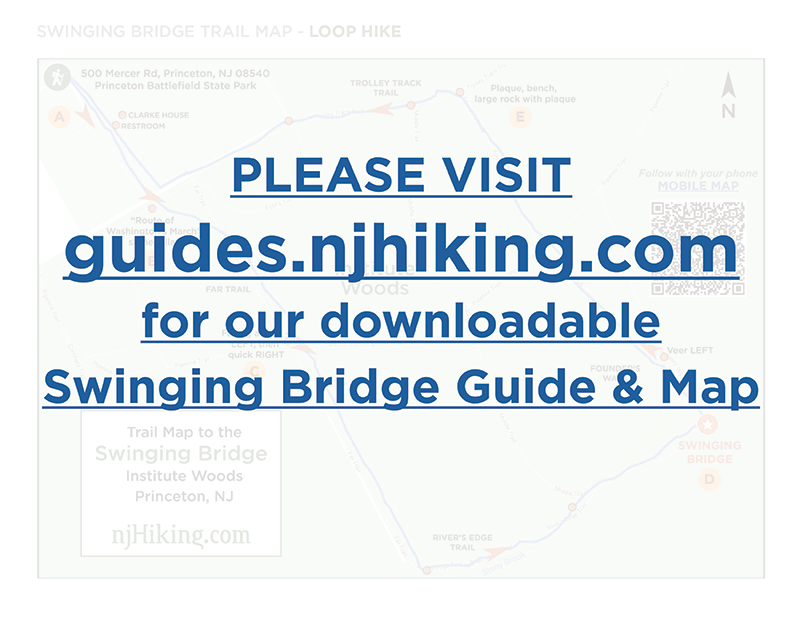 —
Hiked: 9/15/19. Trail Blog: "Hiking to the Swinging Bridge in Princeton, New Jersey"
Hiked: 2/3/18. Trail Blog: "Cold February Day at Institute Woods and Princeton Battlefield"