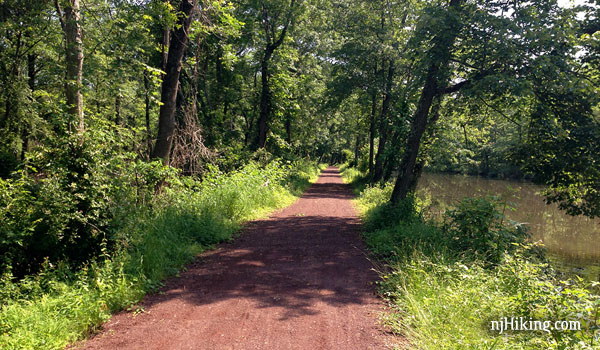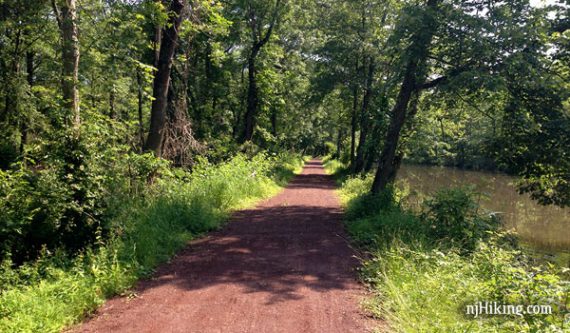 Multi-use level paths along a canal that are great for biking and easy hiking.
These "towpaths" were once used for mules to tow barges along the canal but are now used for hiking, biking, and kayaking.
There are sections in New Jersey (D&R) and across the Delaware river in Pennsylvania (D&L).
The D&L can be used to create loops with the D&R on the N.J. side. A popular crossing point is Lambertville, N.J. to New Hope, P.A.
---
D&R Trail / New Jersey:
Part of Delaware and Raritan Canal State Park and contains two sections:
Main Canal: New Brunswick to Trenton
Feeder Canal: Trenton to Frenchtown
Miles: 70
---
D&L Trail / Pennsylvania:
The portion of the D&L that is across the Delaware River from the D&R Trail is within Delaware Canal State Park in Pennsylvania.
The Delaware & Lehigh National Heritage Corridor (D&L) continues further than the Delaware Canal State Park:
Delaware Canal State Park: Easton to Bristol, Pennsylvania.
Delaware & Lehigh National Heritage Corridor: Wilkes Barre area to Bristol, Pennsylvania.
Miles: 165
---
Our two cents:
Super enjoyable easy biking/hiking on a level dirt/gravel towpath along a canal.
The towpath varies from lots of shade to sunny stretches. There are street crossings, more frequent in some areas than others.
Congestion varies by area as well, and you may find yourself passing or dodging more people than you like. When biking, ring your bell or call out "on your left!" when passing walkers.
The towpath often runs along small towns, allowing for a nice day out with stops for lunch, snacks, coffee, or ice cream. Don't forget to get ice cream.
---
Route info with photos and videos:
D&R – from Rocky Hill lot [Main Canal – NJ]:
This lot usually does not have a portable toilet.
---
D&R – from Blackwells Mills lot [Main Canal – NJ]:
Small dirt lot. Usually, this lot has a portable toilet (was there 6/2019).
---
D&R – from Lambertville / Mt. Hope lot [Feeder Canal – NJ]: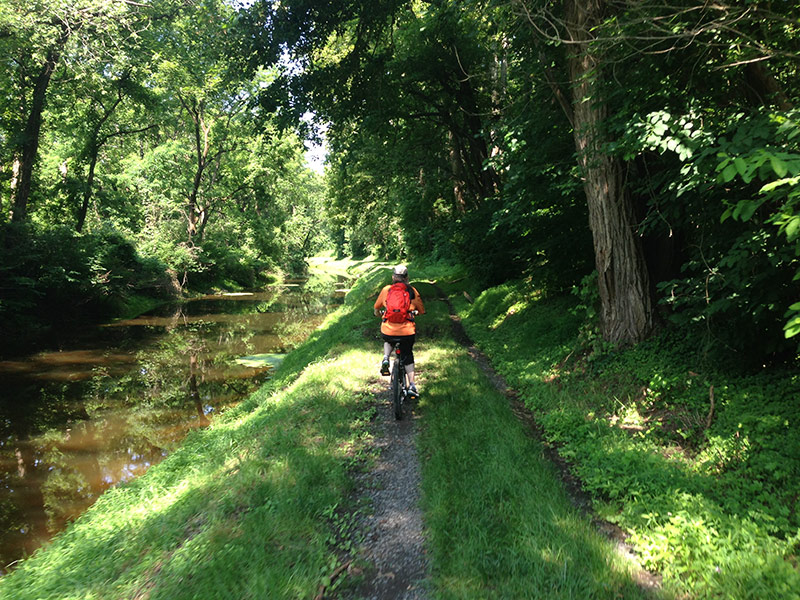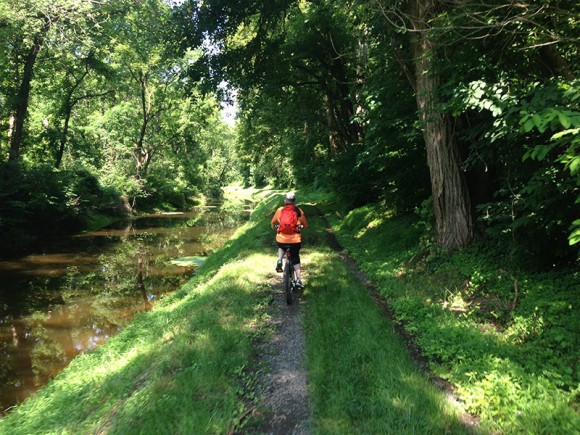 ---
D&R – from Washington Crossing lot [Feeder Canal (NJ) with D&L (PA)]:
This lot is large but still fills up. Bathroom building is at one end of the lot.
---
D&L – (PA):
---
Old-Timey Fun Delaware and Raritan Canal Historic Map – Circa 1976 but based on an 1866 geologic map. Also contains info about the canal's creation. Via Rutgers Special Collection.