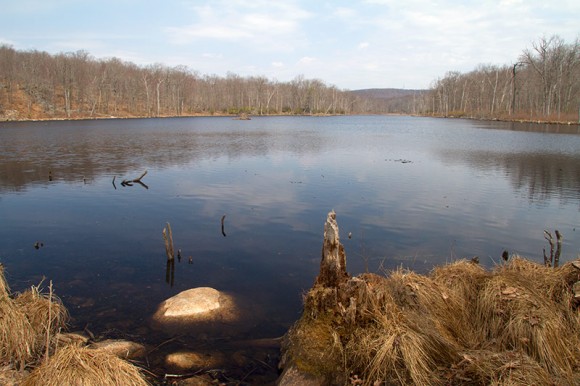 Hiking the Highlands and Beaver Brook trails to Lost Lake.
After poking around some older pages in the site, I decided Beaver Brook and Lost Lake would be good to revisit.
Miles: 6.6
For detailed hike directions visit our main Beaver Brook page.
Having a site that contains your prior hikes often comes in handy when trying to decide where to go.
We hadn't been since 2009, when our hike had been cut short by a bear ("Beaver Brook Trail… and a bear in a tree").
This hike starts out with a scenic view of Saffin Pond right away, though it does look nicer once things bloom a bit.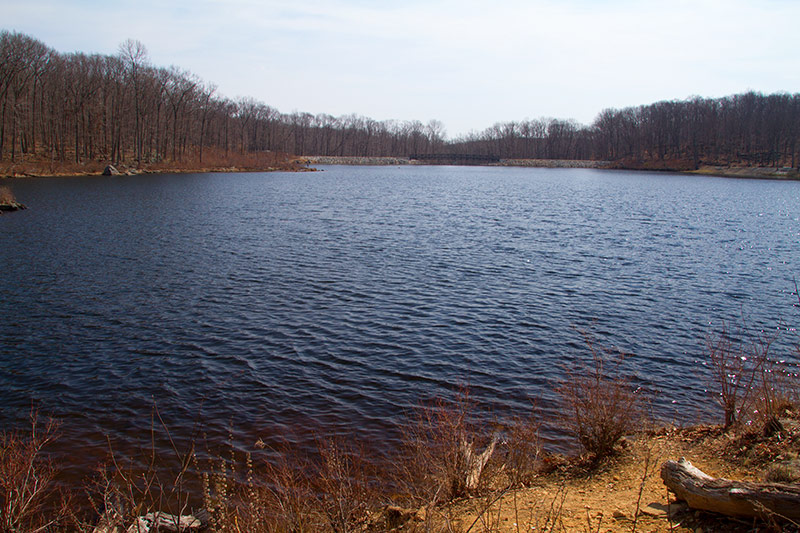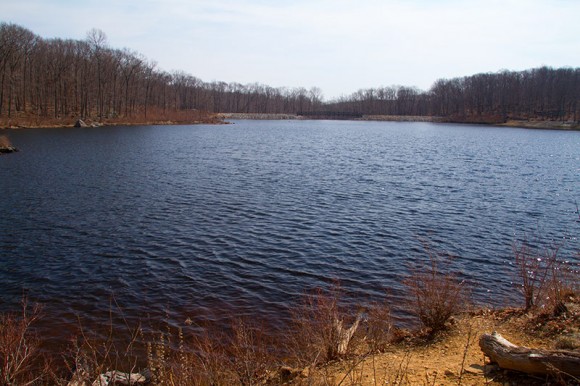 Follow the Highlands Trail to the Beaver Brook trail…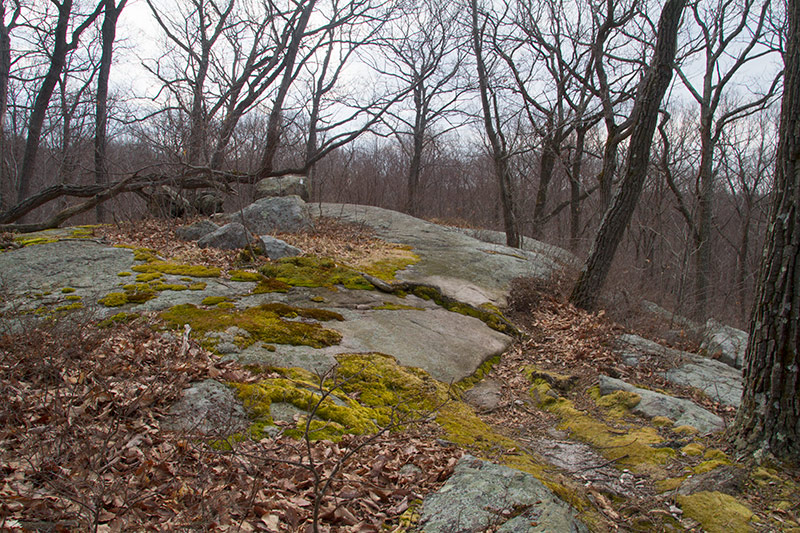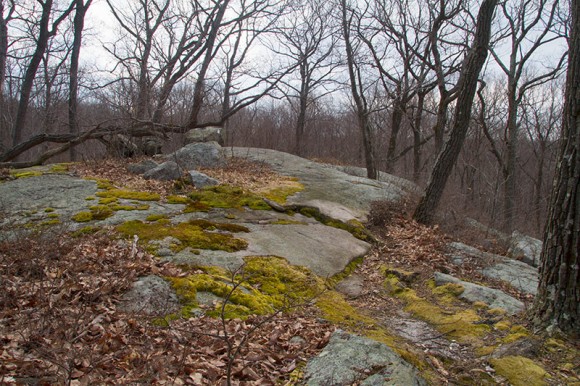 …before arriving at Lost Lake. We scrambled down to the water's edge for this shot.
The photo at the top of the page was taken a bit later, where there is a big log that is good as a break spot.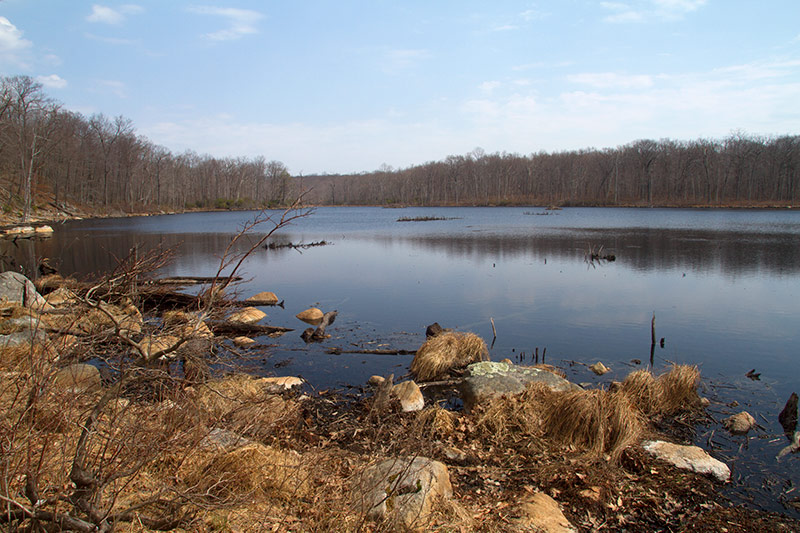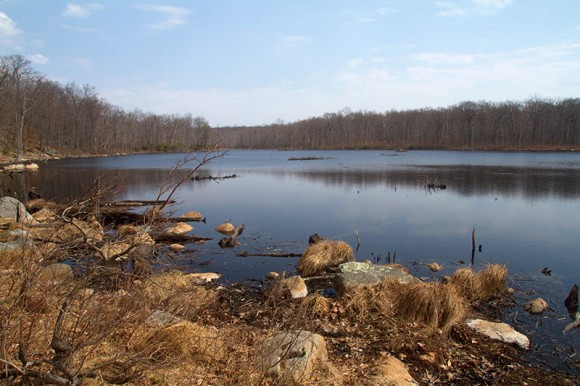 From either spot, beaver lodges are visible. On the far end of the lake, there is a beaver dam.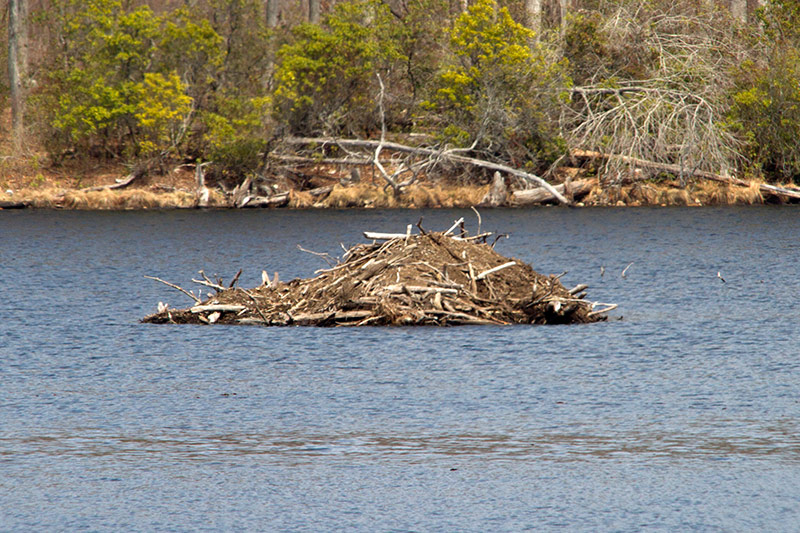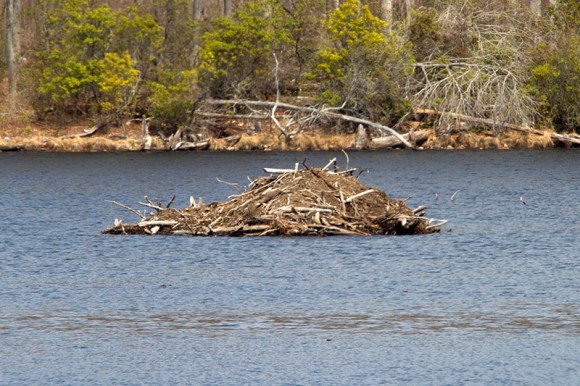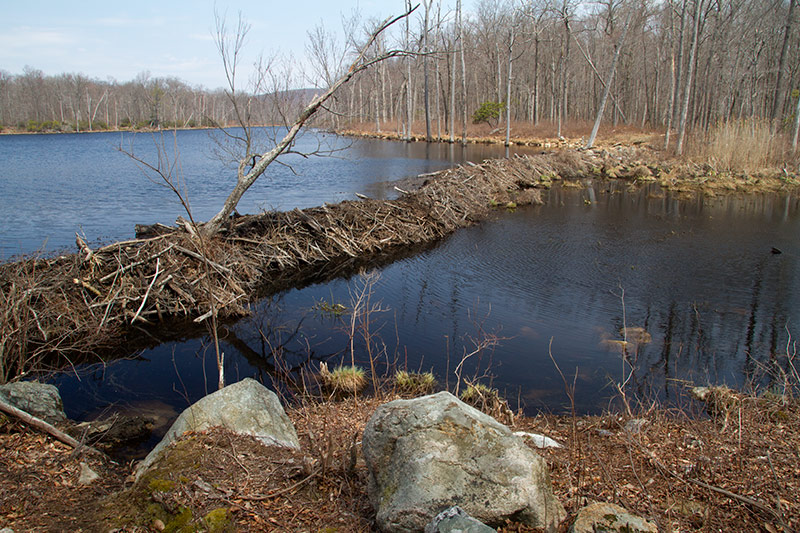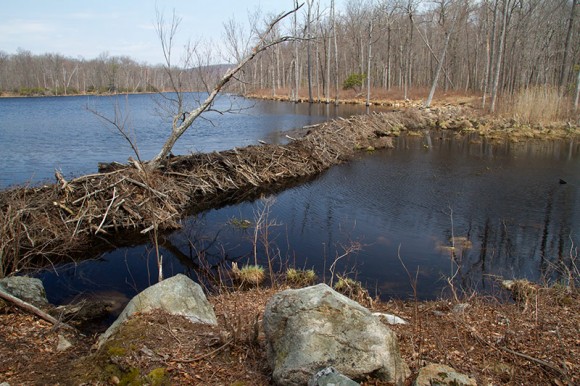 We also spotted a great blue heron take off, then swoop back around. He nearly matched the color of the tree and was hard to see.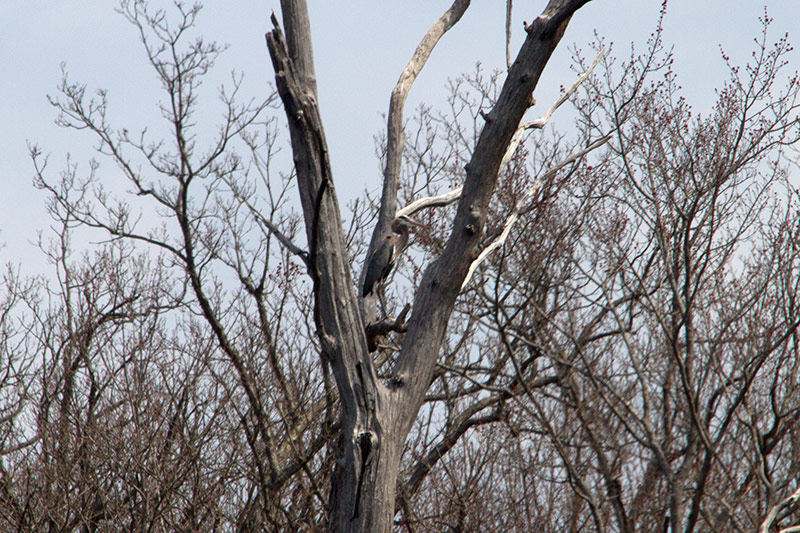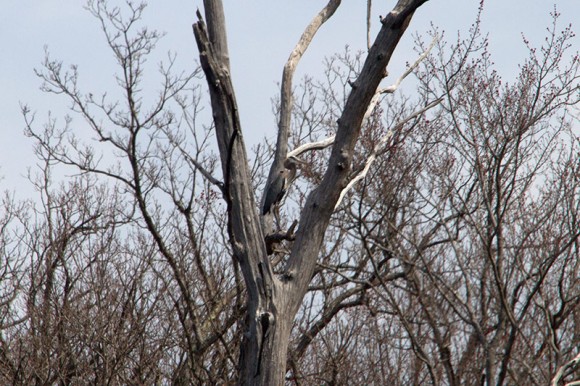 The Beaver Brook trail goes for another 6 or so miles after Lost Lake, ending at a parking area on Berkshire Valley Road.
We intended to keep on hiking for several more miles before turning around, and were planning for a 10-11 mile hike.
Not long after Lost Lake, the trail crosses Beaver Brook. This is what the crossing looked like on our last hike, in 2009: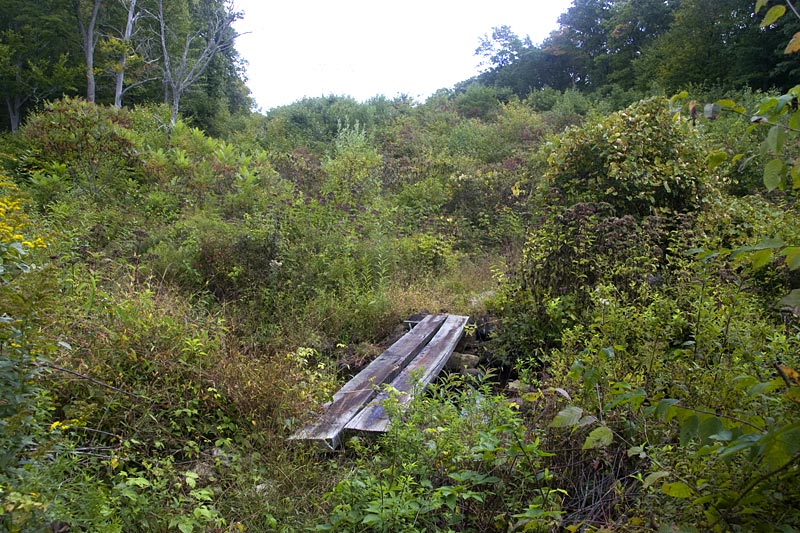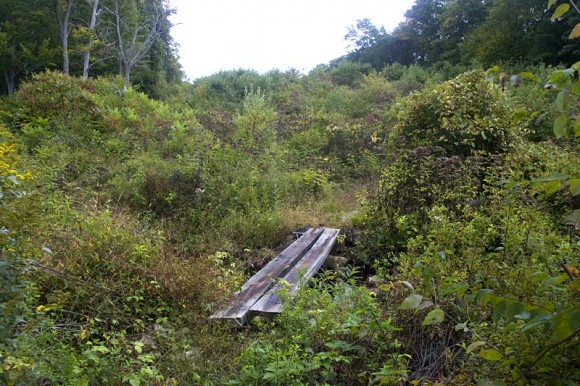 And this is what it looks like now: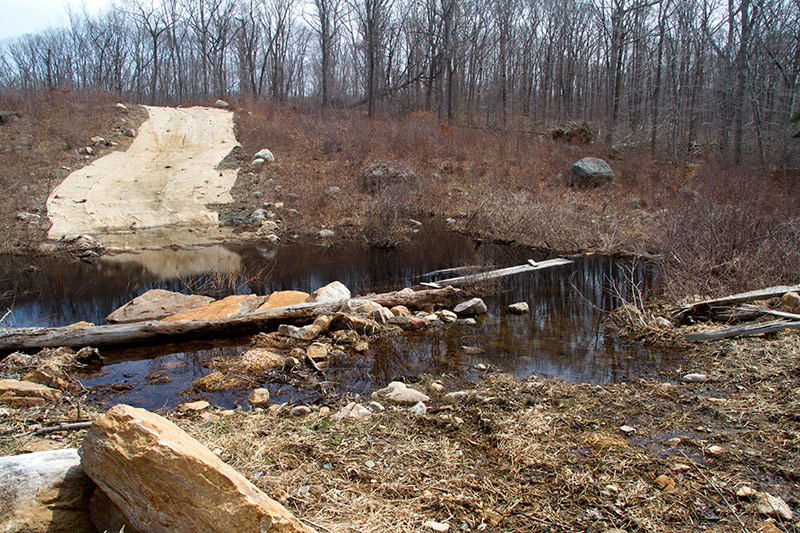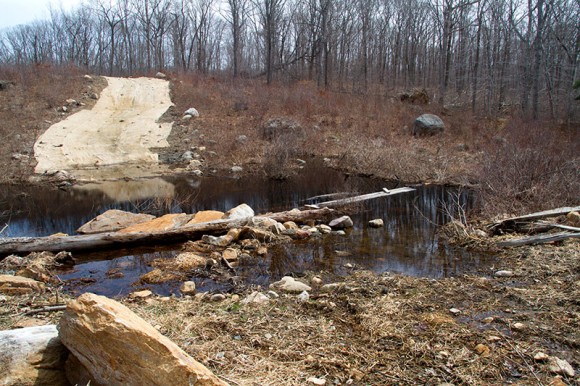 In the photo, it appears that it can be crossed on the rocks and board – but that water is deep.
Just to make sure, we chucked a large rock in – it made a resounding KERPLOP before disappearing, and the board started floating around – yup, you don't want to try walking on that – at least when it's this deep.
We poked around (through briars, but of course) for another way to cross but there weren't any good options.
Sure, we could have gotten across somehow, but decided it just wasn't worth risking wet feet AND having to do it again on the return.
Later, at home, I was checking out the topo map and noticed there are some woods roads that might offer a crossing a little further down.
However, Lost Lake is really the featured destination here and there isn't anything that enthralling to see after it – we just usually like to hike longer. Your best bet is to stop at Lost Lake and not even go to here.
The reason this is all torn up is power line work: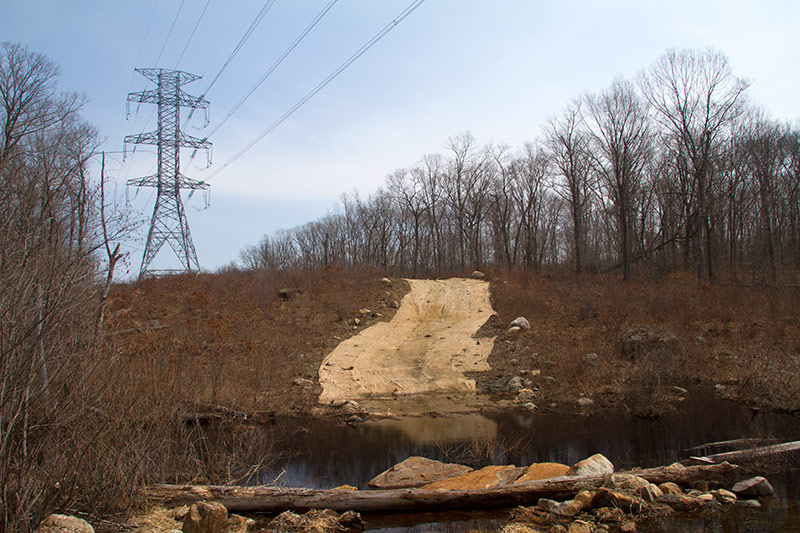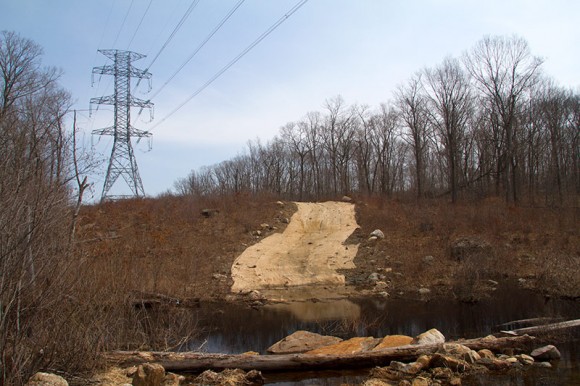 So we just called it a day and headed back.
Back around the beaver dam, we surprised a cute little snake who scooted away at lightning speed, dramatically flung himself off the bank, plopped into the water a few feet below, and swam off…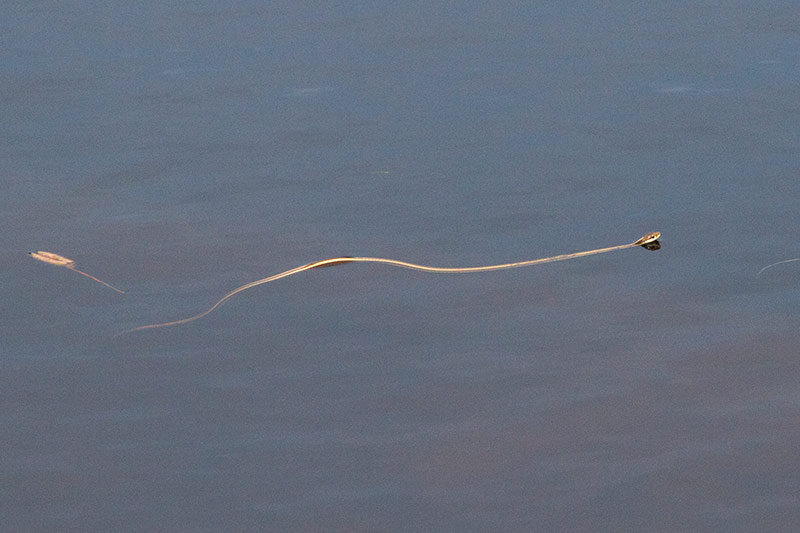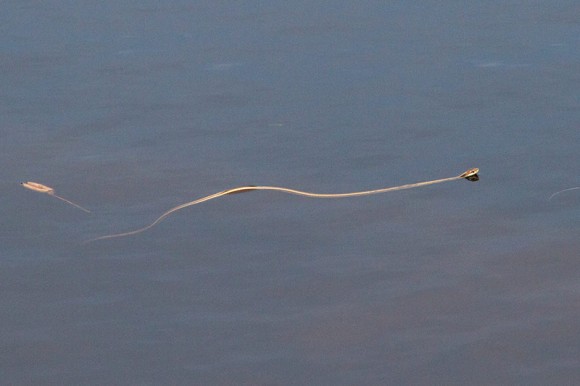 Wildlife spotted: great blue heron, snake