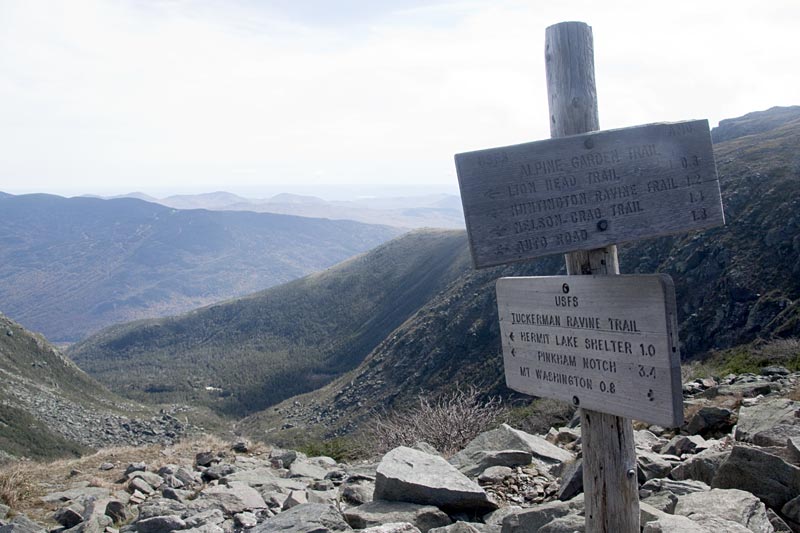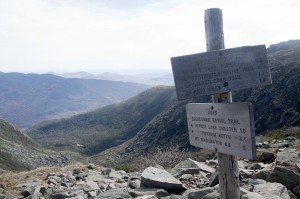 Road trip! The fall foliage was taking it's time here in Jersey, so we went looking for some in New Hampshire, and managed to almost hit peak color there.
Note: All listings are our own purchases and research, no consideration was provided for any mentions.
The Area: We chose North Conway as our base. There are plenty of lodging and restaurant options, as well as easy access to the major areas in the White Mountains:
Rt 16 to Pinkham Notch trails and Tuckerman Ravine route to Mt. Washington
The scenic Kancamagus Highway ("The Kanc") to Franconia Notch area trails
Rt 302 to Crawford Notch area trails
There are many excellent website resources for hiking Mt. Washington (and the Whites):
Books/Maps: We went with the White Mountains Waterproof Trail Map and AMC's Best Day Hikes in the White Mountains [this was updated recently, we had the 1st edition]. The book is broken up by area sections so it's easy to choose a hike where you are. They run on the shorter side and have a lot of info geared for kid-friendly trails but it's easy to make them longer by just checking a trail map. A lot of the trails here run steeply up a mountain, so keep in mind a 4-mile roundtrip here might be a bit harder than your 4 miles at home…
Permit: Some trailheads have self-pay kiosks for parking, others are free. A week pass is only $5 and EMS carries it online [White Mountains Parking Pass] We ordered it ahead out of convenience and just kept it in the window for the trip.

Our Hikes: Mt. Washington (8.3 miles), Mt. Avalon (3.5 miles), The Flume (2 miles), plus various hikes while driving the scenic highways.
Mt. Washington Hike – The highest peak in the Northeast at 6,288′ and home of The World's Worst Weather.
The key to this hike is timing the weather. #1 The summit is often cloudy, and you want a view after all that effort. #2 The weather can be severe, changes quickly, and even prepared people die on this mountain. You can start in t-shirt weather and be in freezing temps at the summit.
Pack warm layers including hat/gloves no matter what the temp is in the valley. This is not a hike to take lightly, and you should be fit and experienced. Though the distance is not that long, it's a lot harder than hiking 8 or 9 miles on a regular trail in the woods.
Check the forecast specifically for the summit the morning you want to hike, it's posted early around 5AM-ish. (it can be nice in the valley and winter conditions on the mountain). If the forecast is not good; don't go. Try another day.
Overview: The whole route is steep and rocky. There are plenty of hikes in the Whites to choose from, but people gravitate to this hike this because it's a challenge, it's a 'famous' hike, and it's the tallest in the northeast. The view from the top is stunning when it's clear, but there is an auto road and a cog railway to the top… so you share the summit with people who took no effort to get there.
Our Route: This hike is detailed in so many places, I'm just giving a rough overview here.
We opted to take go up Tuckerman Ravine Trail and take Lions Head down, but wouldn't recommend it. Lions Head was quite steep with a lot of scrambling down rocky sections that were less than fun on tired legs. Scrambling up that would be more fun… but it really comes down to perception and opinion on which route is best. Read up online and in books to decide which works for you.
We started at the AMC parking in Pinkham Notch. Head steadily uphill on the popular and rocky Tuckerman Ravine Trail. Take Tuckerman to Hermit Lake Shelters (just past the turnoff for Lions Head) Bathrooms are here. Continue and Tuckerman Ravine and the "Headwall" appears…. the trail up it is hard to determine from below where it is because it's just a wall of rocks and waterfalls.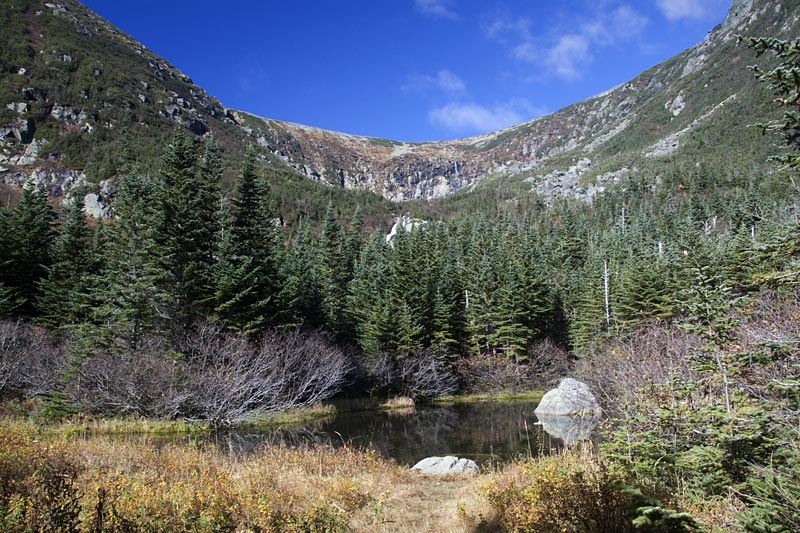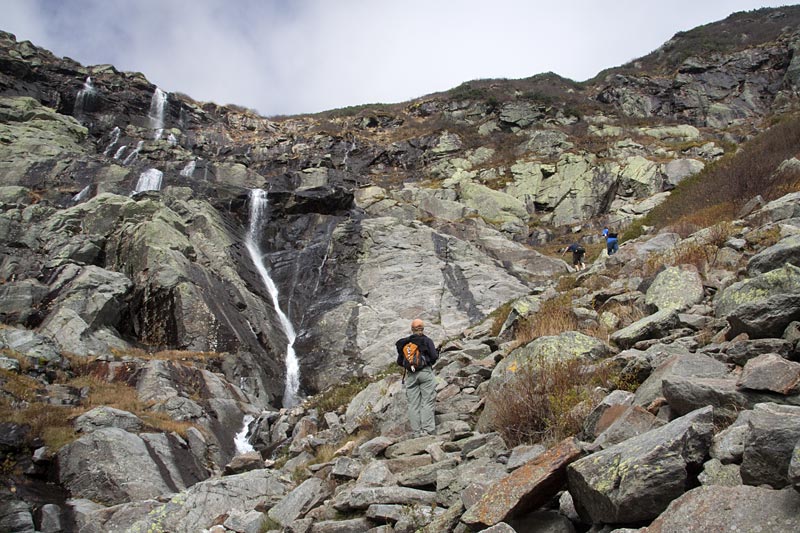 Follow the blazes as you steeply head up on large rocks. There was a lot of water on the trail from the excessive rain we'd just had, so we were picking our way through streams of water.
Almost at the top, amongst a bunch of cairns (HUGE pile of rocks), the end seems almost there, just in front of you… until you check the sign and see that you need to turn right for another .6 miles… which is entirely over a rock field.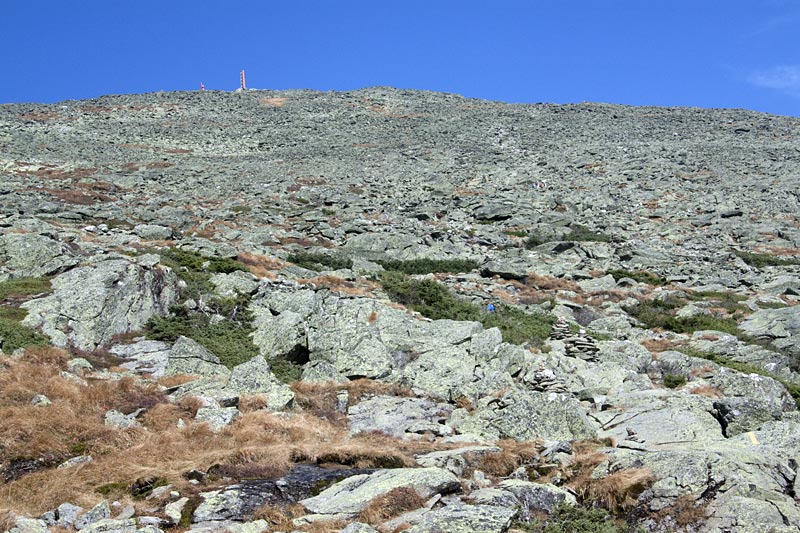 The summit has bathrooms, a small gift shop etc. There is a hiker shuttle you can ride down that needs to be reserved in advance but there may be spots open if need be. We heard a guy ask about it, and I believe it was $30 down, plus $12 for his dog. Don't hike up and intend to rely on the shuttle option unless you've paid in advance; be able to hike down.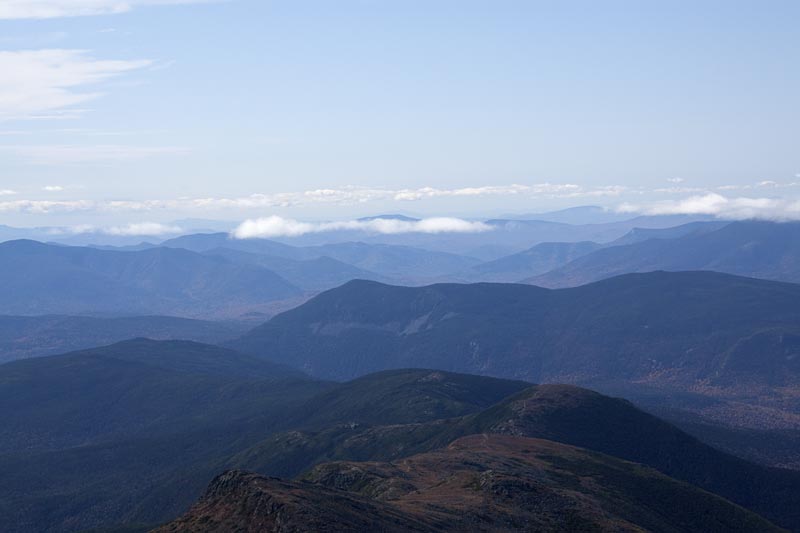 To head down, get back on Tuckerman, down the rock scramble and pick up the Lions Head trail which shoots off to the left over more boulders. It levels out for a section before coming to an outcrop (the "Lions Head").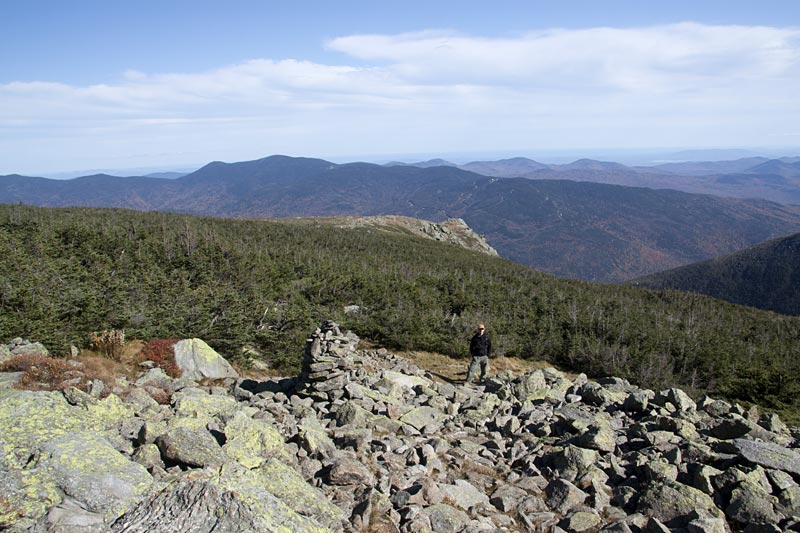 There are some switchbacks to negotiate down, that involve scrambling. Lions Head ends up at Tuckerman, turn left onto Tuckerman, then it's a rocky downhill the rest of the way back.
Mt. Avalon Hike – Pretty hike to an outcrop overlooking Mt. Washington, the Presidential Range, and Crawford Notch. Trailhead located behind the Crawford Depot train station, near the AMC Highland Center, in Crawford Notch.
Moderate steep hike up the Mt Avalon Trail, with a last very steep, very rocky .5 miles when the trail heads left at the junction with the A-Z trail. Final little bit is a rock scramble. We had a beautiful clear day, Mt Washington's summit was clouded in but the rest of the view was clear and sunny. We enjoyed the overlook for about 45 minutes, all to ourselves. On the way down, we passed about a dozen hikers headed up, so we timed it right somehow.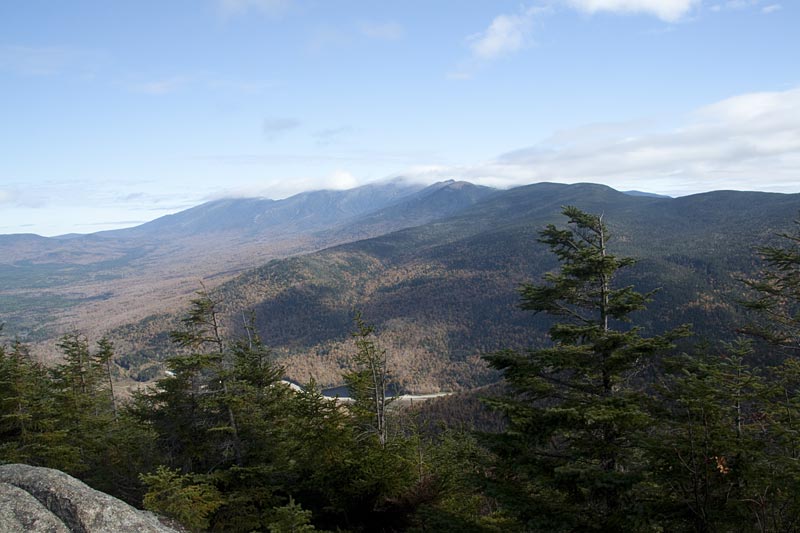 The Flume – In Franconia Notch. A popular 2-mile trail through a scenic gorge. It's $13 per adult, which is on the pricey side, but it was very pretty and a nice easy leg-stretcher hike we did the day after Mt. Washington.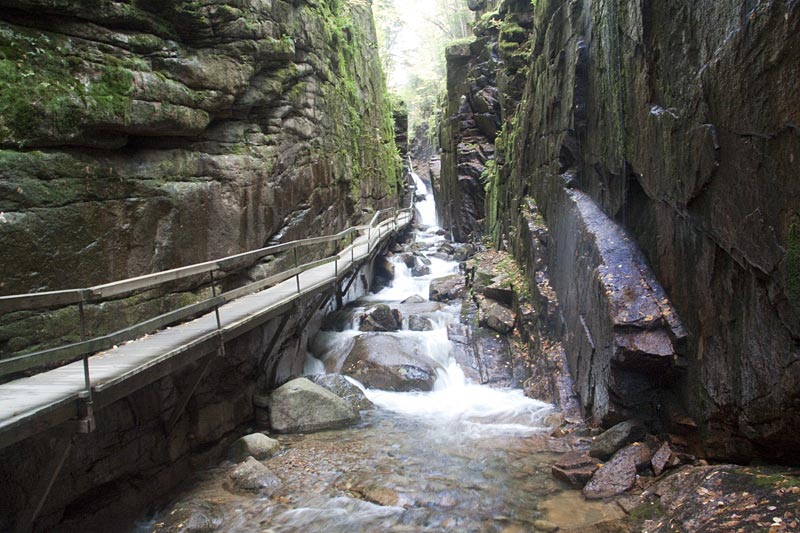 Other Hikes – There are tons and tons of trailheads along the scenic routes in the area, and we just stopped and did random ones here and there, that I did not keep a record of…. we were on vacation after all…
Bonus: tasty Mexican food at Cafe Noche (and excellent House margarita – just lime, Sauza Gold tequila, triple sec – to forget how sore your muscles are); Black Cap Grille (sweet potato fries!, nice burger/topping selection, including a tasty house-made veggie burger); Banners for breakfast (not greasy, good home fries)
Super Extra Special Bonus: About an hour or so south of North Conway is the American Classic Arcade Museum. If you very fondly recall your time spent in an arcade in the early 1980's, like we do, then you need to stop in here.
In a dark room with 80's music playing, there were rows of arcade games and pinball machines. The usual suspects of PacMan, Donkey Kong, and Centipede were there, but also many many totally obscure titles I hadn't seen for 25+ yrs. We spent 3 hours and a mere $14 in tokens like it was 1982 all over again. The museum is housed inside FunSpot.