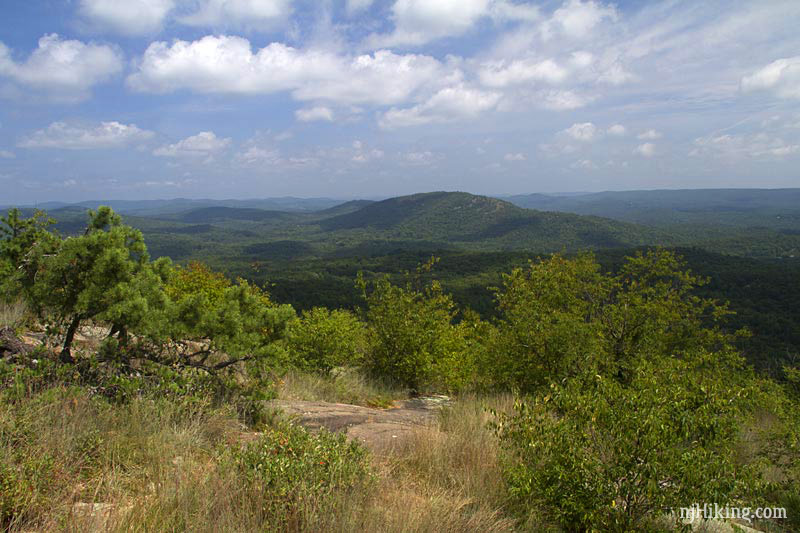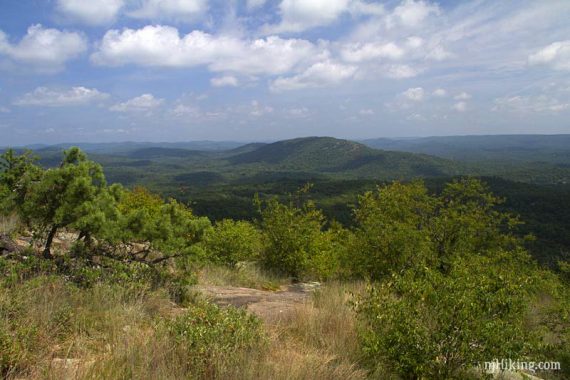 Rugged loop in Norvin Green State Forest that includes a waterfall and several expansive views, including the NYC skyline on a clear day.
We decided to skip out the Friday before Labor Day weekend for a quick-ish hike at Norvin Green, one of our favorite parks in Jersey.
There are great views combined with some of the most rugged and remote-feeling trails in the state.
To change things up, we decided to start from a trailhead we never had before – the Wyanokie Crest Trail.
This is off of Glenwild Avenue, not far from the parking for Otter Hole and Osio Rock. Normally we start at Weis and go to High Point and circle around from there.
The last time at the Falls the water level was raging and crossing over to get a looky was not as easy (see Norvin Green: Wyanokie High Point, Carris Hill, Buck Mtn.).
Miles: 6.8
Map: North Jersey Trails – this is not a good park to be wandering around without a map!
Route: Wyanokie Crest (YEL) – Hewitt Butler/Highlands (BLUE/TEAL) – Post Brook (WHITE) – Lower (WHITE) very briefly to pick up Carris Hill (YEL) – Hewitt Butler/Highlands (BLUE/TEAL) – after High Point backtrack down to Hewitt Butler (BLUE) – Macopin (WHITE) – Otter Hole (GREEN) – Wyanokie Circular (RED on WHT CIRCLE) – Outlaw (ORANGE) – Wyanokie Crest (YEL)
Parking: N41.03757° W74.34538°
Route 287 North to exit 53; Hamburg Turnpike/Main St.; Glenwild Ave. Dirt area on right with room for about 3 cars.
Restrooms: None. There is a Luk Oil on Main St.
For a best hike in Norvin and more routes see our main Norvin Green State Forest page.
Wyanokie Crest led into the main trail system on a rocky trail with a few stream crossings.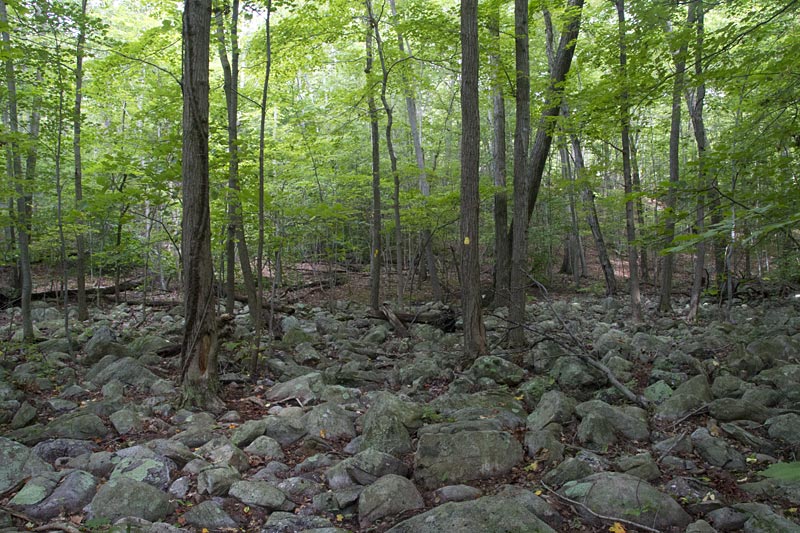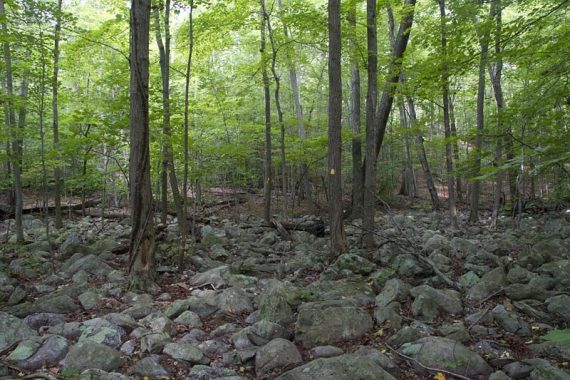 We were just winging a loosely-planned route so we turned right onto Hewitt Butler/Highlands (BLUE/TEAL) and then took Post Brook (WHITE) to Chikahoki Falls where we rock-hopped out to get a photo.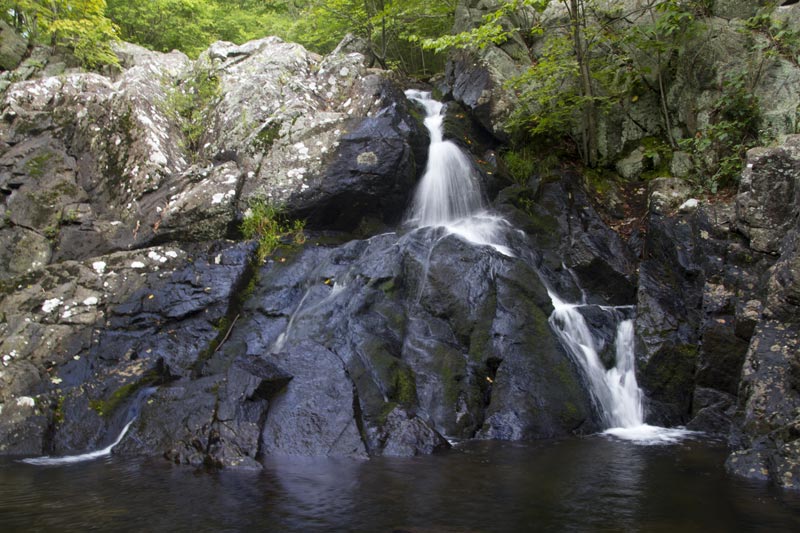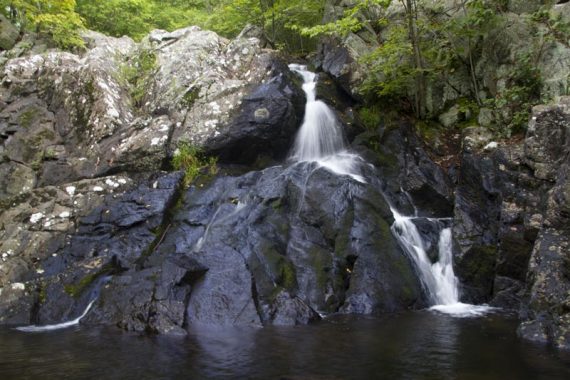 Carris Hill (YEL) is reached by after just a bit on Lower (WHITE) and then heads uphill to several viewpoints.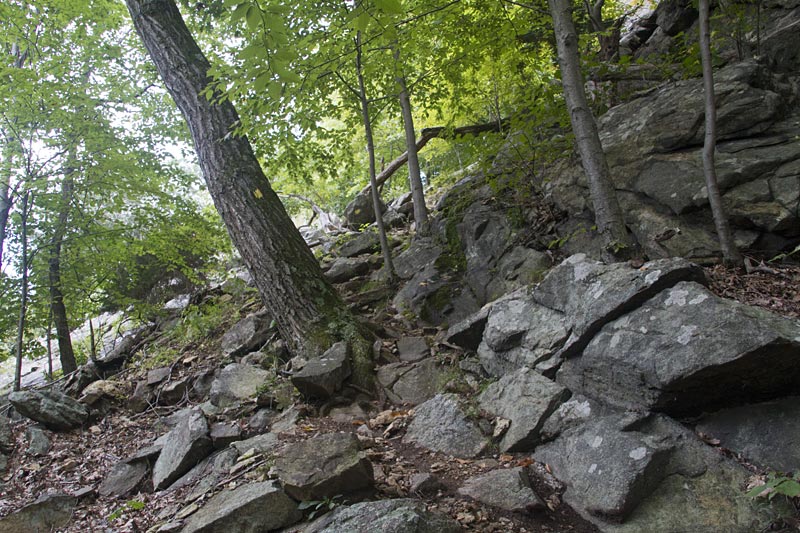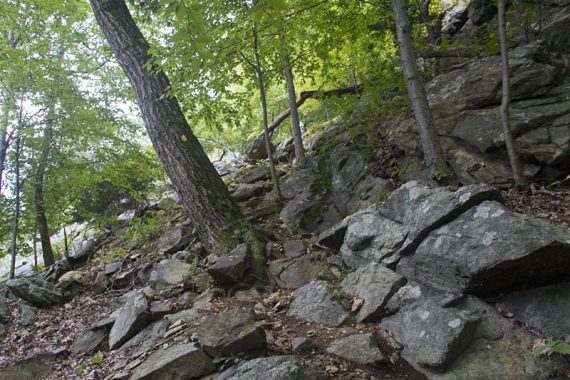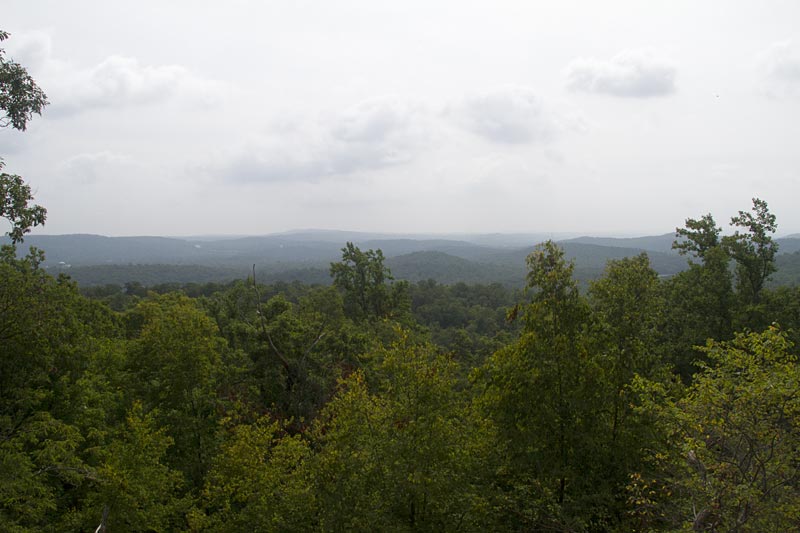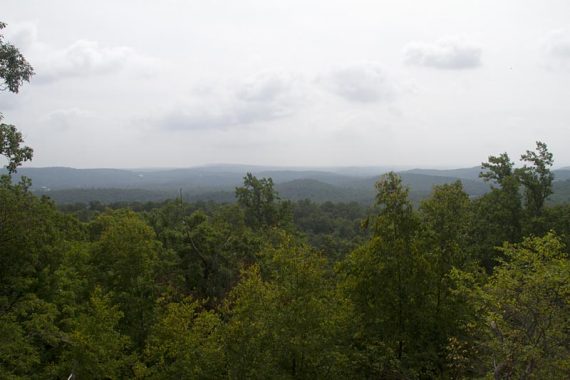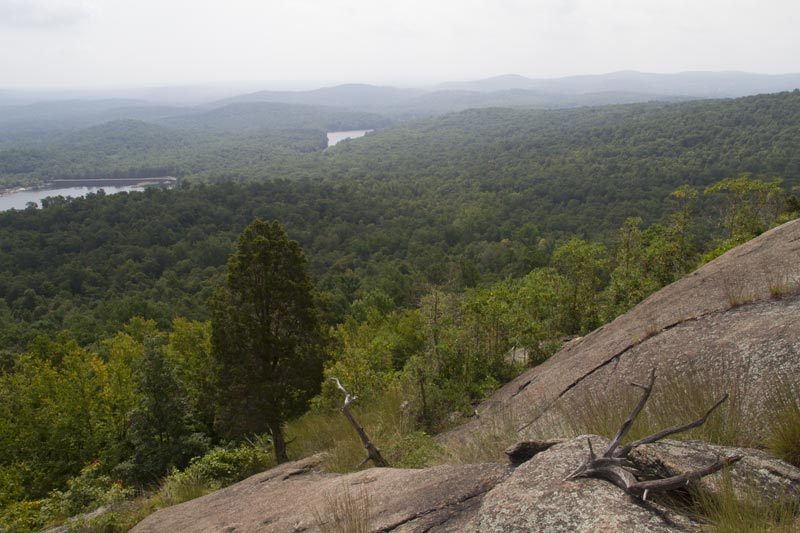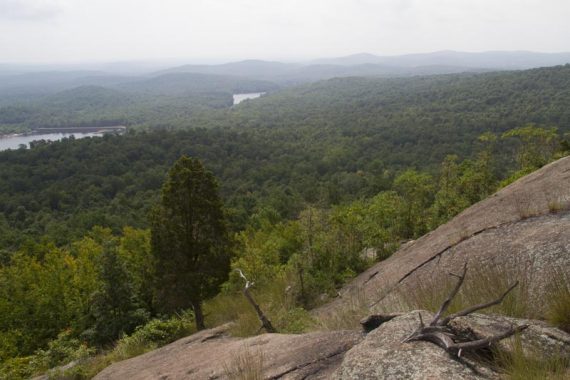 Glacial erratic on Carris Hill.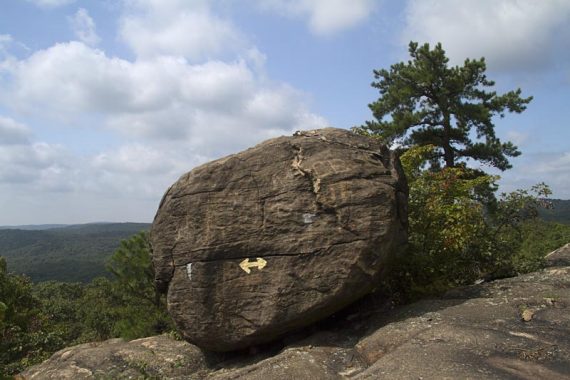 We continued on to High Point where the NYC skyline is usually visible – when it's not hazy.
The Jersey humidity had returned after a brief respite and hazed up the sky quite a bit but the views were still very nice.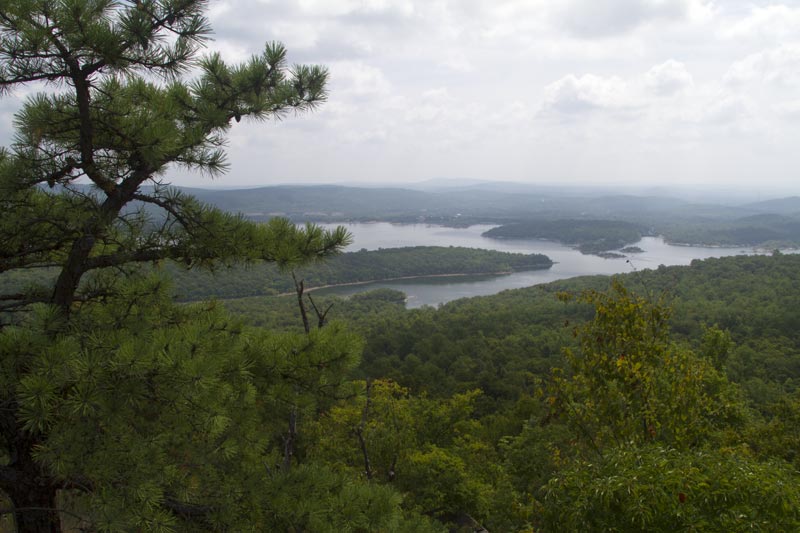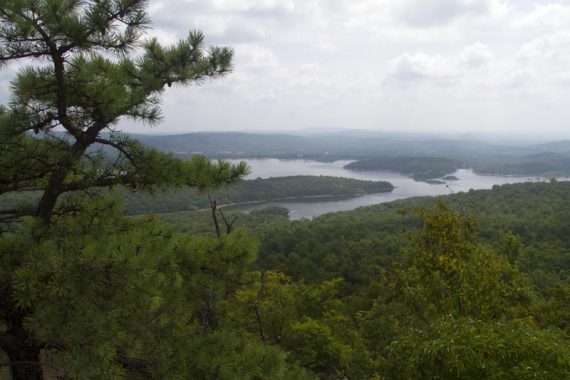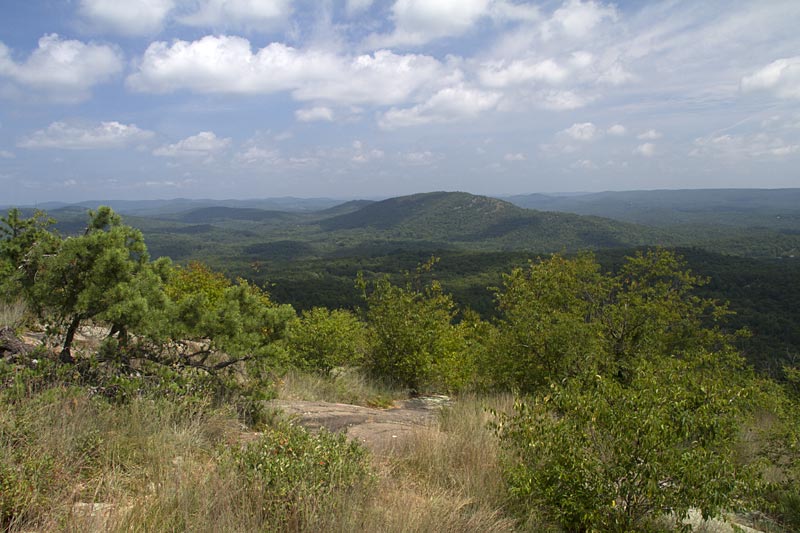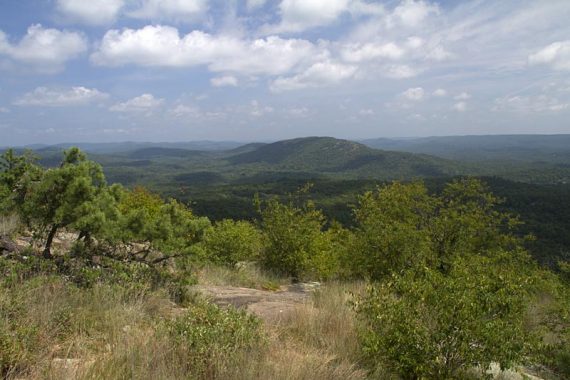 Heading back down the rock face of Wyanokie High Point: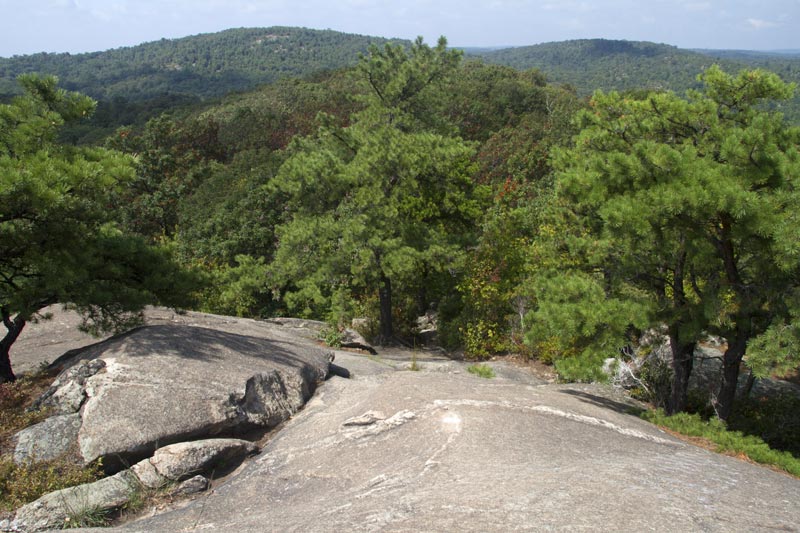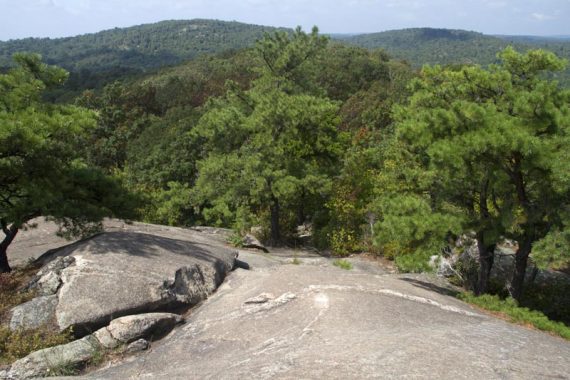 After heading back down BLUE from High Point, we came to Macopin. Somehow we'd never taken this trail so Macopin it was.
Normally we ring around the west edge of the park via Otter Hole or Wyanokie Crest, so this time we turned off of Otter Hole and made our way along Outlaw and Wyanokie Crest through the middle of the park.
I chose this route because I was certain we'd never hit these trails before but as we hiked along, the trail started looking familiar.
It's always strange when that happens – we've hiked bajillions of very similar non-descript trails in Jersey and there was nothing distinctive about this section – but I was sure I'd hiked it before.
After checking our old GPS data at home later, I saw we indeed had hike these two trail sections once… back in 2005.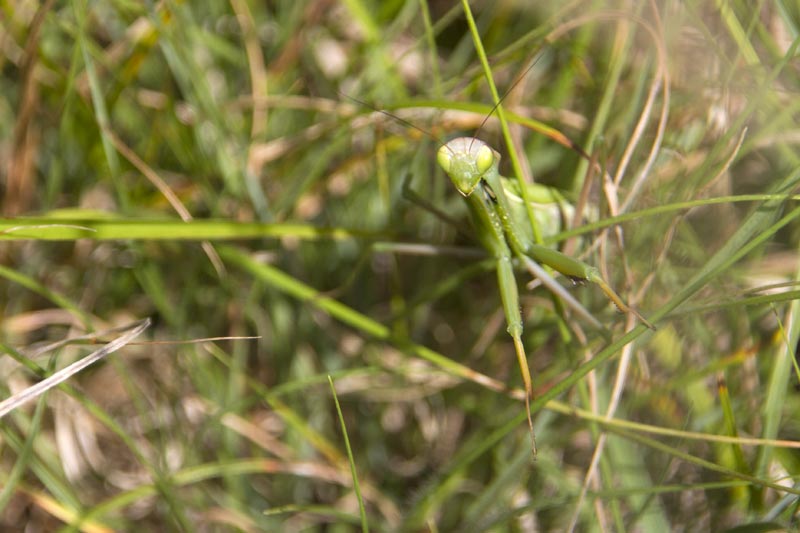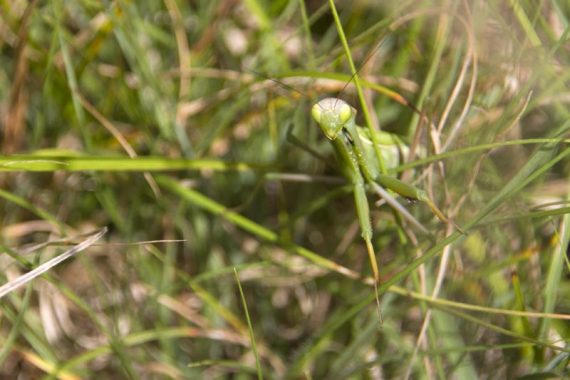 Wildlife spotted: A praying mantis, wondering why the stupid humans are so interested in staring at him.
—
Hiked: 8/30/13