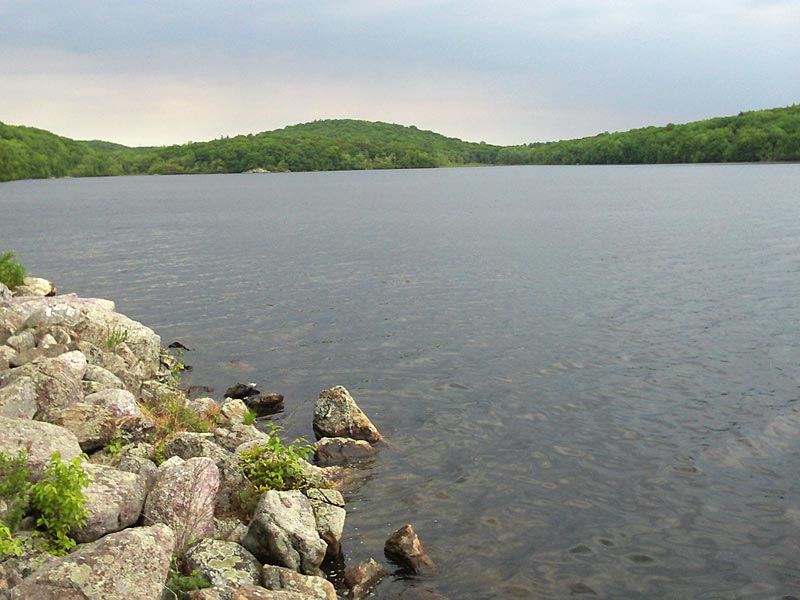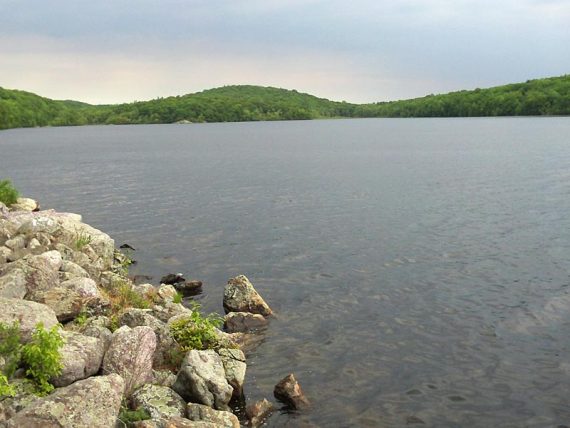 Encountering a bear and her cubs cuts our Highlands Trail hike short.
8.3 miles – out and back. Mostly level hiking on moderate trail with a few minor changes in elevation, plus a lot easy woods road walking.
Route: Echo Lake West/Highlands (TEAL Diamond) around the western shore of Echo Lake, then follows the Highlands Trail through some nice forest areas (no real views) over Kanouse Mountain toward Bearfort Mountain.
Location: West Milford, NJ.
For detailed hike directions visit our main Echo Lake – Highlands Trail page.
*Note: A Watershed hiking permit is required to hike on Watershed lands.
Our intention was to hike from Echo Lake to the fire tower up on Bearfort Mountain for a round trip total of about 10.6 miles.
However at about 4.2 miles in, we heard a clumsy crashing noise ahead of us, maybe 50 yards or so, on the left.
It didn't sound like a deer, so we stopped dead in our tracks to see what was going to come into view…
…and sure enough, a black bear cub comes bounding in from the left, tries unsuccessfully to climb a tree (soooooo cute), then followed by another cub.
Uh oh.
For a few seconds we stood frozen wondering where mama bear was – hopefully not behind us…
Then she ran in ahead of us, from the right – faaaaast – to the cubs.
We started backing calmly down the trail with mama bear watching us – this was a good turnaround point, anyway!
We don't have photos as we're always focused on getting out safely. Never take chances with a mother bear with cubs.
*The ticks were BRUTAL here. Between the two of us we must have flicked off two dozen ticks. Uuuuuuck.
Not sure if it was this area in particular, or the ticks are worse this year… but we don't usually have that many problems.