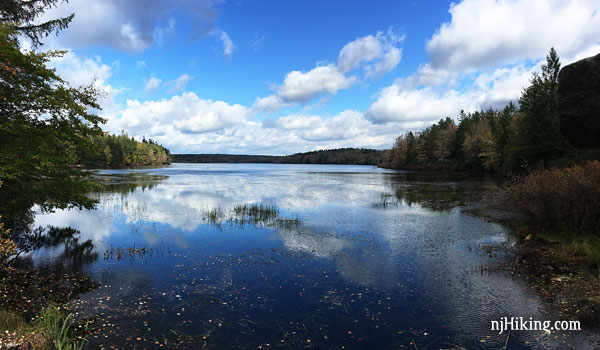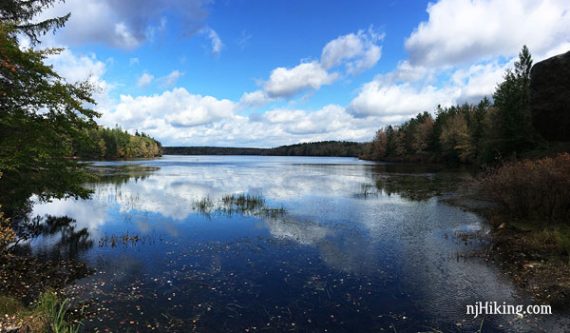 Two short hikes with a scenic drive through the Poconos in Pennsylvania.
2.0 miles – Two short trails with a very short drive between.
Longer: The Little Falls trail continues further, and there is a large network of options across the park.
Nearby: Tobyhanna State Park.
Hike Info:
Our two cents:
This is a nice day trip option for a few short hikes combined with a scenic drive. As such, I've added info on our driving route.
In Fall, this region reaches peak color before New Jersey so it's a good way to extend the season a bit.
We wouldn't usually travel 2+ hours and only do short hikes but foliage was taking it's sweet time in Jersey so we headed to where it should have been (but wasn't quite there yet either sigh).
With a less than stellar forecast we decided to make it mostly a driving/photo/lunch day for a change.
Updated: 8/2021 – Page refreshed; not re-hiked.
---
Books:
Little Falls longer version appears in Hiking the Poconos.
Restrooms:
At the park office. Portable toilet in the lot for Conservation Island.
---
The Drive.
Roughly 5 hours round-trip from Central NJ:
Take Rt 80 West through the Delaware Water Gap (wave to Mt. Tammany as you drive by!)
Rt 447 North to Rt 390
Hike Promised Land
Continue Rt 390 to Lake Wallenpaupack area
Route 6 East to Milford PA
Cross back into Jersey for Rt 206 S and Rt 15… or whatever you need to get home
---
The Hikes.
This is for the park office, on Lower Lake Road near the intersection with Rt 390 and Pickerel Point Road. This is in between the lots for each hike which are listed below.
Note: In this park, all trails are marked with BLUE blazes with numbered posts at intersections that correspond to the park map.
Little Falls Trail
Multiple cascades along a rock-edged stream.
Miles: 1.0 or more. Level, but rocky with many exposed roots.
Continue on the road that the park office is on. The lot is on the right side, just past a dam.
The trail starts across from the parking lot. Follow it as it turns to the left, you'll see the dam you just drove over.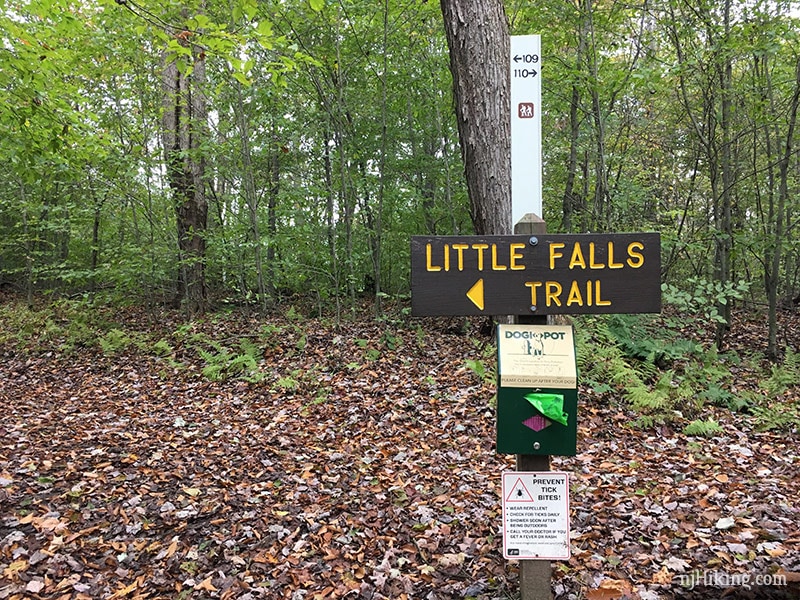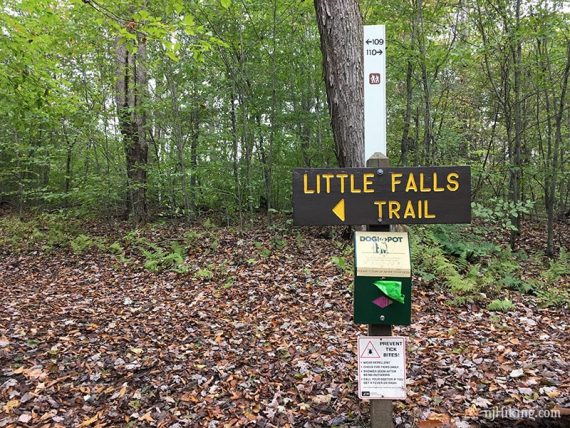 After crossing the bridge, turn right to follow the trail along the water.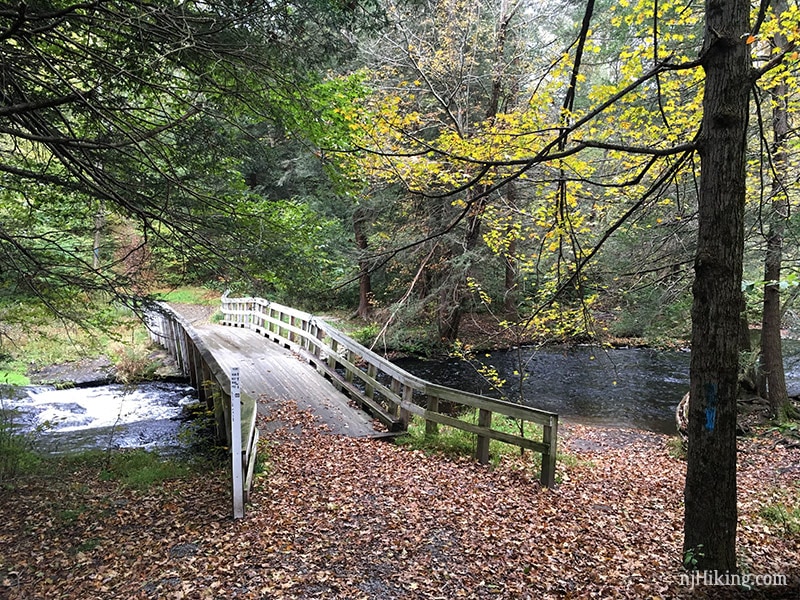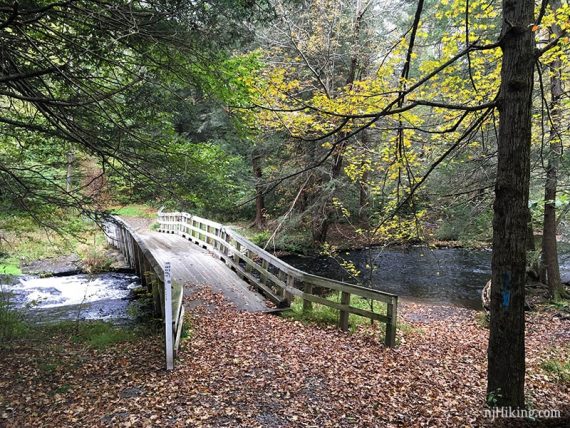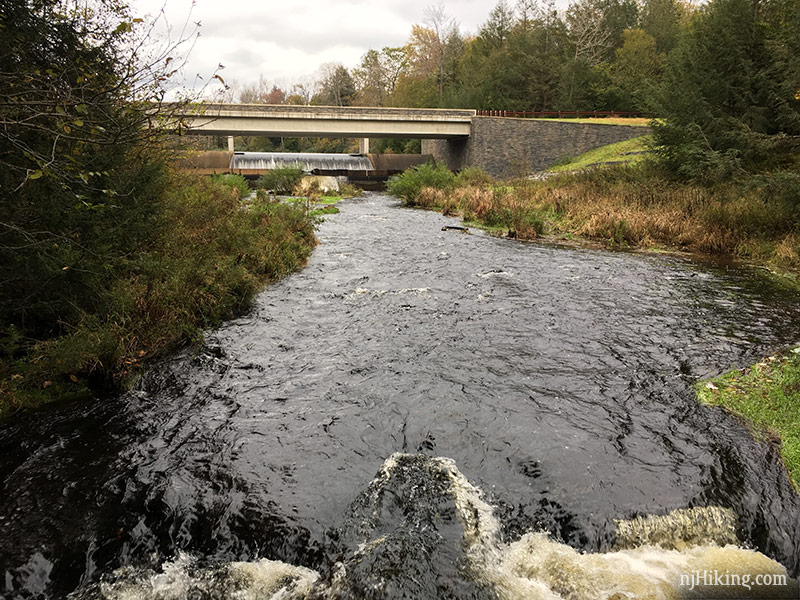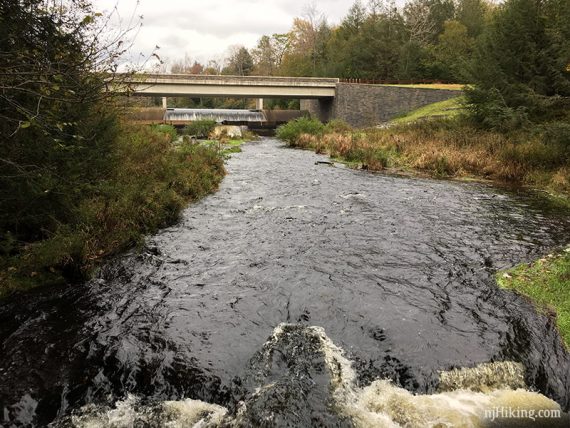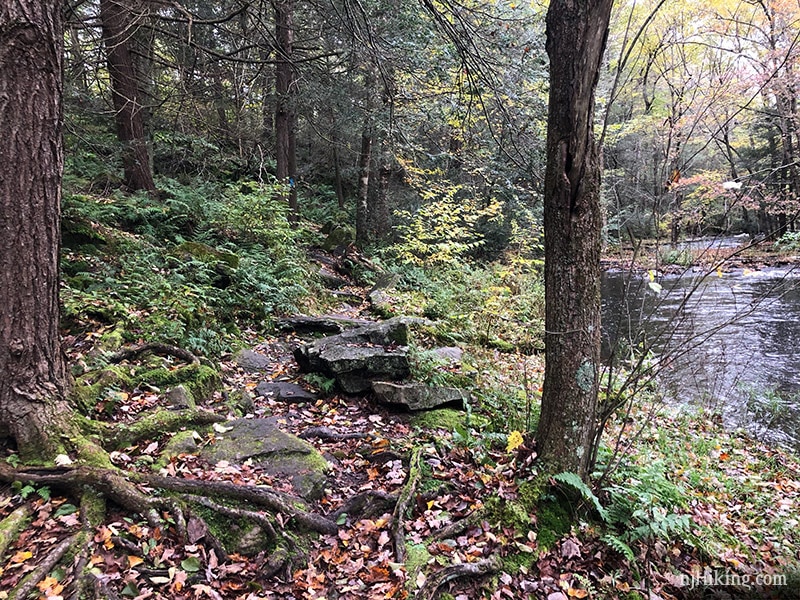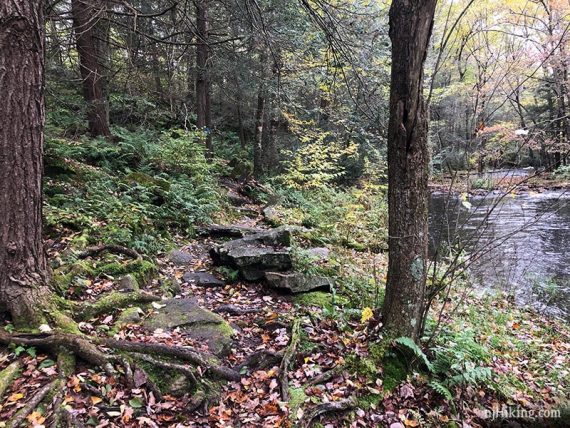 There are many cascades as the water washes over the rocky stream.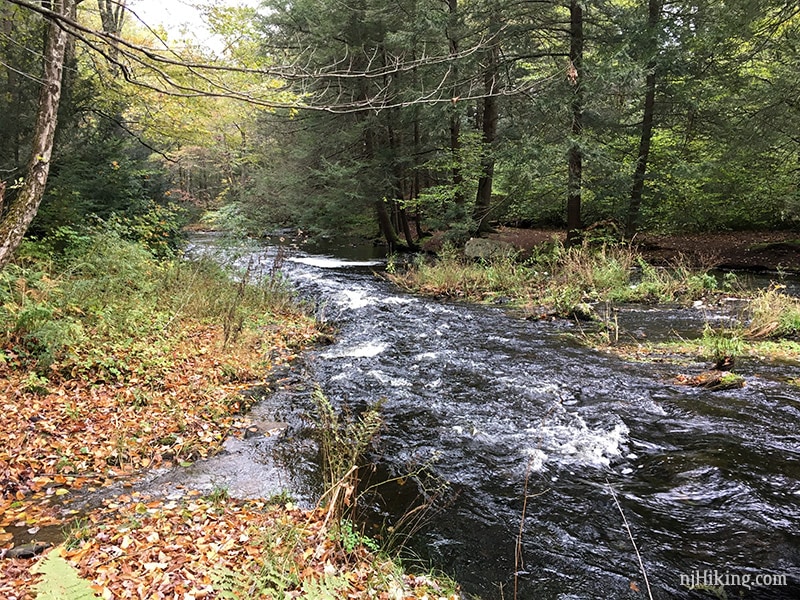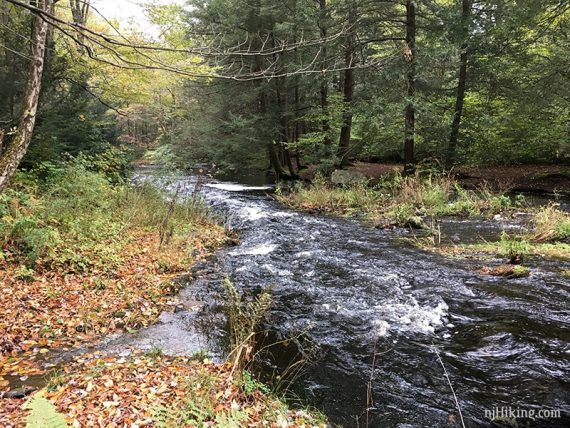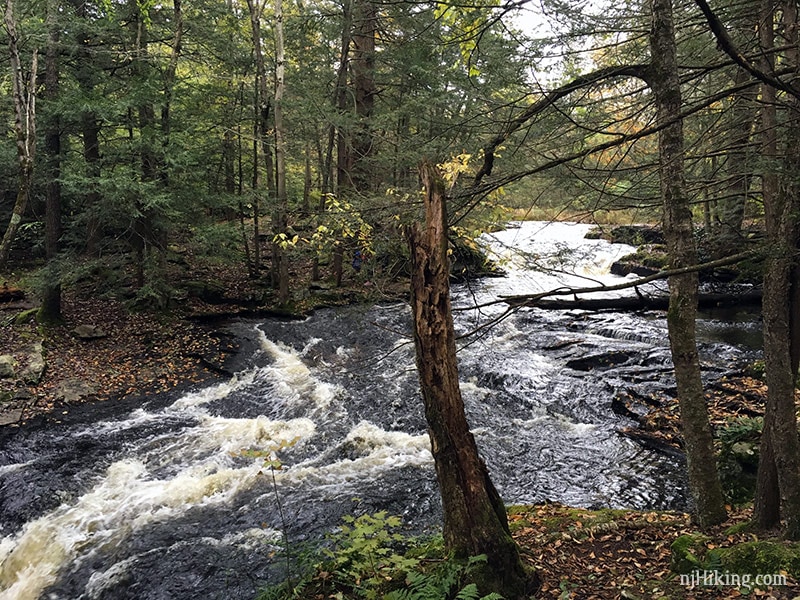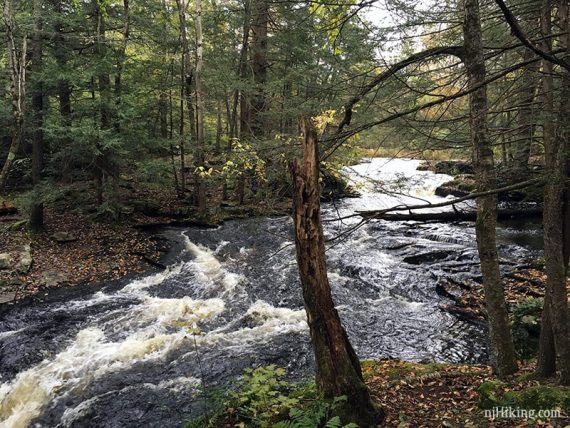 Cross another bridge at the half-way point.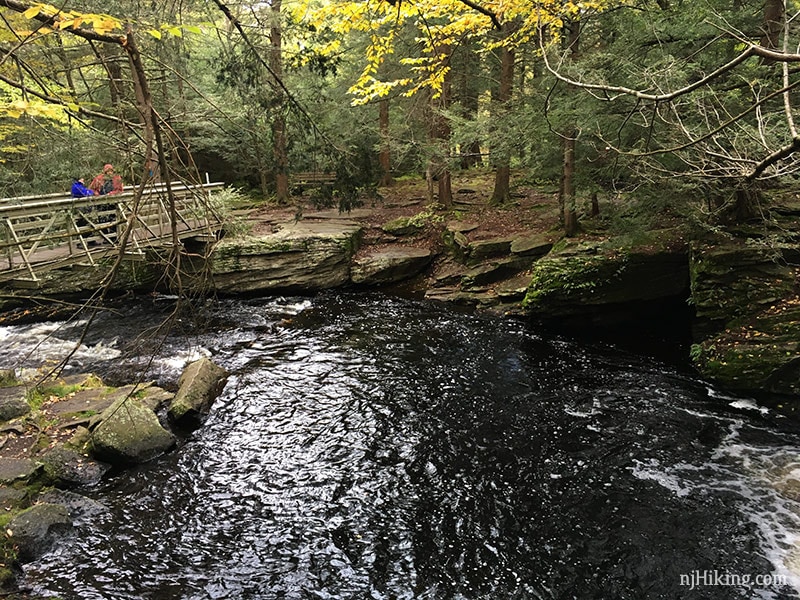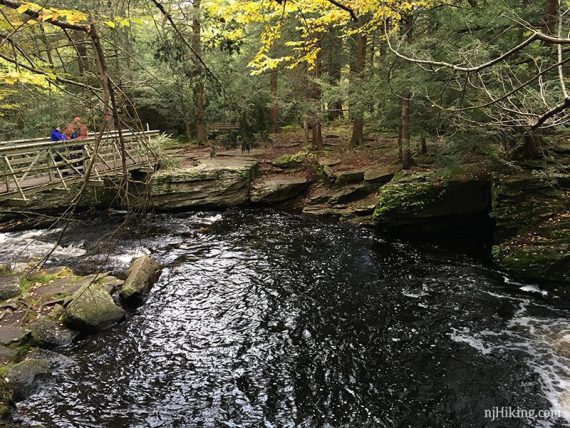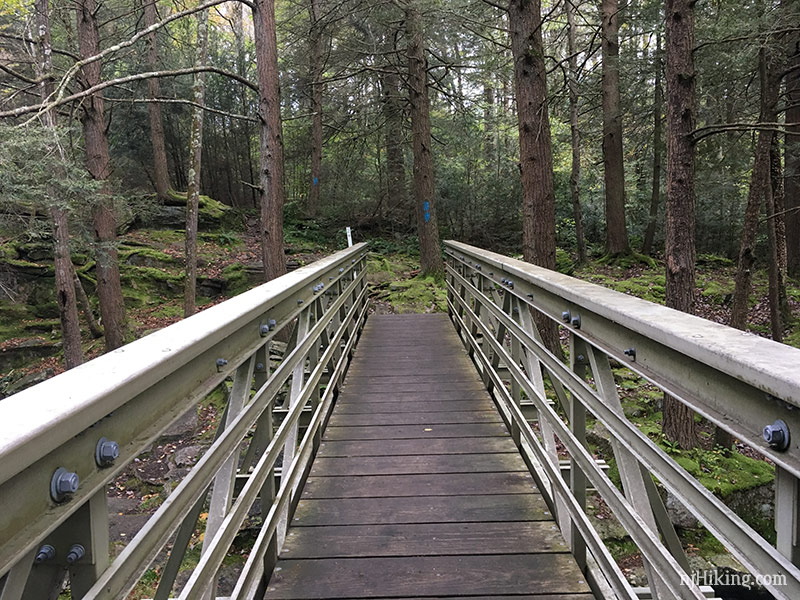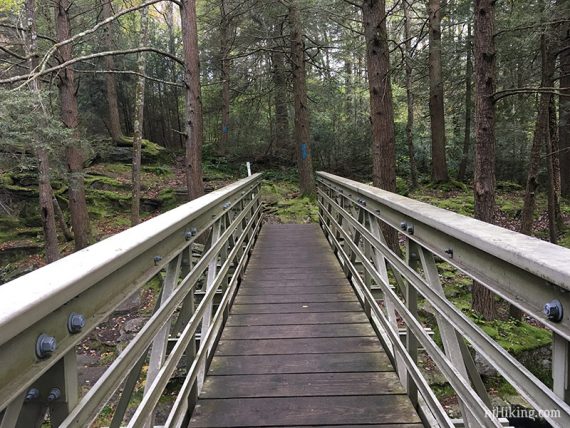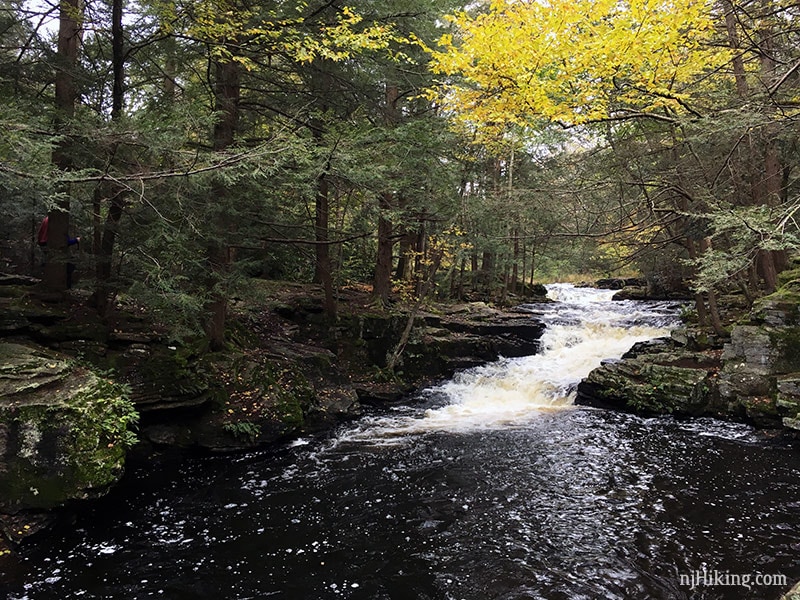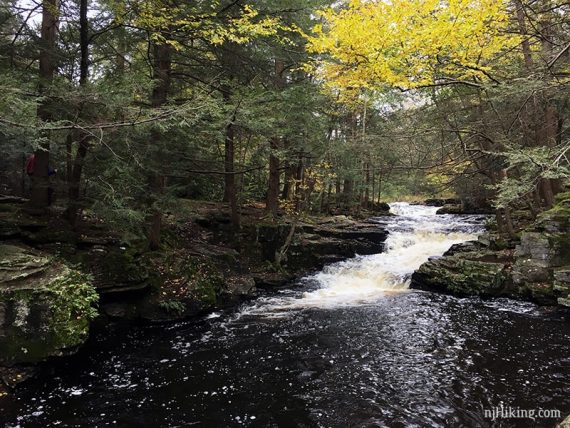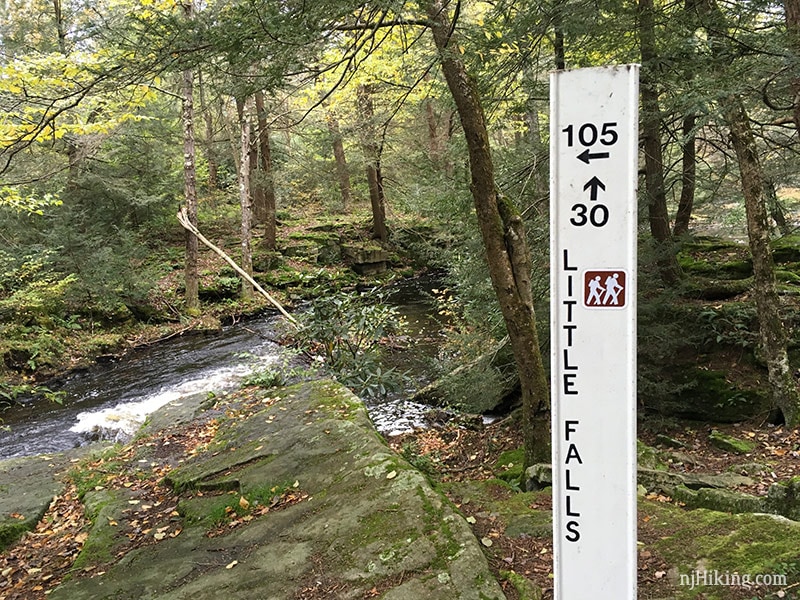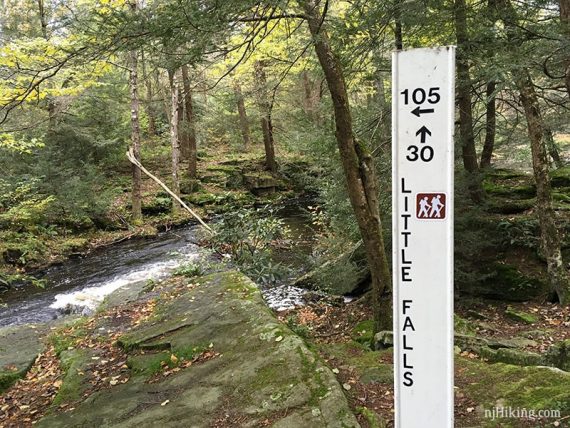 Follow the trail back along the stream.
Option: Or continue further on. We had planned on doing about 3 miles total but it was wet and muddy so we cut it short since we were going out to lunch.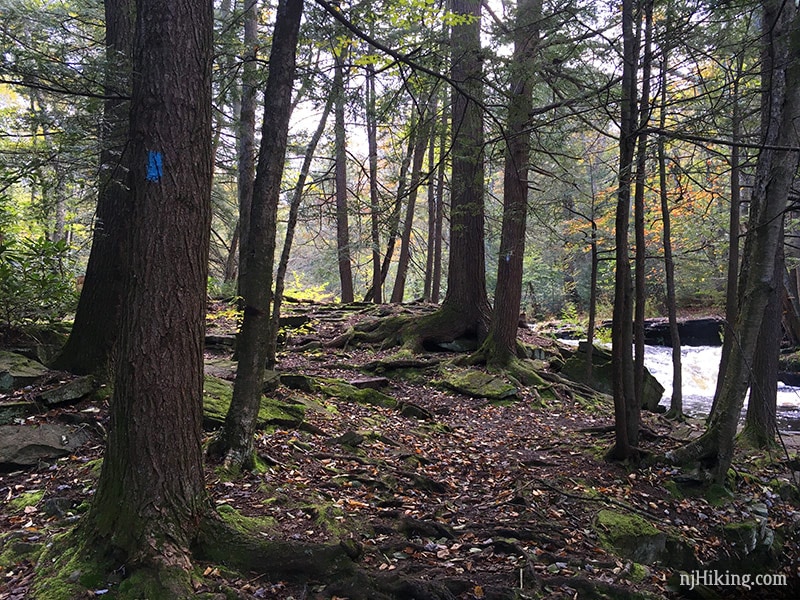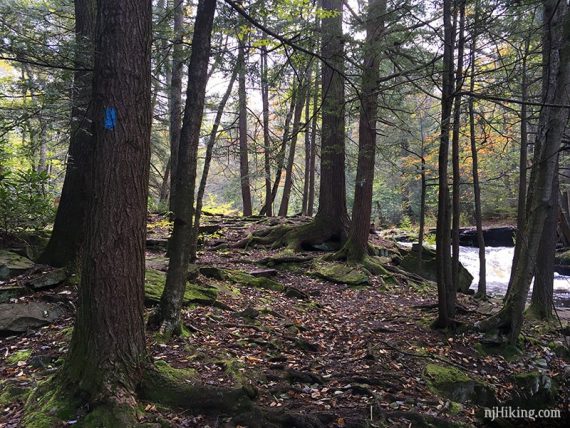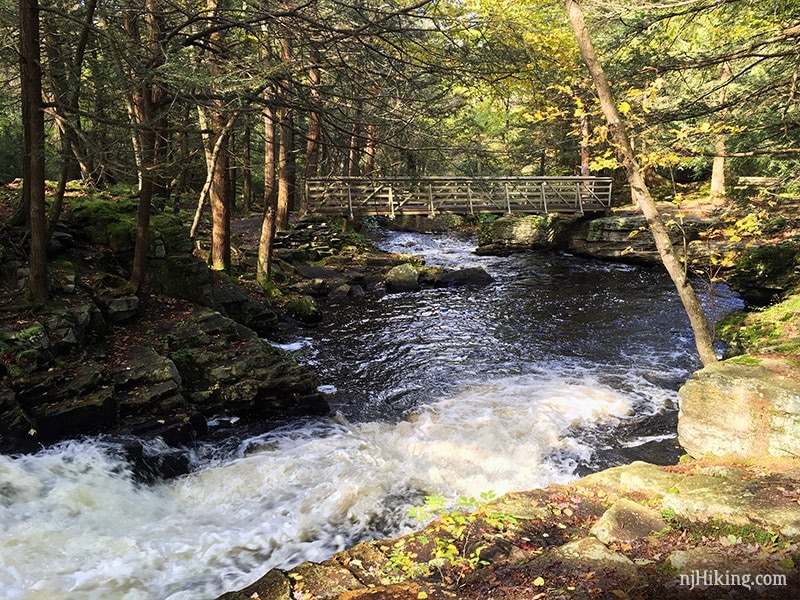 ---

Conservation Island
Level path with views of Promised Land Lake.
Miles: 1.0.
From the park office, take Pickerel Point Road and turn left on to Park Road. The lot will be on the right.
The trail starts over the large bridge.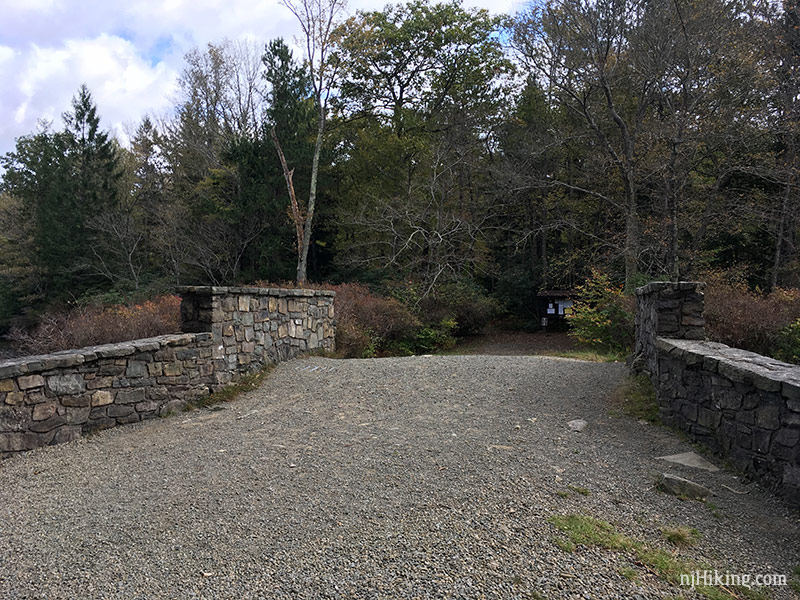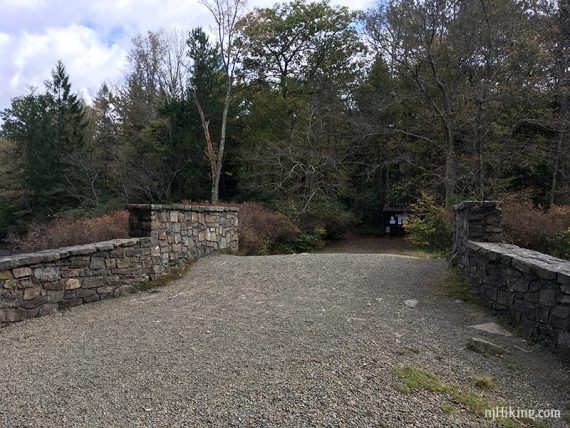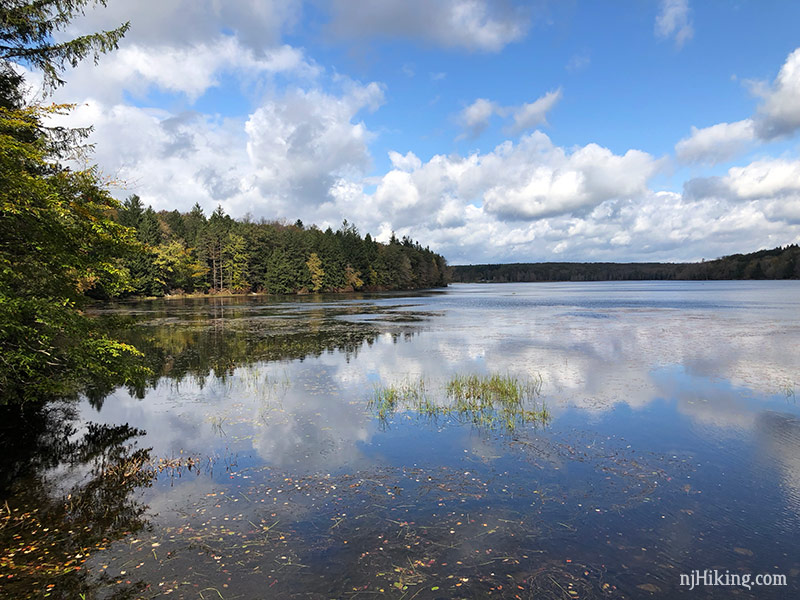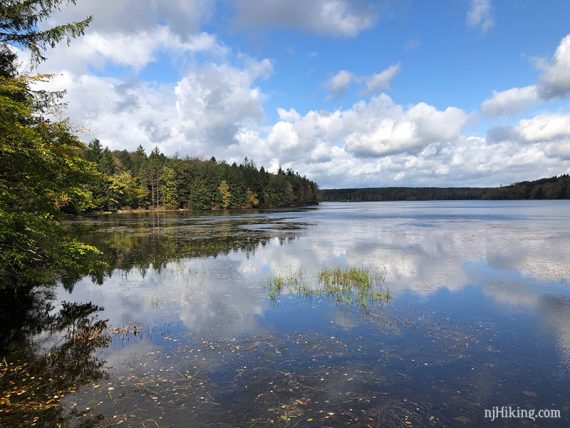 At the trail kiosk, we kept RIGHT and followed the loop around the whole island on the wide easy woods road.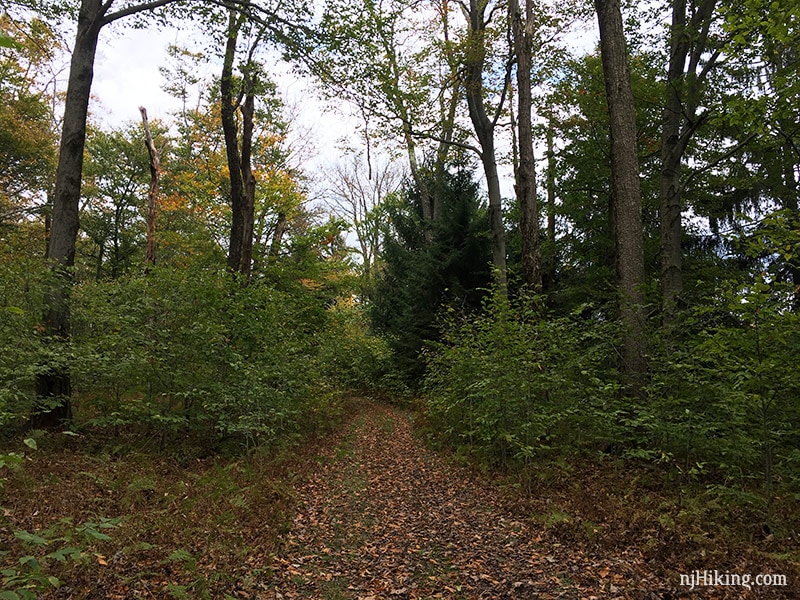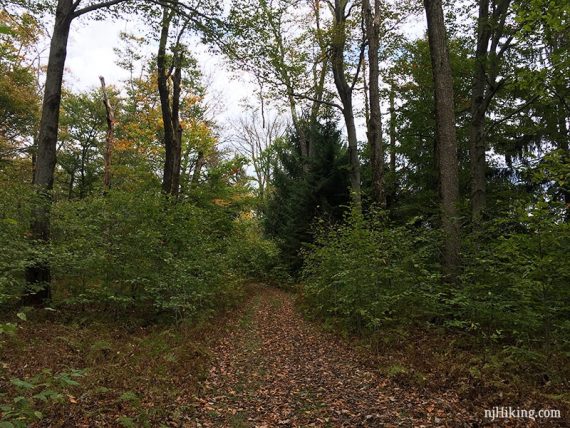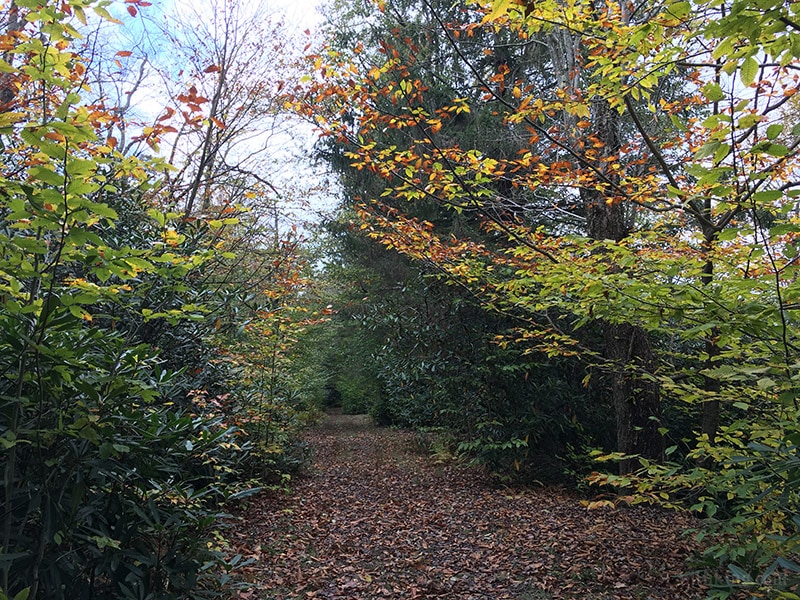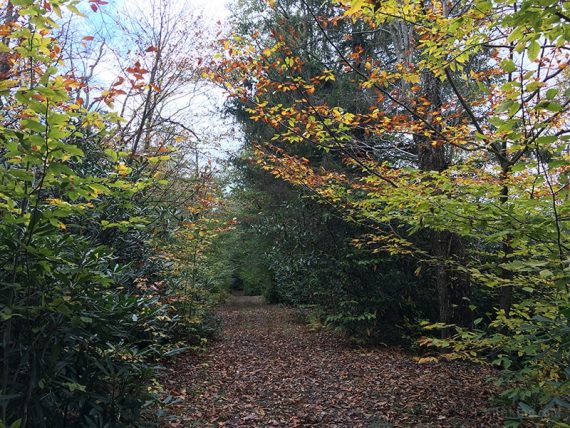 There is a more rugged trail through the center and a trail that runs closer to the lake, these are blazed BLUE.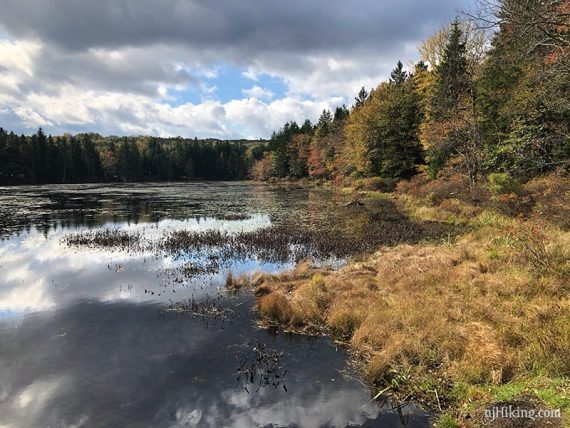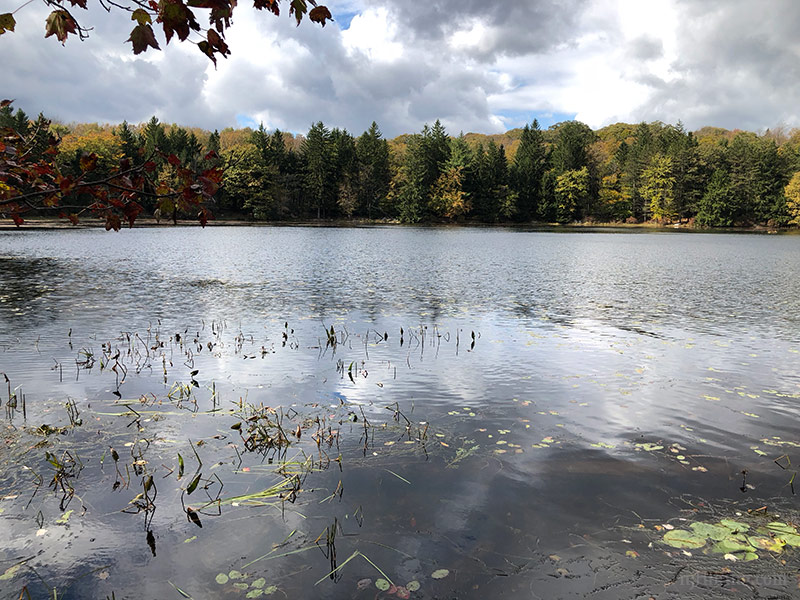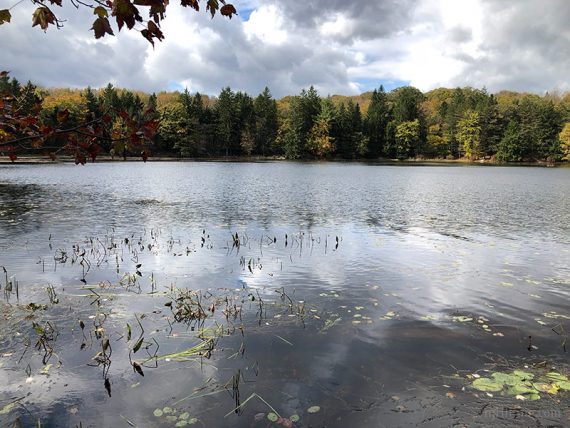 Keep looping around back to the bridge.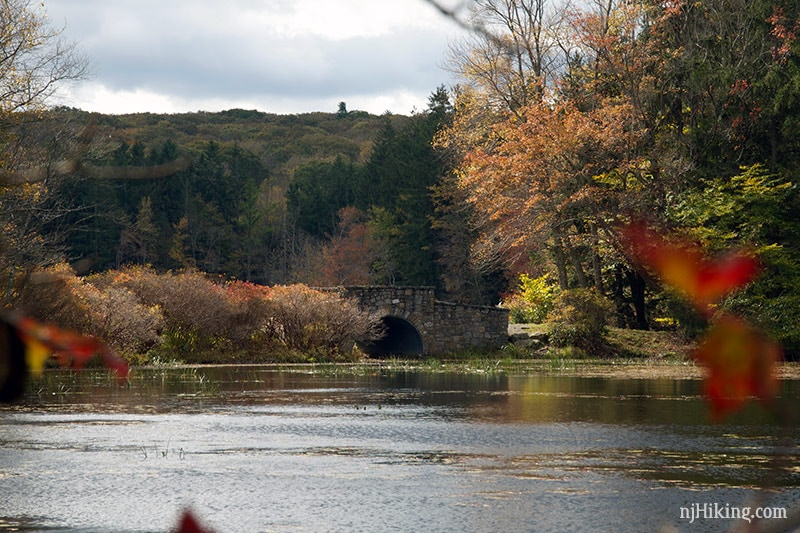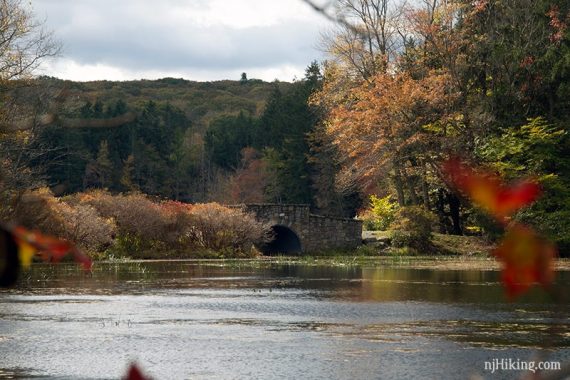 ---
Bonus.
If you also like stopping at breweries… we tried Wallenpaupack Brewing Co. and started with a pretzel appetizer with our flights.
Standouts: Logan's Tears (passionfruit sour), Brüte Strength (double IPA), Pocono Porter, Paupack Cream Ale.
I enjoyed my black bean quinoa burger and Tom remarked his burger was the best he'd had in awhile – I think it was topped with bacon, brisket, and gouda cheese.
We inhaled the pile of taaasty fries our meals came with and then waddled out cradling a growler of Logan's and a 4-pack of Brüte Strength.
And after driving a few more hours, we miraculously had room for a blonde cappuccino. Because there is always room for coffee.
Our ratio of hiking to post-hike consumption definitely was not in our favor so we did another little hike at Rutgers Ecological the next day.
—
Hiked 10/20/18.