Easy trails and a nature center near Rancocas Creek.
5.4 miles, dirt and roots, not very rocky, some small hills.
Shorter: 1 or 2 miles – stick to the trails in the Nature Center area (the ones before crossing the bridge)
Longer: Drive 10 min. to the south section, Rancocas State Park, and to add in more miles (the parks aren't connected by trails)
Nearby, within 30 min: Black Run Preserve; Saddler's Woods.
Our two cents:
Trails are good for beginners, especially the short ones around the nature center.
Nature Center contains a small book shop, and displays with a few animals. No dogs are allowed on the Nature Center trails.
A little road noise in the State Park section, especially on GREEN.
Map:
There was a paper trail map in the kiosk, but it's always a good idea to print one ahead. Could not locate the trail map online so we've scanned our copy in.
Scan these QR codes with a smartphone to pull up info along Nature Center trails: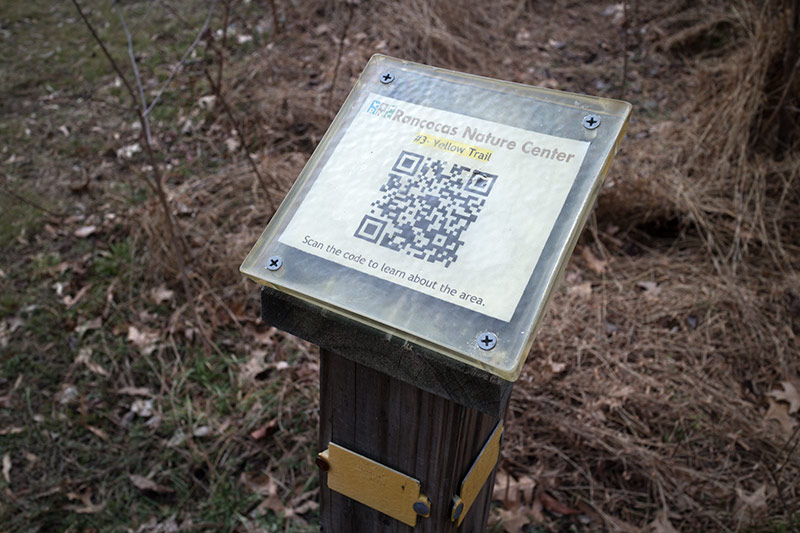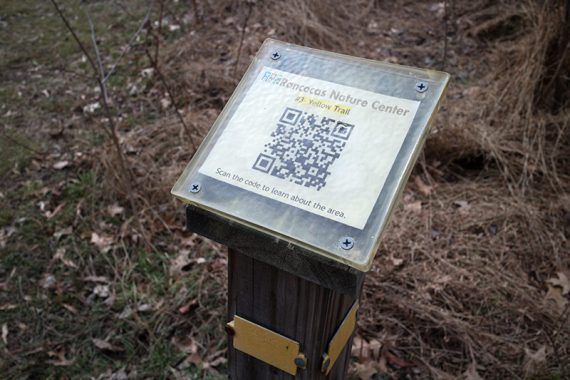 Books:
Variations are in 60 Hikes Within 60 Miles: Philadelphia and Best Day Hikes Near Philadelphia.
Turnpike S to exit 5 – R on Burlington/Mount Holly Rd – Slight R on Woodlane Rd – R on Woodlane Rd – L on Greenwich Dr – L on Tallowood Dr – R on Rancocas Rd. Turn L into Nature Center.
Restrooms:
In the Nature Center, open 10-4 Tu-Sat and 12-4 Sun., closed Mon. (double check their site for current info). Arriving earlier: restrooms at the WaWa on Woodlane Rd.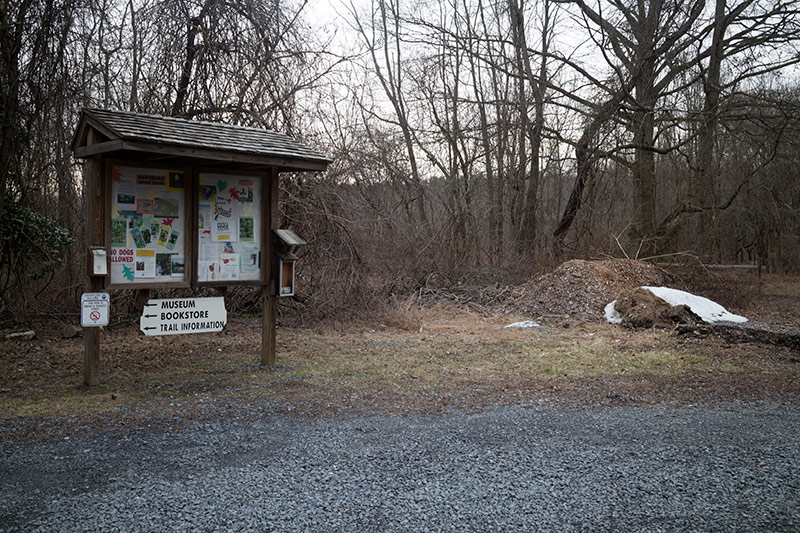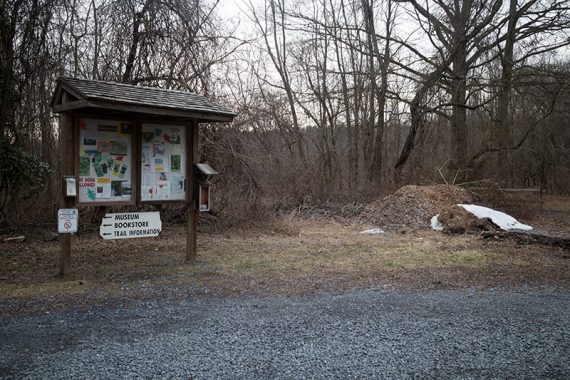 Hike Overview:
BLUE – RED – BLUE – ORANGE – BLUE – YELLOW loop – BROWN – WHITE – GREEN – WHITE – BROWN – YELLOW – BLUE
0.0 – From the parking lot, walk on the left side of the Barn to an intersection of BLUE and RED.
Turn LEFT to start following RED around a meadow [BLUE goes straight, take that to reduce the length of the hike by about .3]
/// Alternate: start on the Maple Leaf trail from the nature center and pick up RED from there. ///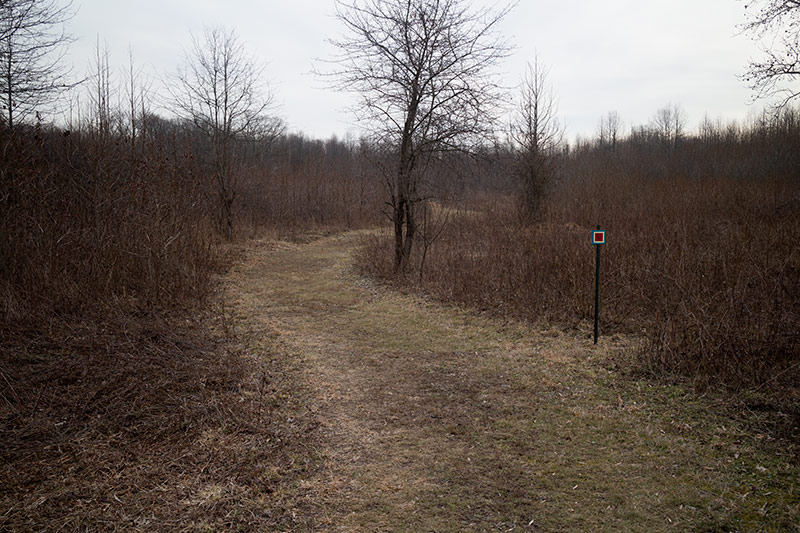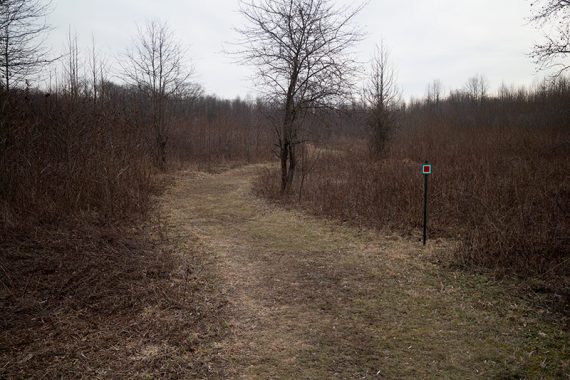 0.1 – Pass Maple Leaf on the left.
0.5 – Turn LEFT and start following BLUE through trees planted in rows.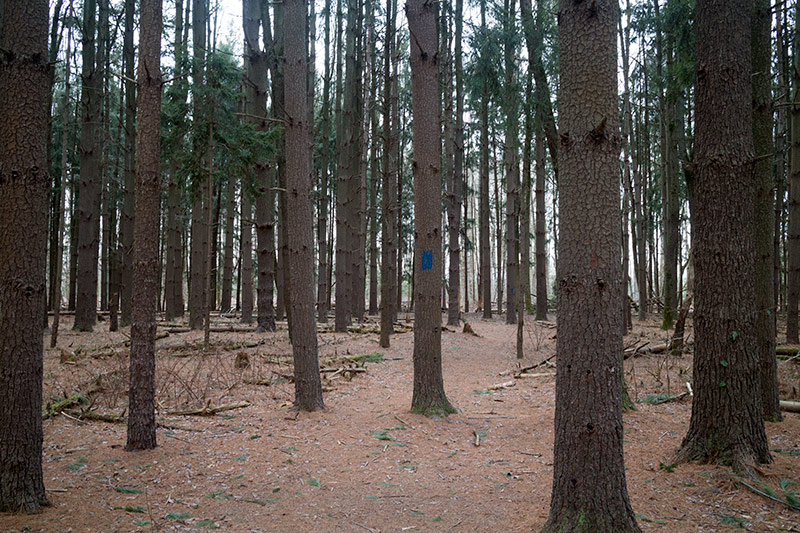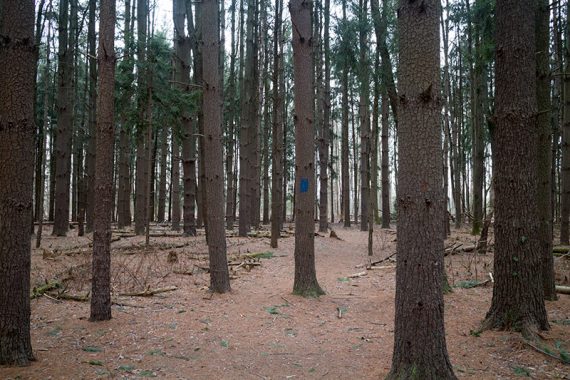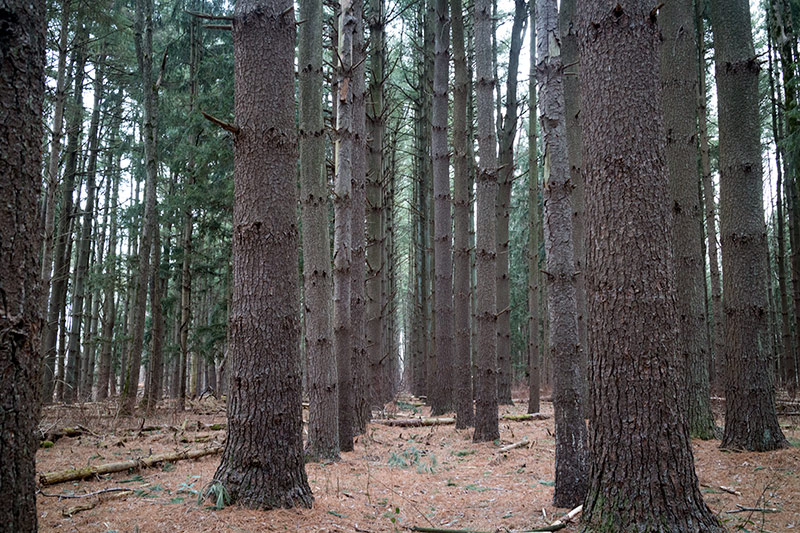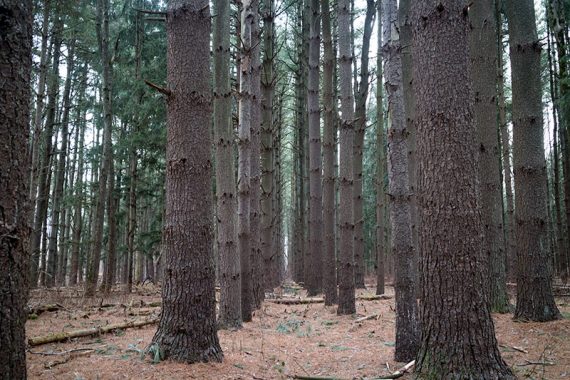 0.6 – Turn LEFT and follow ORANGE out-and-back to a view of the creek.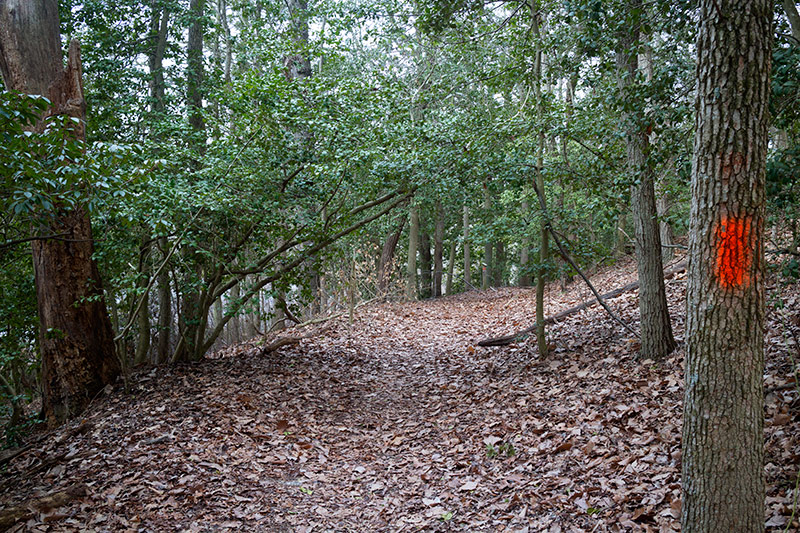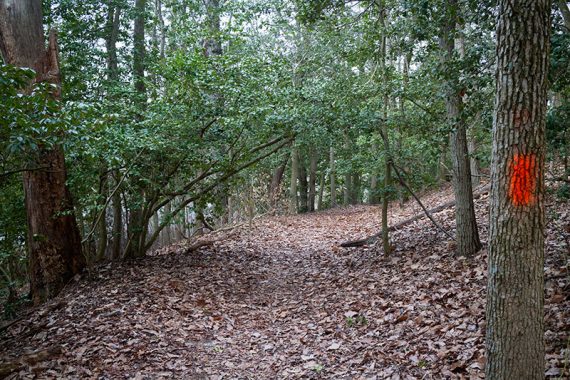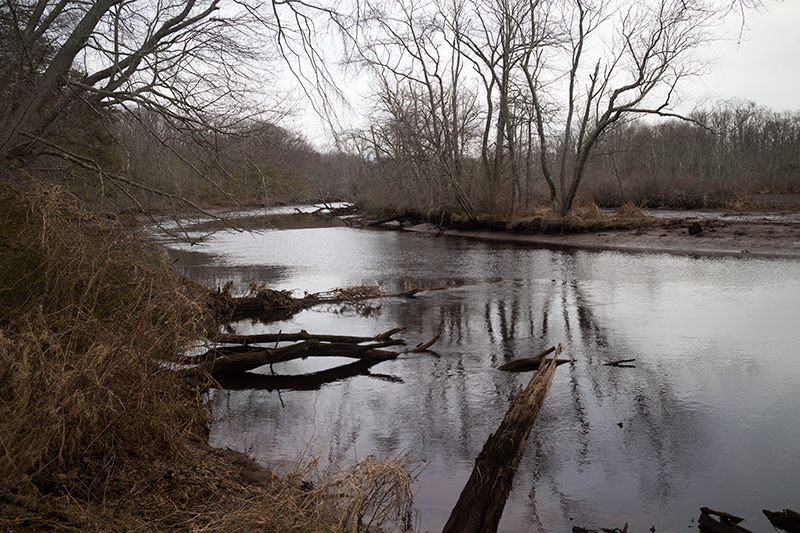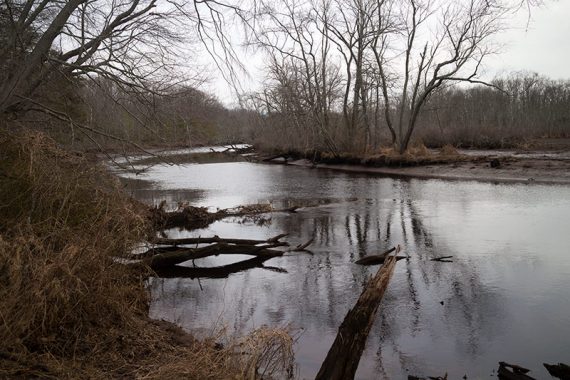 ORANGE runs along the creek a bit before ending, and was muddy when we hiked it.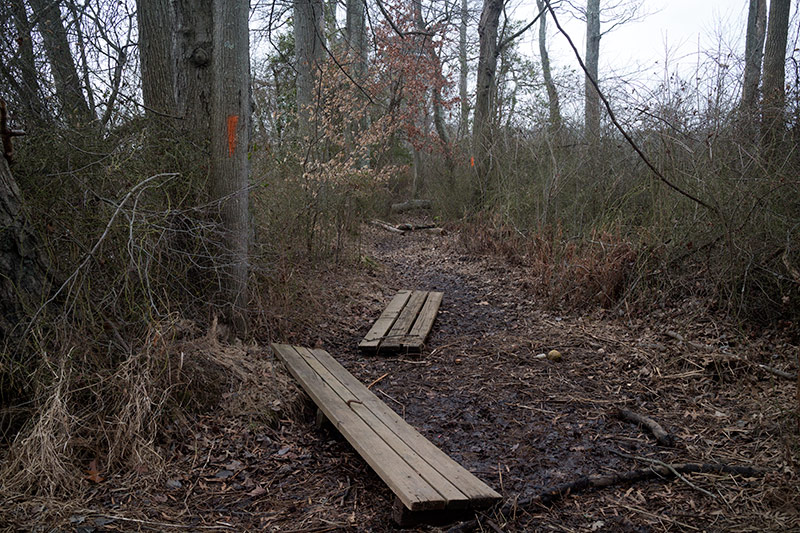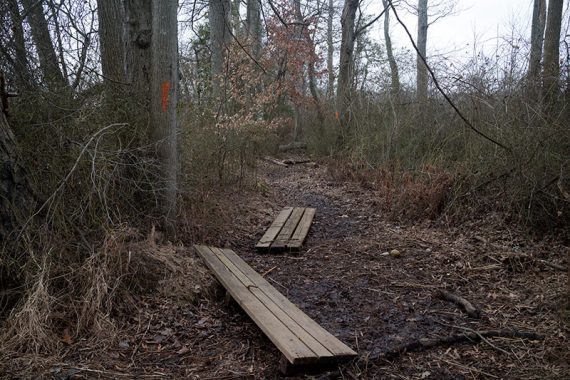 Retrace back to the BLUE trail, and turn LEFT to continue on BLUE.
/// Option: Skip ORANGE to reduce the hike by .5 mile. ///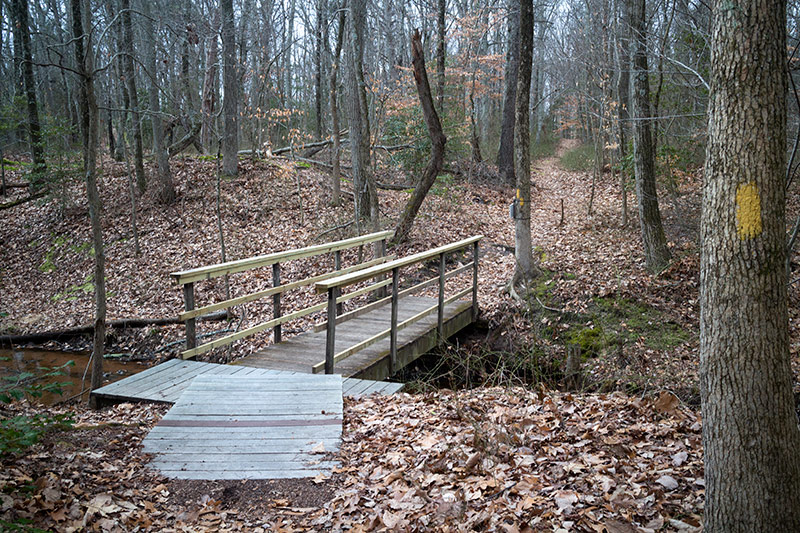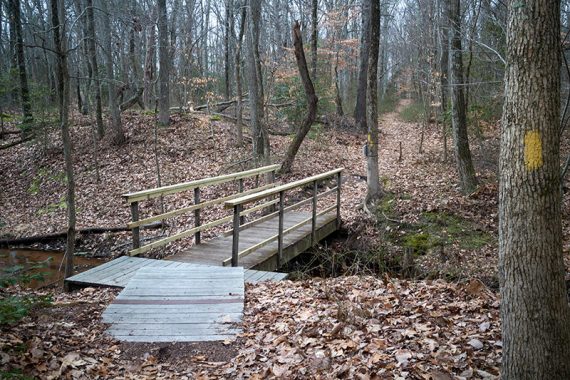 1.3 – Just before a wooden bridge, the BLUE and a YELLOW trail leave to the right. This bridge connect the Nature Center trails to Rancocas State Park.
(This YELLOW is not on the park map but is on the hand drawn map on the other side of the bridge, and in the links above).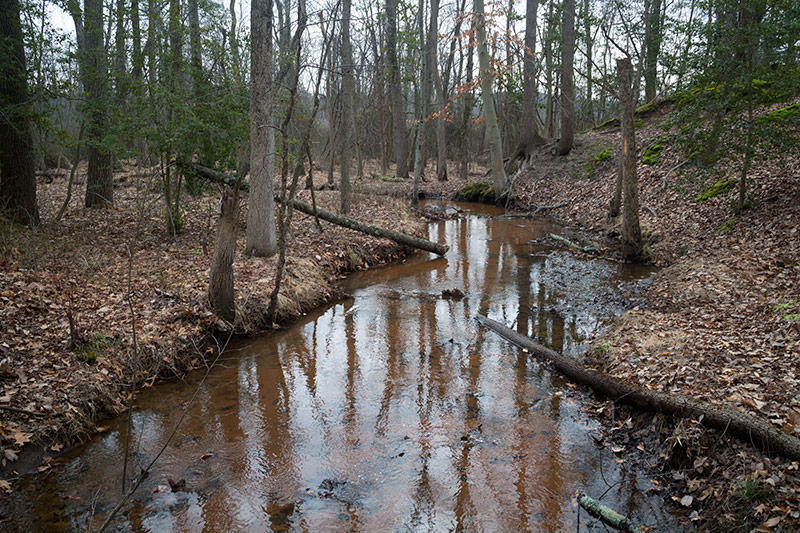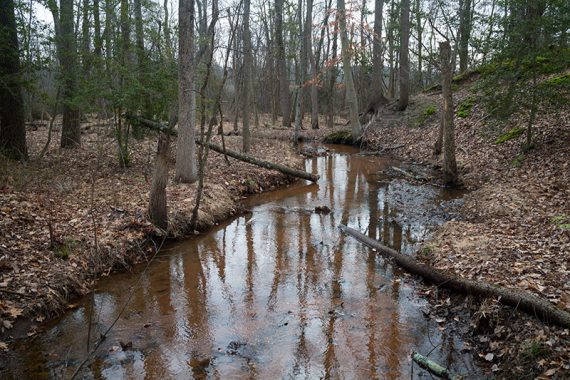 Just after the bridge turn LEFT to start following the YELLOW loop. There are hard-to-spot yellow markers on a tree indicating the turn.
[BROWN goes right though the markers are greyed out, and straight is also YELLOW but there may not be marks visible]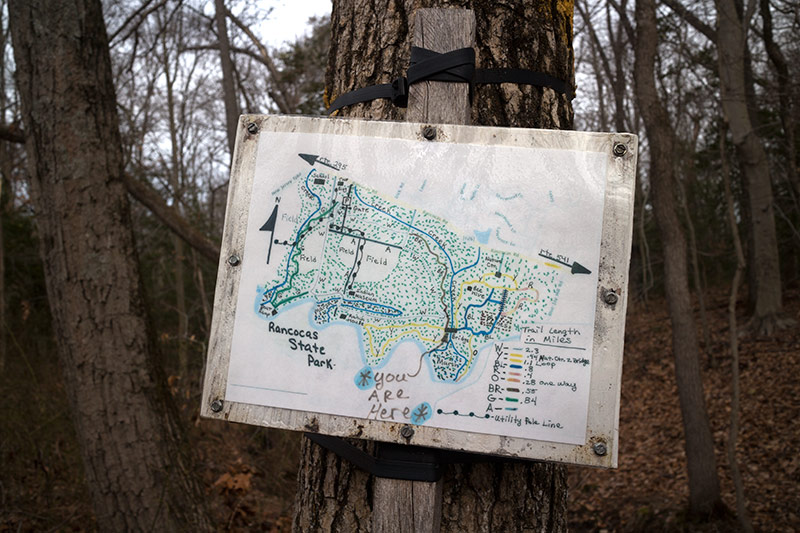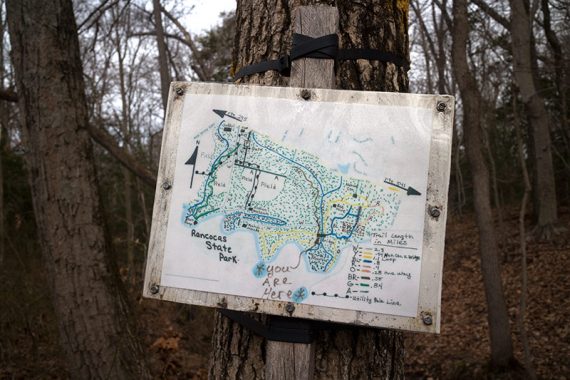 /// Option: Skip the YELLOW loop to reduce the hike by 1.1 mile. ///
2.4 – After following the YELLOW loop around, return to just before the bridge.
Turn LEFT to start following BROWN (first couple of markers may be painted over).
/// Option: cut this hike a lot shorter by going straight over the bridge and pick up the description at the last paragraph below. ///
Shortly, veer RIGHT to continue on BROWN. [WHITE is to the left]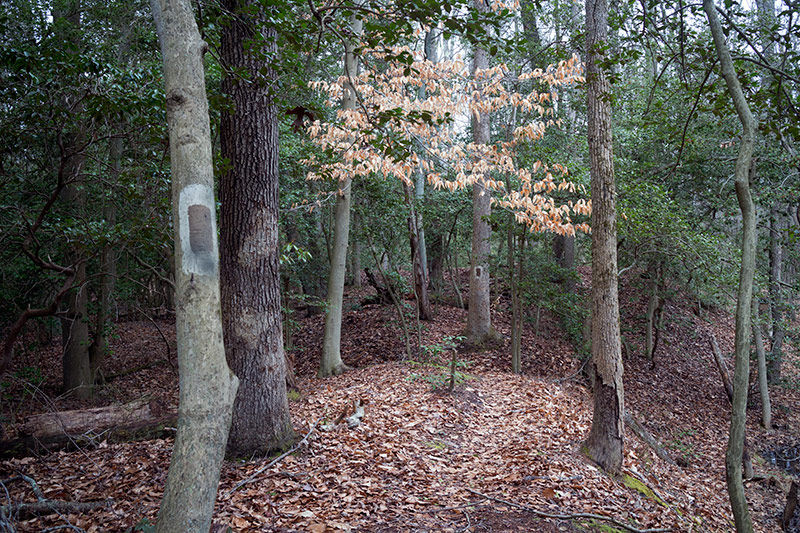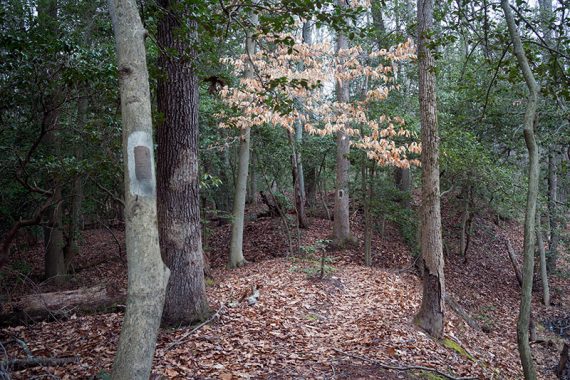 There are plenty of markers in this section – brown paint on a white background.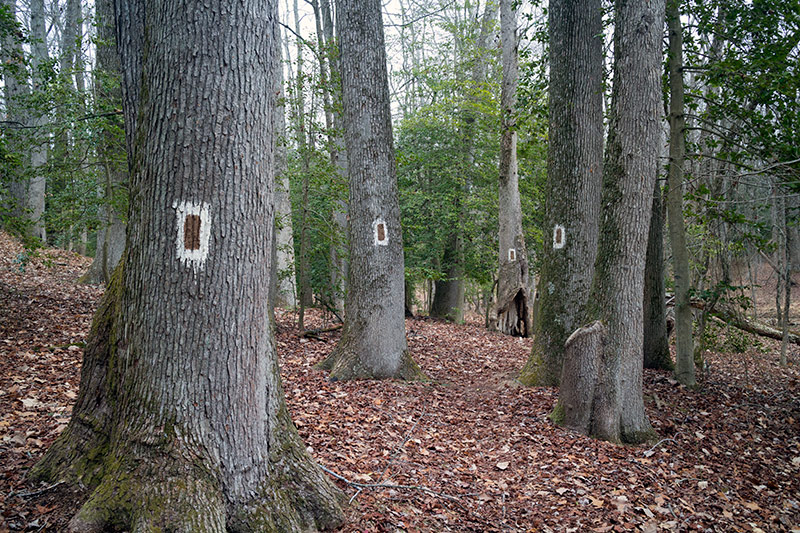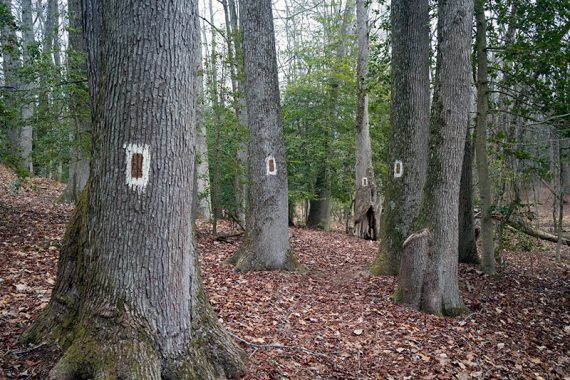 2.9 – Continue straight and now follow WHITE. [WHITE also goes left]
3.2 – Turn RIGHT and walk down a park road for a short distance to a parking lot.
At the parking lot, turn LEFT to continue on WHITE.
3.3 – Start following GREEN.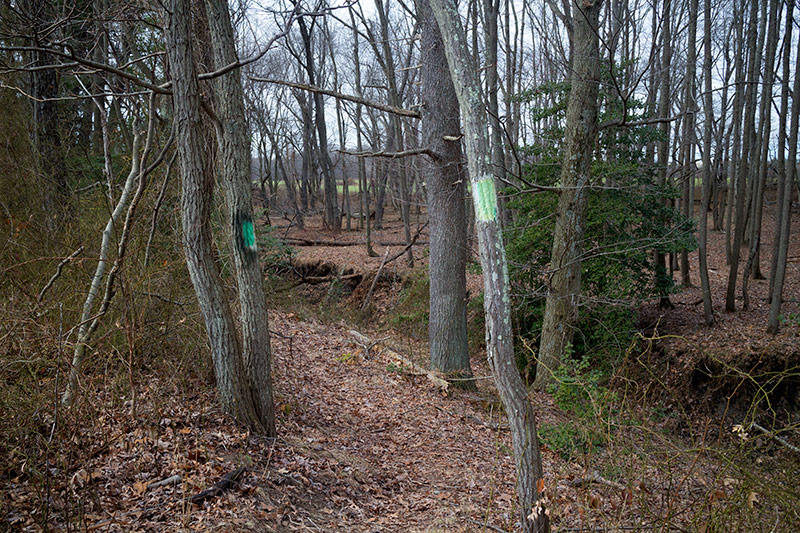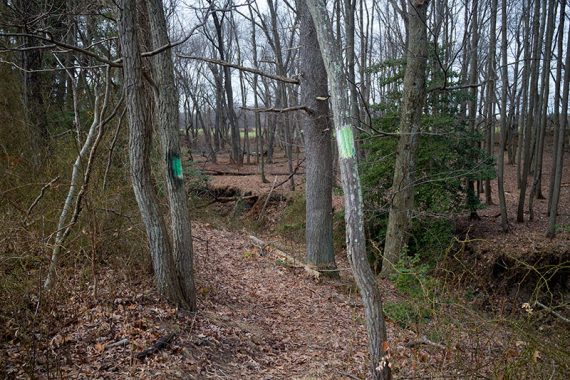 4.1 – Just after a boat ramp area, GREEN ends at WHITE.
Veer RIGHT towards the water to start following WHITE. [WHITE also goes to the left].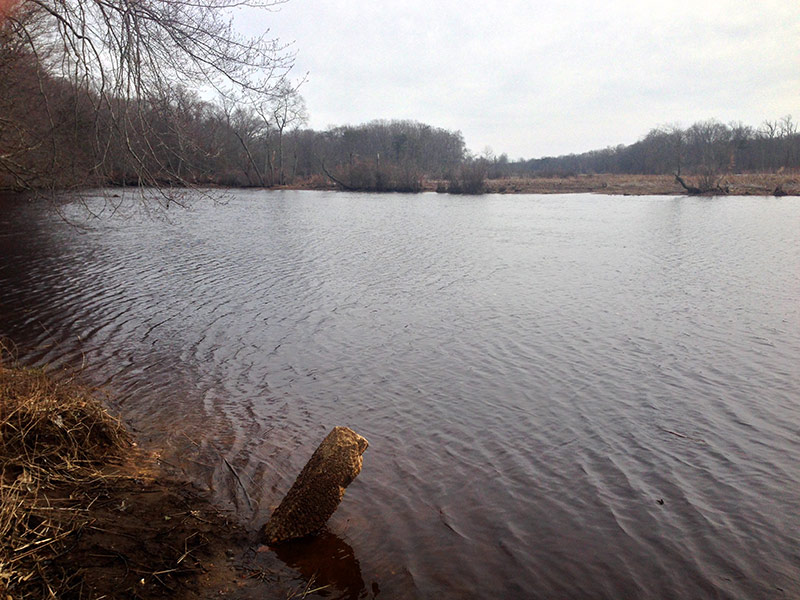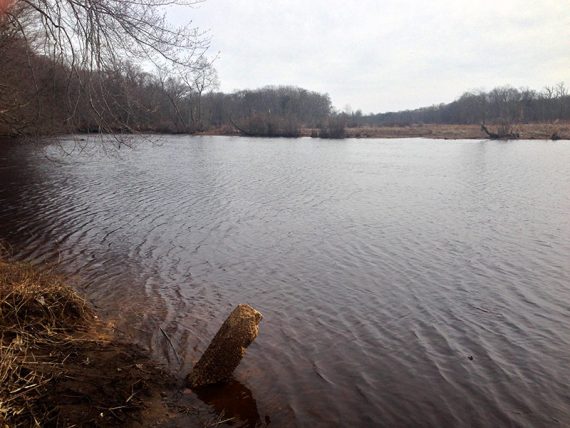 4.5 – At a Nature Trail sign, turn RIGHT and follow the gravel road a short ways before turning LEFT back on to the WHITE trail.
5.0 – Turn RIGHT and follow BROWN a short distance back to the bridge. [WHITE goes left]
Turn LEFT to cross the bridge.
Pass a YELLOW trail on the left (not on the map), then turn LEFT to follow BLUE back to the parking lot. [BLUE also goes right]
—
Hiked: 2/20/16.