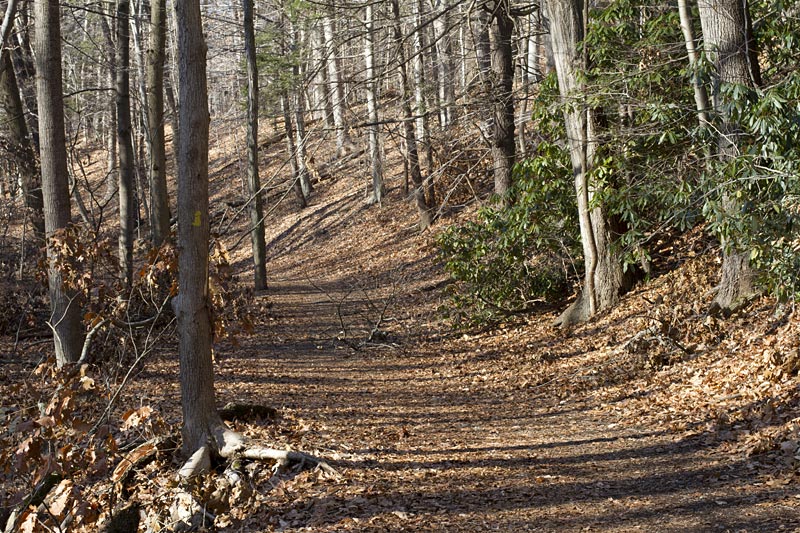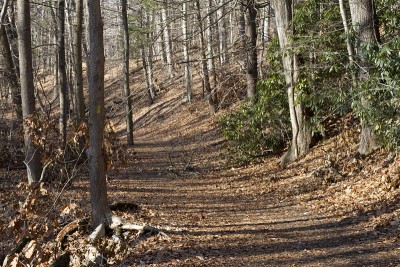 Complete hike details found on the South Mountain Reservation page.
With mild weather in the forecast for Jersey – in the mid-50's in December! – we had to go hiking. Sometimes, you just need to ditch things and go for a hike.
Our compromise was heading to a park under an hour away, where we could get a moderate hike in while leaving the rest of the afternoon open to attempt to be mildly productive. We'd been saving South Mountain Reservation for just such a situation.
This park is similar to Watchung Reservation and northern Jersey terrain, moderate, somewhat rocky trails. It's also surrounded closely by development and has some traffic noise so it does not have the remote feeling that many of northwestern NJ's trails do. It is unfortunately marred by graffiti on some rocks near streams as well as around Hemlock Falls.
But still, it's a nice park and an easy getaway for a large portion of New Jersey. There is a viewpoint from Washington Rock (where a signal beacon warned the Army at Morristown of the British Army's approach), Hemlock Falls (a popular waterfall destination, though we had it to ourselves this morning) and a hike along the Rahway River. The other end of the park also contains Turtleback Zoo.
We kept to the hiking trails, but there are many easy, unmarked woods roads and that is mostly what people were using (lots of dog walkers and people out for a stroll on these wide, level trails). This route uses part of the 40-mile Lenape Trail.
*The park is non-hunting except for some days in Jan. and Feb. [haven't seen 2012 dates but in 2011 it was Tuesdays and Thursdays]
Miles: 6.1 miles
Parking: N40 43.699 W74 18.253 [Locust Grove Parking Area]
Under an hour from central NJ, New Brunswick-ish area.
Route: Lenape Trail (YELLOW) – Rahway (WHITE)
Holiday Bonus: There is an evergreen tree decorated with Christmas ornaments at the Washington Rock viewpoint.
Wildlife spotted: 5 deer bounding away over a hill.
Snack Time: Clif Bar recently sent us this cute little box with some samples (because somewhere along the way we subscribed to their newsletter or signed up for samples) We tried the White Chocolate Macadamia Nut Clif Bar
. Verdict: 2 thumbs up; we'd buy it. It was slightly sweeter than some of their other flavors but had nice taste. And let's face it… can you go wrong when combining white chocolate and macadamia nuts?