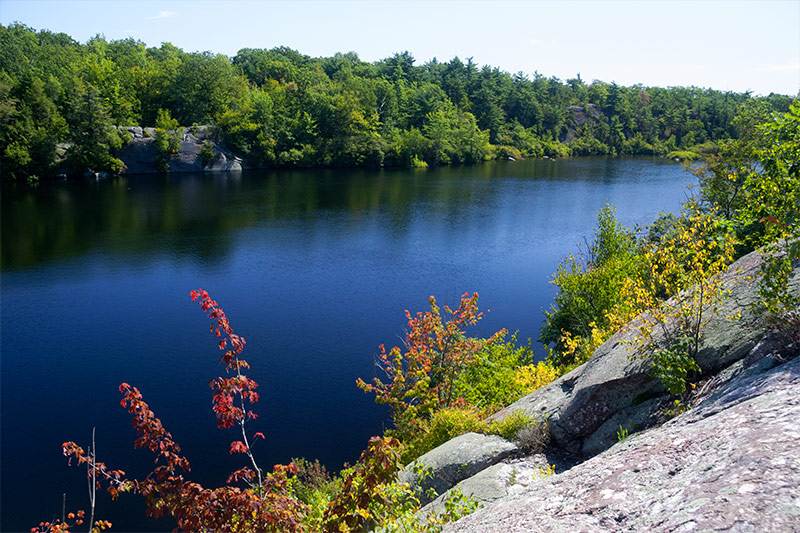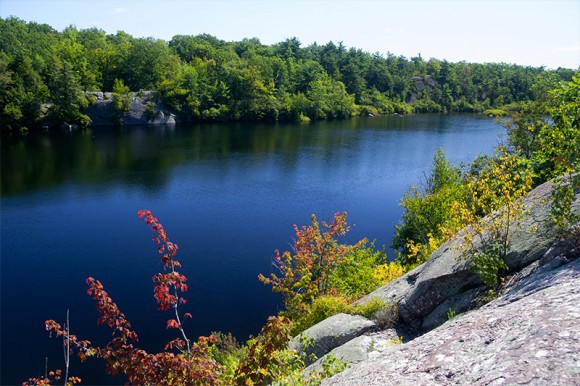 For detailed hike directions, maps, photos and GPS coordinates, visit our Terrace Pond page.
4.8 miles – moderately challenging/challenging. Scrambling involved.
YELLOW (Terrace Pond South) – RED (Terrace Pond Red) – WHITE (Terrace Pond Circular) – BLUE (Terrace Pond North)
This is just a pretty trail, one of the best in Jersey really. A nice variation between easy, pleasant forest walking and rocky scrambling areas, a lot of nice trail packed into 5 miles.
The weather was absolute perfect hiking temp, partly sunny with a nice breeze… and somehow there was hardly anyone on the trail.
In fact, we saw no one until we arrived at the Pond, and then passed a handful of people heading to the Pond on the Blue trail on our way back.
This is a popular trail, too, so don't go here expecting solitude… not sure where everyone was. In front of the TV for opening day of football perhaps?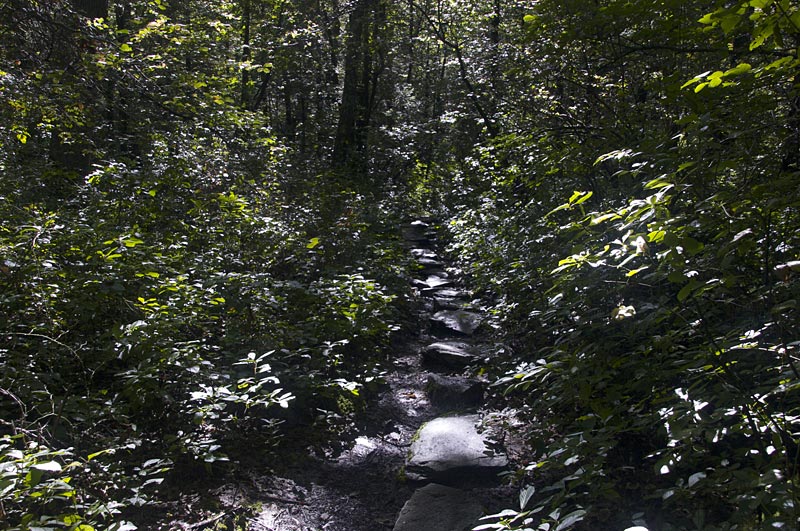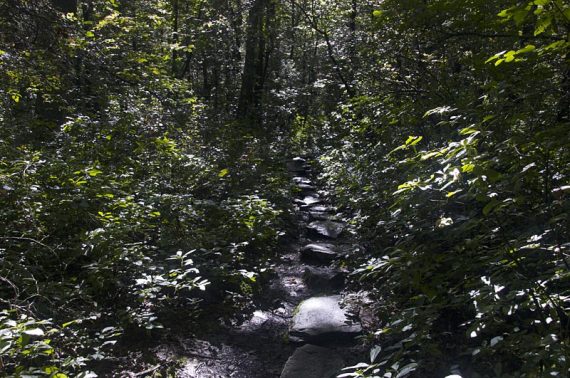 Wildlife spotted… 3 deer, tons of frogs, couple of those adorable orange salamanders… and a snake…
We were crossing a jumble of wet rocks and I saw something move – I startled it and it startled me.
There was nowhere to walk around at this point in the trail (a jumble of rocks to cross along the swampy area drainage on YELLOW) so we kind of slowly move to get a visual on where it went and it lifts it's head up a bit to look at us.
We tried to determine if it was going to suddenly bolt for where we needed to walk. The rocks were wet and a little difficult and the last thing we needed was a twisted ankle trying to get out of the way of a runaway snake.
So we stand there a moment, staring at the snake. The snake staring back at us.
It was kind of comical, really.
So we moved on slowly, as to not freak it out. He watched us leave, then put his head back down. Got a few seconds of him on video. We knew he wasn't poisonous – but still.
It was a decent size, 3+ feet, kinda thick and dark brownish. Think it was a Northern Water Snake. We looked at the NJ snake ID PDFs from the state when we got home, but really can't tell for sure.
We didn't see any bears but saw some scat, and lots of dirt scratched up along the trails – we are assuming that is from bears looking for bugs but not sure. We saw a mom and 2 cubs a few years ago in this area.
We'd recently gotten a LOT of rain so the trail was quite wet. Every time we approached a puddle, you'd hear PLOP PLOP PLOP as half a dozen cute little frogs jumped into the water to hide.
As you passed, several little frog heads would be sticking out of the puddle, watching you. And if you tried to lean in to get a look at them, PLIP they'd go under and swim away. Very amusing.

Hike Directions:
Original counter-clockwise directions, archived from the main page 12/2019:
0.0 – Walk across the street from the lot, there are BLUE and YELLOW blazes on the tree. Almost immediately, bear RIGHT and follow YELLOW (Terrace Pond South).
Travel through some pleasant forest, crossing some wet areas on planks or rocks, with plenty of mountain laurel and rhododendron. Surface is a little rocky but mostly level, not too much elevation change.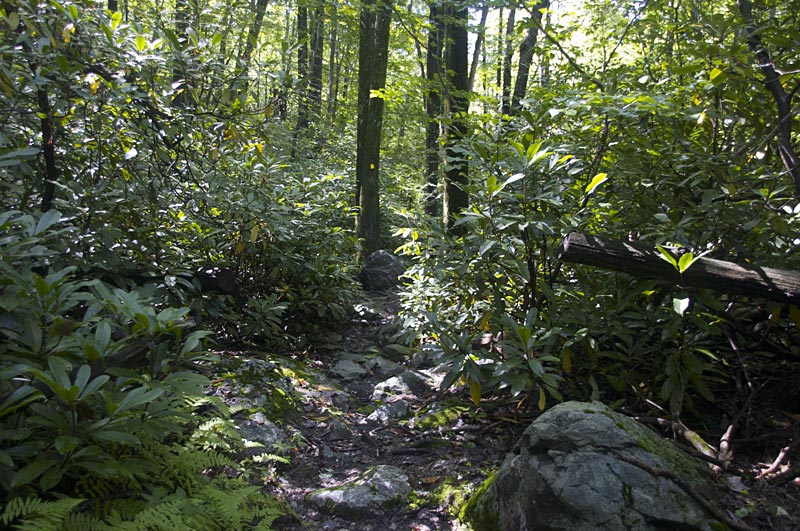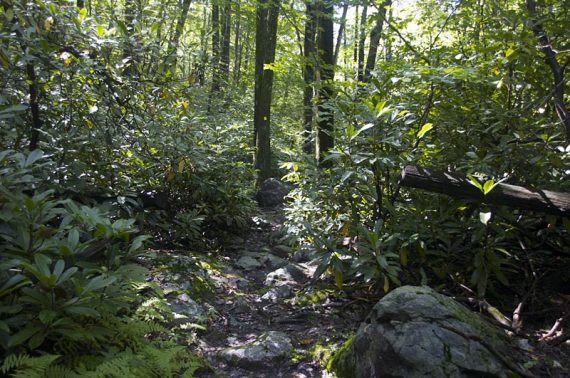 1.5 – YELLOW (Terrace Pond South) takes a sharp left – almost like the trail is going back on itself. Pass an unmarked woods road on the right.
A swampy area will comes view, with a small spur trail on the left for a closer look.
1.8 – Pass an unmarked wood road on the right.
The trail passes closer to the swamp where the water level may be higher than the level of the trail thanks to busy beavers whose homes can be spotted on the water.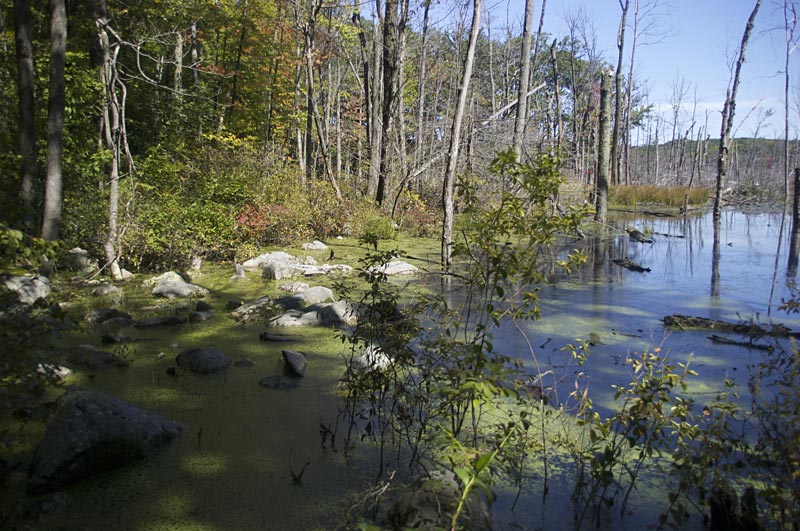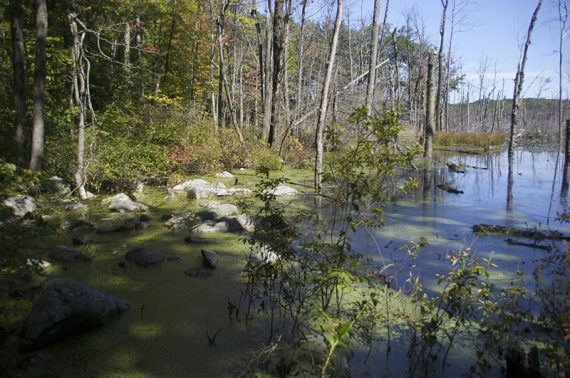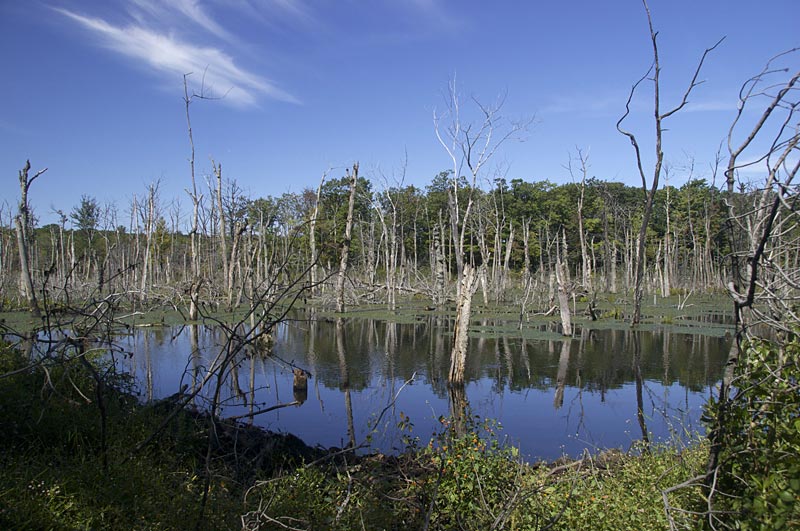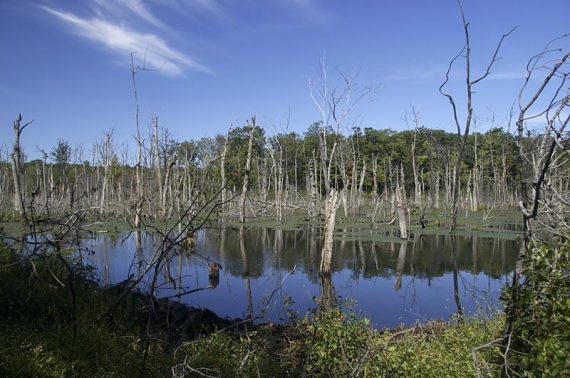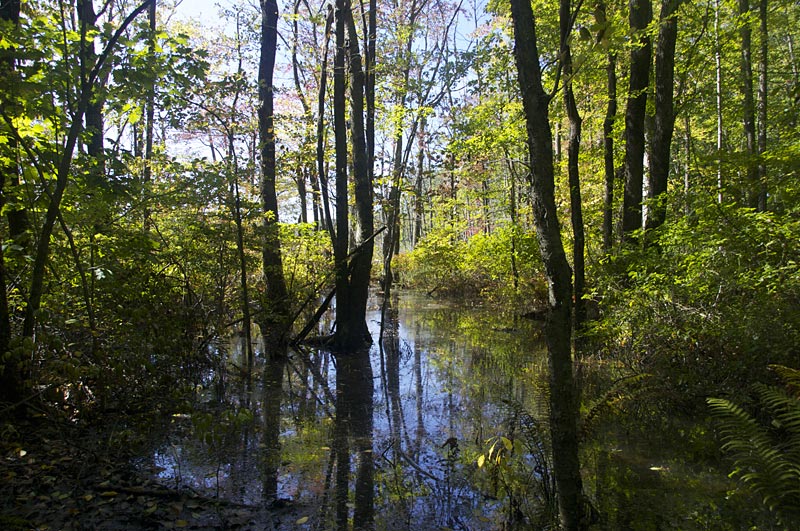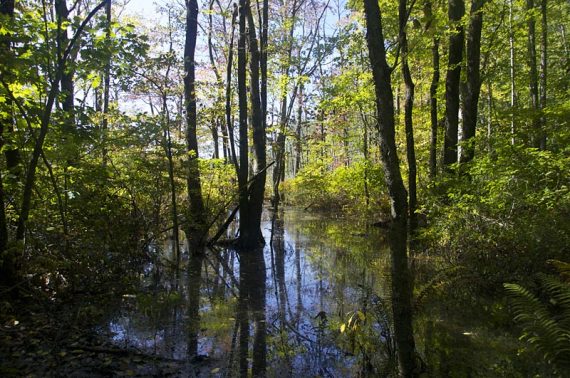 The trail skirts off to the right away from the water, where the trail was often very wet.
(June 2015: We had to limbo through this short overgrown section which unfortunately also included a LOT of poison ivy.)
2.0 – Bear LEFT at the Y-intersection to follow YELLOW (Terrace Pond South). [To the right is YELLOW DOT.]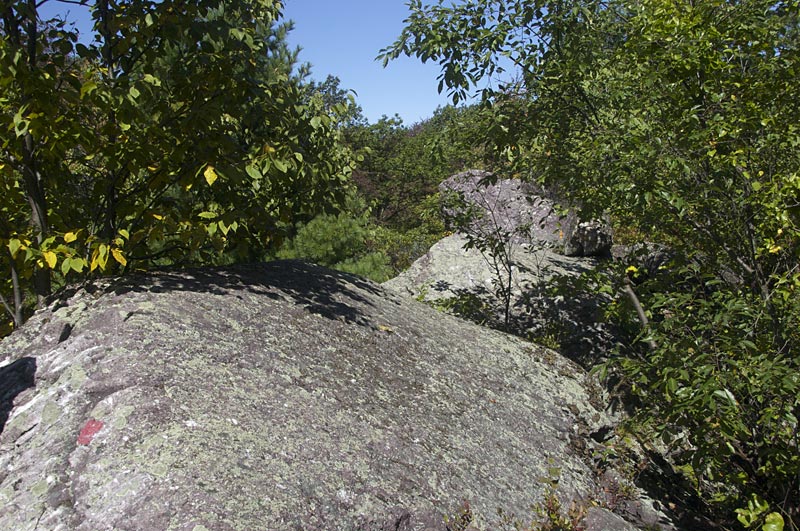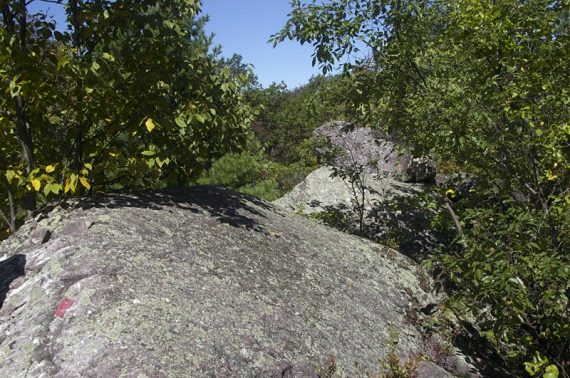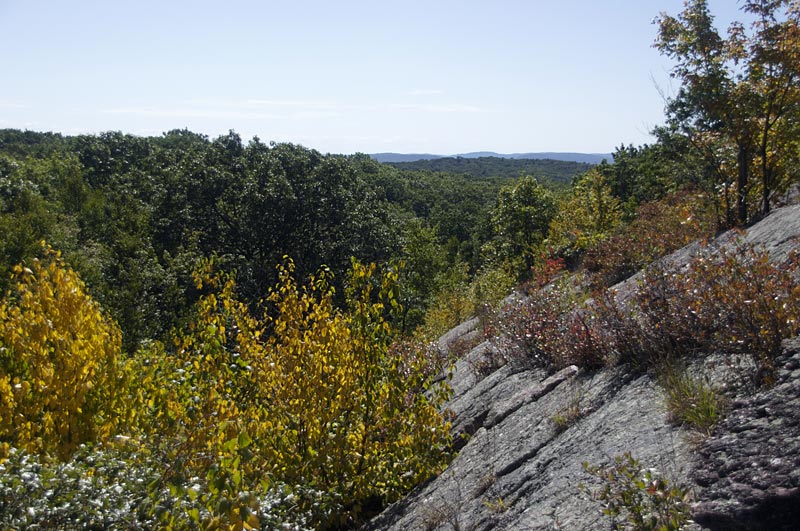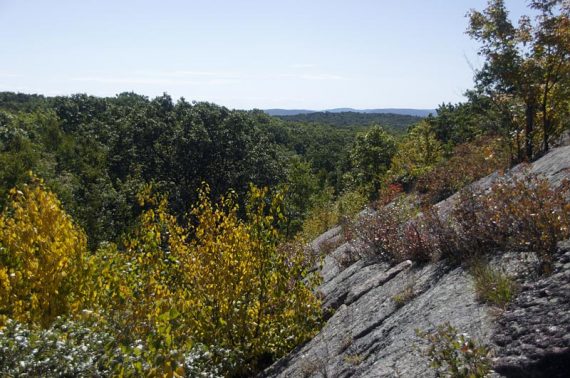 2.7 – Head up a rocky outcrop for a limited view of the area. Continue following YELLOW (Terrace Pond South). Blaze is a little hard to spot coming off the rocks, if you head down the path and turn around there may be one.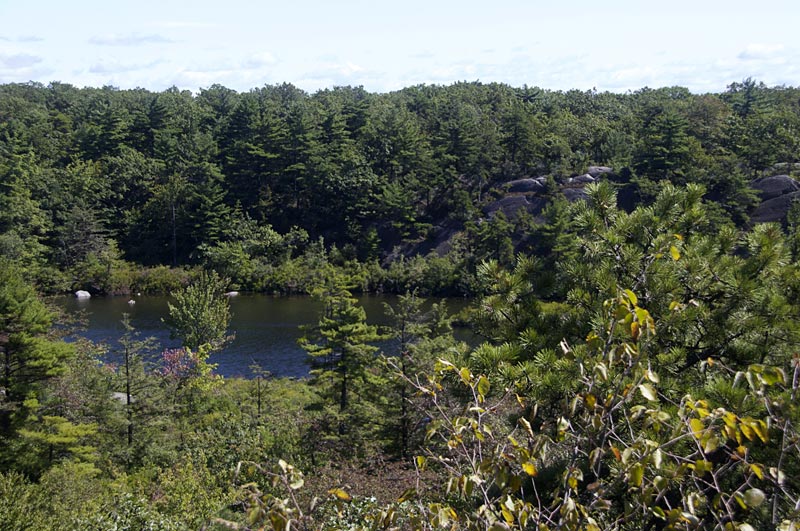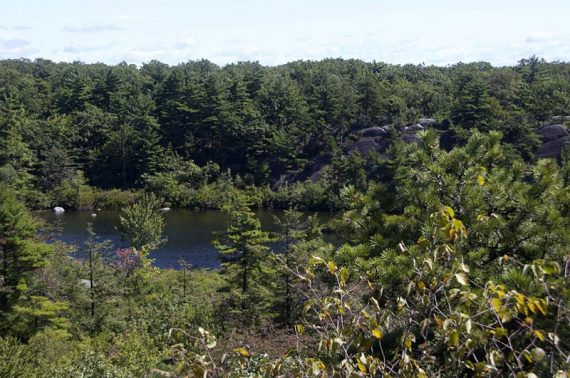 2.9 – Turn LEFT and now follow RED (Terrace Pond Red). Very shortly after, YELLOW (Terrace Pond South) leaves to the right.
Continue LEFT on RED (Terrace Pond Red). Trail heads somewhat steeply downhill, scrambling down some rocks.
Trail is quite narrow in spots. Arrive at a large, crooked trail sign that notes the end point of the RED (Terrace Pond Red) trail.
3.3 – Turn LEFT and start following WHITE (Terrace Pond Circular).
3.4 – Arrive at Terrace Pond. There is a large rocky outcrop to hang out on, plus other smaller areas further down the trail.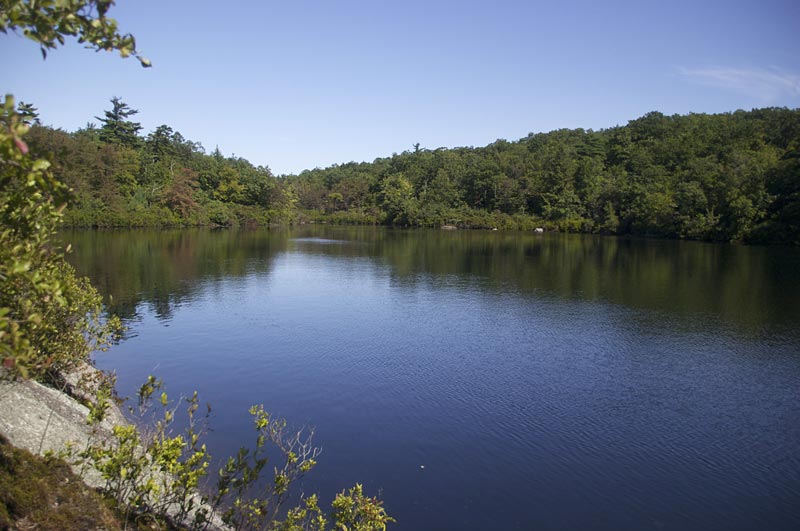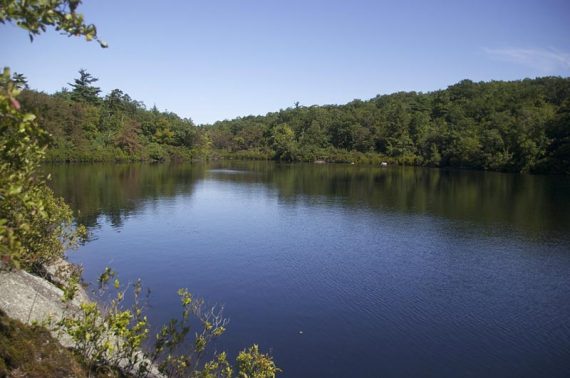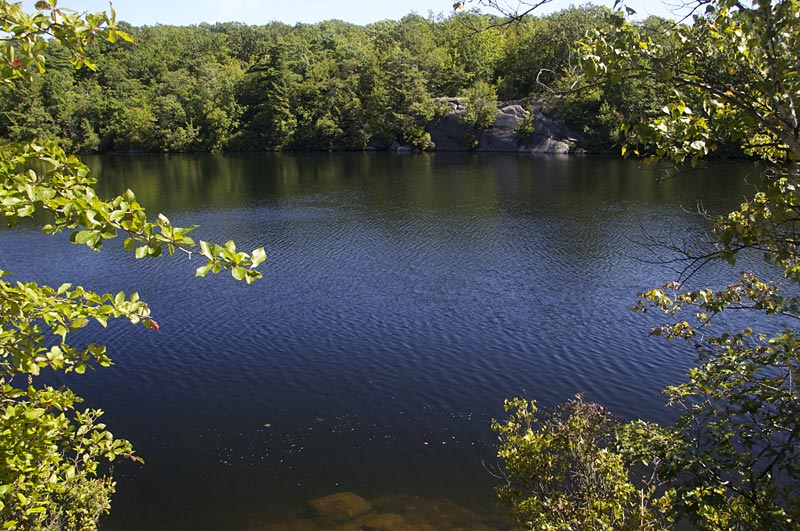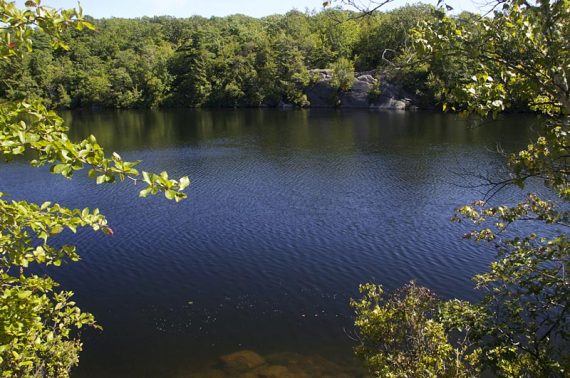 When ready to leave, keep following WHITE (Terrace Pond Circular) to the end of the pond.
3.5 – Meet up with BLUE (Terrace Pond North). Turn LEFT and start following BLUE (Terrace Pond North).
[To the right, WHITE (Terrace Pond Circular) and BLUE (Terrace Pond North) continue.]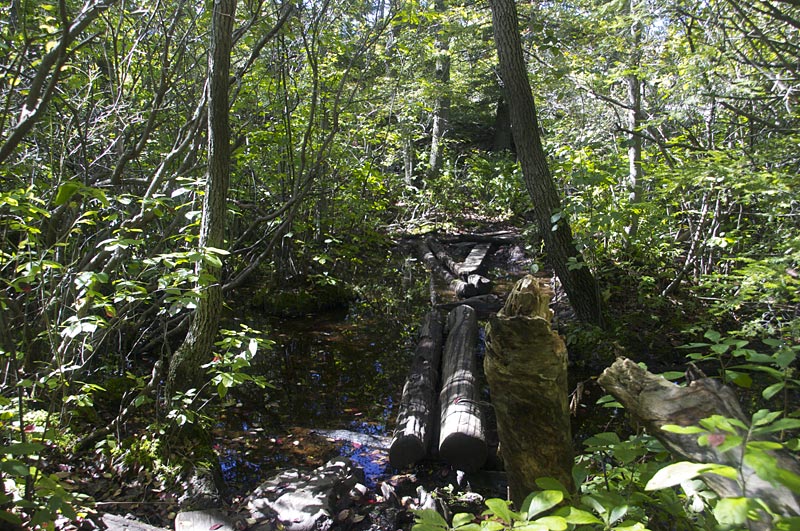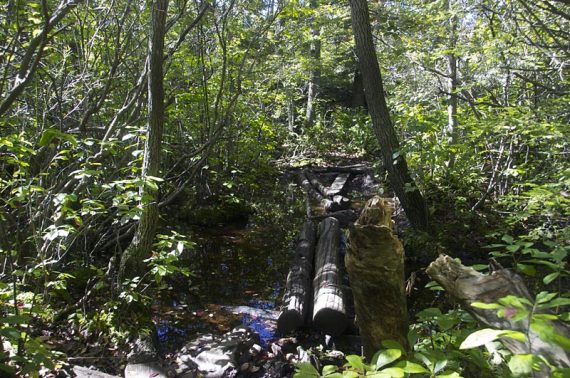 The trail heads downhill with some scrambling. There are also a few rock slabs to scramble up, including one with a large prominent rock with a limited view to the west.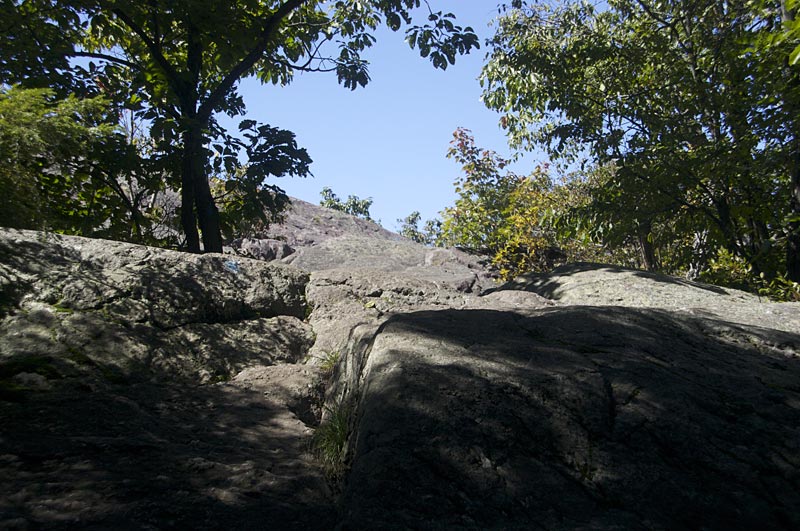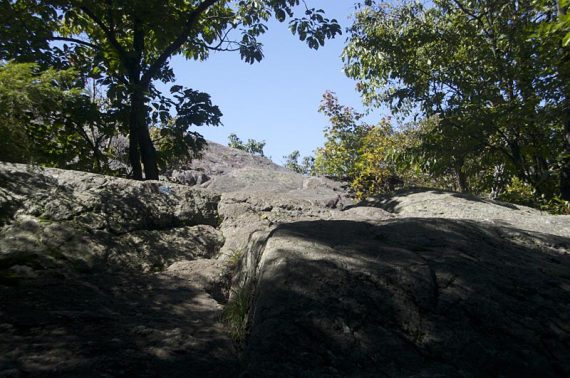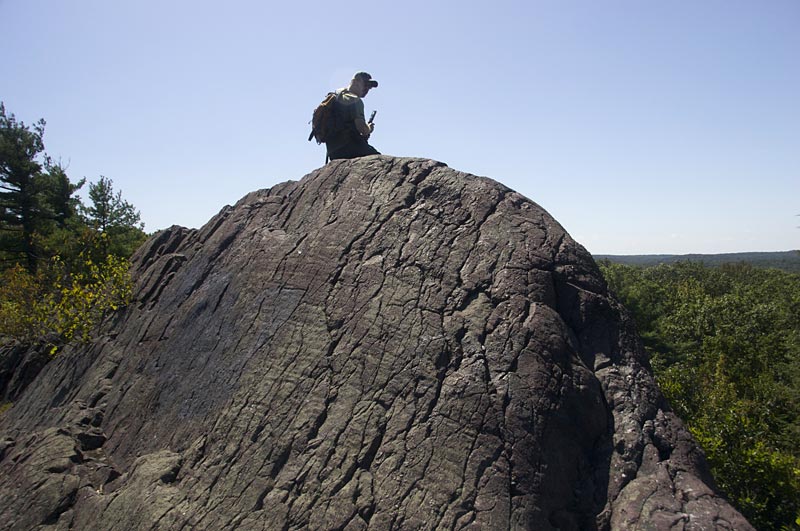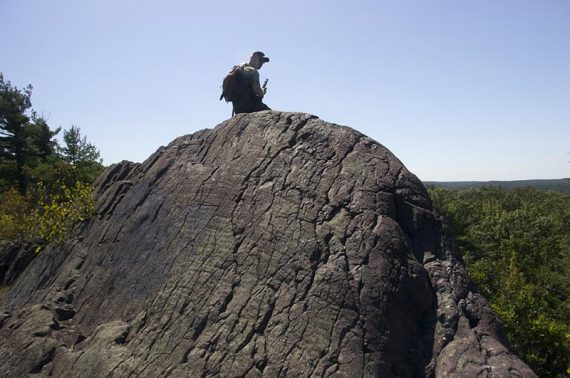 4.1 – BLUE (Terrace Pond North) turns to the RIGHT. Shortly after, arrive at a pipeline cut. Turn LEFT and follow BLUE (Terrace Pond North) steeply down a loose rocky hill.
Pass 2 unmarked trails on the left.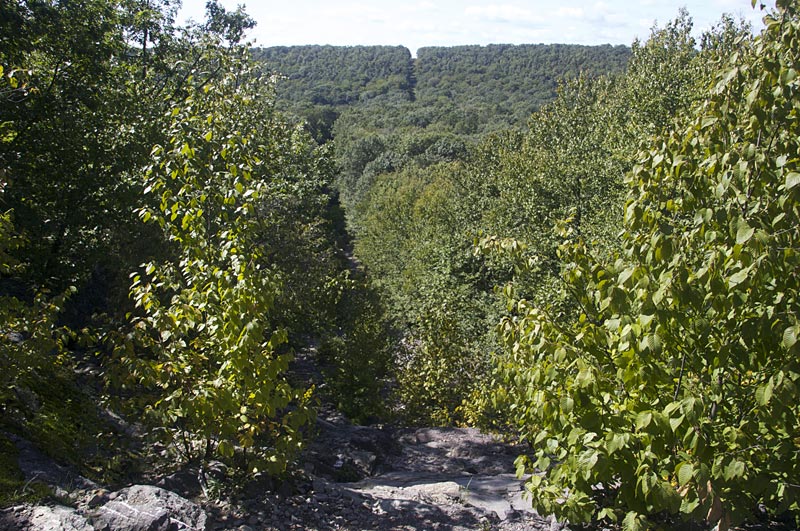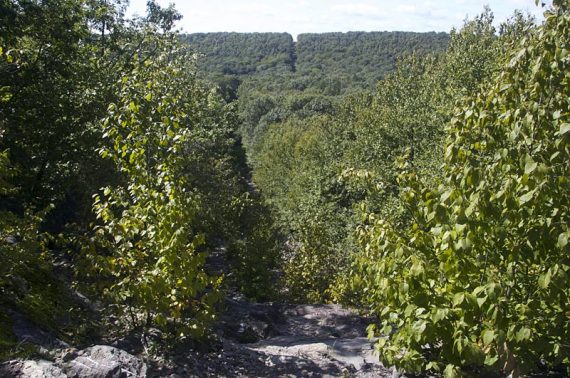 4.2 – Turn LEFT and re-enter the woods, continuing on BLUE (Terrace Pond North).
The trail meanders through some really pleasant forest, over a couple of wet spots, and arrives back at the lot.