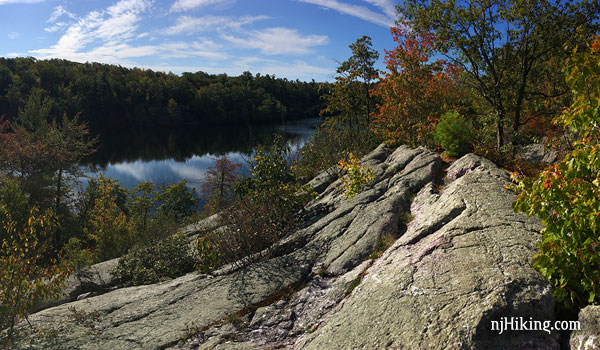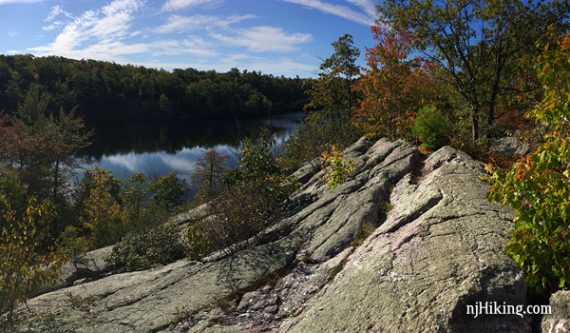 Rugged, rocky route with rhododendron tunnels to pretty Terrace Pond.
4.9 or 3.0 miles – Rugged, rocky surface with scrambling.
Hike Info:
Our two cents:
Awesome hike that can be crowded, especially near the pond. Plenty of rhododendron in season. Books often rate this loop as "challenging" … but we'd clarify that a little:
Beginner/Intermediate hiker: Challenging due to rock scrambling sections, both up and down. But lot of the hiking is just a bit rocky and there are some easy woods road sections.
Experienced hiker: The length on this is too short to be a real challenge but the trail is lovely, the pond is a great destination, and the scrambling keeps it interesting – so it's absolutely worth doing.
Updates: 4/2021 – Description adjusted to reflect major trail names/colors changes; but not re-hiked. Rest of change log at bottom.
---
Swimming Note:
Though you'll see people doing it, swimming in Terrace Pond is not allowed – it's patrolled and ticketed. The sides of the pond are somewhat high above the water on rock ledges in most spots, it's not like you can walk into the water from a beach.
It can be dangerous and several people have drowned. In addition, it's difficult for Search & Rescue to reach this remote location quickly. See "Terrace Pond attracts hikers from all over, but there's a reason why swimming is banned."
---
Map:
North Jersey Trails is recommended to navigate the network of trails in this park but the most recent version (2017) is out of date due to multiple trail changes.
The map on the park's site has now been updated. Though the trails are considered part of Wawayanda State Park, they are now covered on the Abram Hewitt park site.
No paper maps at but there is a large map on the trail kiosk. Follow along on your smartphone with our Interactive Map link above.
Note 4/2021: The description below has been updated to reflect major changes to trail names and blazes – but we have not hiked it since the changes. The map on the park's site has been updated but North Jersey Trails (2017 edition) has not. There is also this new Terrace Pond map.
Books:
This reverse of this route can be found in Hiking New Jersey and variations are in Hiking the Jersey Highlands, Hike of the Week, 50 Hikes in New Jersey and Take a Hike New York City.
A very long variation that also goes to Wawayanda Lake is in 60 Hikes Within 60 Miles: New York City.
---
1575 Clinton Rd, Hewitt, NJ 07421. Rt 287N to exit 52 (or Rt 287S to 52A), then Rt 23N towards Butler. Exit for Clinton Road.
The parking lot is past Clinton Reservoir and some other small parking areas. Just past a sign/gate for the Wildcat Mountain Wilderness Center is just a large dirt lot on the left with a small "P7" sign.
Restrooms:
Porta-john in the P2 lot (as of 9/2019) that is passed on the way to P7. Better bet: gas stations/stores along Rt 23 in Butler.
---
Hike Directions:
Overview: YELLOW (Terrace Pond (TP) West)
** Due to the changes to the colors of trails in this park since we hiked this, the blazes shown in our photos will not match what the description states. **
0.0 – Walk across the street from the lot to the trail kiosk.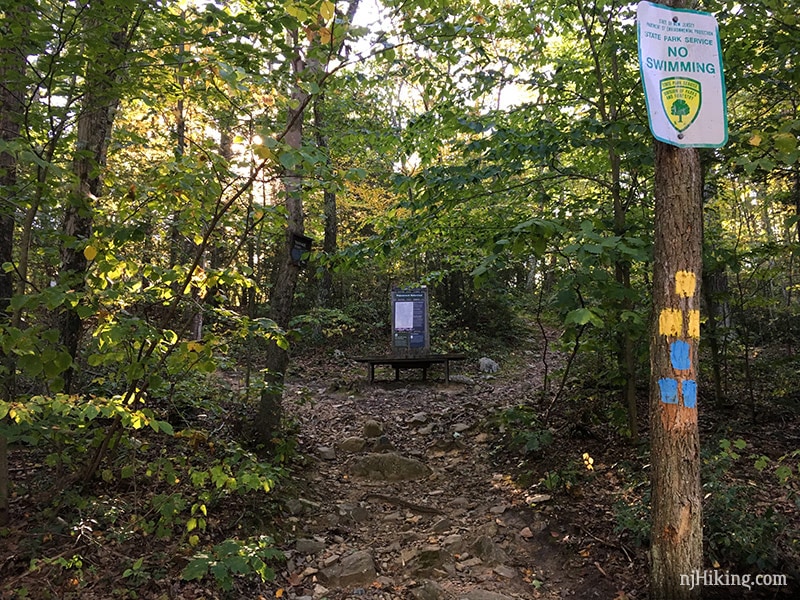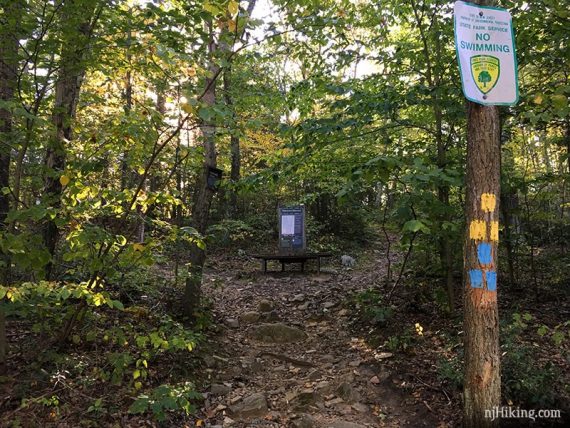 Bear LEFT to start following YELLOW (TP West). The rocky trail is mostly level at first, crossing some wet areas on large rocks.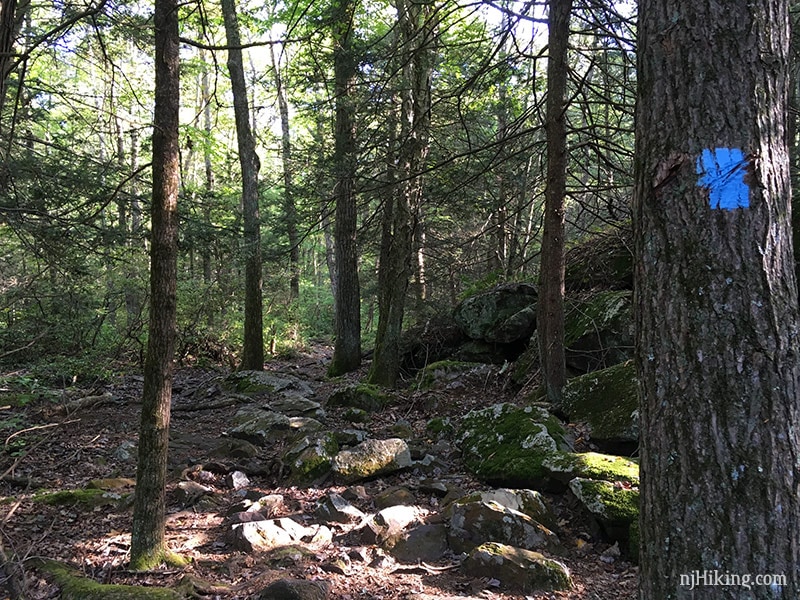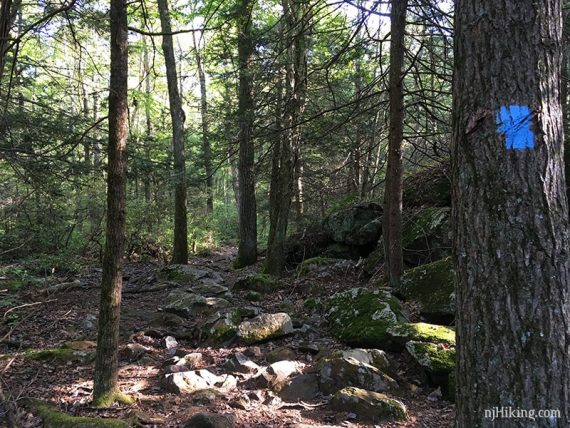 0.7 – Turn RIGHT onto a pipeline cut to continue following YELLOW (TP West) uphill on the pipeline cut at the edge of the woods.
0.8 – Turn RIGHT off the pipeline and back into the woods. Continue following YELLOW (TP West) as it scrambles up and down large rocks.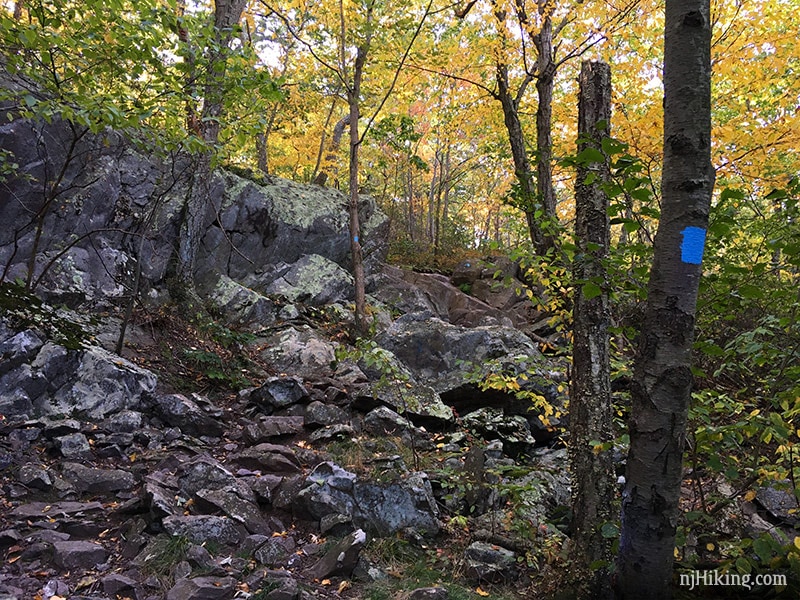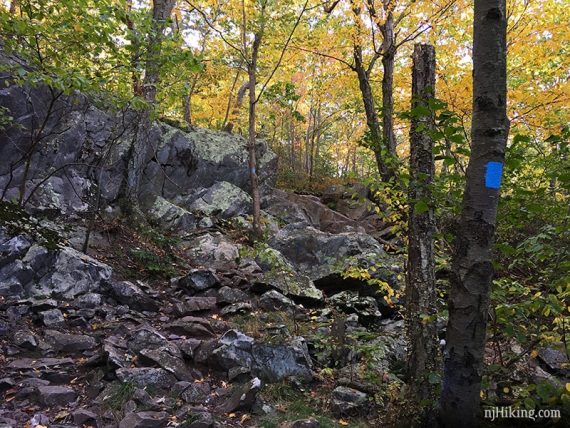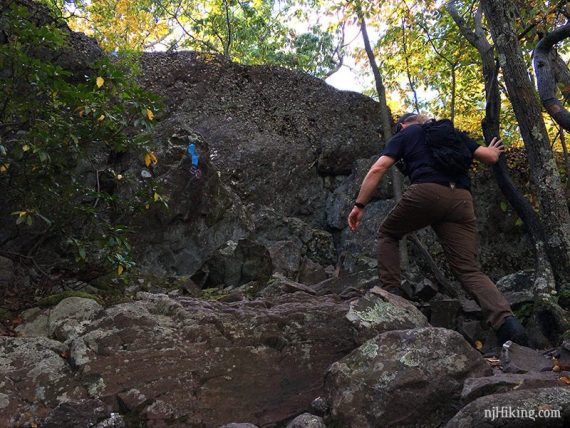 A faint trail on the right scrambles up to an optional view, but there is a better one in just a bit.
1.2 – Off to the right, optionally scramble up a large protruding rock for a expansive view over the surrounding forest with low hills in the distance.
In the photo below it appears that the trail goes up and continues over this rock fin – it doesn't. The trail markers are for the trail coming in the opposite direction and are indicating a turn away from the rock.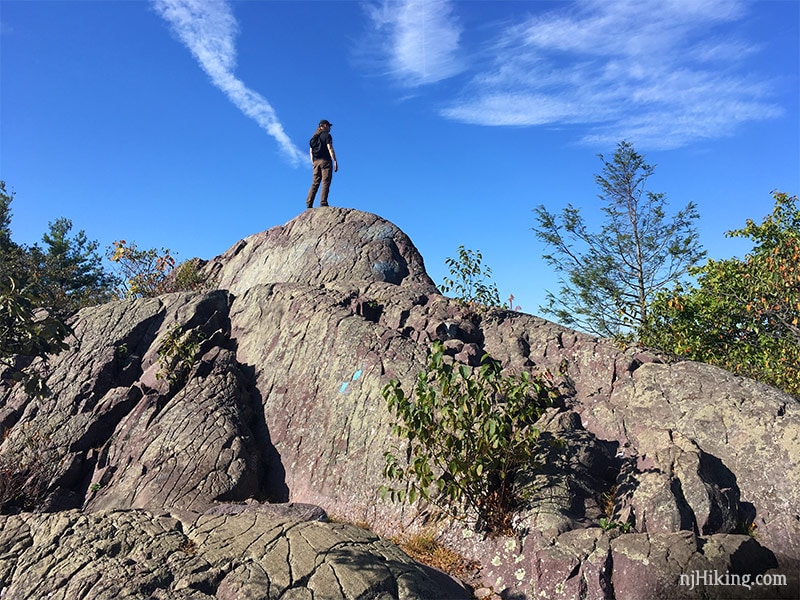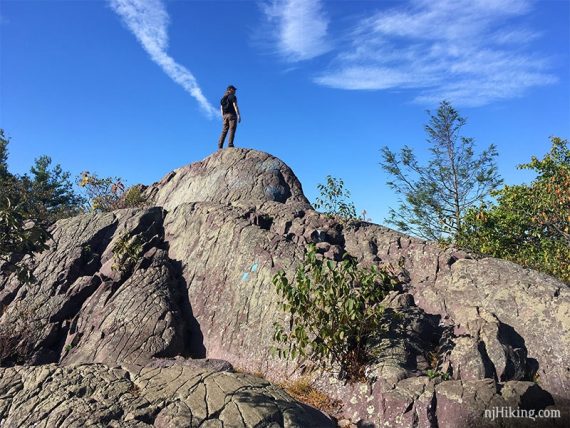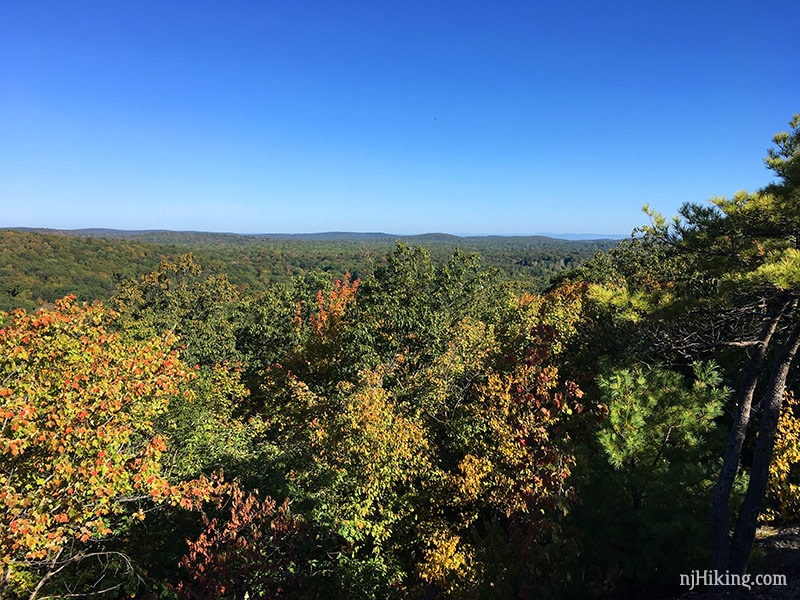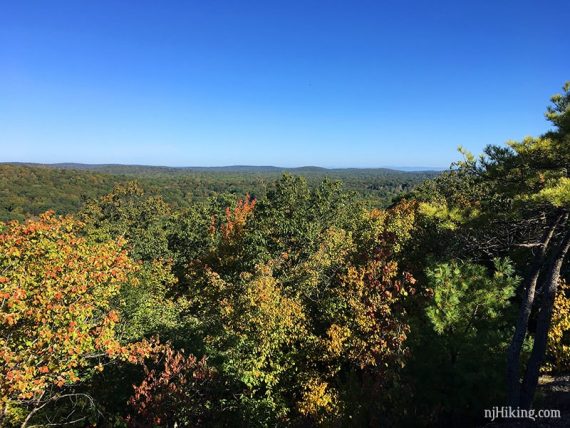 Return back down to the trail. Cross a potentially wet area on large rocks.
1.4 – Junction of YELLOW (TP West) and WHITE (TP Circular) near Terrace Pond.
---
/// Optional side trip: Are you wondering where Terrace Pond's swanky new floating bridge is? While not technically along this route, you can check it out from this point by taking WHITE (TP Circular) down for about .1 mile and then return here… OR continue on WHITE (TP Circular) which will loop the lake and meet up with YELLOW (TP West).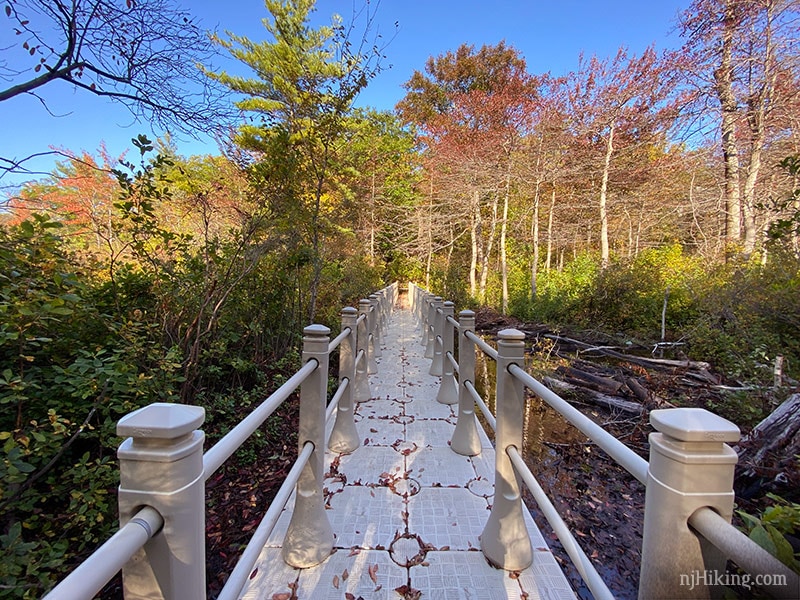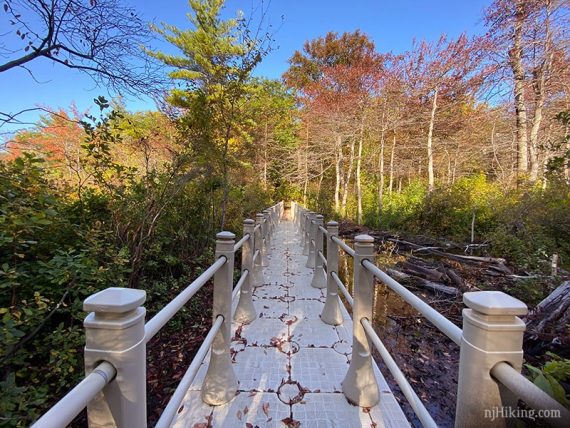 ---
From the junction, turn RIGHT to continue on YELLOW (TP West).
There are multiple viewpoints along the pond that make nice break spots. The first two are smaller and the final is a large open area.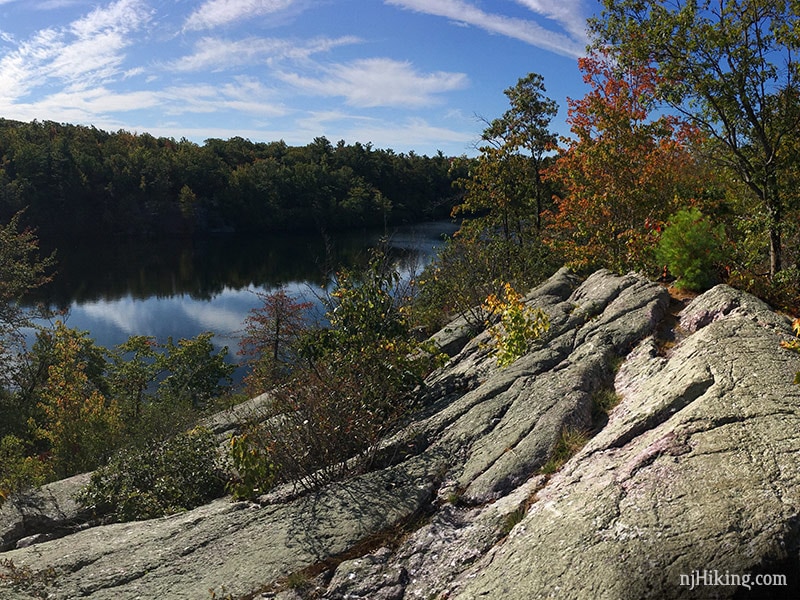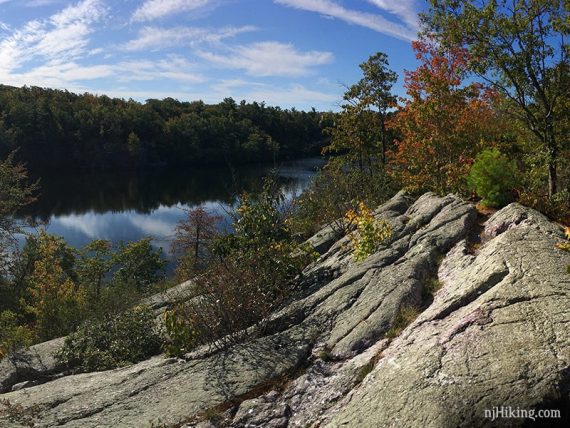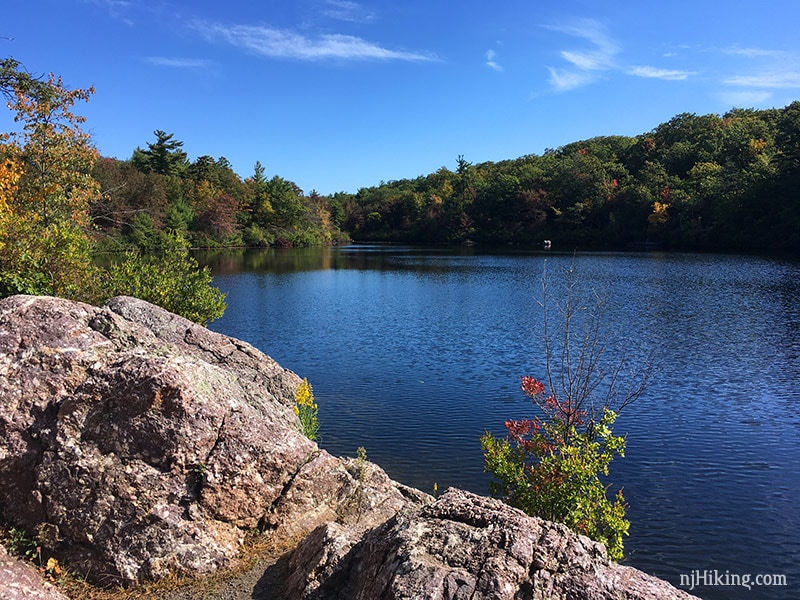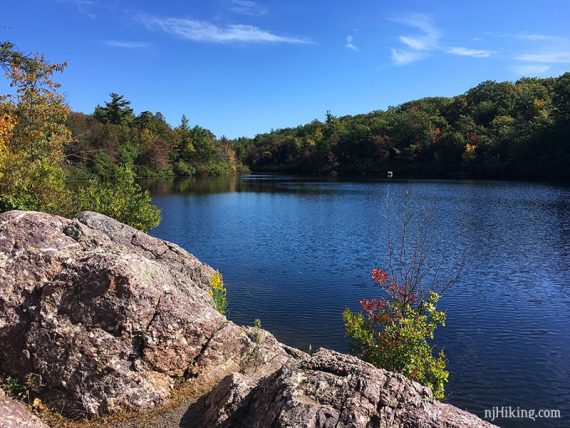 1.6 – Veer RIGHT to continue following YELLOW (TP West). [WHITE (TP Circular) goes to the left]. The trail climbs and crosses some rocks.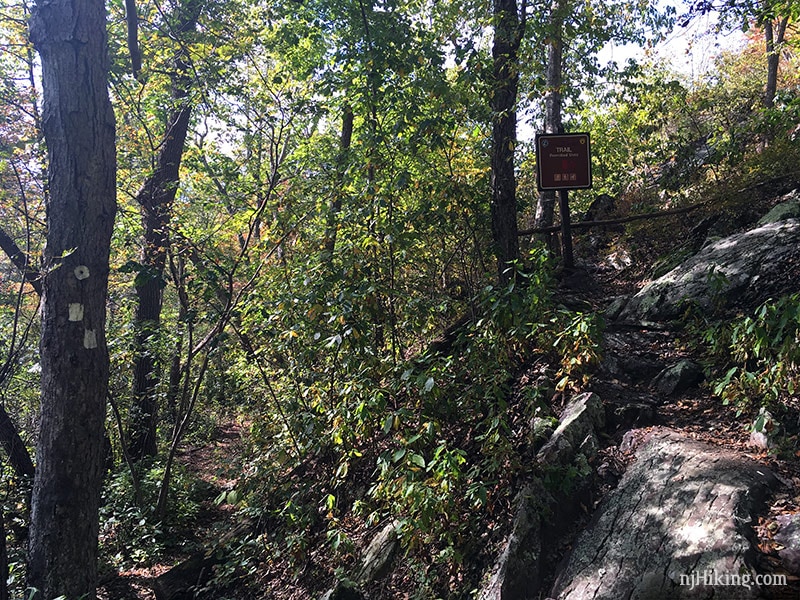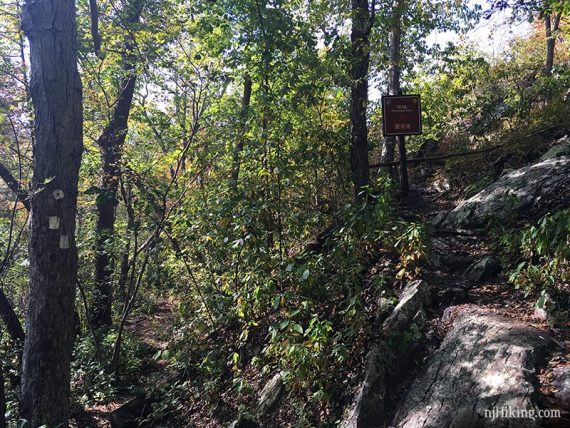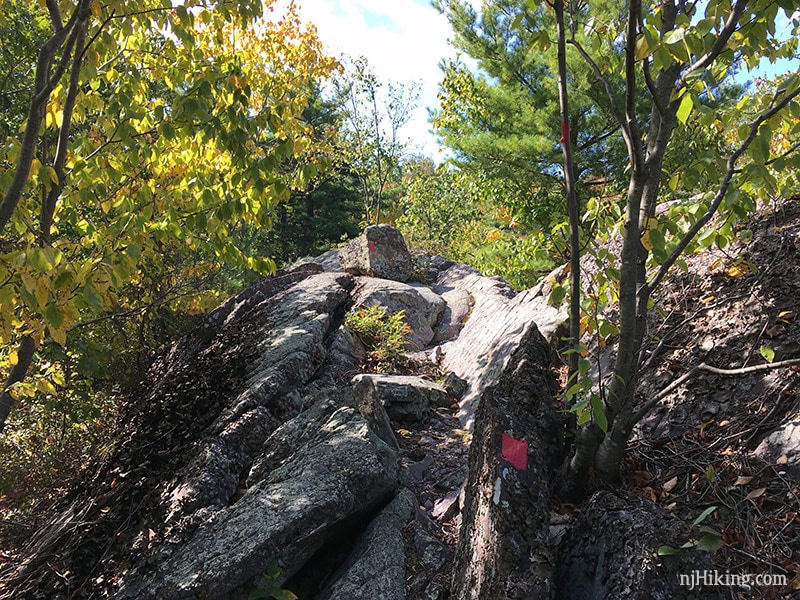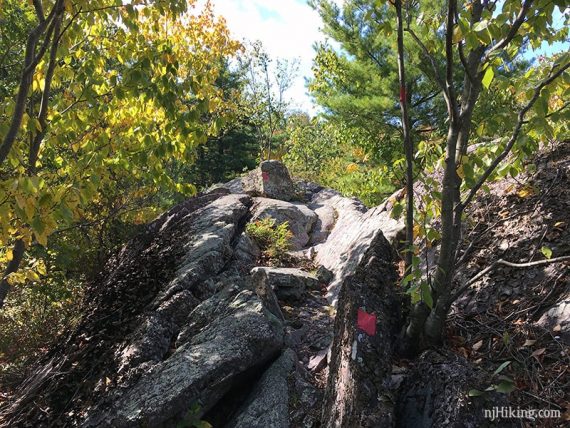 The trail crosses a rock slab and offers some limited views.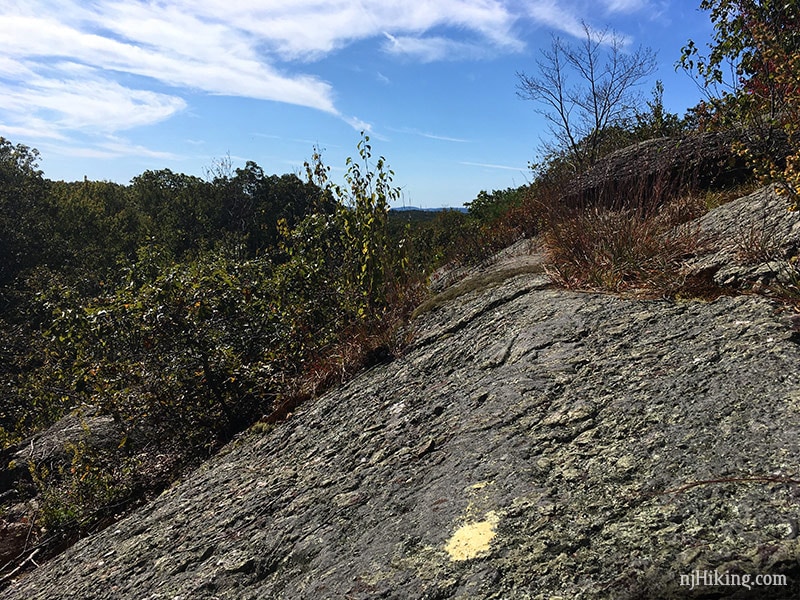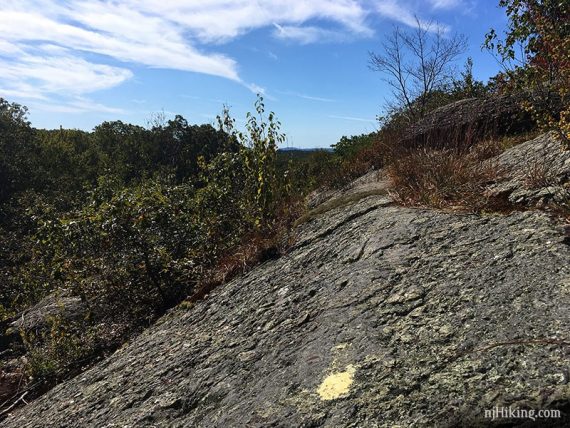 Continue on YELLOW (TP West), passing RED (TP RED).
2.8 – Continue on YELLOW (TP West). The end of YEL-BLUE (TP Connector) is off on a sharp left (you may blow right by and not notice it).
A large swampy area is on the right. In prior years there were signs of beaver activity but we didn't spot any lodges the last time here (9/2019).
Cross a drainage pipe. The trail became very overgrown and grassy in spots and at points is a wide woods road.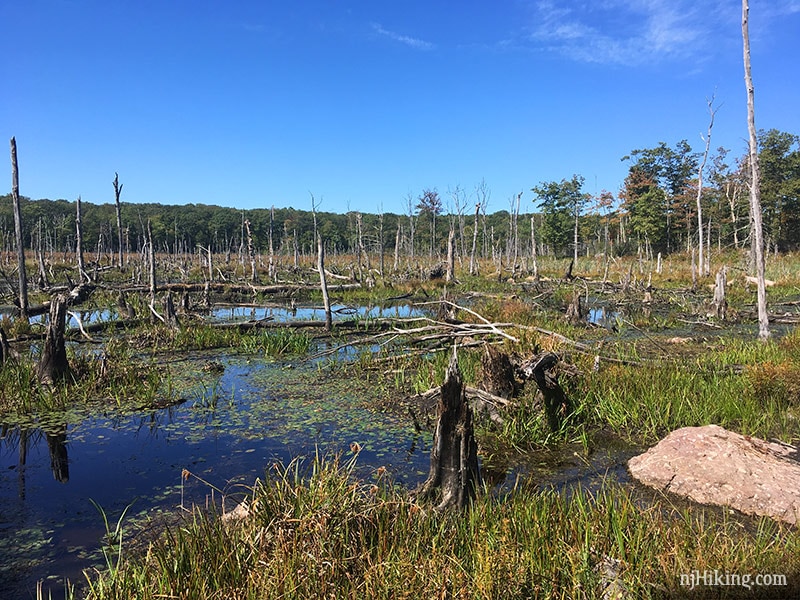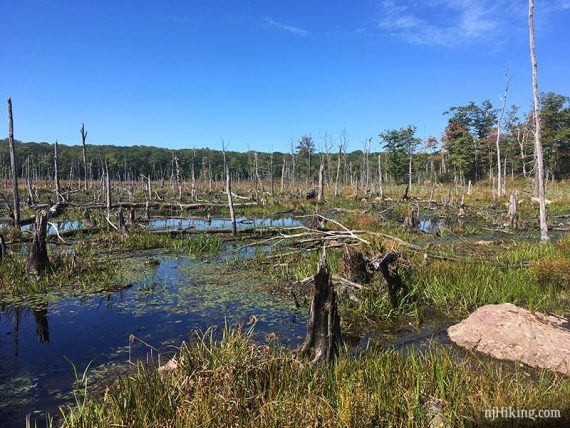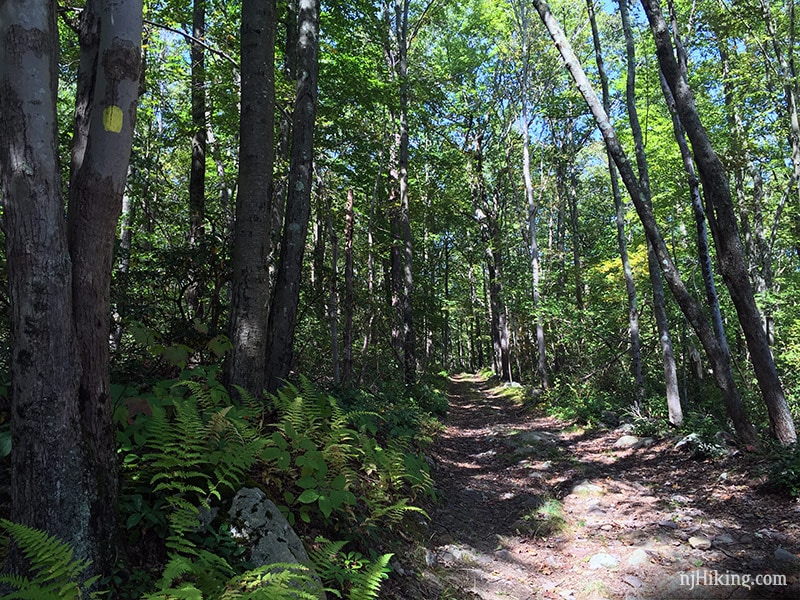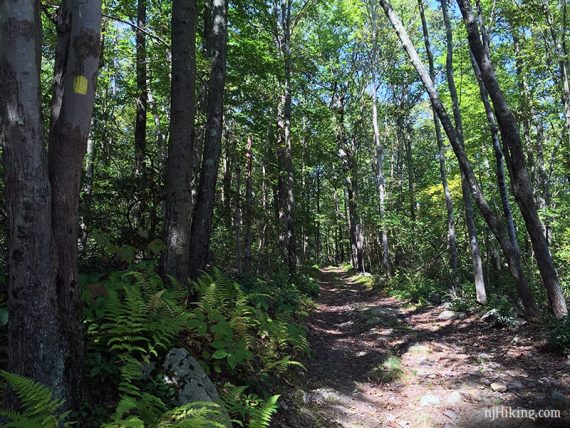 3.1 – Continue following YELLOW (TP West) as it turns sharply to the RIGHT.
3.4 – Continue following YELLOW (TP West) turns to the RIGHT.
Continue following YELLOW (TP West) through rhododendron tunnels and crossing sometimes wet areas on rocks, back to the lot.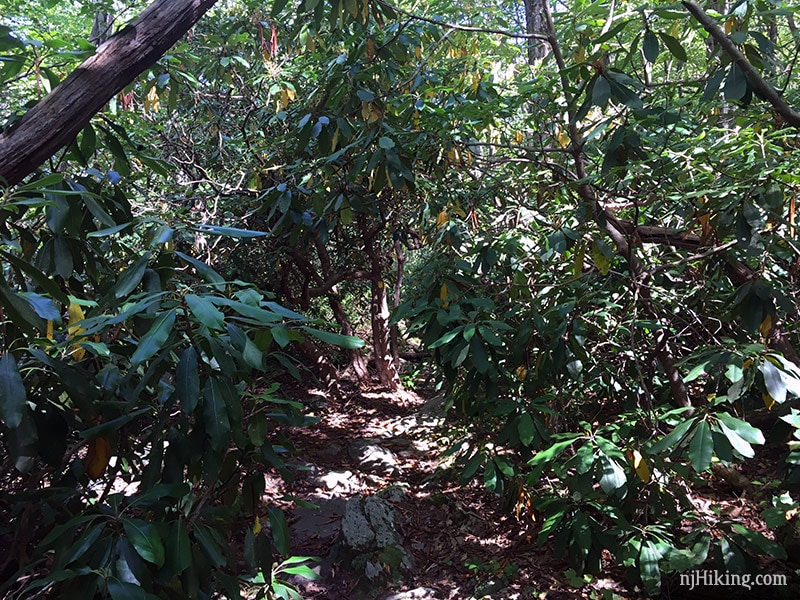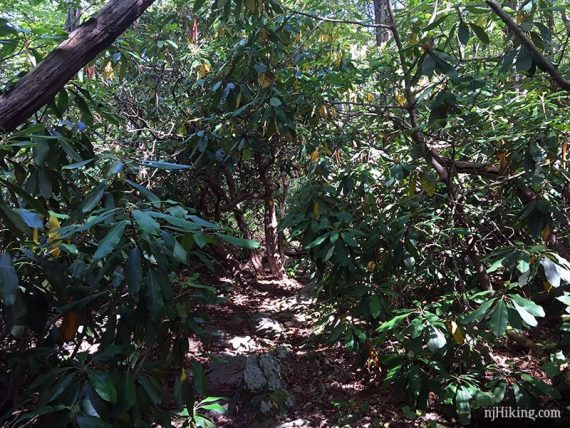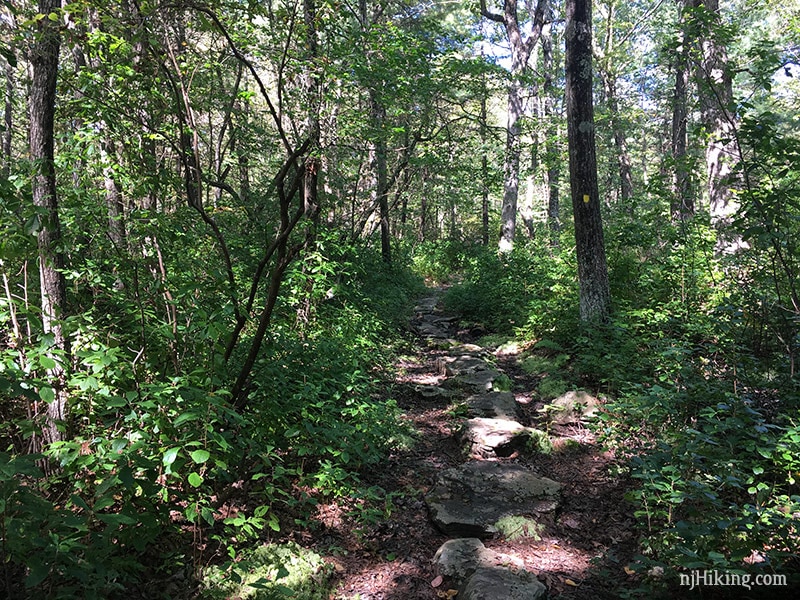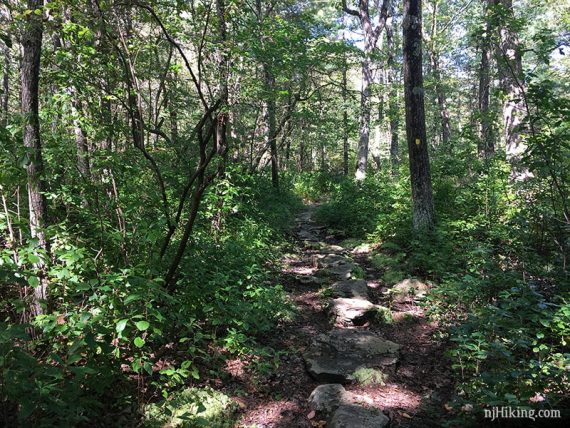 —
Hiked: 9/21/19 – Clockwise.
Hiked: 6/20/15 – Clockwise, in steady drizzle.
Hiked: 9/13/09 – Counter-clockwise. Trail Blog: "Terrace Pond South"
Hiked: 10/14/07 – Counter-clockwise. Trail Blog: "Terrace Pond"
---
Updates 12/2019 – Page updated, route reversed, new photos, re-hiked 9/2019. The directions for the original counter-clockwise loop have been archived to the 2009 Terrace Pond Trail Blog post.
We decided that clockwise is better as it puts the scrambling in the beginning where it's more up (usually easier than down, and better in wet conditions) and this puts the easier more straightforward hiking at the end.