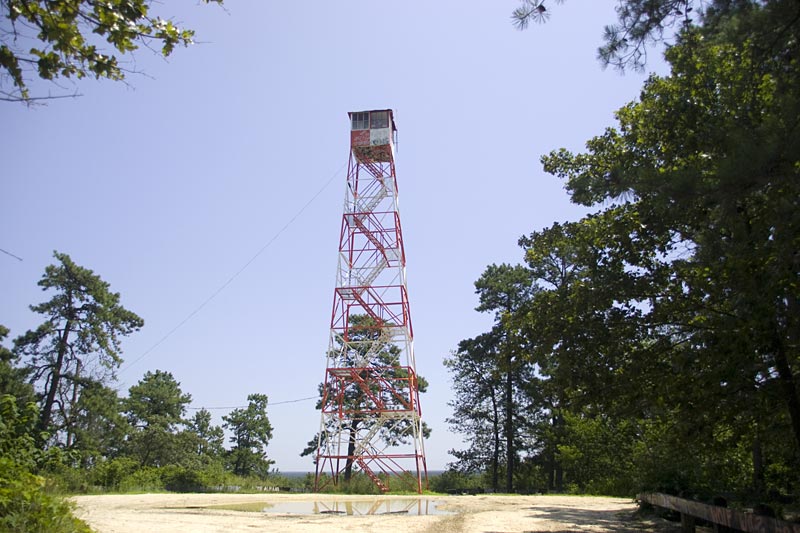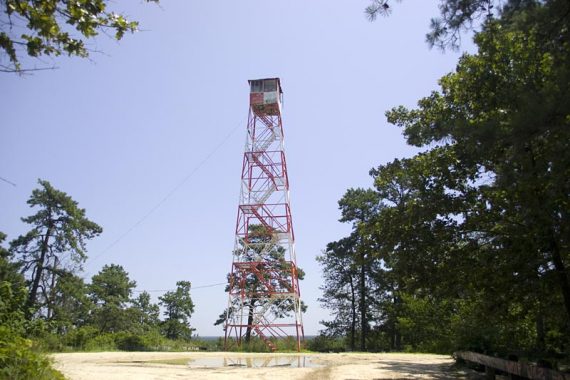 The view from the fire tower makes this pine barrens hike very unique.
Was warm and sunny, upper 80's. This hike has strong sun exposure since the pine trees don't offer as much shade – plan accordingly (sunblock, hat, plenty of water) or go when it's cooler.
8.4 miles. Easy, level trail surface through the Pine Barrens in Wharton State Forest. Follow the Batona Trail (PINK blazes) from the Carranza Memorial to Apple Pie Hill and back.
For detailed hike directions and more photos visit our main Apple Pie Hill page.
Wild blueberries are all along this hike so that is your reward for dealing with the sun if you hike this during blueberry season (late July- mid Aug).
We opted for a South Jersey hike this weekend as we were going to a concert in AC and figured we could take in a hike on the way there.
Hiking in the southern part of the state is markedly different than north or central – very flat and lots of pine. Trails can be sandy as well, and frankly that can be annoying.
Apple Pie Hill was mentioned in Backpacker Mag a couple issues ago as a good hike for solitude, so we thought we'd give it a try.
It's a easy hike and both the Carranza Memorial and fire tower add interest to the day.
The view from the fire tower is actually worth the trek. It's not of some vast mountain or lakes or the usual view… just pine trees of similar height as far as you can see.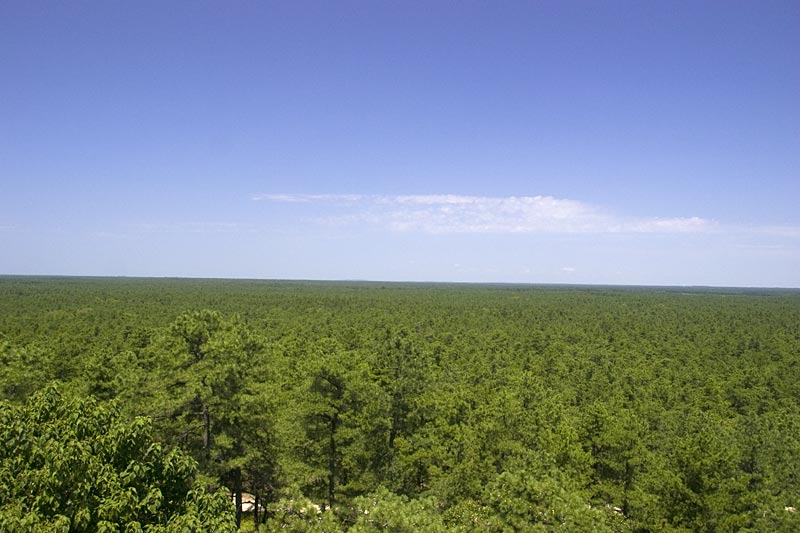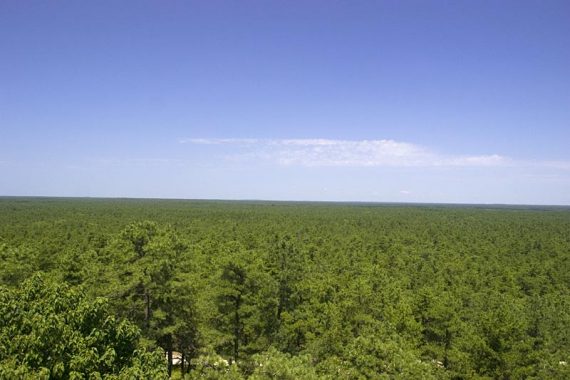 It's more impressive than that sounds. On a clear day you should see the skylines of AC and Philly but it was too hot and hazy when we went.
Apple Pie Hill is full of trash and graffitti around the tower, unfortunately, but don't let that ruin your view.
Ticks in S.J. can be especially bad, and even chiggers (which we've never run into but they are even yuckier than ticks).
For these reasons, we tend to prefer north jersey trails but this hike was pleasant and the sand not too deep (we wondered if all the rain we'd had had packed the trail down though). And we didn't have any problems with ticks.