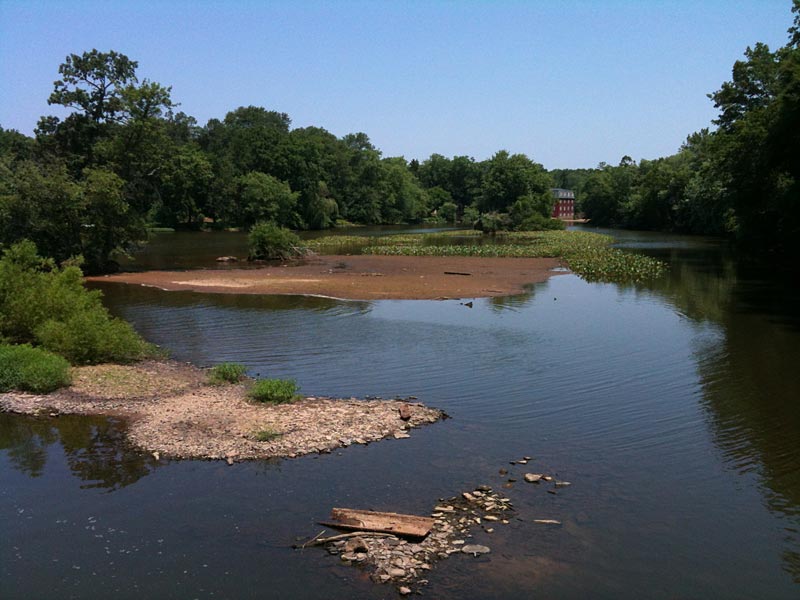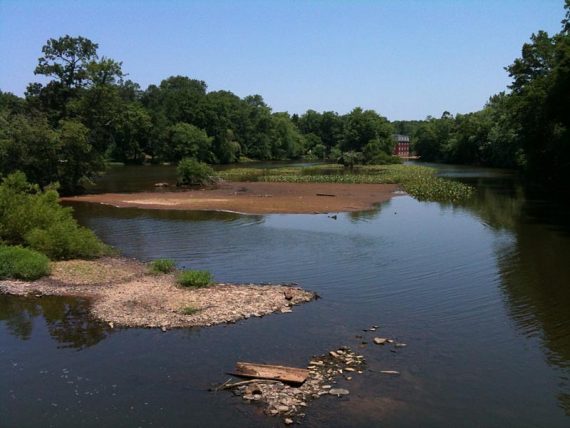 Biking the Delaware & Raritan Canal towpath from Rocky Hill south to Rt 95 and back.
We decided on a bike ride due to the heat and hit up our old fave, The Delaware & Raritan Canal towpath starting from the Rocky Hill lot.
There are two sections, the main canal we rode on and the feeder canal which goes by Washington Crossing State Park, Lambertville and Frenchtown (see D&R Canal Biking: Lambertville towards Frenchtown).
For D&R trail resources/maps, see our Delaware Canal Towpath overview.
With around 30 miles on each section, you have a lot of options for hikes and rides. (As well as jogging and stroller pushing…)
View of Carnegie Lake from along the towpath: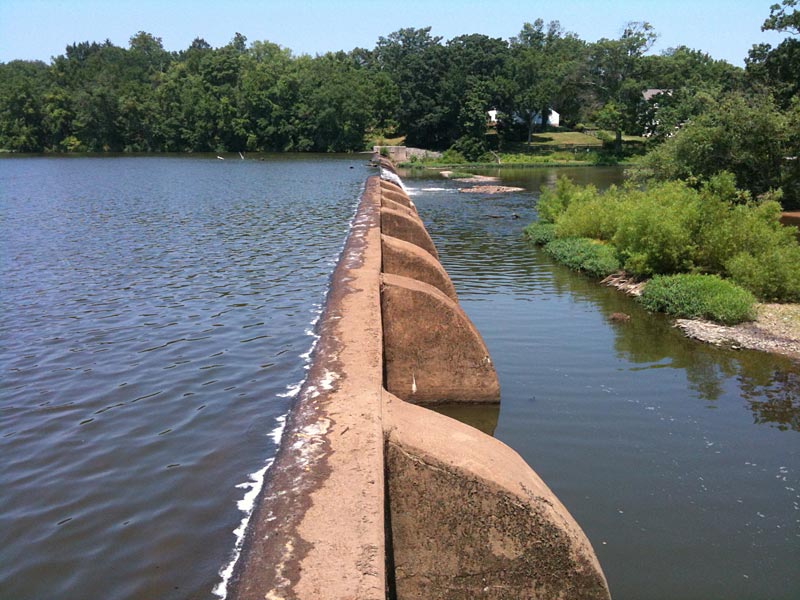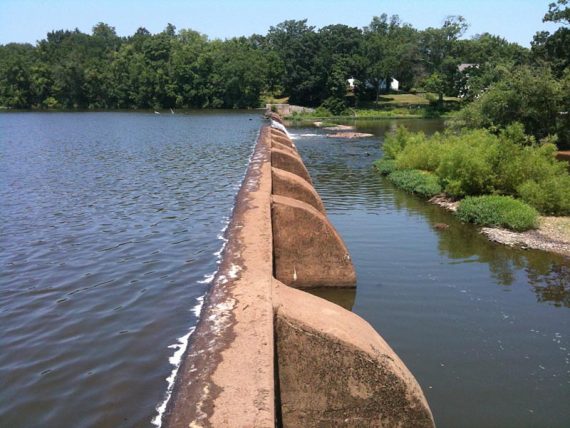 Towpath at a road crossing: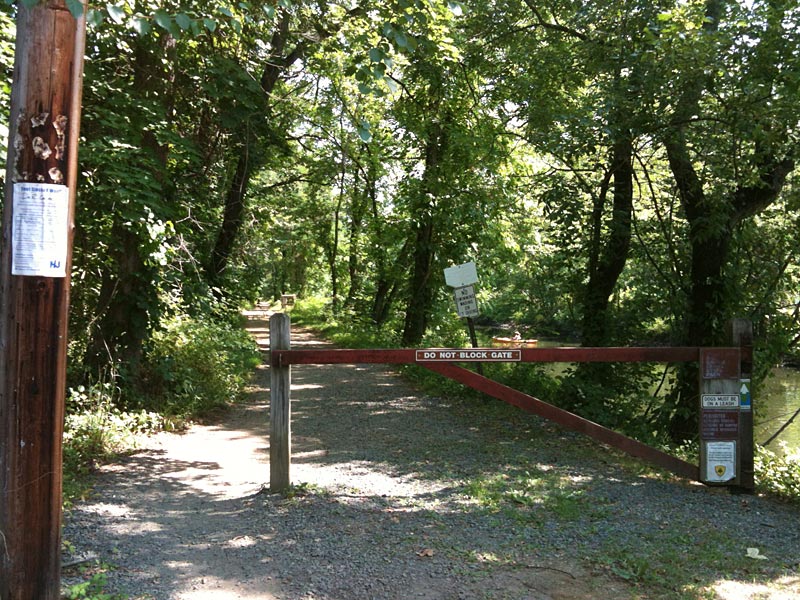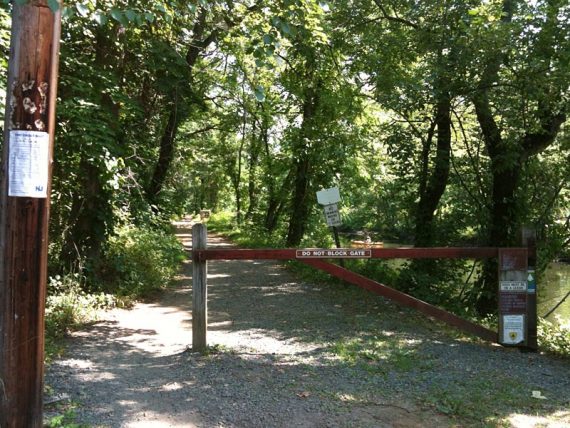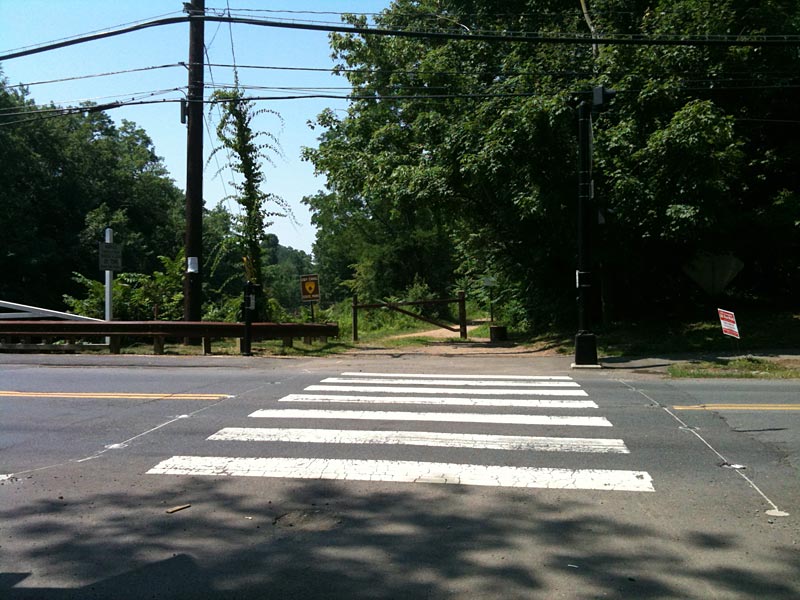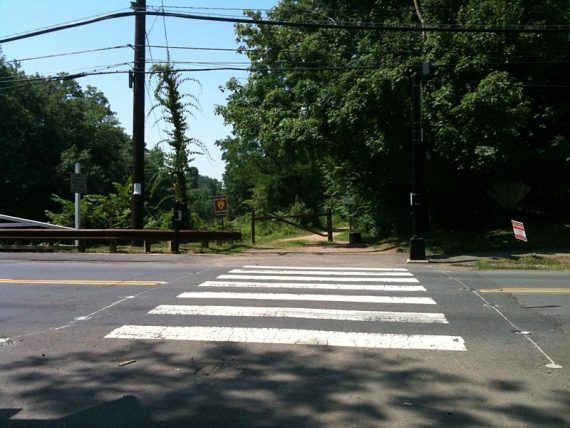 The towpath received some flood damage from the storms last year and there are a few closed or rerouted sections.
North and a little south of Rocky Hill was noted as "rough" on the park website, but it hadn't been updated since the fall so we weren't sure how accurate that was. We opted to head south, towards Princeton.
The path was indeed rough, but it was a short section and manageable, though if north was also this rough I am not sure I'd want to take it (in that direction, the rough section was of a decent length).
The path had stones and gravel on it that it would normally would not, making it a bumpier ride.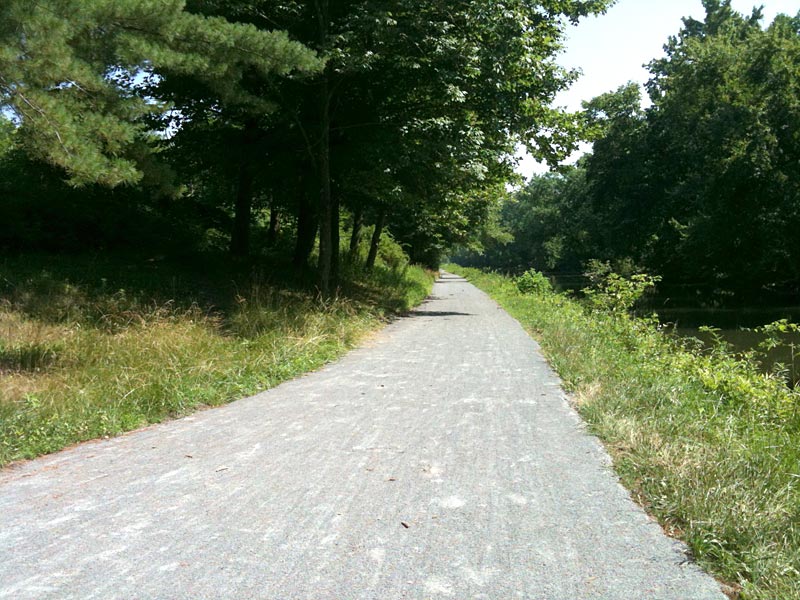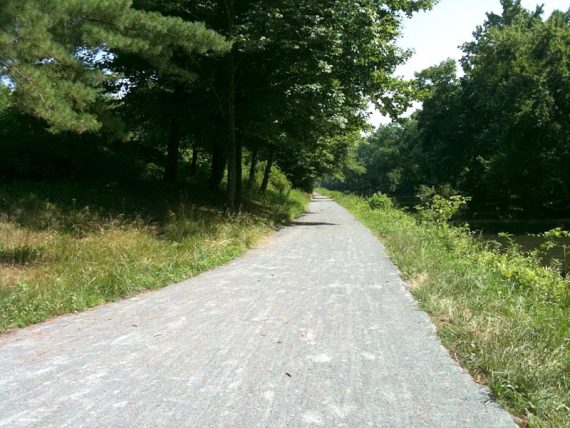 A section was blocked off at Quakerbridge Road, so we turned left, then almost immediately right onto a wide dirt path with a house on the left.
Not really marked [N40 18.283 W74 41.074].
We followed this a short ways to an overpass (Province Line Road) and crossed back over onto the towpath on the other side. [N40 18.131 W74 41.280].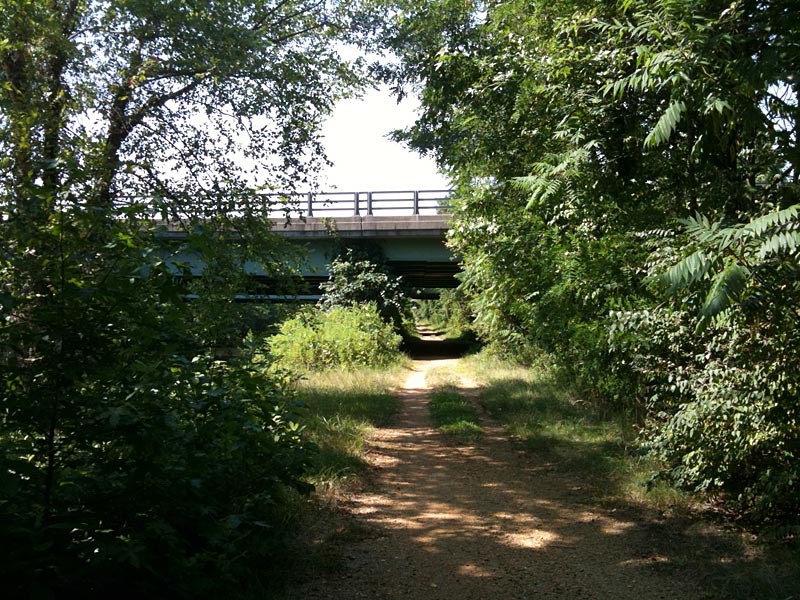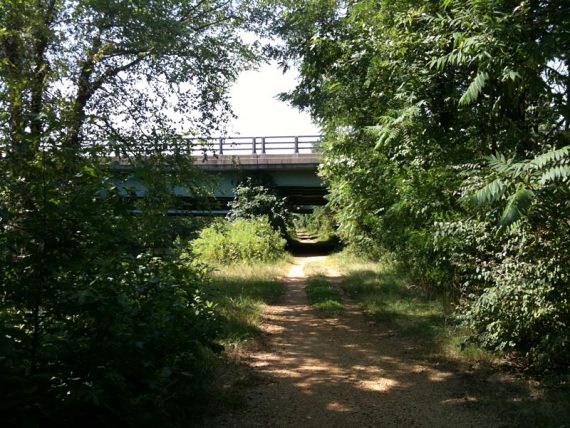 The path was packed gravel for a short ways at this point, then switched to a narrow dirt strip surrounded by tall grass. Most of the rest of the towpath is a wide level dirt path.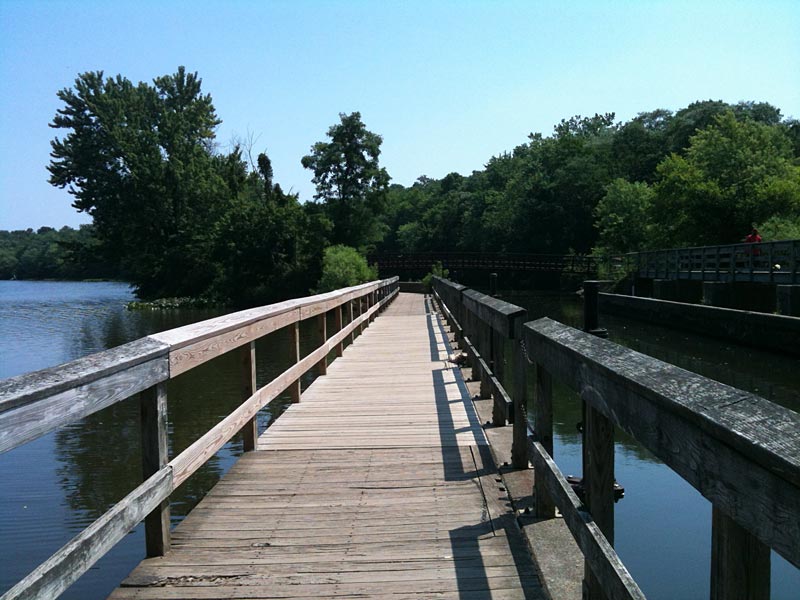 We were at around 10 miles at the overpass of Rt. 95 & Rt. 1 so we headed back, figuring it was best not to overdo it on our first ride of the year. There are several benches along the way for break spots.
View from our break spot – sitting on a bench overlooking Carnegie Lake: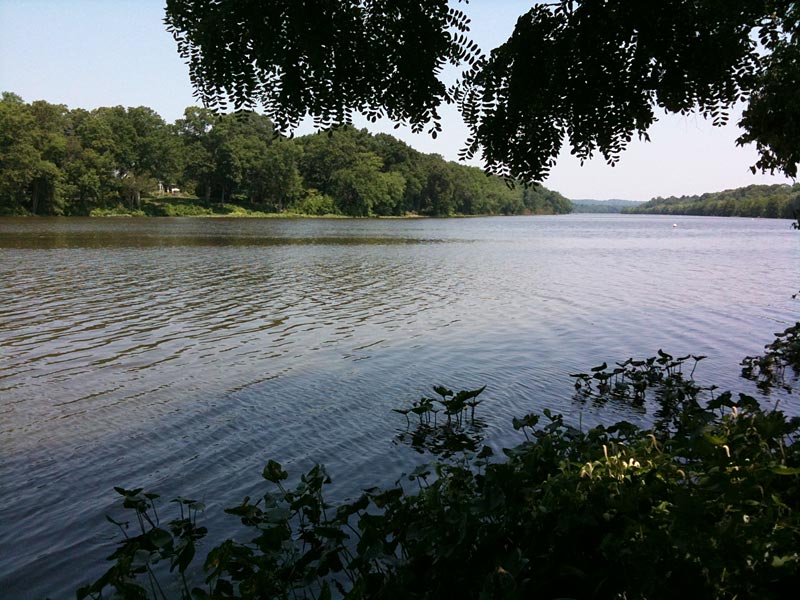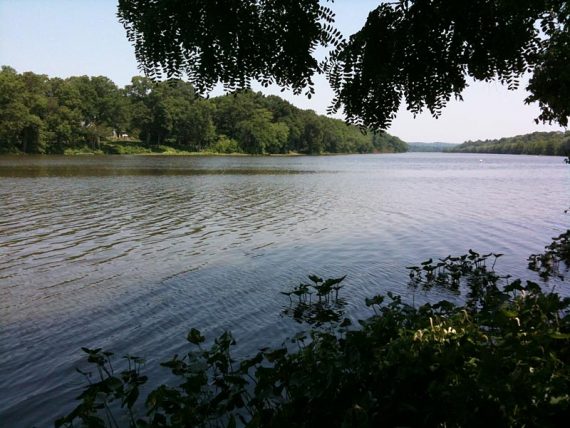 Miles: 20.2
Parking: N40 23.912 W74 37.639
The larger Rocky Hill lot, accessed off of Kingston Rocky Hill Rd, just south of 518. There is also a smaller lot on 518, near the intersection of 518 and  Kingston Rocky Hill Rd.
Restroom:
The bathroom in the parking lot was unexpectedly locked. I didn't notice passing any others on the way.
Book:
We just bought Rail-Trails New Jersey & New York which has lots of nice biking options for the tri-state area.
Includes a long section from Bristol through Lambertville to Easton, PA, a small section of the D&R from Rocky Hill to Kingston Lock and several others in NJ.
Each one has a description, photo, surface/roughness info, total mileage, directions to the trailhead, a trail map and other details like bathroom locations.
Worth picking up if you like biking rail trails.
Old Timey Map:
Delaware and Raritan Canal Historic Map – 1976, also contains info about the canal's creation. Via Rutgers Special Collection.
Wildlife spotted:
Turtle-a-rama! Big ones, little itty bitty ones… if there was a log in the water, there were turtles on it.
On our way back we had to screech to a halt as an adorable little guy was making a run for it across the towpath.
As we moved him to the other side in the direction he was headed to get him out of harms way, he gave a little hiss… We'll take that as turtle-speak for "thanks, guys!".