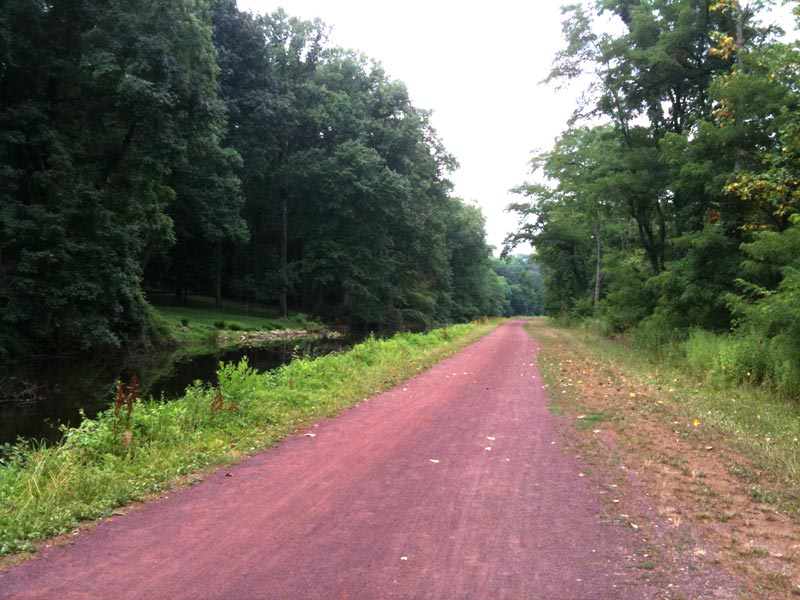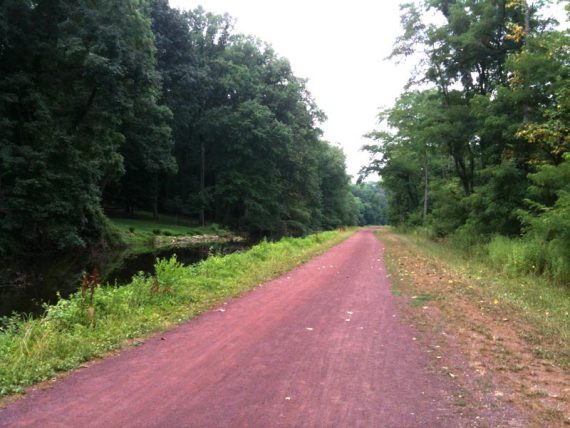 D&R Canal towpath from Washington Crossing to Trenton, crossing the Calhoun Bridge, then north from Morrisville, PA.
We only had one day open this weekend, and the forecast was for scattered thunderstorms all day. So to make it easy we grabbed the bikes and headed to Washington Crossing again.
Looking at the path that heads south from there when we drove home last week (see D&R Canal Biking: Washington Crossing to Stockton) got us thinking that we should check it out because we never had before.
Overall, this was a mostly a decent ride but not our fave part of the towpath, mainly due to crossing over in Trenton.
It gets less scenic as you approach Trenton on the Jersey side, and your tolerance for biking thru cities may be more than ours. We'll take cruisin' the towpath over city streets any day.
If you are traveling with small kids we wouldn't recommend going all the way to Trenton or crossing the bridge there, but travel out-and-back on either section would be OK. (You could go farther on the PA side before the ride got bleh)
For D&R trail resources/maps, see our Delaware Canal Towpath overview.
Miles: 16.7
Route:
From Washington Crossing in NJ take the towpath south to Trenton, over the Calhoun Bridge to PA, north from Morrisville, PA to Taylorsville, PA and over the bridge back to Washington Crossing in NJ.
The Details:
0.0 – Pick up the towpath above the Washington Crossing parking area and head south, crossing over Pennington Rd. 
Mostly flat and level typical towpath though we hit a little gravelly bumpy areas in spots.
There is an exercise station section and several parking areas (without porta-johns) along the way.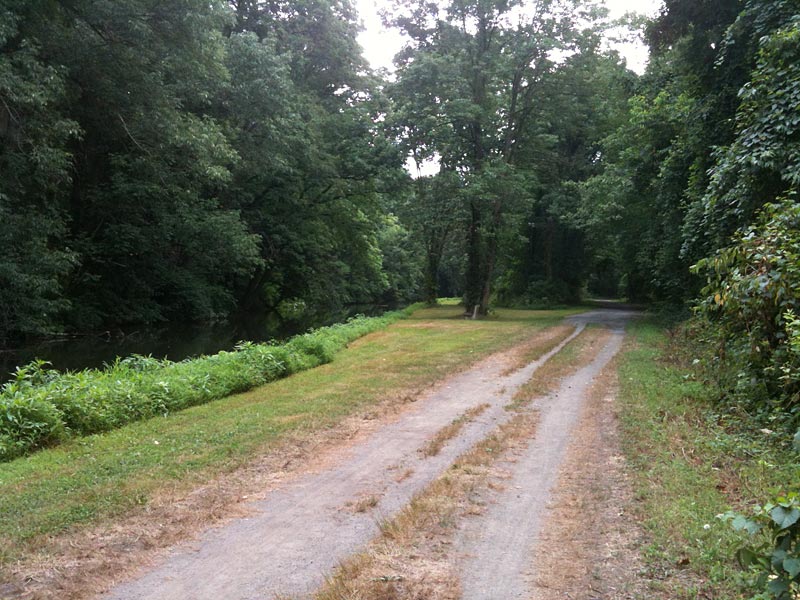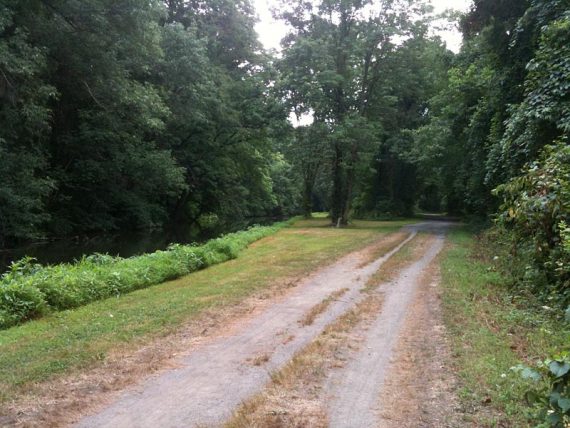 7.1 – Bear RIGHT, there is a sign for the towpath. (The path goes straight as well).
Ride behind some houses for a short section and then cross the road and go straight for just a bit.
I think there was a sign but there wasn't an actual path to really follow. We were really kinda winging it here.
7.4 – Turn LEFT over a little bridge (there was a sign). Once over the water, turn LEFT and follow the path (don't recall a sign for that). The canal will be along the left side.
7.6 – Arrive at Calhoun St and turn RIGHT. We don't recall any sign for this, still kinda winging it. [The towpath continues straight ahead – there is a sign for that].
Ride down Calhoun to the light and cross, and continue to cross busy intersections to an overpass, and one more intersection to get to the actual Calhoun Bridge. There is a pedestrian bridge to walk bikes across.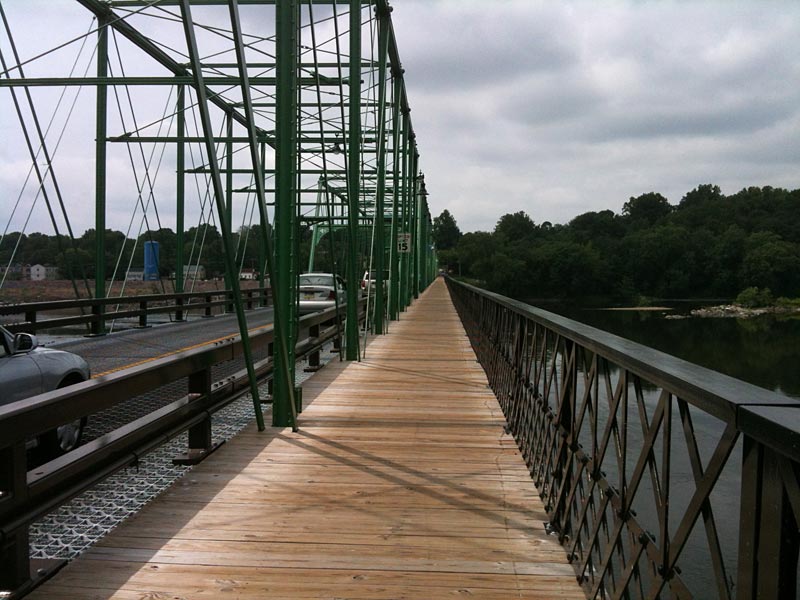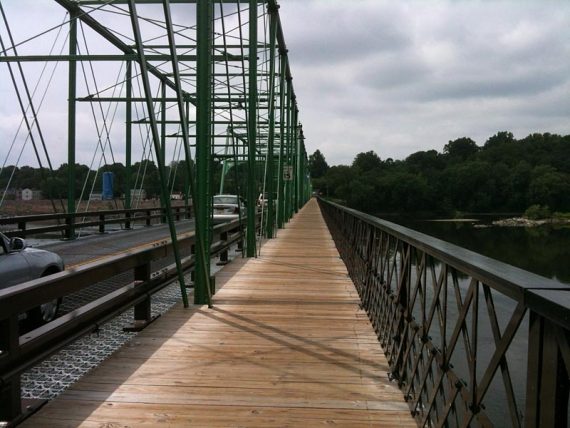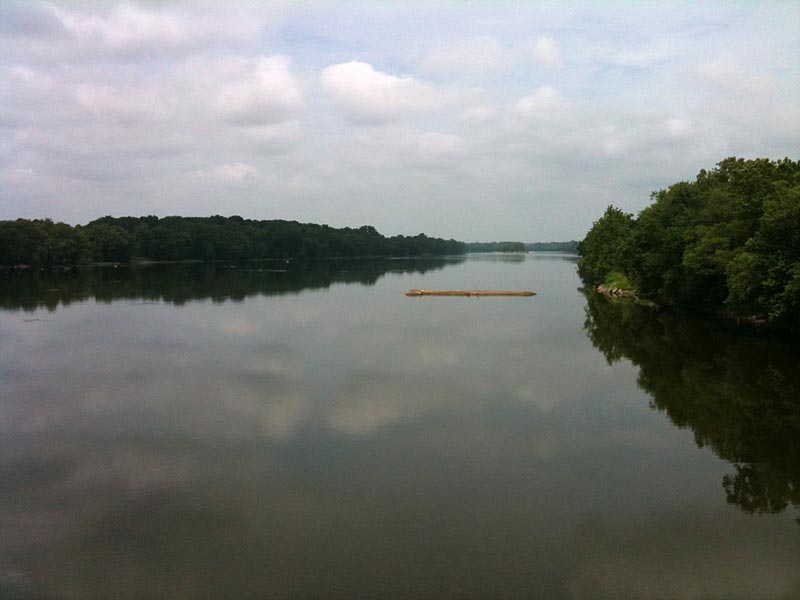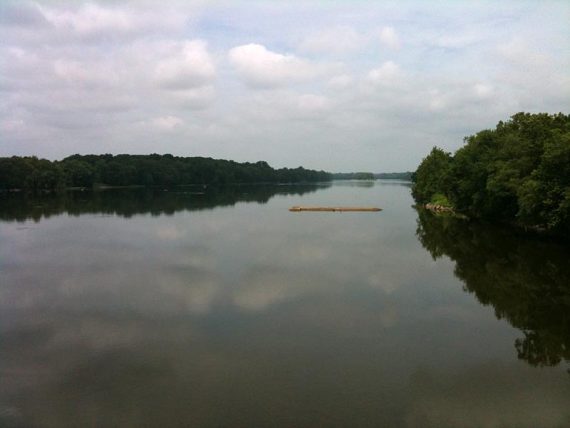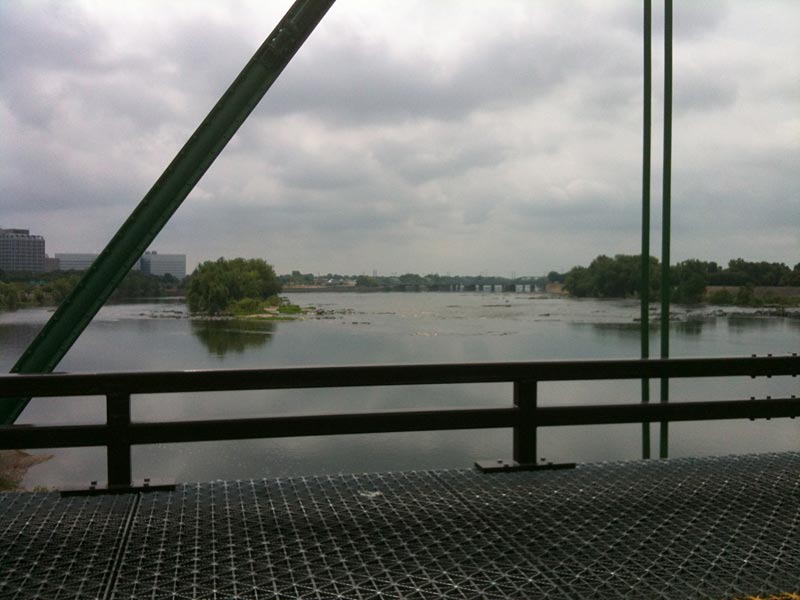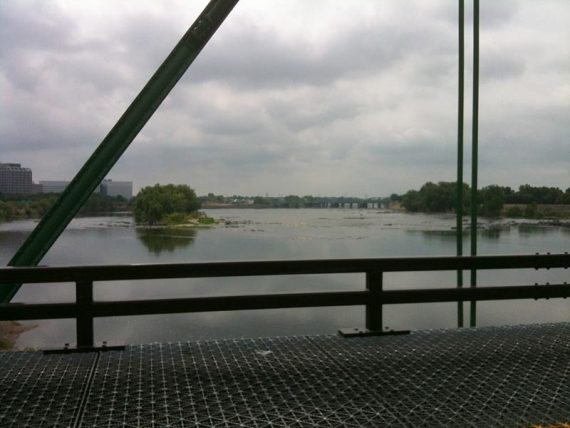 8.1 – After the bridge in PA, the towpath is visible across the road and to the right.
There is a small dirt lot with room for a couple cars. [The towpath also continues to the left, but there are supposedly several "obstructions" that break up the path in that direction]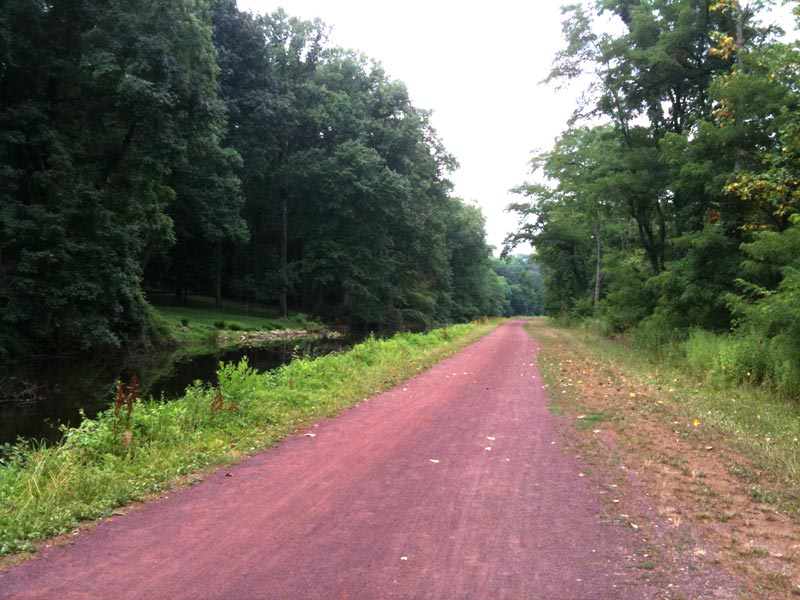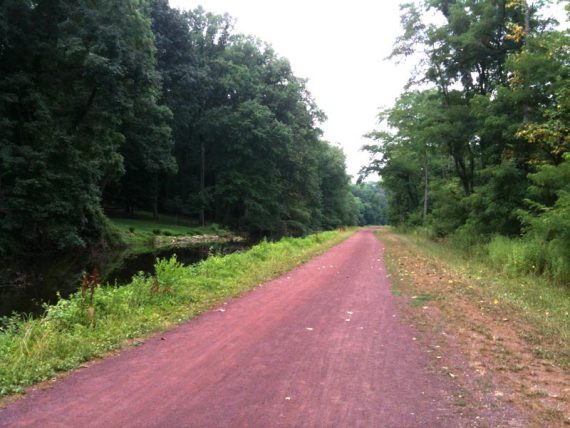 From then on it was a mostly quiet and scenic ride north. Further up, there was a little road noise from a street that ran close on the other side of the canal.
There were several parking areas, but none appeared to have portable toilets.
15.8 – Turn RIGHT at the sign for Washington Crossing. Head straight for several blocks towards the bridge.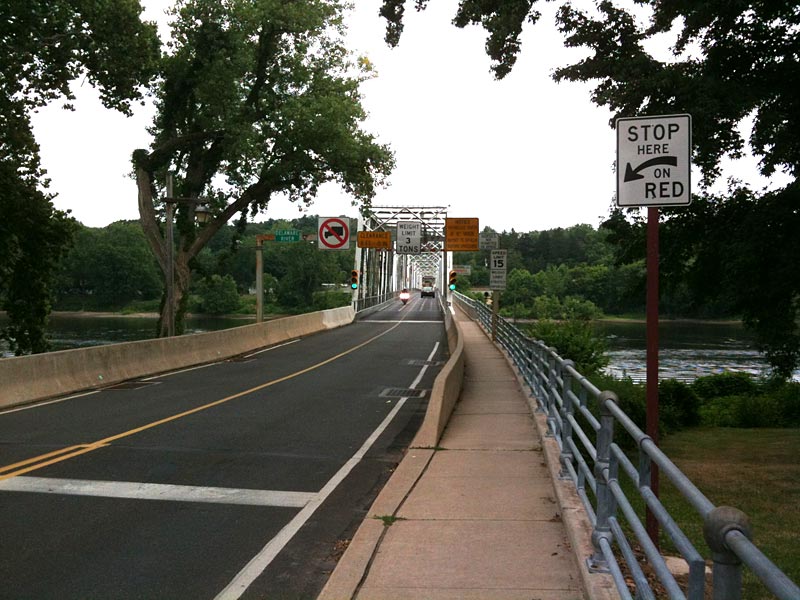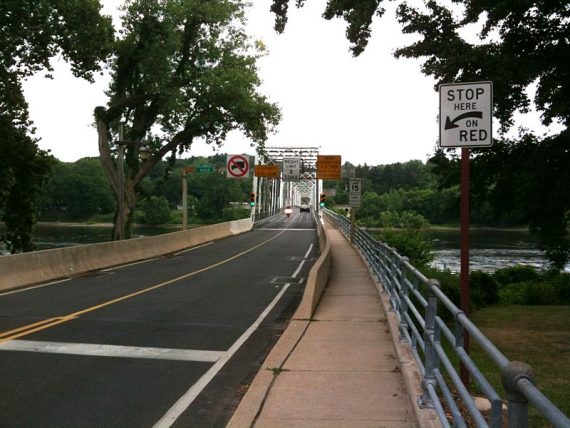 Just over the bridge, the parking lot is on the left.
Rt 1 S to 95 S to 29N. Left onto Washington Crossing Pennington Rd then quick right at River Dr., turn right again into the lot (watch the entrance/exits, they are one way).
Map:
There are a lot of online maps and each tends to show just a little bit different info so we carry several.
Some show different bridges than others, and not all bridges can be crossed to get to the towpath on the other side. Check our main D&R page for the links.
Try our Interactive Map.
Book:
Rail-Trails New Jersey & New York includes a long section from Bristol through Lambertville to Easton, PA, which part of this route uses.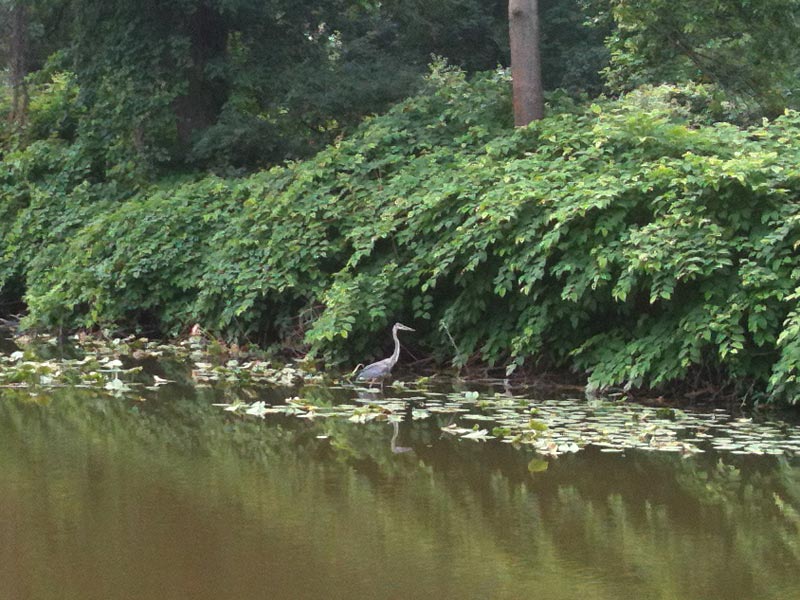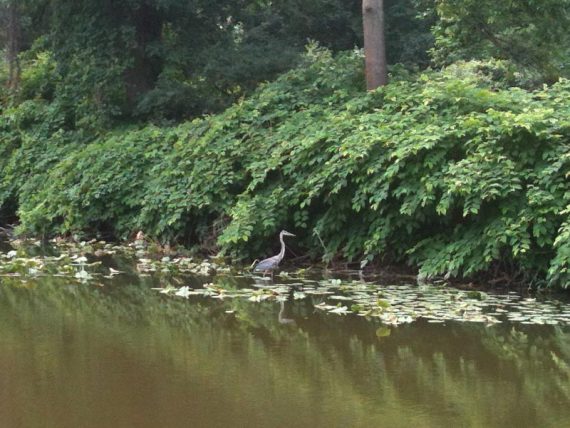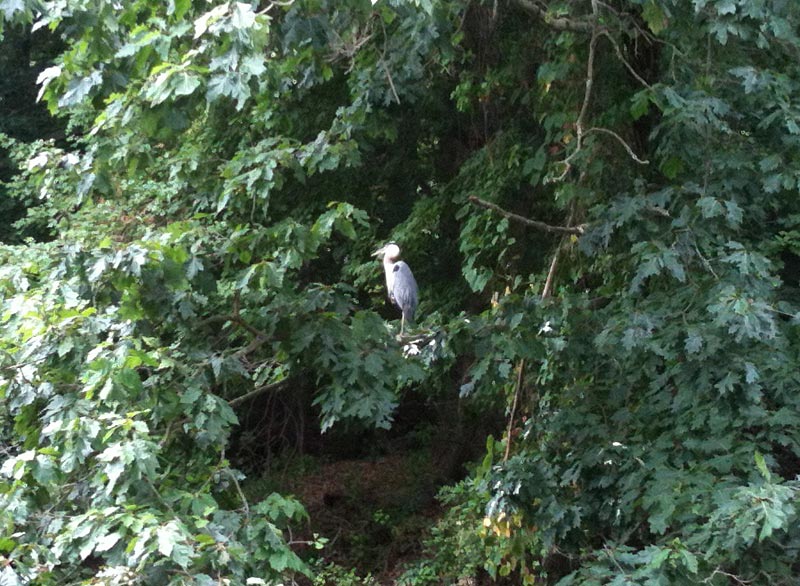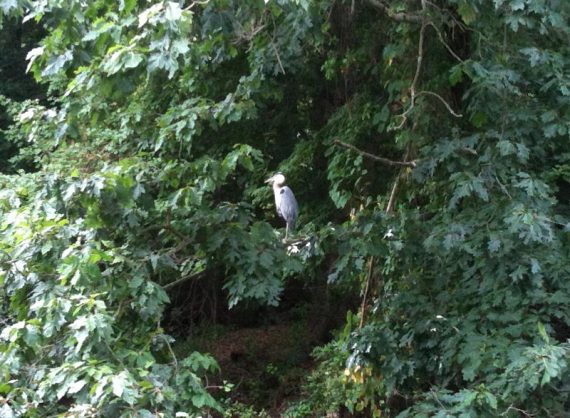 Wildlife spotted:
Tons of geese & turtles, several deer, and FIVE Blue Herons on the PA side. Five!
Normally we are lucky to glimpse the occasional one flying away from us.
These were all engrossed in fishing and ignored us (they likely knew that we usually don't bike with our SLR and just wanted to taunt us with the nice shots we missed).
Pretty cool to watch them slowly stalk fish.