Biking the Delaware and Raritan Canal from Blackwells Mills north almost* to Demott Lane.
Miles: 22.3
Parking: N40° 28.515′ W74° 34.365′
Blackwells Mills lot is a small dirt lot that connects to the towpath with a short trail. For this route, we turned left onto the towpath (north). Porta-john is usually in the lot.
GPX: D&R Canal: Blackwells Mills – Demott Lane
For D&R trail resources/maps, see our Delaware Canal Towpath overview.
For our first bike ride of the summer, we changed it up and started from Blackwells Mills. The trail surface is nice, reddish dirt from here, and is in pretty good shape now. Early into the ride, a great blue heron was hanging out on a branch right off the towpath.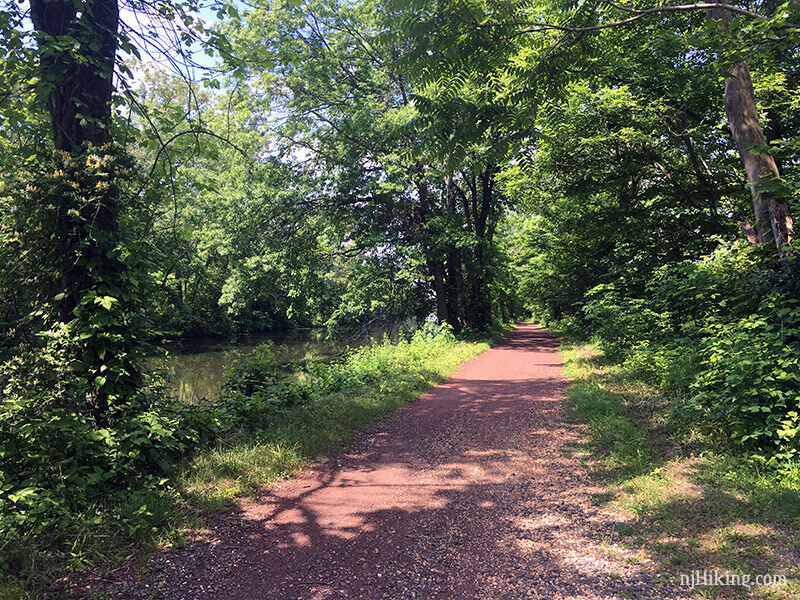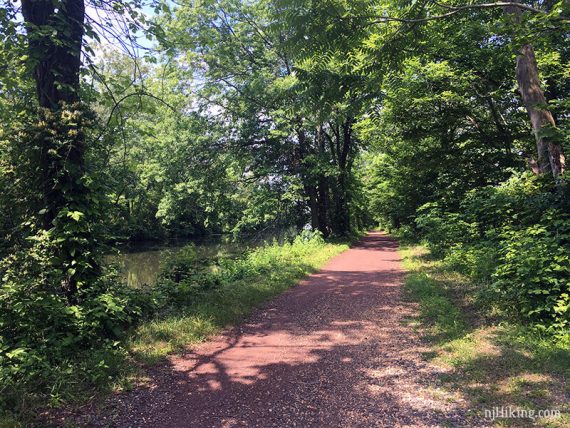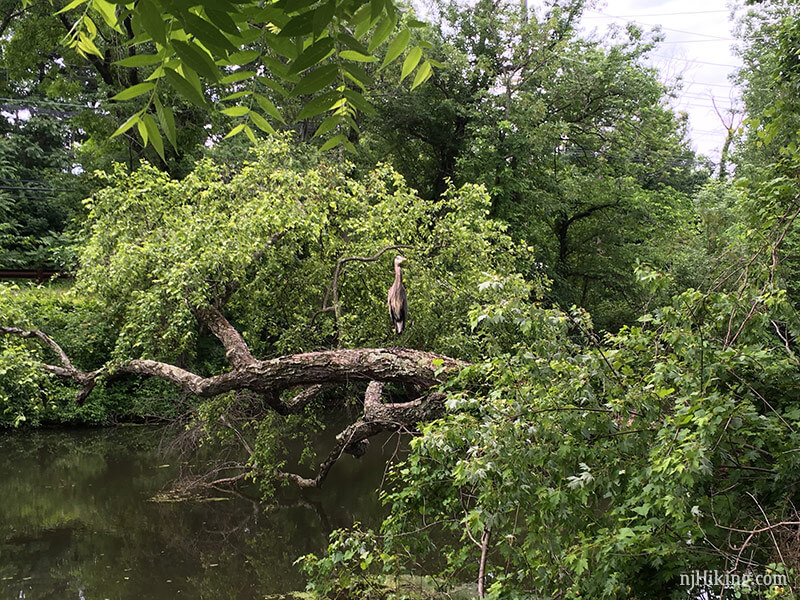 We kept heading north, crossing Amwell Road at Millstone Causeway, then passing Weston Causeway, then the grounds of Zarepath on the left a bit later.
About 5.5 miles in, we arrived at 10 mile Lock – a good place to turn around if you're looking for a nice ~11 mile round trip day.
Also, the trail surface degrades a bit after – large puddles or ruts, holes etc… but not out of the question and it's better than it was when we went a little past 10 Mile Lock a few years ago ("D&R Canal – Rocky Hill to 10 Mile Lock").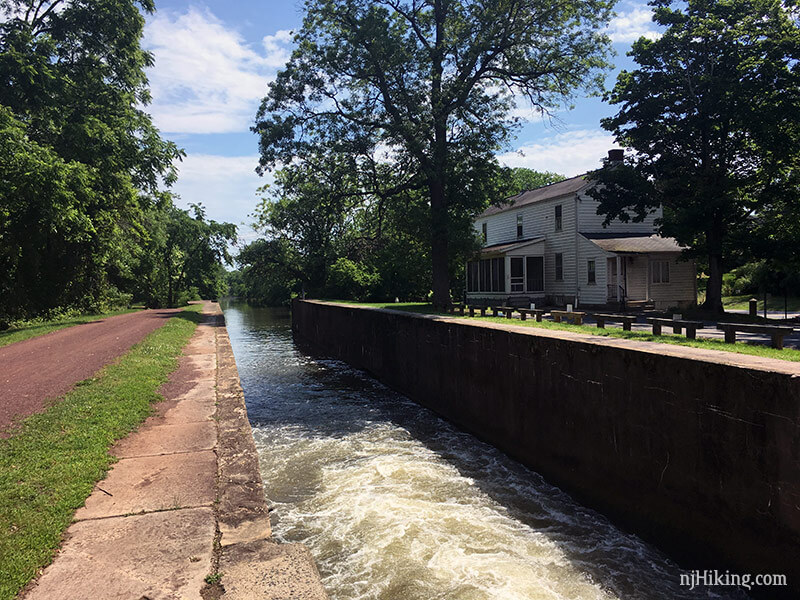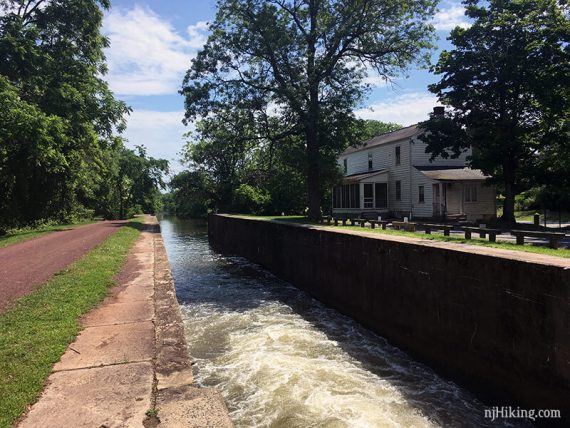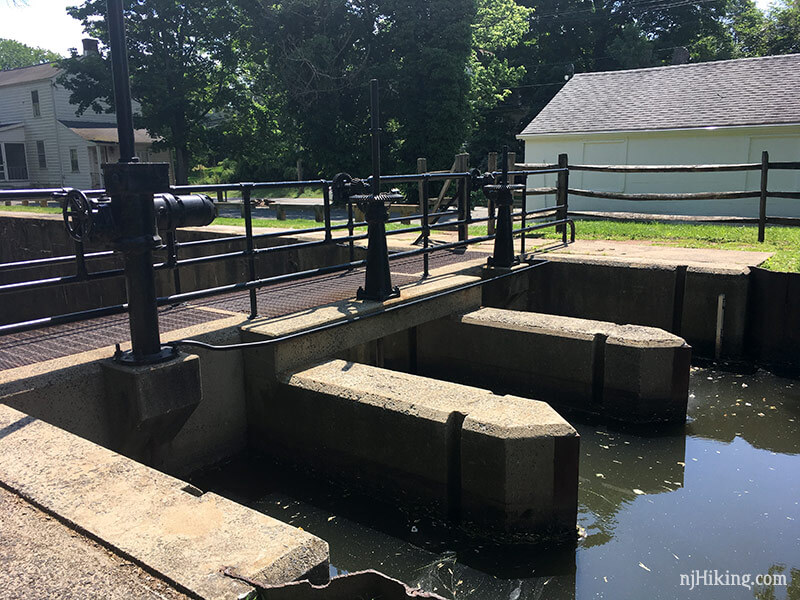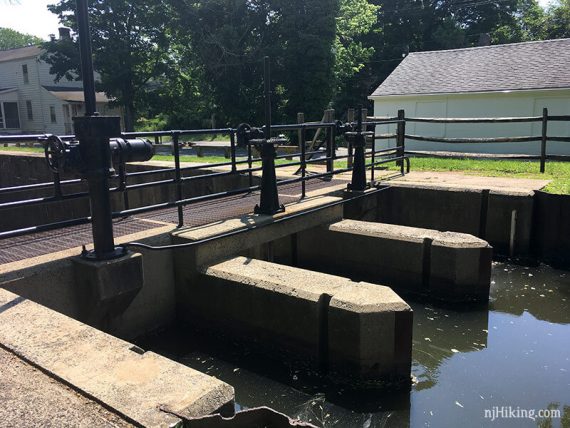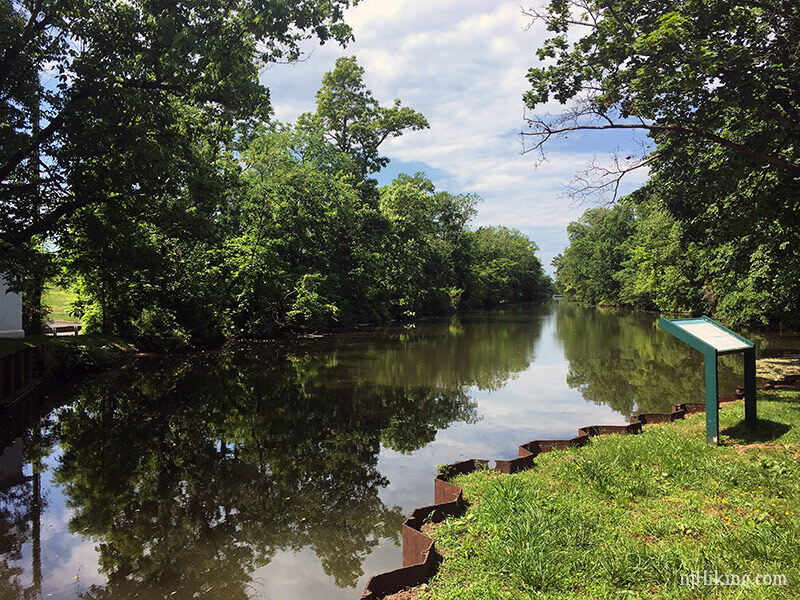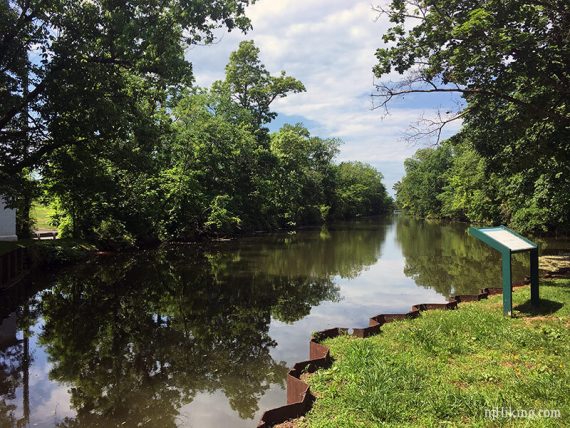 We passed under Rt 287 and soon after had to walk our bikes down a steep section – it's steeper than it looks here: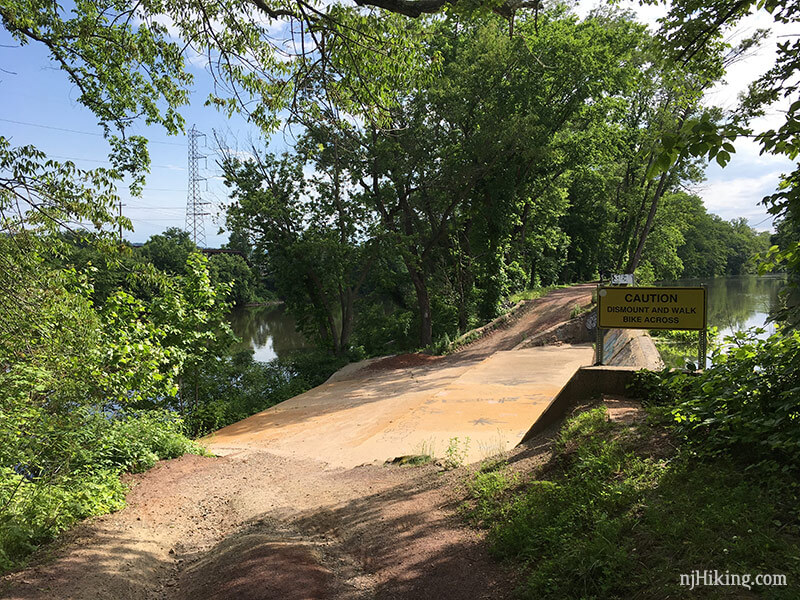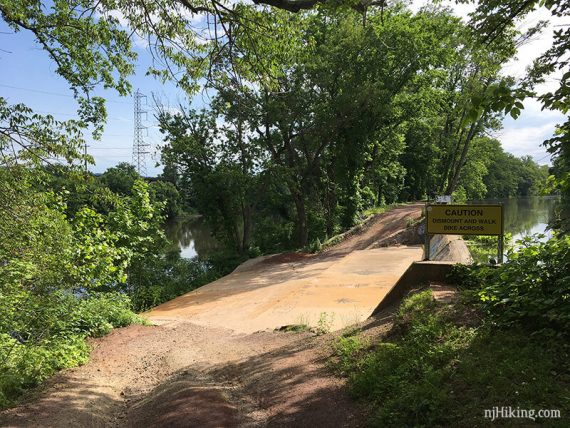 After this, we passed the South Bound Brook Lock, and crossed busy Main St (Rt 527), and another rocky spillway (there are several of these along the route – you might want to walk the bike over them). This section has more traffic noise and comes out into the sun more. Somewhere along here we passed lots of people fishing along the canal, and then saw a tent set up for a fishing derby.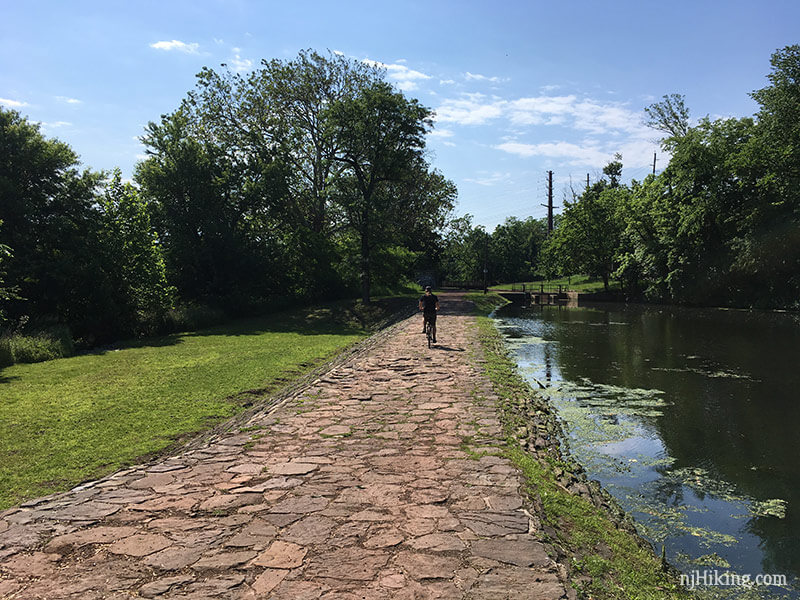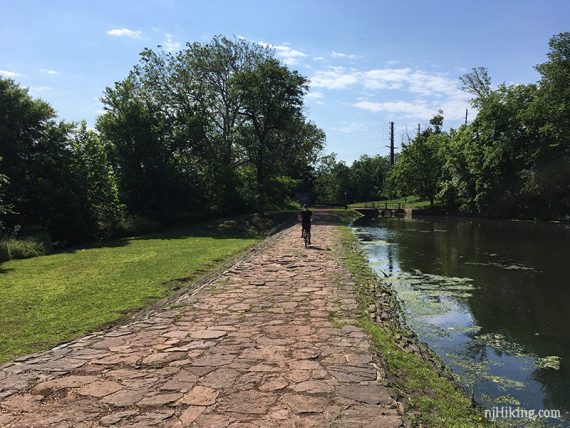 Then at about 9.6 miles from Blackwells Mills we arrived at 5 mile Lock.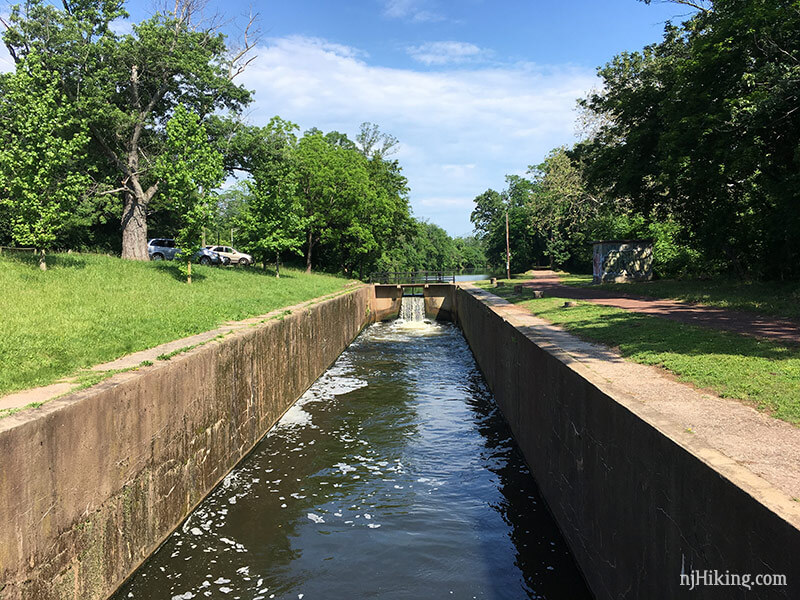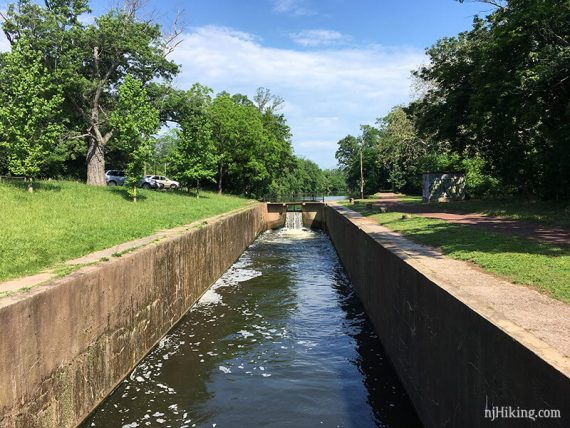 We continued under Rt 287 again, and now the towpath runs on a skinny strip of land with water on both sides. Like in this photo, but more narrow… somehow we didn't take a pic of the exact area: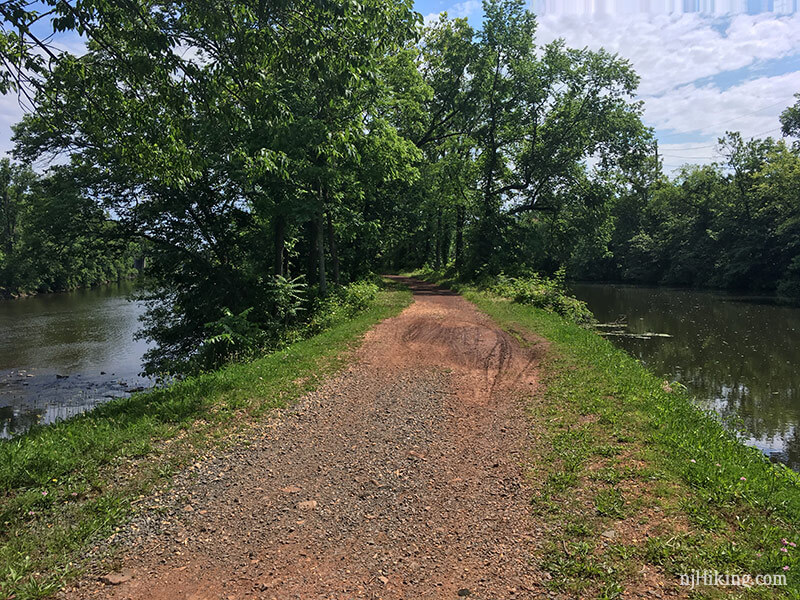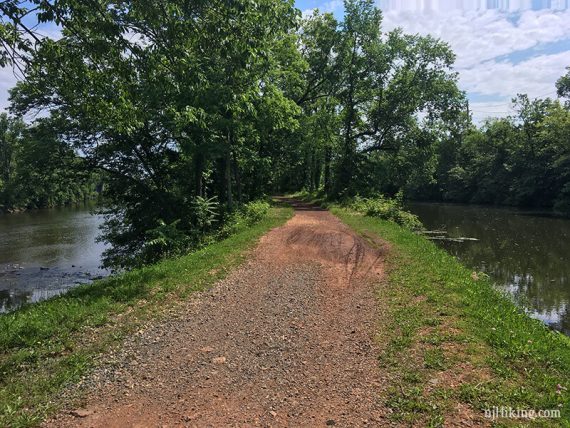 Bonus: The honeysuckle were blooming and very fragrant along the whole route.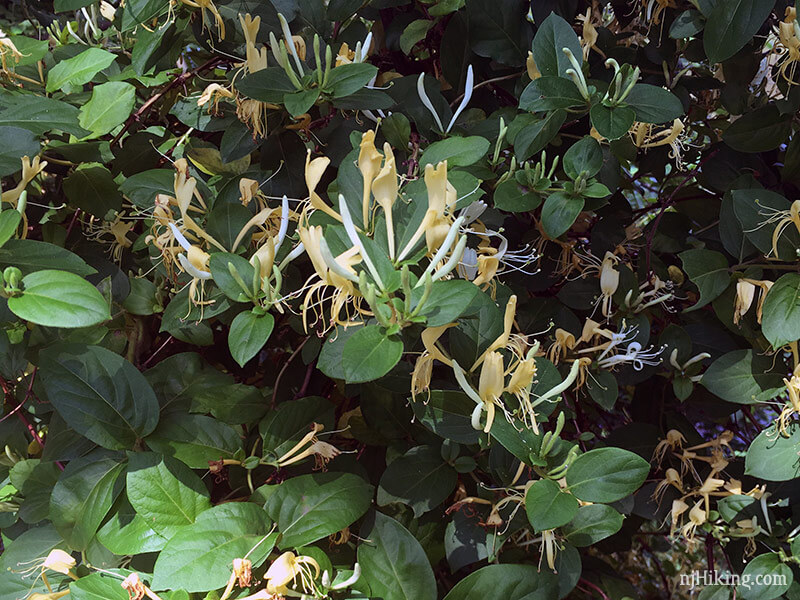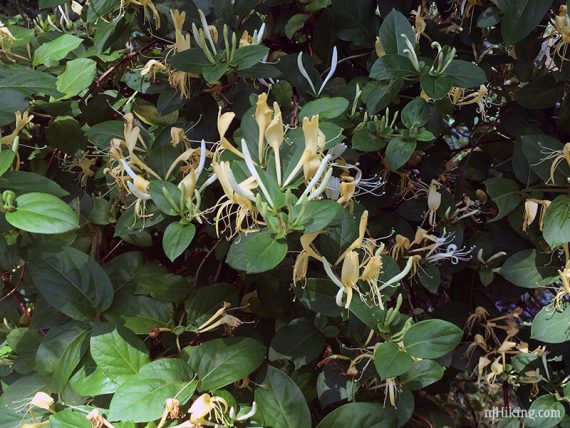 We didn't want to overdo it on our first ride of the season, but it was so nice out that we might have kept going more… *except that just before Demott Lane I stopped to take photos on a causeway… and realized I no longer had my phone. Craaaaaaaap.
Guess I hadn't closed the zipper all the way on the case clipped to my bike – the one I've used for years without issue. So not-quite-Demott-Lane became our turnaround point, and we raced back looking for the phone while calling my number. It probably was at our last photo stop a mile or 2 back… or a heron could have flown off with it. It was a toss up.
To our surprise, someone immediately answered and we met up with them on the way back. So on the off-off-chance the nice jogging couple who retrieved my phone reads this site…. THANK YOU!
For D&R trail resources/maps, see our Delaware Canal Towpath overview.
Wildlife spotted: Heron, turtles.
After-bike: Snickers ice cream bars at Wawa on the way back. I'd like to say it was a reward for the phone situation turning out fine, but lets be real – we always stop for them after our bike rides.