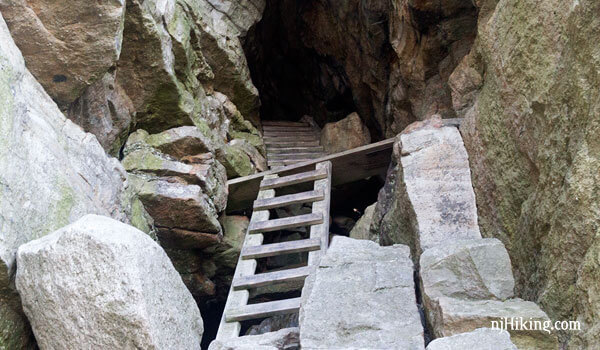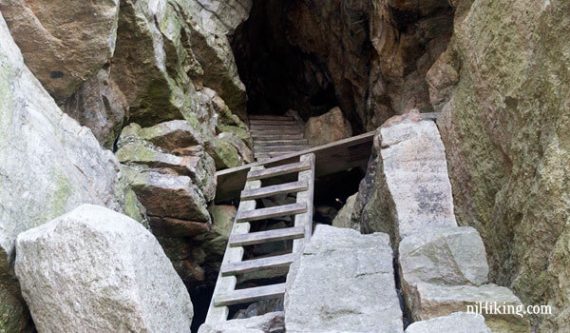 Scramble and squeeze through a massive jumble of rocks before enjoying breathtaking views of New York's Shawangunks from Sky Top Tower.
~4.5 to 5.5 miles round trip: from the hiker parking, including the scramble… but depends on the route taken.
Mix of easy gravel carriage roads and rockier trail (or you can just take the carriage roads) with a challenging rock scramble.
Shorter: Staying or eating at the hotel allows you to park there and skip the hike in.
Longer: Continue on one of the many trails. We added an easy stroll around the lake after the scramble, then retraced the trail we took in, which put our total at around 5.5 miles.
Longer, variation: Hike in from other trailheads in the area.
Nearby: Bonticou Crag; Sam's Point; Gertrude's Nose.
Hike Info:
Our two cents:
So. Much. Fun. The hike in is pleasant enough but the main attraction is the unique rock scramble.
While we normally prefer wild over manicured, the Mohonk Mountain House grounds are beautiful and worth exploring.
Fun Fact: Characters in Stephen King's novel "Thinner" visit Mohonk House and hike the Labyrinth.
Updated: 6/2021 pass info updated, not re-hiked. 4/2020: Page refreshed, not re-hiked.
Combine two hikes into getaway! "The Gunks Overnighter: Gertude's Nose, Labyrinth and the Lemon Squeeze"
---
Map:
Shawangunk Trails shows all hiking trails around the area plus a detailed map so it good for planning, but they do give you a large foldout map after paying (online version of this is linked above).
Even with all the maps, there is such a network of trails and carriage roads that are often not marked that it can be unclear.
Books:
This area doesn't appear in any books we know of, but ones that include good hikes in the area are: 50 Hikes in the Lower Hudson Valley, Take a Hike New York City, and Hike of the Week.
---
Labyrinth and Lemon Squeeze Tips
Check out the photos and video to see what it is like. Some will immediately be "OMG!!! awesome! SO gotta do this!!" while others immediately will be "no freakin' way".
For those of you wavering in the middle and some general tips…
This is doable for most hikers as long as you are agile enough to maneuver up, around, and through openings between boulders as well as climb up wooden ladders.
The final Crevice/Squeeze area might cause issues for the claustrophobic.
The Lemon Squeeze is tight and you need to wriggle and work your way up it. For comparison: Tom is 6′ 2″ and around 200 lbs. and found it tight but got through fine.
Early on, side trails let you bail if you decide it's not for you. There are alternate routes to the views at Sky Top for anyone who prefers to stroll up instead, and if your party splits up you can all meet at the top.
Can get crowded which might negatively affect the experience and possibly cause waits at some sections. We did this first thing on a Friday morning and only had one other couple far behind us.
Hands need to be free – don't plan on just holding a camera or water bottle the entire time. Use a small pack or camera bag, best if it's secured so it doesn't swing around as you scramble. Backpacks need to come off to fit through the Lemon Squeeze.
Grippy shoes. We used our usual hiking shoes, but sneakers would probably be ok. Probably would want to avoid if it's really wet.
---
Mohonk Hiking Parking Lot is just beyond the Mohonk Mountain House Gate House, Garden Rd, New Paltz, NY 12561.
Large lot that often fills to capacity. Hike to the scramble (parking at the Mohonk Mountain House is for guests only). Rest room and vending machines in the lot.
---
Fee to hike the Labyrinth at Mohonk:
Per hiker fees – PER. HIKER. – $30 ages 13+; $25 ages 4 – 12.
Passes now must be purchased online, not at the gatehouse, and are non-refundable. Inventory of passes released 72-hours prior to the date of the pass.
While the fee seems a wee bit crazy (considering that $25-30 will get a family into a national park for a week), we found the experience to be worth every penny.
Realistically, this is so popular even with the fee that if they didn't charge then it would be unbearable. Hike in from other trailheads for less money. Alternately, stay or book breakfast or lunch at the hotel and that will include a day pass.
845-256-2197 for a recording with current info, hiking conditions, ski report in winter.
No pets.
Open for hiking from 7am to dusk. Scramble closed in winter.

No food available to purchase other than vending machine in the parking lot.

No shuttle.
Day pass for grounds only; Mohonk Mountain House itself is off limit to day hikers.
---
Restrooms:
At the Hiker Parking lot; near the lake by the putting green; porta-johns after the scramble at Sky Top Tower (tucked away in the trees).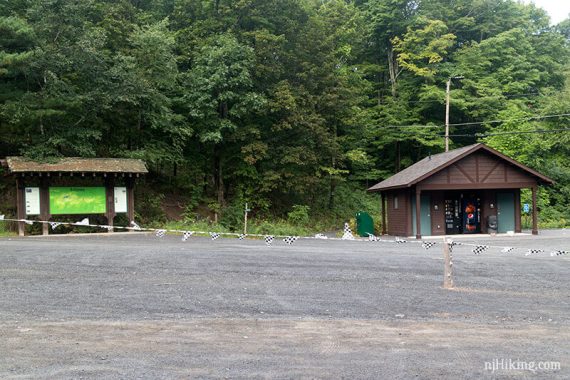 ---
Hike Directions, general:
The map provided at the gate has arrows indicating the route to the Labyrinth and Lemon Squeeze. There are signs at some intersections, but overall the signage is a bit vague.
Just because a trail is named on the map doesn't mean they put a sign on the actual trail.
For that reason, turn-by-turn directions can end up being more confusing than helpful, and it may be actually easier to follow the map (or the hordes of other hikers) when you are there.
In a nutshell… aim for the area marked "putting green" near the lake and the Mohonk Mountain House.
Once at the lake, turn left and follow along the lake a bit. There is a sign to enter the Labyrinth on the left side.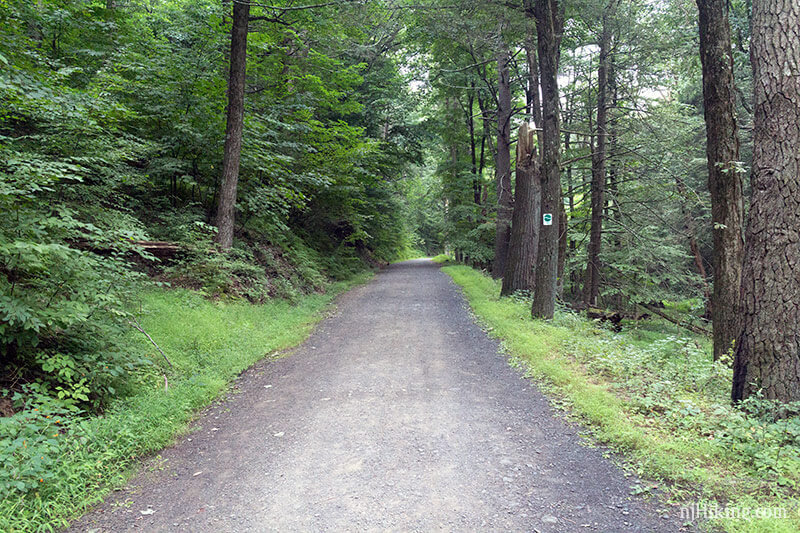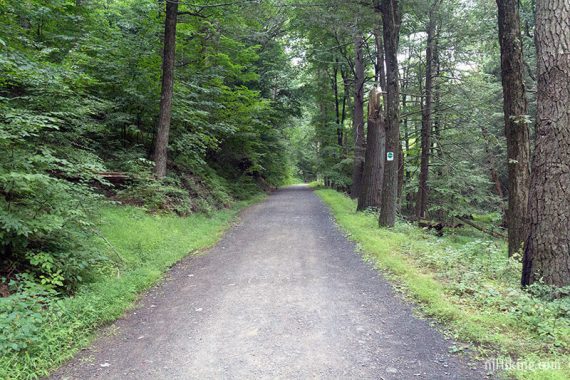 Our Route
There are multiple approaches and we used a different route than the map suggests.
We prefer trails over carriage roads so we took the rocky but more direct Fox Path and the Bruin Trail:
Overview: Hugeonot Trail – Whitney Road – North Lookout Road – Glen Anna Path – Fox Path – Bruin Path – Hugeonot Drive – Lake Shore Road – Labyrinth and Lemon Squeeze to Sky Top Tower…
…Sky Top Path back to lake – [added a stroll around the lake using Lake Shore and Undercliff ] – Hugeonot Drive – Bruin Path – Fox Path – Glen Anna Path – North Lookout Road – Whitney Road – Hugeonot Trail
0.0 – The trail starts between the sign and the bathrooms. Follow the trail map… Hugeonot Trail to Whitney Road to North Lookout Road to Glen Anna Path. They all kind of run into each other.
0.9 – Glen Anna Path ends up at Hugenot Drive where signage and the park map indicate a right turn to follow Hugenot Drive (a more gradual carriage road up).
Instead, cross Hugenot Drive and start following Fox Path uphill.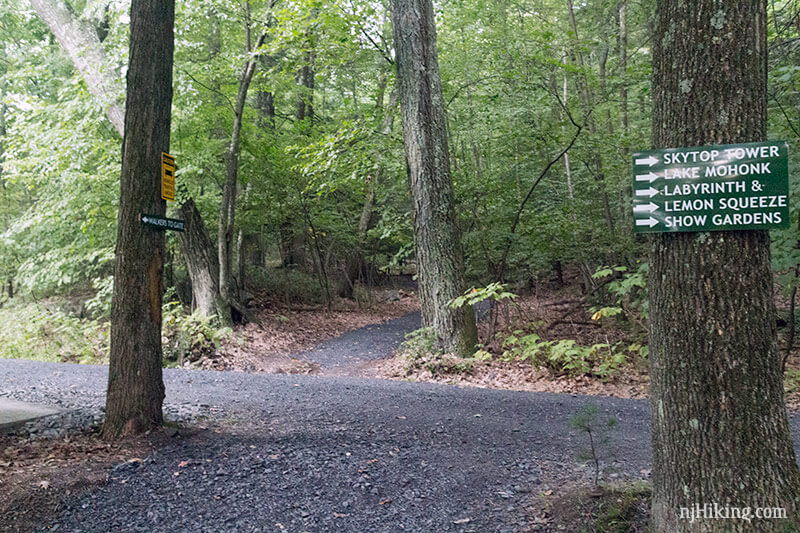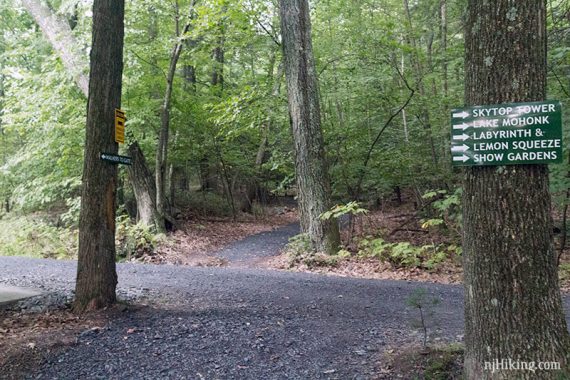 1.3 – LEFT to start following Bruin Path.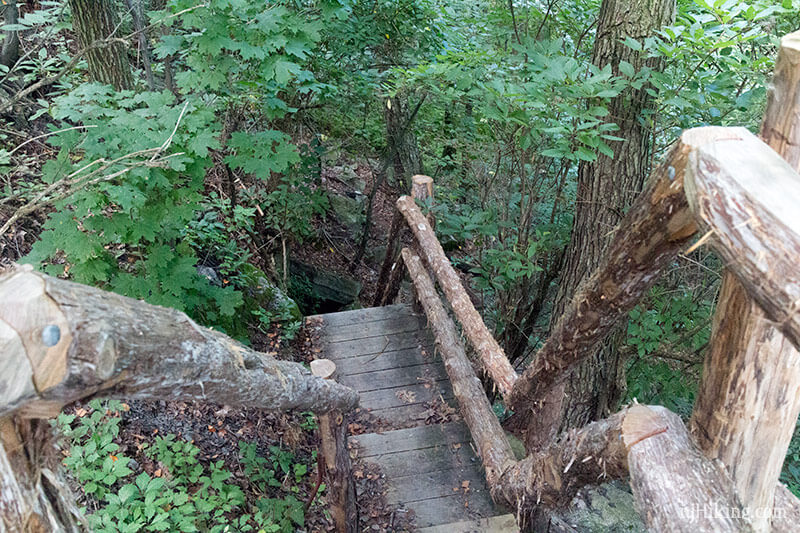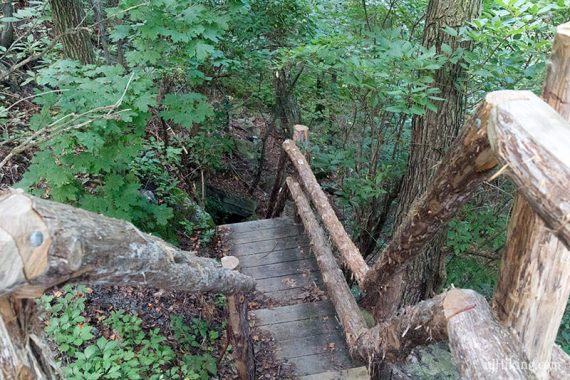 Gardens and the Mohonk Mountain House come into view; head towards them on Bruin and then Hugenot Drive.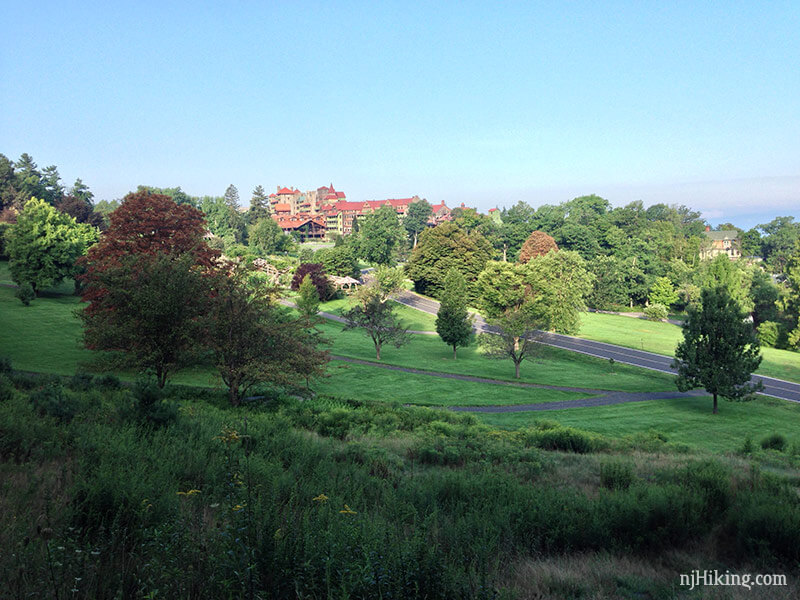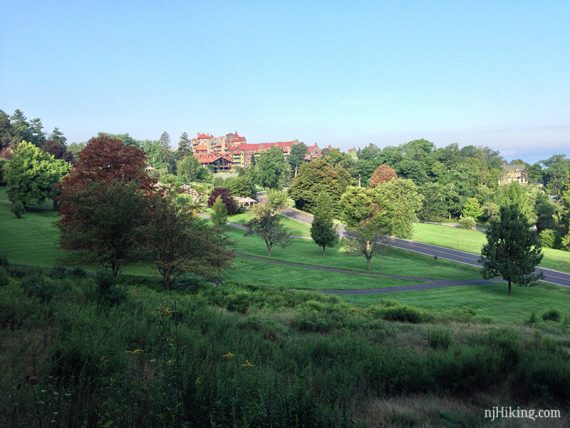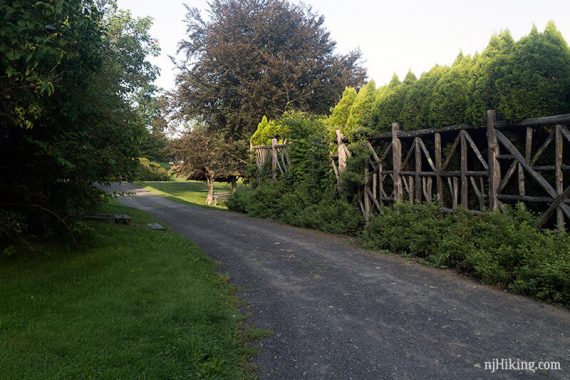 1.6 – Pass the putting green and get to the lake, turn LEFT and follow the path that hugs the lake, watching for a sign on the left to enter the Labyrinth. You must be this tall to ride this ride.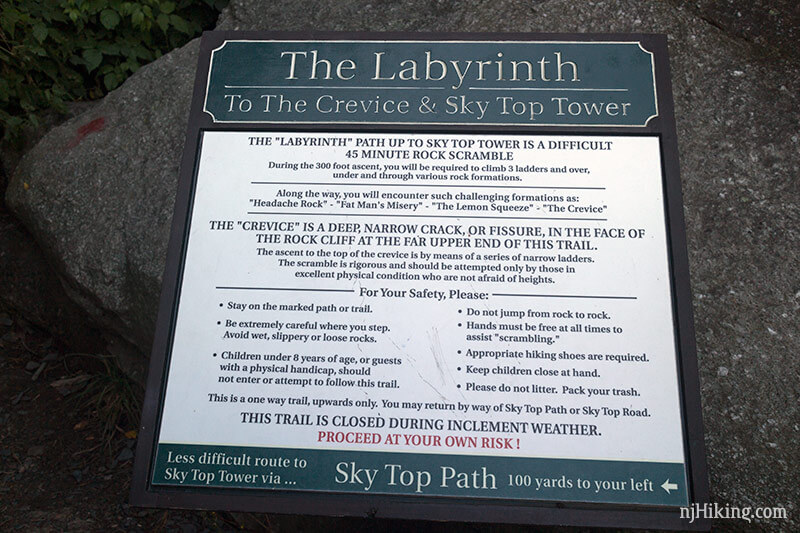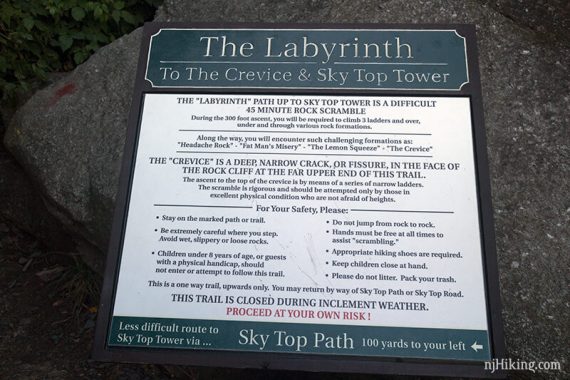 Now the fun begins. That red mark is indicating a left turn to squeeze into those rocks.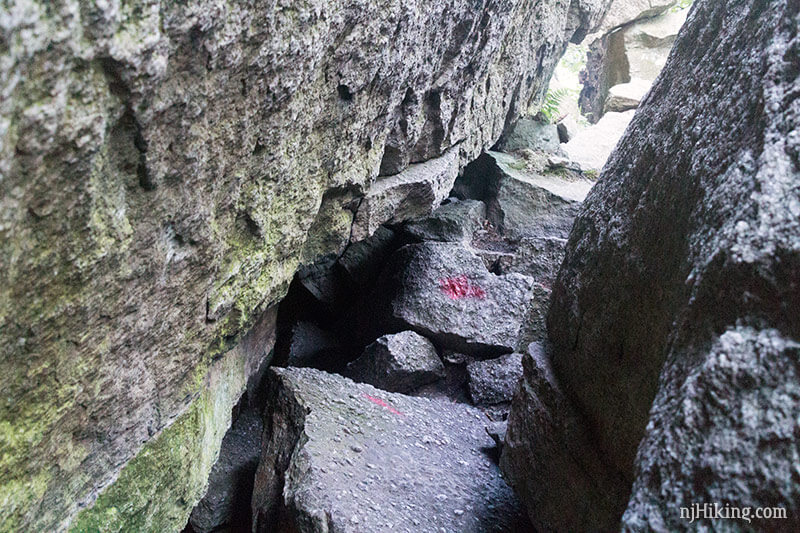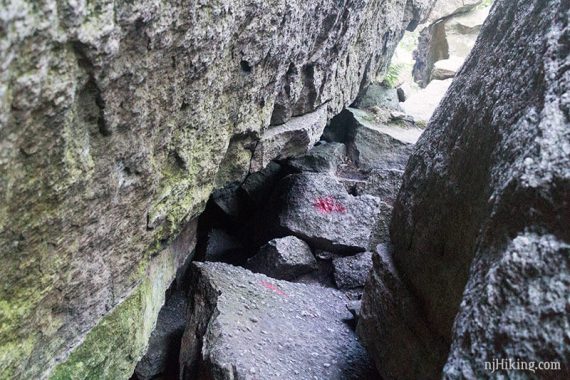 Scramble, crawl, and climb through the Labyrinth, eventually making your way up to shimmy through the Crevice.
Going down… and through… and over.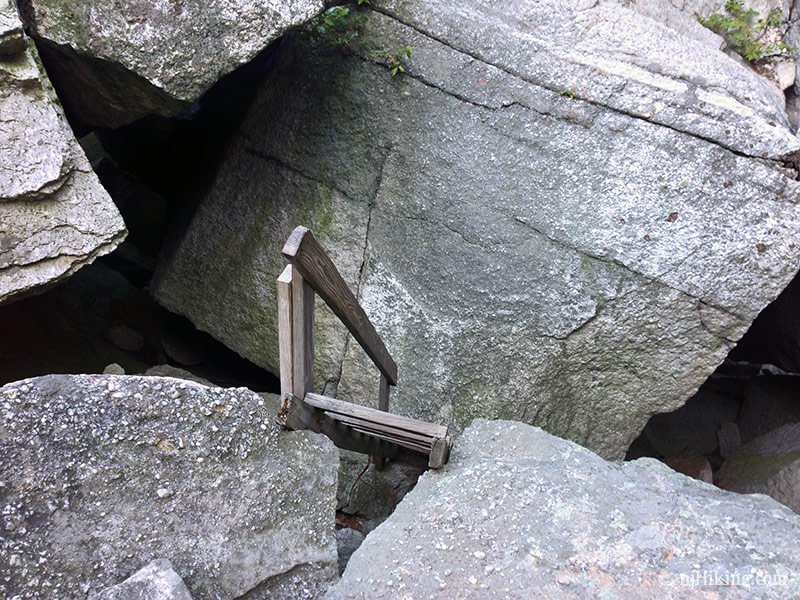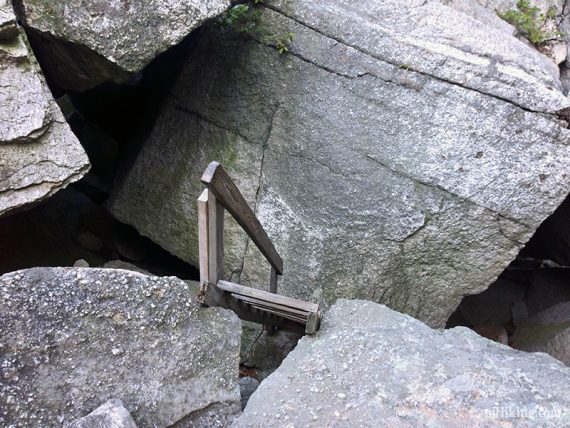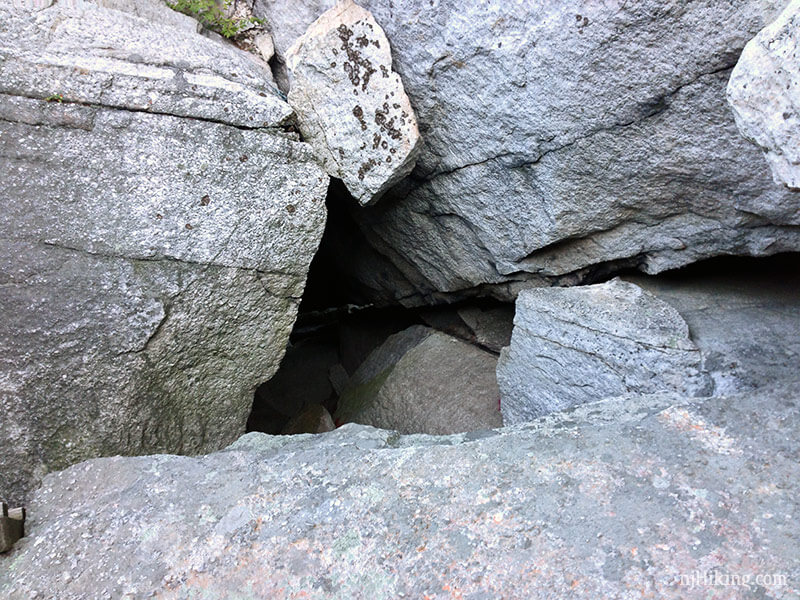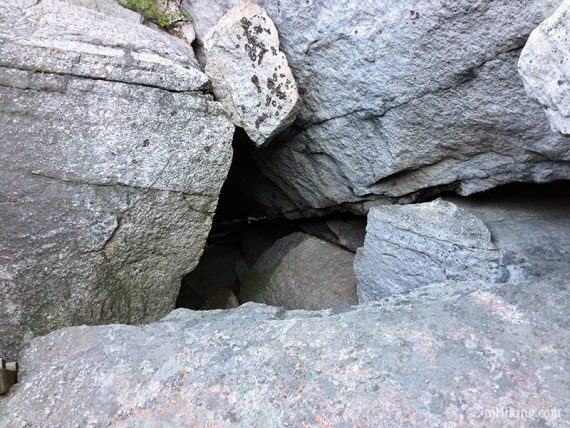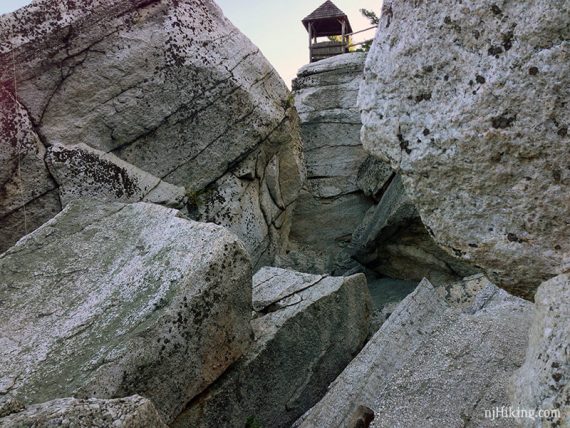 A ladder here and there to help… a bit.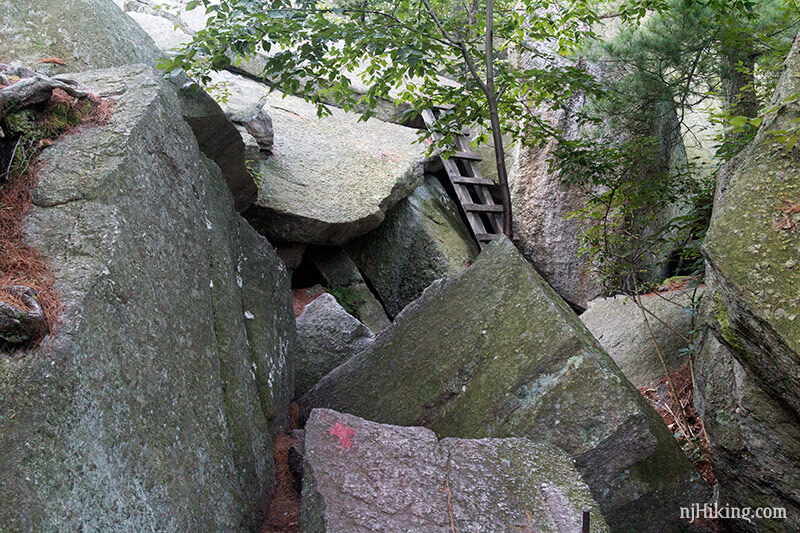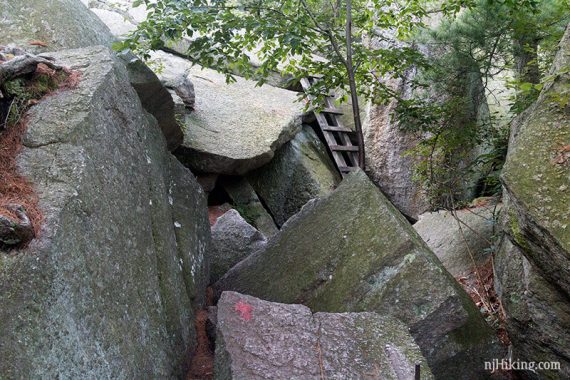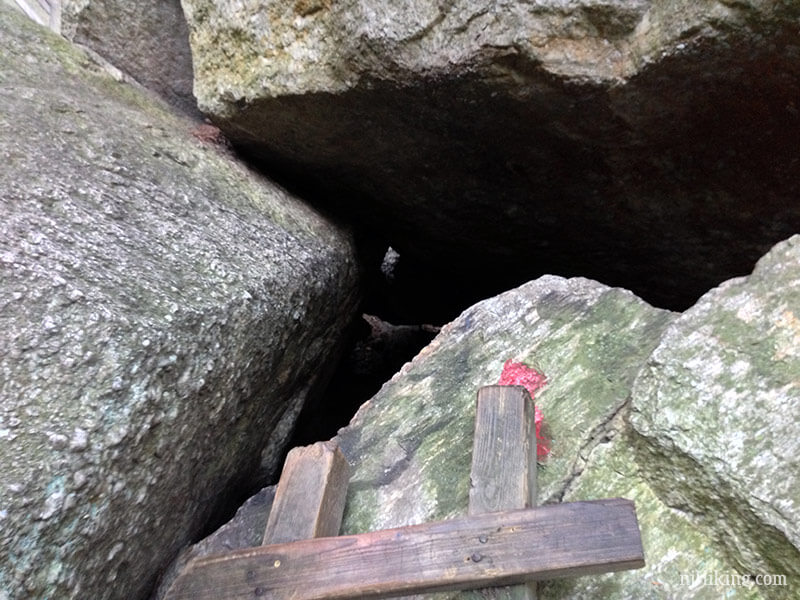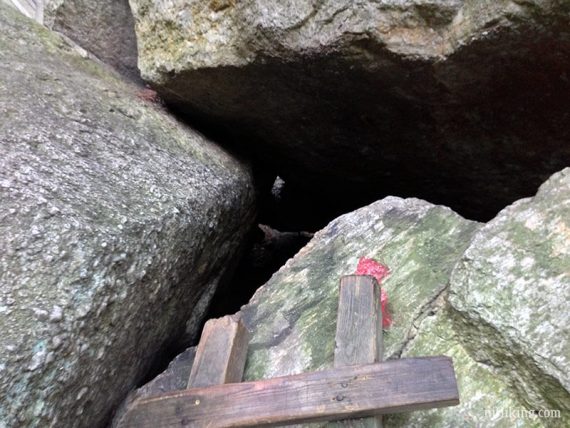 Scramble over a section of large boulders and curve around.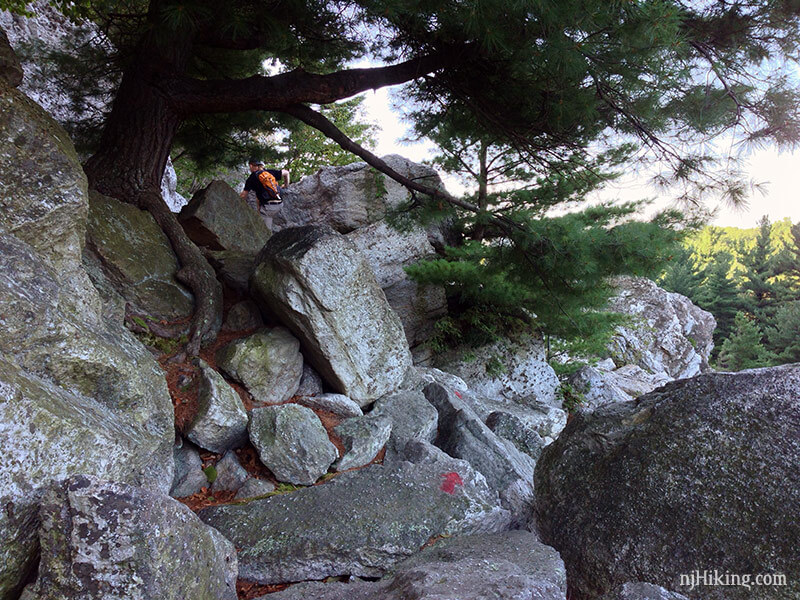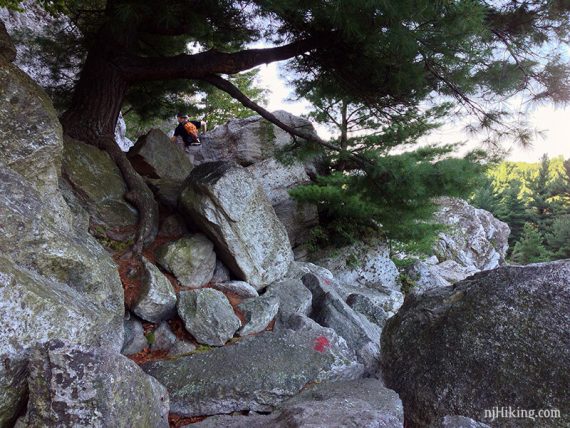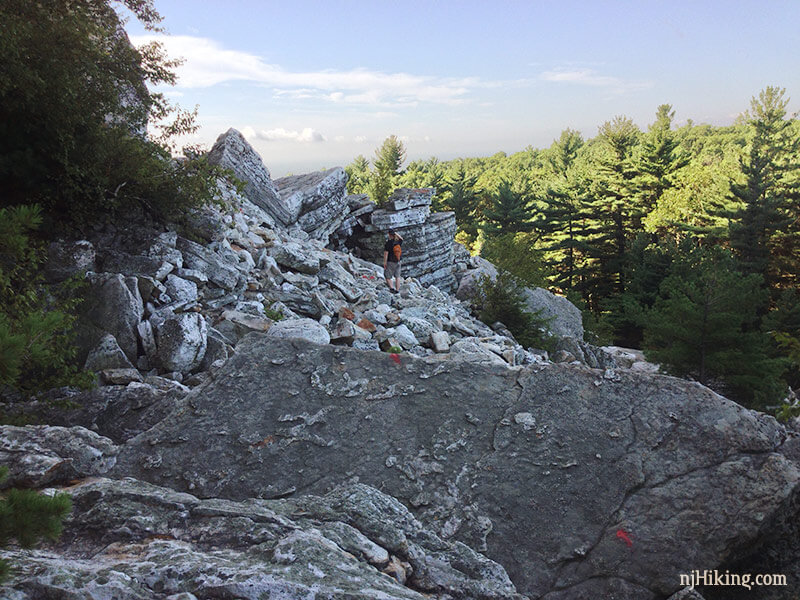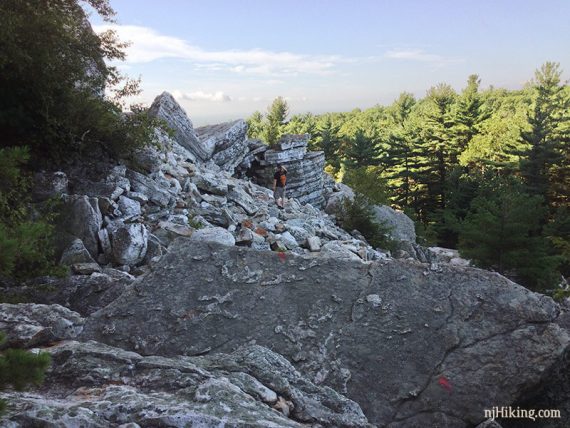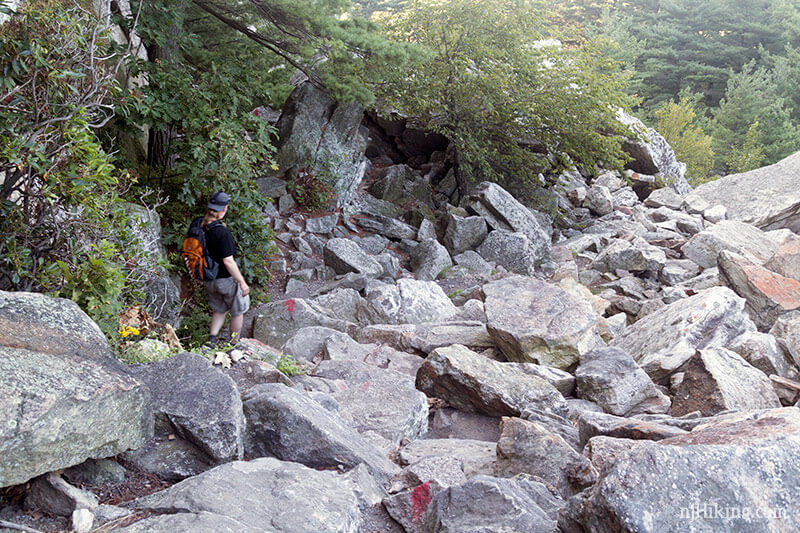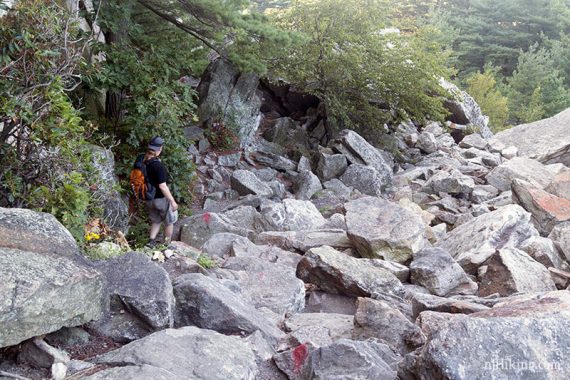 A split – choose to go through this little cave like area or up another direction.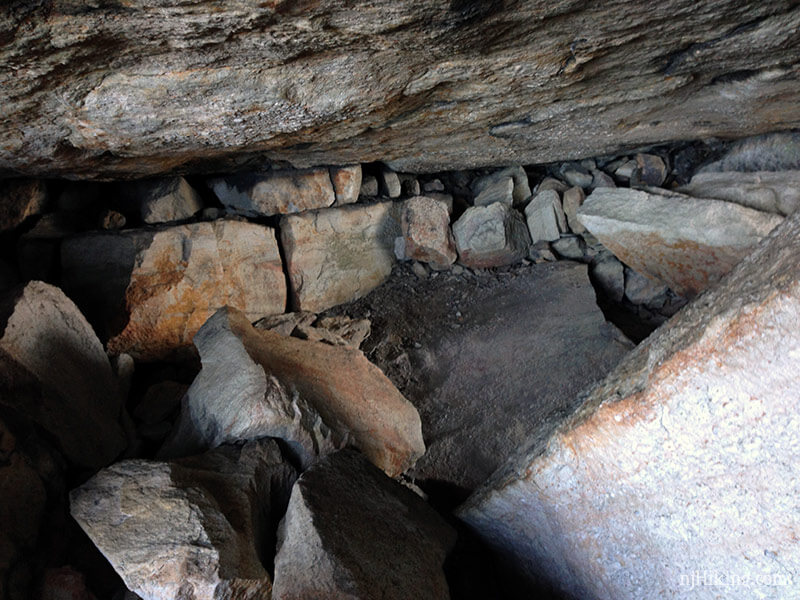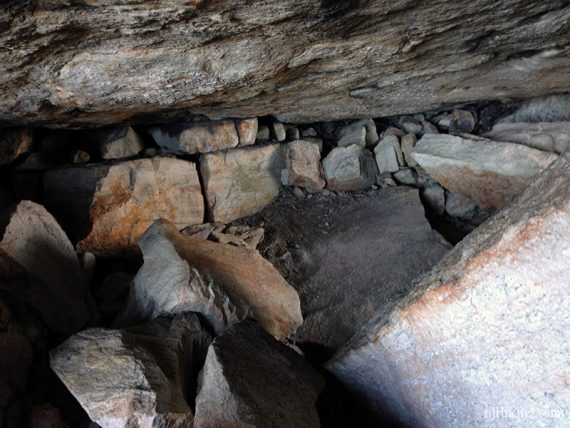 Climbing up to the Crevice.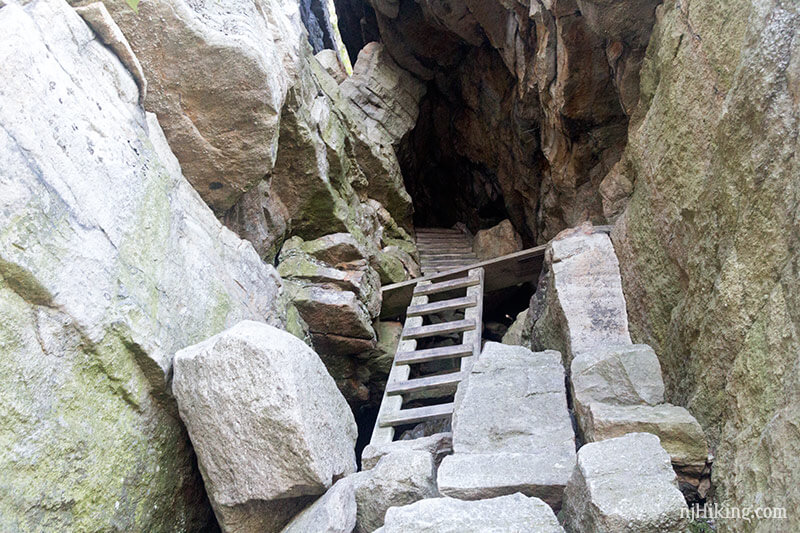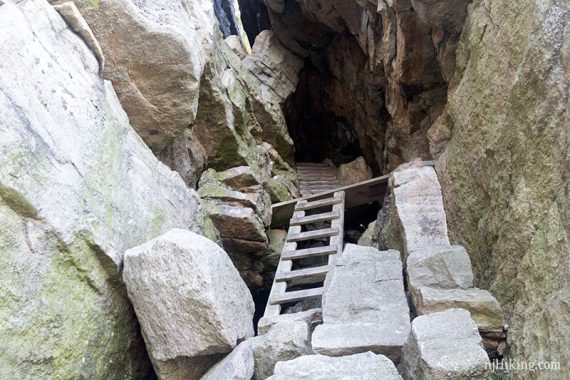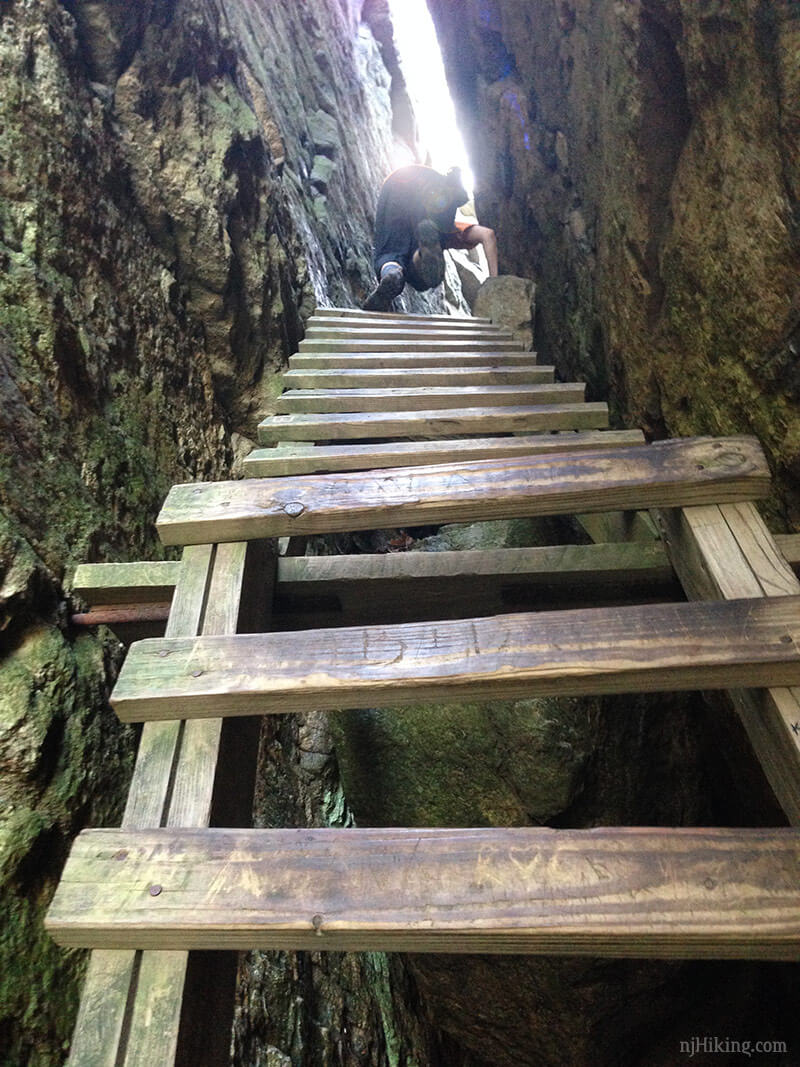 The Crevice. The ladder to the Squeeze is just visible at the end.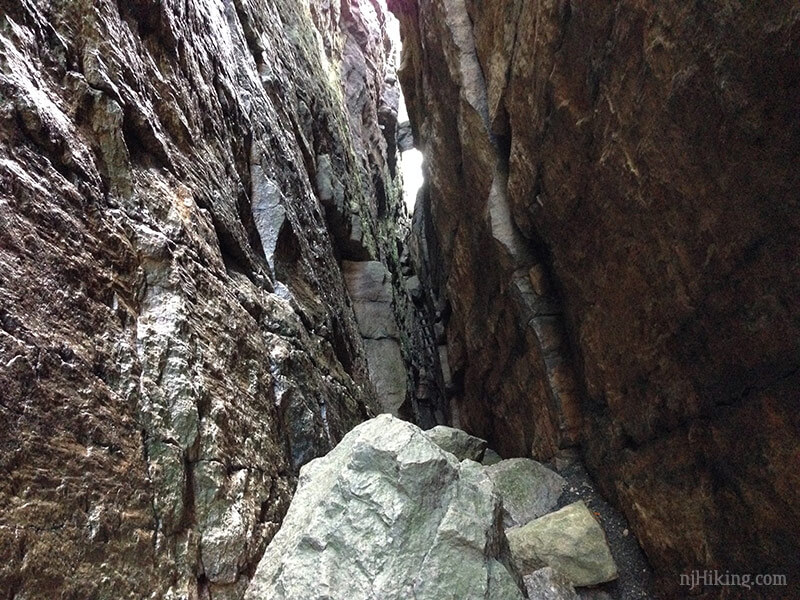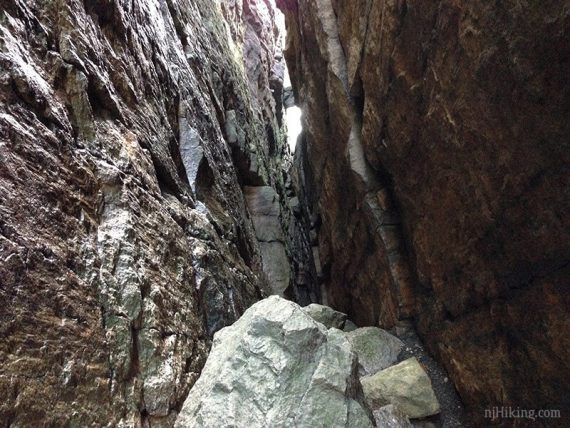 At the end of the Crevice a tall, skinny wooden ladder is wedged in the rock. Looking up into the Lemon Squeeze: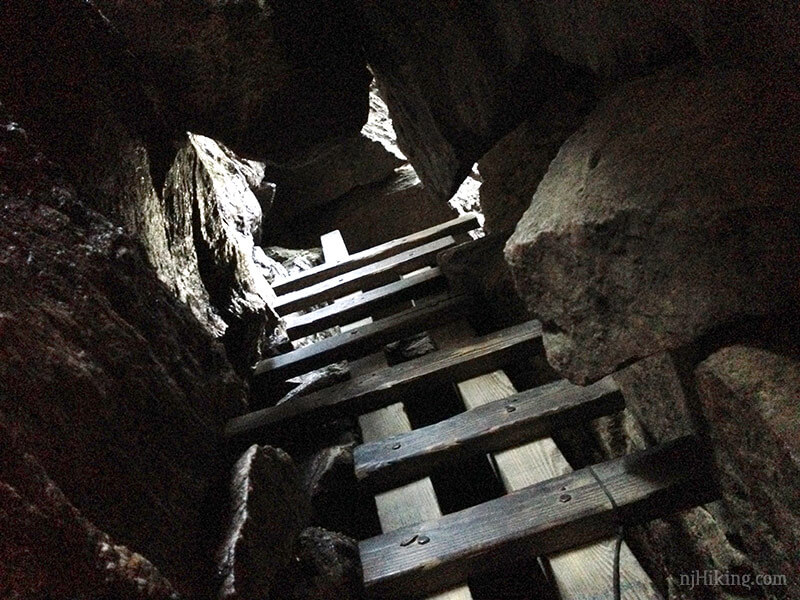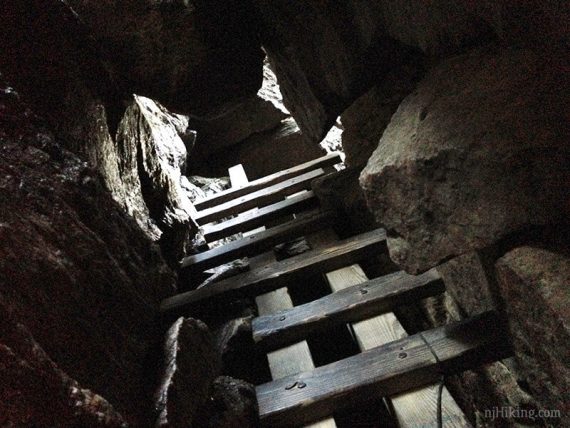 At the top, it narrows into the Lemon Squeeze. Wriggle up through this and come out to a wide flat plateau for some amazing views.
Looking back down on the Lemon Squeeze as Tom works his way up: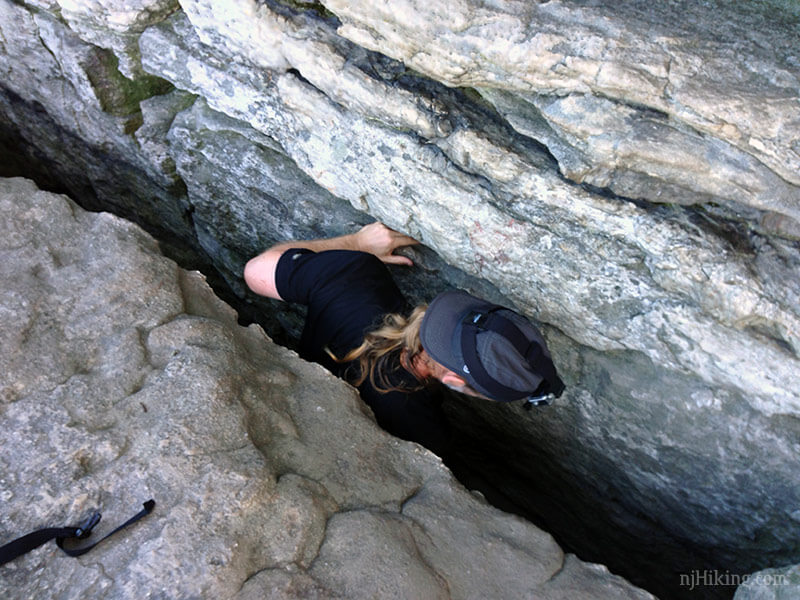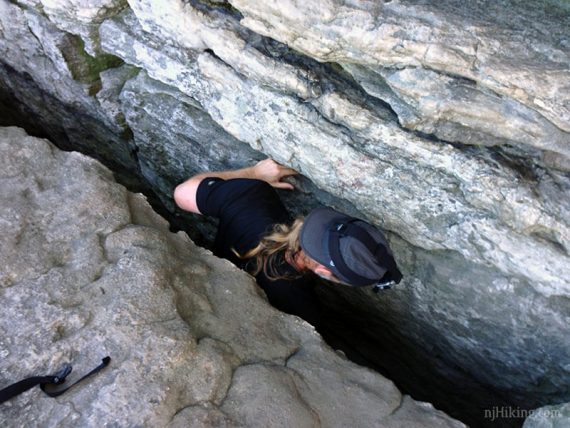 Come around for one more quick fun scramble to the top.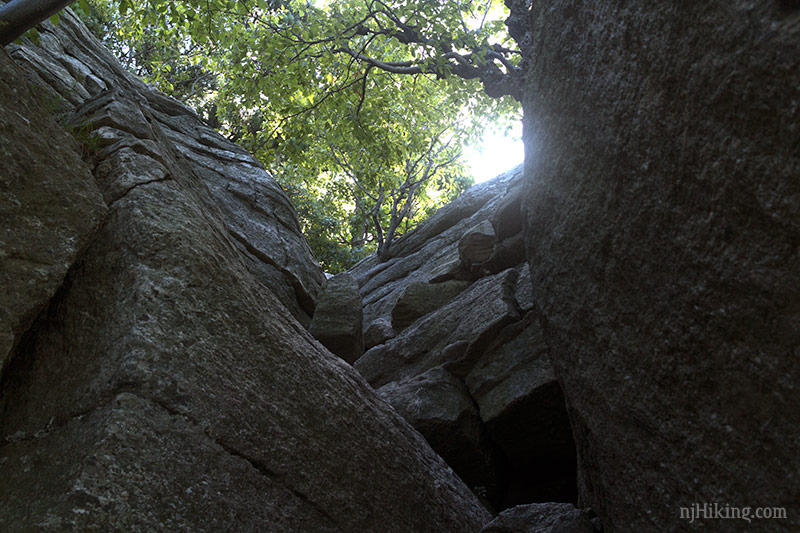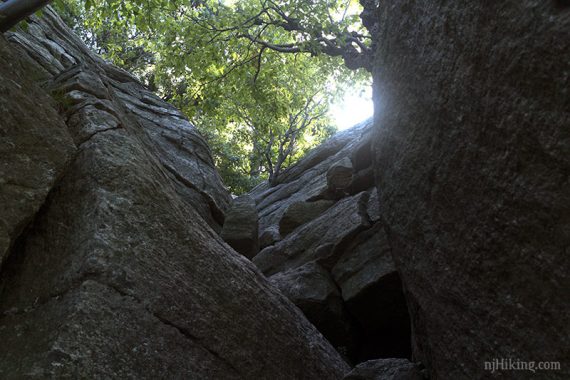 End up near a gazebo. The gazebo hangs over the cliff for a neat perspective – or terrifying, if you don't like heights.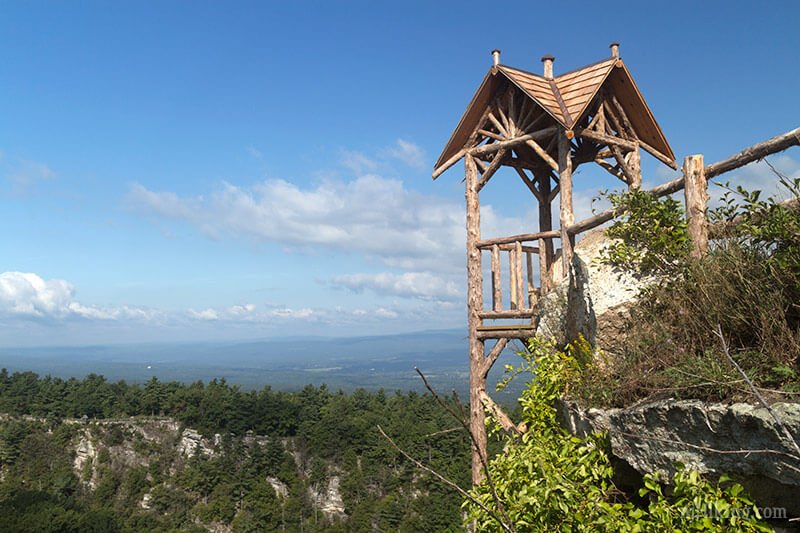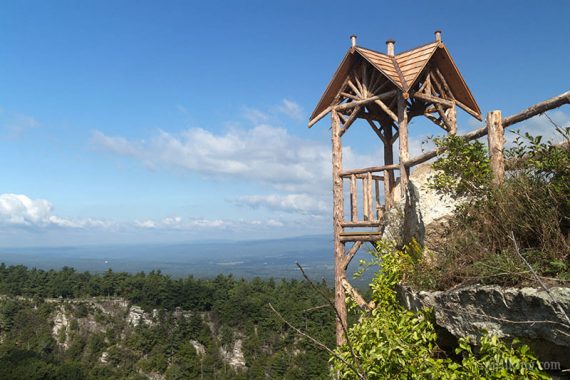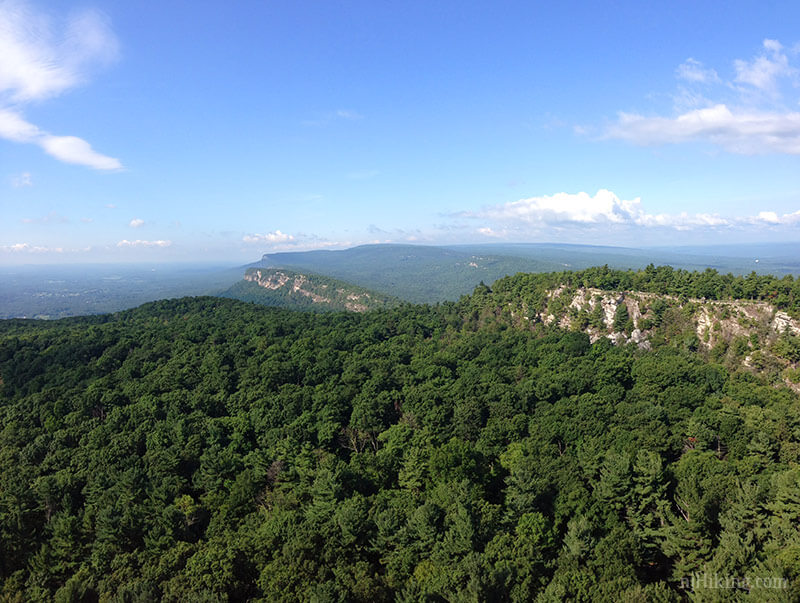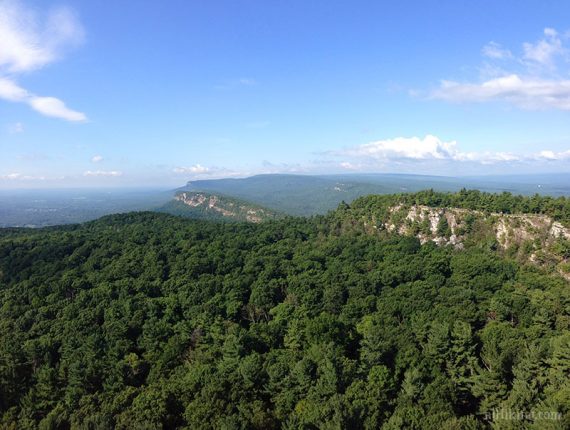 And arrive finally at Sky Top Tower. Climb the stairs up to the tower for panoramic views over the Shawangunks and the Mohonk Mountain House and grounds below.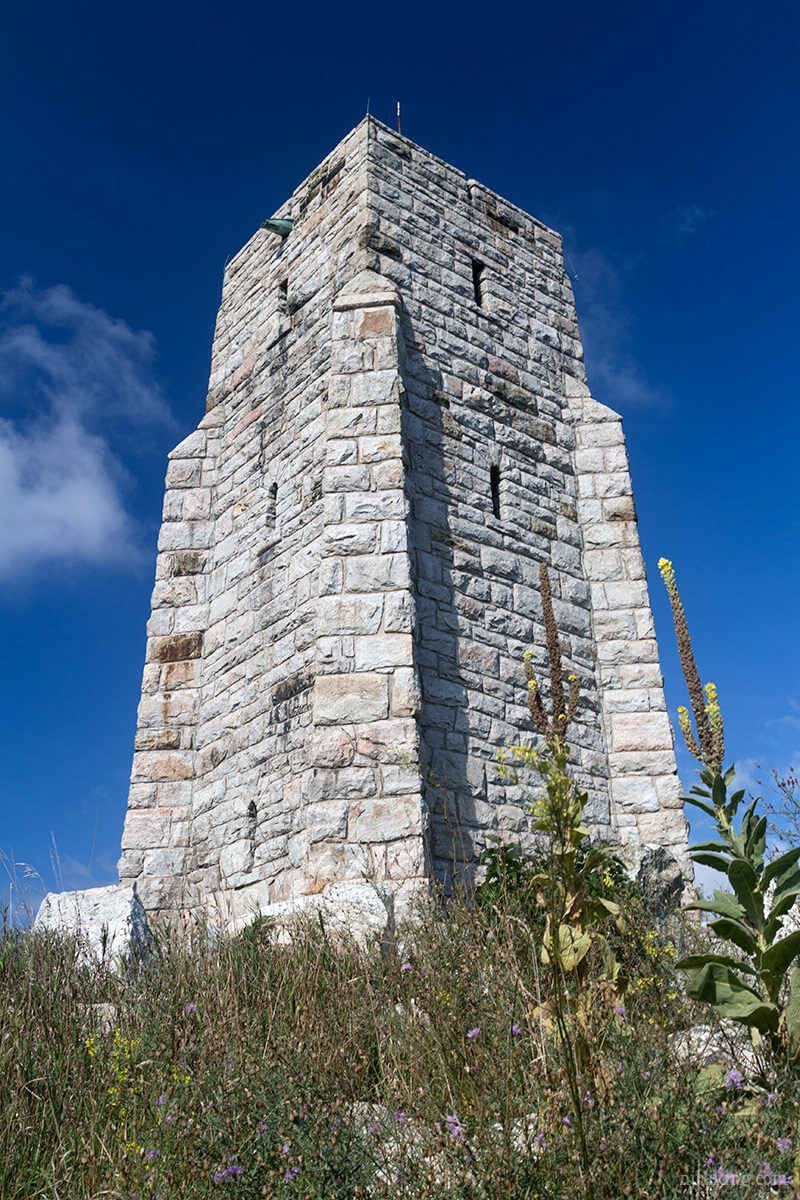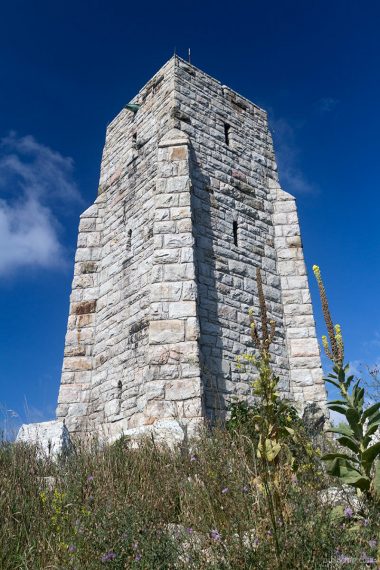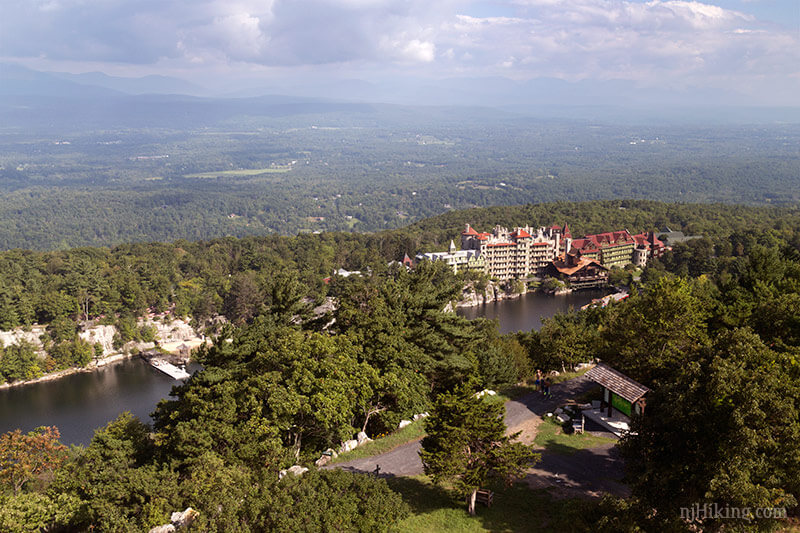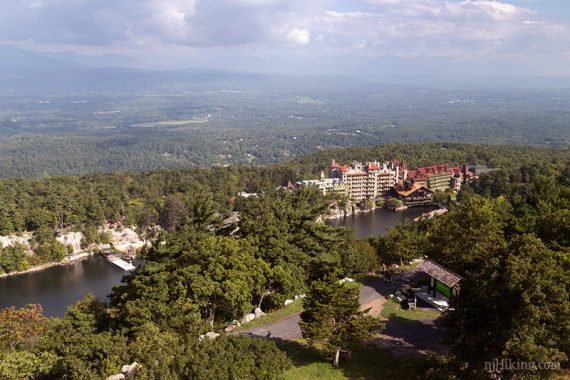 2.6 – Follow Sky Top Path back down to the lake. Head towards the hotel and putting green to retrace the route back.
Optional – After coming back to the lake, we took Lake Shore and Undercliff around the lake back to the putting green before retracing our route back.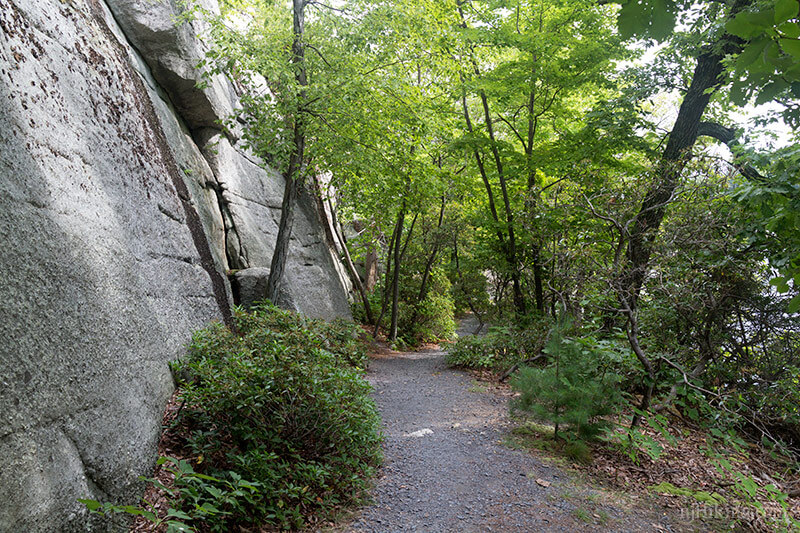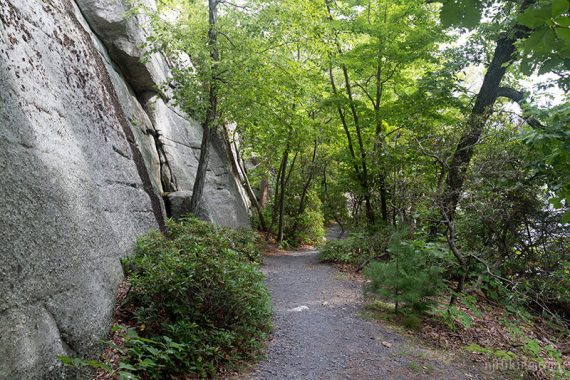 Mohonk Mountain House, from the path around the lake: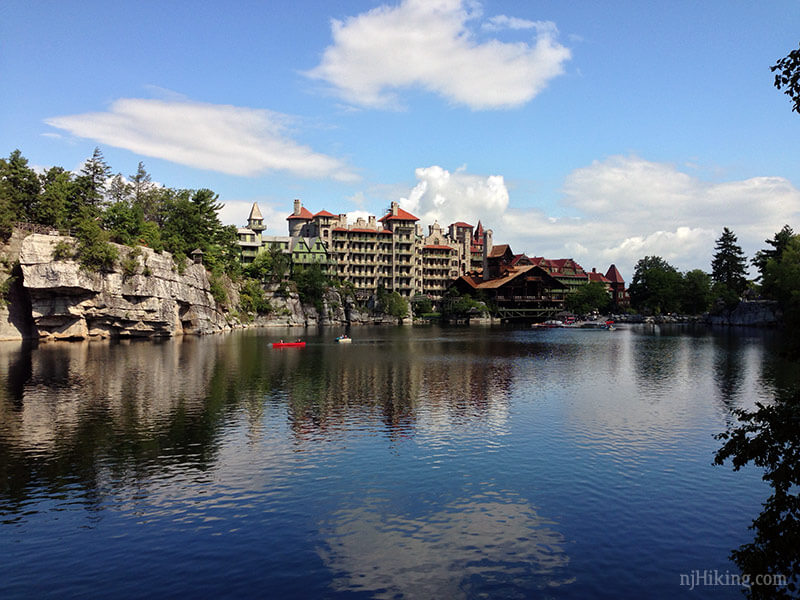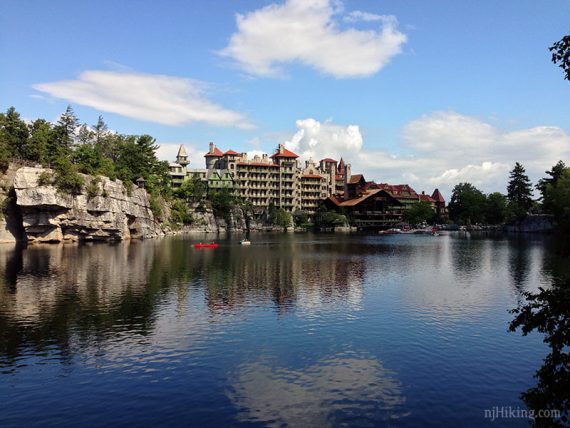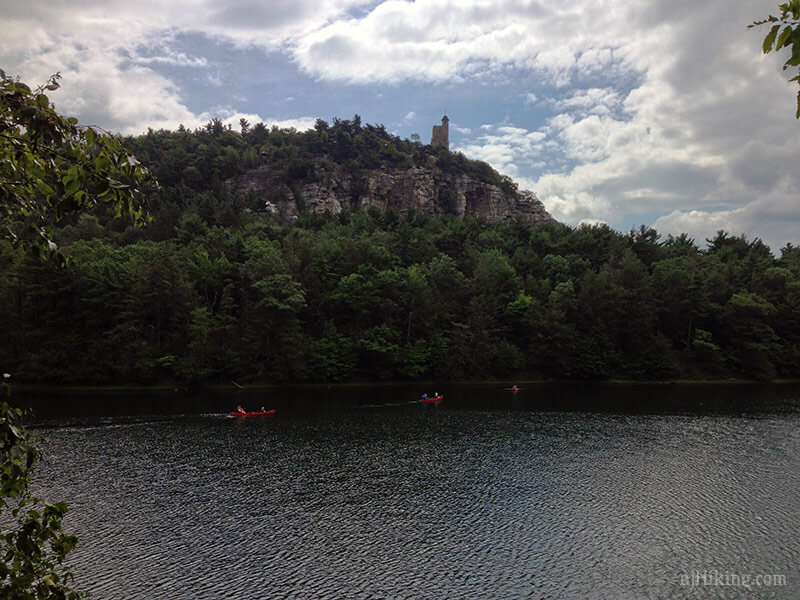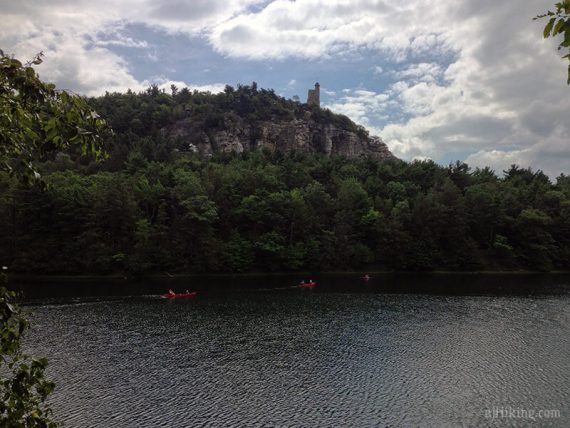 —
Hiked: 8/26/16. Trail Blog: "The Gunks Overnighter: Gertude's Nose, Labyrinth and the Lemon Squeeze"