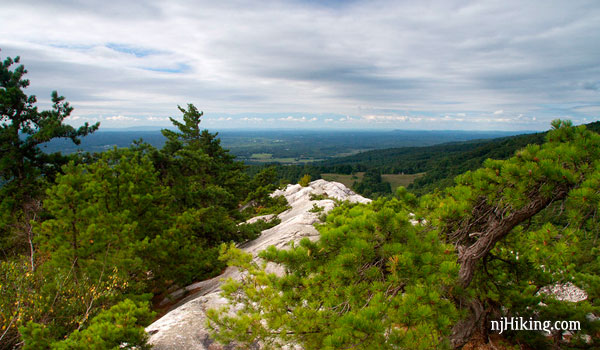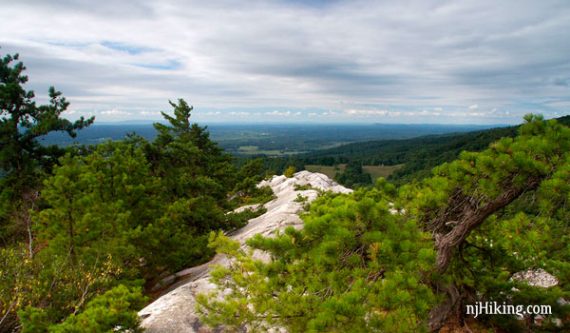 A short, fun, challenging rock scramble up Bonticou Crag and a hike to Table Rocks in New York's Shawangunks.
5.4 or 2.3 miles. Ranges from dirt woods roads to somewhat rocky trail; challenging rock scramble up Bonticou Crag.
Hike Info:
Our two cents:
The Bonticou Crag rock scramble and the views from the top are the stars here and are a must-do. The rest of the hiking in this area is ok and while Table Rocks is worthwhile and has a nice view – it's not overly enthralling.
The scramble itself is maybe 15-20 minutes up. There isn't a shear, deadly drop off (i.e. Angel's Landing in Zion) but a stumble or fall could be serious. The difficulty is really subjective.
Consider leaving the trekking poles and large cameras behind, they can get in the way.
The scramble is popular but we did this early on a summer Friday morning and had it to ourselves.
For avid hikers, just doing Bonticou Crag is too short a day so we recommend combining it with Table Rocks.
Updated: 9/2020 – Updated the scramble portion of Bonticou Accent Path to RED from YELLOW blazes but we haven't re-hiked. Thanks to Shoko for the update. 4/2020: Page refreshed, not re-hiked. 
Spring Farm Trailhead. Rt. 87 to New Paltz exit 18. Rt 299 W – Springtown Road – Mountain Rest Road – Upper 27 Knolls Road.[Roughly 2 hrs from central NJ.]
Per hiker fee: $15.
Restrooms:
Composting toilet in the lot was unlocked.
Books:
Take a Hike New York City has Bonticou Crag and Table Rocks as separate hikes; "Best Day Hikes in the Catskills and Hudson Valley" and 50 Hikes in the Lower Hudson Valley have Bonticou Crag.
Hike Directions:
Overview: RED – Bonticou Road – RED YELLOW (Scramble – Bonticou Ascent Path) – YELLOW (Bonticou Ascent Path) – BLUE (Northeast Trail) – RED (barely blazed) – BLUE (Table Rocks) – Farm Road
There is a large network of marked and unmarked trails, and it can be confusing.
Note: The rock scramble is now blazed RED. Once at the top it is still YELLOW (Bonticou Ascent Path). The description has been updated but our photos still show YELLOW for the scramble portion.
0.0 – From the Spring Farm lot, cross the road from the guard shack and turn LEFT onto Table Rocks Trail (Blue).
0.1 – Turn RIGHT onto Crag Trail (Red).
0.7 – Turn LEFT (but not sharp left) onto Bonticou Road (confusing intersection) and follow the wide dirt road as it curves around.
1.0 – Turn LEFT onto Bonticou Ascent Path (RED).
Cross Northeast Trail, and start scrambling. From the base of the rocks, looking up Bonticou Crag: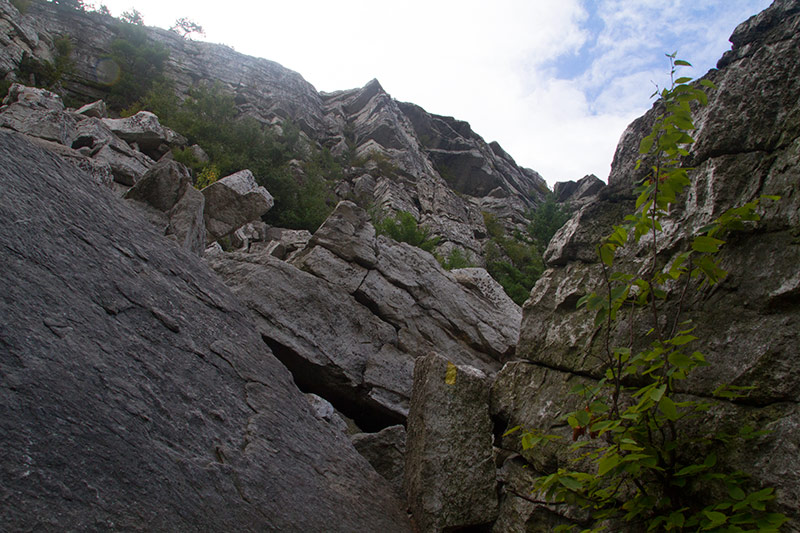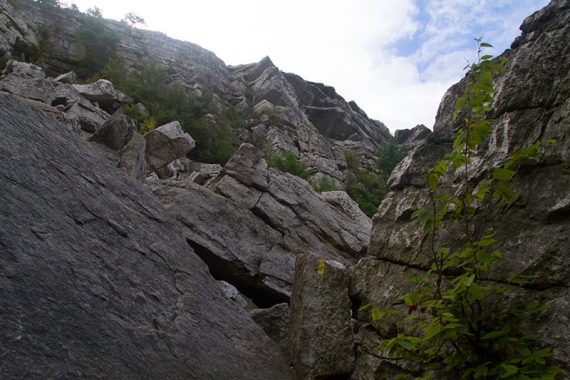 Follow the RED blazes painted on the rocks, using both hands and feet to balance and climb up the rock face.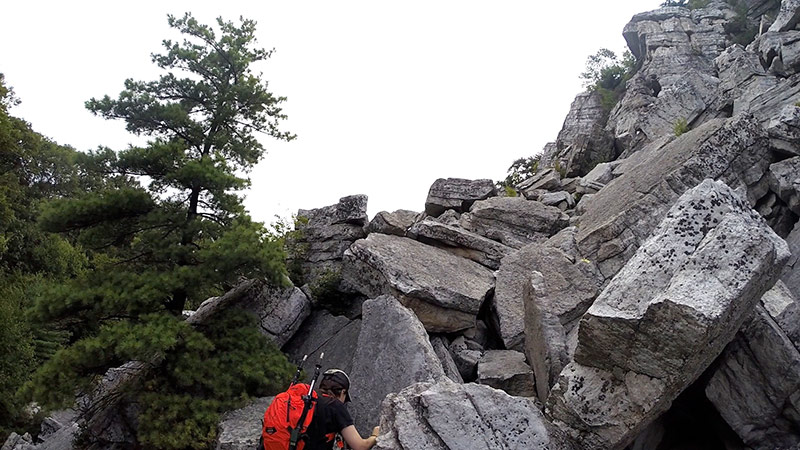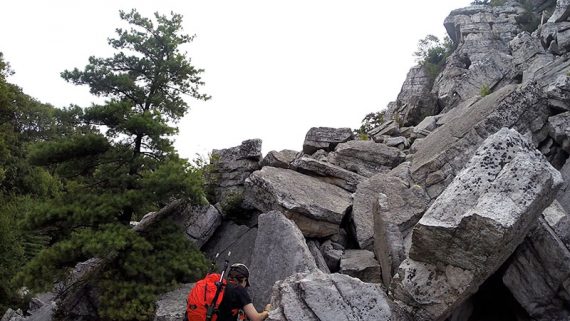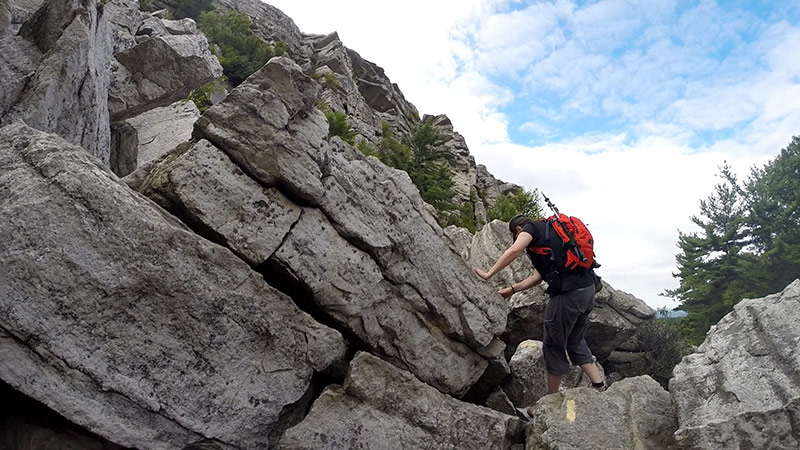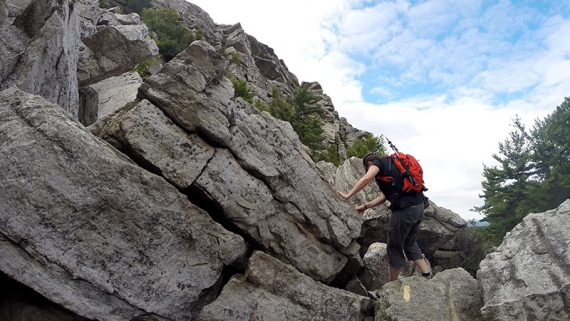 Looking down and over the rocks.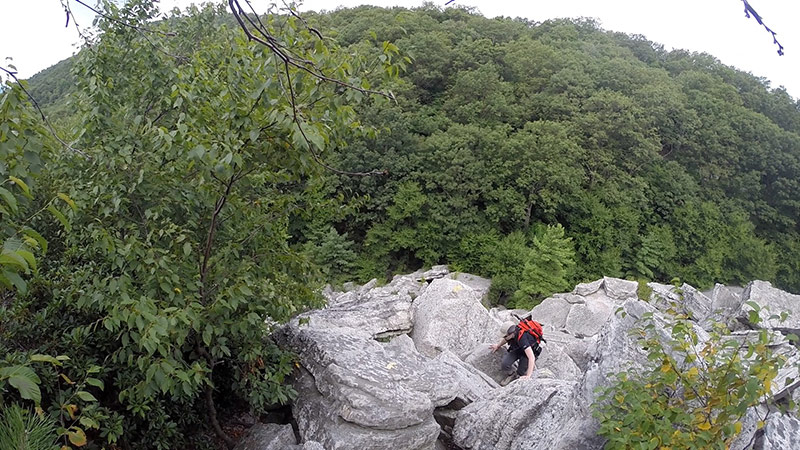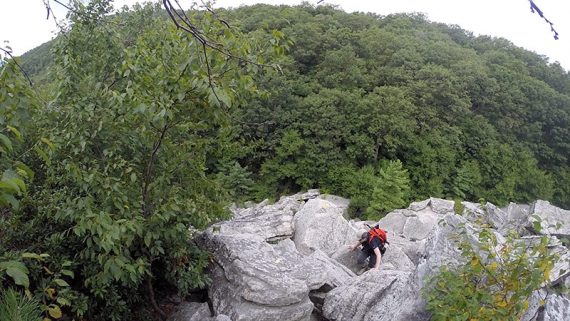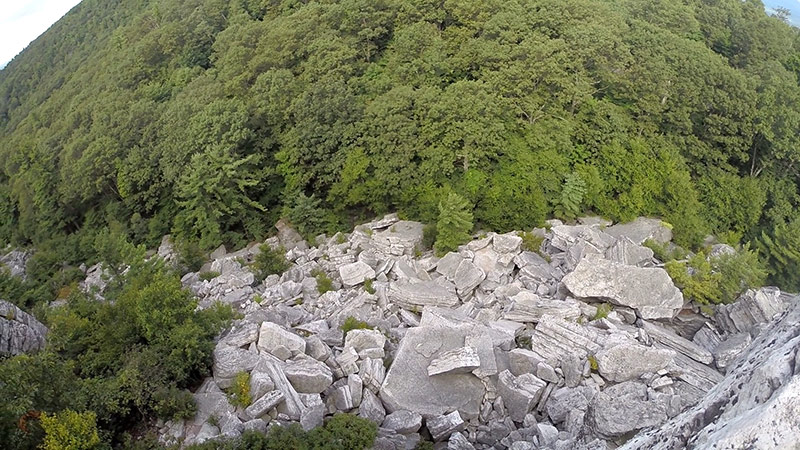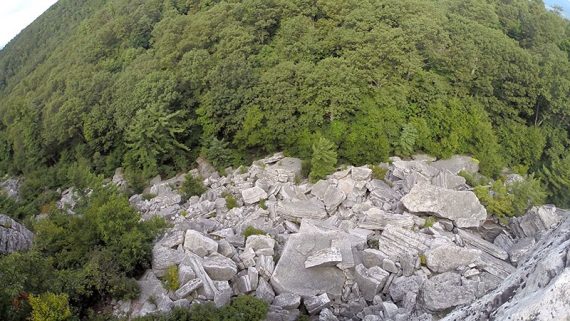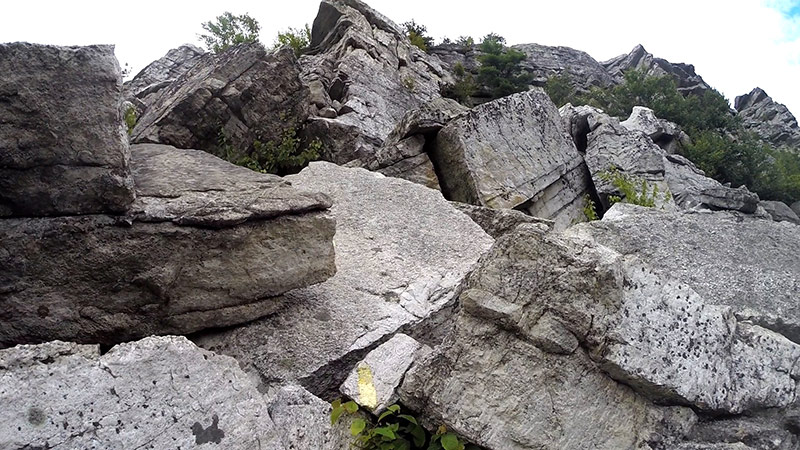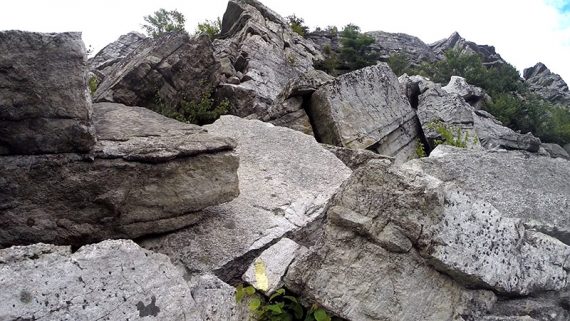 Toward the top is a narrow chimney crevice where you need to pull yourself up (or get your buddy/significant other/friendly stranger to give you a helpful boost/shove).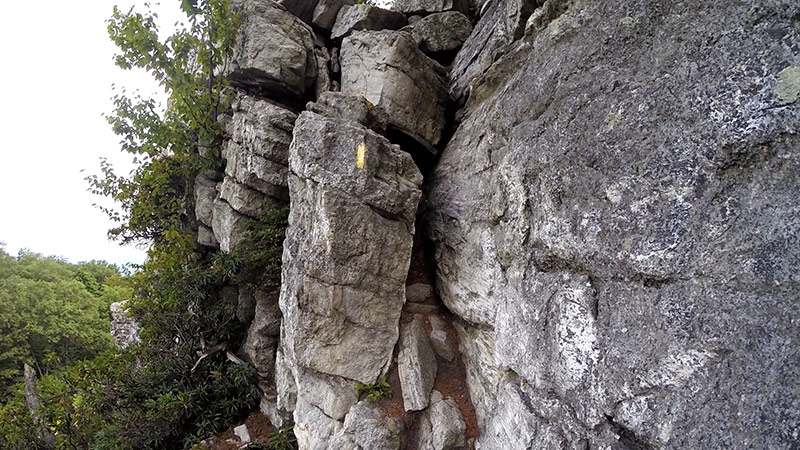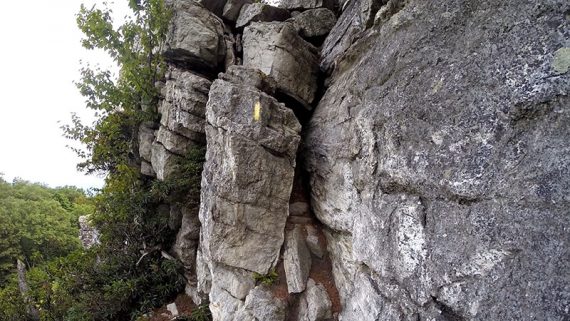 At the top, turn right for break spots and expansive views.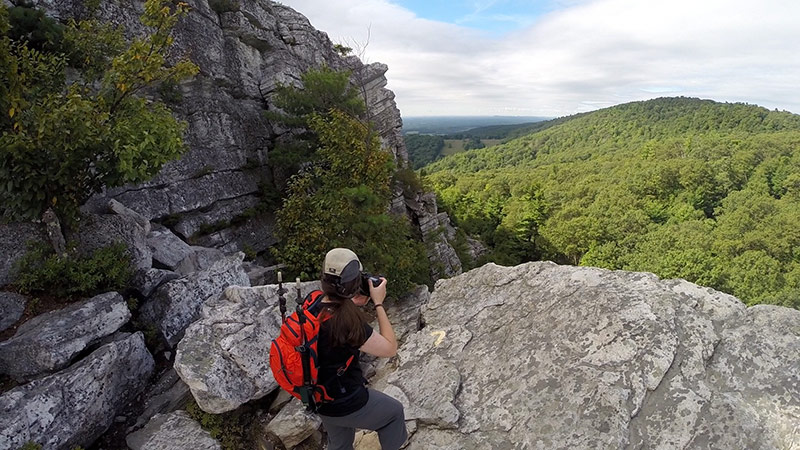 RED continues in the other direction (ie, as you get at the top of the scramble, RED continues to the left, but first turn right to soak in the views).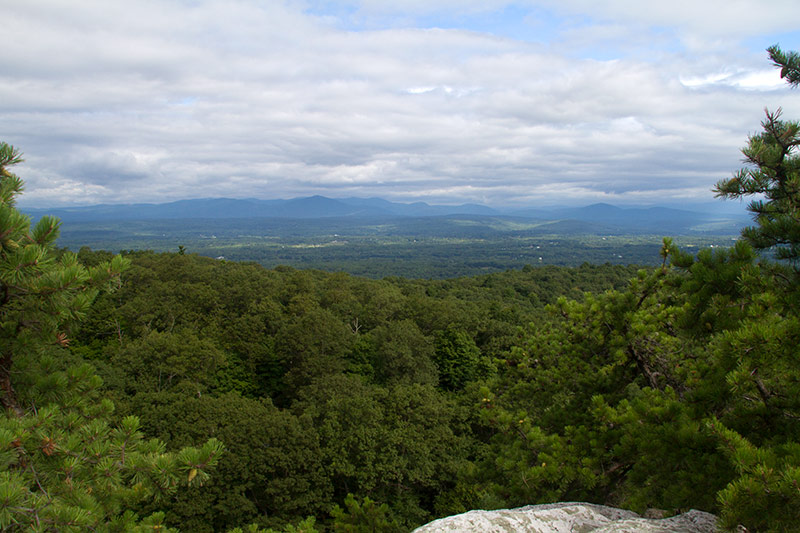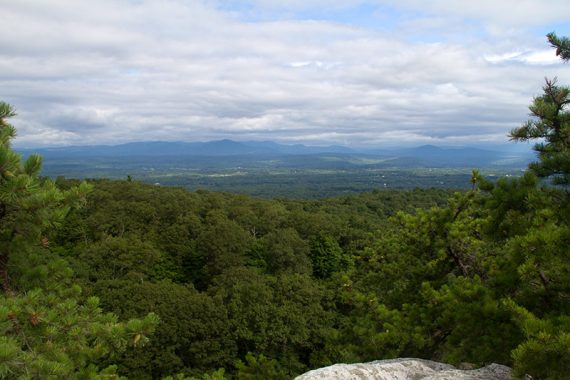 Views from the top of Bonticou Crag.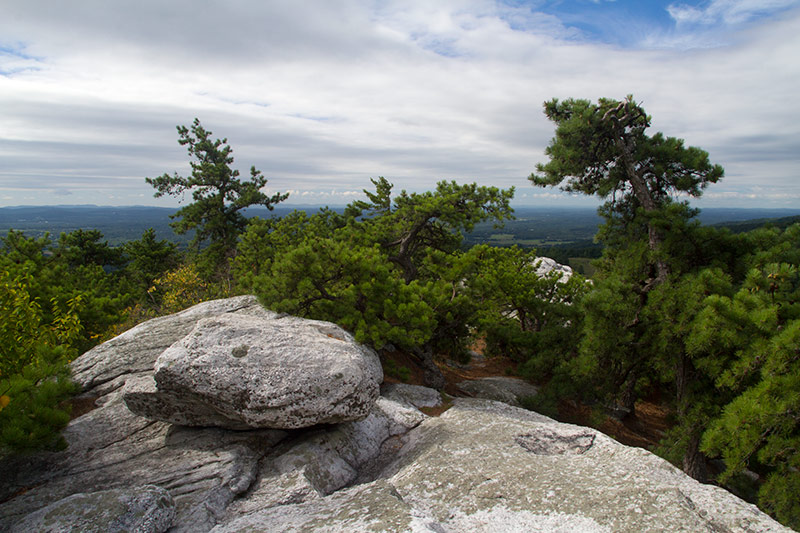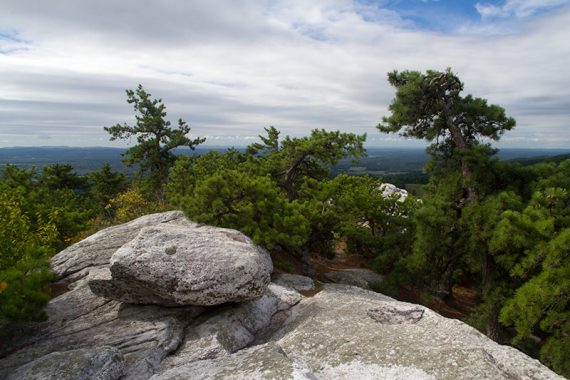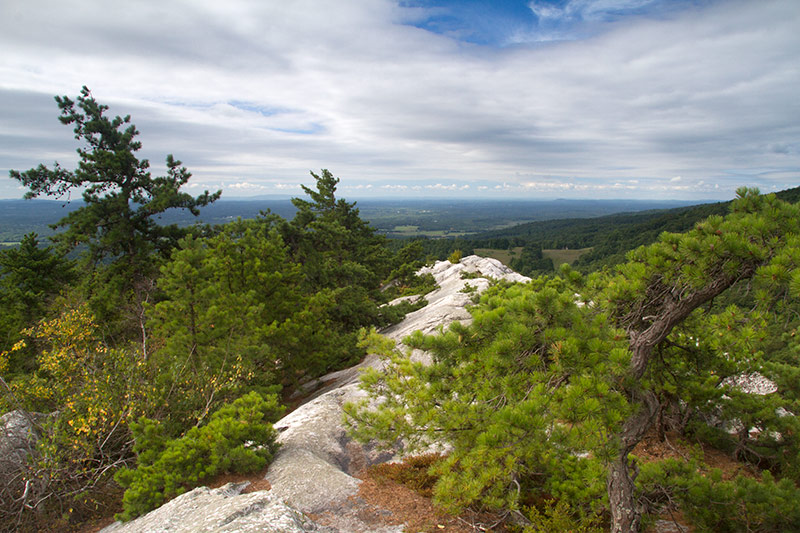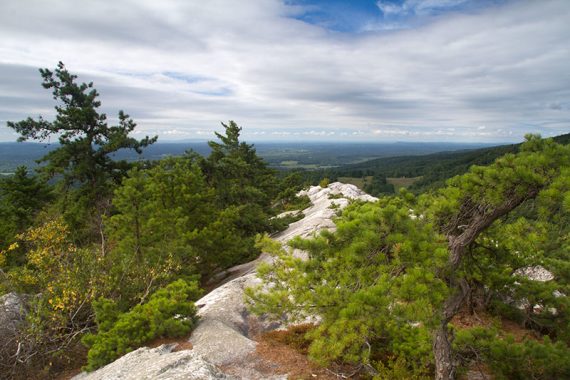 Now follow YELLOW (Bonticou Ascent Path) from the top of the crag.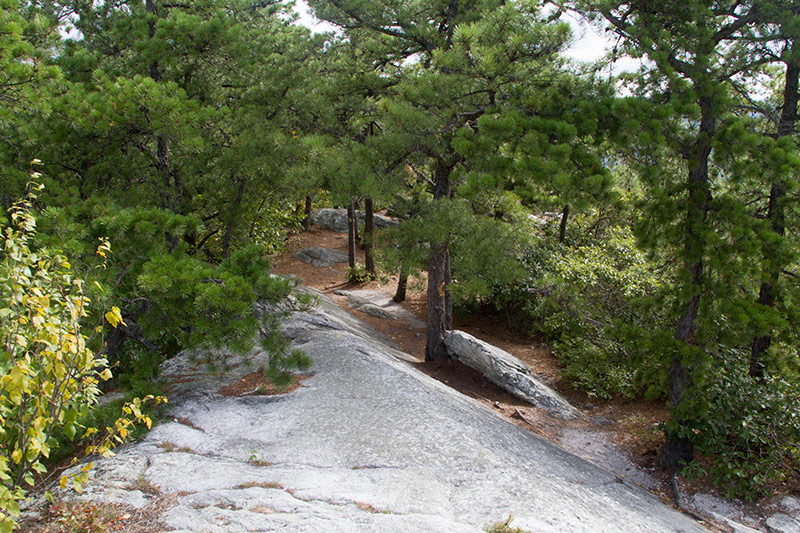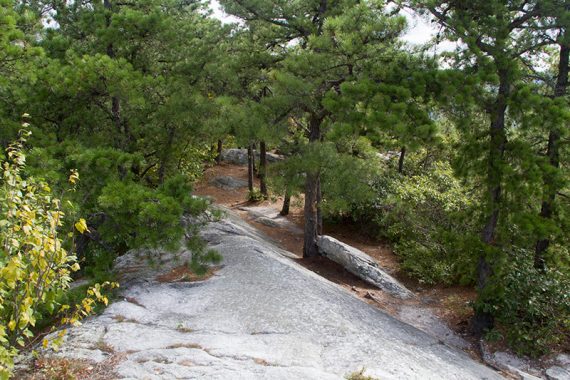 1.5 – RIGHT on Northeast Trail (Blue) and more views. Catskills can be seen in the distance. [Option: Turn left to cut the hike short and skip Table Rocks.]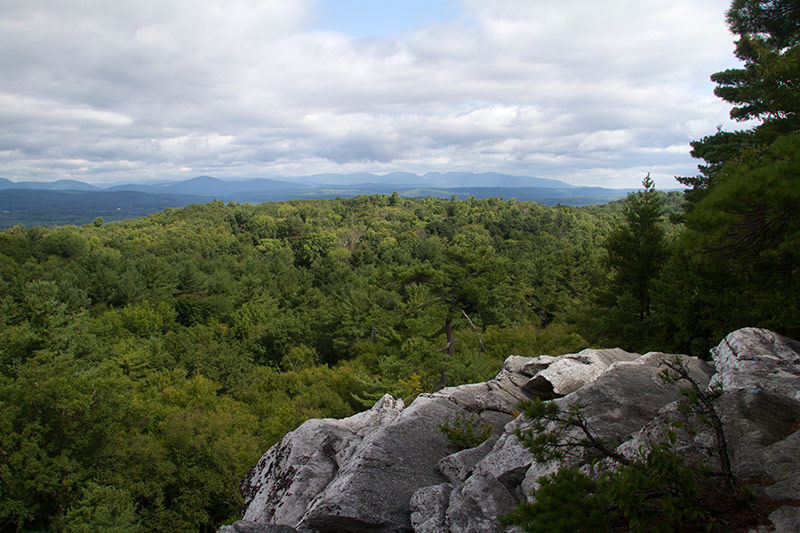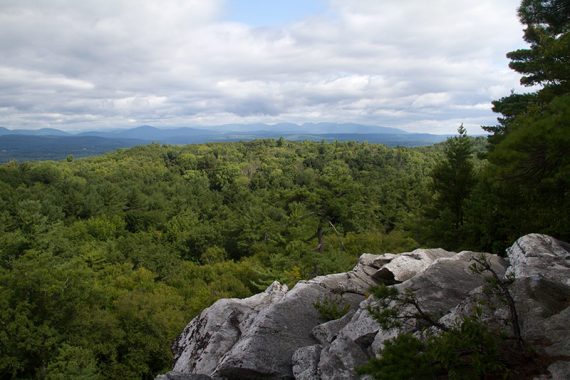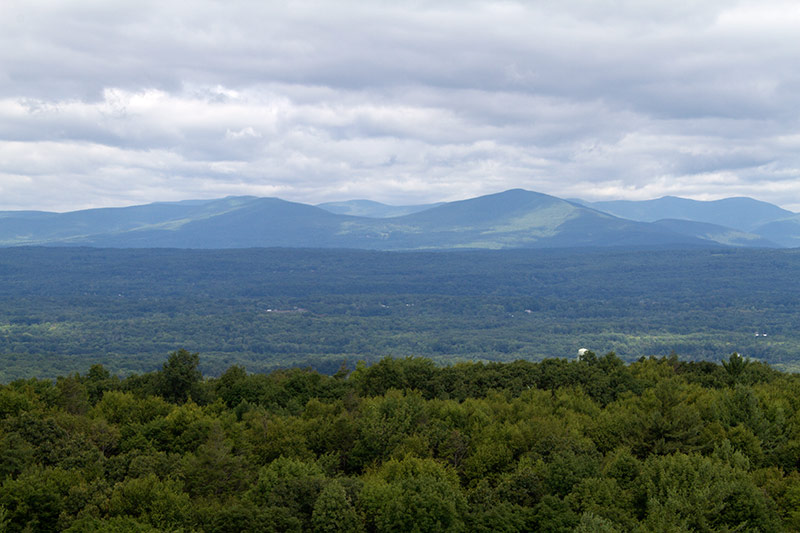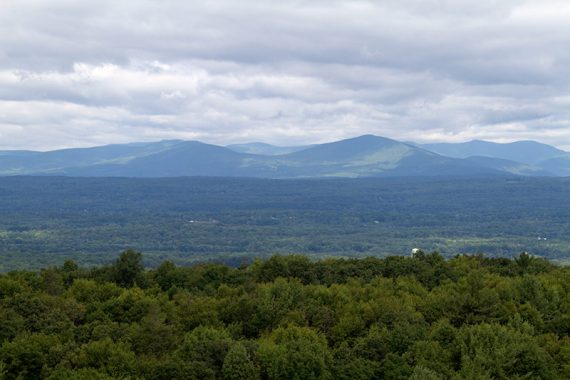 2.4 – Turn LEFT on RED. Sign for Clearwater Road, no obvious blazes. Follow the woods road, barely blazed RED.
2.7 – Straight on Table Rocks Trail (LIGHT BLUE). Nature Conservation sign.
[Left is Farm Road/Table Rocks Trail – come back here after Table Rocks.]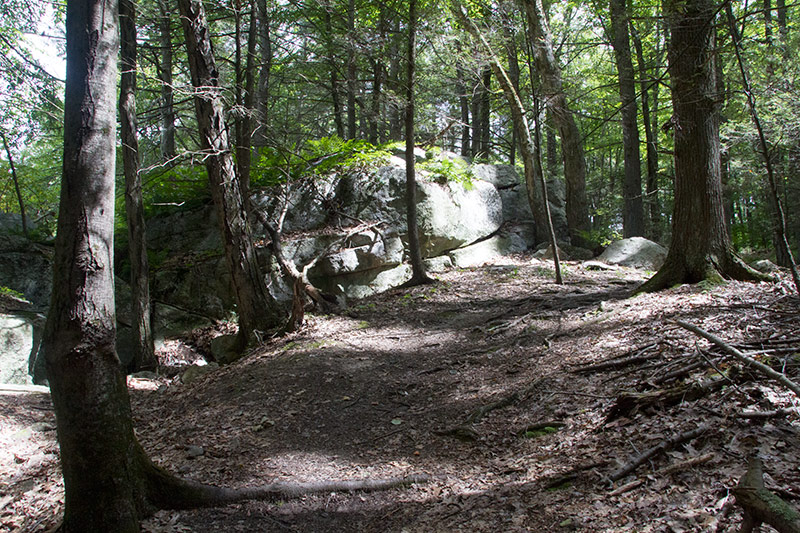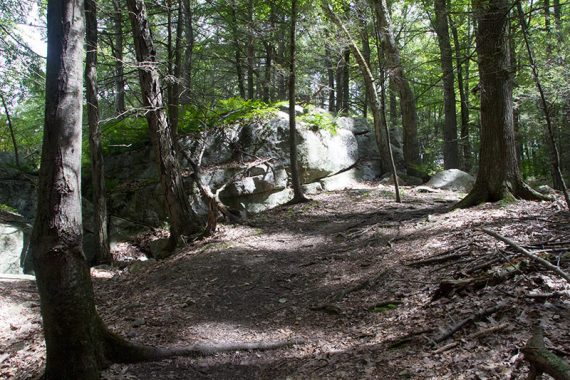 3.7 – Turn LEFT to head over to Table Rocks.
After enjoying the view and checking out the deep crevice in Table Rocks, retrace back to the Farm Road intersection.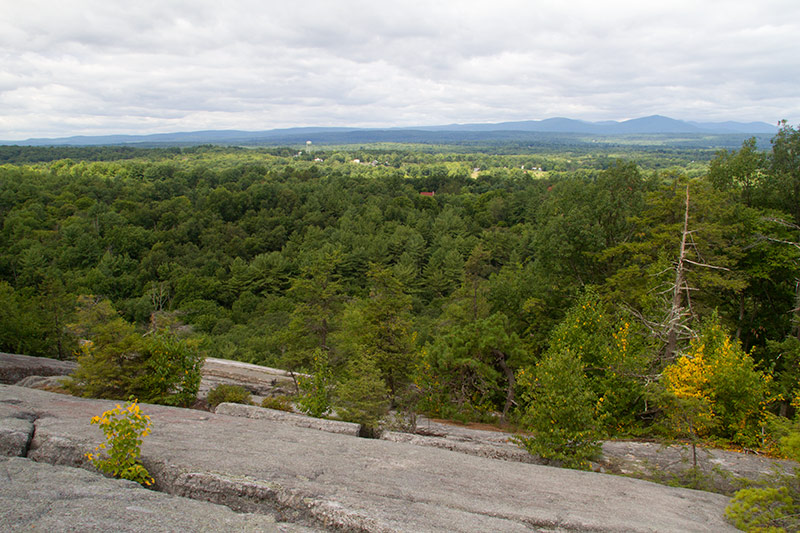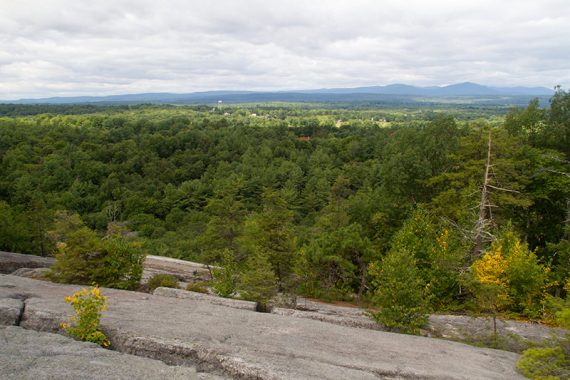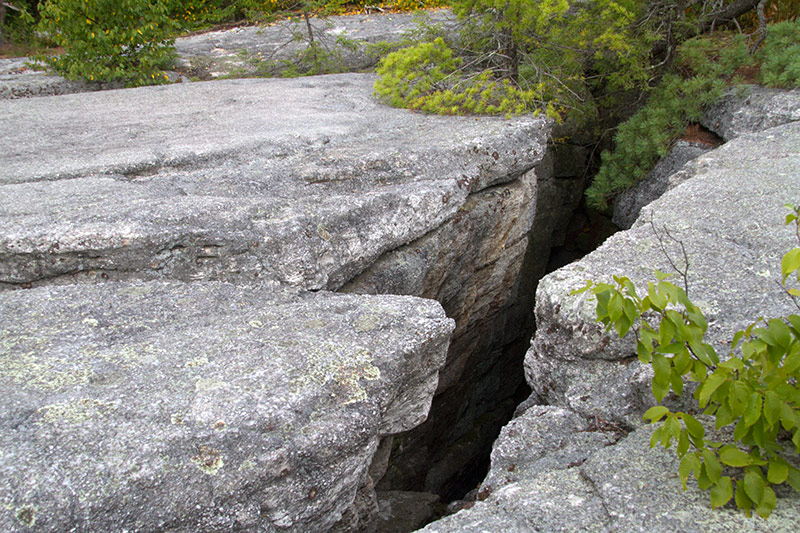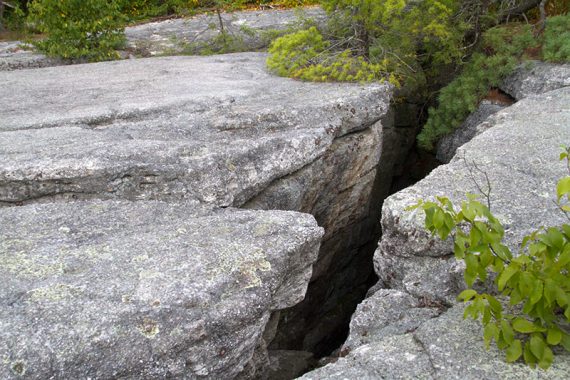 4.4 – Turn RIGHT and take Farm Road back to the lot. (Table Rocks Trail parallels and then crosses Farm Road).
Hike through a variety of paths through meadows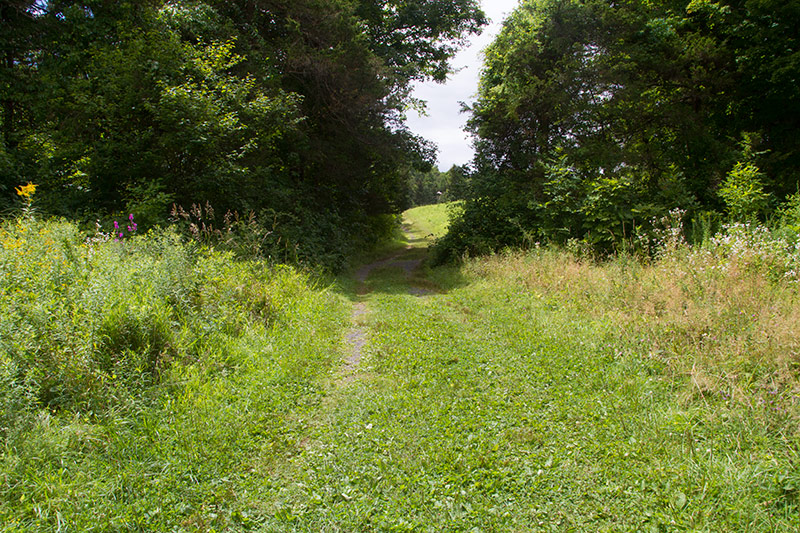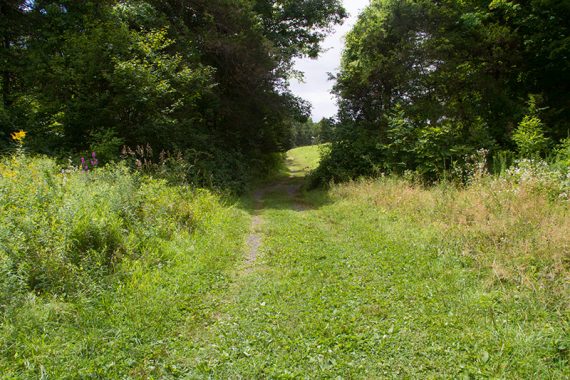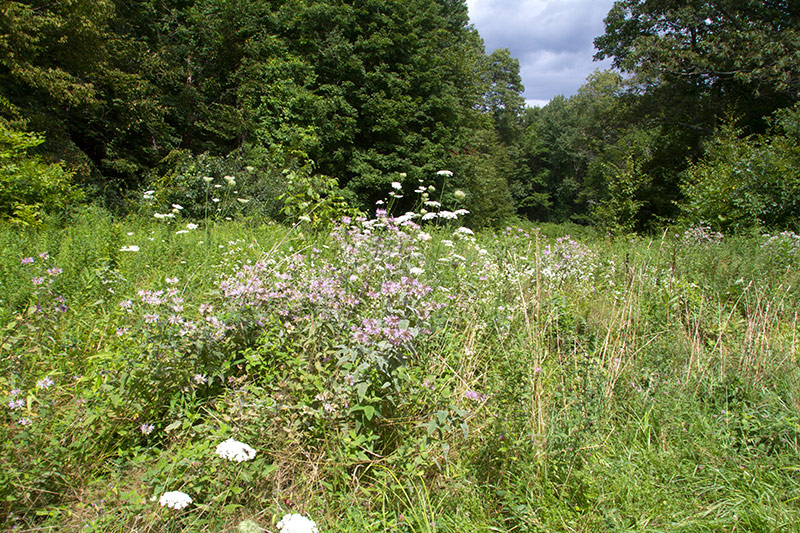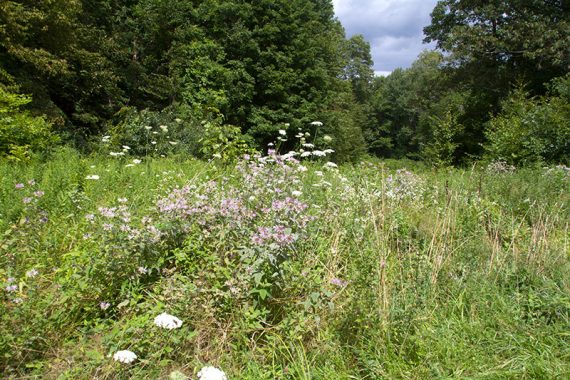 The trail jogs to the left around a gazebo.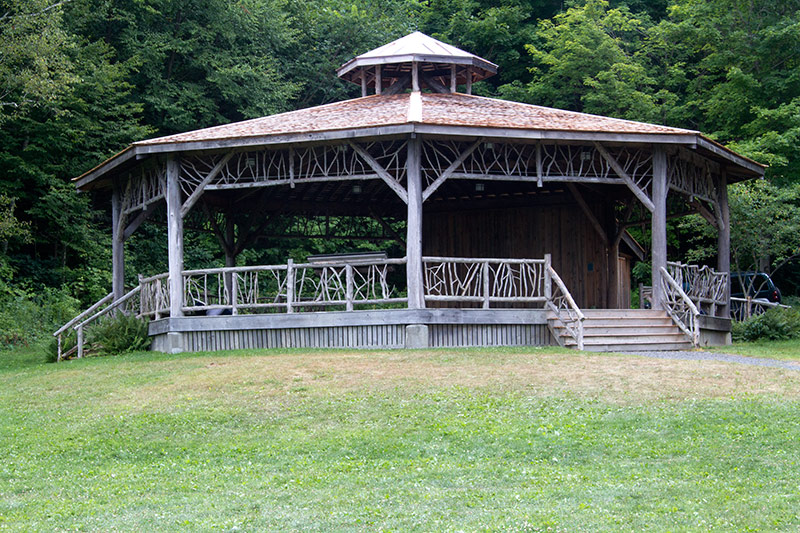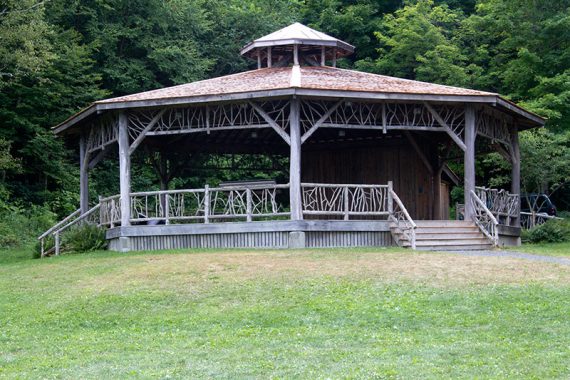 Pass the "Million Dollar View" just before returning to the lot.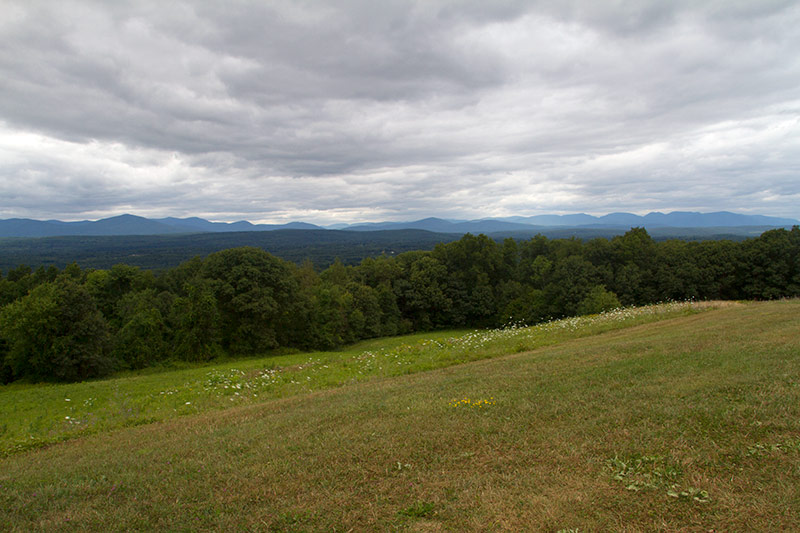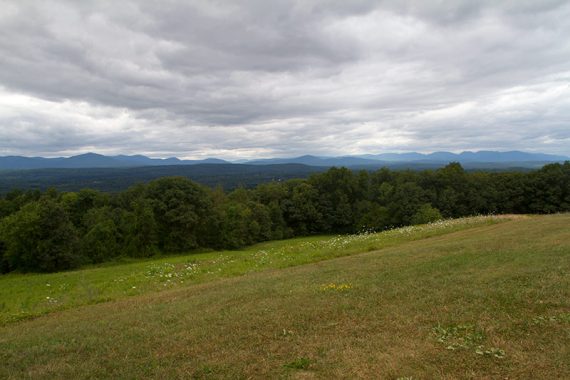 —
Hiked: 8/15/14. Trail Blog: "The Gunks Overnighter: Sam's Point and Bonticou Crag"