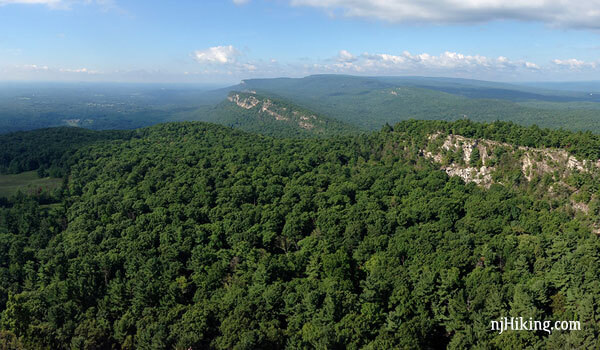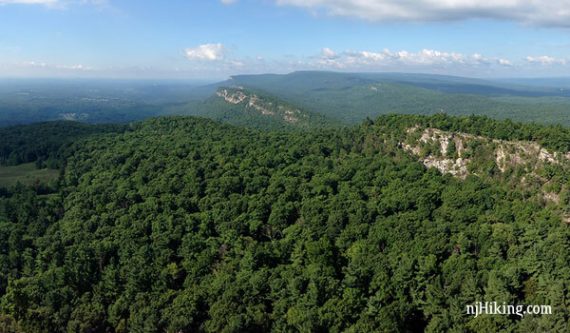 Hiking at Minnewaska State Park and at the Mohonk Mountain House with an overnight stay in New Paltz, NY.
This scenic region is just shy of the Catskills and at around 2.5 hours from central Jersey pushes our limit for a day trip. Our Shawangunks overnighter trip back in August of 2014 was a lot of fun so we decided to do a sequel.
The Logistics
The Shawangunks region contains three parks next to each other: Sam's Point Preserve, Minnewaska State Park, and Mohonk Preserve, and within that is the Mohonk Mountain House trail system. The best way to get a handle on the area is with the Shawangunk Trails map set.
First, we hit Gertrude's Nose, Millbrook Mountain, and Awosting Falls in Minnewaska State Park, drove about 20 minutes to stay in New Paltz and then did the Labyrinth and the Lemon Squeeze at the Mohonk Mountain House first thing the next morning (~15 min from New Paltz).
Both of these are popular and can be crowded so we did them on a Thursday and Friday and had them mostly to ourselves.
---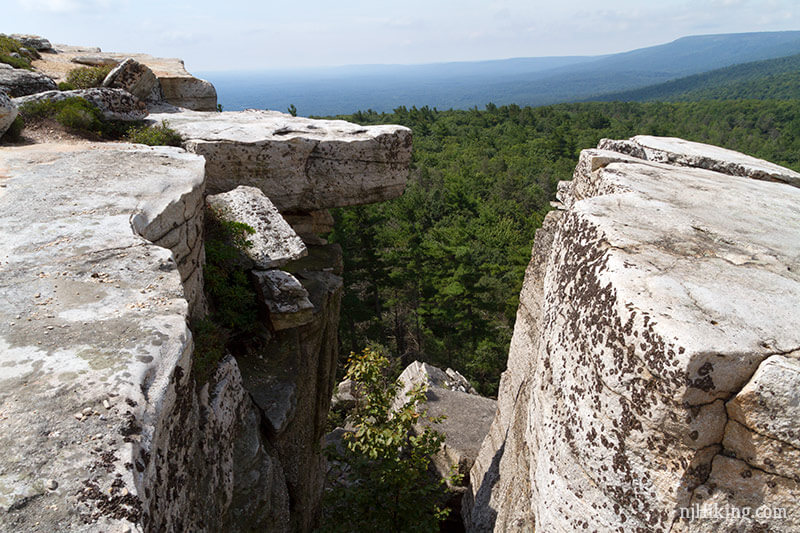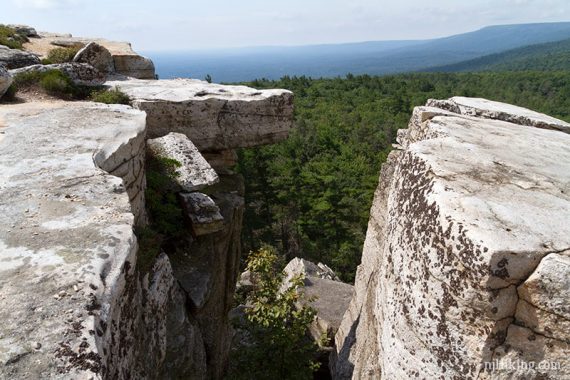 The Hikes
Day 1: Minnewaska State Park – Gertrude's Nose and Millbrook Mountain
Hike along striking white cliff edges while enjoying panoramic views of the Shawangunk region of New York.
For detailed hike guide visit our main "Gertrude's Nose and Millbrook Mountain" page.
Terrific, seemingly endless views on this hike. The cold air from the cave was actually really neat but would be less dramatic in cooler weather (it ended up being rather hot the day we hiked this).
The loop can be hiked in either direction and I debated it back and forth. I think putting the big views first while you are fresher and Millbrook Mtn trail at the end is the way to go but that is up to you to decide.
We found Millbrook trail at the end a tad dull or maybe the heat was getting to us. At any rate, by that point we were already discussing dinner and trying to recall what appetizer we got last time.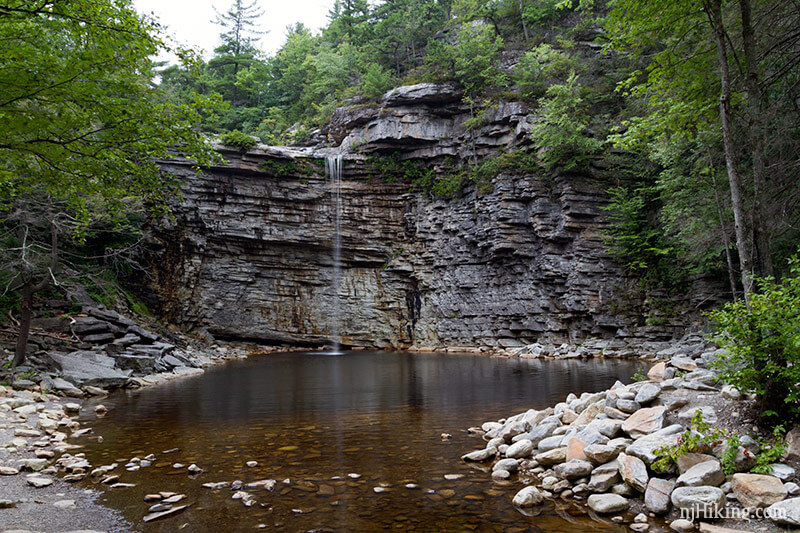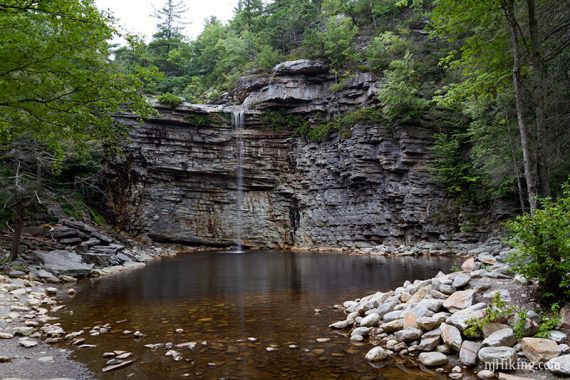 Still, because we just have to see everything, we decided to push on towards Awosting Falls once back at the parking lot, knowing this meant an uphill trudge back up a carriage road after the falls.
The falls are near the park road but there is no parking for it. We dropped our packs at the car and took just the camera and tripod.
About 10 minutes from the falls it occurs to me that we're in the summer and in a drought – therefore the falls won't be fantastic. Duh. You'd think I'd know better with all the planning I do.
Nice, but a mere trickle, and now we'd added several miles and an extra uphill to our day. Well, at least we'd just worked some more off of the dinner we were looking forward to.
Tip: We did this in August of 2016 and it was beautiful, but fall foliage is stunning here. The falls are a nice add-on… but they can be skipped in summer or drought.

---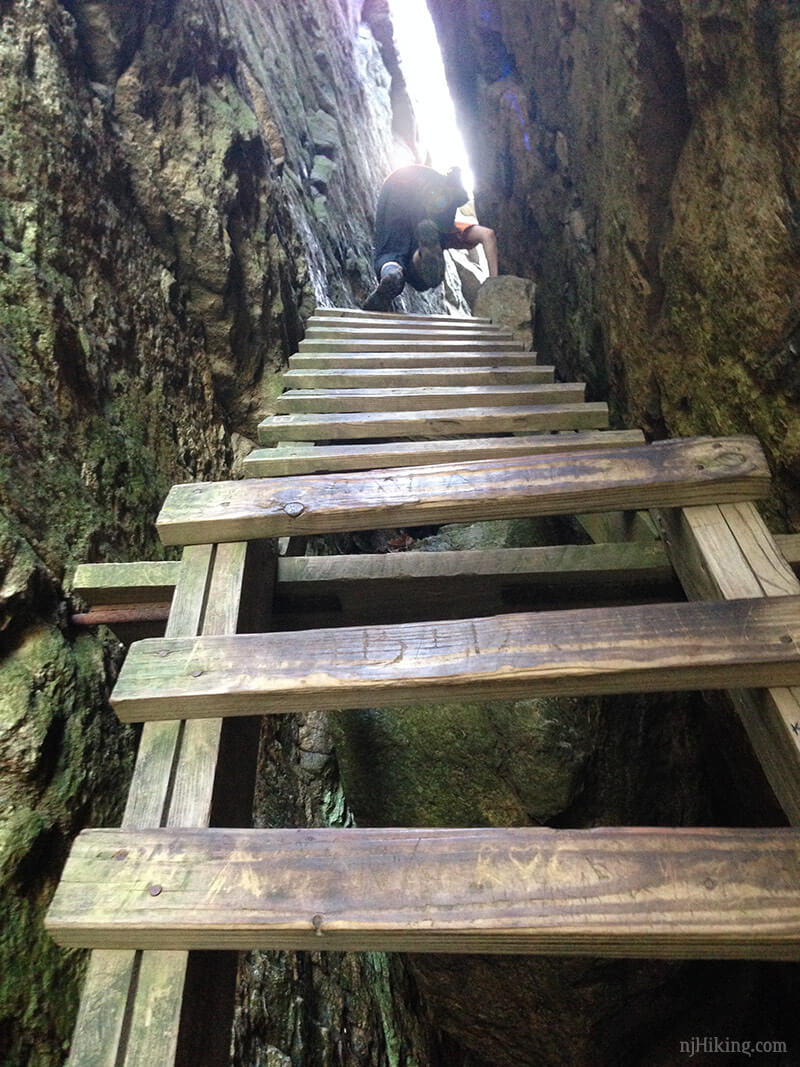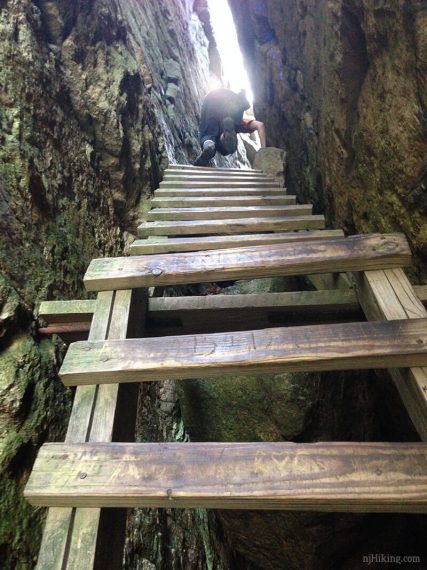 Day 2: Labyrinth and the Lemon Squeeze
Scramble and squeeze through a massive jumble of rocks before enjoying breathtaking views of New York's Shawangunks from Sky Top Tower.
For detailed hike guide visit our main "Labyrinth and the Lemon Squeeze" page.
This is a very unique rock scramble located on the grounds of the Mohonk Mountain House. It's super popular and can draw crowds of people. Like the plague, we generally avoid things like this.
But sometimes things are really popular for good reason, so the solution for us was to do it first thing on a weekday.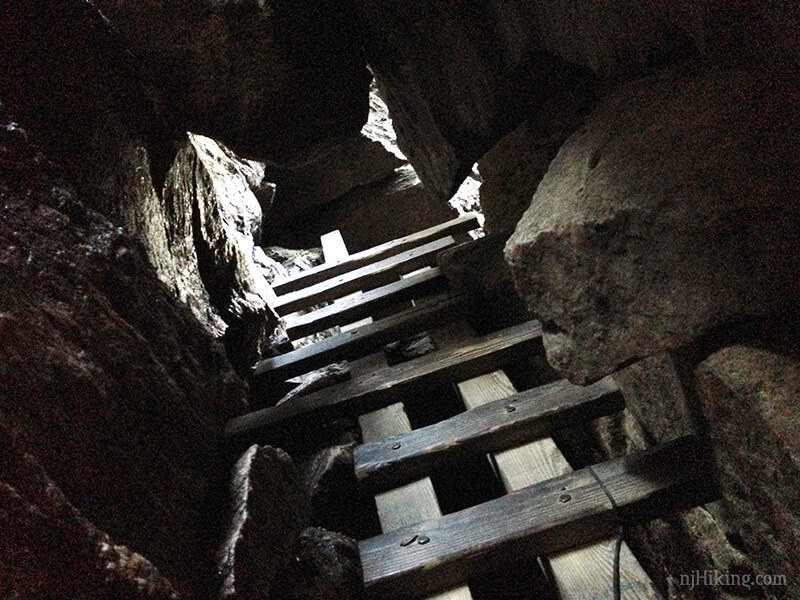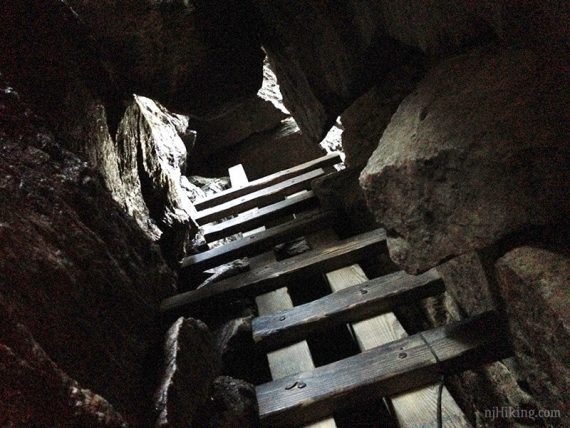 We arrive when the lot opened at 7 am on Friday and were rolling on the trail by 7:15 am.
We managed to go through the whole scramble without anyone nipping at our heels, despite taking our time (especially when our shoes got wet from puddles) and stopping for a lot of photos and video.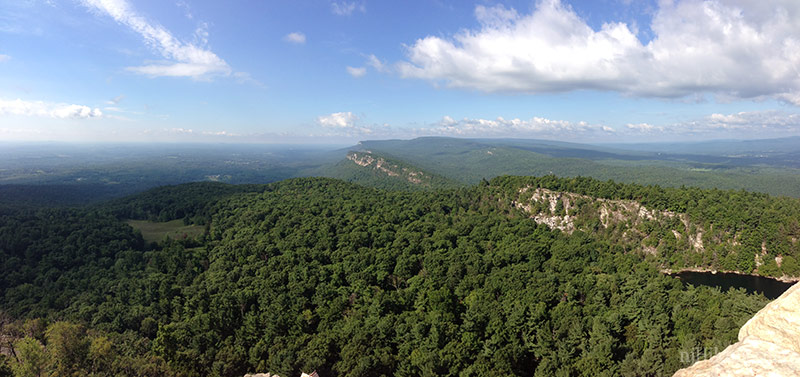 Afterwards, we took an easy stroll around Lake Mohonk and sat in one of the gazebos for a bit. As we rounded the lake, there was a blast of cold air from some unseen cave. Strange and refreshing.
I realized the trail was taking us past a swimming area then around towards the porch of the hotel… which I think is technically in the NO DAY HIKERS ALLOWED zone on the map. Whoops!
We walked across the porch like we belonged there – and past some very relaxing looking chairs overlooking the lake – and then meandered past the putting green and back towards the gardens to head back.
Tip: If you bring a small bag, make sure it is secured. I took a camera shoulder bag that I use for minimal hikes, and it didn't occur to me it would swing around as soon as I leaned over or scrambled. Duh.
Despite fiddling – wearing around my waist, trying to get the strap short enough by clipping it differently – it was annoying the entire time. And why it magically changes positions in the video.
---
Our two cents:
The Labyrinth and the Lemon Squeeze is must-do experience (its more than a hike) and is worth the fee and braving the crowds for (or go on non-peak days/times).
While landscaped grounds are generally not our thing, it's really pretty here. If the heat and humidity hadn't returned in force that morning, we would have explored more.
---
Park Fees
Minnewaska:
$10 per car. The gate doesn't open until 9am. Hike in from Jenny Lane if you like an early start.
Mohonk Mountain House:
Per hiker fees – PER. HIKER: $30 ages 13+; $25 ages 4 – 12.
The fees are steep, but if they didn't charge then the crowds would probably get out of control. If you book breakfast or lunch at the hotel, your day pass is included which makes for a decent value.
We didn't do that because I don't like to hike after a big meal nor did I want to stroll into a nice lunch all gross and sweaty post-hike.
[When we hiked this in 2016, fees were $21 weekday / $26 weekend per hiker (+$1 more in October)]
Note: All listings are our own purchases and research, no consideration was provided for any mentions.
---
Lodging
Americas Best Value Inn
No frills, good value. Clean, comfortable, convenient, and provided a basic breakfast (cereal/toast/yogurt/juice/coffee) which is all we need.
15-20 min from the trailhead and a few minutes from stores and restaurants. This was the same place we stayed at last time (when it was still a Super 8).
Total price with tax came to about $115.
---
Food
We liked everywhere we ate last time so we went to the same places to keep it simple – something this over-researcher seldom does…
The Gilded Otter
We ordered nachos as an appetizer. It was MASSIVE. Must be geared for more than 2 people… not that we didn't put a big dent in the platter or anything. Good thing we also hiked to Awosting Falls :) I got the garden burger again, and Tom got some sort of burger.
This time we got a beer sampler. Their stout was really good and their Black and Blue (half Summer Blueberry, half stout) was seriously tasty… but I went with Summer Blueberry again as prefer lighter beers when it's warm out. Tom got the Rail Trail Pale Ale.
Their beer list is seasonal, I just went to check and half the beers we tried aren't on there. More reason to go back in different seasons…
Moonlight Cafe
We kinda have a thing for falafel (and fries) so we ended up here for lunch after the Labyrinth. Tasty.
Moxie Cup
The sign out front said "iced coffee as cold as your ex's heart" – hah. And they had Nitro Iced Coffee which we'd been wanting to try. It was gooood – looked like a Guinness and tasted smoooth.
Although we'd just had lunch, the cupcakes in the case were whispering sweet, sweet nothings to us so what could we do?
Tom got a peanut butter one and I got salted caramel. Yummy. I'm not a big icing fan but this was airy and lightly sweet and the cake was perfectly moist.
---
Overall
The Gunks have a ton of hikes to choose from and New Paltz makes for a convenient base. Expect it to be busy on nice and fall weekends though.
—
Visited/hiked: 8/25/16 – 8/26/16.