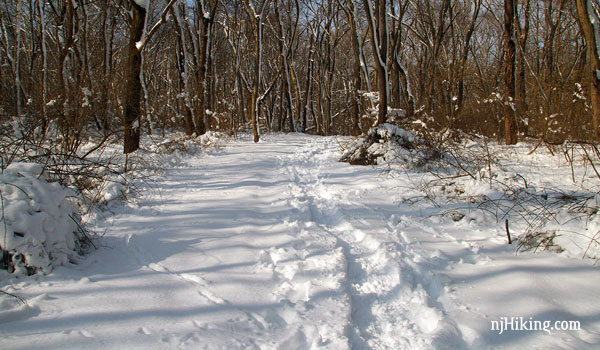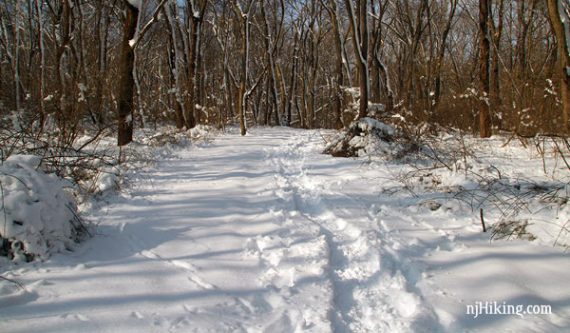 With the ton of snow Jersey has gotten this winter, it was time to bust out the snowshoes at Monmouth Battlefield.
We hadn't been to Monmouth Battlefield State Park in ages.
We were not enthralled with the lack of trail markers the last time we were there but we thought the level trails and open fields may be a good choice for snowshoe.
It was, and apparently a lot of people thought so too, as we saw lots of snowshoe and cross-country ski tracks.
For complete hike info visit our main "Monmouth Battlefield" page.
In fact, the snow was so deep that without one of those, I think you'd get tired out pretty fast just trying to hike the trails.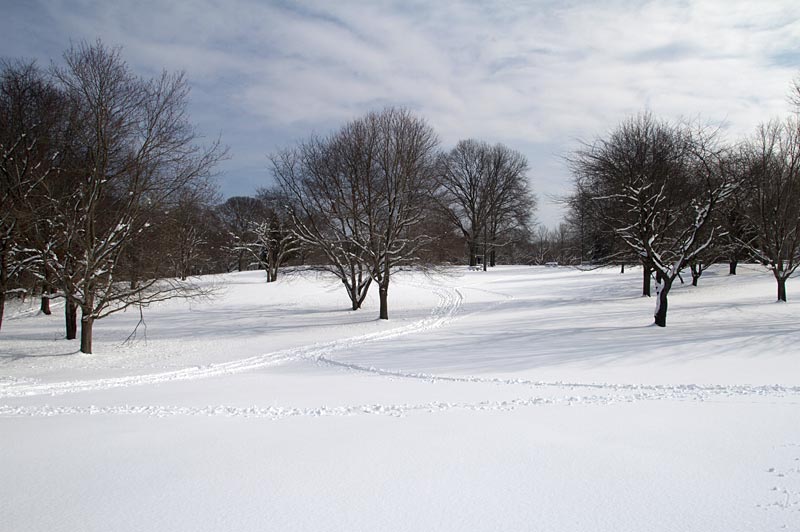 We stayed in the south trails area, taking the main trailhead (go behind the visitor center, it is to your left down the hill if you are facing the field).
Related: Snowshoeing in New Jersey – locations and rentals.
We turned off onto the yellow trail, where the snow was unbroken most of the way and followed that back to the fields, where we just wandered around.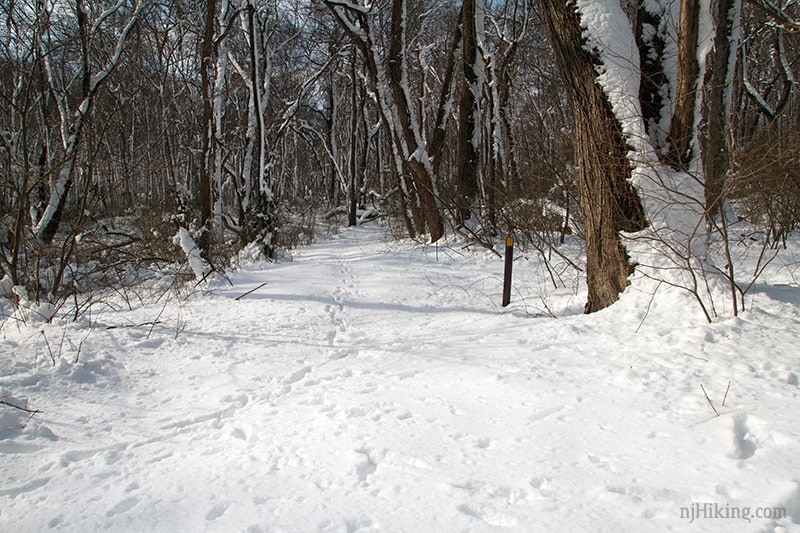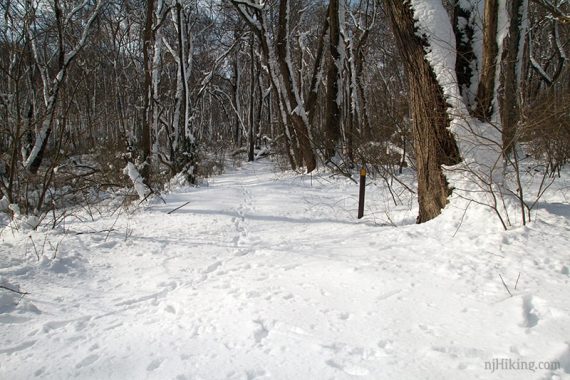 Lots of tracks here too, plus large areas of unbroken snow glistening in the sun.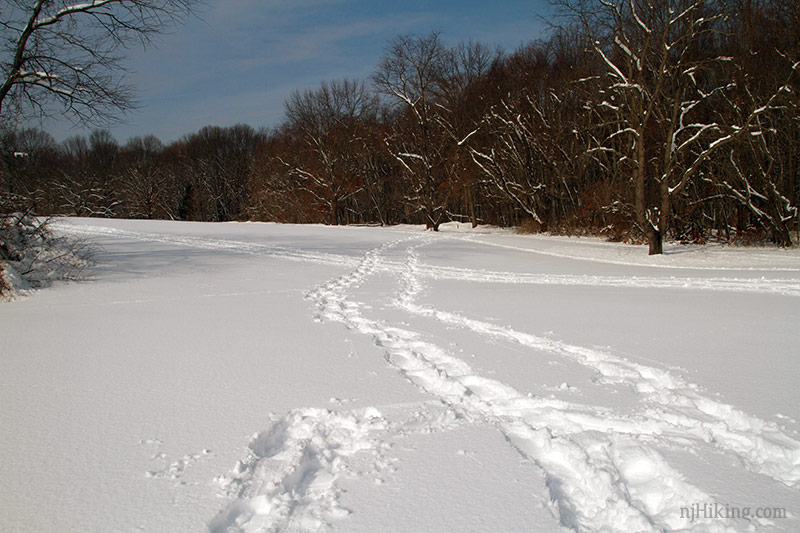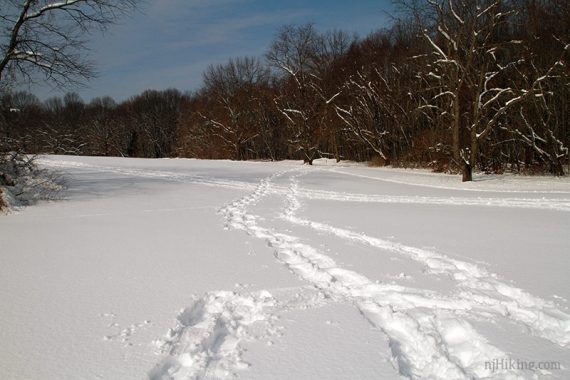 There was about 14-15″ or so of snow on the trails, but with the sun out the snow was getting wet and less powdery.
Related: Snowshoe Guide | Winter Hiking Tips | Traction Devices | Klash Soft Shell Pant
There is a trail map online, but a newer and better one is found at the visitor center.
On winter Sundays it doesn't open until 12pm so we only were able to get the new map on our way out.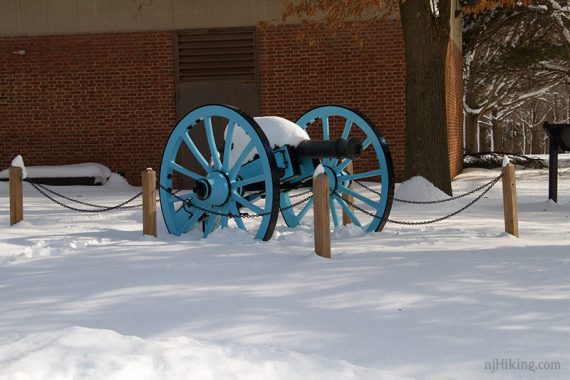 There is also a nice sledding hill behind the visitor center that a lot of people were enjoying.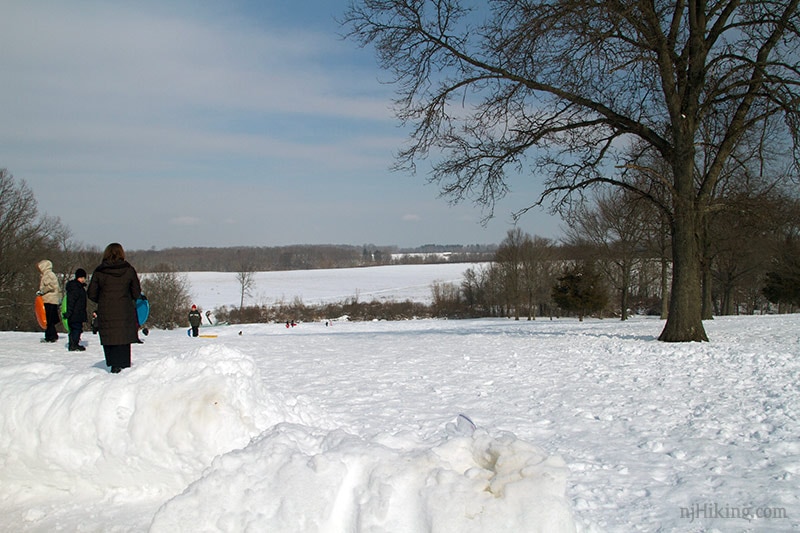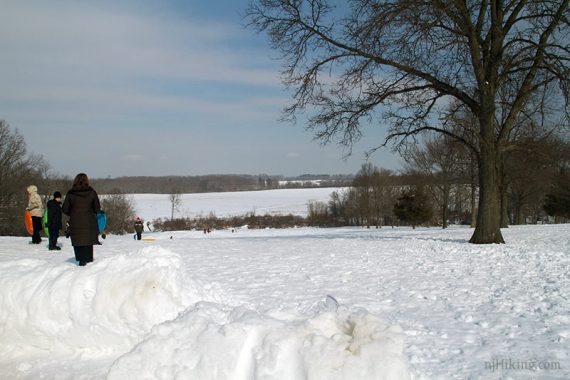 Bathrooms are inside the visitor center, but also ones outside that were open even when the center was not.
They are hard to spot: If you are standing in the center of the building, next to the visitor center door, facing the field… turn left, then walk a bit, they are on the left.
[Update: This pertains to the old visitor center and is no longer correct.]
—
1/12/21 – added photos from archive.