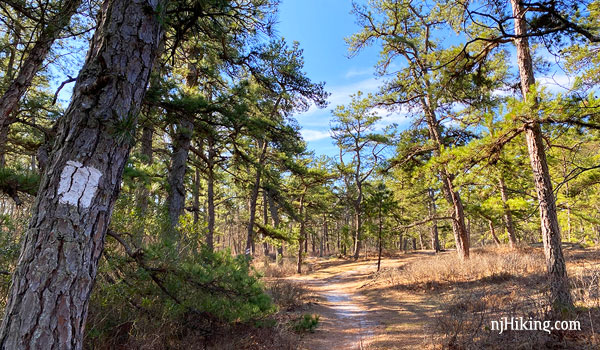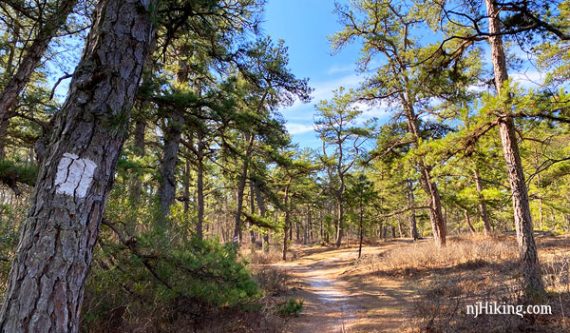 Easy loop through New Jersey's Pine Barrens and along Batsto Lake.
4.1 miles. Easy, flat, packed sand trails. Barely any elevation change.
Shorter: From the same trailhead instead do BLUE (1.8) or RED (0.8).
Add-on: Stroll through the interesting historical village and buildings of Batsto adds 1 or 2 miles depending on how much you wander around.
Longer: Many trails in the area. About a 12-13 mile loop: Batsto Lake Trail (WHITE) on the E side of Batsto Lake – Batona (PINK) to Quaker Bridge – Connector Trail (GREEN) – Mullica River Trail (YELLOW) – walk through Batsto Village back to parking lot.
Loooooooong: The 53 mile Batona Trail continues north and south from here.
Same Trailhead: Tom's Pond Trail.
Hike Info:
Our two cents:
Very nice section of Pinelands trail with several water views. For a shorter but equally enjoyable hike, follow the BLUE or RED loop instead.
Plenty of miles in this area to extend a hike in a variety of ways. We joined Batsto Lake White trail and Tom's Pond Trail with a walk through the village for about a 7 mile hike.
Be sure to explore the buildings in the historical Village of Batsto afterwards.
---
Map:
Print out one of the maps or pick up one in the visitor center or the large trail kiosk in front of it.
Trail Map [scan] above is the old (2011) fold-out brochure scanned into a letter-size PDF: Wharton State Forest Trail map.
Update 3/2020: Re-hiked, refreshed page. 2/2016: Noticed trail additions on the new park maps that are not on the older scanned map. But the scan shows more detail as to how the WHITE, RED, and BLUE trails are nested so we've left it up.
---
Books:
This route is found in Hiking New Jersey and 60 Hikes Within 60 Miles: Philadelphia.
A longer alternative from Batsto is in 50 Hikes in New Jersey and Best Day Hikes Near Philadelphia. There is an entry on Wharton State Forest in the The New Jersey Walk Book. 
---
31 Batsto Road, Hammonton, NJ 08037. The trailhead is at the far back of the large paved parking lot for Batsto Village.
Fee: Charged from Memorial to Labor day. Info on the NJ State Park Pass.
Detailed directions can be found on batstovillage.org.
---
Restrooms:
Inside the visitor center (open 9 – 4pm). On the right side of the visitor center are bathrooms accessed from outside; unsure if these are ever open outside of visitor center hours. Didn't notice any porta-johns (3/2020).
---
Hike Directions:
Overview: This route follows WHITE. Portions are co-aligned with BLUE, RED, and the Batona Trail (PINK).
0.0 – The WHITE trail starts at the back end of the parking lot near a picnic area and large trail map sign.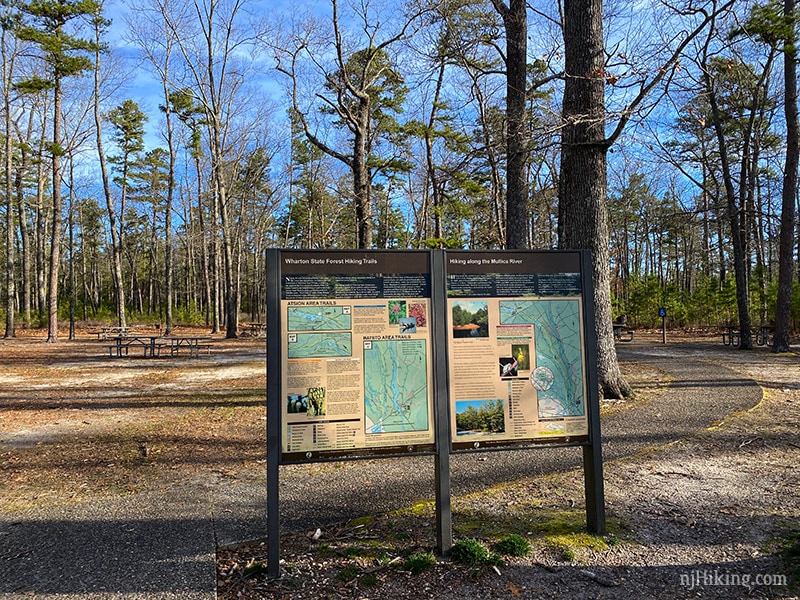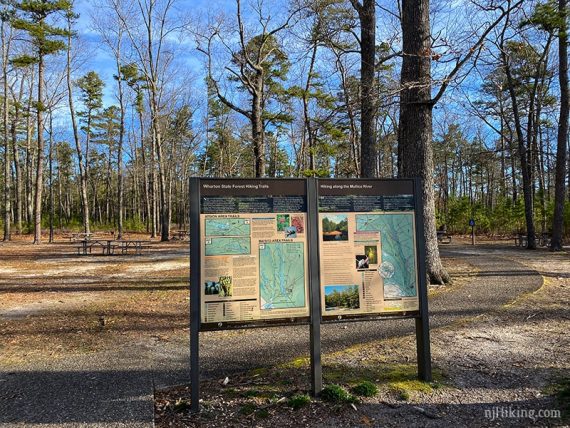 0.2 – Continue on WHITE as it turns to the LEFT. [Batona (PINK) comes in from the right and is co-joined with WHITE for awhile.]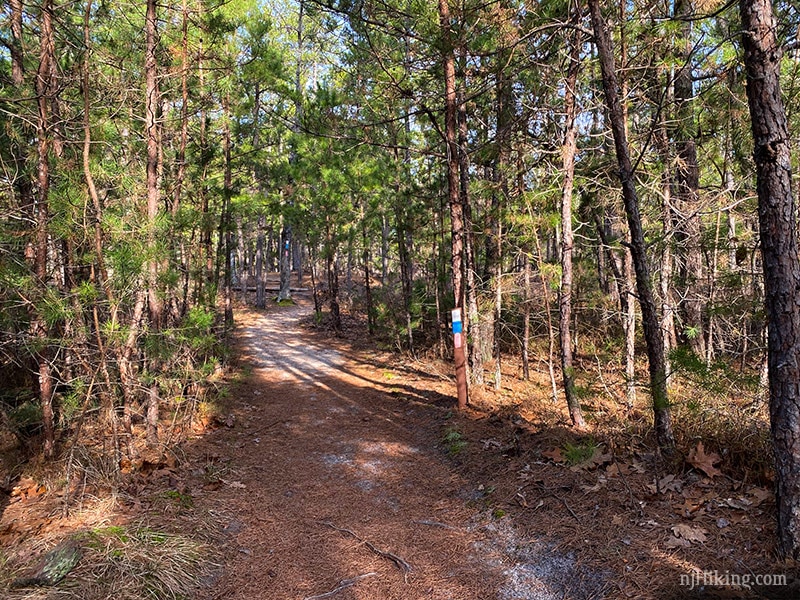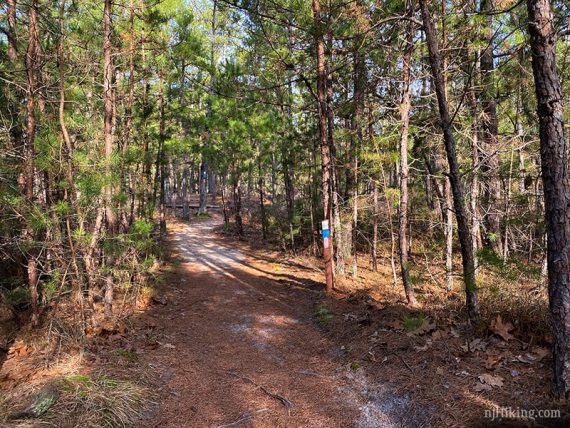 0.6 – Continue on WHITE. [BLUE leaves to the LEFT.]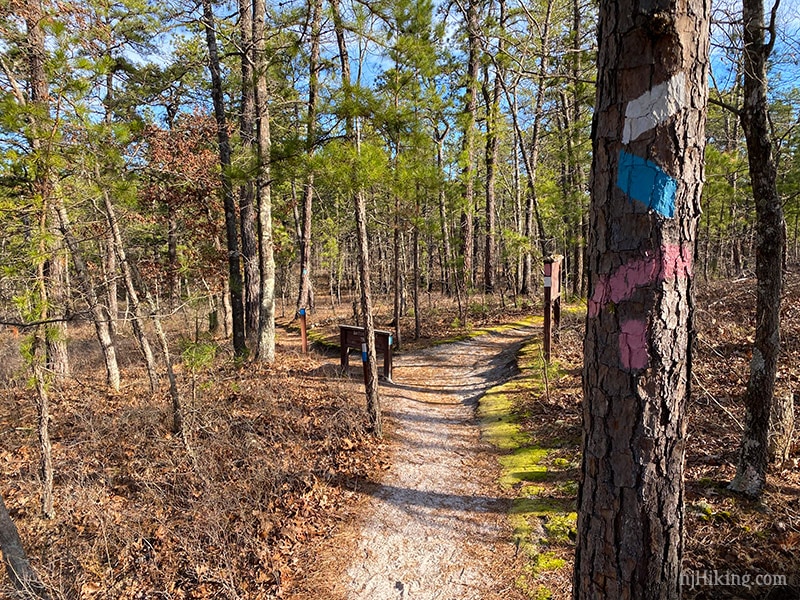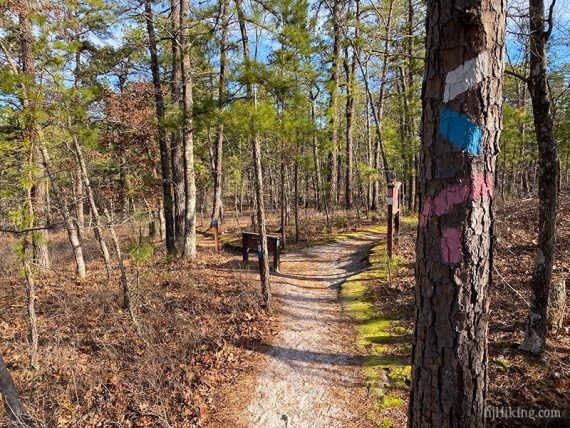 A large Batona Trail sign indicates there are 26.5 miles ahead.
Fun fact: In 2004 "Lebanon State Forest" was renamed to "Brendan T. Byrne State Forest". Byrne was N.J.'s governor from 1974 to 1982 and signed the Pinelands Protection act in 1979.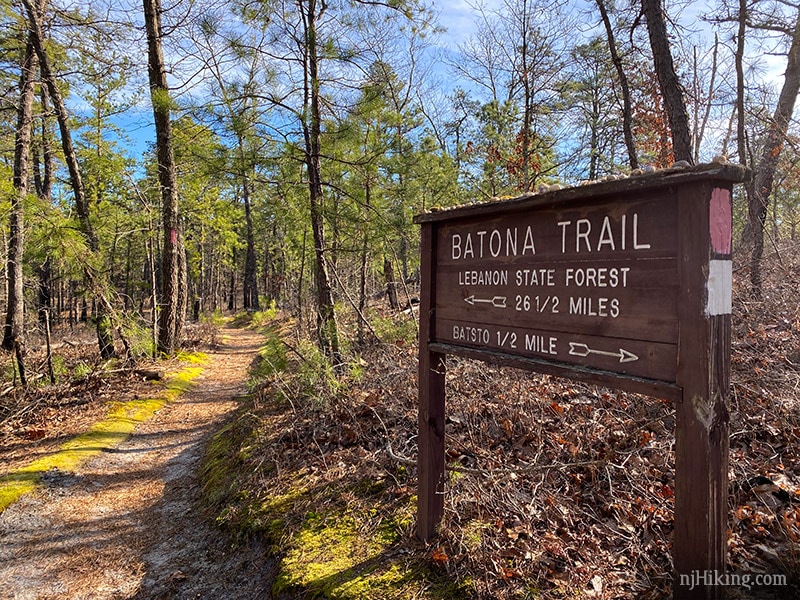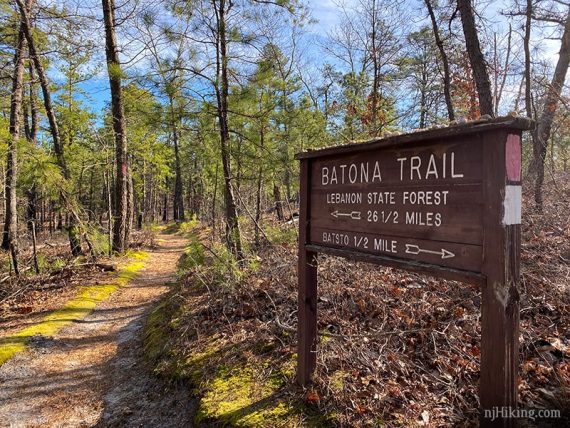 Pass through an area that was burned by a forest fire in July 2017.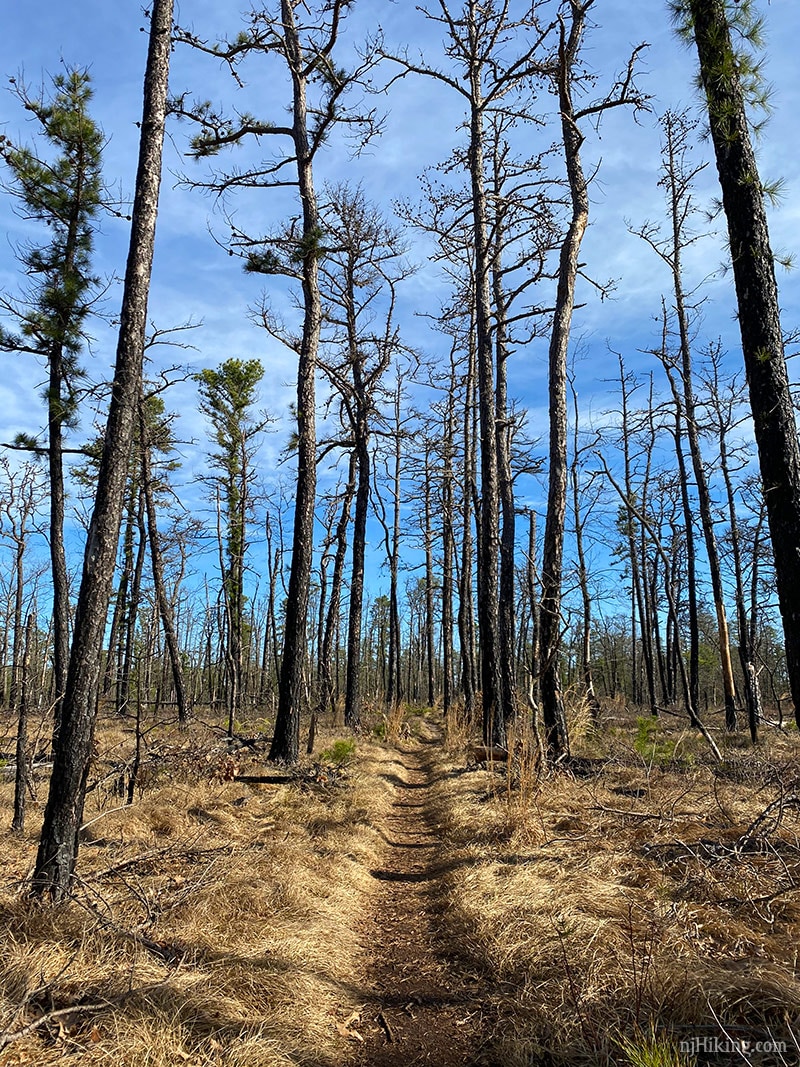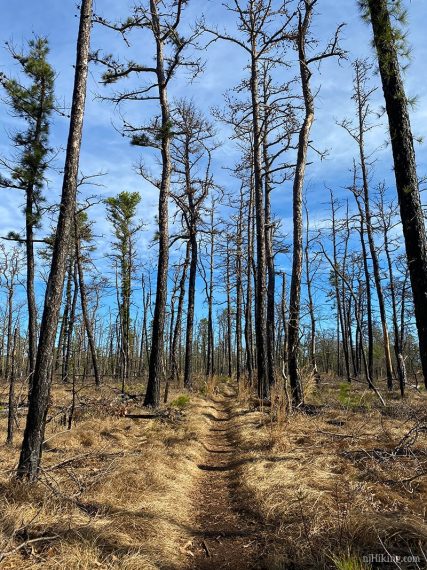 1.7 – Continue on WHITE, crossing two sand roads that are biking trails.
2.2 – Turn LEFT, continuing on WHITE. The Batona (PINK) turns right.
The big Batona Trail sign reads "25 miles Brenden Bryne, Batsto Village 2 miles". There is also a smaller sign for Batsto Lake Trail.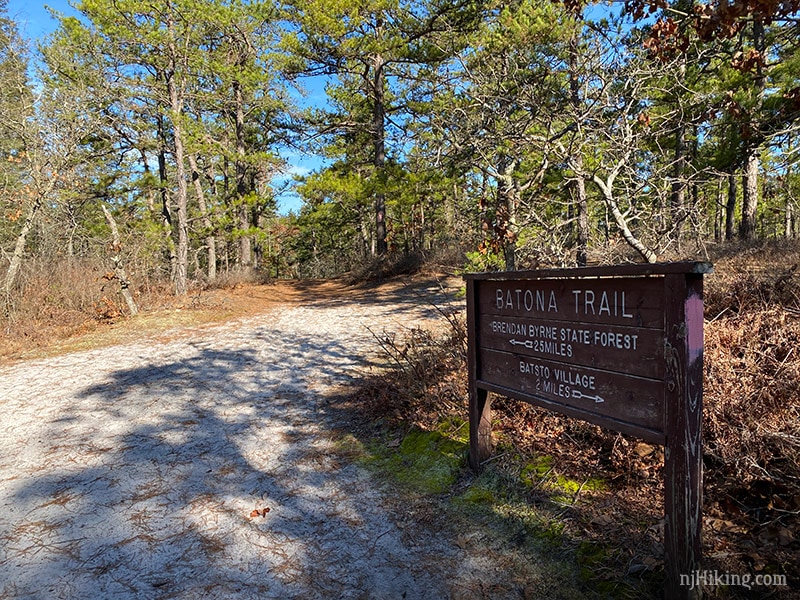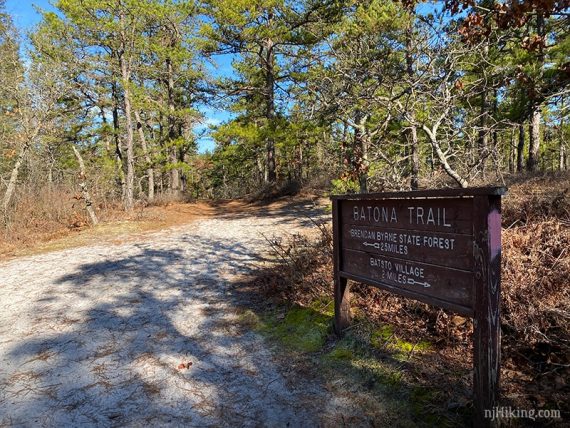 2.6 – Get a glimpse of Batsto River from a viewpoint.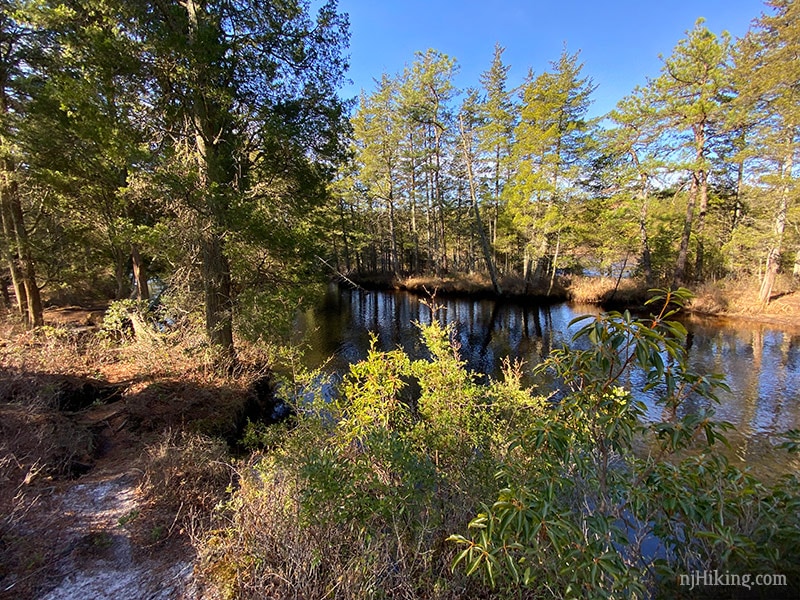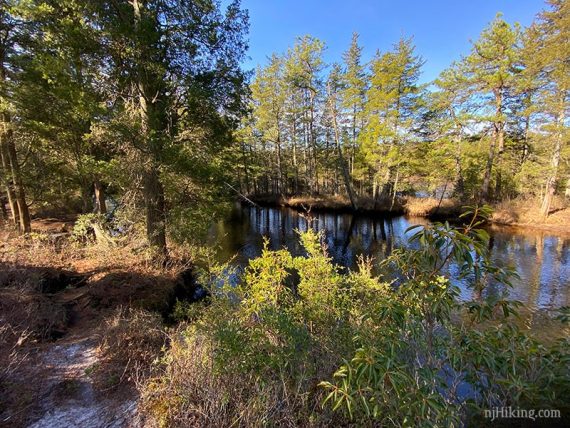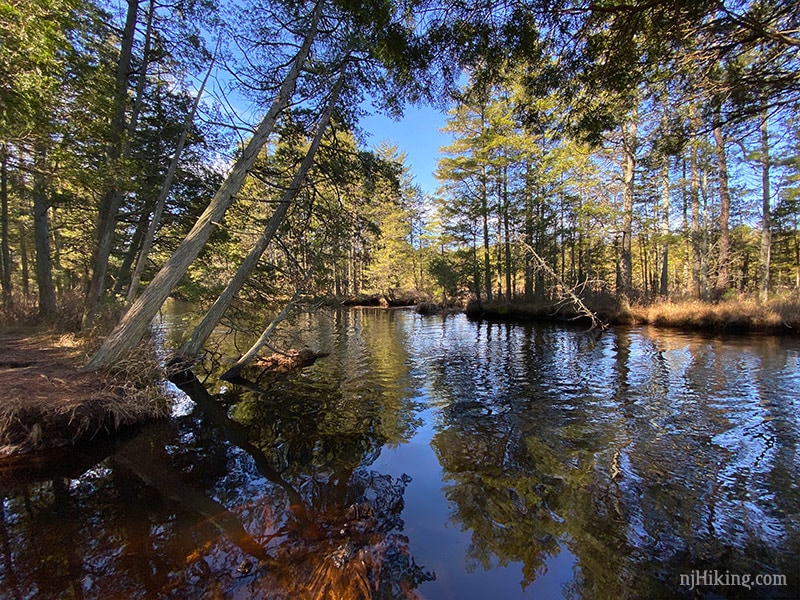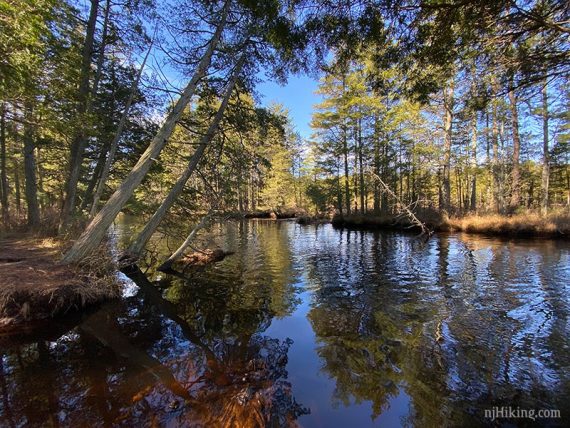 A kayaker glided by as we stood at the edge of the river.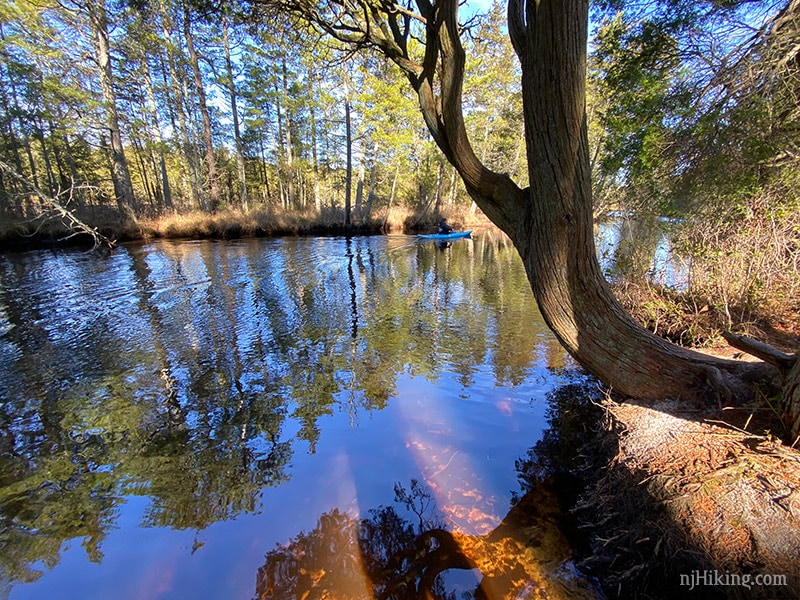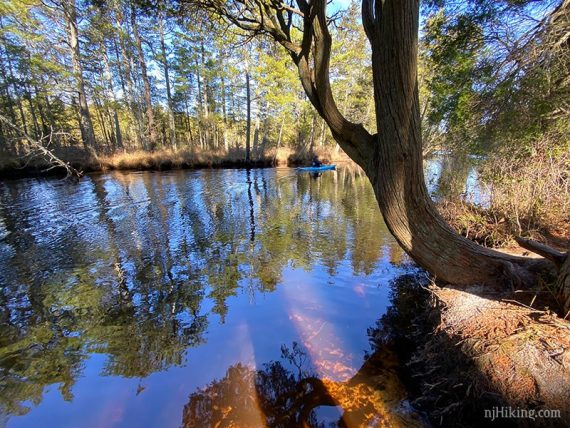 3.1 – Continue on WHITE as BLUE joins in from the left. Batsto Lake comes more into view as the trail starts hugging the lake.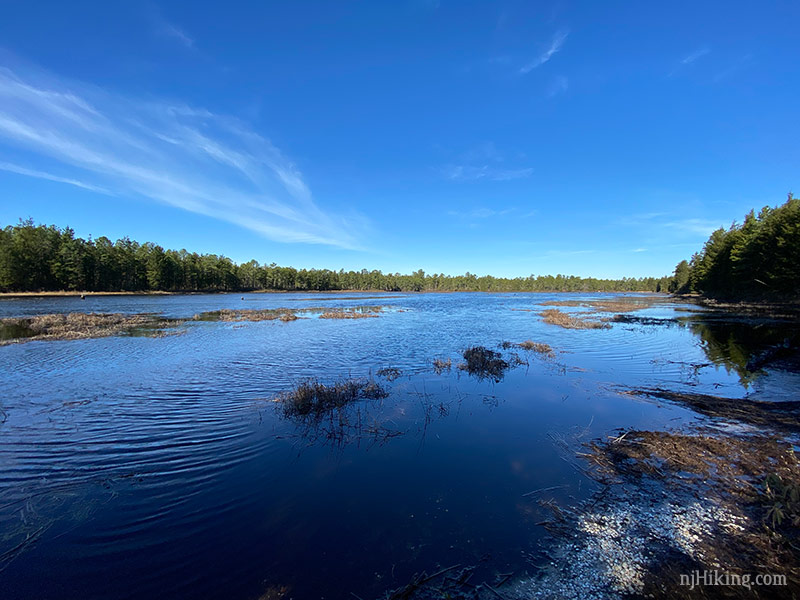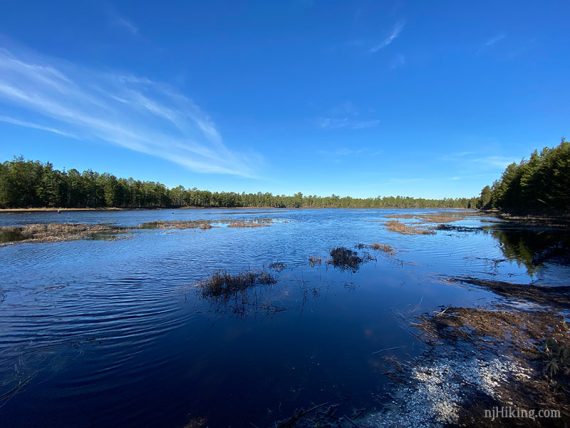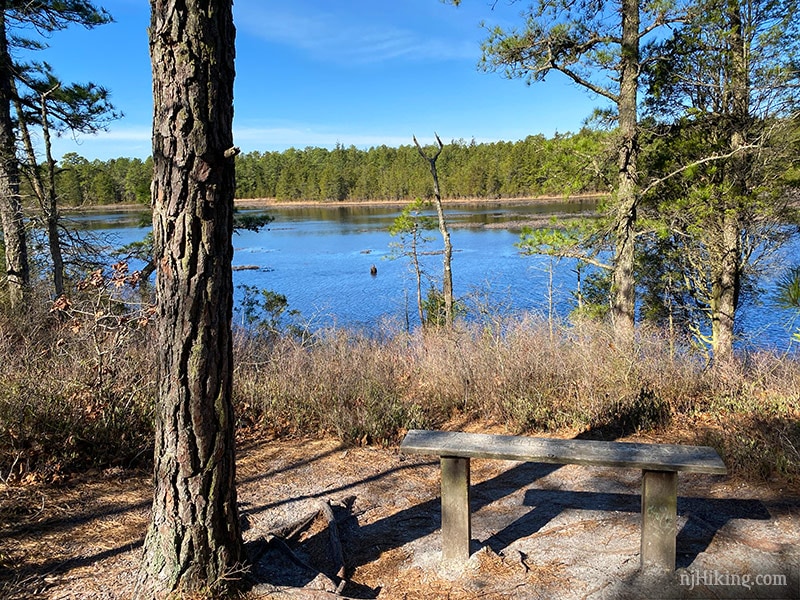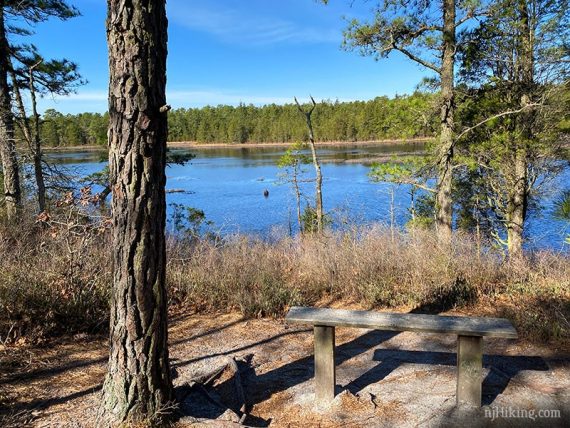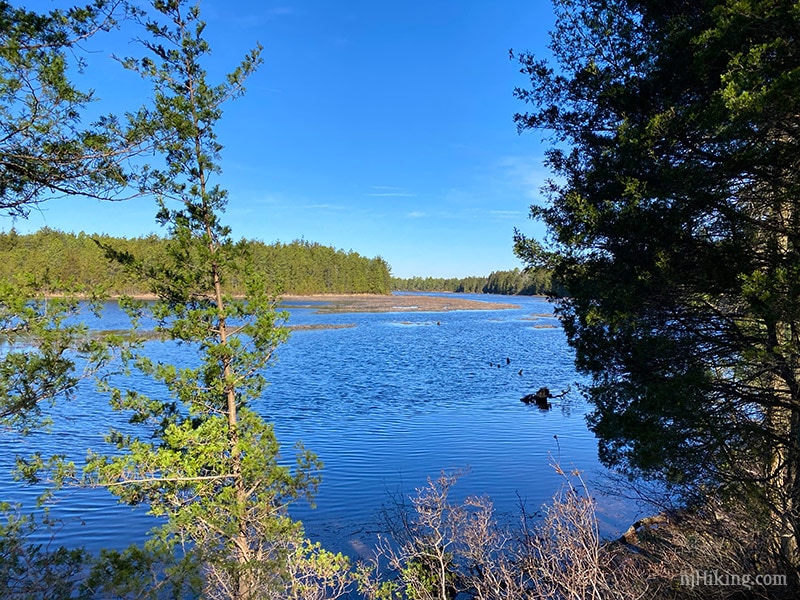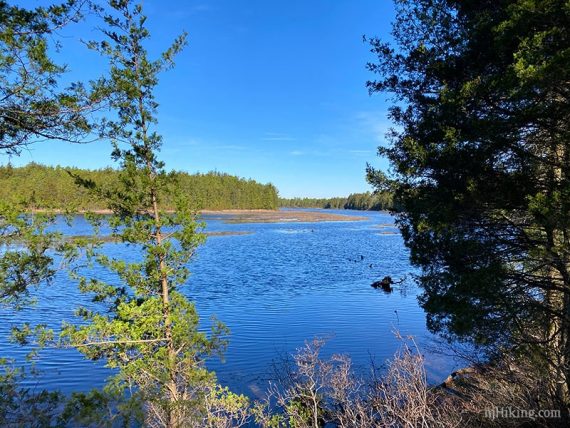 3.6 – The RED trail joins in. Now the trail is WHITE-BLUE-RED back to the lot.
Turn LEFT onto an sand road and pass near a maintenance area. Blazes appear in a bit. Follow WHITE back to the lot.
To visit Batsto Village… walk through to beyond the visitor center. Wander around the various buildings.
Batsto Mansion: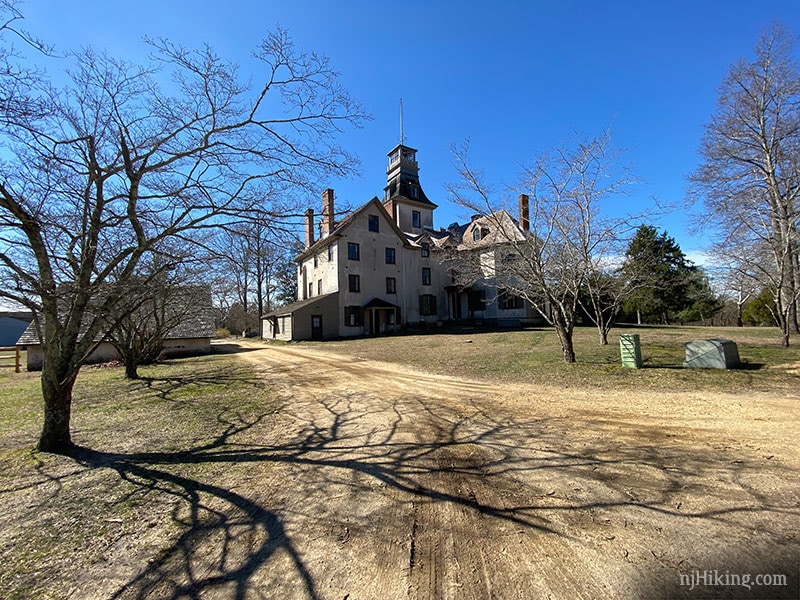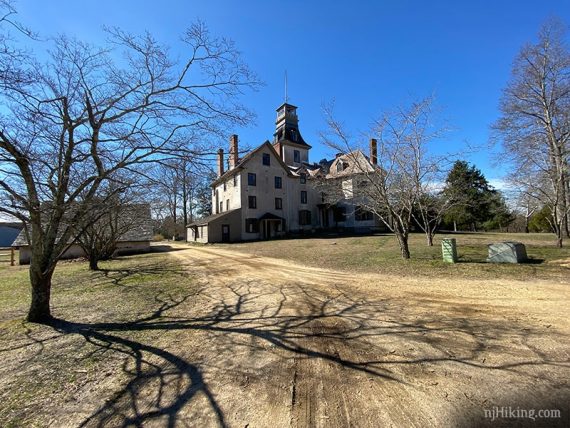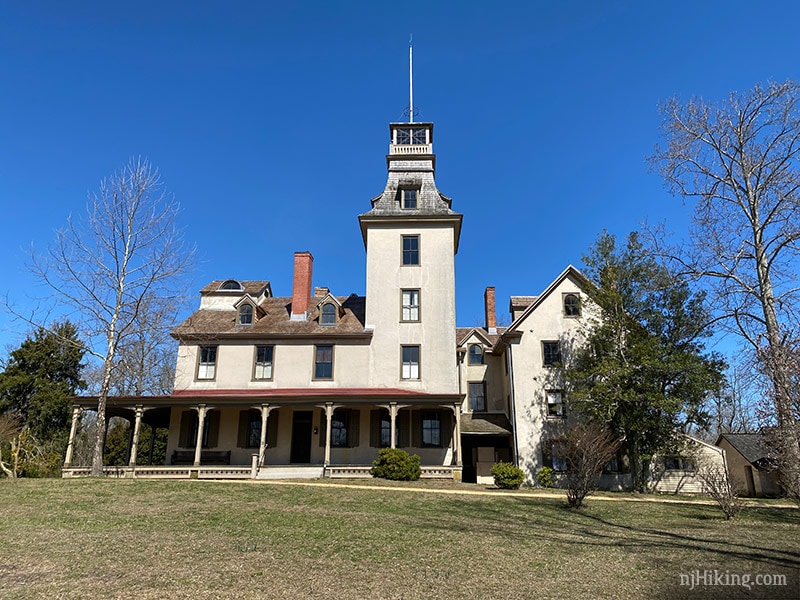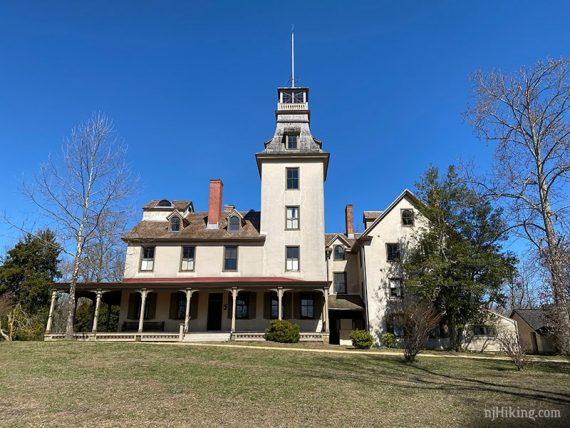 Some building are open to peek inside and see what life was like.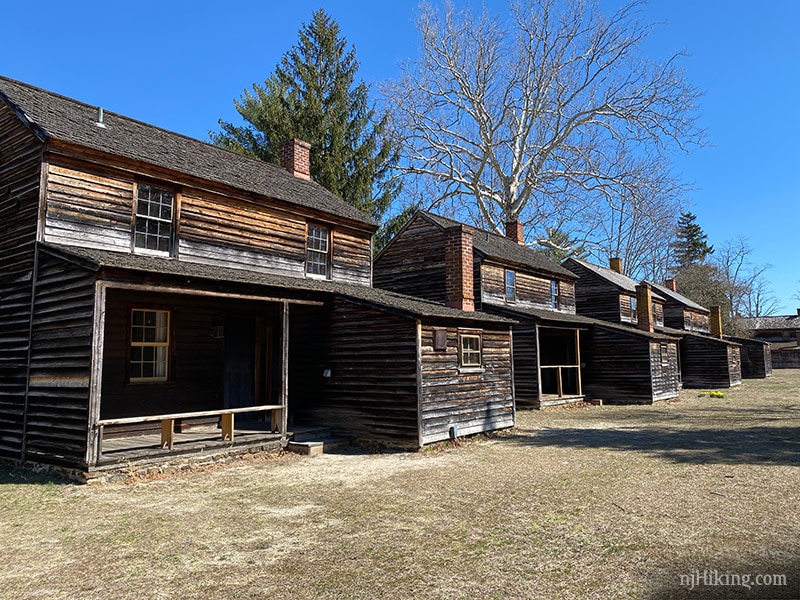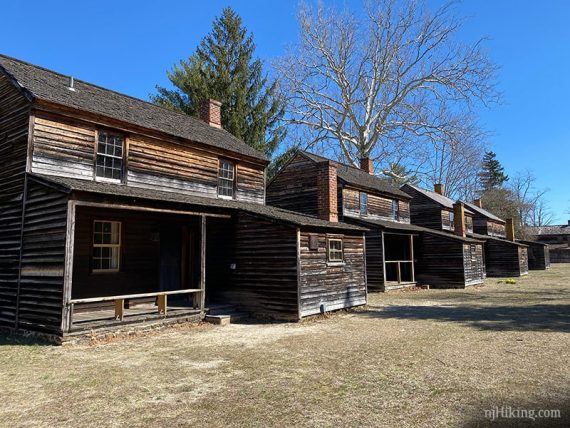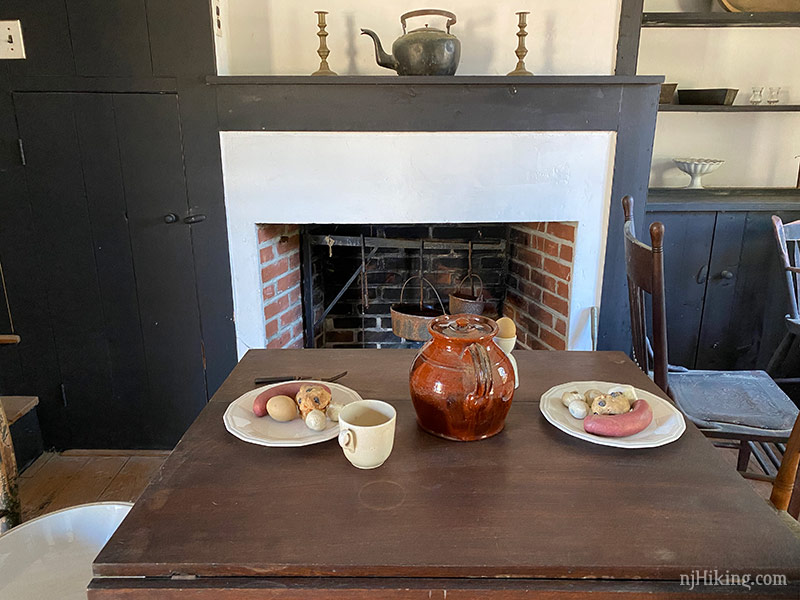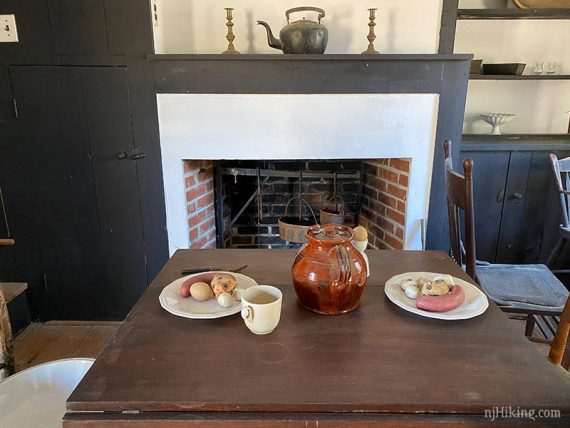 Walk inside the sawmill.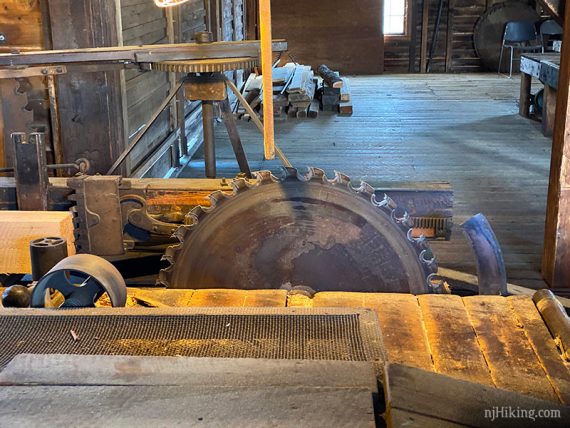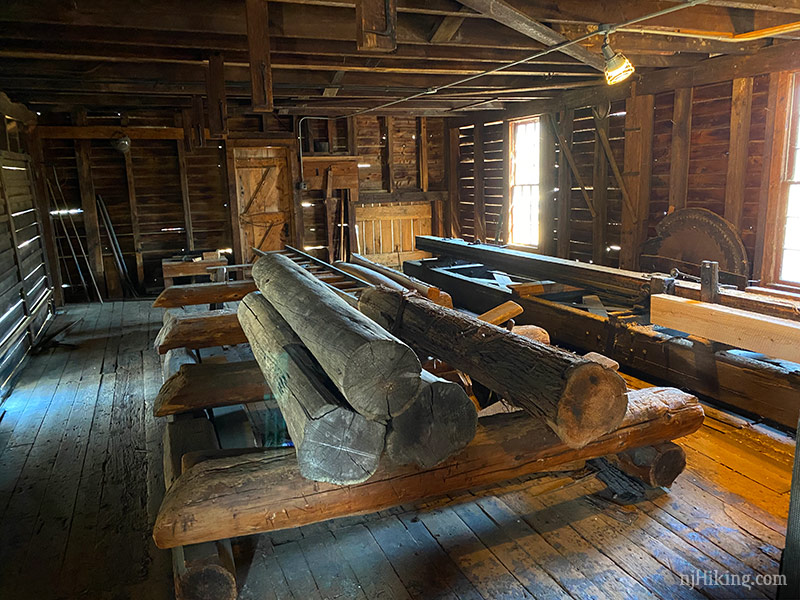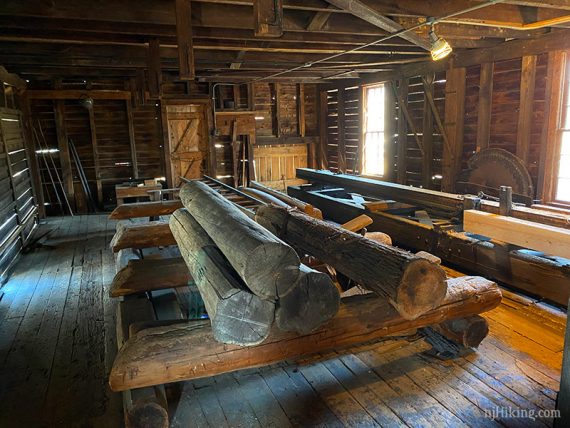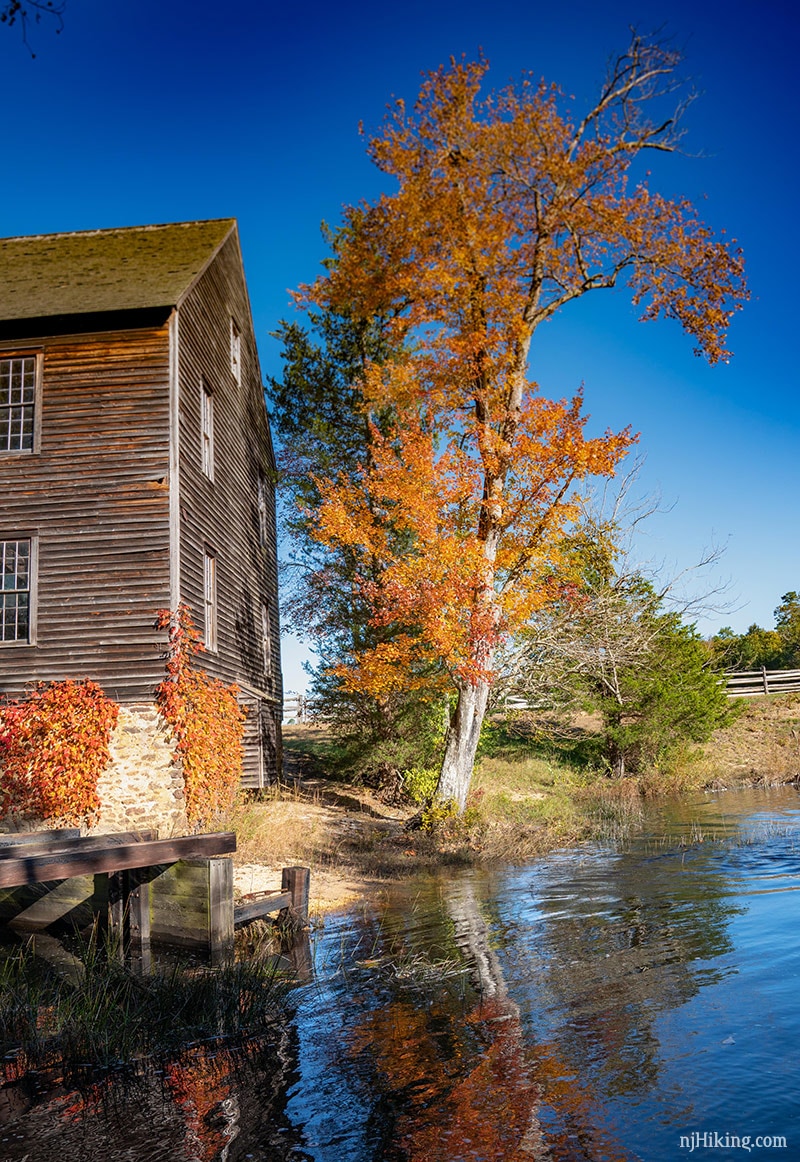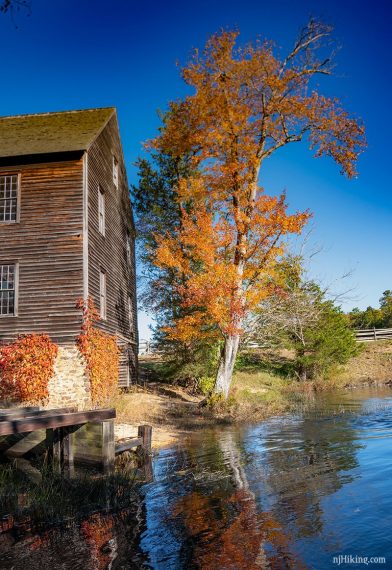 And check out some old carriages.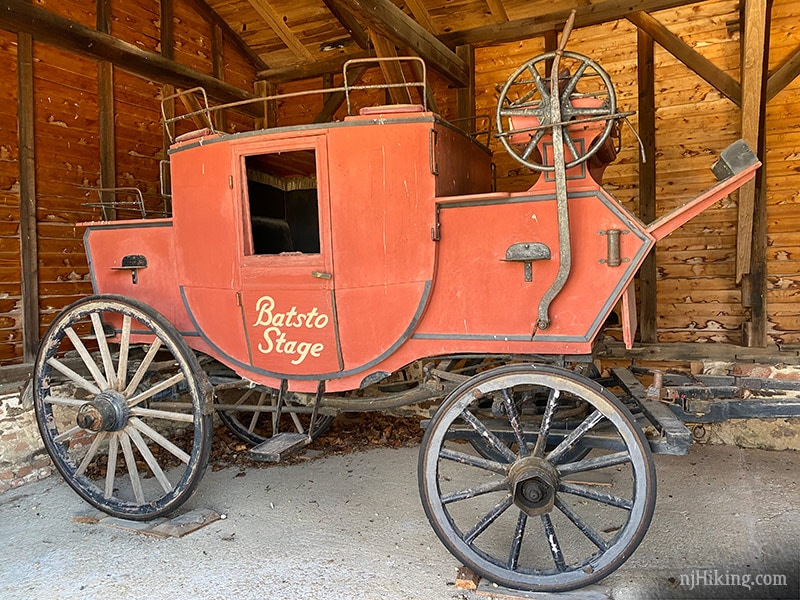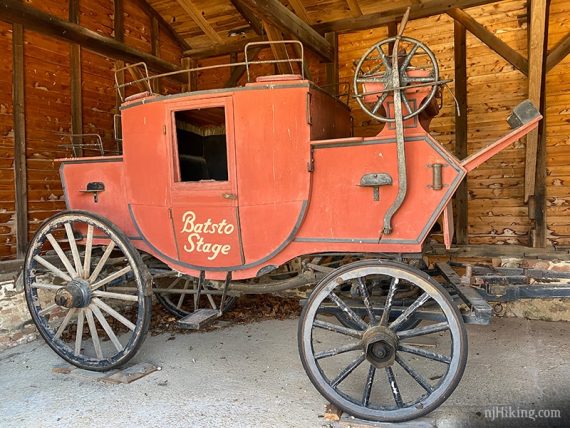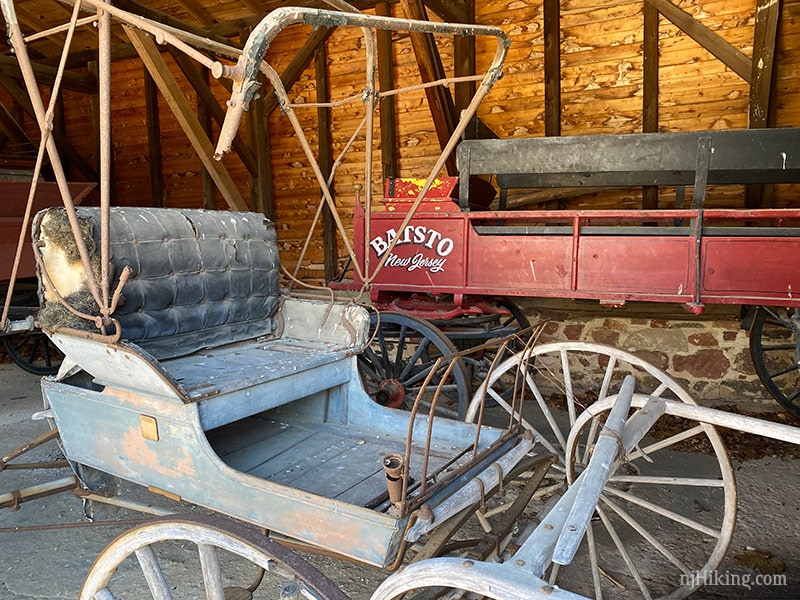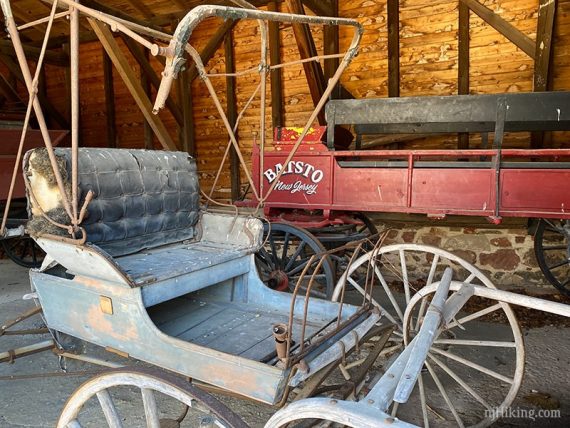 —
Hiked: 3/14/20. with Tom's Trail.
Hiked: 1/22/11. Trail Blog: "Batsto White Trail in the Snow"