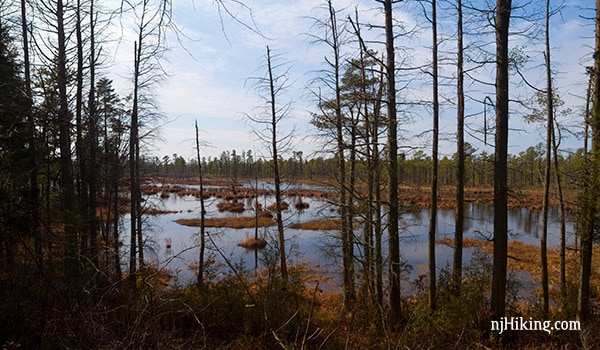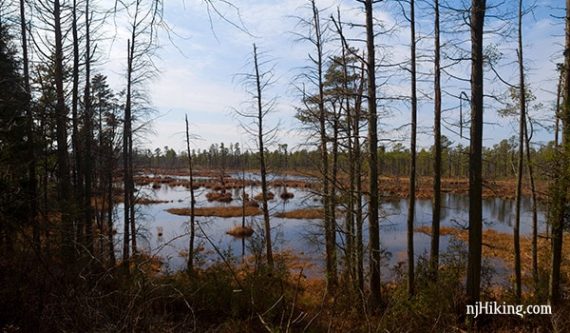 Hike through some of the prettiest sections of New Jersey's Pine Barrens along the scenic Mullica River.
9.6 or 5.5 miles. Easy, flat, soft sand trails covered in pine needles. Moderate to challenging only due to length.
Shorter: 5.5 miles – Out and back along the Mullica River Trail (YELLOW), turning around at the junction with the Beaver Pond – Quaker Bridge trail (noted below).
Short: Just turn around even sooner than the junction above.
Our two cents:
9.6 miles is long for many people, but since the hiking here is so easy-peasy you may find this doable if you normally handle around 6-7 miles on more rugged trails with elevation changes.
A negative is this area is heavily used by off-road vehicles. They are not on the trail but on the many sand roads.
We'd feel like we had the forest to ourselves for quite a time then suddenly see a car or dirt bike drive by on a sand road that we didn't even realize was nearby.
Ticks can be terrible in the pines, especially in warmer months, take appropriate precautions or hike in the winter. For tips, see our page on Lyme Disease and West Nile.
Updated: 8/2020 – Page refreshed, not re-hiked.
Map:
Trail map on the park site plus we've scanned the map areas of the previous brochure into one PDF that will print on letter-size paper.
Books:
This hike in the opposite direction is now in Best Day Hikes in New Jersey. Different hikes along the Mullica River can be found in Best Day Hikes Near Philadelphia (Atsion-Batsto shuttle hike), Hiking New Jersey (loop from Batsto), and 50 Hikes in New Jersey (longer out-and-back from Batsto).
There is an entry on Wharton State Forest in the The New Jersey Walk Book.
From the north: NJ Turnpike S to Rt. 206S. In the town of Shamong across from Atsion Lake, turn left into the parking lot.
Across the street is Atsion Recreation Area, where swimming is allowed and a parking fee charged Memorial Day to Labor Day – but the parking for this hike at the lot above is no fee.
Restrooms:
Composting toilet in the field behind the parking area. From the parking lot, with Rt 206 behind you, look across the field to spot it.
The toilet was unlocked when we visited off-season in the winter, even though the park buildings were not.
Hike Directions:
Overview: Mullica River Trail (YELLOW) – Beaver Pond/Quaker Bridge Trail (PURPLE) – Wilderness Camps Connector (GREEN) – Mullica River Trail (YELLOW)
This area is full of unmarked trails and sand roads. While the trails are well-marked and have mileage signs along the way and at intersections, if you don't see a marker for a while, turn around and look behind you to check.
If you don't see blazes in the other direction either, backtrack and make sure you are on an actual trail.
0.0 – The YELLOW trail is to the right of the building next to the parking lot, follow the YELLOW blazes down the sand road.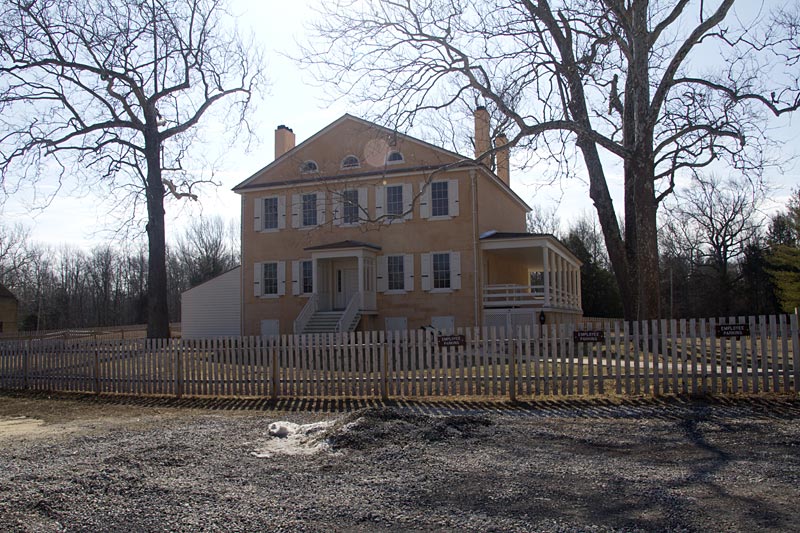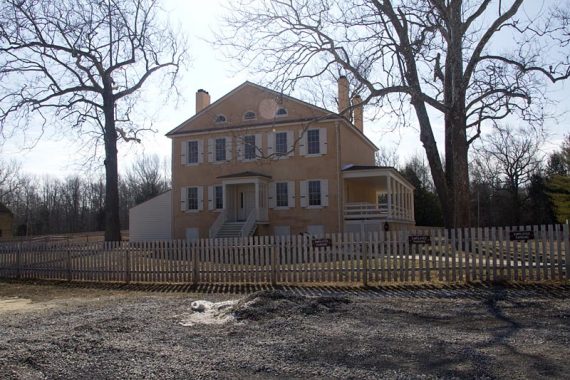 But we headed over to the composting toilet in the field first. From the toilet, with it behind you, walk straight across the grass.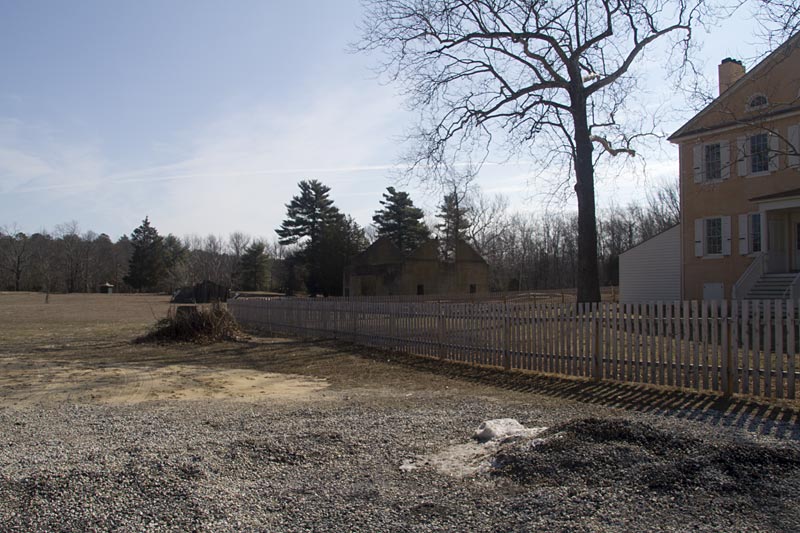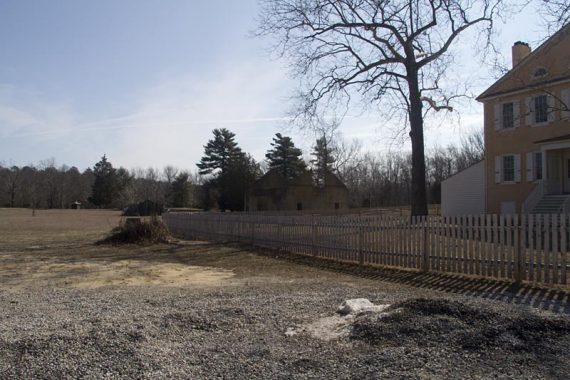 0.2 – Arrive at the YELLOW trail (woods road here) and turn LEFT onto it. [If you took YELLOW from next to the building and did not detour to the potty, this is where you join this description]
Continue, past an old church on the left and a gun club on your right.
0.4 – Turn LEFT as the YELLOW trail heads into the woods. [The turn is across from an old school with a gate and can be easy to miss while you are looking at the buildings – watch for a YELLOW blaze on a brown post]
0.5 – Cross railroad tracks. Continue following YELLOW.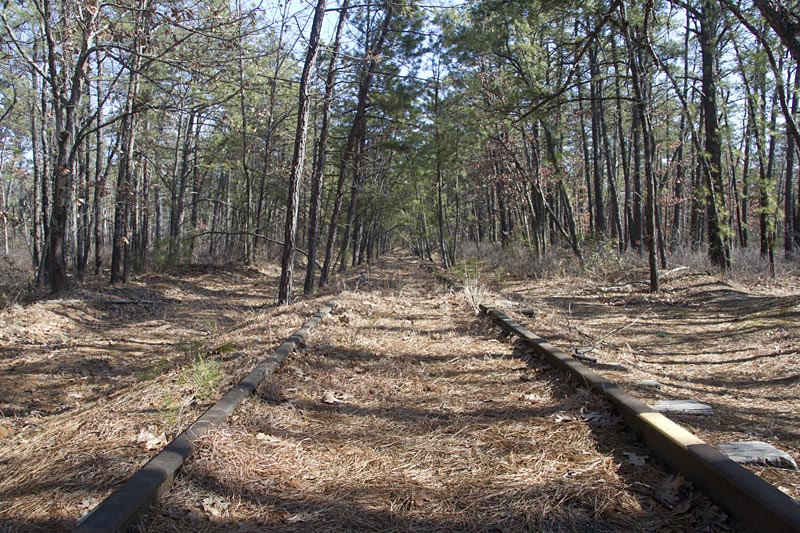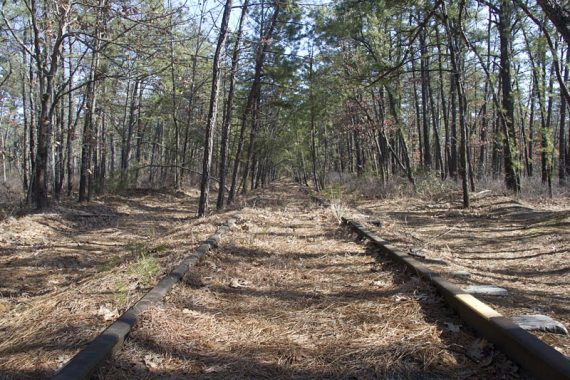 In some open spots, the blazes are hard to locate amongst the junction of sand trails/roads.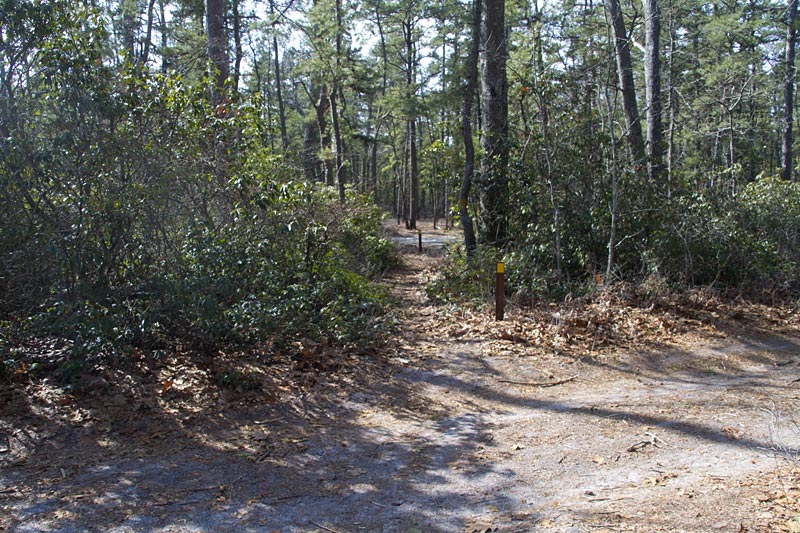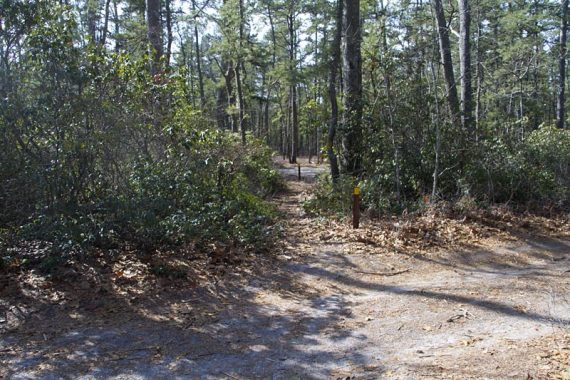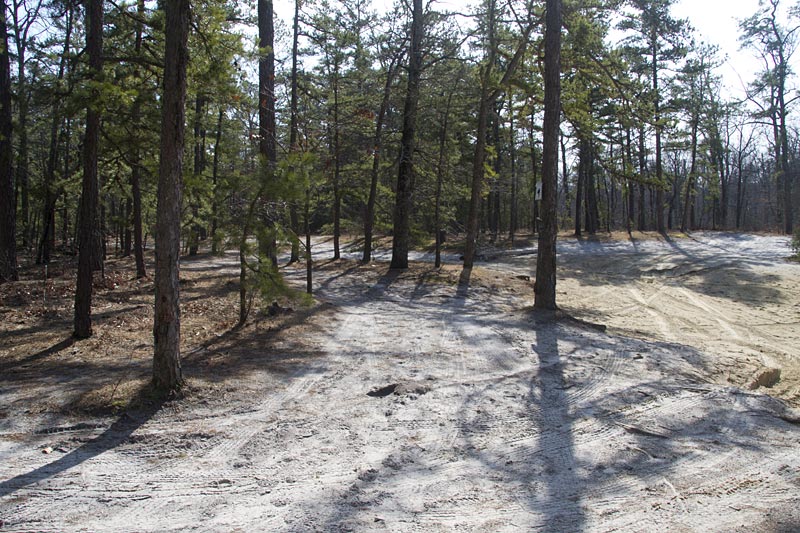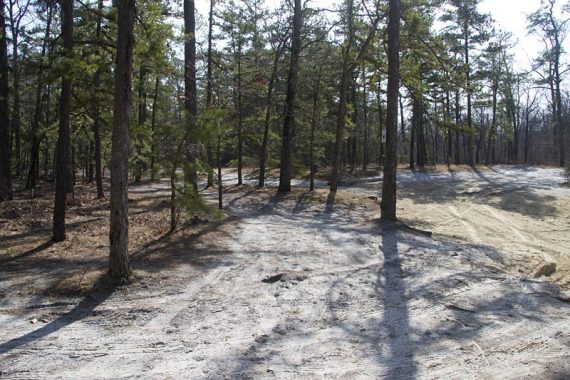 Some water views.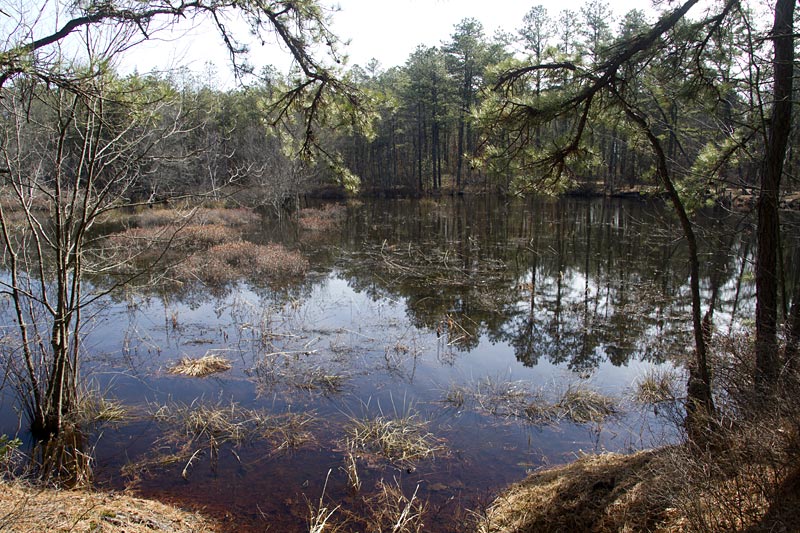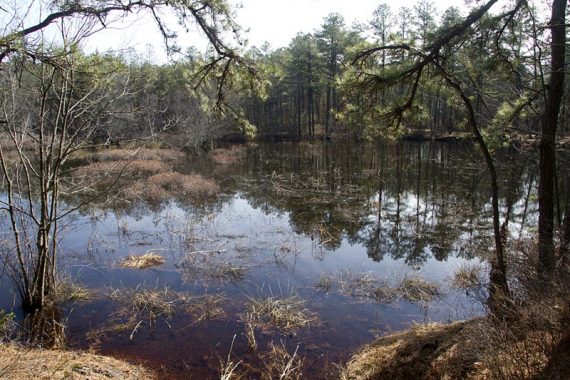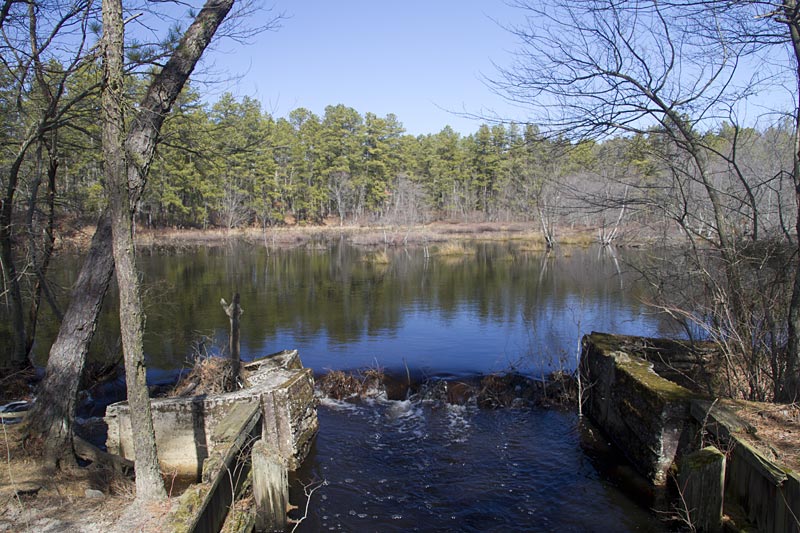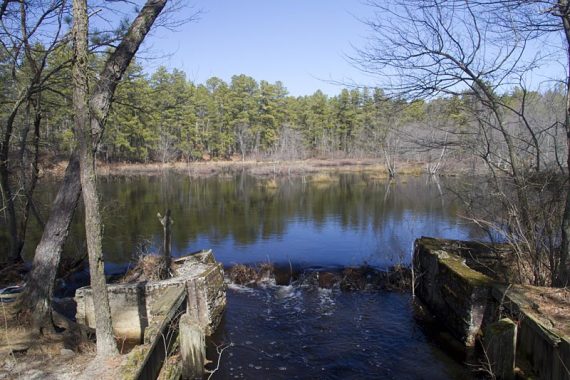 2.8 – Big sign for "Quaker Bridge Beaver Pond Trail, Batona Trail 1.7 miles, Lower Forge Camp 3 miles" with a PURPLE BLAZE.
Turn LEFT, now following PURPLE.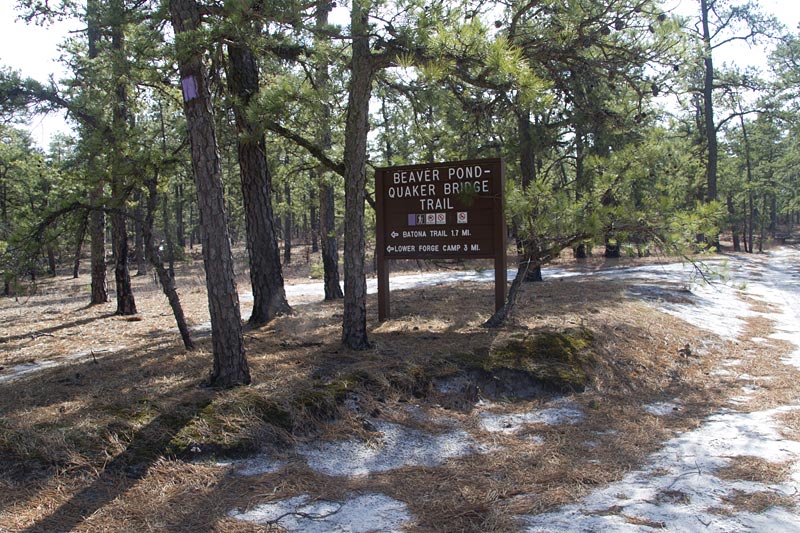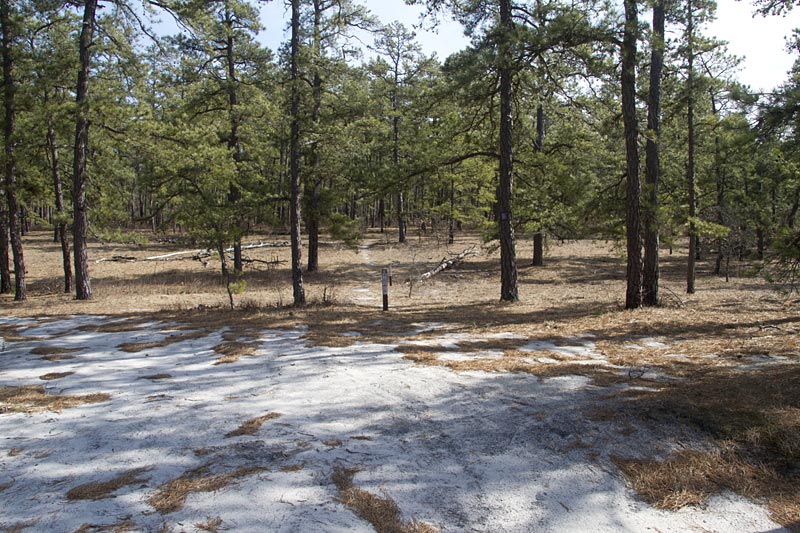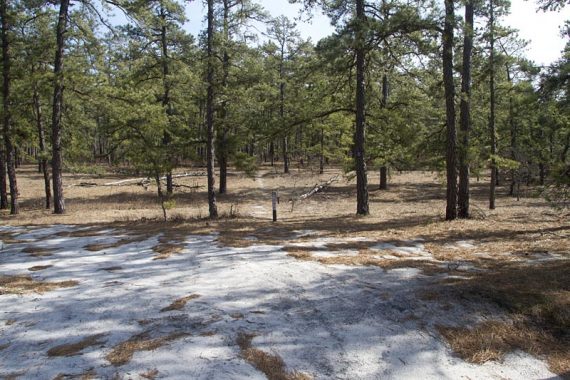 /// Shorter Option: For a 5.5-mile hike, turn around at this sign and retrace your route. ///
4.4 – Turn RIGHT, now following GREEN (Wilderness Trail).
There are two large diagonal paint blazes on a tree but they blend in and are easy to miss. If you come out to an open area with multiple sand roads, you missed it.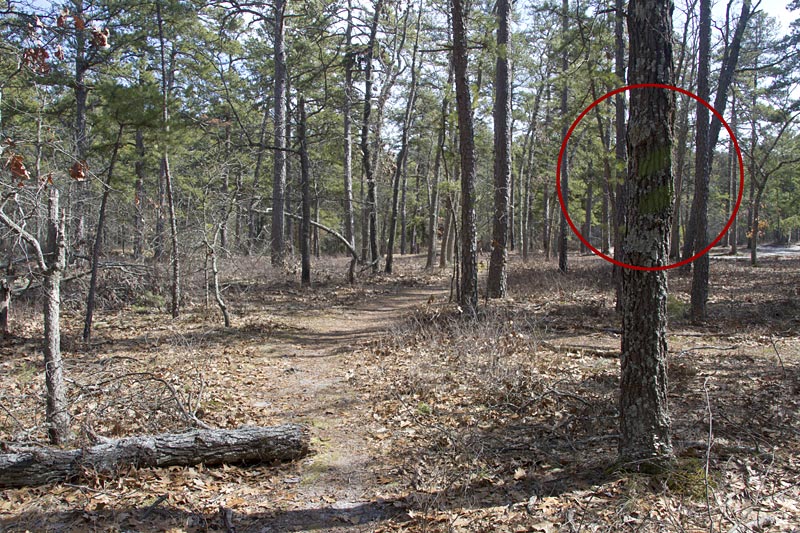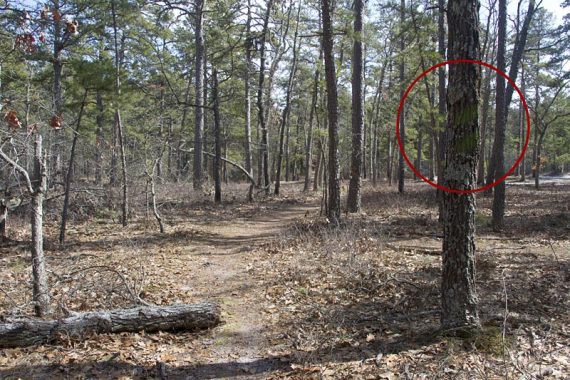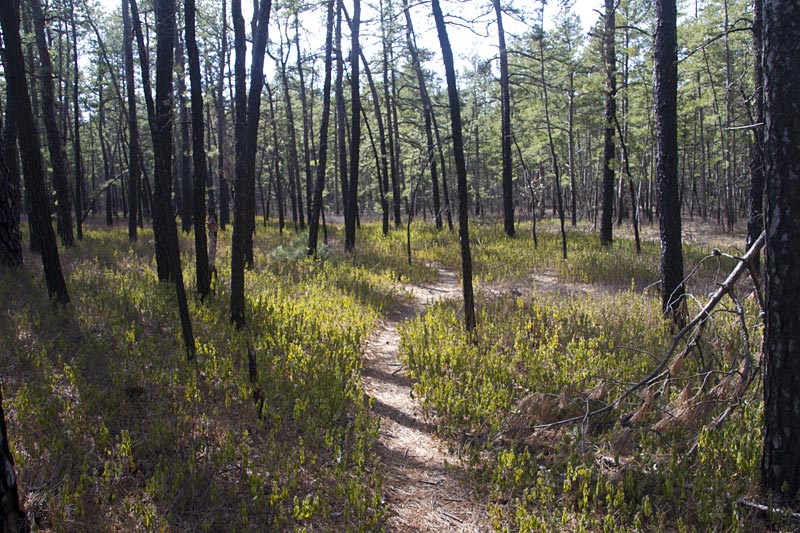 This section simply connects the two main trails and isn't overly thrilling.
5.2 – Two big trail signs here. Turn RIGHT, towards "Atsion 4.5 miles", now following the Mullica River Trail (YELLOW) again.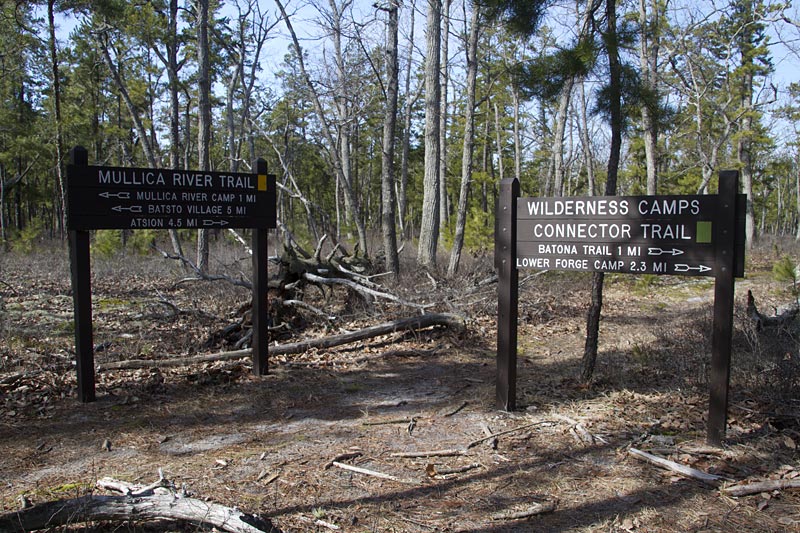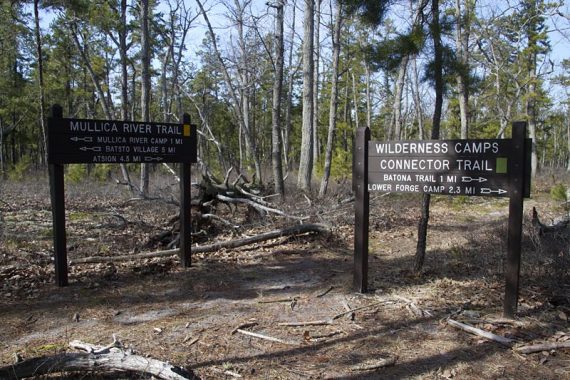 Occasional mile marker signs.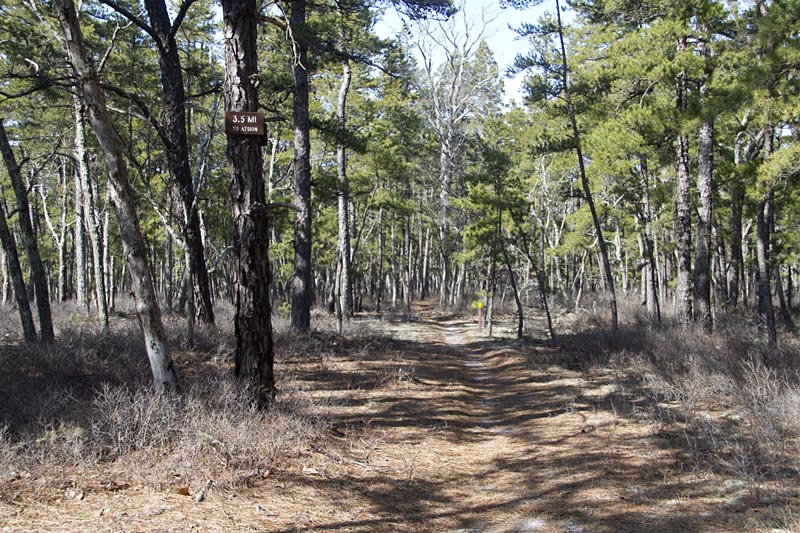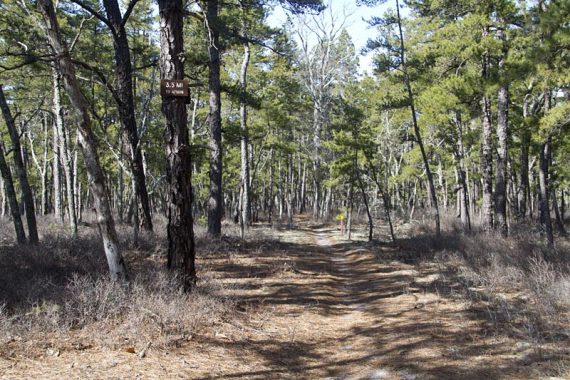 6.9 – Arrive back at the junction with PURPLE (Beaver Pond/Quaker Bridge Trail). Continue following YELLOW back to the parking lot.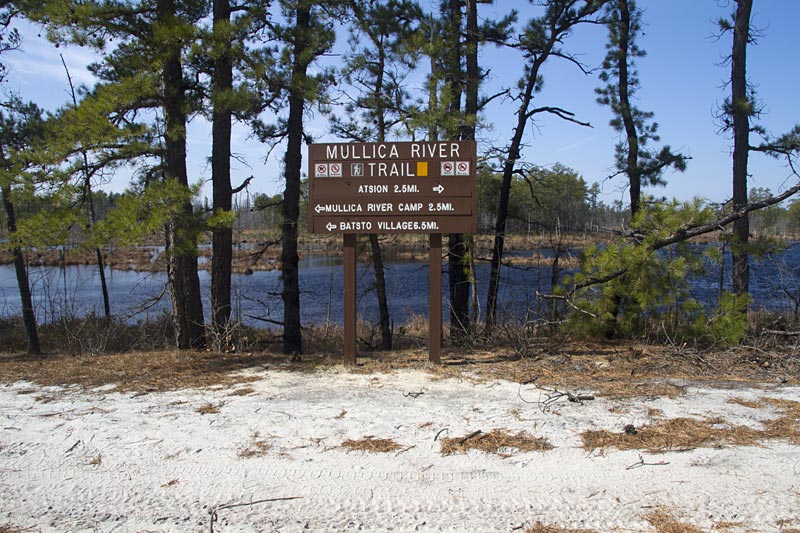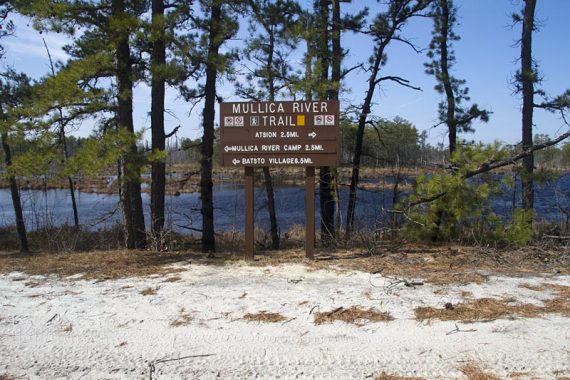 —–
Hiked: 1/1/13 [opposite direction]. Trail Blog: "Wharton State Forest – Atsion"
Hiked: 2/27/11. Trail Blog: "Wharton State Forest – Atsion to Quaker Bridge Loop"