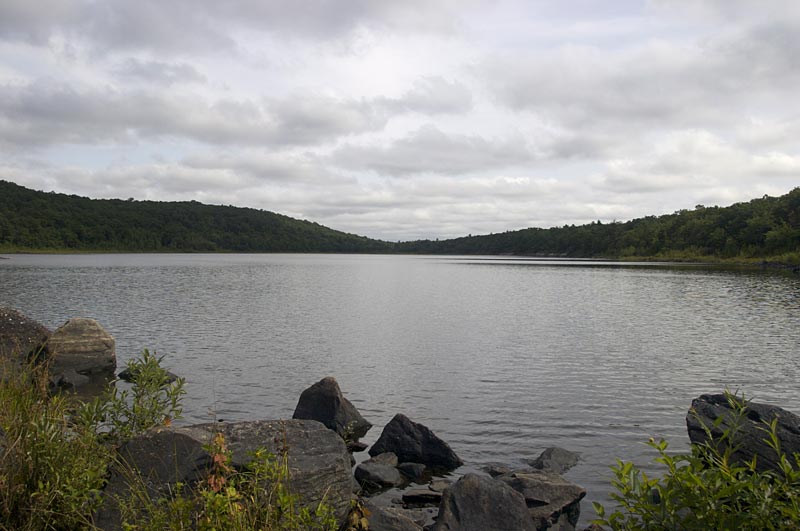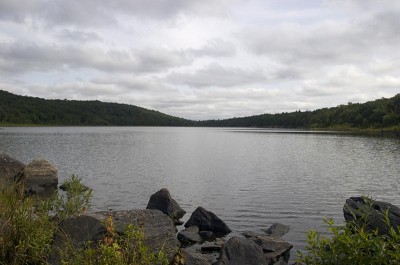 Hike to Hanks Pond and Bearfort Fire Tower in the Pequannock Watershed, passing some interesting rocky outcrops along the Fire Ridge Trail.
5.8 miles. Moderate trail surface, some woods road, some rocky outcrops. Minor elevation change in a couple spots, minor scrambles. One brief very very overgrown area with thorns. Ouch.
Map: Get the North Jersey Trails it's much better than the map here. It's a two-map set, this trail is on #116.
Books: This exact route can be found in Hiking the Jersey Highlands. #28 Hanks Pond Circle (the book mentions picnic tables at the fire tower that are no longer there).
**NOTE: This route requires purchasing a Watershed hiking permit.
Parking: N41 04.513 W74 26.694
Rt 287 to exit 52, then Rt 23W towards Butler. Continue W on 23, turn right onto Clinton Road. Just past the sign for the Furnace is Van Orden Road on the right. Turn right onto it, and immediately on the left past a gate is a spot for a car. There are a few spots on the right as well. On trail conference maps, this is noted as "P1."
Restrooms: None. Best bet is a gas station in Butler on Rt 23.
Hike Directions:The trail starts on a woods road just beyond the gate on the north side of the road. There is a WHITE triple blaze that is the start of the HANKS EAST trail.
Follow this north and in a short bit, Hanks Pond comes into view. Pass a BLUE marked trail.
There is a short spur trail on the right that leads to the pond for a closer look.
The trail forks – take the unmarked trail left. WHITE continues right and is where you will return.
0.6 miles – Trail splits again, stay RIGHT and start following BLUE OVER WHITE. Left is BLUE.
The trail hugs the pond and passes remains of a few stone buildings. (remains are part of the Richard F. Cross mansion, according to Hiking the Jersey Highlands.)
1.8 miles – pass BLUE on the RIGHT.
Just a little further, turn LEFT onto BLUE and follow BLUE uphill. Scramble up some rocks at the top, and the trail heads right through some thorns and very overgrown area. The blazes are hard to see, and one is on a fallen tree at your feet. If you turn around you will see you are actually on BLUE. Look left up some rocks for your next marker.
Perhaps there is a reroute here we missed, or it's just that this BLUE trail is of the off the beaten track variety that don't get as much maintenance.
2.0 miles – After the thorns, shortly after is another rock scramble over a bunch of jumbled rocks. Look up and to the right for the RED over WHITE blazes you will now follow. It's also shortly co-joined with BLUE. The trail follows flat rock outcrops on the ridge.
2.2 miles – pass BLUE on your left.
2.8 miles – arrive at the fire tower, in an open grassy meadow. There are some rocks to sit on to have a snack.
Look for the TEAL Highland Trail blazes just past the tower (north) and start following them, they head downhill to the right. It turns then turns south for a bit. The Highlands trail jogs downhill.
3.1 miles – BLUE over WHITE crosses here. Continue straight on TEAL Highlands.
Highlands keeps jogging down the hill.
The trail comes to a junction with WHITE. Turn right to follow WHITE/Highland. This is the point that we started seeing a lot of bear scat on the trail.
3.3 miles – Start following just WHITE (Hanks East). Highlands leaves to the left. There is a large rock cairn here.
4.3 miles – pass BLUE on your right.
Hanks pond will come into view on the right, but the trail doesn't follow the shoreline. This trail is also used by horses. There was very recent trail maintenance here, and the many fallen trees crossing the trail had been cut through, making it a very easy without having to climb over them.
5.6 miles – arrive where the blue and white trail split at the beginning of your route. Turn LEFT and head toward the road.
—-
Hiked: 9/7/09. Trail Blog: "Hank's Pond – Bearfort Fire Tower"