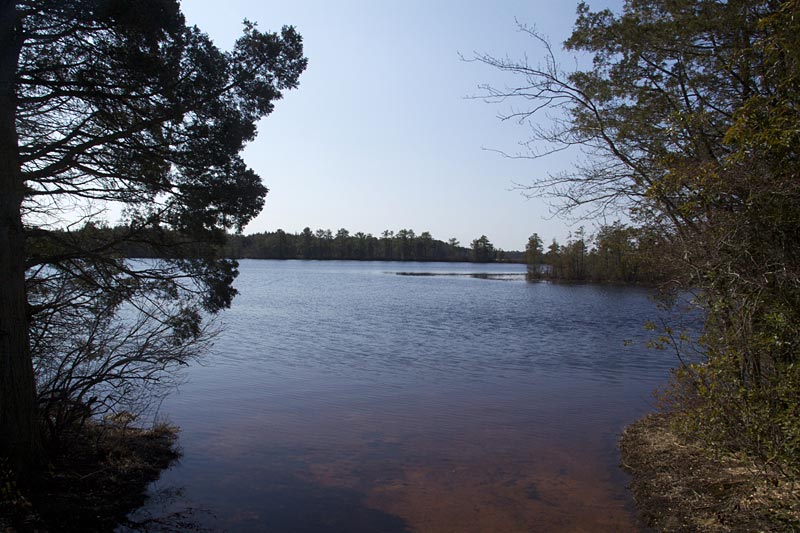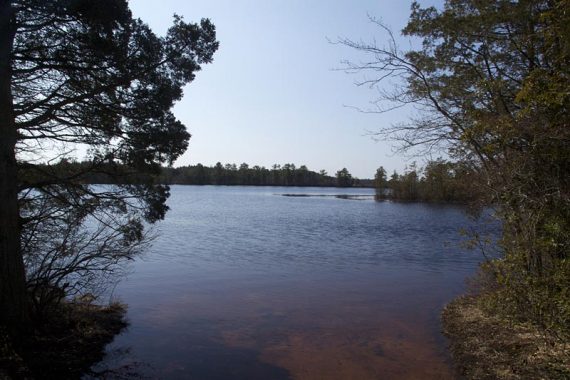 Hiking sand roads through the undeveloped wilderness of the Pine Barrens.
8.7 miles. Easy, level, wide sand roads; the occasional vehicle. No hiking trails. All are unmarked – no signs, no color blazes – but it's not too bad figuring where you are.
Hike Info:
Our two cents:
Some of the sand is deep and soft which is more difficult to walk through. Depending on your hiking tastes, this is may not be your idea of fun hiking.
We suggest you check out the photo gallery of this hike to see if it's something you'd like to do. (also, check out our Penn State Forest blog post.)
Map:
There was a trail kiosk with an overview of the pine barrens but no maps. Print out a map beforehand from the park site. A GPS makes for nice insurance here.
Books:
The route we followed is from the an old edition of "50 Hikes in New Jersey" (2nd) but we did it the opposite way.
There is a shorter hike described in Hiking New Jersey. The park is briefly described in the The New Jersey Walk Book.
Rt 206 south to 563 S through Chatsworth and turn left on Oswego Lake Rd. Just over a small bridge, turn right into the parking lot. You can also come via the Parkway.
NOTES: The roads through the park are not paved, even though they show as regular roads on Interactive Maps and on our GPS – they are in fact the sand roads you will be hiking on.
This route starts at the Oswego parking area which is accessed from the road, but the book Hiking New Jersey has you driving through the park to Bear Swamp Hill to park.
If you showed up with a car to do that route, you may be less than thrilled to discover you need to drive on dirt.
We also found the books made it seem like on one section you would be hiking through the "pygmy pines" – dwarf pine trees reaching under 5 feet", where you can see over the tops of them for acres.
This was the reason we hiked here and we never passed any such area. The books also mention "limited views" from Bear Swamp Hill… but they are so limited you can't see much at all.
Be wary of sun exposure and ticks in the summer months. Some picnic tables are by the lake.
Restrooms:
Composting toilet in the parking lot.
Hike Directions:
Overview: From parking at Oswego Lake and using the online map:
Take Jenkins Rd, left onto Cabin Rd, right onto Sooy, right up to Bear Swamp Hill, come back down, right back onto Sooy, right on Chatsworth.
Left on Stave (not marked on park map) thru the plains, left onto Lost Lanes to it's end, then left again, follow back to lot.
0.0 – Oswego Lake is quite pretty. The photo at top and the two below are from the picnic area next to the parking lot; no hiking required: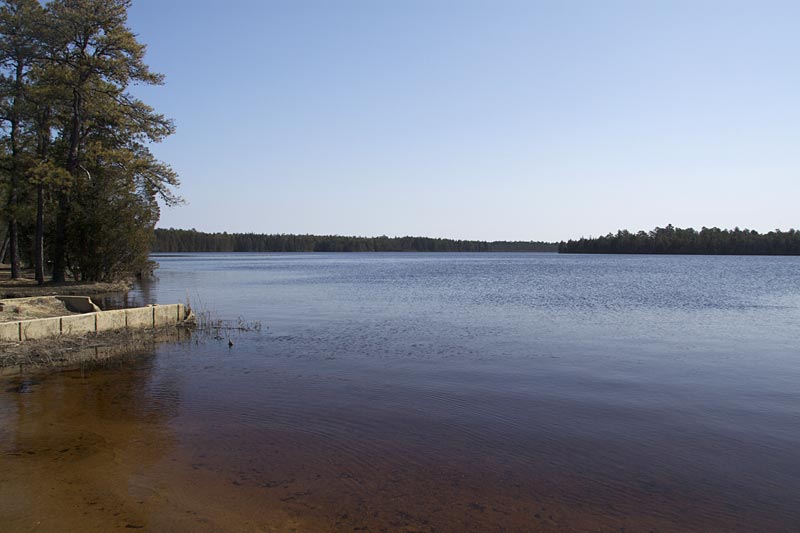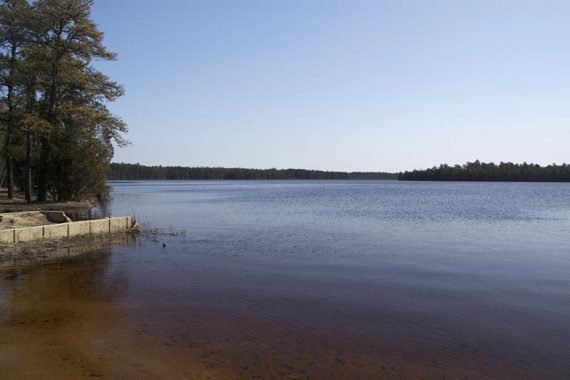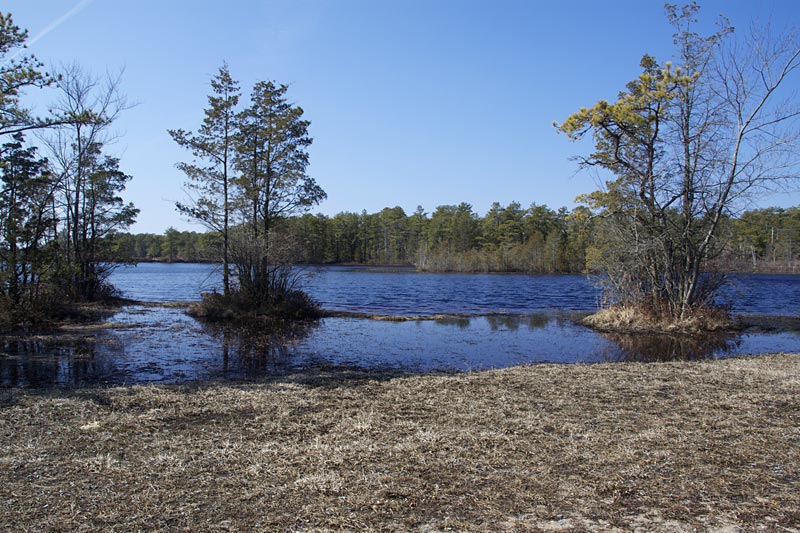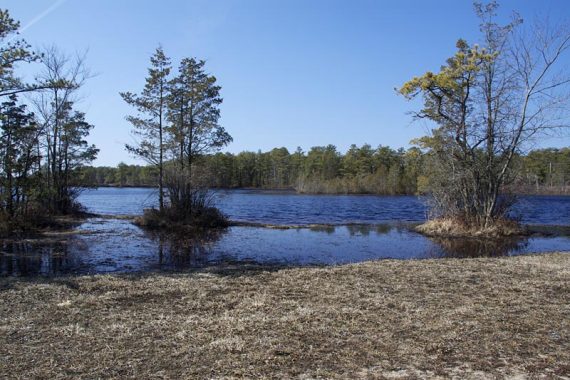 From the lot, it's not clear where you should go. Start walking down the road. There is another view of the lake as you start to walk down the road.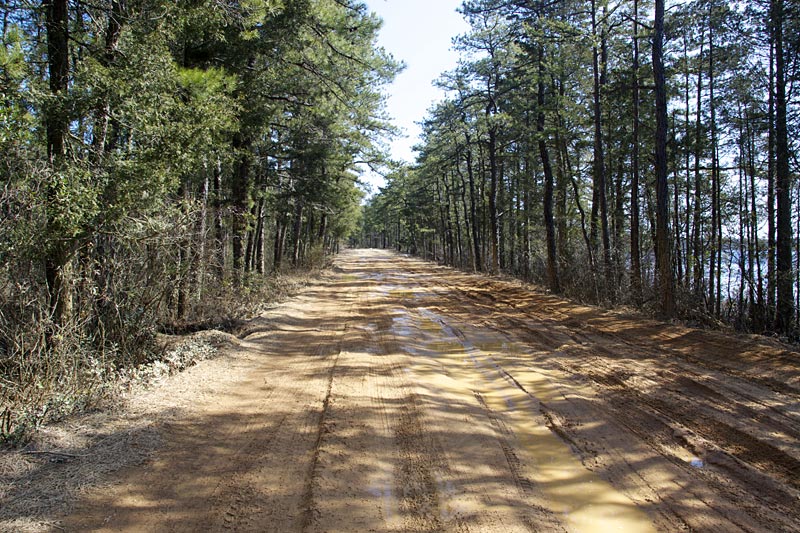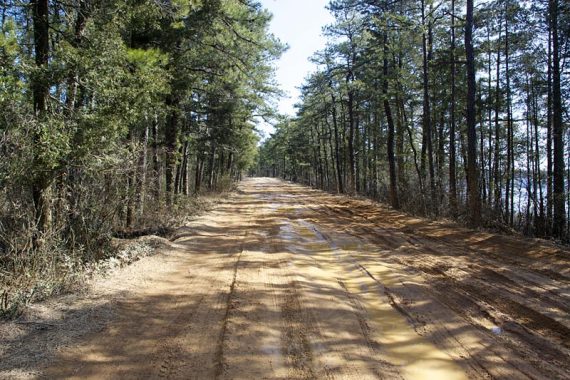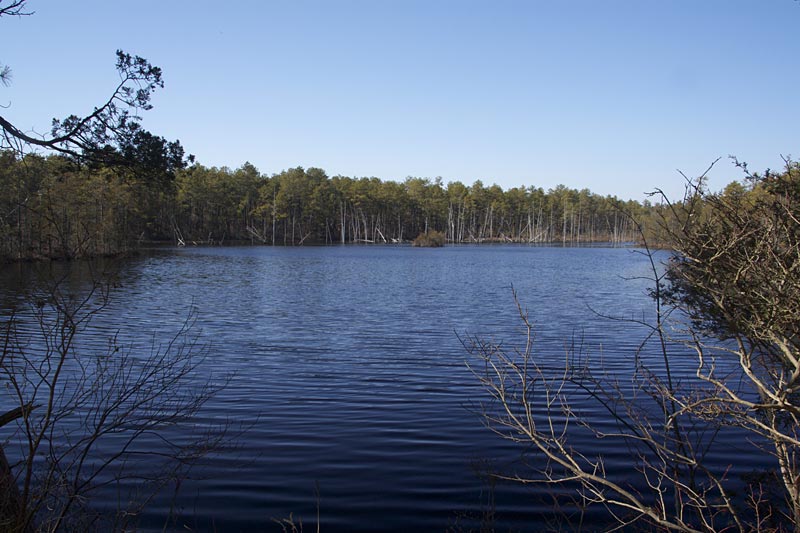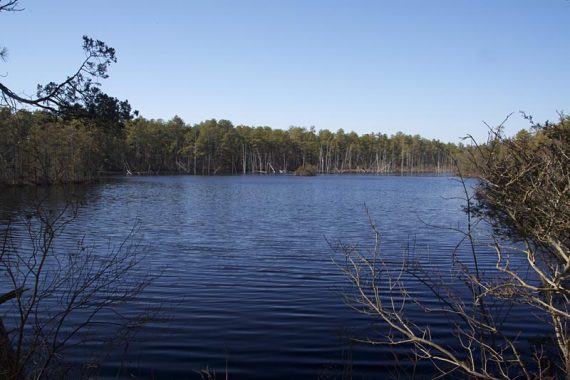 Briefly it splits, follow it straight (Jenkins) and not left on Sooy.
Trail surface is wide sand roads, some sand is packed and some is soft.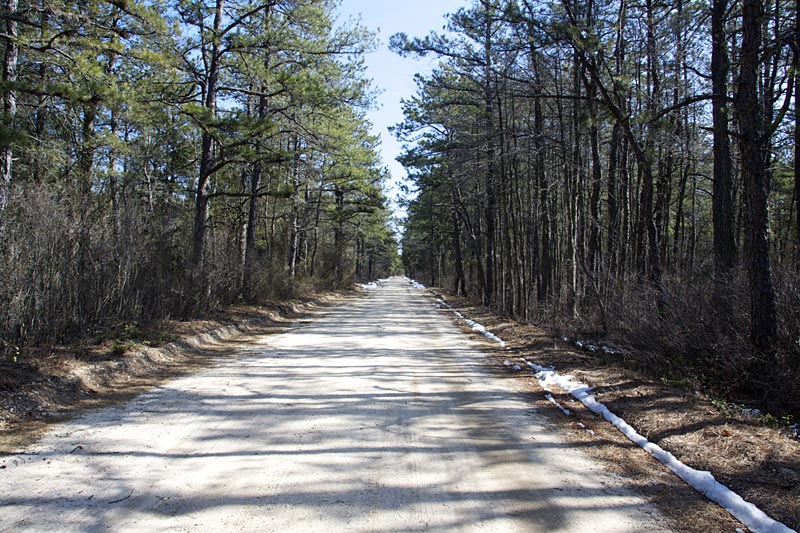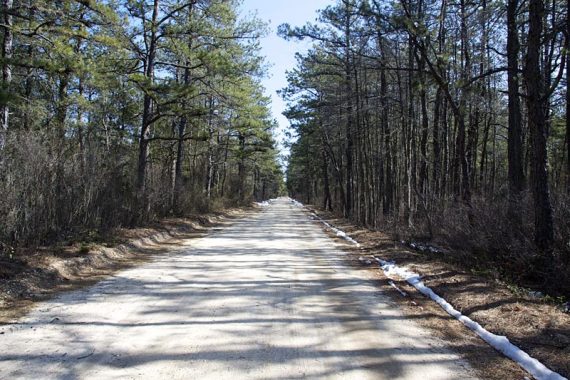 0.1 – Pass Deer Run Rd on your left.
1.5 – Turn left onto Cabin Rd.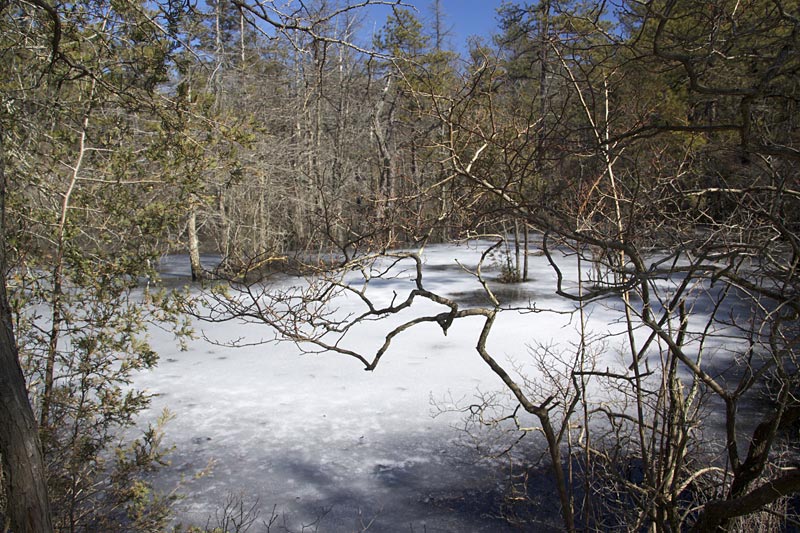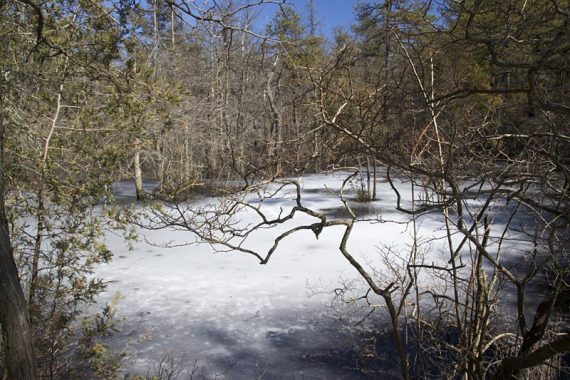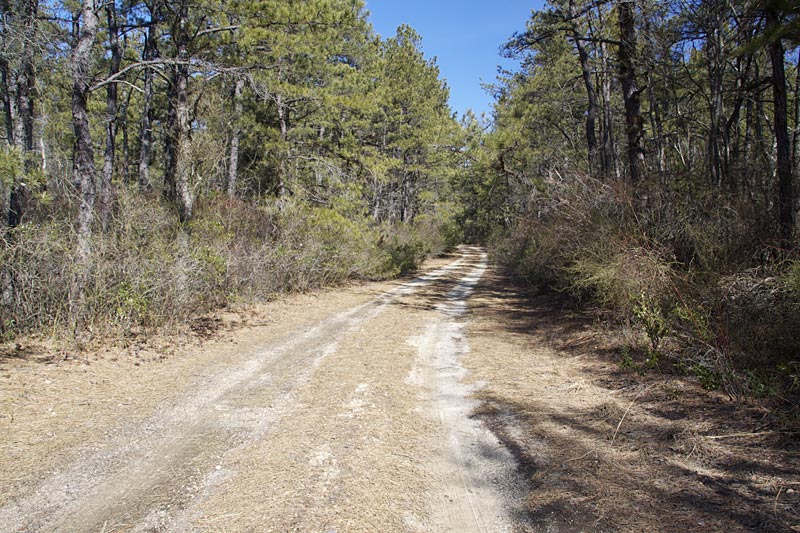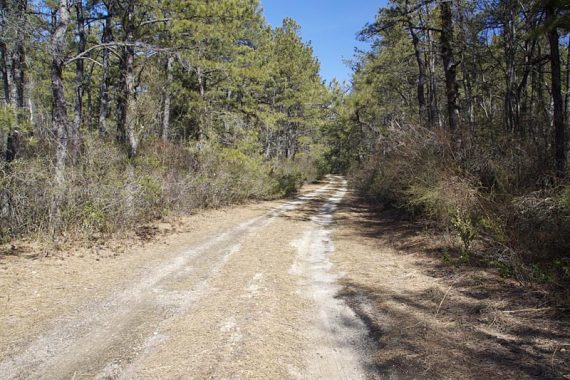 1.9 – Pass Penn Place on your left, continue straight on Cabin Rd.
2.4 – 4-way junction: turn right onto Sooy Rd.
2.8 – Turn right to go up Bear Swamp Hill (it's a tiny hill). Lots of rhododendron.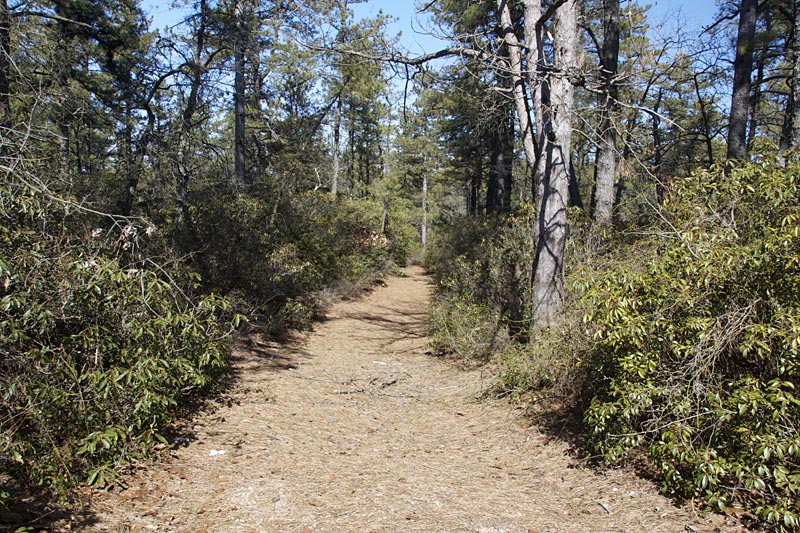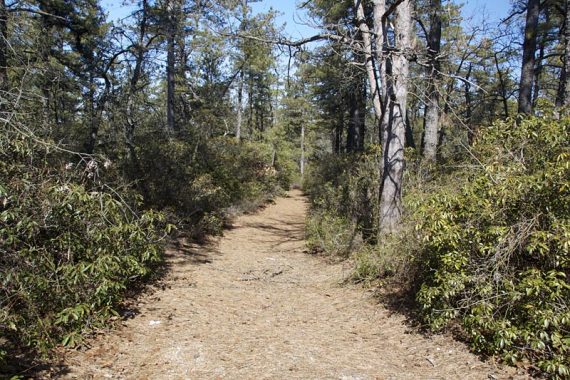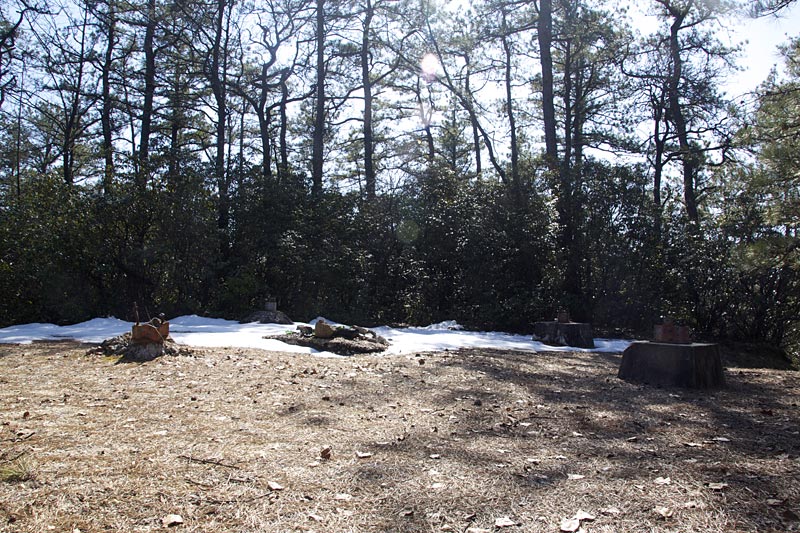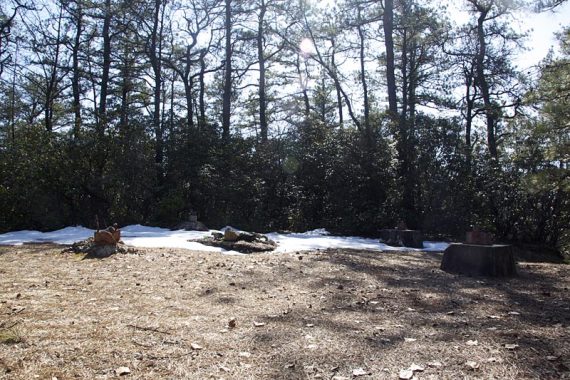 There are the old foundations of what used to be a fire tower, the remains of a bathroom, and a small parking lot.
The view from Bear Swamp Hill: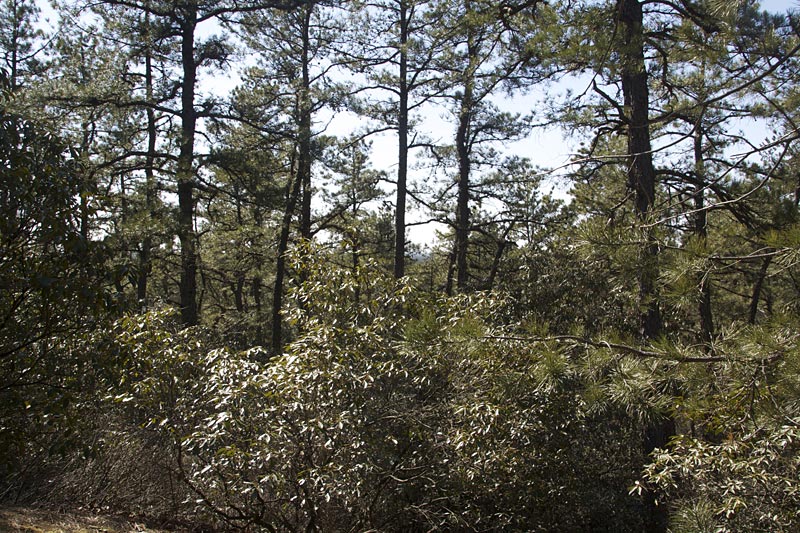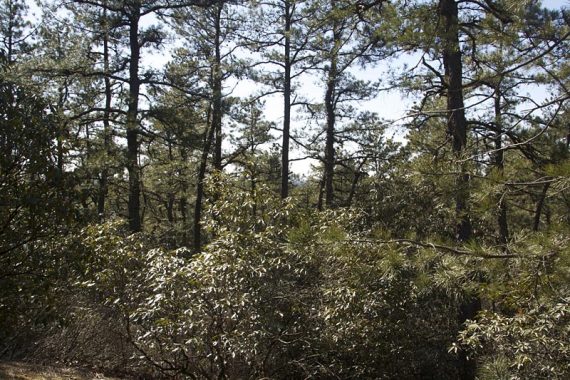 Retrace your steps back to the main road.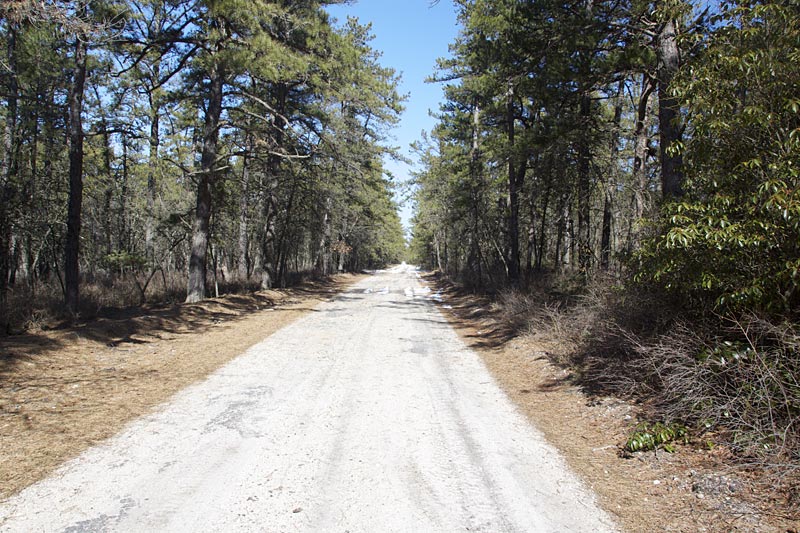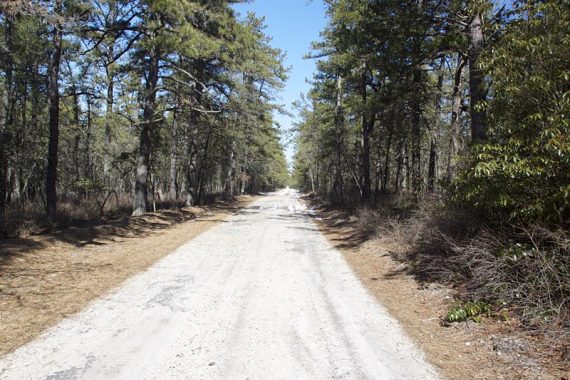 3.4 – 4-way junction: turn right onto Chatsworth.
3.6 – Turn left onto Stave and enter the Pine Plains (Stave is not marked on the park map, but was on our GPS mapset).
The pine start to gradually get shorter here.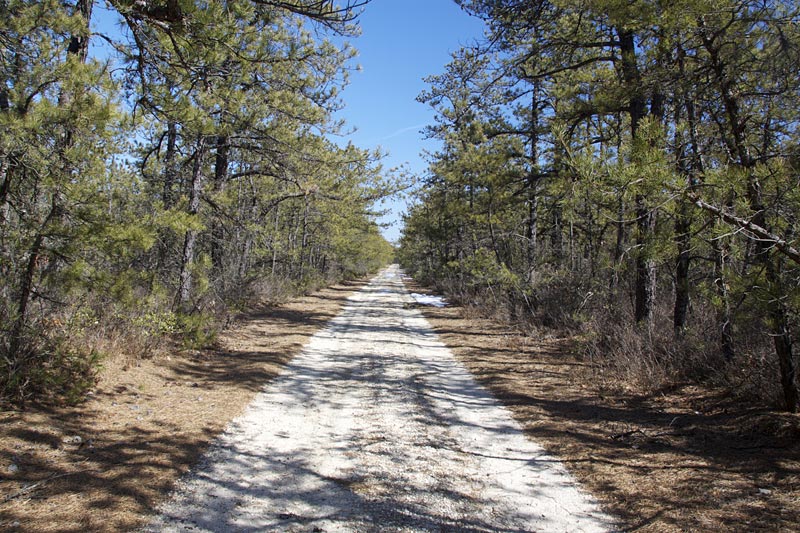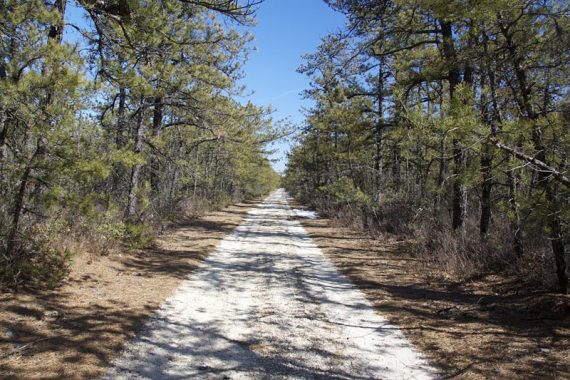 4.6 – Come to a triangle intersection and turn left onto Lost Lane. The pines get shorter still, but never enough that you can see over them.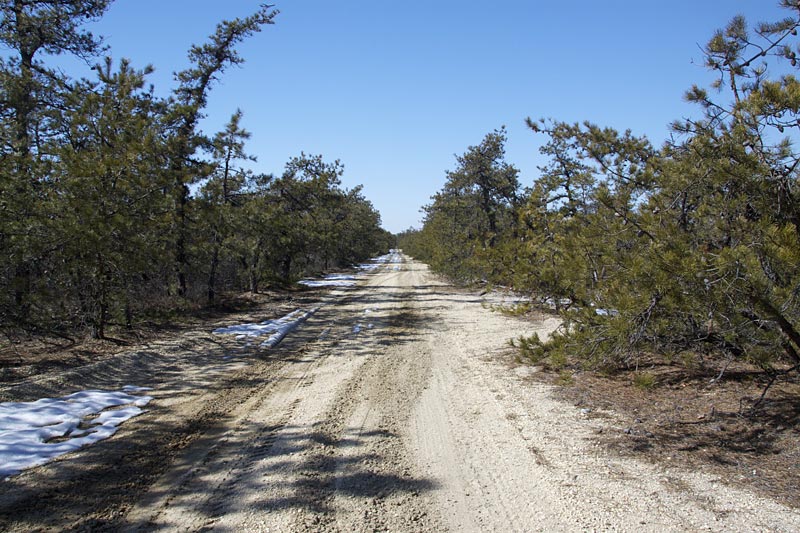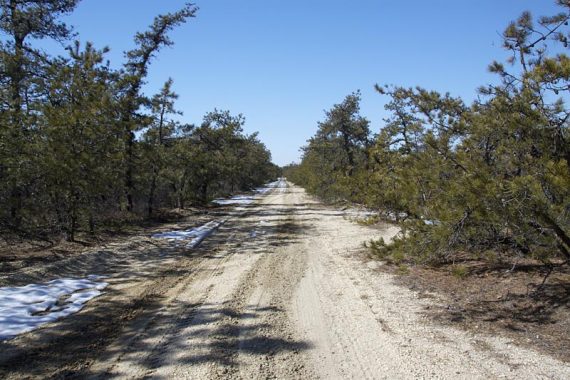 Further down, come to an open gravel pit where they may be vehicles parked.
5.6 – 4-way junction: continue straight on Lost Lane, and cross over Sooy Rd.
5.9 – Lost Lane turns left. Follow this all the way back to the parking lot.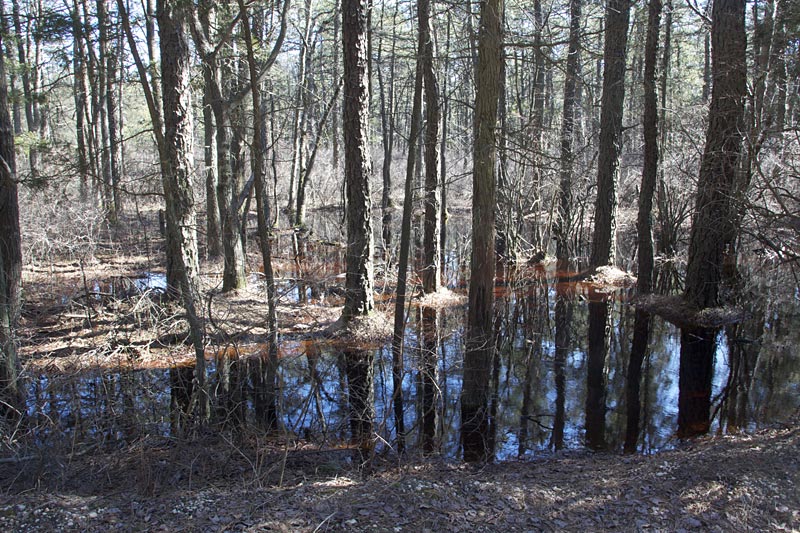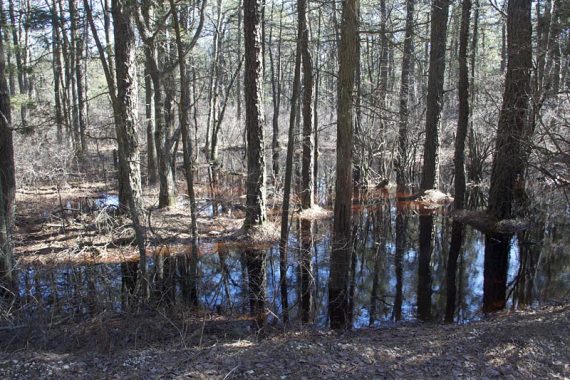 Cross over Chatsworth Rd. and later walk past an Atlantic White Cedar swamp.
—
Hiked: 3/7/10. Trail Blog: "Penn State Forest – Oswego Lake and the Pine Plains"