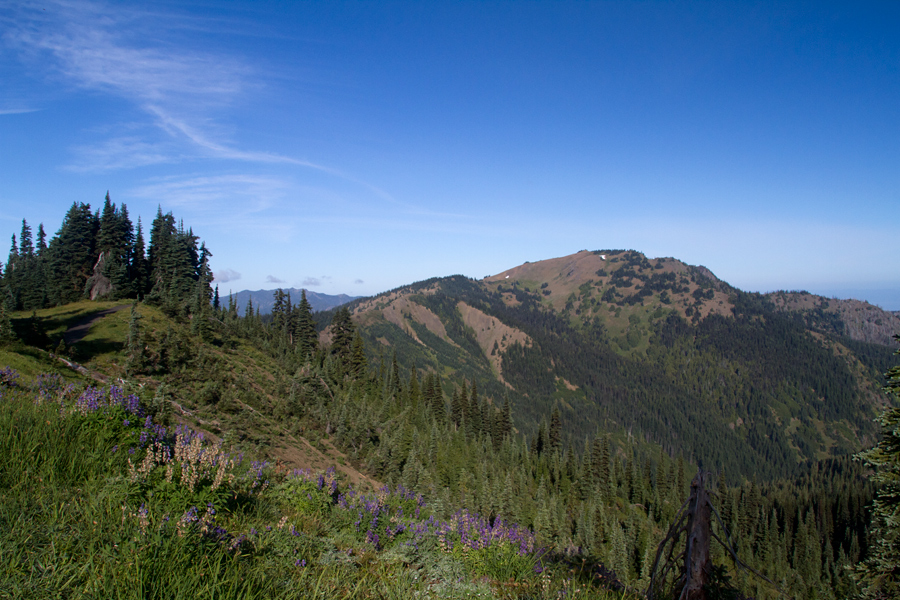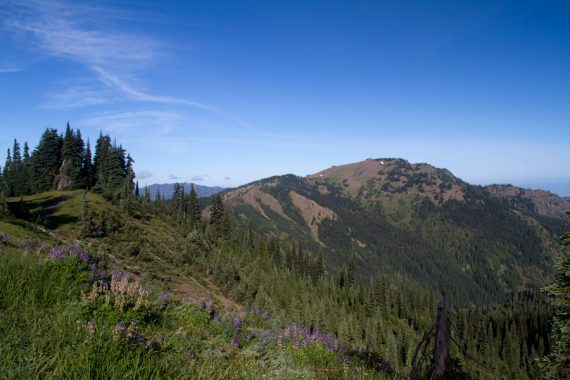 Hiking Olympic National Park in Washington.
Hurricane Ridge, Obstruction Point, Ozette Loop, Hoh River Trail, Second Beach, Rialto Beach hikes.
Olympic National Park has been on our trip list ever since I read an article about hiking it (probably in National Geographic Adventure – really miss that, was one of my favorite magazines).
We'd been looking forward to hiking the Hoh Rainforest, Hurricane Ridge, and – for something completely different – beach hiking among the sea stacks, tide pools, and giant driftwood.
Check out the rest of our On The Road hiking-focused travel series.
Olympic is a very large park with three distinct ecosystems that we wanted to check out. Unlike most national parks, Olympic has no roads crossing it and distances between areas can be far.
It's key to research the areas you wish to visit in order to base yourself well.
Washington is known for drizzly, overcast weather and we were prepared with our rain gear… but we ran into unusually sunny and unseasonably warm days. We only got rain on our last day.
Back home in NJ at this time, the state was getting soaked yet again and was dreary all week. We feel a little responsible for sending Washington weather over to Jersey that week… Sorry, folks!
The Area
We chose Port Angeles and Forks as our bases to minimize driving to trailheads. Port Angeles to explore Hurricane Ridge, and Forks for The Hoh Rainforest, Ozette Loop, and the beaches.
Total miles hiked: 45.15
The hikes:
Day 1 – Obstruction Point: Lillian Ridge to Grand Lake, return via Badger Valley.
Trailhead about 7 miles down a dirt road on the side of a cliff – would avoid it if it's raining.
Gorgeous alpine hiking reminded us of Glacier N.P. at first, then dropped down towards Grand Lake through a lovely forest.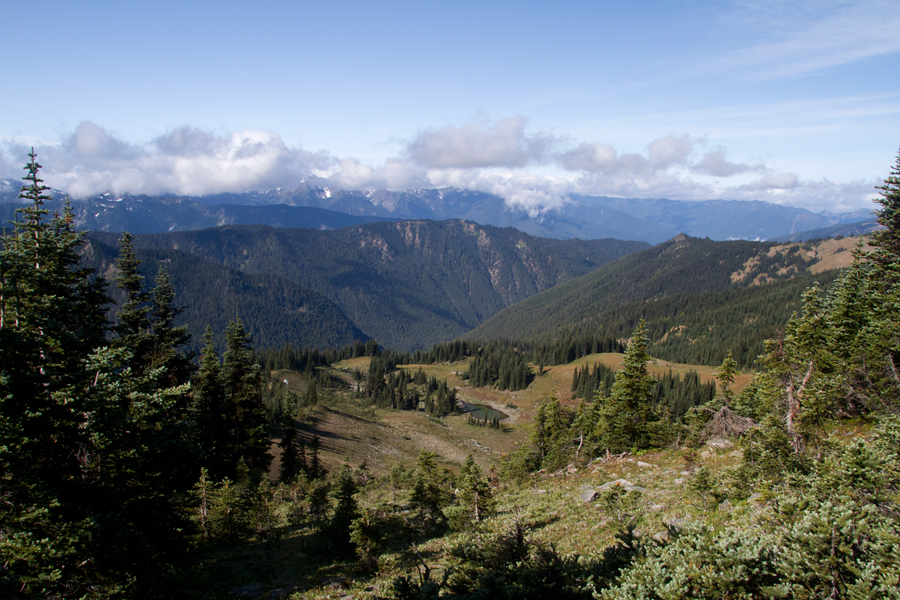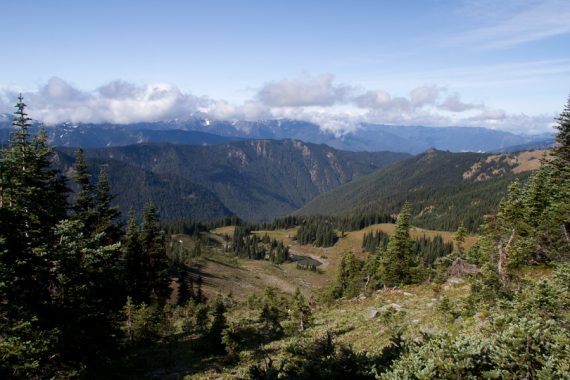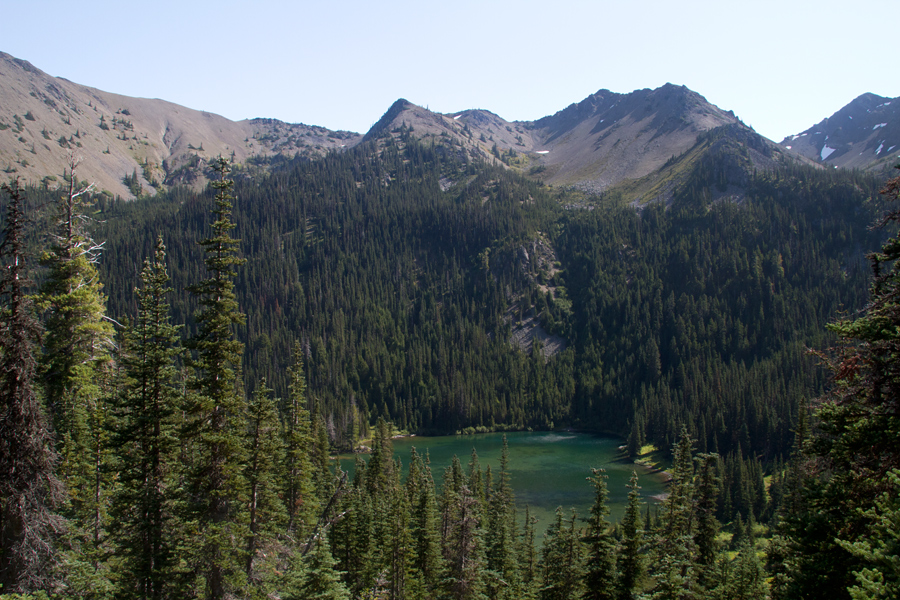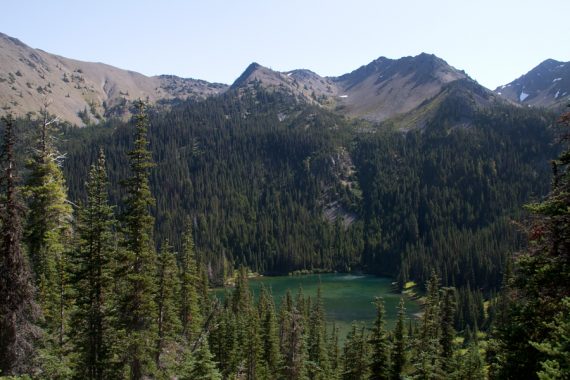 Had our snacks by Grand Lake before heading steeply back up through Badger Valley where an Olympic marmot popped out of his burrow and kindly posed for photos.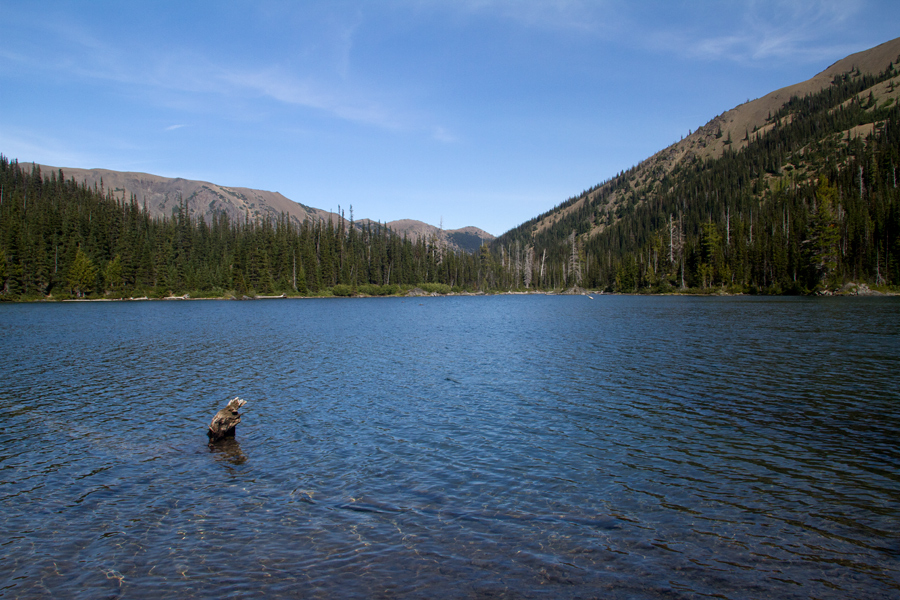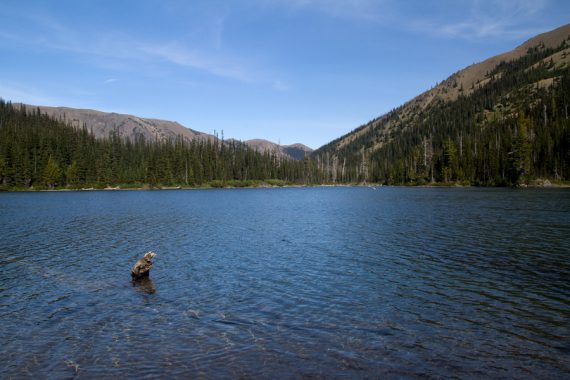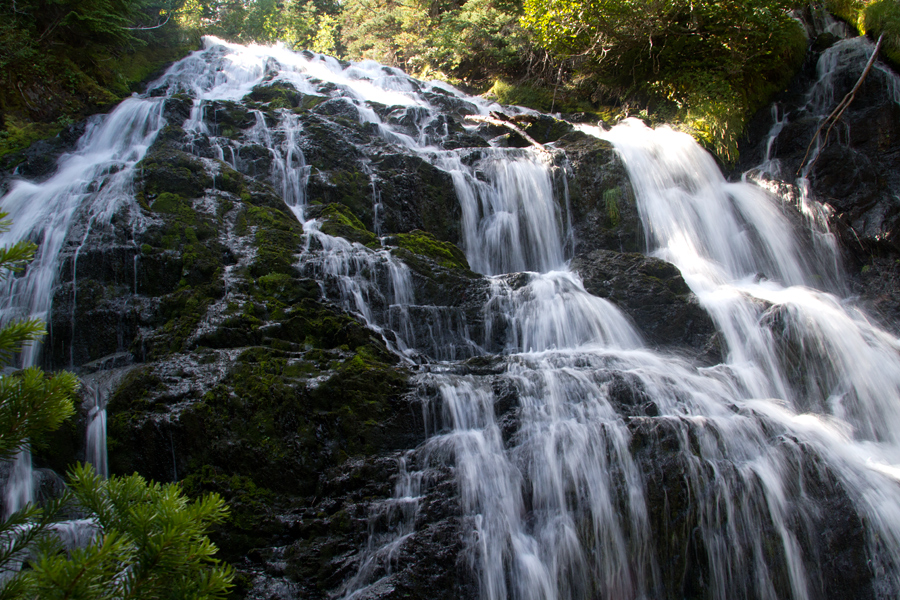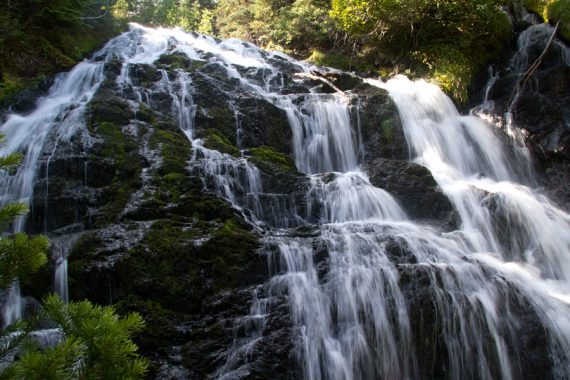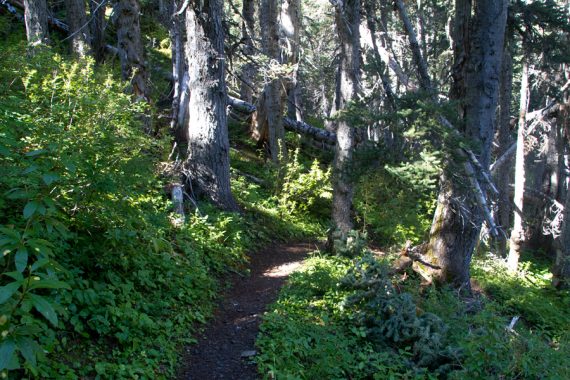 Olympic marmot in Badger Pass, and Black-tailed deer along Obstruction Point Road: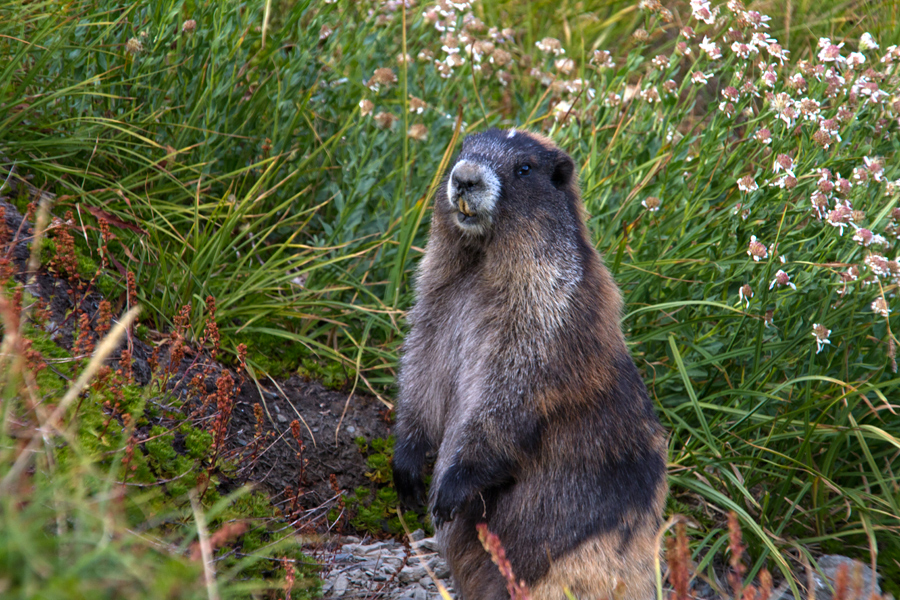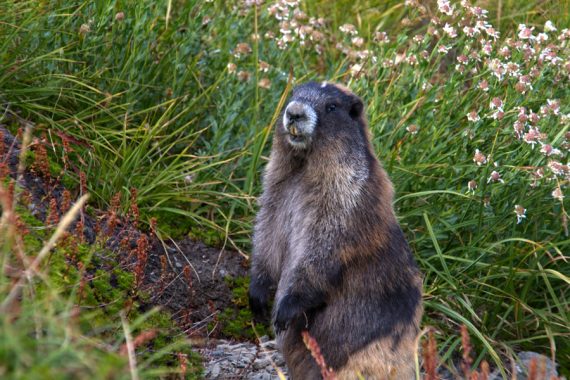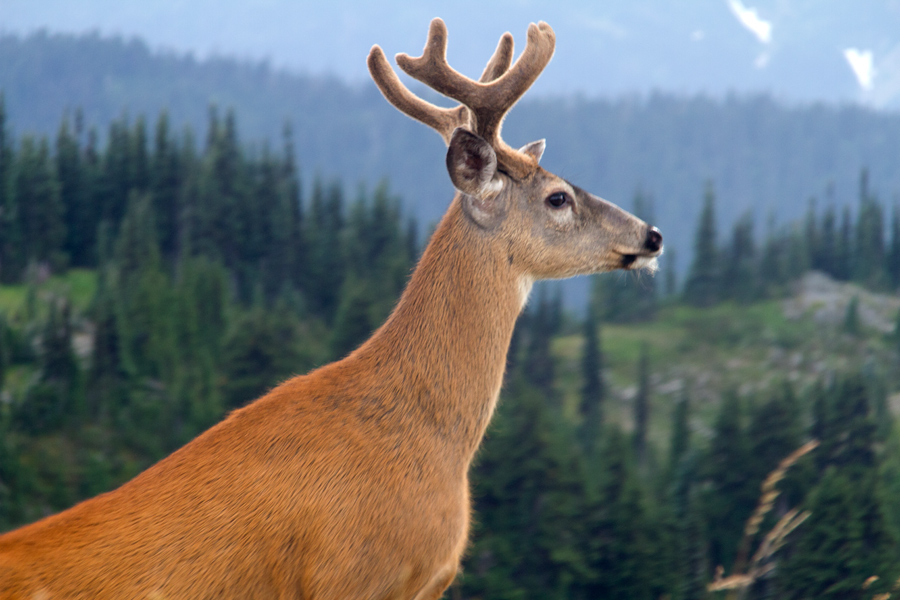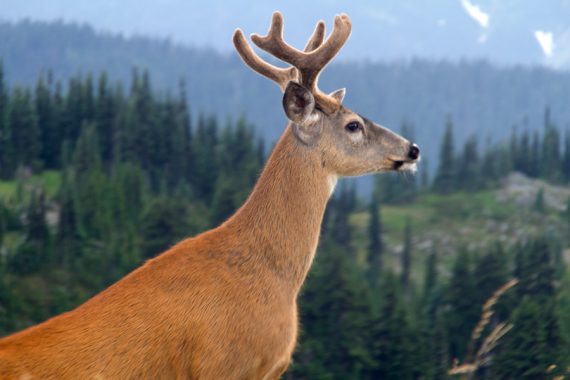 Miles: 9.0; about 2,000′ of elevation change each way.
Day 2 – Hurricane Ridge Cirque Rim Trail; Hurricane Hill.
Hiked the short trails near the visitor center then did Hurricane Hill. This winds steeply up to wonderful views of Hurricane Ridge, Port Angeles, Canada, and the Cascades on a clear day.
View of Hurricane Hill from Cirque Rim trail: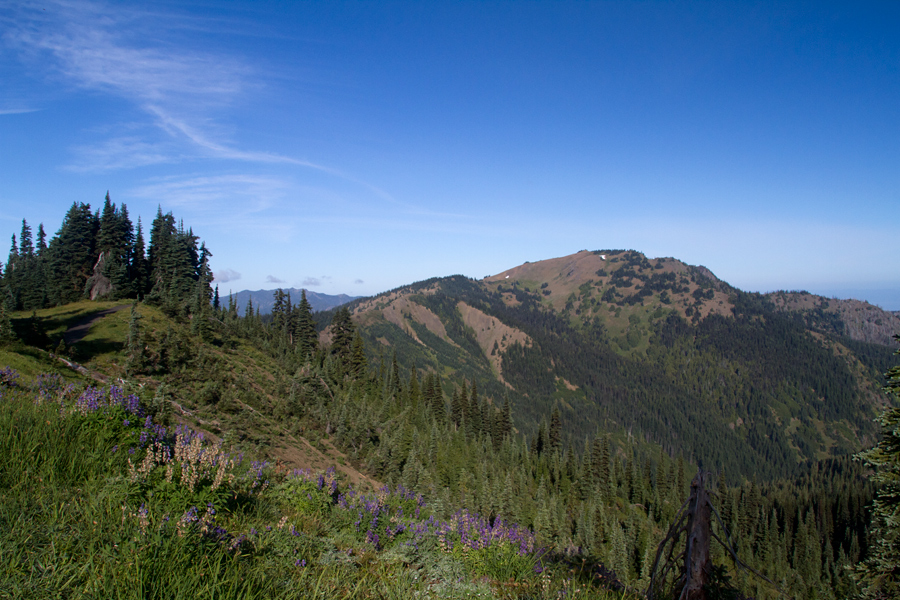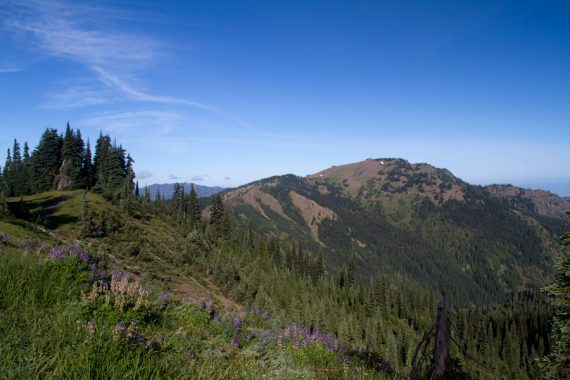 Crescent Lake: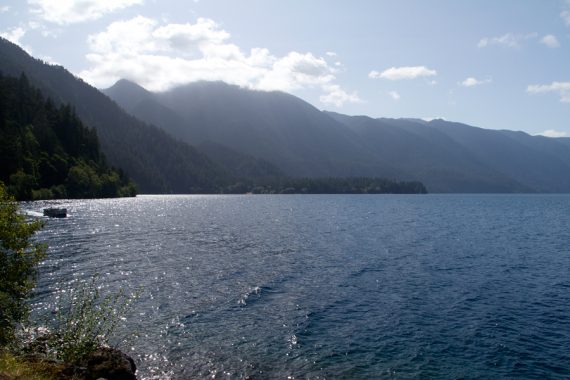 Also hiked to Marymere Falls and to Sol Duc Falls.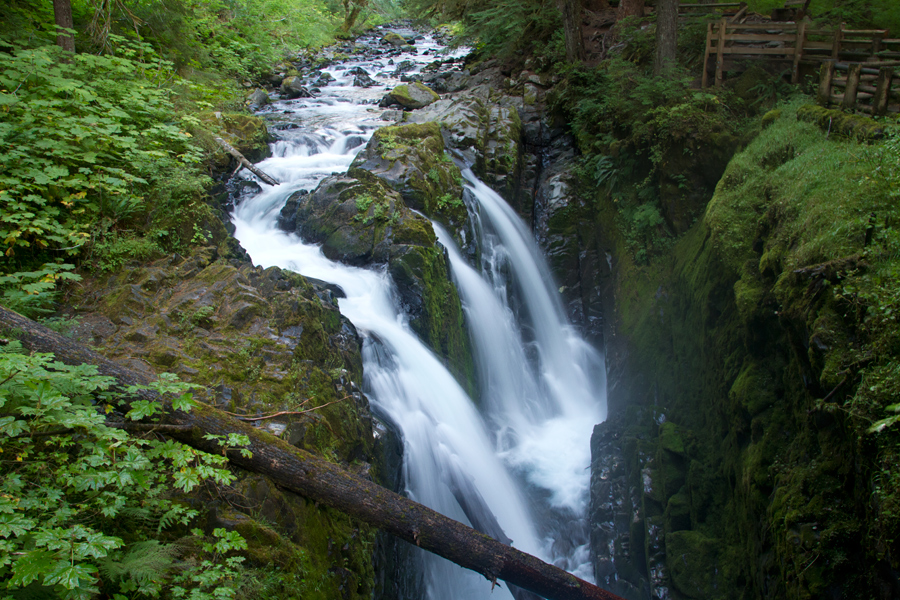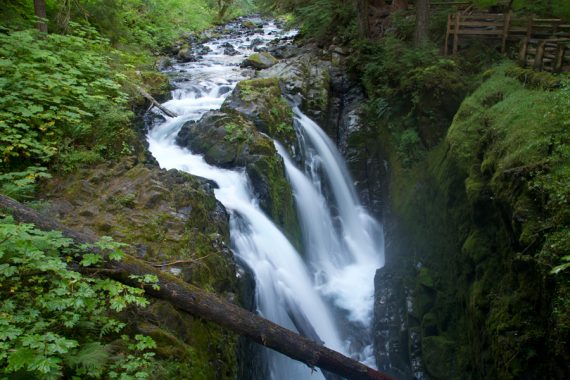 Miles total: 7.35
Day 3 – Ozette Loop.
Ranger Station to Cape Alava to Sand Point and back. Hike through lush forest on boardwalks then down the beach with views of sea stacks, and back through the forest.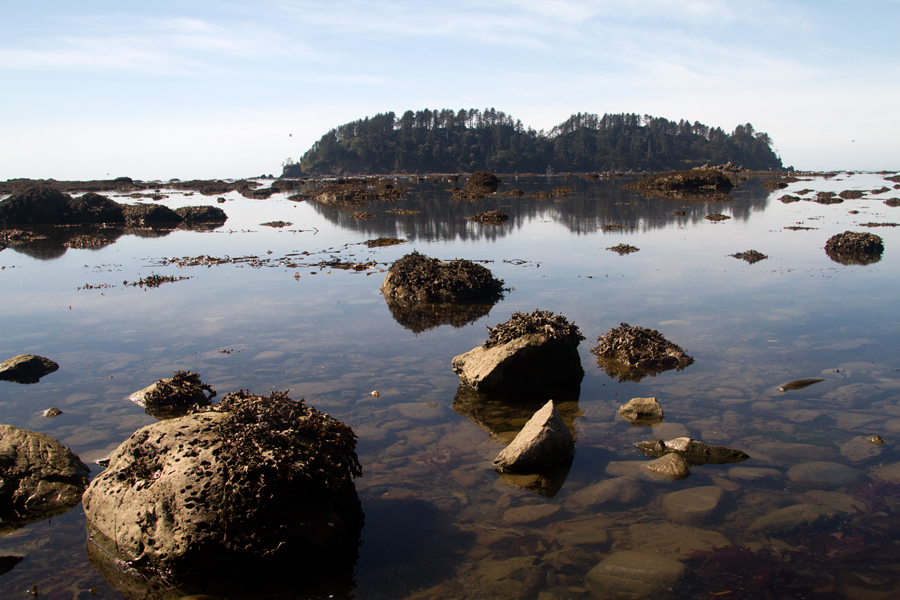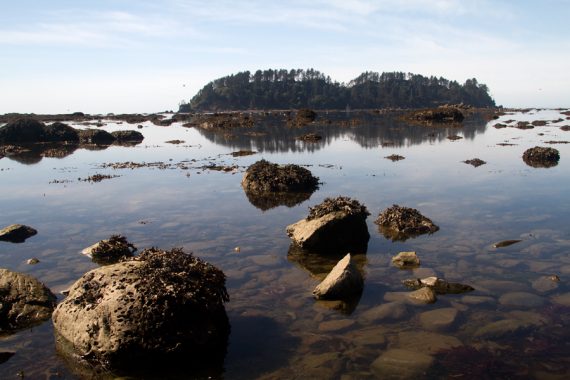 Check out tide pools, giant driftwood and Native American petroglyphs at Wedding Rocks. We spotted some seals offshore.
This was a new type of hiking for us and it was pretty cool.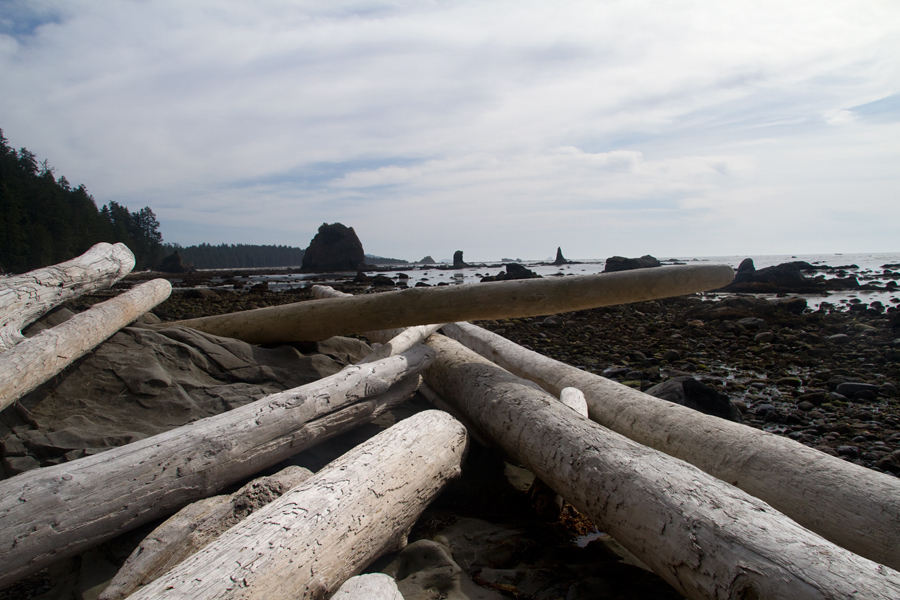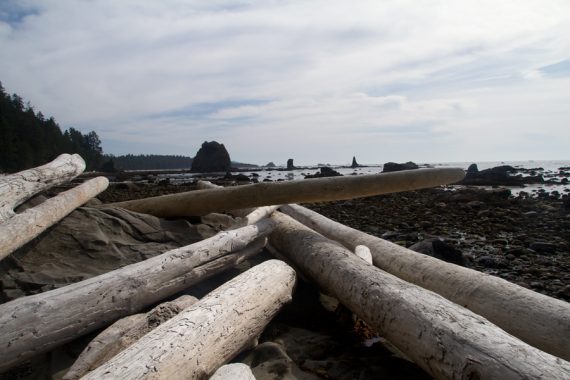 Note: Hiking boots not sandals for this. Hiking the beaches here requires checking tide tables and timing your hike accordingly.
Some beaches are inaccessible at high tide which require using the overland trails.
Tip: In deep sand, it was easier to walk from driftwood log to log – and a heck of a lot of fun.
Miles: 10.3 (most guides peg this hike at 9-9.5, but we wandered around the beach a lot).
Day 4 – Hoh River Trail.
The trail meanders through the Hoh Rainforest, along the milky blue-grey Hoh River.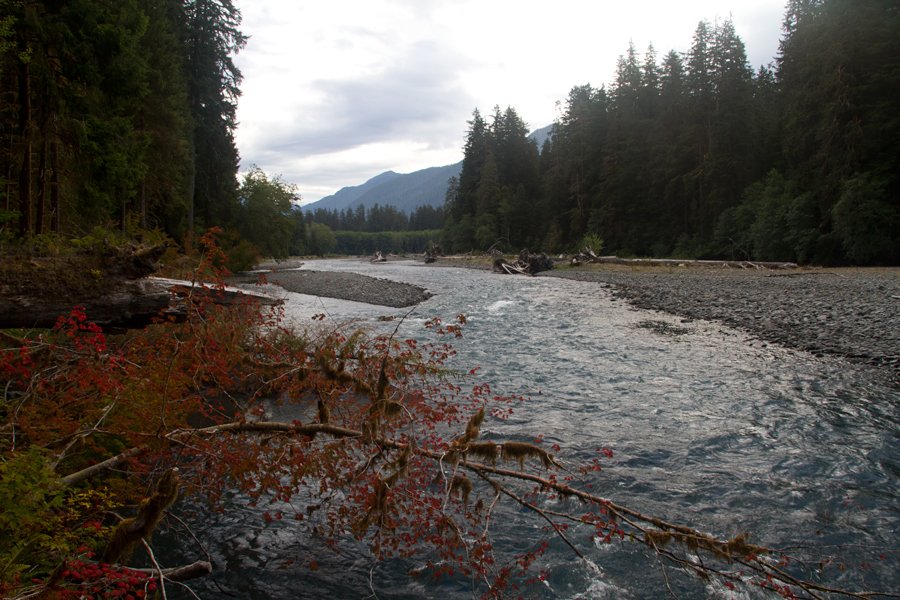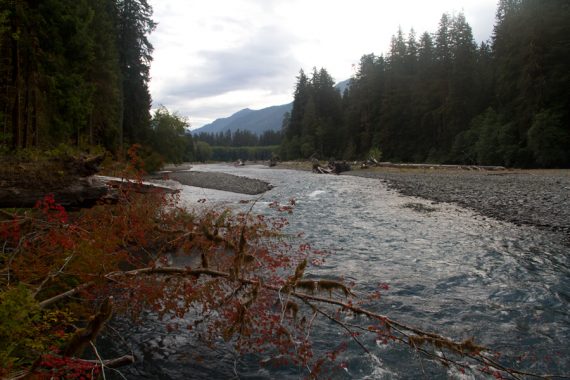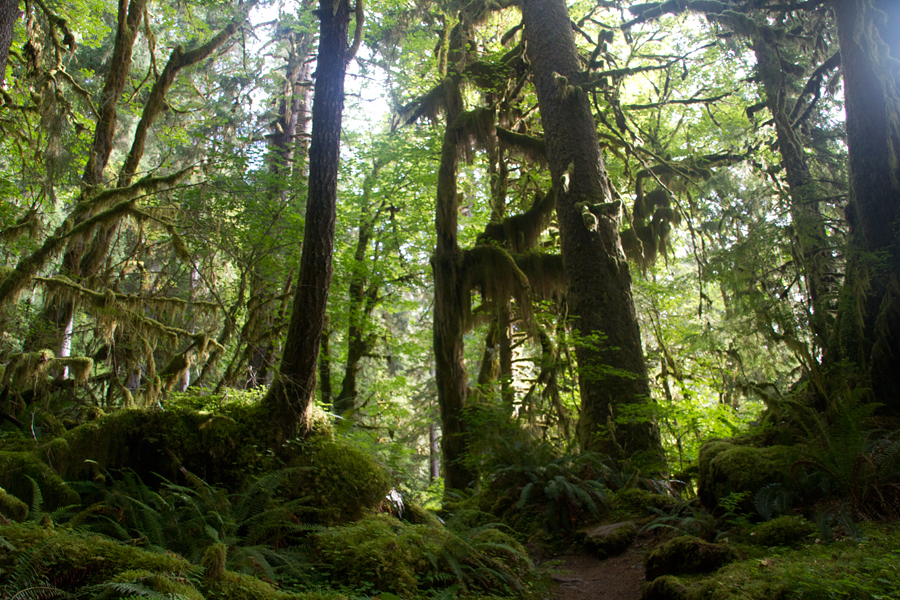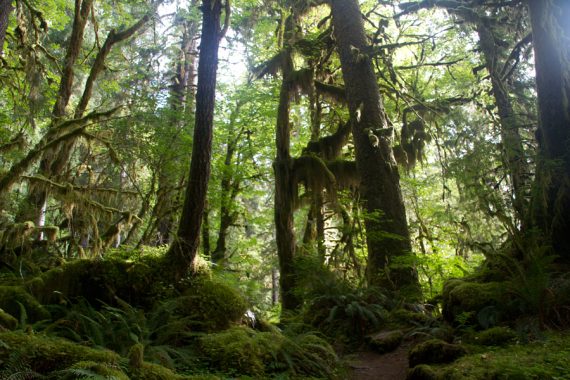 Dense, lush, green, moss covered everything. We spotted a male elk with his harem of females.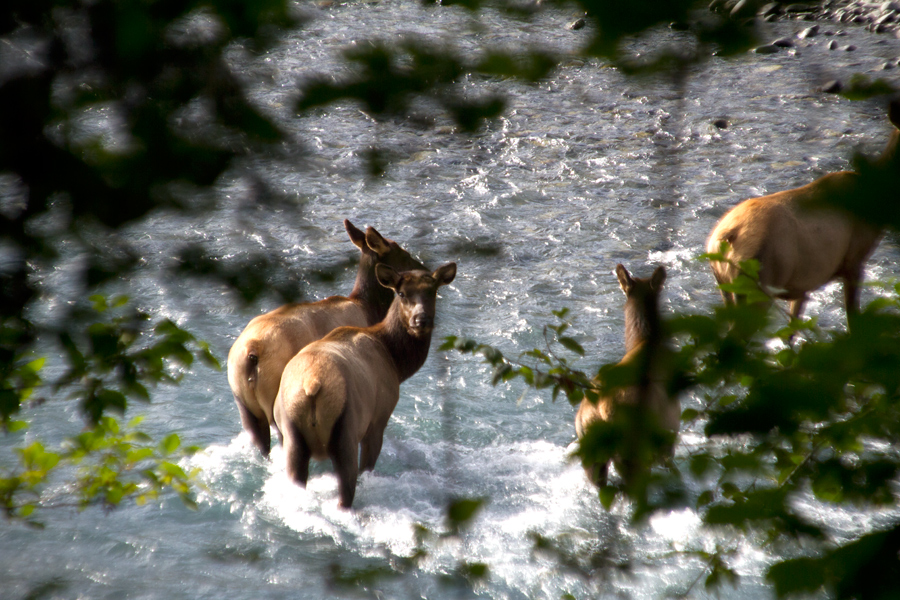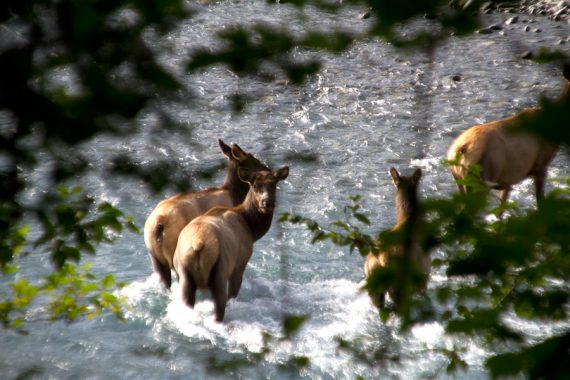 Miles: 16.5; out-and-back.
Day 5 – Rialto Beach, Second Beach.
We cut our Rialto beach hike to Hole in the Wall short as it finally rained. It was so foggy it was hard to see anything. Bummer.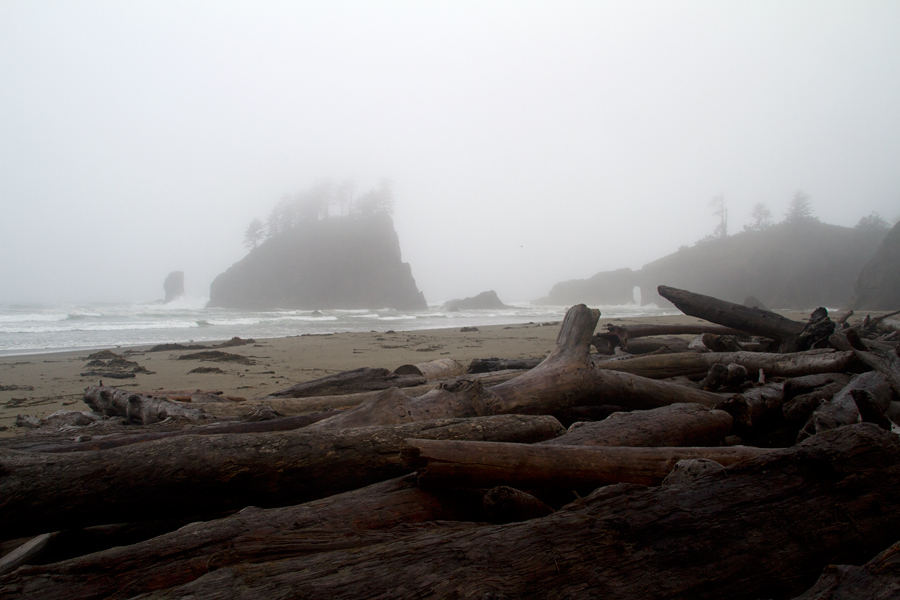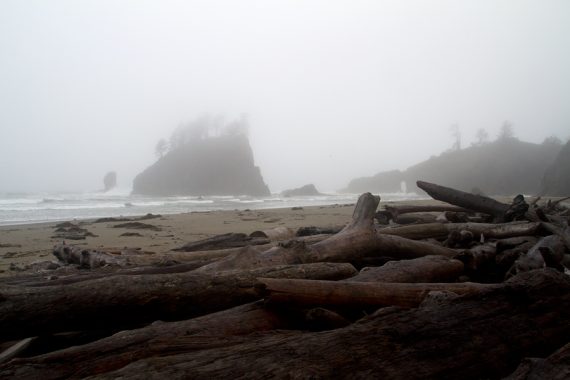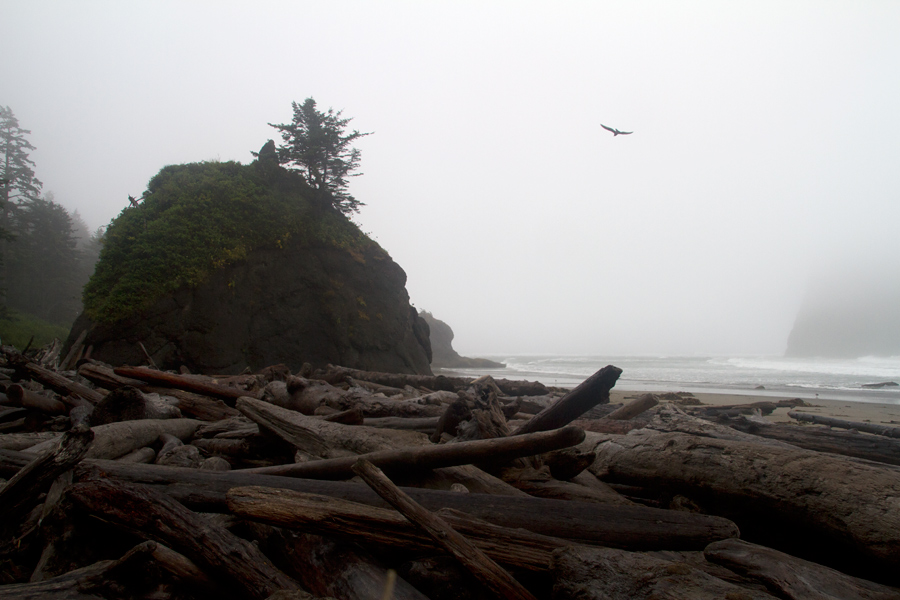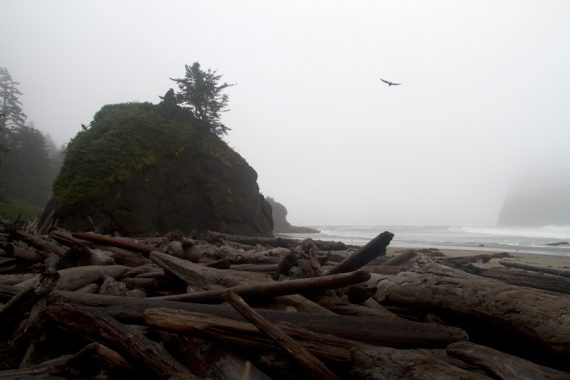 Miles total: 2.0; Ben & Jerry pints to console ourselves: 2.
Resources:
Note: All listings are our own purchases and research, no consideration was provided for any mentions.
Books: We used Hiking Olympic National Park
as it covers every trail in the park. If you tend to do short trails, you may want to consider Best Easy Day Hikes Olympic National Park
instead.
Other good options we considered: Day Hiking, Olympic Peninsula (Done in a Day)
and Day Hike! Olympic Peninsula
.
Map: Olympic National Park – Trails Illustrated
. Topo shows all the trails, visitor centers, headlands for beach hiking, even outhouses! This is a must-have, we always get a Trails Illustrated map for a trip.
App: National Park Maps HD – National Geographic Society – We found this iPad app really useful in planning this trip. In normal view, it shows the park map, when zoomed in it shows the Trails Illustrated topo.
Search for places and "pin" them. Olympic National Park is vast, so it was incredibly helpful in getting familiar with the areas and the hikes in them. There are 15 national parks in the app, $4.99.
New Gear: Garmin GPSMAP 62s. We recently upgraded our 10 yr old Garmin to the 62s. While we had been using it for our Jersey hikes, this was our first big trip with it.
It worked wonderfully even in thick rainforest cover, whereas our old 60cs was great but it lost satellites a lot. Easy to use and the response is very snappy. Very happy with the purchase so far.
Update, there is a newer version of this great unit, the GPSMAP 64s
Lodging/Food:
Port Angeles is the biggest "city" in the area, about 3 hours from Seattle. We took the Bainbridge Island ferry, which is the most direct route but it's also a relaxing and scenic 30 min trip with a view of Seattle.
The most lodging and food options are found in this area. We stayed at the Days Inn which was clean, and a good value/location.
Recommended:
Breakfast at Chestnut Cottage was delicious. They START you off with a freshly baked pastry and excellent French Roast coffee THEN bring out your meal. It was pricey ($38 for 2) but worth it… we weren't hungry till dinner.
Fiesta Jalisco – Decent Mexican food. It's always risky trying a cuisine so far removed from its origins but this was good. We had hiked all day and earned those Cadillac Margaritas, too.
Forks is a small town about an hour from Port Angeles. We rented a house via VRBO which was wonderful, highly recommend it.
Note: If you happen to use TripAdvisor for research (and we recommend that you do: Olympic Forum) the forum tends to make Forks sound awful, and overrun by Twilight merch and fans.
(The popular Twilight teen book series is set in Forks and the town has capitalized on that. We didn't find it bothersome in the slightest.)
It's not awful… it's a small, remote town that is a perfect base for hiking Olympic. They are correct in that the restaurant situation is not fantastic.
Food: Since we had a house with a kitchen, we were mostly buying groceries and making meals. We ate two meals out: breakfast was just bland, and dinner… oh man.
We love Mexican food whether it's authentic or Americanized, we aren't "foodies" at all… but this was just… oh it was really bad.
The refried beans were grey. Grey. All we could think of was Kitchen Nightmares and that Gordon Ramsey was going to walk out of the kitchen cursing about how gross it was.
We don't want to trash any businesses here, and both places were full of locals enjoying the food, so I won't name them.
Bonus: We enjoy cities as much as the outdoors, so our last day was spent in Seattle.
We'd been once, about fifteen years ago, and had done the Space Needle, Pike Place Market, Pioneer Square etc. but the Experience Music Project wasn't around then, so that was our first stop.
The current Nirvana exhibit runs through April 2013 and has lots of interesting pieces on display. The Avatar and Battlestar Galactica exhibits were good too. Recommended.
After heading up the Space Needle for some unusually sunny views of the city and Mt. Rainier, we walked to the Olympic Sculpture Park, before heading to Pike Place Market for something to eat.
Also… in Port Angeles, we had time on arrival day to walk around Webster's Woods Art Park and really enjoyed that.
It's a sculpture park with art nestled in a little wooded lot. Definitely worth a visit if that's your thing. [Update: Link to the Art Park is now broken, for their main site: www.pafac.org]