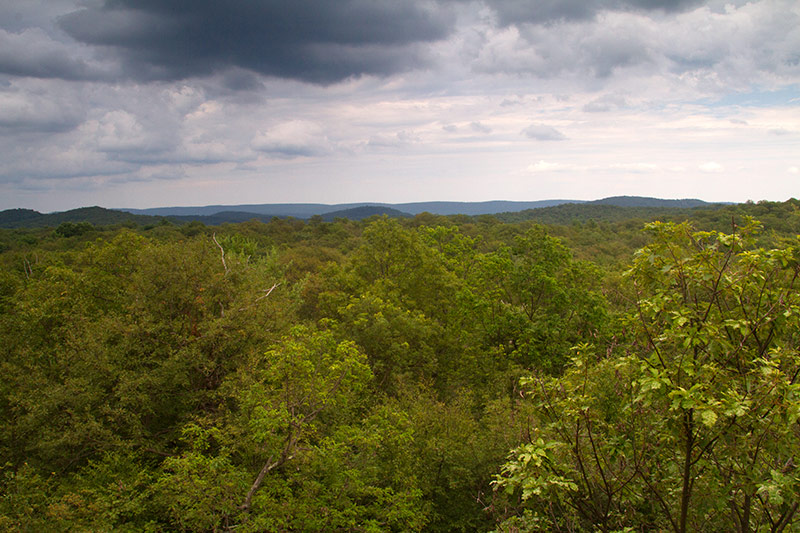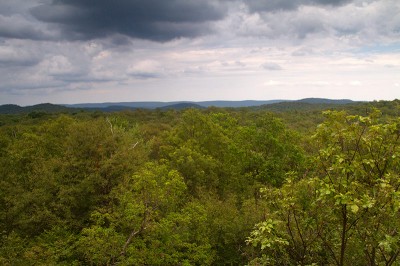 Complete hike details, photos, and video on our Lake Sonoma page.
We'd done this route just once, in March of 2010 ("Norvin Green – Lake Sonoma and Overlook Trails"). There were several expansive viewpoints so we wanted do it again when everything is in bloom.
Turns out there are a few less views with the leaves on the trees, but still very nice.
As we're driving down Burnt Meadow Road toward the trailhead, I go "wow, that's a pretty realistic lawn decoration of a – WAIT, THAT'S A REAL BEAR!!!!"
As we drove past the house we whipped our heads around to see a huge black bear in a front yard, nonchalantly sniffing around the porch.
Alrighty.
We were on bear alert a little more than normal but the rest of the day passed uneventfully without making any new bear "friends".
The highlights of this route are Overlook Rock and Lake Sonoma. A shorter, 4-mile loop of just those two areas is now in 50 Hikes in New Jersey (at Overlook Rock we actually spotted a family toting that book on the trail).
Panorama from Overlook Rock and a view of Lake Sonoma (we had to scramble down a hill a tad for that one… the trail kinda just skirts the lake otherwise):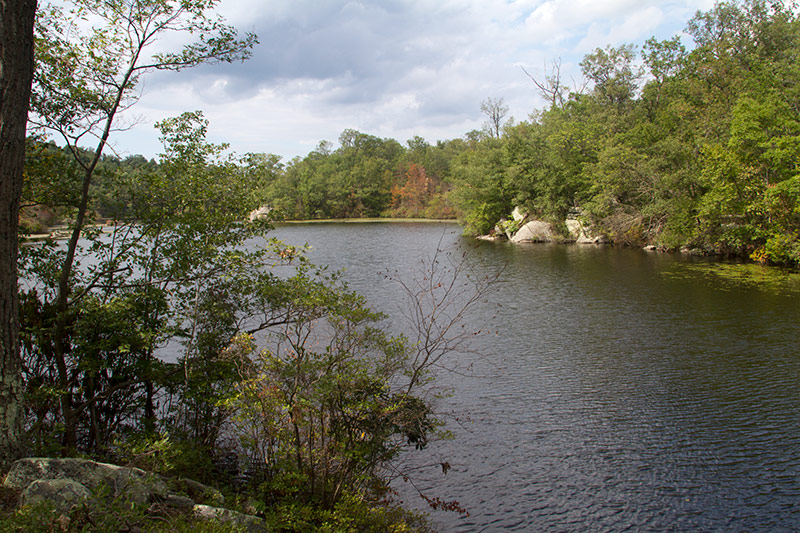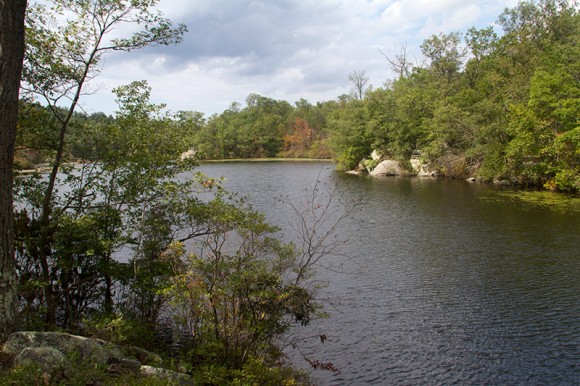 In addition to the decent views, there are some typical Jersey trail "features" like power lines and abandoned cars – it's just not a Jersey trail without at least one rusted out car and this trail boasts several.
And on a brief turn down a woods road, we got a chuckle that someone had laid out an old t-shirt they found so that the design was visible. Ah Jersey, the amusing things you find in the woods.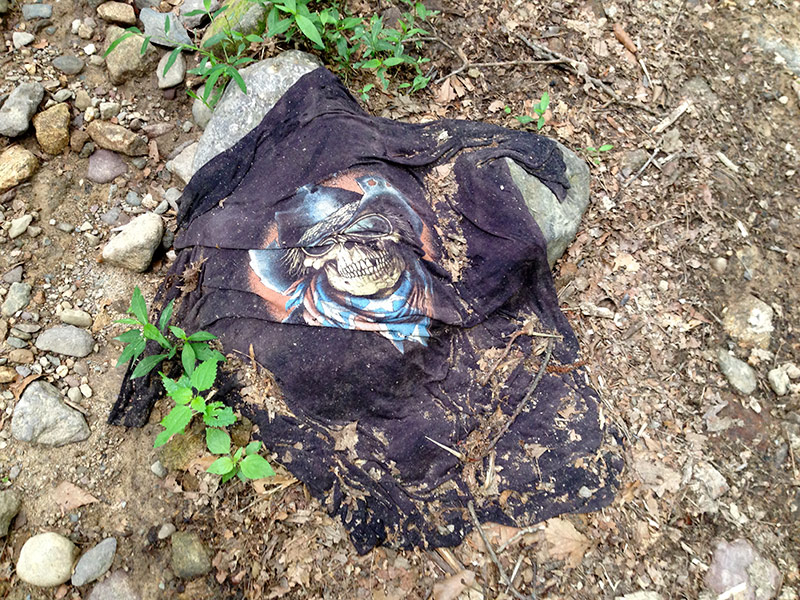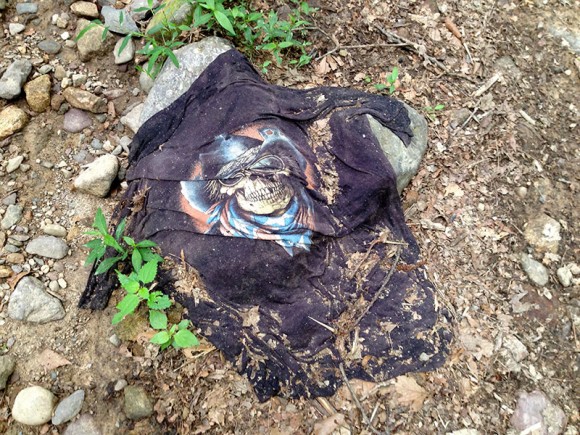 Bonus… blueberry bushes are prevalent along the Lake Sonoma trail but, alas, they weren't quite ready yet.
A note on driving Burnt Meadow road: Last time the drive to the trailhead was bumpy but doable in Hikemobile I (our beloved and faithful but low clearance hatchback).
Now the road has now eroded badly in at least one area, so that the parking area is after a rather dicey section of rocks and ruts on a slight incline.
We didn't think anything of it on the way down with Hikemobile II (AWD compact SUV w/high-ish clearance) but as we approached it on the return we had a tense moment of "ohhhhh what did we get ourselves into now" and "are we going to toast the car?".
It turned out to be fine and our vehicle probably can handle way more than we realize, but just a heads up that the parking pullout for this is not reachable with low-clearance or non-AWD cars (in our opinion). However, this hike could be started at another parking area earlier on Burnt Meadow road, and start the loop from there. (Noted in the hike description.).