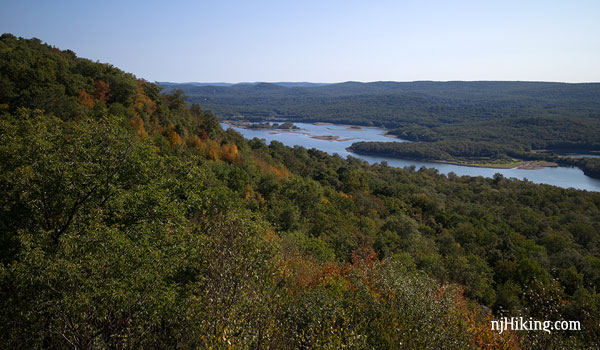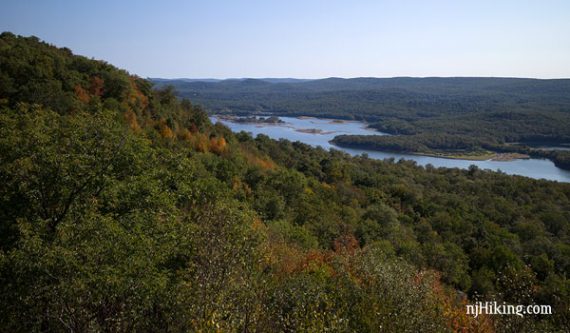 Climb and descend five mountains – Little Windbeam, Windbeam, Bear, Board, and Harrison – while enjoying views of the Wanaque and Monksville Reservoirs.
10.6 miles; challenging. Some scrambling, minor rock hops over streams.
Shorter: Do an out-and-back instead, turning around after the first, second, or 3rd mountain… you'll still get a serious workout and excellent views. Or do a two-car shuttle.
Hike Info:
Our two cents:
This is a challenging loop with outstanding views – and this hike makes you work for them.
While these mountains certainly aren't tall, they will seem like it as you go up and down, repeatedly.
Updated 7/2020 – Page refreshed, not re-hiked. 4/2018 – Re-hiked; added photos; minor updates to description, GPX, Interactive Map.
12/2015 – Updated the description to move the start of the hike to the Stonetown Rec center. GPX and Interactive Map also updated.
Map:
North Jersey Trails map #115.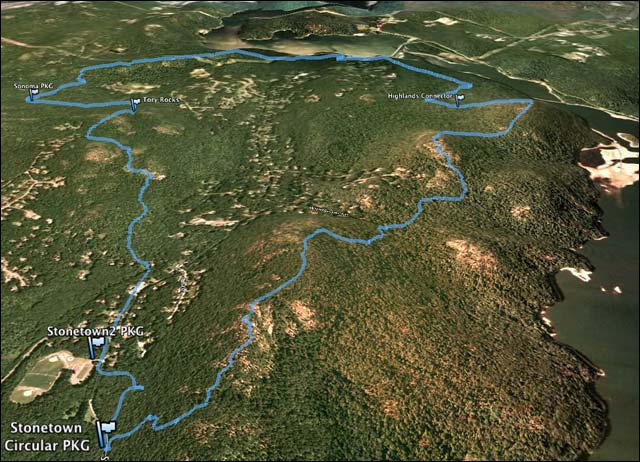 Stonetown Recreation center. Rt 287 to exit 55, take 511 N (Wanaque), continue through Wanaque for several miles.
Make a left onto West Brook Rd. Continue across Reservoir. At the T-intersection, make a right onto Stonetown Rd.
Turn left into the Stonetown Recreation center (Mary Roth Dr.). Park in the lot, then walk back out to the road.
Look for the markers (RED TRIANGLE on WHITE) across the street; little tough to see.
Restrooms:
Rt 511 has gas stations, Quik Chek etc. Stonetown Rec. center may have bathrooms by the fields but unsure or when they are open.
Books:
Appears in Take a Hike New York City and a 2-car shuttle hike is described in Hiking the Jersey Highlands ("Windbeam Mtn Through Hike"), that takes in the first part of this hike and uses the Highlands connector trail to a 2nd parking lot.
Hike Directions:
The entire loop follows RED TRIANGLE on WHITE (Stonetown Circular). The trail is clearly marked on the entire trail, but there are some woods roads in the area, so just watch for markers.
0.0 – Walk out of the Stonetown Rec. parking area via the driveway. Look up at the mountain and you might spot a flag pole… you'll be up there in a bit.
Cross the street and head to the right, trail markers are near the guard rail. The trail parallels the road for a bit before heading away.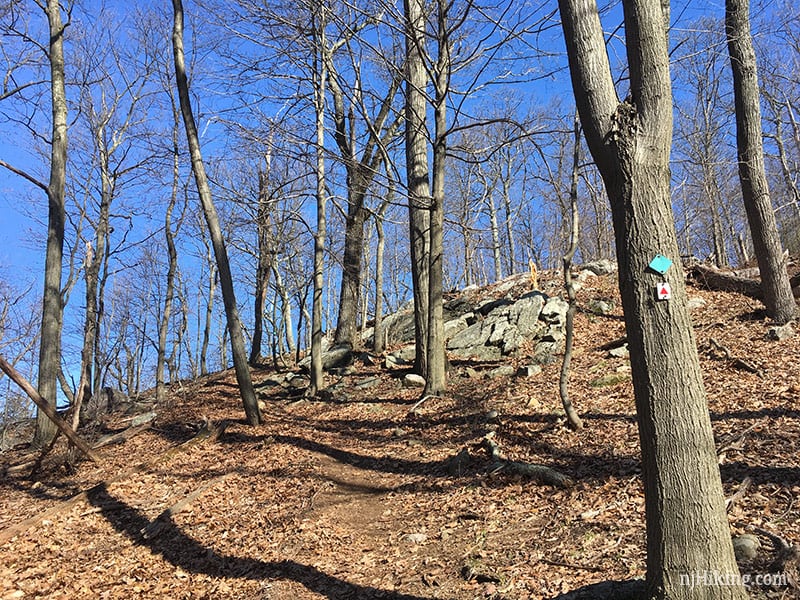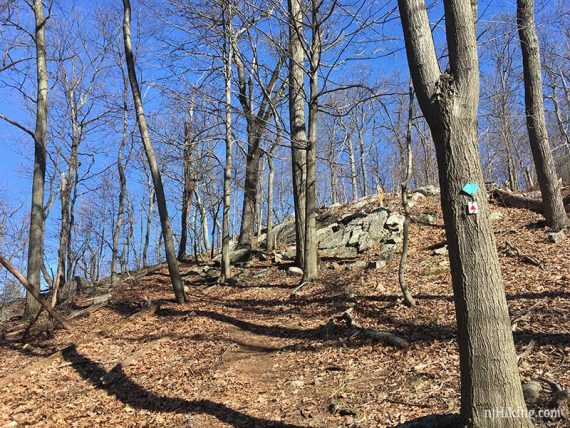 0.7 – Meet up with the Highlands Trail. This trail is co-aligned with RED TRIANGLE on WHITE (Stonetown Circular) until it leaves on Harrison Mtn, so you will see TEAL DIAMONDS along the route as well.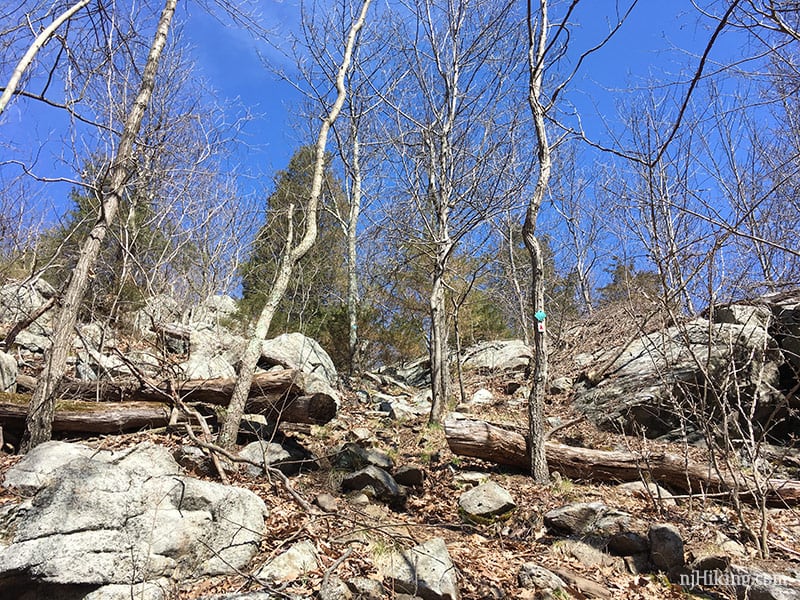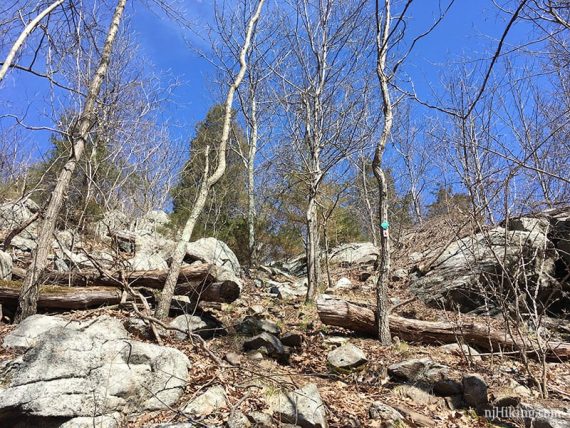 Turn LEFT to continue on RED TRIANGLE on WHITE (Stonetown Circular) and head up a steep, rocky climb.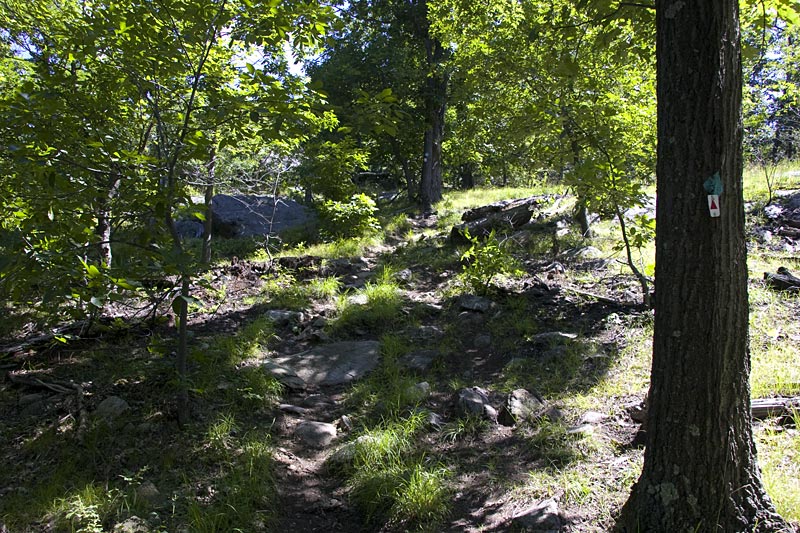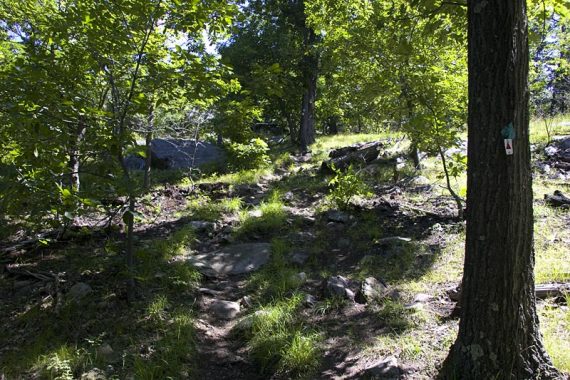 0.9 – Limited view from the summit of Little Windbeam Mtn.
1.2 – The first of many viewpoints on the way to Windbeam Mtn. – so many that we did not mark all of them in the GPS data.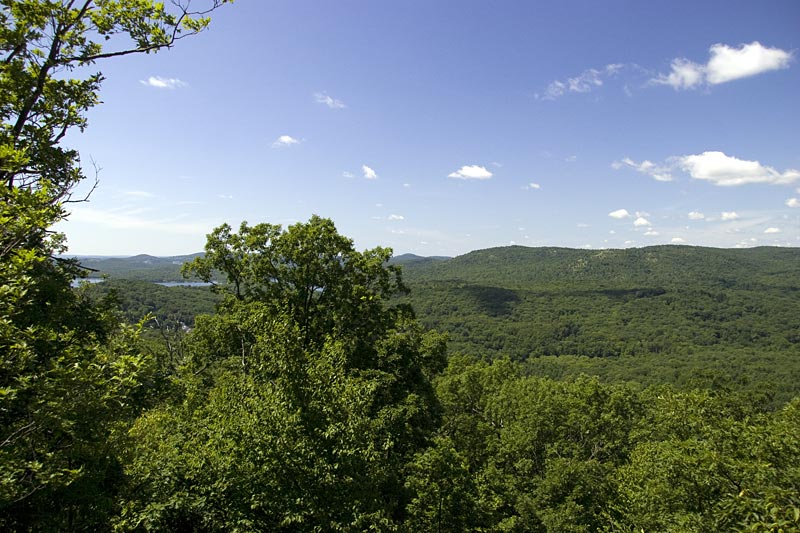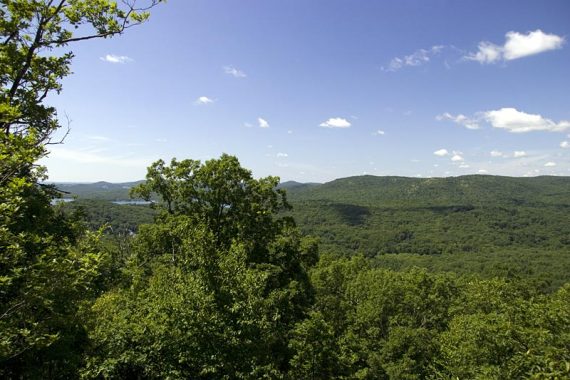 Views of Wanaque Reservoir. The NYC Skyline may be visible in the distance from Windbeam Mtn.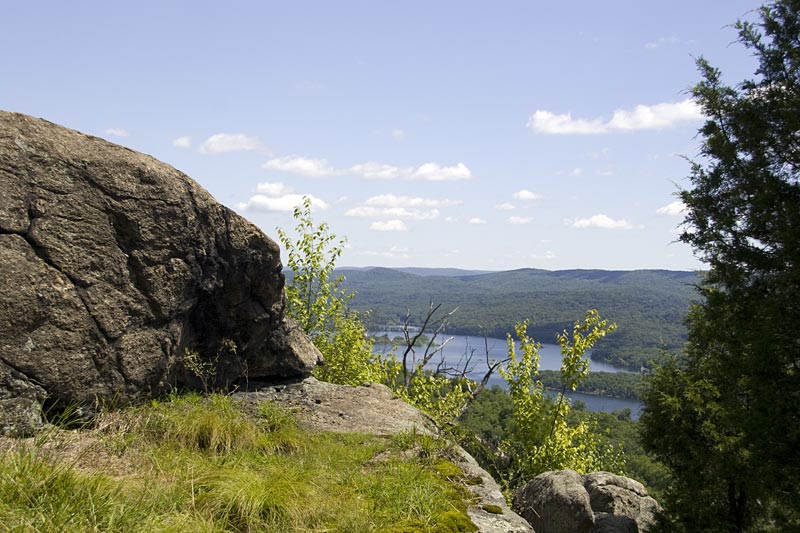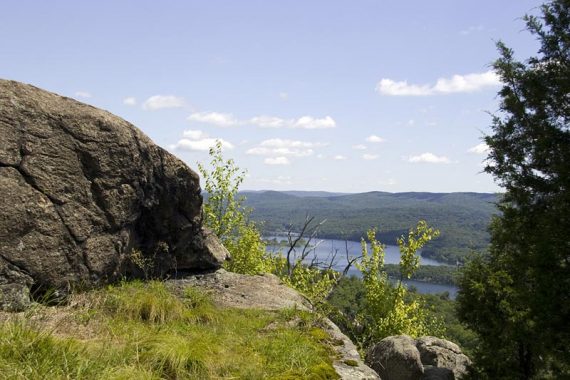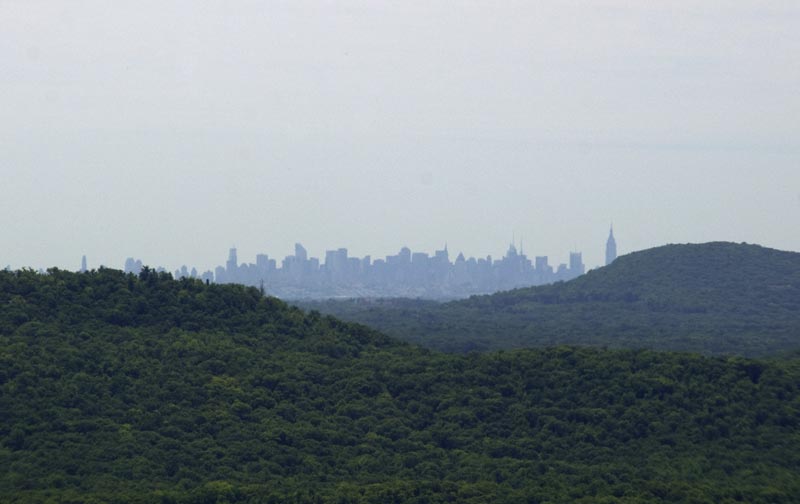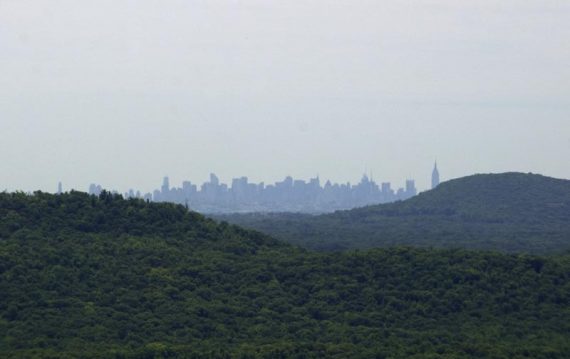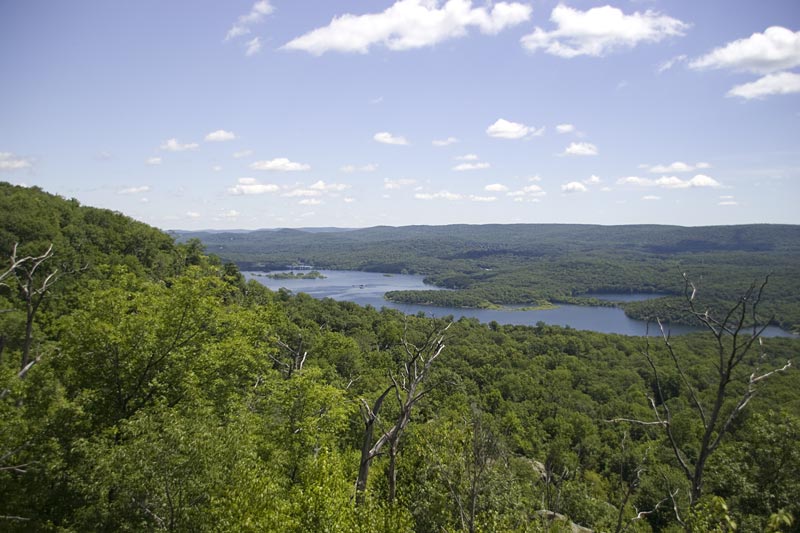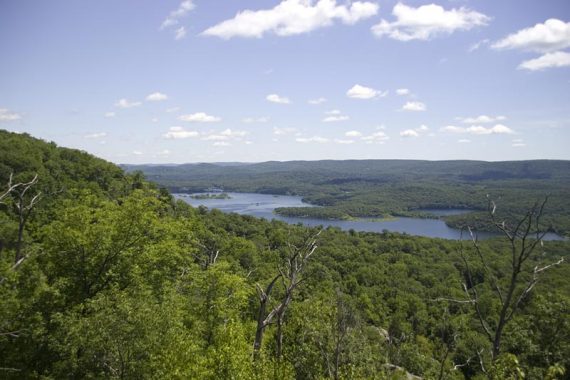 View to the west – Stonetown Rec fields and a rock quarry.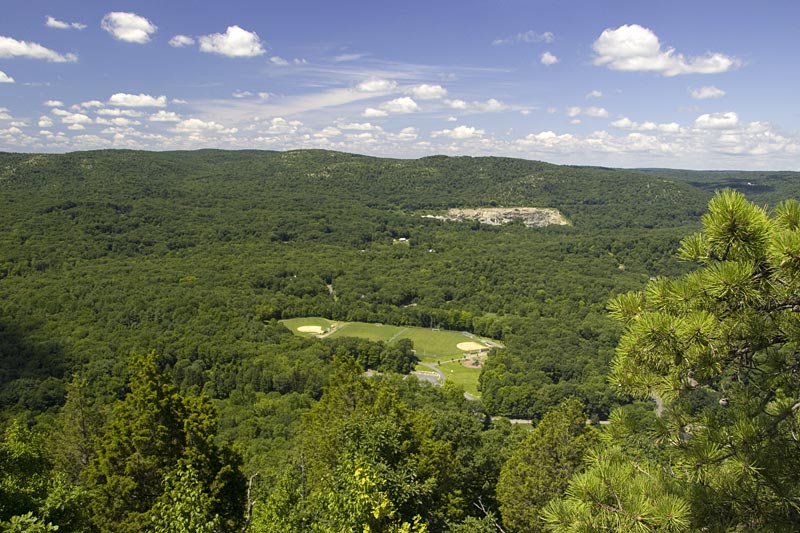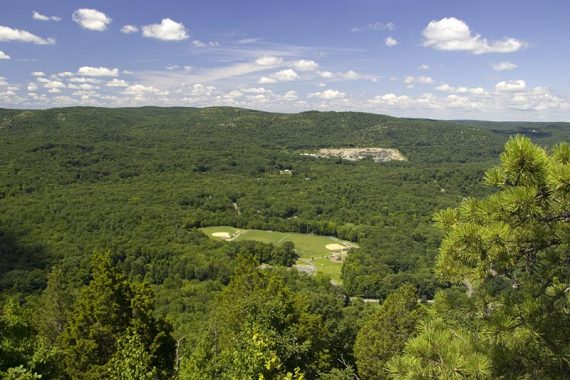 1.6 – Summit of Windbeam Mtn. – tree covered with no views. [Unmarked trail veers left, not on the trail map].
Start to descend, steeply. A house may come into view through the trees, off to the left.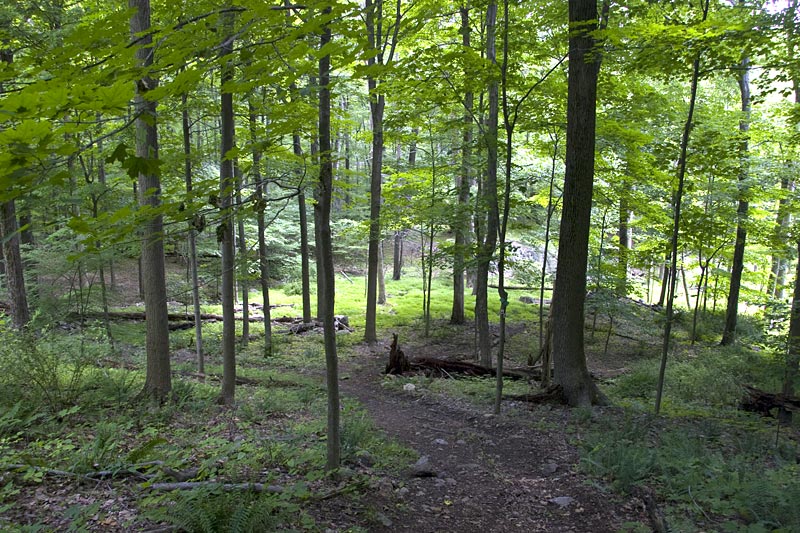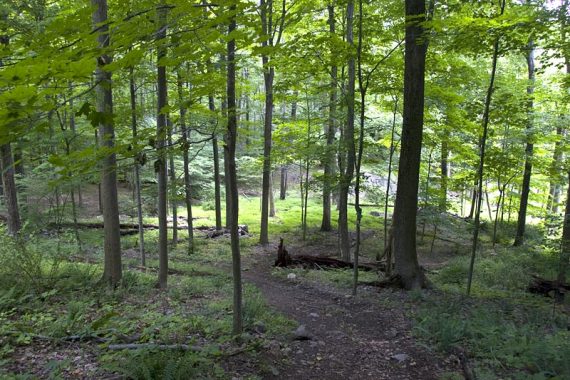 2.3 – Cross a woods road before heading up Bear Mountain. Steep and rocky again.
2.8 – Viewpoint on the left.
2.9 – About a 180 degree view from a rock slab on top of Bear Mountain.
The mountain you just came from, Windbeam, is visible across the way, as well as views of Wanaque Reservoir.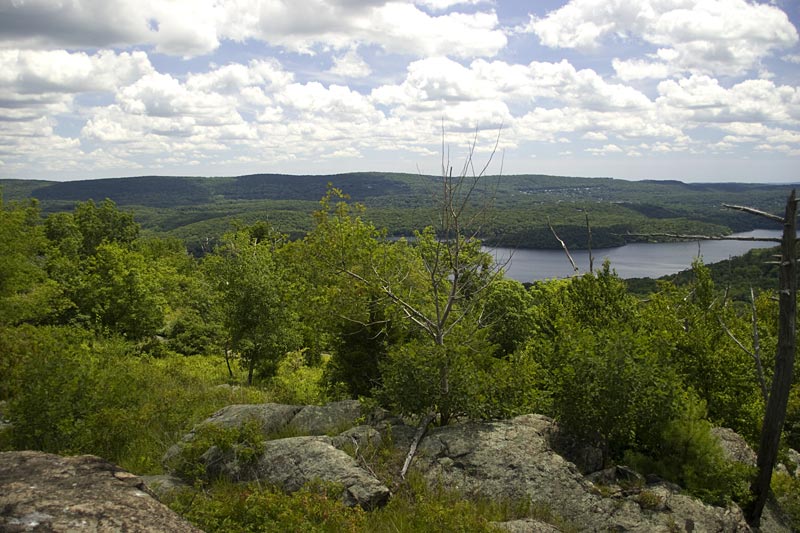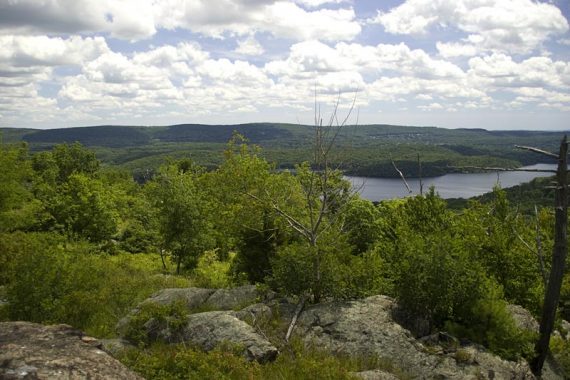 3.3 – Cross a prominent woods road. Head steeply uphill… again.
3.8 – Board Mountain. Views of Monksville Reservoir and a nice break spot.
///Option: Turn around and retrace the route for a tough 7.6 out-and-back.
Monksville Dam and Reservoir, seen from Board Mountain: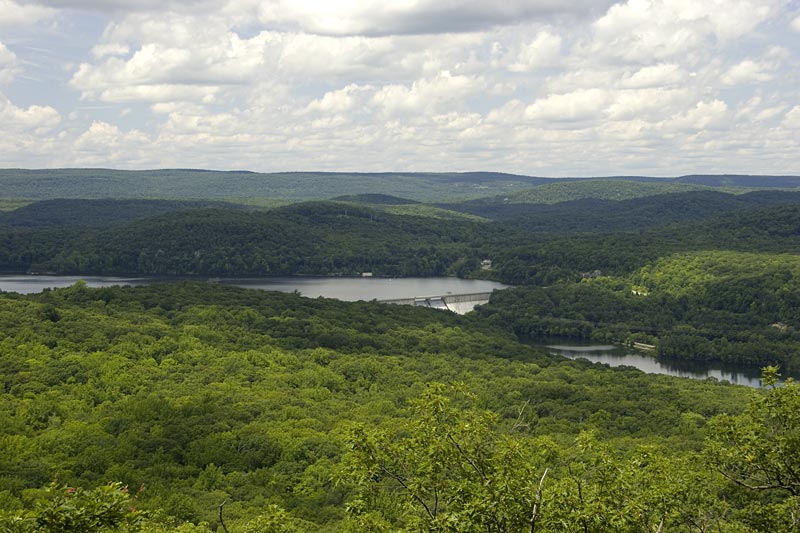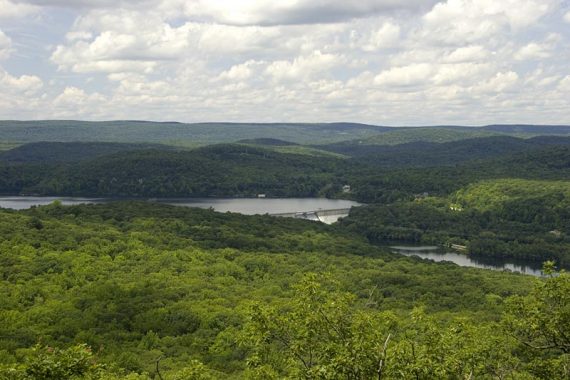 RED TRIANGLE on WHITE (Stonetown Circular) turns LEFT sharply and descends steeply over loose rocks, before leveling out. Two easy rock-hops over stream/wet area.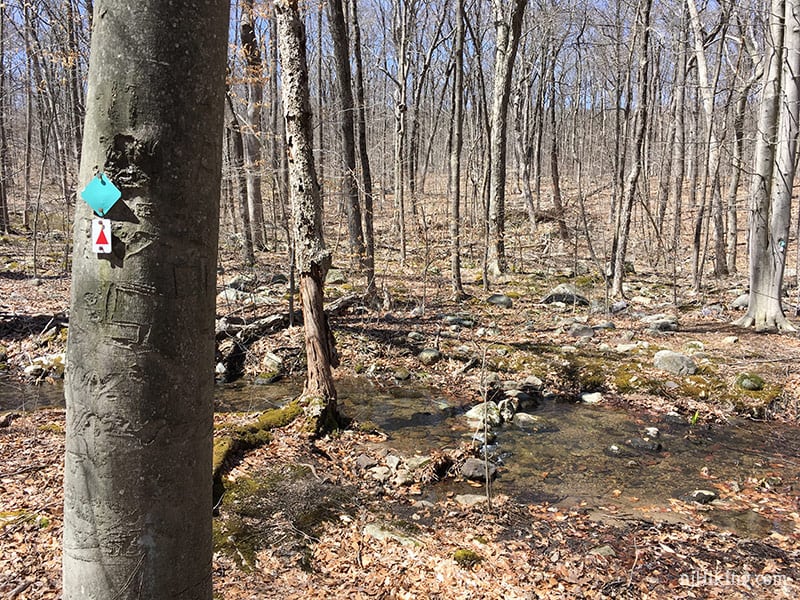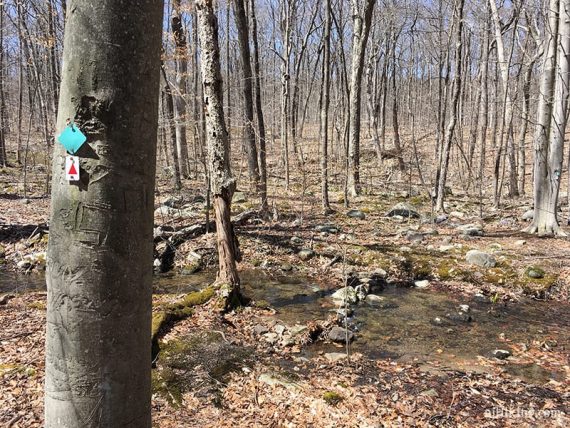 4.2 – Continue straight on RED TRIANGLE on WHITE (Stonetown Circular). [Highlands Connector (TEAL DIAMOND with BLACK DIAMOND center) is on the left.]
Meet up with a woods road, turn RIGHT. Follow the woods road awhile, watching the markers as there are several roads in the area.
4.6 – Continue on RED TRIANGLE on WHITE (Stonetown Circular) as it leaves the woods road and veers RIGHT back onto a trail. (No biggie if you miss the turn, the woods road meets up with the trail in just a bit).
5.3 – Start to see the Monksville Reservoir in the distance.
A side path loops around for a closer (limited) view of the reservoir, dam, and a huge power line tower: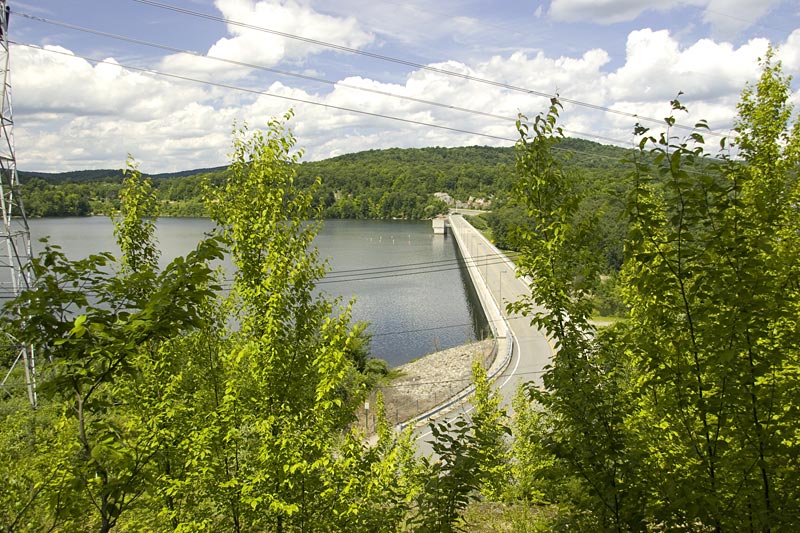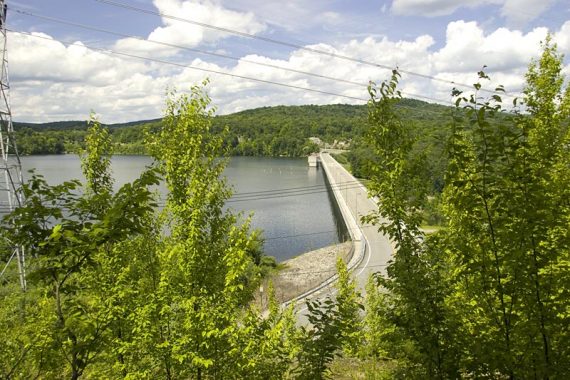 Cross a small stream on a footbridge and go up into a tall grassy area.
Hop over the guard rail and cross Stonetown Road, hopping over the guard rail again (there are markers).
RED TRIANGLE on WHITE (Stonetown Circular) follows a woods road around the reservoir (limited views).
5.8 – Before moving away from the reservoir, a large rock that makes a nice break spot is off on the right.
Pass a powerline cut. Head steeply up Harrison Mountain.
View from Harrison Mountain; there are less views from the second half of this hike: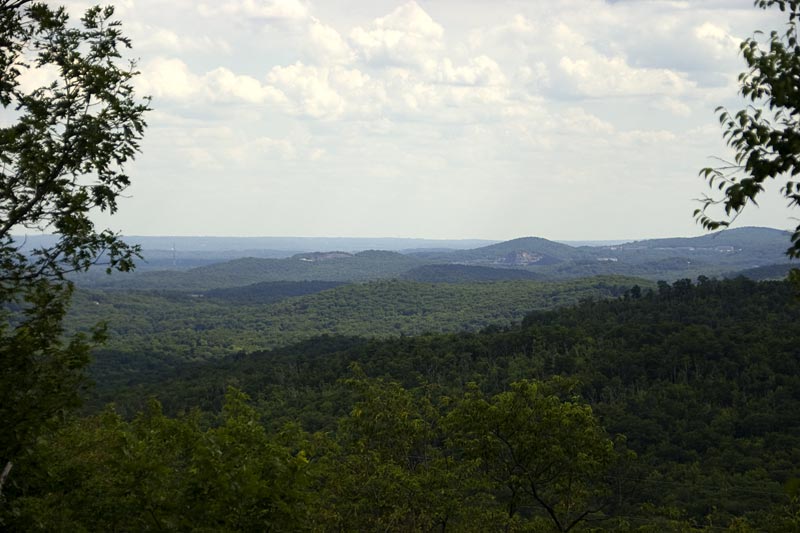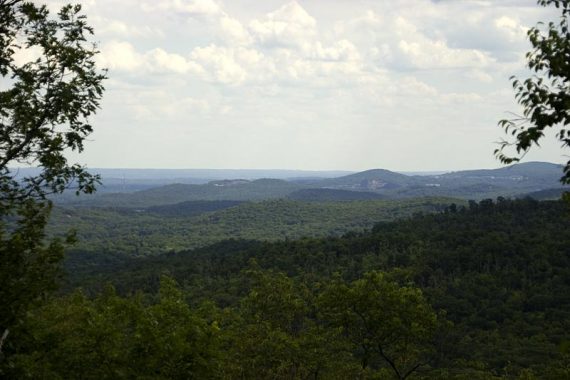 6.6 – Harrison Mountain. [Highlands (TEAL DIAMOND) leaves to the right. Highlands Connector (TEAL DIAMOND with BLACK DIAMOND center) leaves to the left.]
Continue, following only RED TRIANGLE on WHITE (Stonetown Circular). There is a limited view and some rocks to take a break.
Head down steeply, joining up with a woods road. Cross the powerline again.
…It's not hiking in New Jersey unless there is an old car along the trail. This route has 2.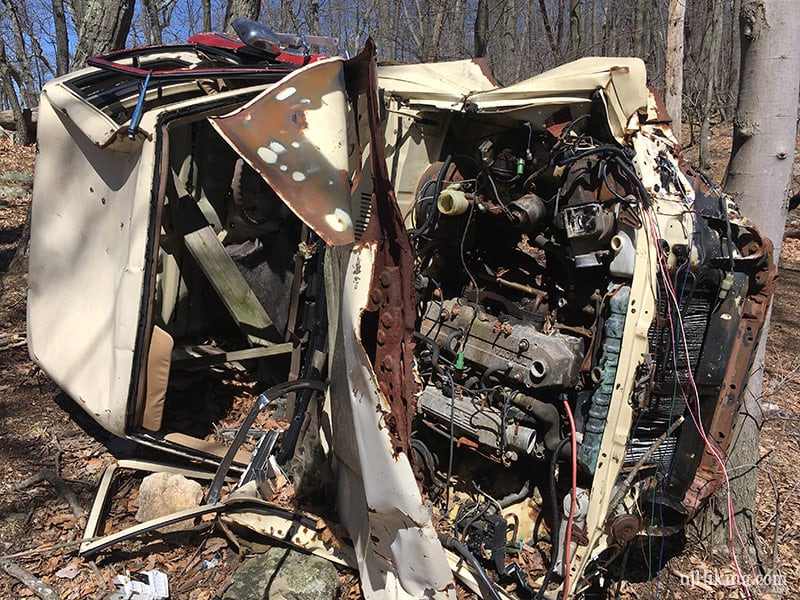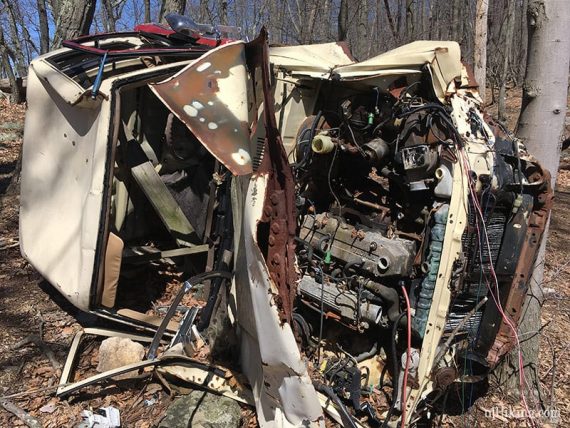 7.9 – RED TRIANGLE on WHITE (Stonetown Circular) turns LEFT briefly on Burnt Meadow Rd. to cross a stream and then ducks back on to a trail.
8.0 – RED TRIANGLE on WHITE (Stonetown Circular) approaches dirt Burnt Meadow Road where there are blazes for Sonoma Trail (ORANGE).
Don't cross the road – turn LEFT to continue on RED TRIANGLE on WHITE (Stonetown Circular) as it angles away from the road.
Eventually after following a woods road and turning right back into the woods, the forest changes a bit and there are more pines.
8.6 – Tory Rocks. Limited view. Steep scramble down the rocks, then across some boulders.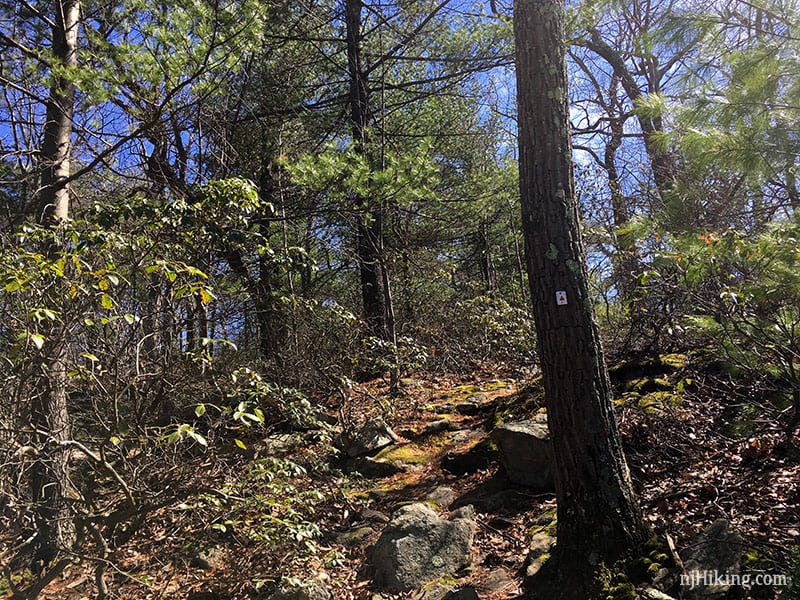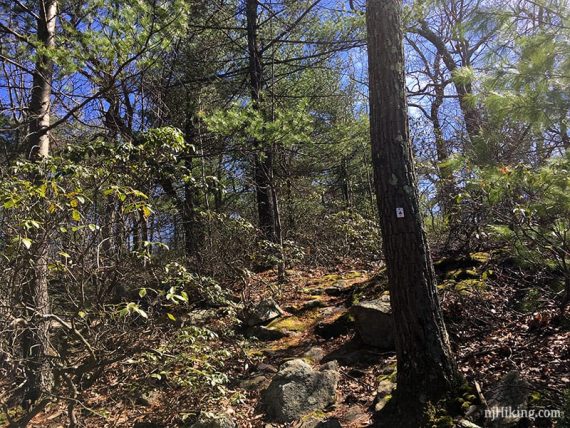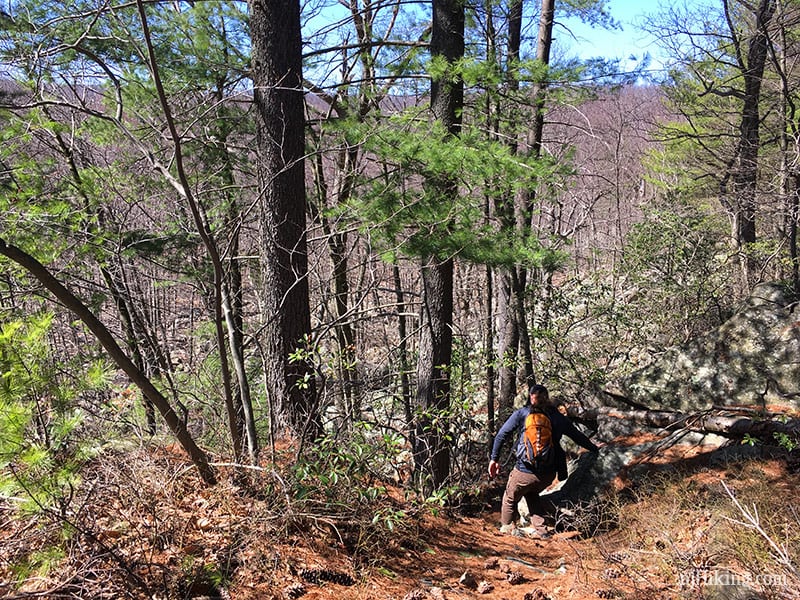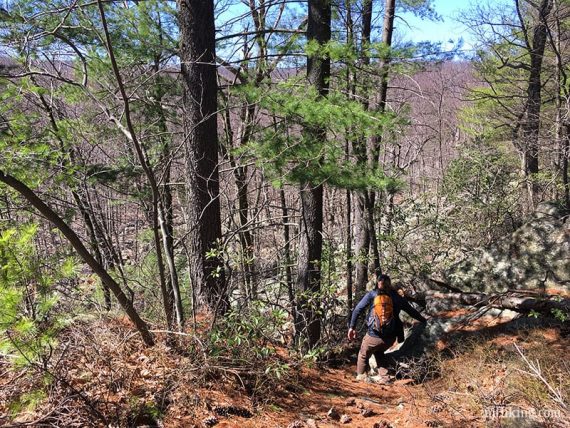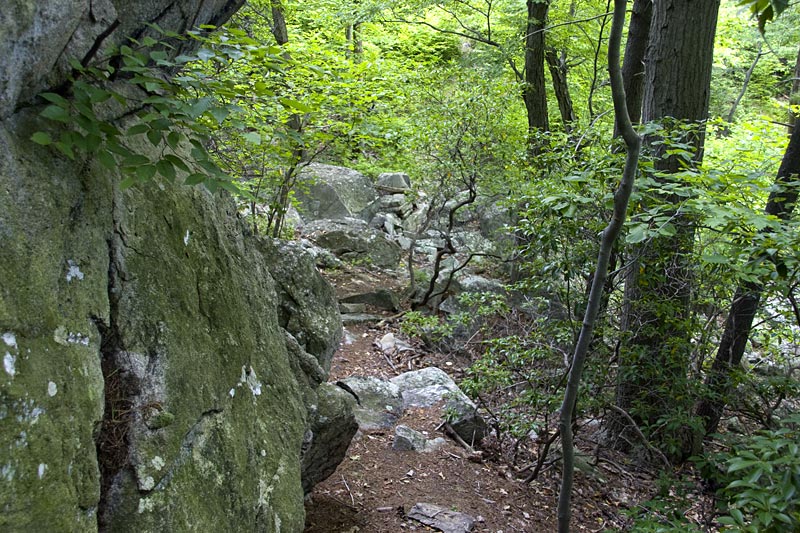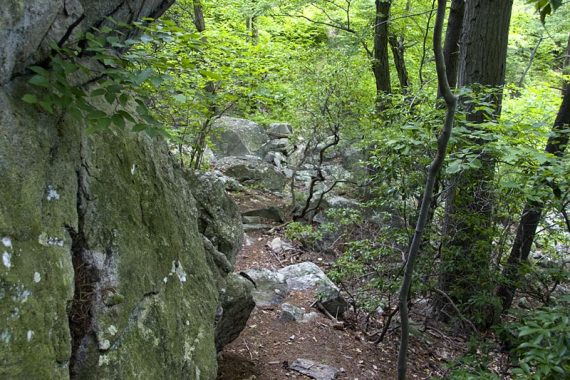 9.2 – Large rock scramble up.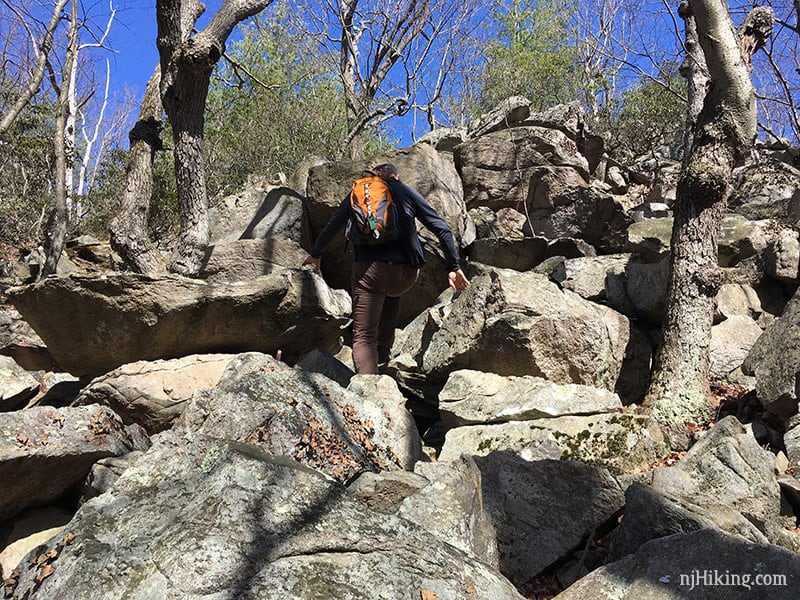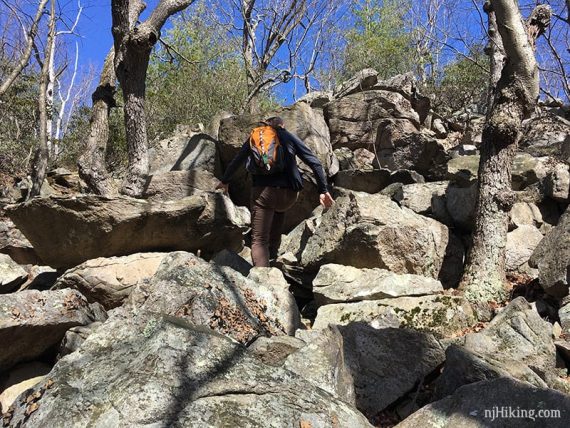 10 – The trail ends at Magee Road by a house – turn LEFT (don't believe there are signs) and follow Magee Road as it curves around to Stonetown Rd.
Keep walking straight past the fire house, and walk along the shoulder of Stonetown Rd.
10.6 – Turn RIGHT into the lot for Stonetown Recreation Center.
—
Hiked: 4/21/18. Trail Blog: "Stonetown Circular in April"
Hiked: 9/5/15. Trail Blog: "Stonetown Circular in September"
Hiked: 7/19/09. Trail Blog: "Stonetown Circular in Summer"