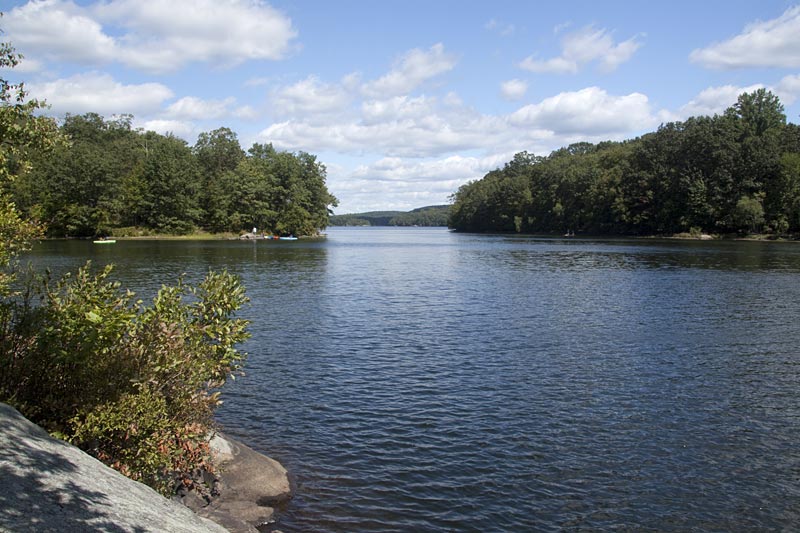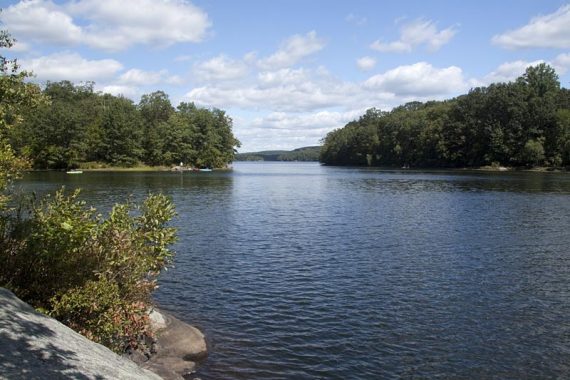 We wanted to do this hike over the summer, but it was way too hot to do this hike so we waited. We lucked out with a gorgeous Labor Day weekend.
11 miles; challenging loop around Splitrock Reservoir. Suitable for experienced, fit hikers only. Even though the loop is on the low end of challenging distance wise, the relentless minor elevation changes of the Highlands terrain gives you a workout.
The path is blazed but you need keen eyes to spot the markers… and requires constant vigilance.
Complete hike details, photos, and video on our Splitrock Reservoir page.
We did this loop in Nov. 2008 and the Splitrock Trail blue markers were frustratingly hard to find; they still are.
After that experience, and reading the recent blog at Gone Hikin' who had the same issue, we opted to see if the markers were easier going the opposite way around (four birds then splitrock).
It was slightly better trying to find the markers in this direction, but it was still a lot of confusion. And speaking of markings…
Four Birds is WHITE, but Splitrock is in 2 shades of BLUE, and tend to be faded. We also saw add-on markers: faded thin orange plastic tape and white thumbtacks (!).
We prefer the Four Birds section of trail, though Indian Cliffs on the Splitrock Trail is a wonderful viewpoint over the reservoir and Misty Pond.
The Split Rock trail isn't as scenic, is really hard to follow, and passes quite close to some houses.
Wildlife spotted: A heron took off from the shore to an island and stood there watching us.
Later in the day, a half dozen deer bounded off in a valley below us.
Then a black rat snake was along the Splitrock Trail. He didn't take off – we think he'd just eaten something and was sluggish, as there appeared to be a bulge in his body.