Hiking at Sam's Point Preserve and the Mohonk Preserve with an overnight stay in New Paltz, NY.
The Shawangunks region of New York is situated north of Harriman State Park but south of the Catskills and is filled with very scenic, well-known hikes.
But we'd never gotten around to hiking any.
Not only is this area stretching our range for "day trip" – almost 2.5 hours from central New Jersey – the trails get crowded AND there are hiking fees.
Every time we considered going, we thought about hiking all day AND spending nearly 5 hours in the car AND jostling for elbow room on the trails AND spending $ on top of gas and tolls…. so ehhhhh… we always chose something else.
The solution? Do two hikes on weekdays and overnight in New Paltz, NY.
The Logistics
The Shawangunks region contains three parks next to each other: Sam's Point Preserve, Minnewaska State Park, and Mohonk Preserve, and within that is the Mohonk Mountain House trail system. The best way to get a handle on the area is with the Shawangunk Trails map set.
We chose the two hikes that were most interesting to us but there are many options that could be grouped closer together.
First, we hit Sam's Point Preserve, drove about 50 minutes to stay in New Paltz, and then did Bonticou Crag early the next morning (~15 min from New Paltz) and were done in time to have lunch in town. We even managed to miss rush hour traffic on the ride back. Bonus!
The Hikes

Day 1: Sam's Point Preserve – Ice Caves, Verkeerder Kill Falls, High Point, Indian Rock
Explore an ice cave, a waterfall, and enjoy spectacular views of the Shawangunks region and the Catskill mountains.
For detailed hike directions, maps, GPX, and photos, visit our "Sam's Point Preserve – Ice Caves, Verkeerder Kill Falls, High Point" page.
We really enjoyed this hike. There are several good destinations (ice caves and the falls), expansive views for the majority of the route, and blueberries in season. Most hikers will want to turn around at the falls – continuing to High Point is awesome but is a long day unless you're an avid hiker.
The carriage road and loop road on the return from High Point was a dull end to an otherwise consistently spectacular hike, but a side trip to Indian Rock was totally worth it.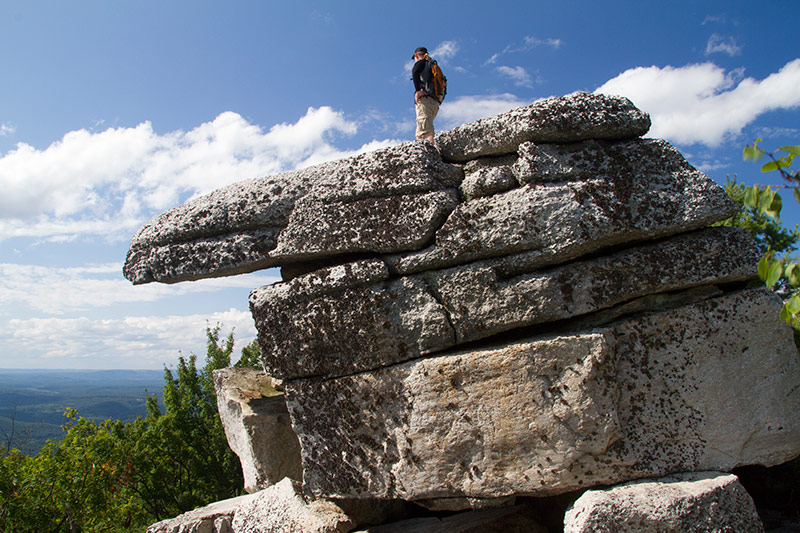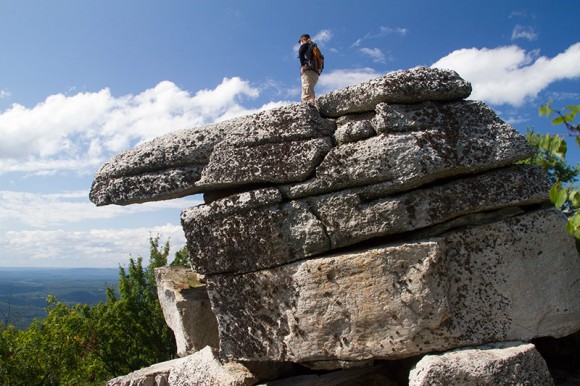 This route draws crowds but from the falls to High Point was deserted – save for the porcupine I startled coming round a bend in the narrow trail.
We'd never spotted one before and suddenly I was staring at the back end of one – and watching quills rise up in alarm. I stopped short, spun around and started shoving Tom back down the trail. Of course, Mr. Porcupine just scampered off into the brush. This all happened in about 12 nanoseconds so we have no photos.
Tip: Lots of sun exposure so plan for that or go when it's cooler. We had a spell of cool weather in August and is the only reason we decided on doing this hike then.

Day 2: Mohonk Preserve – Bonticou Crag and Table Rocks
A short, fun, challenging rock scramble up Bonticou Crag and a hike to Table Rocks in New York's Shawangunks.
For detailed hike directions, maps, GPX, and photos, visit our "Bonticou Crag and Table Rocks" page.
The scramble and the views from the top are the main draw and definitely a must-do for any Jersey-area hiker. The rest of the hike towards Table Rock is nice but not overly special.
The difficulty of the scramble is really subjective and depends as much on scrambling experience and ability as it does guts: I'm a cautious, slow scrambler so I let Tom ahead as I picked my way up, over-thinking in a spot or two. By contrast, he nonchalantly zipped up without issue other than a chimney area being a bit tight (after giving me a boost up.)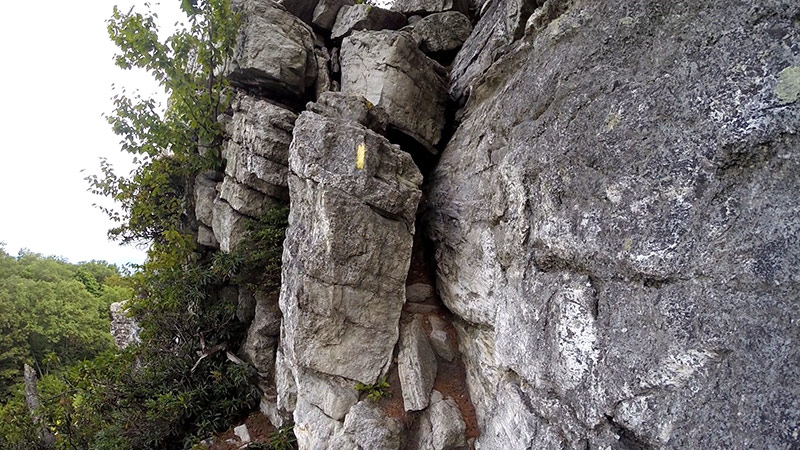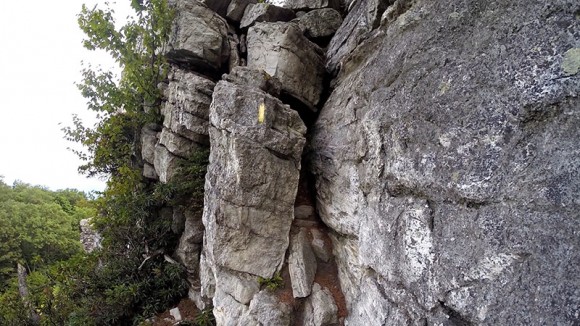 Tips: Consider leaving the trekking poles behind. I wanted them for the rest of the hike in case my knees declared mutiny as they occasionally do, but even secured to my pack they were awkward. I did use them later but could have done without.
Same with a large SLR or camera equipment – normally it's annoying but here it was a hindrance. Most people probably carry little more than a camera phone and water on the way up, and if you are just doing the scramble and aren't photography dorks then you'd be set with that.
Park Fees
We're a bit spoiled in New Jersey since only a handful charge entry during the summer.
Sam's Point
$10 per car. We arrived just before 9 am during a weekday and found honor-system pay envelopes with a log to enter your name, license plate number, and check in/out times.
Bonticou Crag
$12, per hiker. We arrived around 8:15 at the Spring Farm lot (opens at sunrise) and the booth was untended (opens at 9 am). Pay envelopes were provided with a tear-off day pass to carry with you – one envelope per hiker. The envelope doesn't ask for the license plate so I don't know if they do/can check cars that arrive early for payment. And perhaps someone checks for passes on the trail on weekends, but not sure about that.
Note: All listings are our own purchases and research, no consideration was provided for any mentions.
Lodging
There were fewer options in the area than we expected, ranging from basic hotel to B&Bs to pricey splurges (Mohonk Mountain House).
Super 8
It was clean, comfortable, convenient, and provided a basic breakfast. We usually don't eat big meals before hiking and are happy with a cereal/yogurt/juice/coffee spread but plan on hitting up a breakfast place if you need something more. Total price with tax came to under $100. We'd stay there again (note: it's changing names in fall 2014.)
Food
There is no shortage of food options in New Paltz. We're not foodies and just look for a decent sandwich/burger & fries, beer, and coffee. In our short visit we tried:
The Gilded Otter
Everything was tasty: guacamole w/chips appetizer, garden burger for me, burger for Tom, good fries. We tried the Hefeweizen and oatmeal stout but liked their Summer blueberry (with berries in it!) beer best.
Moxie Cup
We waddled out to the car after dinner, totally stuffed. But there's always room for coffee! So we had to stop for tasty lattes. Because, you know, we'd hiked off all these calories already. Riiiiight.
Moonlight Cafe – "The Falafel King"
We spotted this on our drive out to do Bonticou, so we hit it before our drive back to Jersey. We have a thing for falafel so when you claim you are the king, we need to check that out. We both got the special of the day and it was one of the best falafels we've had in a long time. And perfectly crisp fries.

Overall
The Gunks are a good hiking destination and we'll be back to check out other hikes in the area. New Paltz was a good base but expect it to be busy on nice and fall weekends.
—
Visited/hiked: 8/14/14 – 8/15/14.