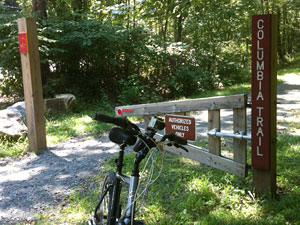 There are many rail-trails in and near New Jersey that are great for easy hiking and biking for the whole family.
Rail-trails are paths that were created from converting former rail lines or from canal "towpaths" where mules once dragged barges down the canals.
These trails are usually tree-lined and shaded, with a mostly level surface of packed dirt or gravel – though the Henry Hudson is paved.

The rail-trails and towpaths are closed to cars but are shared with hikers, joggers, bikers and sometimes horses. There are occasional street crossings and sometimes a little road biking to connect missing sections.
Many of these trails pass through towns so it's easy to combine a nice meal (and some ice cream!) with a day of hiking or biking. Lambertville, Frenchtown and New Hope are popular spots to stop for a bite to eat.
While the focus of this site is hiking in NJ, we like to go biking when the summer gets really hot and have collected quite a bit of info over the years. Route info with trail maps, photos and videos for some of the best biking rail-trails in New Jersey (and nearby) are listed below.
---

Delaware Canal Towpath

D&R Canal:
The Delaware and Raritan (D&R) Canal towpath follows along the canal from New Brunswick, N.J to Trenton to Frenchtown, NJ. Available miles: 70
D&L Canal:
On the Pennsylvania side of the Delaware River, the Delaware and Lehigh (D&L) Trail can be used to create loops with the D&R path on the NJ side. A popular crossing point is Lambertville, NJ to New Hope, PA. Available miles: 168 (though not contiguous, there are closed sections. Check below for a route on the northern end in Lehigh Gorge.)
D&R Canal Resources:
D&L Canal Resources:
Route info for both D&R and the D&L, with photos and videos:
D&R – from Rocky Hill lot [Main Canal – NJ]:
D&R – from Lambertville / Mt. Hope lot [Feeder Canal – NJ]:
D&R – from Washington Crossing lot [Feeder Canal (NJ) with D&L (PA)]:

D&L – (PA):
---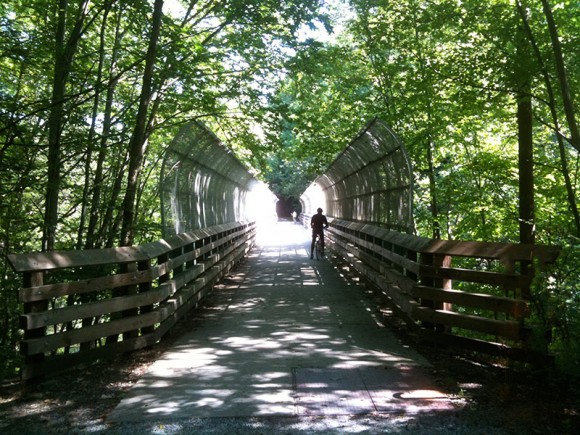 Columbia Trail
The Columbia Trail is a shady rail-trail that runs along the Raritan River and through scenic Ken Lockwood Gorge. It passes woods, farms, backyards and a few towns from High Bridge in Hunterdon County to Bartley in Morris County. Available miles: 15
Route info with trail maps, photos and videos:
Columbia Trail Resources:
---

Sussex Branch, Paulinskill Valley, and The Great Valley Rail Trail
These three rail trails through rural Sussex County allow for a variety of out-and-backs or use the newer Great Valley Rail trail to create a rugged loop. For one of the best sections, park at Warbasse Junction and stick to an out-and-back on the Paulinskill Valley trail, the most maintained and easiest to ride of all three (but also the busiest).
Resources:
Route info with photos:
---

Henry Hudson Trail
The Henry Hudson Trail (North) is a paved trail on a former rail bed that runs from Keyport to the Atlantic Highlands, and can be connected to the Bayshore Bike Trail. Pass through shady forests and marshlands, past backyards, over boardwalks, with views of Sandy Hook Bay, the Verrazano bridge and the NYC skyline. Available miles: 12
The Henry Hudson Trail (South) is a paved trail in two sections that run from Freehold to Marlboro and Marlboro to Aberdeen. It is not recommended to connect the sections, as the route between them is on a busy road. Available miles: 5 per section.
NOTE: Storm damage has caused closures along the Henry Hudson Trail, check Monmouth County's park site for the current status.
Route info with trail maps, photos and videos:
Henry Hudson Trail Resources:
---

Lehigh Gorge State Park – D&L Trail
A few hours from New Jersey is a 25-mile stretch of the Delaware & Lehigh (D&L) rail-trail that runs above the Lehigh River in Lehigh Gorge State Park from Jim Thorpe to White Haven, PA.
Route info and photos:
Lehigh Gorge State Park – D&L Trail Resources:
---
For more info on rail-trails in NJ and around the country visit the Rails-To-Trails Conservancy site and use TrailLink.com to locate a trail.
Recommended Book: Rail-Trails Pennsylvania, New Jersey, and New York
---
Old-Timey Fun: Delaware and Raritan Canal Historic Map – Circa 1976 but based on an 1866 geologic map. Also contains info about the canal's creation. Via Rutgers Special Collection.