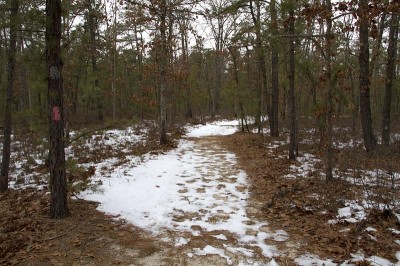 Easy loop through New Jersey's Pine Barrens and along Batsto Lake. Be sure to explore the historical Village of Batsto after your hike.
Trail surface: Easy, flat, packed sand trails. Barely any elevation change.
This route: 4.2 mile loop (Batsto Lake Trail – WHITE).
Little longer: A worthwhile stroll through the interesting historical village and buildings of Batsto adds 1 or 2 miles depending on how much you wander around.
Longer: Many trails in the area. About a 12 mile loop: Batsto Lake Trail (WHITE) on the E side of Batsto Lake – Batona (PINK) to Quaker Bridge – Connector Trail (GREEN) – Mullica River Trail (YELLOW) – walk through Batsto Village back to parking lot.
Loooooooong: The 49.5mile Batona Trail goes through Batsto…
Hike Info:
Map: Pick up a detailed trail map at the trail kiosk outside the visitor center. It's a big fold-out brochure, so we've scanned the map areas into one PDF that will print on lettersize paper: Wharton State Forest Trail map.
Books: This route with detailed instructions and a trail map can be found in Hiking New Jersey and there is an entry on Wharton State Forest in the The New Jersey Walk Book.
Parking: N39 38.719 W74 38.809
From South Jersey: Take the Garden State Parkway North to Exit #50, exit to Route 9 North. Proceed to Route 542 & turn left. Follow signs about 12 miles to Batsto Village.
From North Jersey: Take the Garden State Parkway South to Exit #52 (New Gretna). Turn right at stop sign onto E. Greenbush Road. Make left at stop sign. Go over two small wooden bridges. Pilgrim Lake Campground will be on Right. Make left onto Leektown Road. Continue 2 miles to a stop sign. Stay straight on Leektown Road. Continue 3 miles to stop sign. Turn right onto Route 542 West. Stay on 542 for approx. 9 Miles. Batsto Village is on the right.
More directions can be found on batstovillage.org
Restrooms: Inside the visitor center (open 9 – 4pm); potentially ones at the picnic area in season.
Hike Directions:
This route follows the WHITE blazes of the Batsto Lake Trail. Portions are co-aligned with the PINK (Batona), BLUE (Batsto Lake), and RED (Batsto Lake) trails.
[yes, there are three "Batsto Lake" trails marked on the map, with three different blaze colors for the various loops. WHITE is the longest, then BLUE, and the shortest trail is RED]
0.0 – The WHITE trail starts at the back end of the parking lot, by the big wooden "TO HIKING TRAILS" sign. There is a picnic area and a large trail map sign. The trail is also marked with BLUE and PINK blazes.
0.2 – Keep on WHITE as it turns to the LEFT. The PINK (Batona Trail) comes in from the right.
0.6 – Keep straight to continue on the Batsto Lake Trail (WHITE), which is also the Batona Trail (PINK). A large Batona Trail sign indicates there are 26.5 miles in this direction. Batsto Lake Trail (BLUE) turns left for a shorter loop back to the lot.
Follow the trail as is it turns left. Cross two unmarked sand roads.
2.25 – Turn LEFT, continuing on WHITE. The PINK (Batona Trail) turns right. The big Batona Trail sign reads "25 miles Brenden Bryne, Batsto Village 2 miles". There is also a smaller sign for Batsto Lake Trail.
2.6 – Get a glimpse of Batsto Lake from a viewpoint.
3.2 – Continue on WHITE as BLUE joins in from the left.
Batsto Lake comes more into view as the trail starts hugging the lake.
The RED trail will join in, now the trail is WHITE-BLUE-RED which will lead back to the lot. The trail will turn onto a sand road and go near a maintenance area, watch the blazes as it can be unclear in this area.
Hiked: 1/22/11. Trail Blog: "Wharton State Forest: Batsto White Trail"