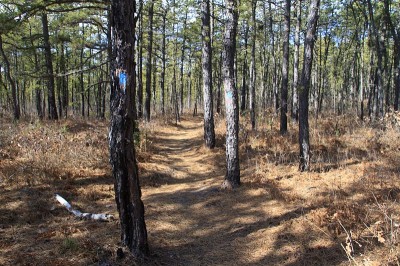 Easy trails plus a playground and picnic area makes this a great destination for families.
Be sure to check out the super swanky visitor center and go five stories up to the observation deck for outstanding views of the Pine Barrens! (Bonus: the hanger the Hindenburg was kept in is viewable in the distance)
Hike Info:
Trail surface: Flat, easy, packed sand and pine needles.
This route: 3.8 miles
Shorter: 1.6 miles: use RED to shorten this route, marked in the directions below. Or use one of the many other woods roads on the map to create shorter loops.
Short: 1.3 – Tindey (BLUE) to  Interpretive (GREEN) and return the same way on BLUE
Longer: 4.9 miles: add the Swamp Trail spur and Interpretive loop. See "Jakes Branch – Tindey, Swamp, and Interpretive Trails"
Our two cents: In addition to the excellent visitor center with ADA accessible observation deck and easy trails, there is a picnic area, playground, and ball fields. Jakes Branch is easily accessed from the Garden State Parkway – but it's close proximity also means road noise along most of the trail.
Updated 3/24/14 – rehiked, updated GPX added.
Map: Get a map at the visitor center or at the trail kiosk, or print out the trail map ahead.
Books: Not mentioned in any hiking books we have.
Parking: N39 55.755 W74 12.842
Garden State Parkway South: Exit 80 to Rt 9 South. Keep left at fork, then turn left onto Double Trouble Rd. Park entrance is down the road a bit, on the right.
Restrooms: Inside the visitor center. (They are accessed by an outside entrance so it's possible the restrooms could be available when the park opens at 7am, before the center is open).
Hike Directions: Overview: BLUE (Tindey) for this entire route.
0.0 – Trail starts near the big sign at the edge of the parking lot, on the right of the visitor center. Veer right on the BLUE trail.
1.0 – Pass RED (Spruce St.) on the left. [option: Use this trail to shorten the hike to about 1.6 miles roundtrip.]
Several woods roads cross over the trail. Trees becomes shorter with evidence of fire damage, and the area is more open.
2.7 – Pass WHITE (Swamp Spur) on the right. [optional: take this out and back for an additional .4 miles]
3.5 – Pass GREEN (Interpretive Trail) on the left, and shortly after pass RED (Spruce St.). Continue on BLUE to end up back at the visitor center and parking lot.
Hiked: 3/23/14. Trail Blog: "Jakes Branch – Tindey, Swamp, and Interpretive Trails"
Hiked: 2/13/11. Trail Blog: "Jakes Branch County Park"