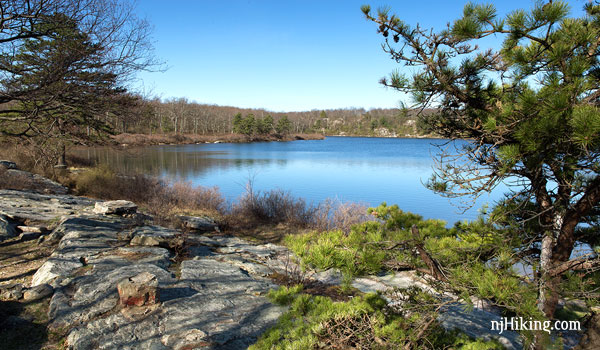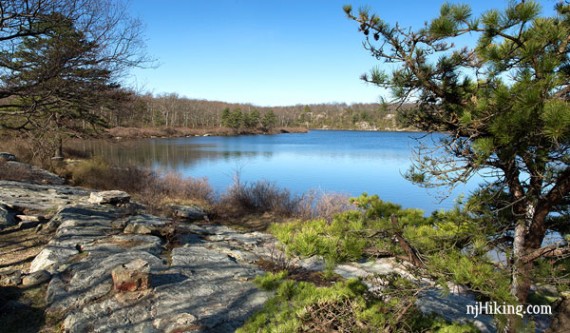 Start at beautiful Crater Lake and then enjoy views along the Appalachian Trail to Rattlesnake, Bird, and Blue Mountains.
8.4 or 5.4 miles: Woods road at the beginning, then rugged and rocky trail; gradual elevation changes; short steep rocky section on the approach to Rattlesnake.
Hike Info:
Our two cents:
This starts and ends at a pretty lake and then serves up several nice viewpoints without requiring a lot of elevation change.
The view from Blue Mountain is a wide panorama – 180 degrees, plus.

Many hikers will want to turn around at Rattlesnake to keep this a medium length hike, and that view is worthwhile – so you aren't getting shortchanged.
There is a eastern view from a pull-off along Skyline Drive.
Note: this route does not go to the Blue Mountain Lakes area – Blue Mountain is on the Appalachian Trail in the other direction.
Updated: 10/2020 – Adjusted parking/restroom info. 4/2020: Page refreshed, not re-hiked.
---
Map:
Maps #121 and #122 of Kittatinny Trails.
Books:
This route isn't in any books we know of, but individual trails in this area are detailed in Kittatinny Trails. A loop that starts at another parking (Buttermilk) and goes to Rattlesnake is in Hiking New Jersey.
A long backpack on the Appalachian Trail that skirts near Crater Lake can be found in 50 Hikes in New Jersey.
---
Crater Lake is right at the parking lot.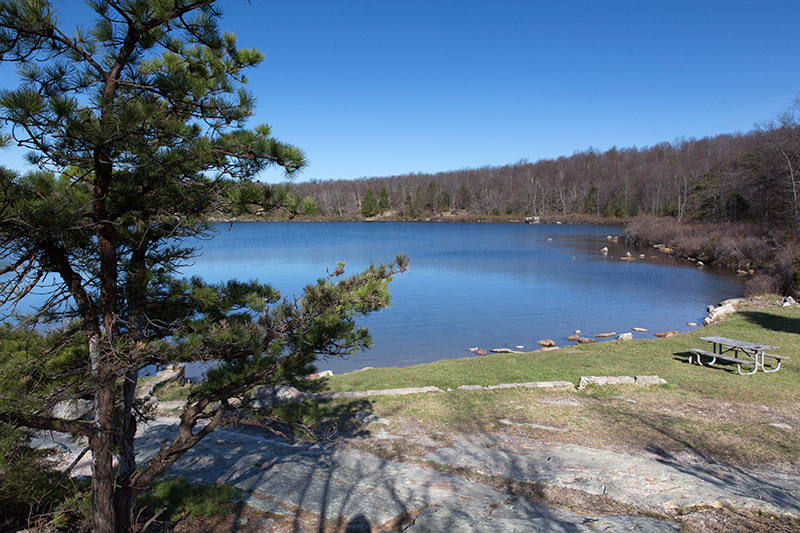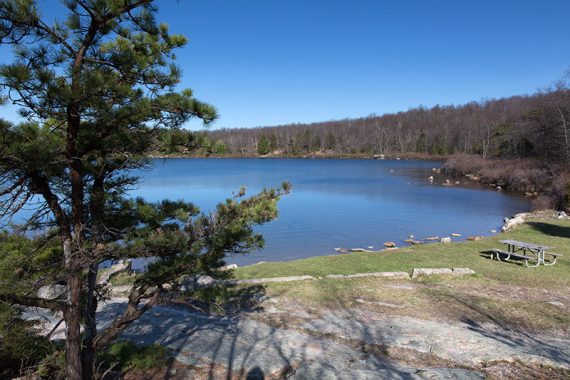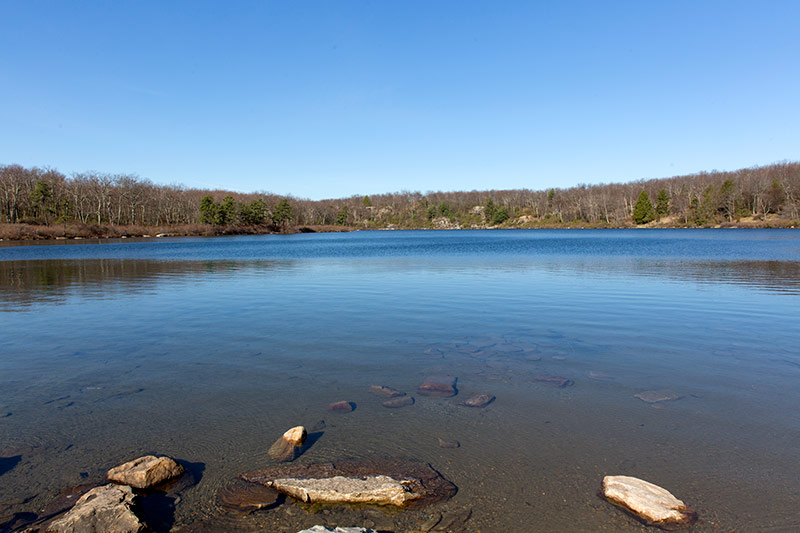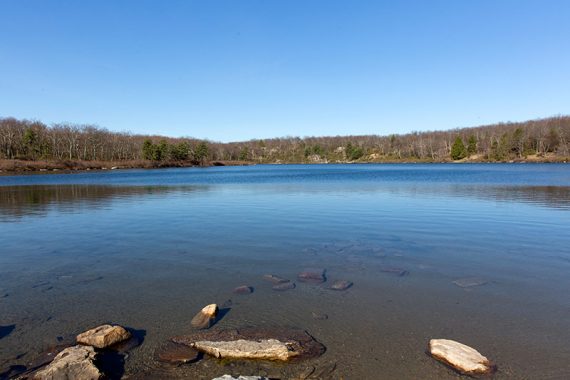 ** This hike may be affected by parking or trail closures. **
Check the Trail Updates page before heading out.
Rt 602 Milbrook Road in to the Delaware Water GAP NRA; bear right at the Y at Milbrook Village, turn right onto Blue Mountain Lakes Road, at the end of that turn left onto Skyline Drive.
Watch when using Google as it kept changing the route to an area outside of the park, and with no way of connecting to the parking lot.
Skyline Drive may be closed in winter.
Note! Skyline Drive was in good condition on 10/25/20. This parking lot requires a wee bit of adventure to get to as Skyline Drive is a rough, deeply potholed dirt/gravel road.
We don't recommend taking a normal low-clearance vehicle (we have a higher clearance crossover-type AWD car and everything else in the lot was a truck).
Options if you don't want to drive Skyline: There is a pullout parking area for some cars at the end of Mountain Lakes Road to access the AT from there (would extend the hike).
A hiker lot is on Blue Mountain Lakes Rd to access Blue Mtn Lake area. This would be too far to do this hike, but the trails connect to Hemlock Pond and Crater Lake and is a nice area to hike in.
---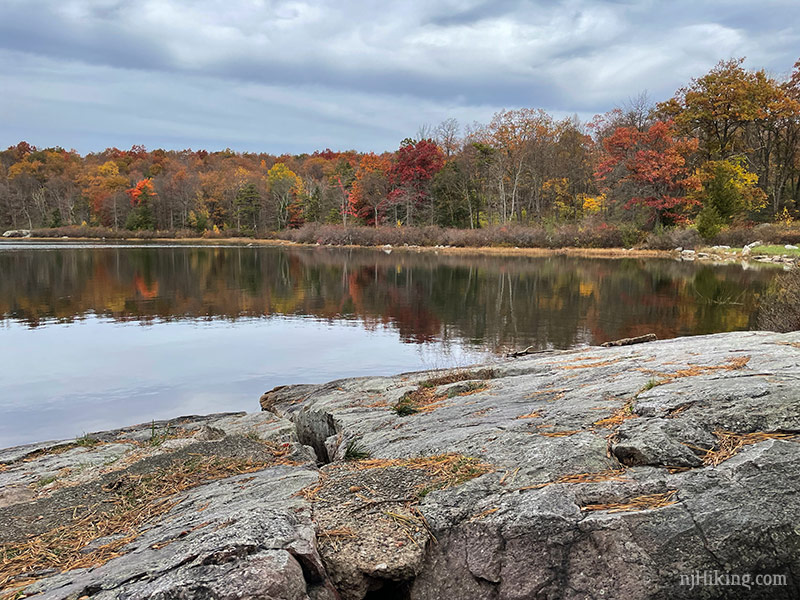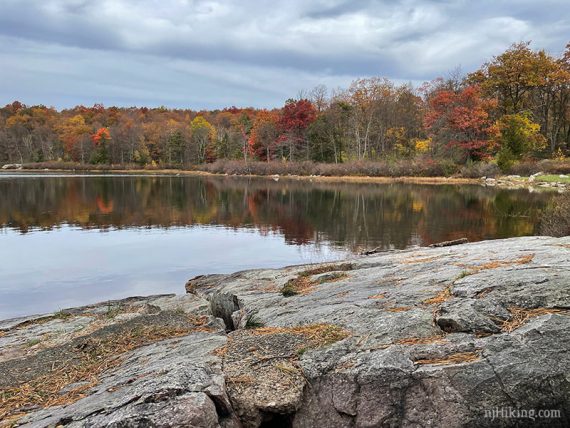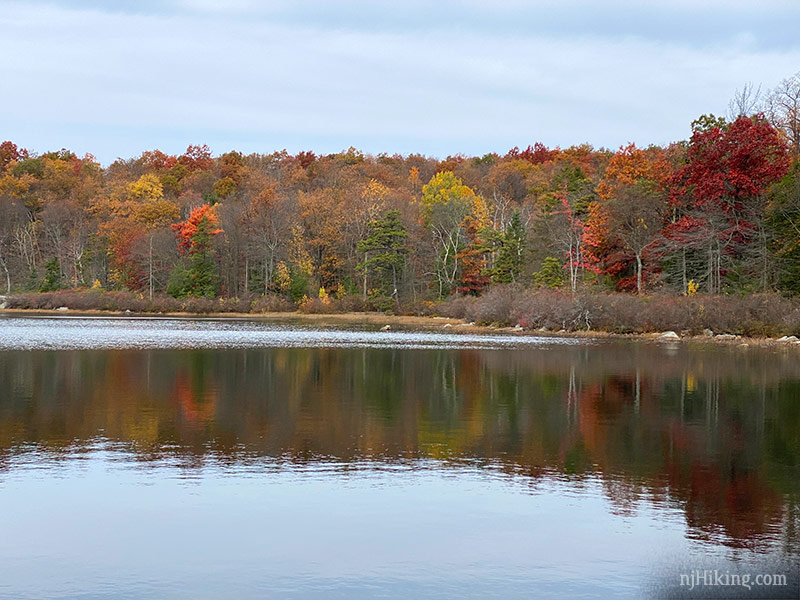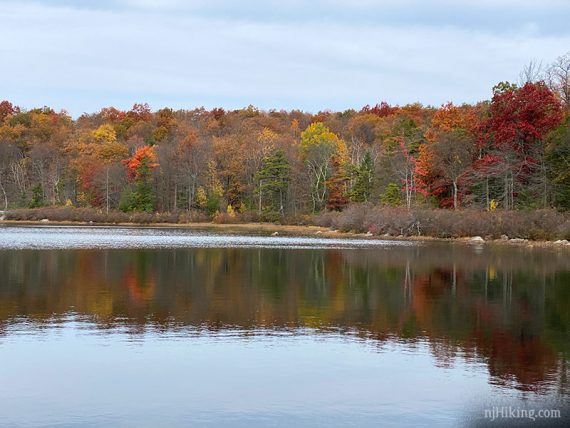 Restrooms:
Composting toilet in the lot (was closed 10/25/20), also in the lot for Blue Mountain Lake trail which is passed on the way here (this was open).
Millbrook Village has restrooms when open.
---
Hike Directions:
Overview: Crater Lake (ORANGE) – Unmarked Woods Road – Appalachian Trail (WHITE) and then retrace route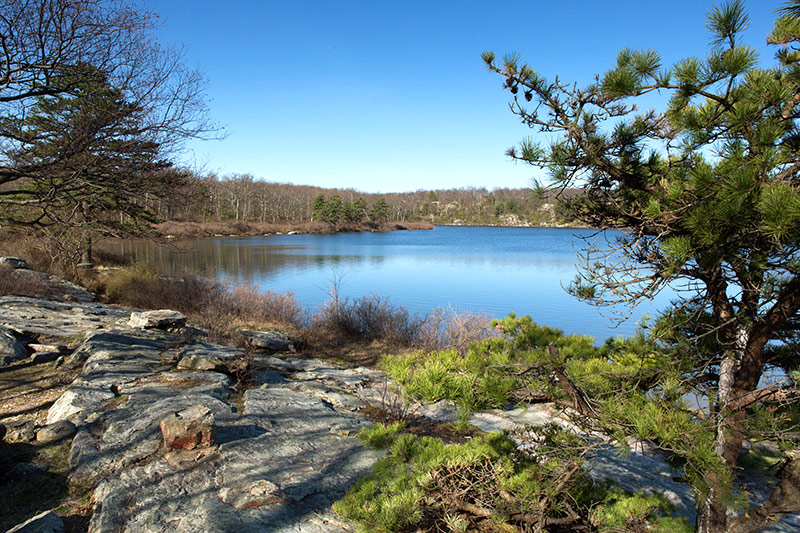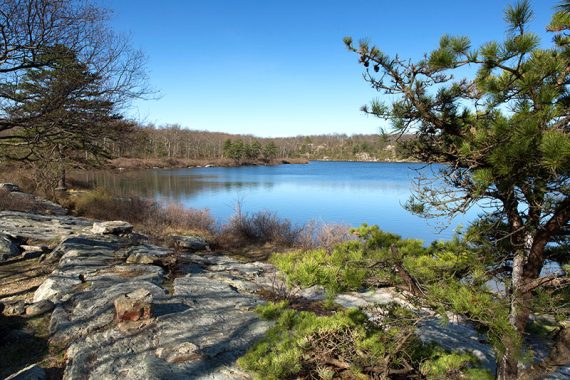 0.0 – From the parking lot, facing the lake, look off to the right for the metal gate blocking a woods road, which is actually the Crater Lake (ORANGE) trail.
Start following Crater Lake (ORANGE).
0.1 – At the T, turn RIGHT onto an unmarked woods road and head uphill.
[Crater Lake (ORANGE) continues to the left].
0.9 – The woods road ends at the Appalachian Trail (WHITE). Keep straight and start following the Appalachian Trail (WHITE).
[The Appalachian Trail also goes left].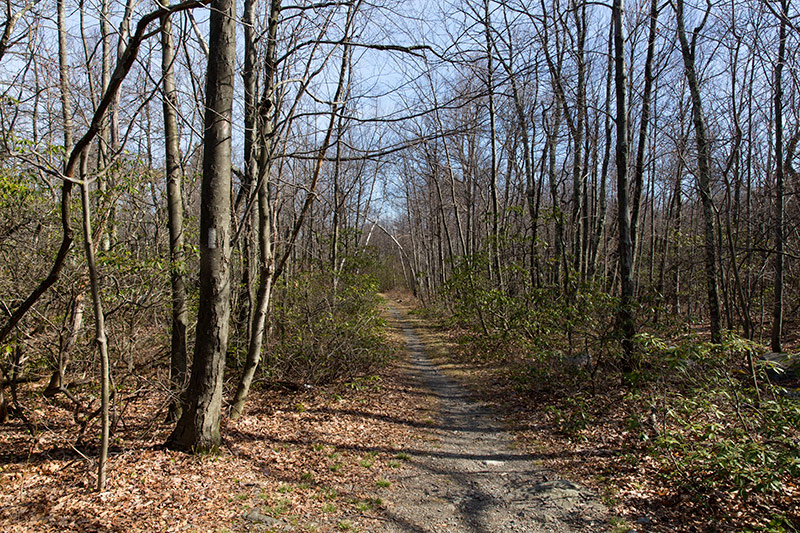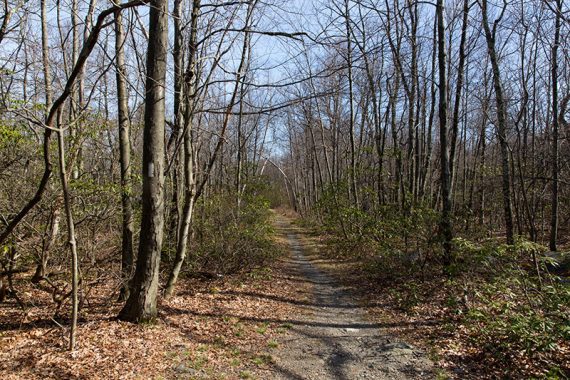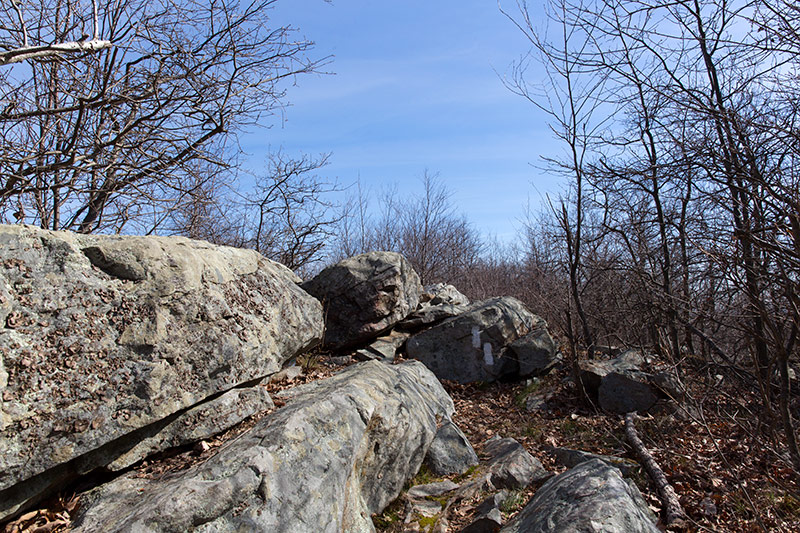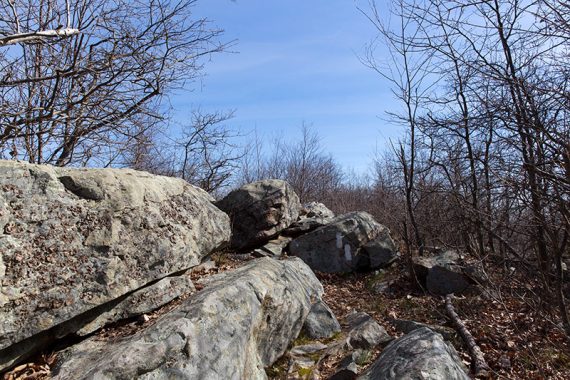 Very shortly, pass the Buttermilk Falls trail on the left – there is a large wooden signpost.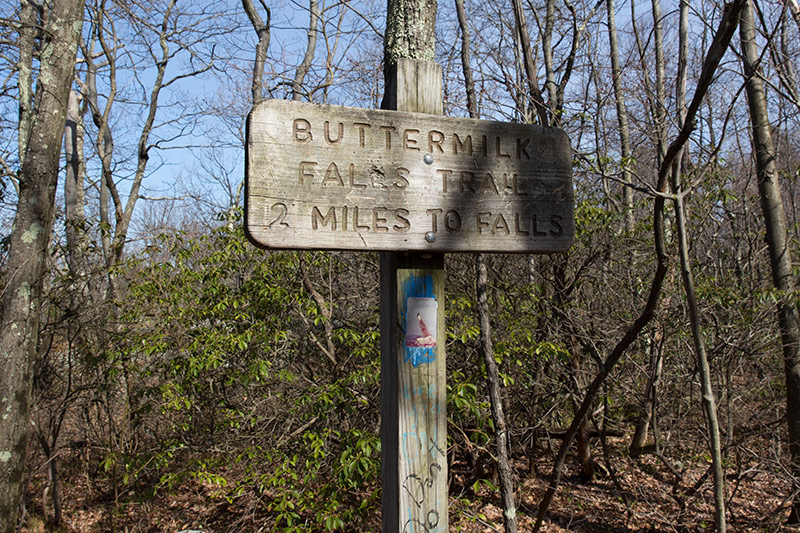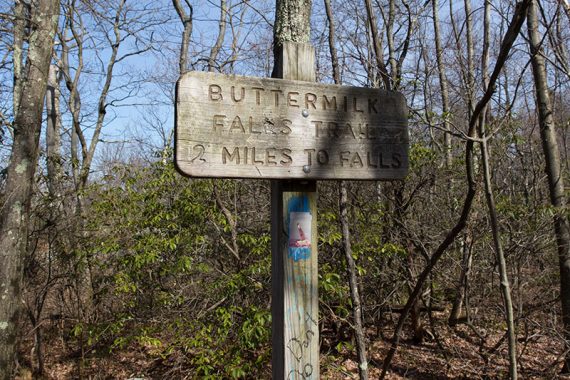 Note: There are multiple views along the route, we only marked a few of the better ones.
1.8 – Limited view on left.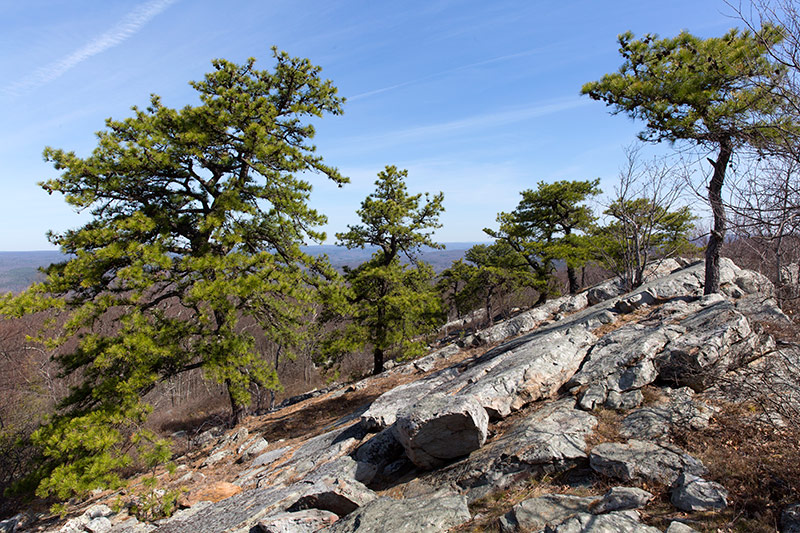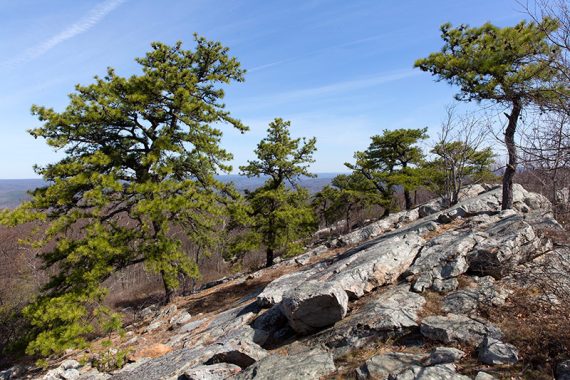 Keep following the Appalachian Trail.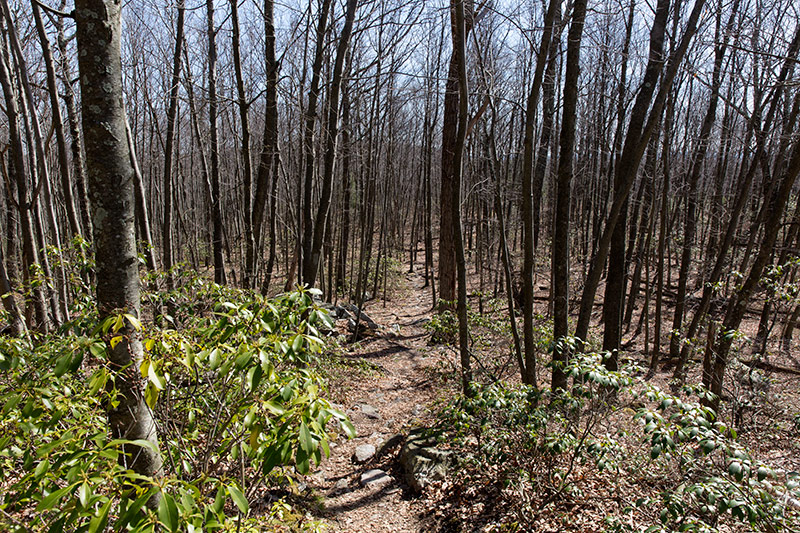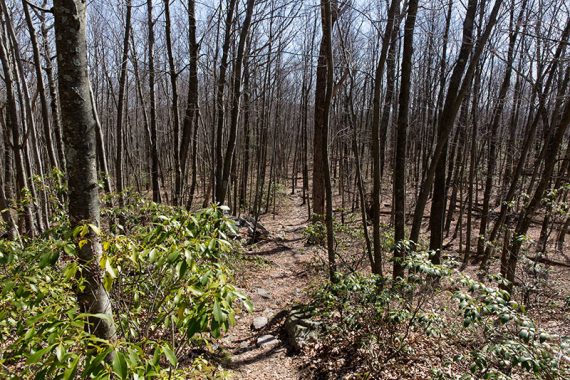 2.3 – Stream crossing on wooden bridge.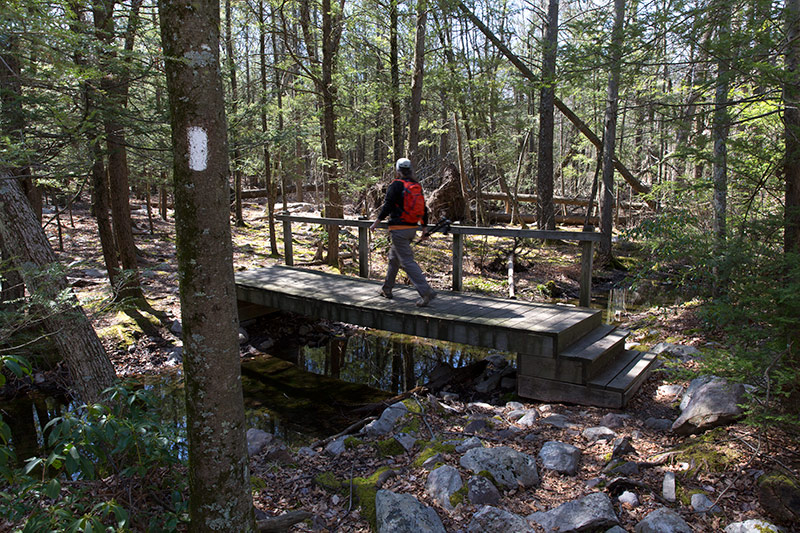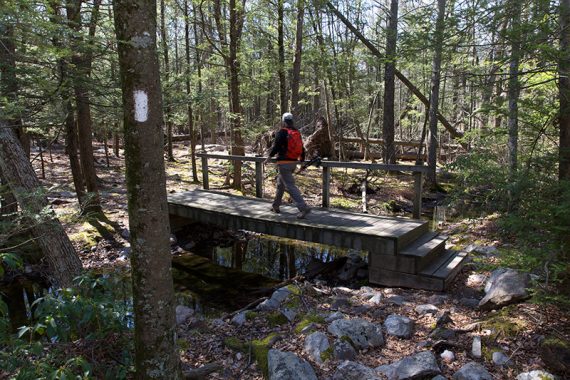 A little steep and rocky trail up to Rattlesnake Mountain.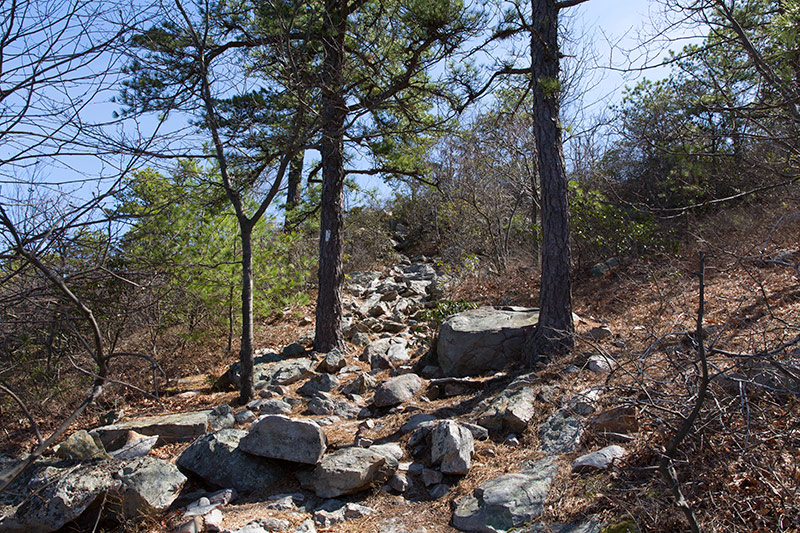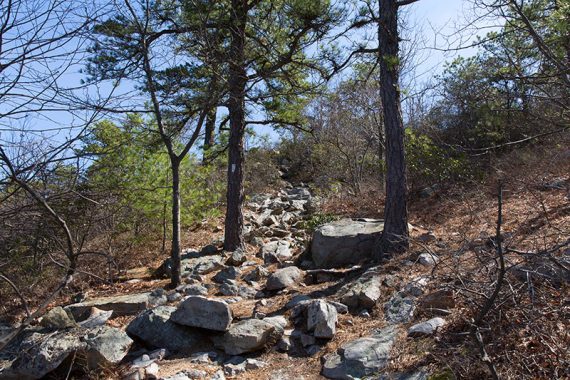 2.7 – View from Rattlesnake Mountain.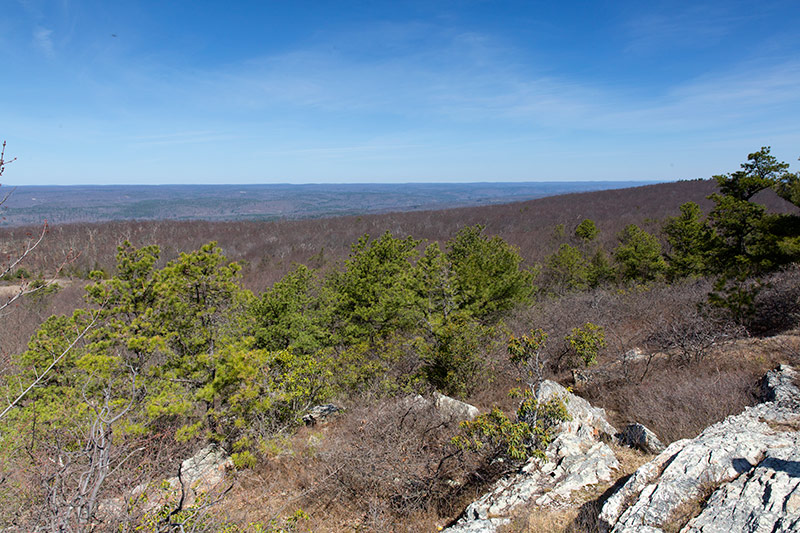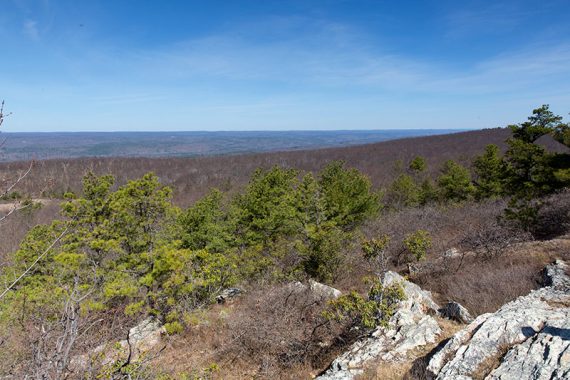 /// Shorter Option: Turn around here for a 5.4 mile hike. ///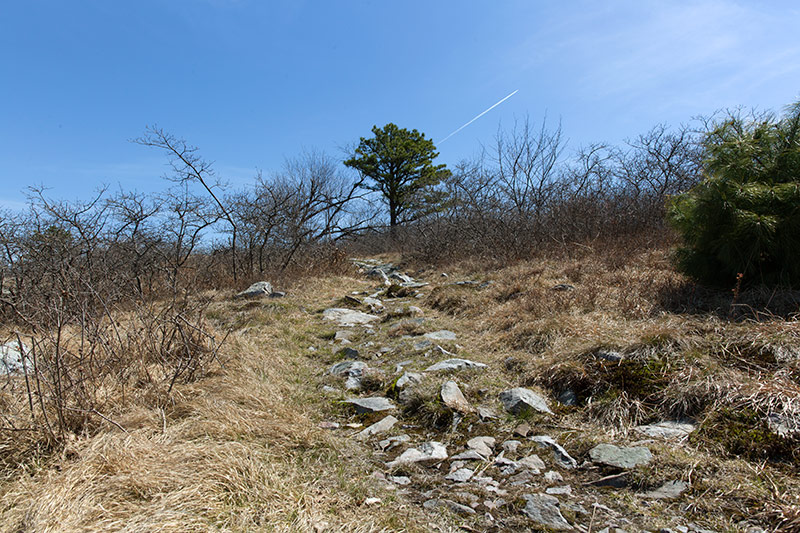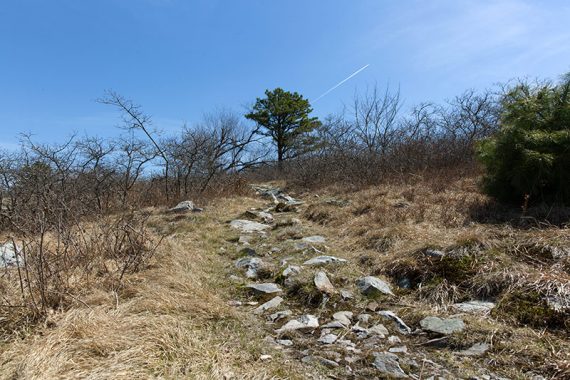 3.5 – Bird Mountain – limited view on left.
4.2 – Wide view from Blue Mountain over NJ and into PA. High Point Monument may be visible in the distance. Big, open (and potentially windy) area.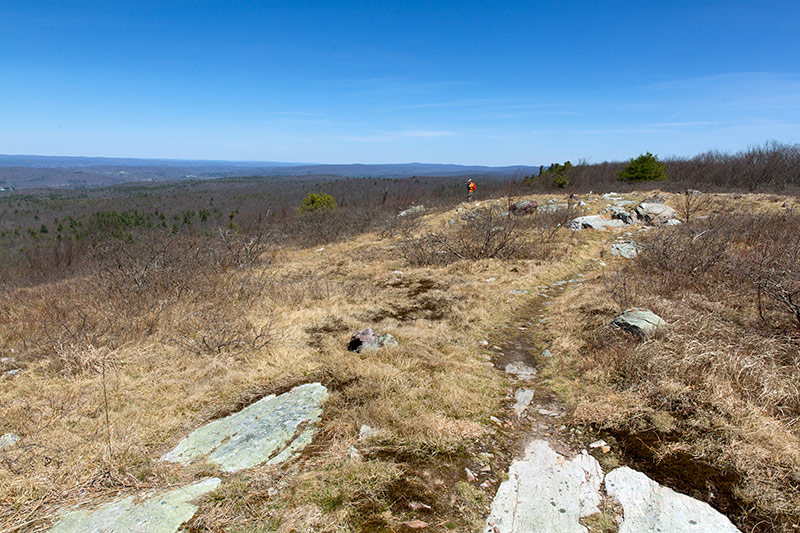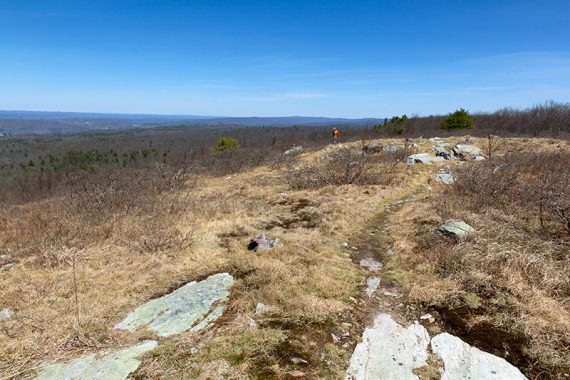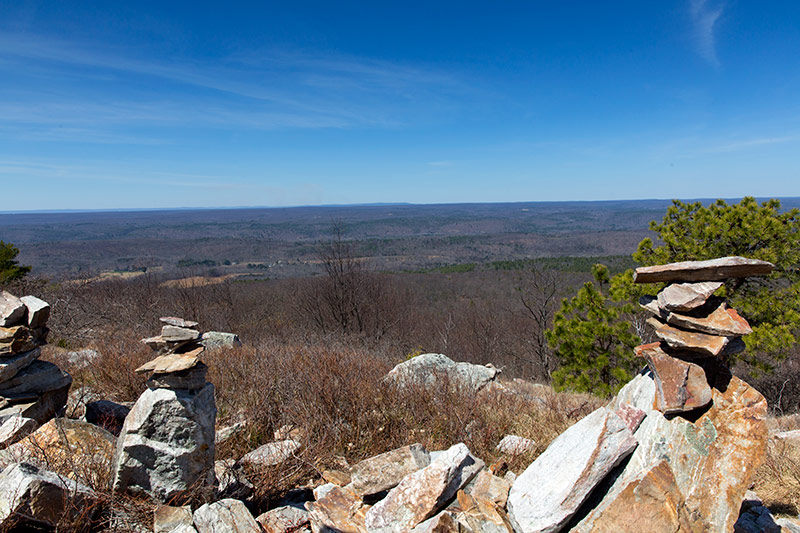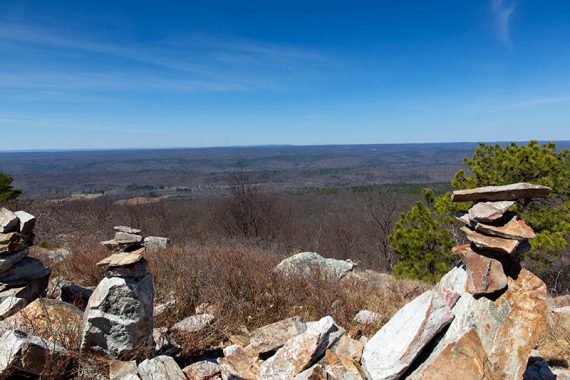 When ready to tear yourself away from the view, retrace the route.
Woods road again at the end.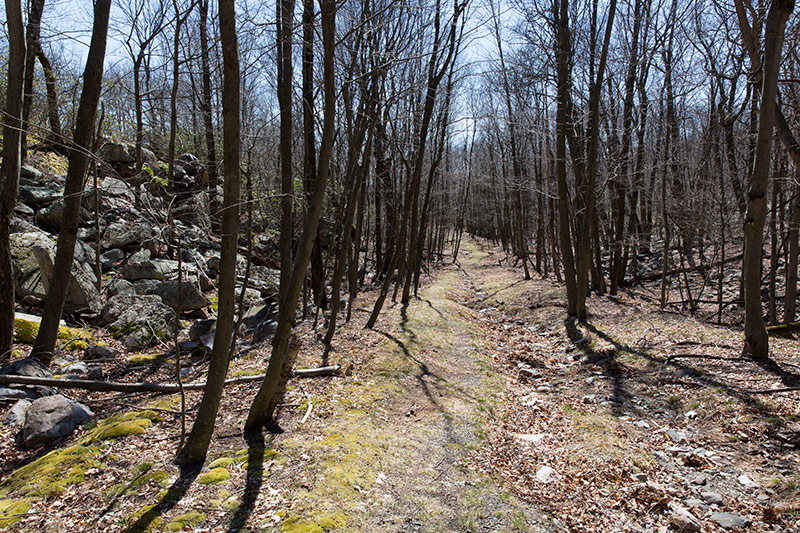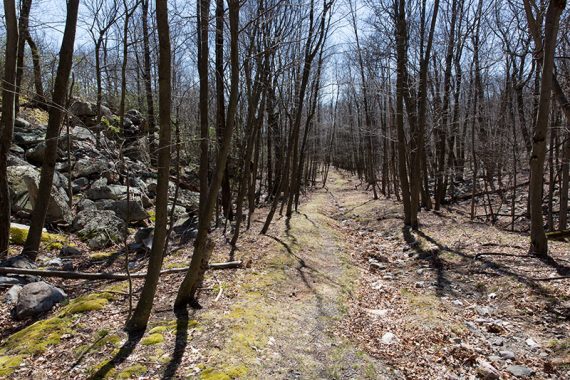 —
Hiked: 4/16/16.