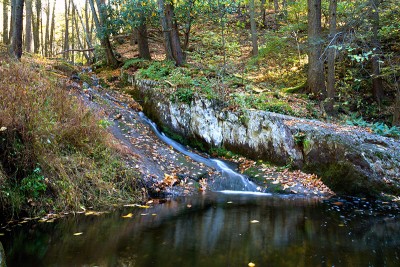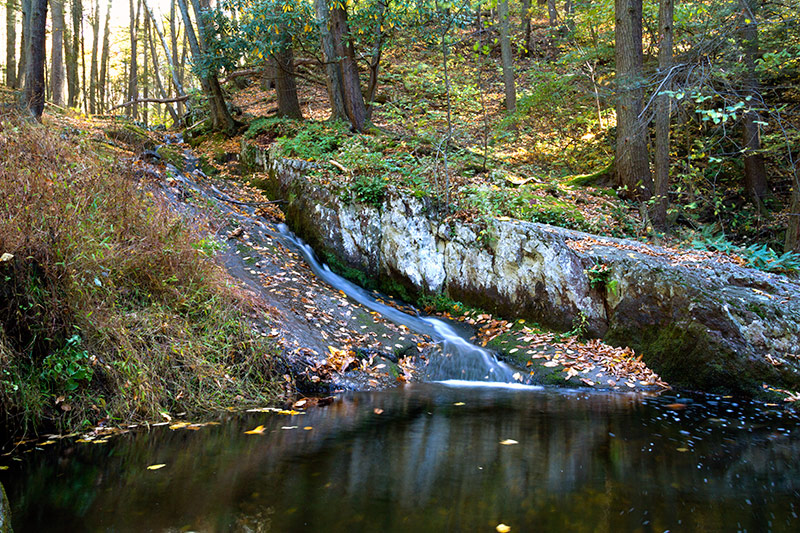 Shady hike in a pretty hemlock forest that features nice cascades and a cemetery dating to the 1800s.
2.3 miles, dirt and roots, some rocks. A few small wooden bridges. Bit of a hill coming back up from the Lower trail.
Shorter: Skip hiking to Walpack Cemetery
Longer: Add a 2nd hike to Van Campens Glen
Optional: Stop at Buttermilk Falls too (can be seen from the lot, without a hike)
Our two cents: It's worthwhile and enjoyable to include the hike to Walpack Cemetery – but it can be driven to if you'd like to see it without hiking (and you'll drive by it depending on how you come in).
Update 8/2017 – new park map link added.
Map: Detail of the area is now on the park map, print ahead or pick up at the office. The trail is on Kittatinny Trails, but it's hard to tell enough detail to follow. We took a photo of the newer Tillman Ravine map behind the glass in the trail kiosk, but there are more trails than shown on the map. The trails seemed to be marked differently than the last time we were here. Bonus historical map: Historical Tillman Ravine Map, 1962 – via Rutgers Special Collections.



Books: Brief entry in Kittatinny Trails.
Parking: Trails link the two parking lots, park at either:
N41° 09.505′ W74° 51.516′ [Upper lot]
N41° 09.407′ W74° 51.731′ [Lower lot]
Restrooms: Rustic latrine at each parking lot.

Hike Directions: WHITE TRIANGLE – BLUE CIRCLE on WHITE – WHITE TRIANGLE
This is more of a meander around short hike and it would be overkill to give specific step-by-step directions. The way the trails are marked makes it difficult to describe as well – it's easier to just pick your way as you go as opposed to trying to follow a particular route – but to give an idea, we did:
From the Upper parking lot, we took the trail to the left. It curved around and looped to an upper and lower trail.
We took the lower trail down to some bridges before heading back uphill.
We headed toward the Tea Cup – a swirling cascade. Near that is a sign for the Cemetery trail – now marked with BLUE CIRCLE on WHITE – which followed to a dirt road.
Turn RIGHT and walk a little bit down the road to the Cemetery.
When done at the cemetery, retrace the route back to Tillman Ravine. We took an upper trail to the Lower lot, walked through it to pick up the trail at the other end of the lot, and then made our way back to the Upper lot.
—
Hiked: 10/18/15. Trail Blog: "Tillman Ravine in Fall"
Hiked: 5/1/11. Trail Blog: "Tillman Ravine and Walpack Cemetery in May"