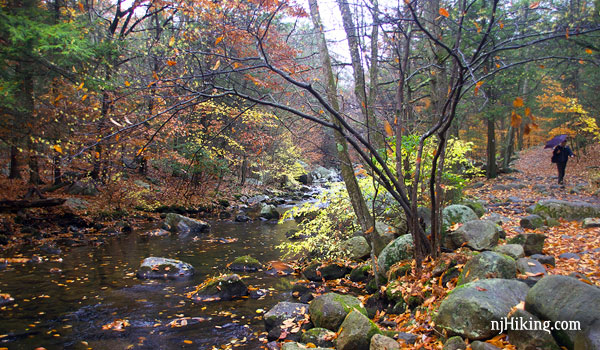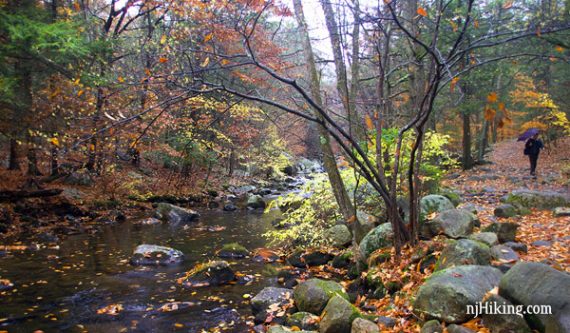 Very scenic hike that loops around Pine Meadows Lake.
Harriman is located just over the border in NY and has an extensive (and popular) network of hiking trails.
7.5 miles. Rocky, but relatively level. Some very minor scrambling in the last bit of the hike, but that can avoided and is noted in the route below.
Hike Info:
Updated: 5/2020: Page refreshed, not re-hiked.
Map:
Map 118 of Harriman-Bear Mountain Trails.
Books:
Hikes in this area are in Circuit Hikes in Harriman, Hike of the Week, Take a Hike New York City. Harriman Trails: A Guide and History lists mileage breakdown of every trail in the park (not loop hikes), as well as history of the area and trails.
Reeves Meadow Visitor Center. Garden State Parkway North to 17 N to Rt 287 N to Rt 87/17N. Take exit 15A and turn left onto Rt 17 N. R on Seven Lakes Dr.
The visitor center is on the right with a small lot, and another small lot just down the road on the left… but they will be full unless you arrive super early so you'll likely need to park along the road.
Restrooms:
At the visitor center; open 8a – 5p on weekends in season (believe the sign had from Mar. through Oct.).
Outside of that… there is a Valero on Rt. 17 N. in Mahwah just before getting onto 287…. or use the last rest area on the Parkway if taking that to the Thruway instead.
Hike Directions:
0.0 – From the parking lot, behind the visitor center, pick up the wide very obvious main path.
This is the RED blazed Pine Meadows Trail (red square on a white rectangle). Shortly, keep following RED straight as WHITE goes to the right.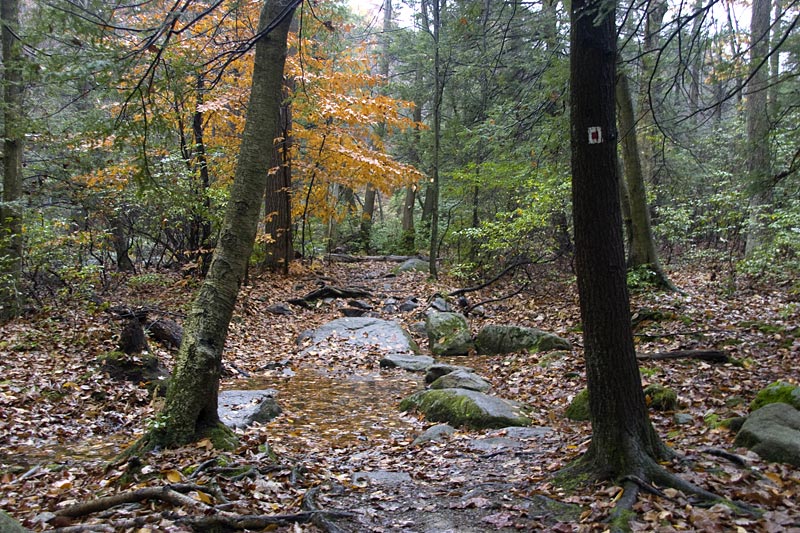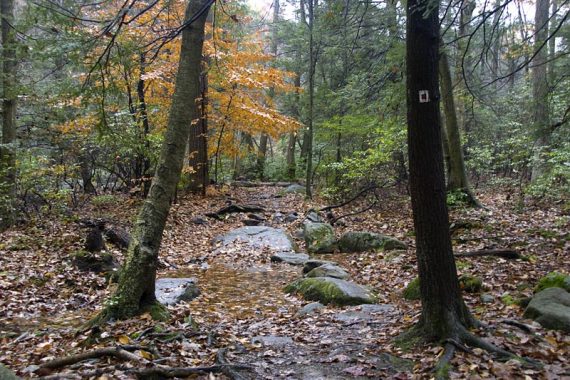 0.5 – bear RIGHT, keep following RED. [YELLOW goes to the left]
Pass through an open area for a gas pipeline.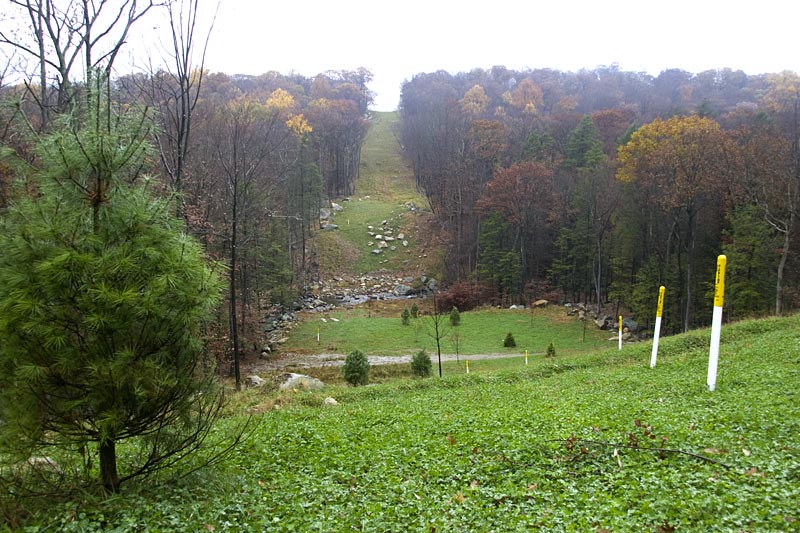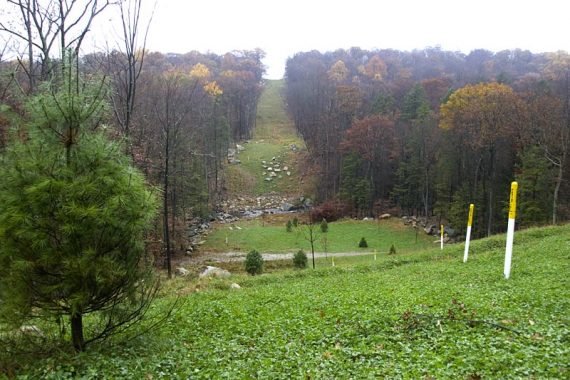 1.6 – Continue straight on RED. ORANGE goes to the right.
1.9 – Turn LEFT and follow RED over a bridge. WHITE continues straight but is easy to miss.
Just over the bridge, turn RIGHT and continue following RED. WHITE and BLUE go off to the left.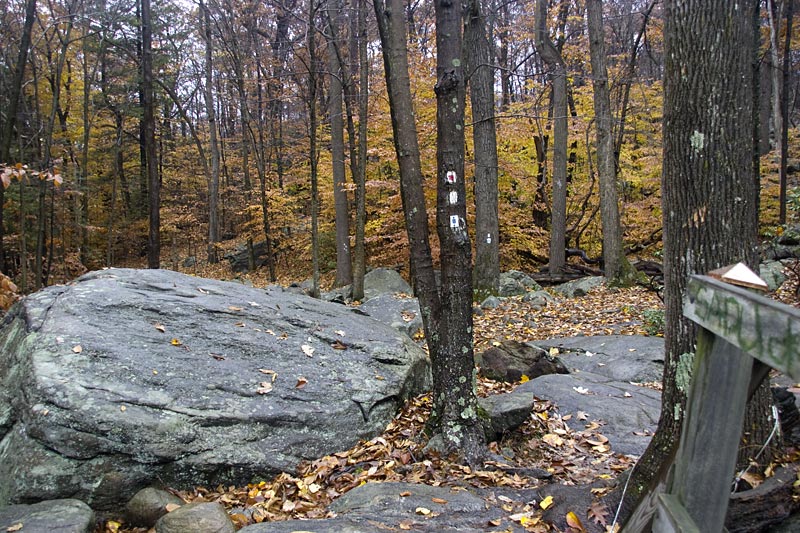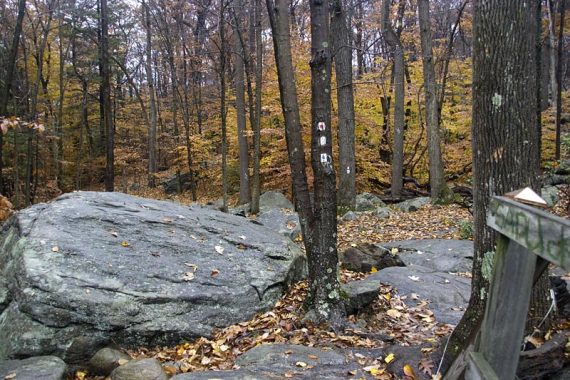 2.2 – Turn RIGHT and follow RED. YELLOW goes to the left, and straight.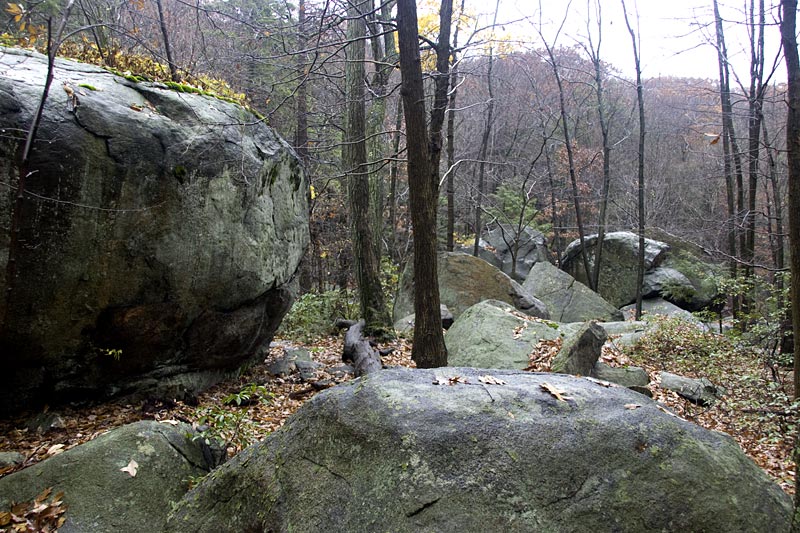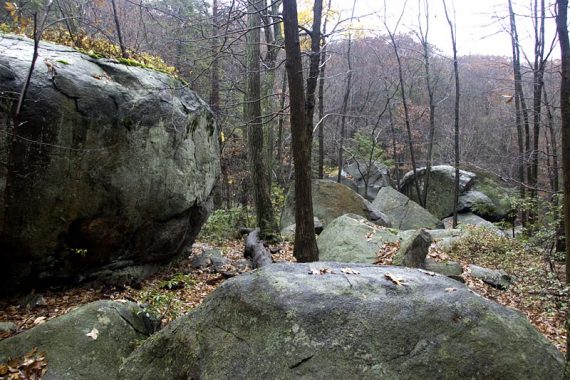 Old building foundation along Pine Meadows trail.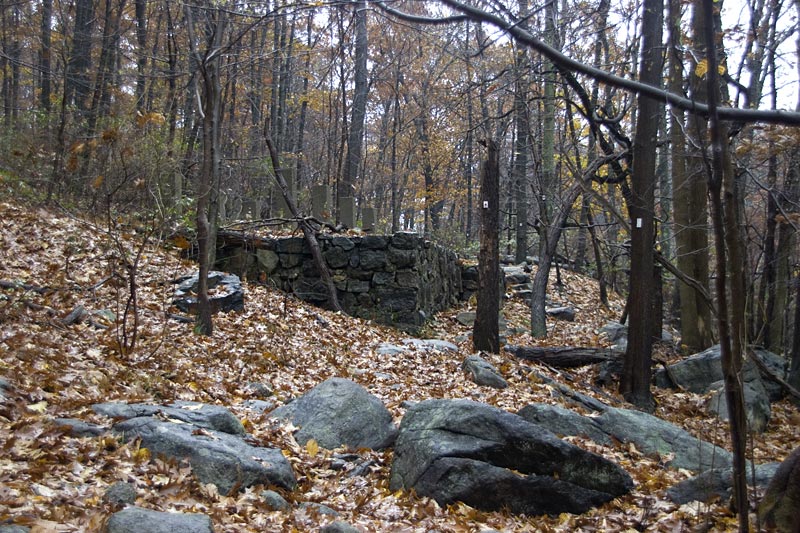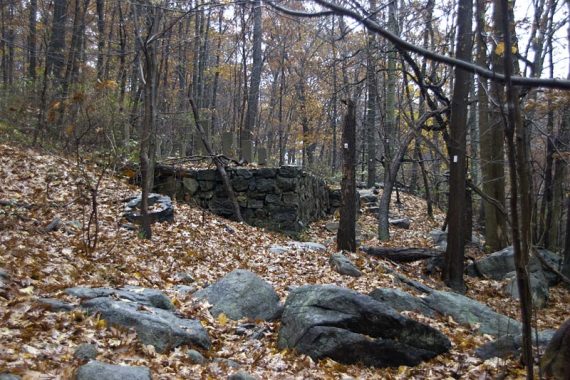 2.4 – Arrive at Pine Meadow Lake. Nice view and plenty of areas to sit and take a break, or you can continue around the lake for more break spots.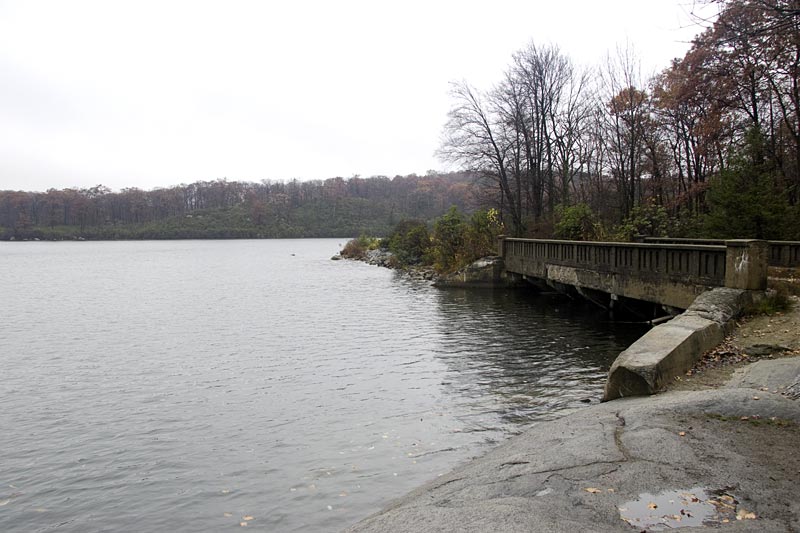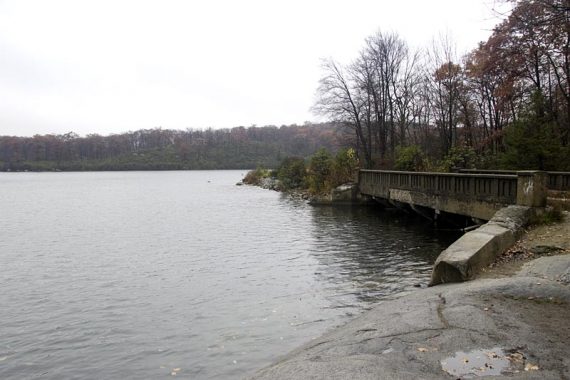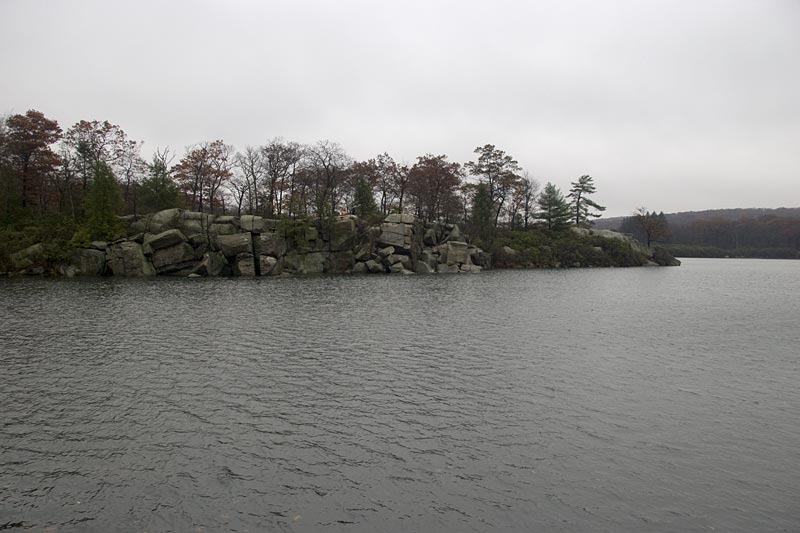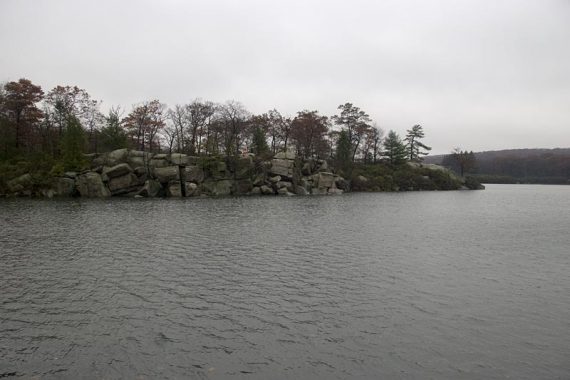 While facing the lake, look on your left for the continuation of the RED trail. It follows around the north side of the lake.
2.7 (about) – The trail follows out onto a peninsula of land, and you can actually continue off trail a bit to many spots to take a break. Just backtrack a little bit and continue following RED.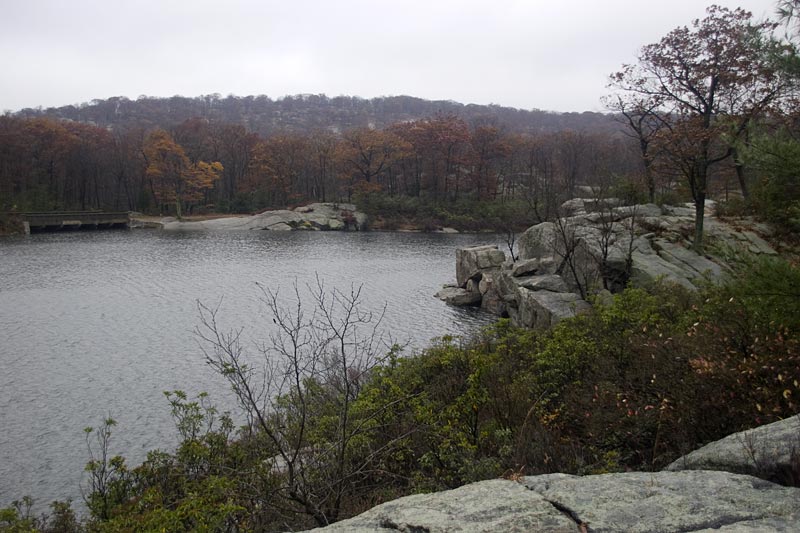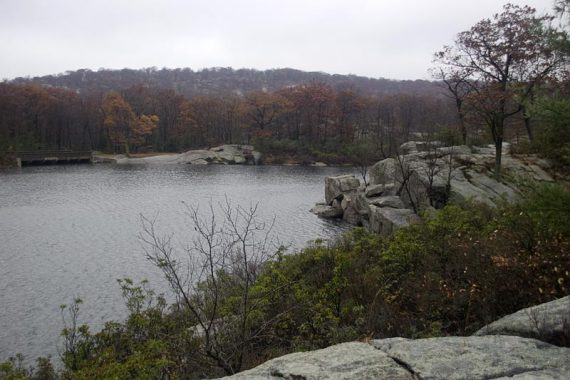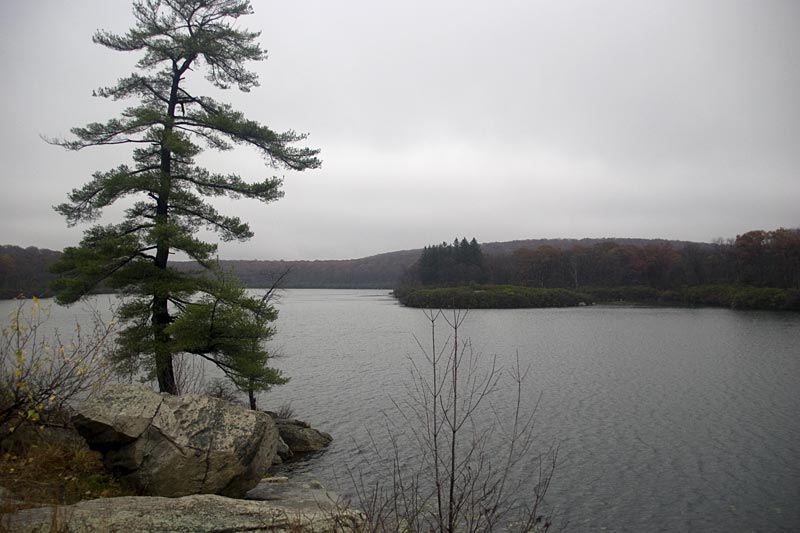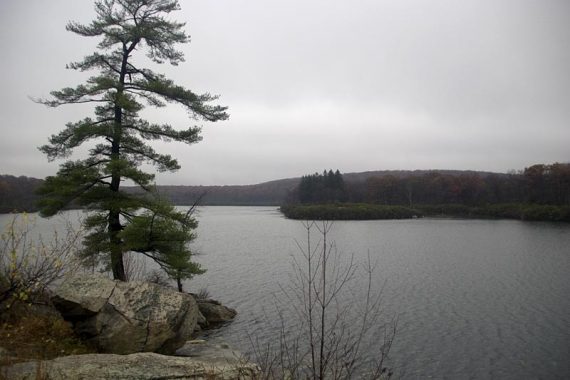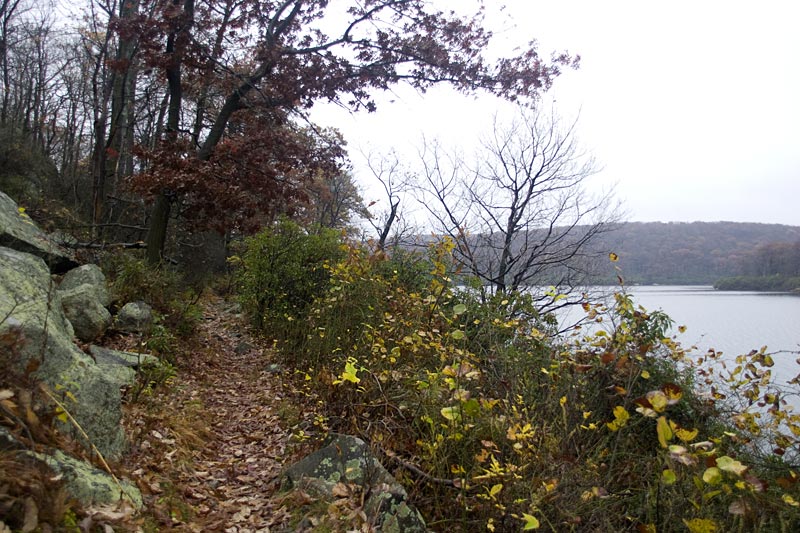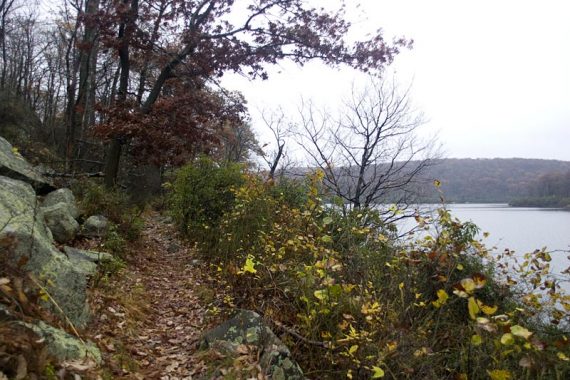 Pass an old foundation of a building on your right, near the water.
Believe this is an old pump house built in 1936 (from the Harriman Trails book) There are also short square cement structures and an old pipeline found around the lake.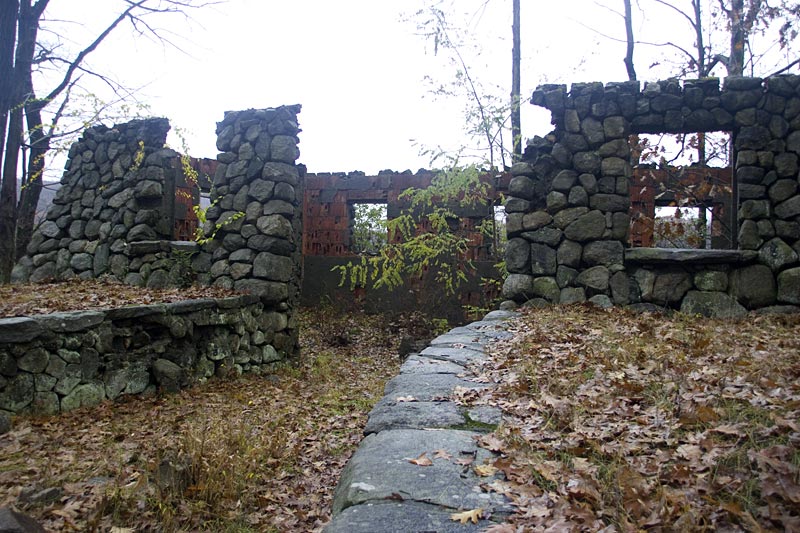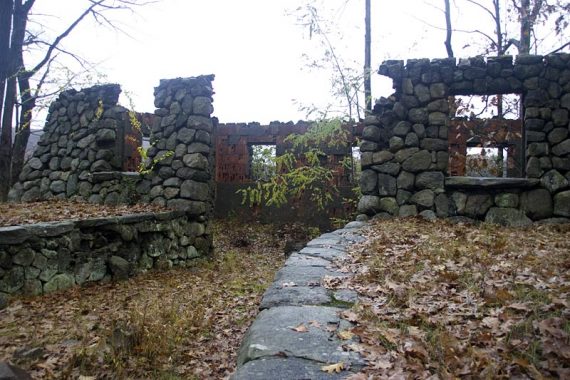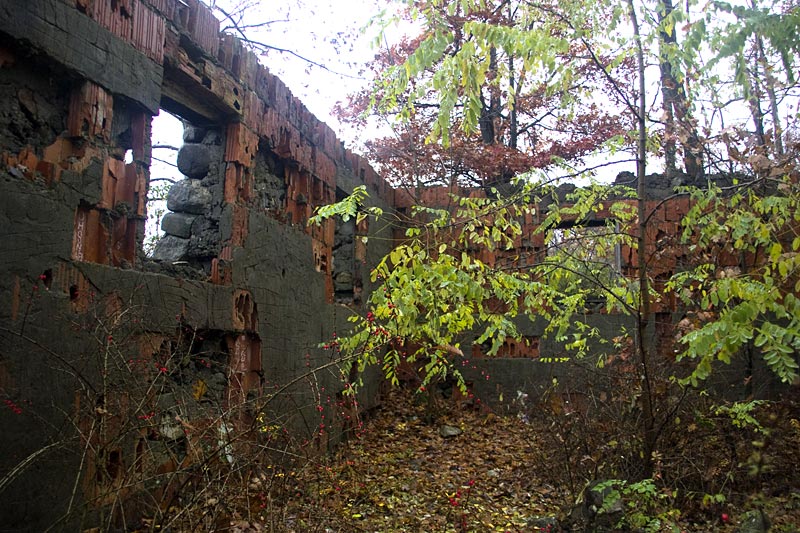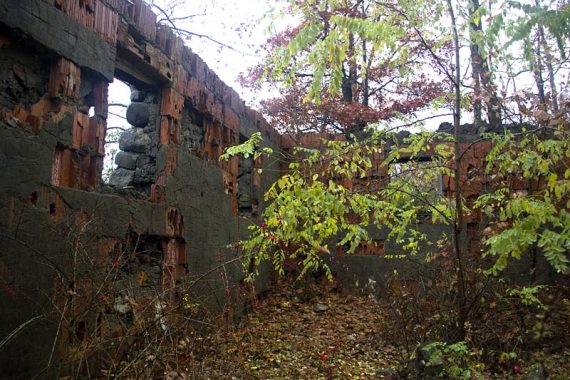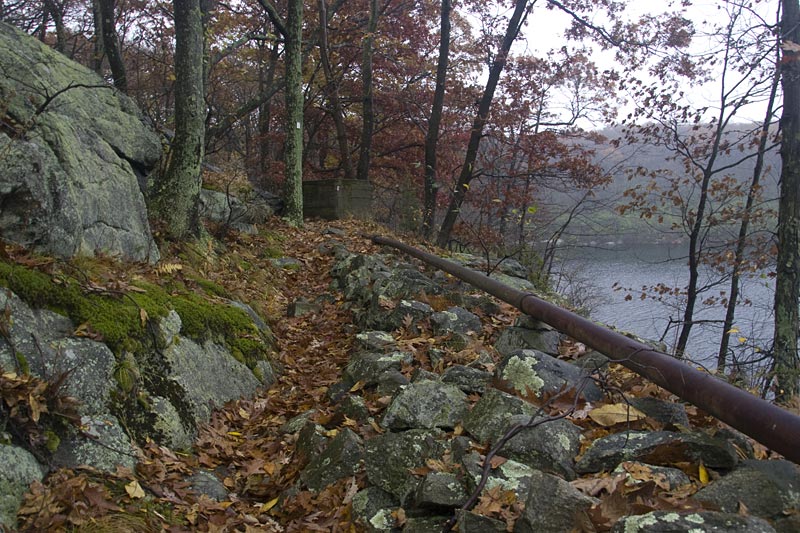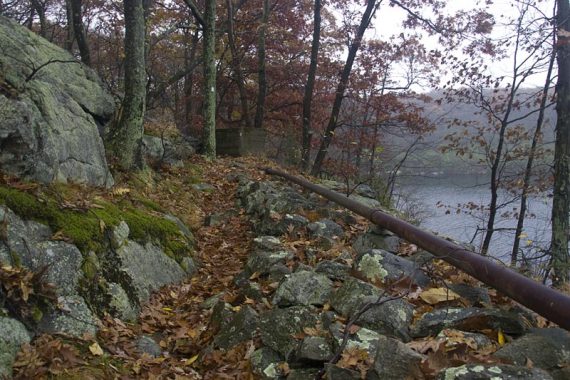 3.4 – Start following WHITE now. The red trail goes off to the left.
3.6 – Very shortly after picking up WHITE, watch on your RIGHT for an unmarked trail that goes around the lake and take that. It is easy to miss and is overgrown a bit.
The trail around this side of the lake is different… overgrown, and at points you are on raised berms, and in several spots you are walking on old pipes.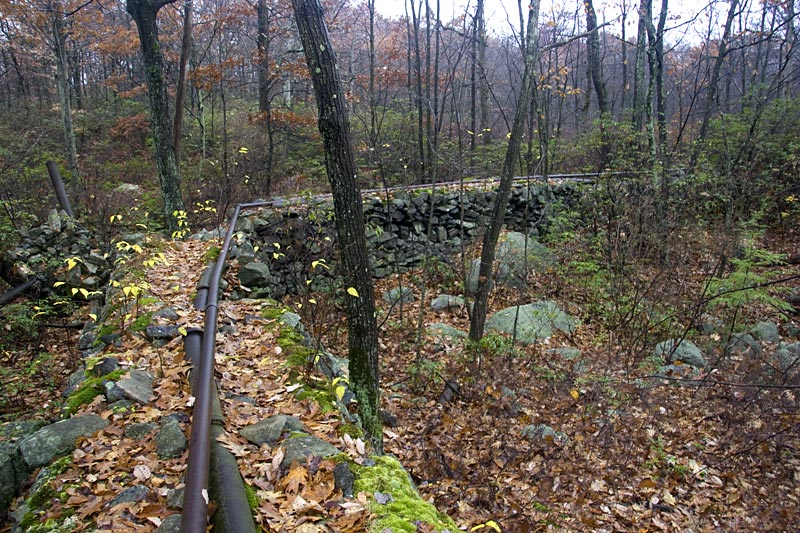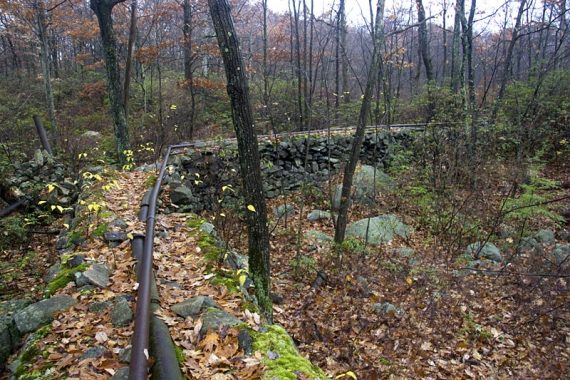 4.1 – Arrive at Pine Meadow Road – a woods road. Turn LEFT onto it and follow it as it curves up and around. It also goes right for a short ways.
4.5 – Sort of a T-intersection, keep following the road straight/right.
Arrive back at the lake where you started and pick up RED again, making a LEFT onto it.
At the intersection with YELLOW, turn LEFT and continue on RED.
5.6 – Pass the bridge on your left where you crossed the brook earlier. You are now following WHITE (Kakiat)/BLUE (Seven Hills).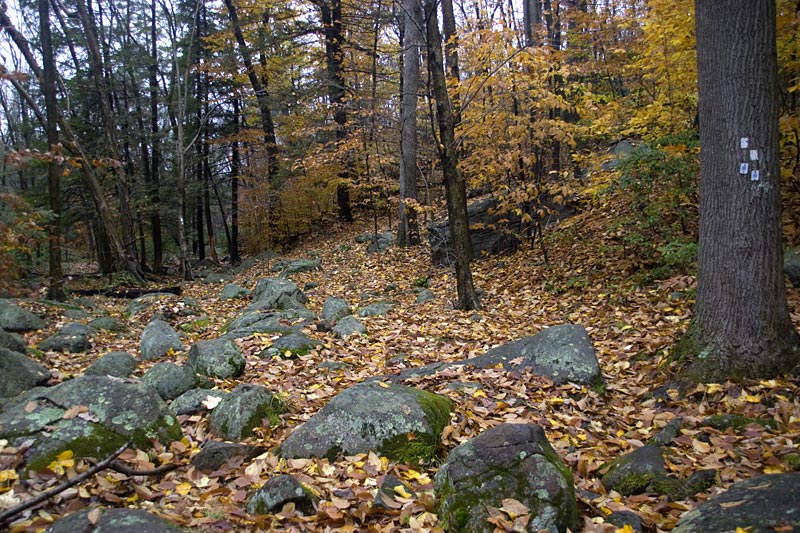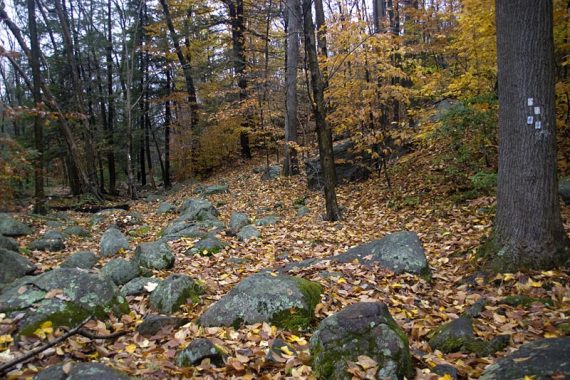 5.7 – Follow just WHITE now. The BLUE trail goes off to your right.
Pass another bridge on your left. One of the many bridges that connect the trails over the brook: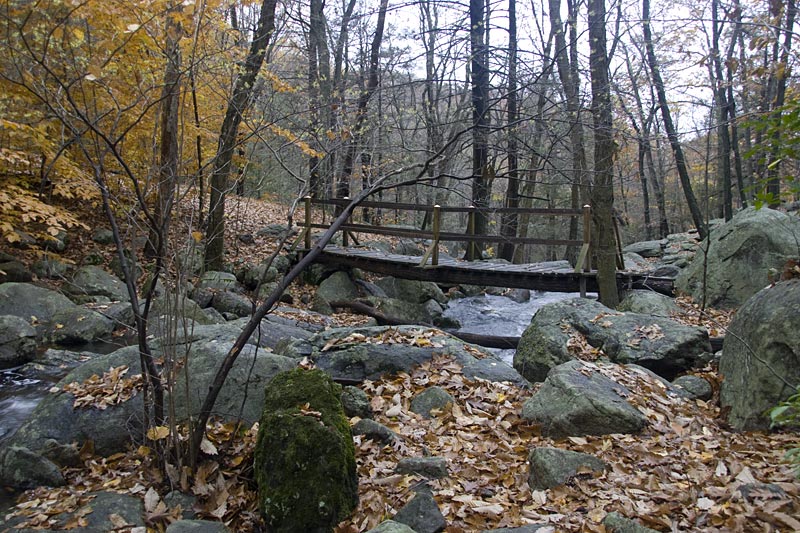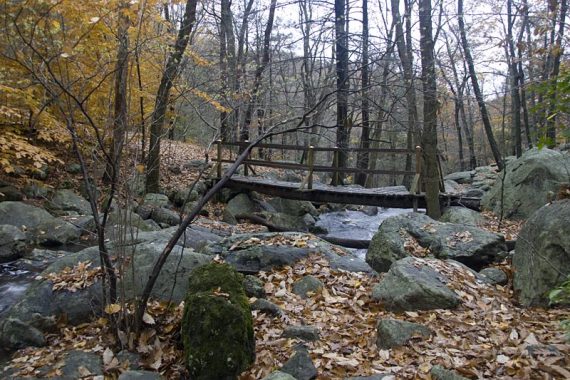 A large boulder has directional arrows marked for HTS and K… HTS is Hillburn-Torne-Sebago (ORANGE) and K stands for Kakiat (WHITE)
You could turn left here and follow RED back to the lot if you'd like to avoid some upcoming minor rock scrambles (maybe a good idea if the trail is wet – if you do, after the bridge, turn right and follow red back)
Continue following WHITE. The trail heads down, negotiate some minor rock scrambles.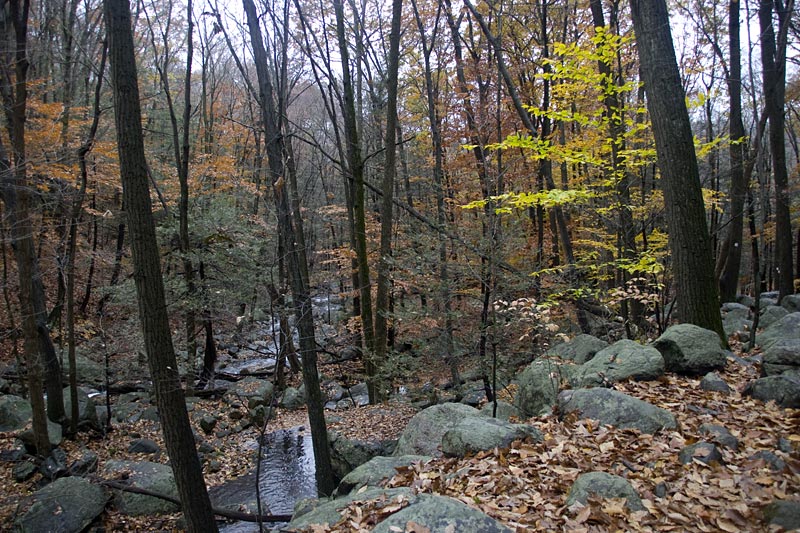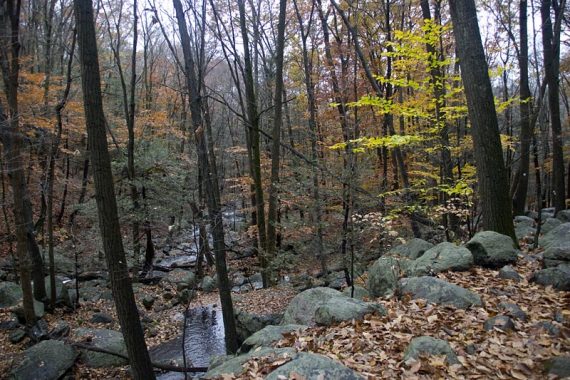 6.3 – Turn left and go over a bridge. You are following WHITE/YEL.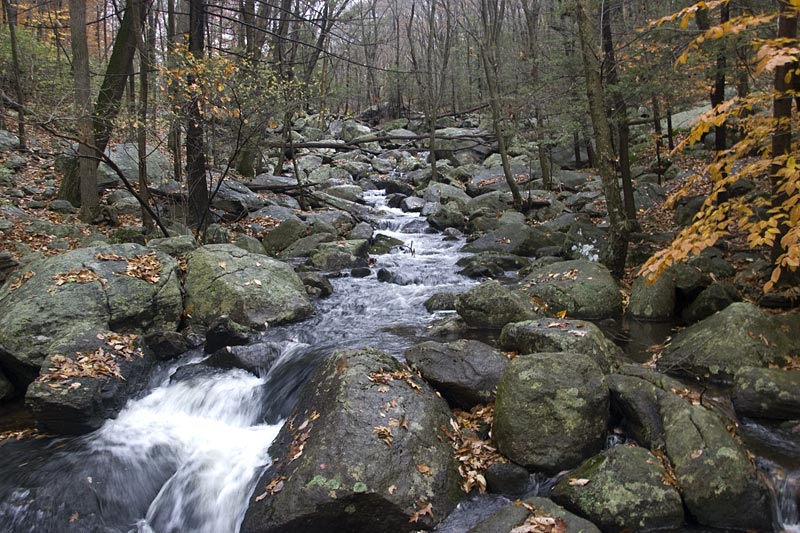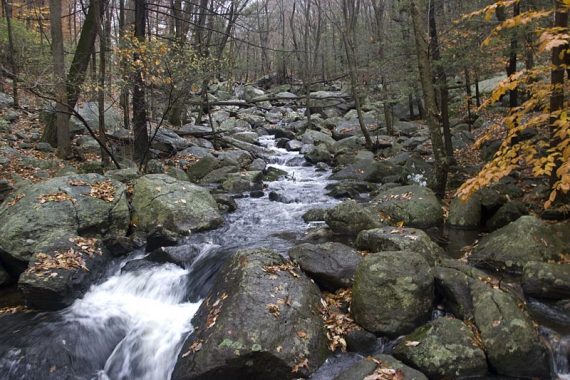 Pass another larger bridge on your right, where the WHITE trail heads off. You are now just following YELLOW.
YELLOW will rejoin with RED, and follow that back to the lot.
—
Hiked: 6/24/13. +Conklin Cemetery. Trail Blog: "Pine Meadow Lake Loop and Conklin Cemetary in Spring"
Hiked: 10/31/09. Trail Blog: "Halloween Hike at Harriman"