Biking three rail-trails through rural New Jersey – Sussex Branch, Paulinskill Valley, and The Great Valley Rail Trail.
Our two cents: These trails have their rough spots but are doable. For less of an adventure, park at Warbasse Junction and stick to an out-and-back on the Paulinskill Valley trail in order to miss the road ride part of Sussex and some rougher trail. Paulinskill Valley is the most maintained and easy to ride of all three – but also the busiest. We saw no one on Great Valley.
The trails are open to equestrians and bikers need to yield. We normally just pull over entirely to make it easier as some horses are wary of bikers. On a few stops, some friendly horses came over to nuzzle hello… and one seemed like he wanted to follow us home.
Miles: 26
Parking – N41 01.001 W74 44.584 [Andover]
Large lot. Kiosk at the end of the lot but to get to the trail, head back out the driveway, cross the road and turn right onto Sussex Branch.
Restroom: Composing toilet in the Andover lot and at the Warbasse parking lot (not visible when passing by on Sussex, it's down from the intersection, on Paulinskill).
Trail Surface: Varies from packed cinder or dirt to a narrow dirt strip between grass. Sussex has a few rough and wet spots with a smidgen of road biking thrown in. The Great Valley trail is just grass. Many areas aren't wide so when a bike or people are coming the other way, we had to go off trail. Road bikes wouldn't be a good idea – hybrid or mountain bikes only. Of the three trails, Paulinskill is the best surface.
Resources:
Didn't spot any paper maps along the way. The map is good, but it's still vague at some crossings that have no signage.
This weekend's adventure included the-rail-trail-less-traveled, a bald eagle, several friendly horses, and nearly being run down by a tractor.
We last biked in this area in 2006 and since then, the Great Valley Rail trail has been added which allows for a loop with Sussex and Paulinskill Valley. So while we knew it was potentially a little rougher than the rail trails we normally do, we thought, "oh, let's just go see."
And so it began.
The trail is pretty basic from the Andover lot, but we soon ended up at a small parking area at Rt. 616 with no indication of the next move. We calculated we needed to ride down the road and turn right at a billboard – that turned out to be correct.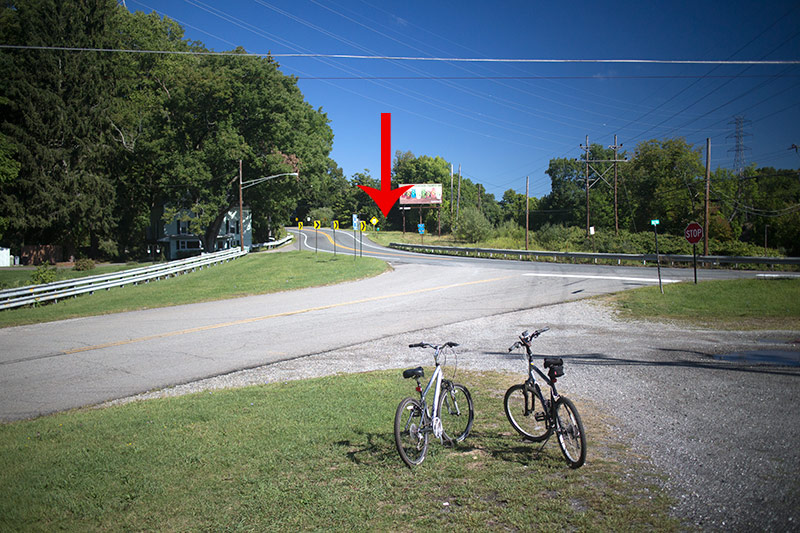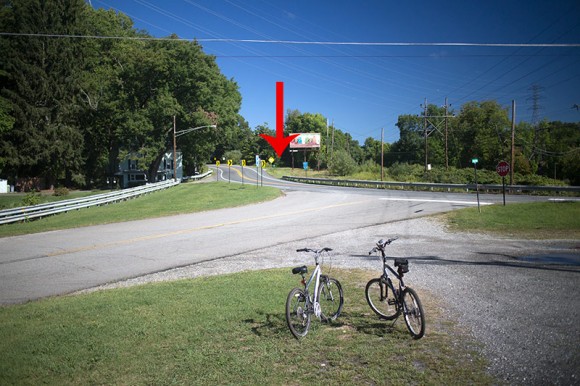 In a few more feet we got to this sign.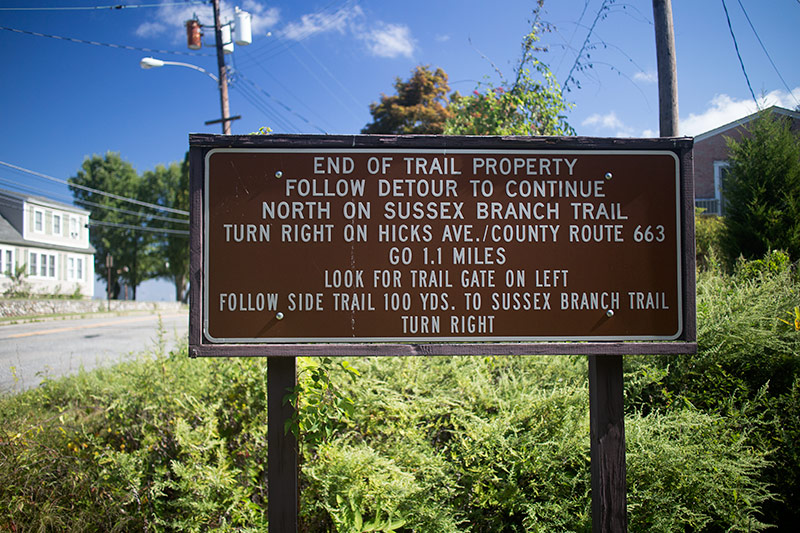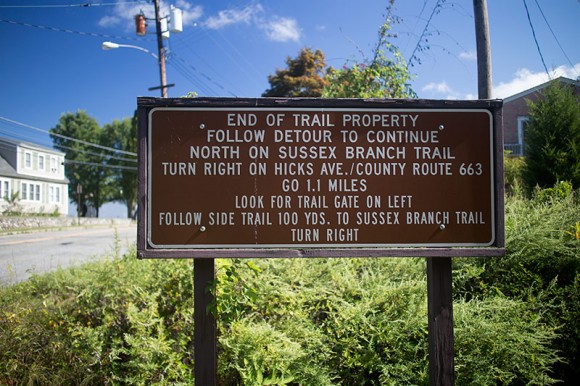 OK – you got all that? This is a 1.1 ride downhill on a road with a 50 mph-limit most of the way. Not exactly our idea of an idyllic trip on a rail trail (plus this is the way back and it's steep at the end – bleh).
The Sussex Trail is scenic and the surface isn't too bad (though it can be a bit narrow and it was rooty for a bit after getting off the road). At Warbasse Station we continued straight at the junction with Paulinskill Valley.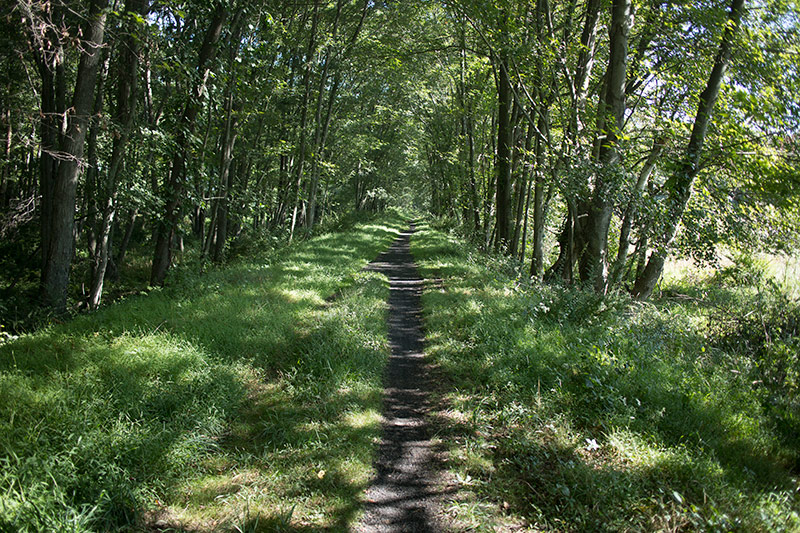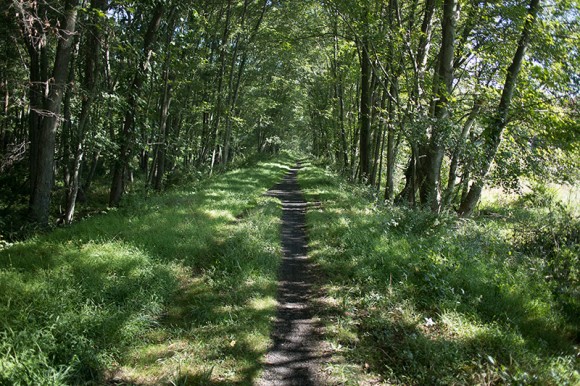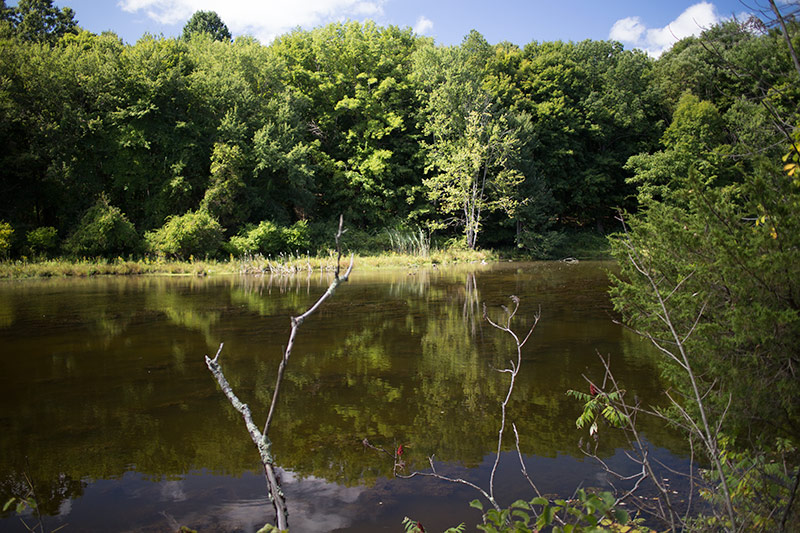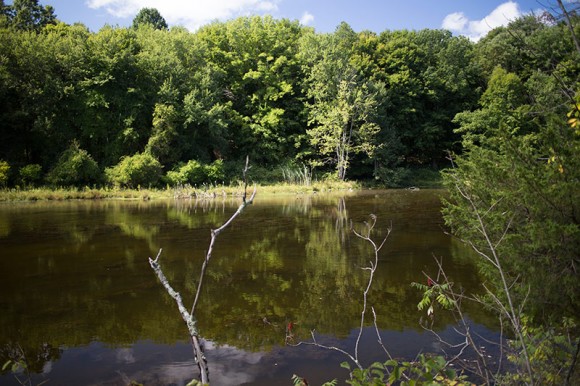 After a busy road crossing at Rt. 206, and just after passing a police station, there was a section of rock fill that was less than fun to ride on. Once it gets worked down it won't be as bad. Just after that was some serious mud – obviously this section get it's share of water.
No pics of the rocks and mud as I was too busy slogging through it. But the area around was very rural and pretty.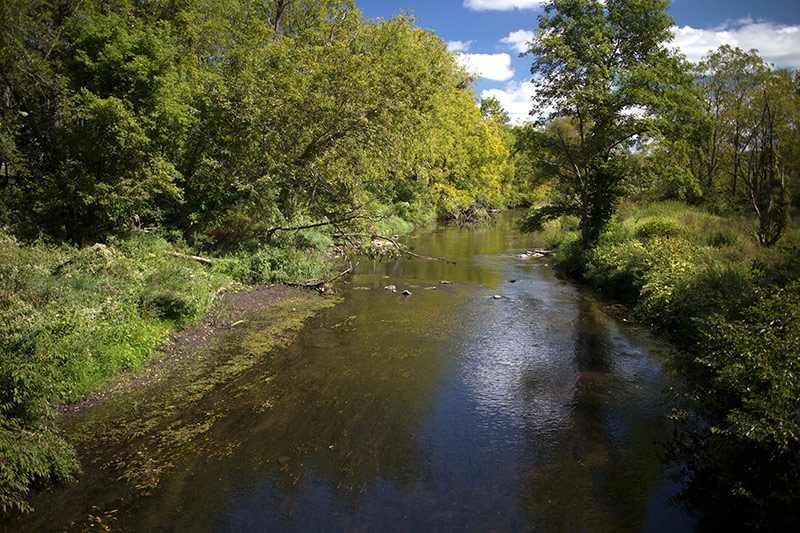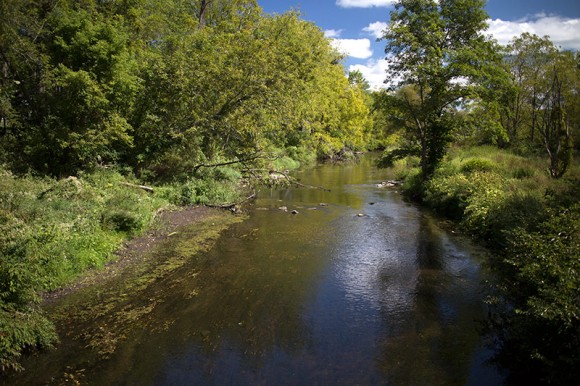 Eventually we got to the Great Valley Trail at a small parking area, and turned left onto that. This was a thin barely-there path through a wide grassy, shady, pipeline cut.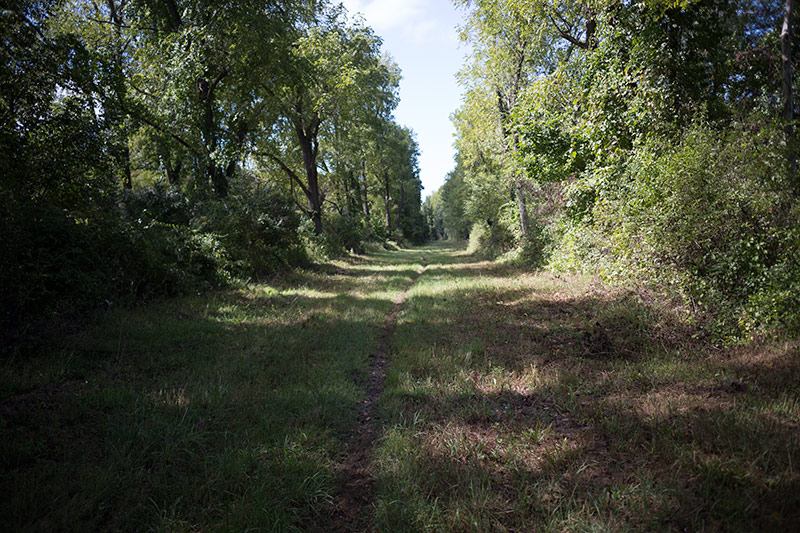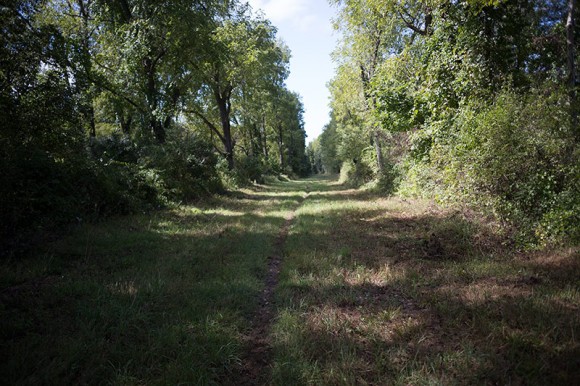 We weren't really enjoying this trail until we startled a large bird and realized it was a bald eagle. We skidded to a halt as it flew down the trail at us, and watched slack-jawed as it flew right over our heads and continued down the trail.
Ok, so that was pretty cool. As much as we hike, I think the only times we've spotted them in Jersey were at Belleplain and Parvin state parks.
A little while later, I heard what I thought was road noise but suddenly a tractor popped out of a break in the trees and darted across the trail.
I hit the brakes, rather startled that I had no idea he was coming and I was so close to being in the way. He smiled and waved as he drove across the trail to the field on the other side.
Tom and I just looked at each other. If nothing else, hiking and biking in NJ is an endless source of mildly bizarre experiences.
At Rt. 626 it wasn't clear that Great Valley continued on the pipeline clearing because there were some rocks to lift the bike over next to a closed gate, and only a tiny faded park sign. We wanted to pick up Paulinskill Valley for the ride back, and we weren't sure if Great Valley ran into it or we needed to connect via the road.
Eventually, the Great Valley does end at Paulinskill Valley. We turned left and biked this mostly easy trail back, through Warbasse, and then made a right to head back on Sussex.
For even more rail-trails in NJ, check out our NJ Bike Trails page.
—
Biked 9/7/14. Wildlife spotted: Bald eagle. A bald eagle.