Biking the D&L Canal from Lock 19 in Lodi to Lock 22 at the Theodore Roosevelt Recreation Area.
Miles: 22.7
This route is just a fraction of the 168 miles available on the Delaware & Lehigh Canal towpath in Pennsylvania.
Our two cents:
Mostly easy, level scenic bike ride (or easy hiking) with several picnic areas plus a little market/cafe/coffee roaster right ON the trail. This food stop is early in this route and not in the middle.
Mostly shady but there are some large open stretches of sun.
The Details:
Several years ago we did a route that overlaps some of this one (see D&L Canal – Frenchtown to Riegelsville, P.A.).
We decided to create a variation that is just on the D&L so it's more straight forward navigation, with easy parking and a restroom at either end, and passes by the on-trail market we like.
0.0 – Head out of the Lock 19 parking lot and cross Lodi Hill Rd. to start traveling north on the towpath.
You'll know you are heading in the correct direction if the canal is on your left!
The path runs along the canal and generally looks like this: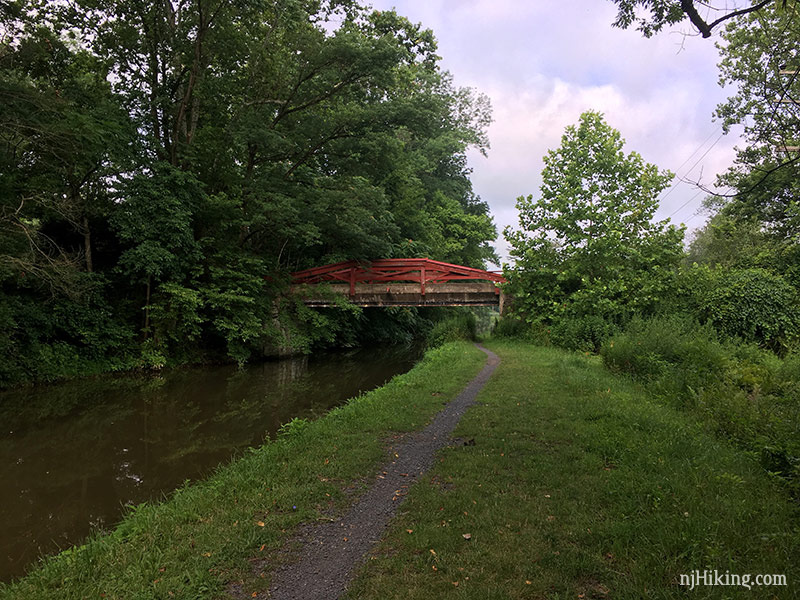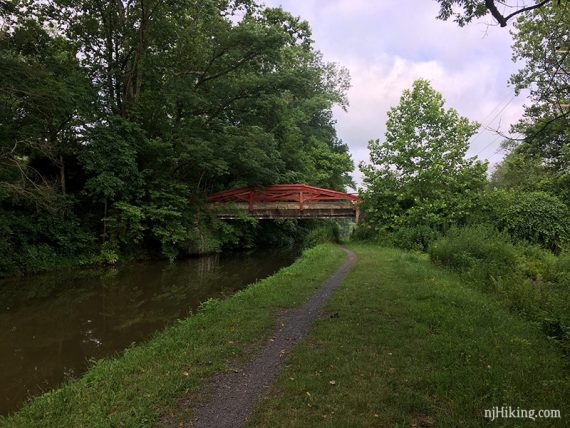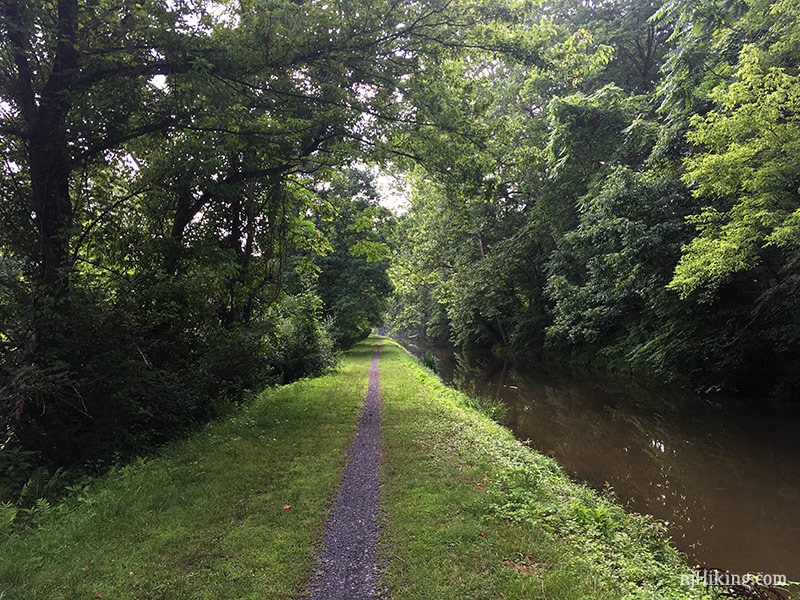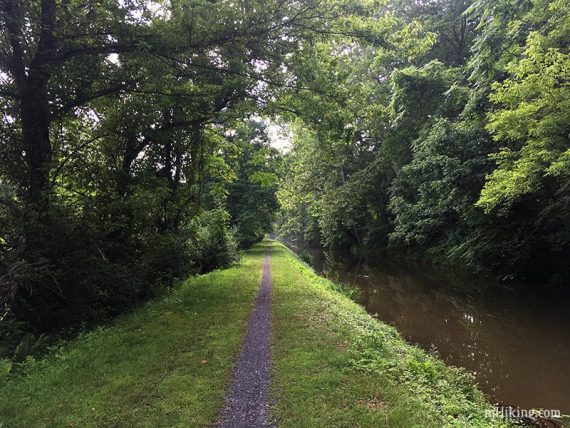 The dirt path is wider in the beginning then narrows to single-track. Later the dirt section gets pretty skinny with grass on either side.
1.5 – Homestead General Store and Coffee Roasters on the right.
When we stopped here on the way back it was crowded but by the time we got our food it had emptied out. We hit the lull between breakfast and lunch …or perhaps we scared everyone off?!….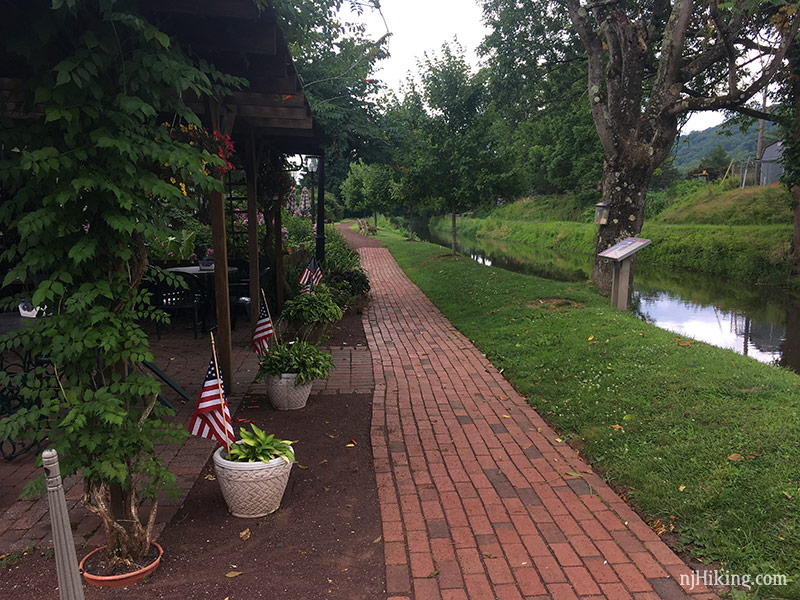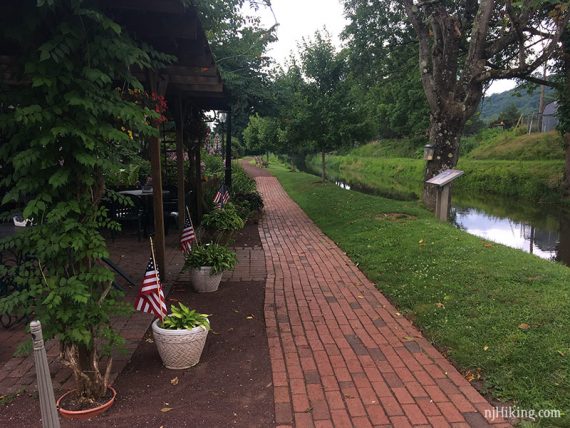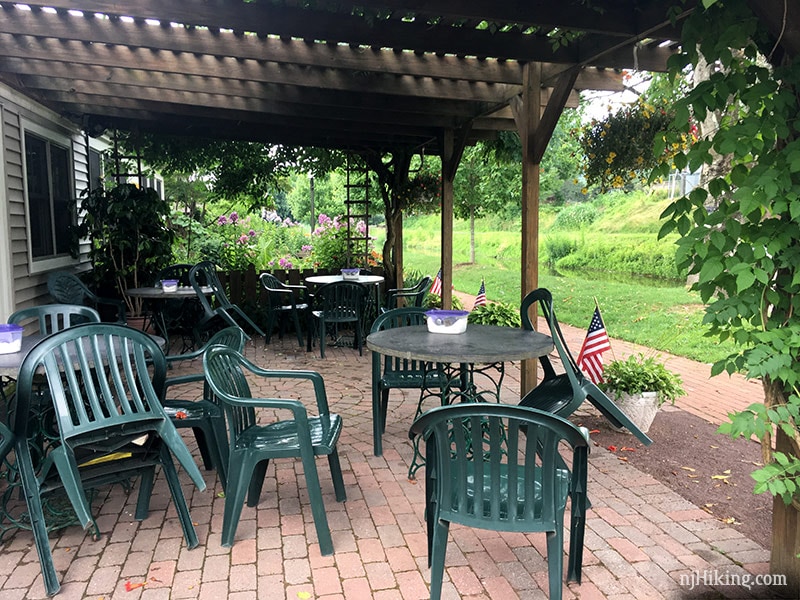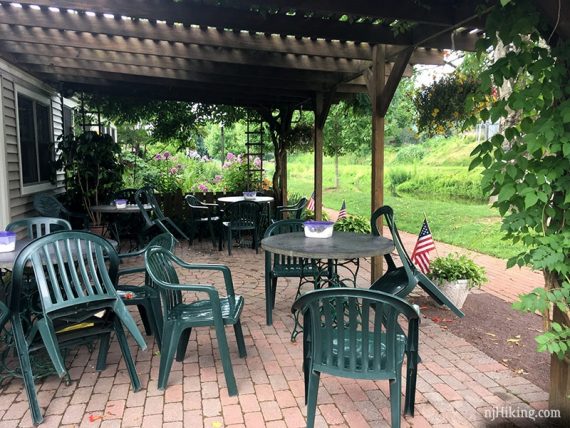 Sometimes the towpath will duck under a bridge, take it slow or walk the bike in case there is a walker or biker on the other side.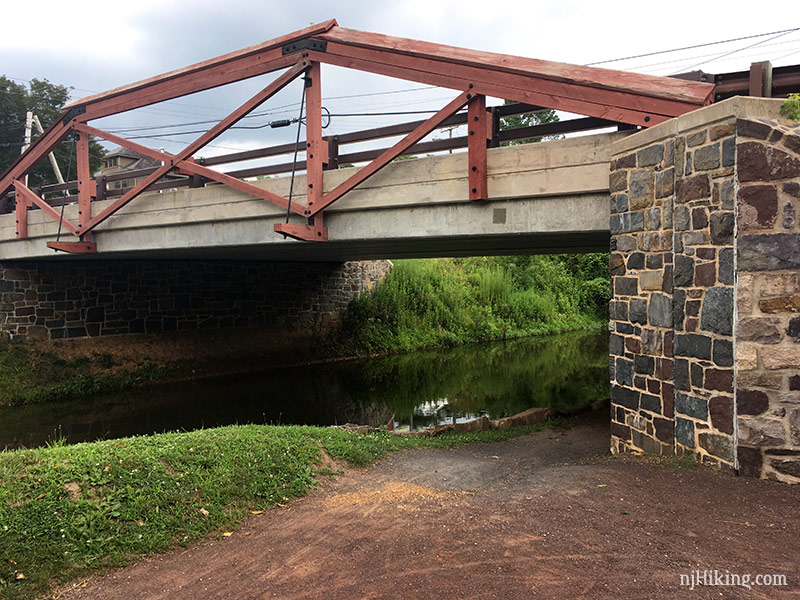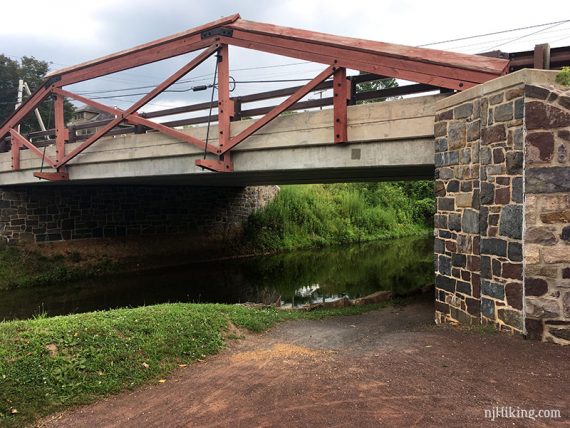 4.9 – Lock 20 at Nockamixon Cliffs has picnic tables.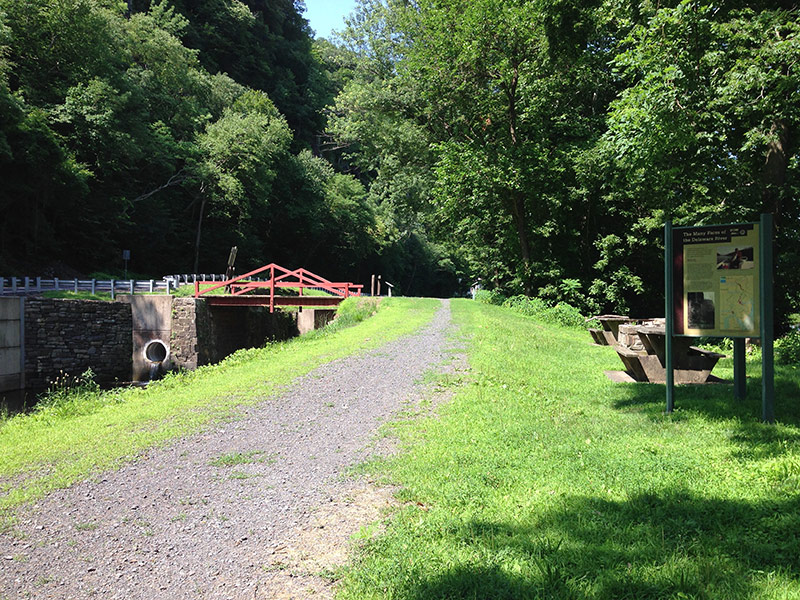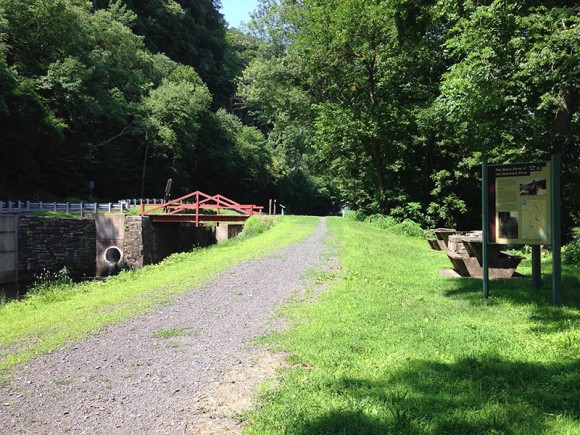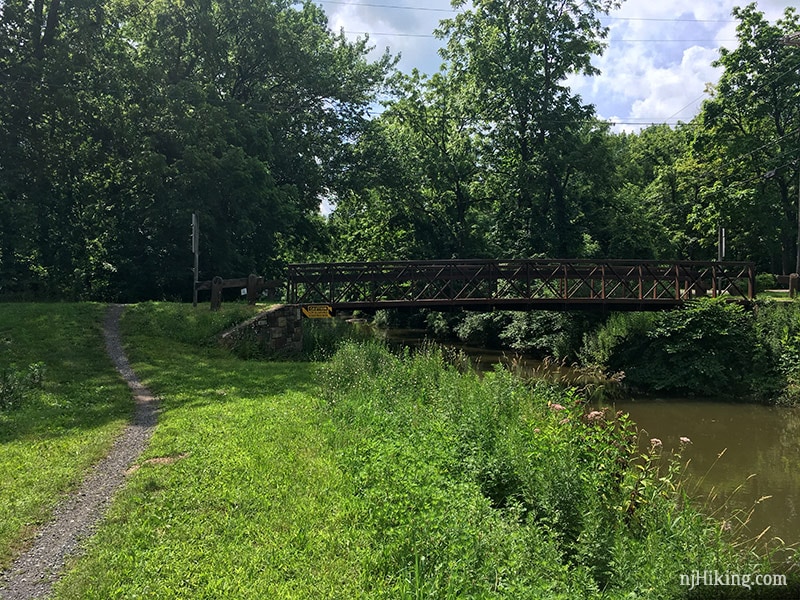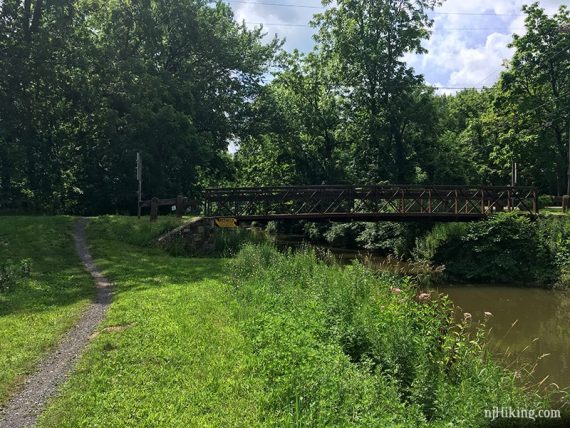 The trail continues into open sunny areas past farmland.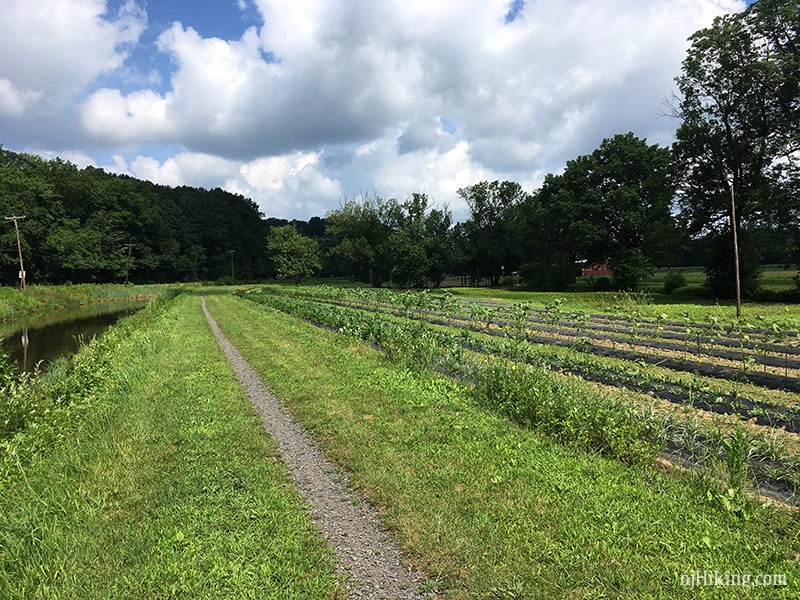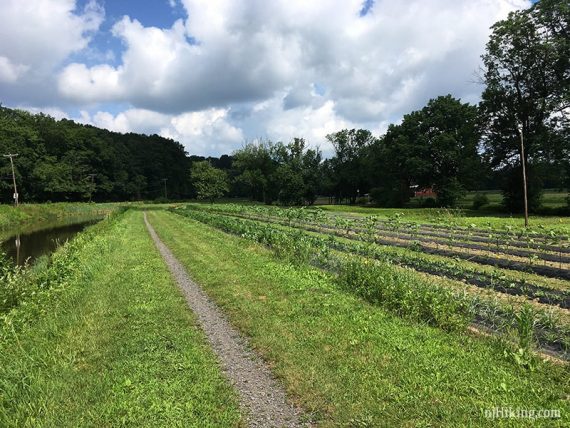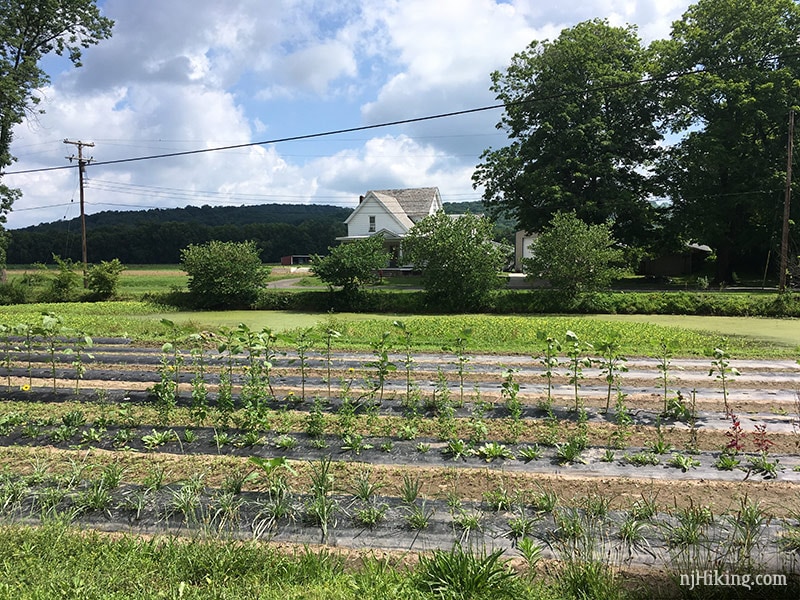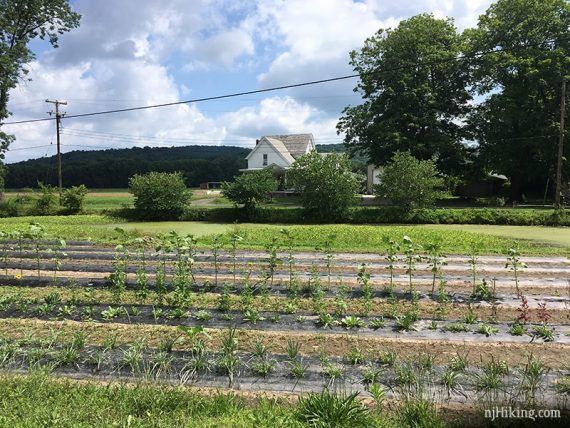 7.5 – Lock 21 at Durham Aqueduct. Also a few picnic tables.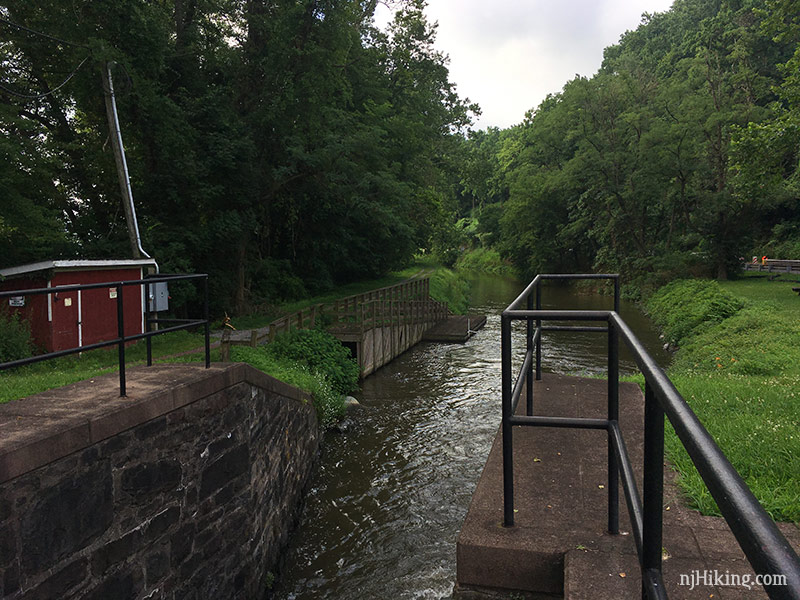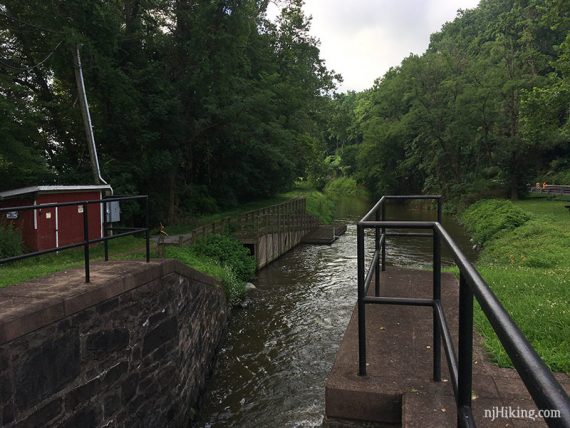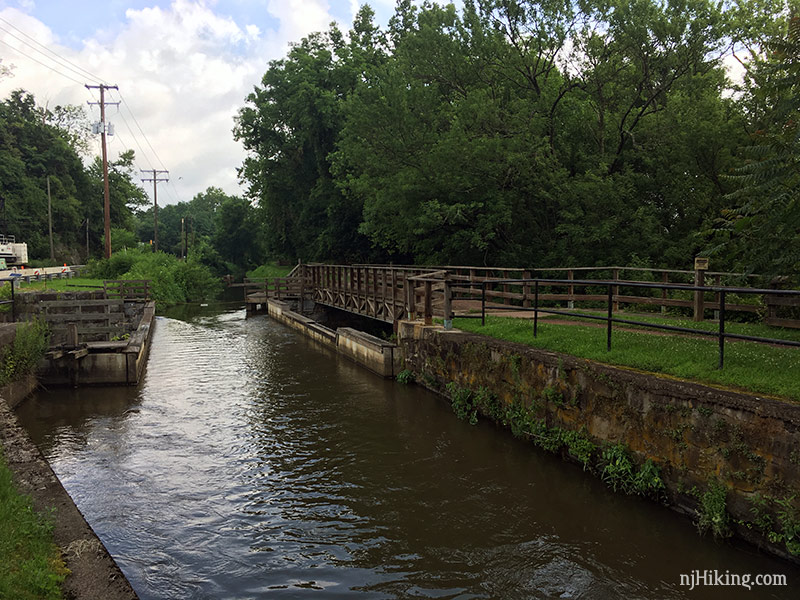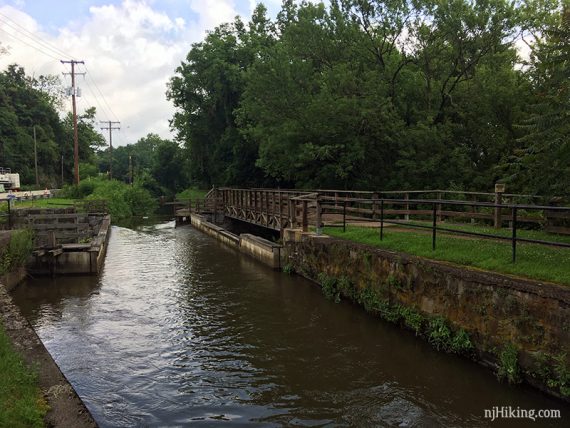 11.3 – Lock 22/23, Theodore Roosevelt Recreation Area.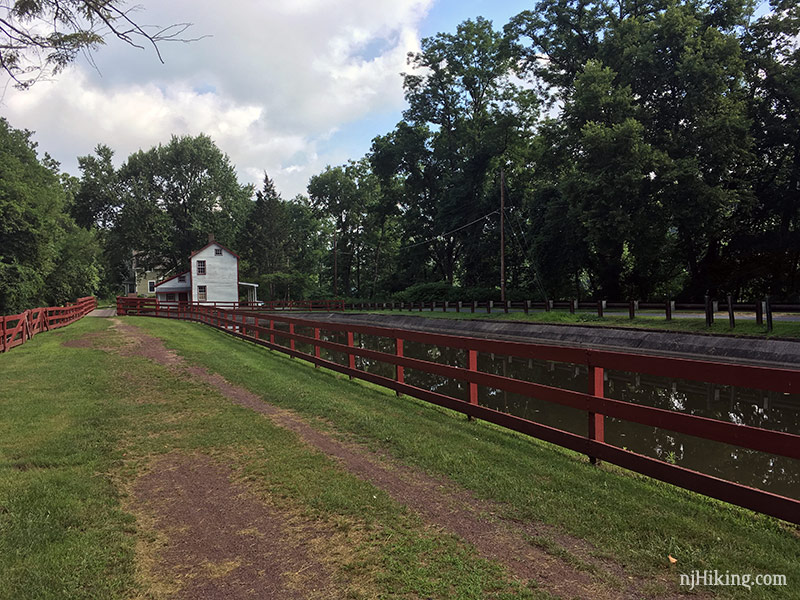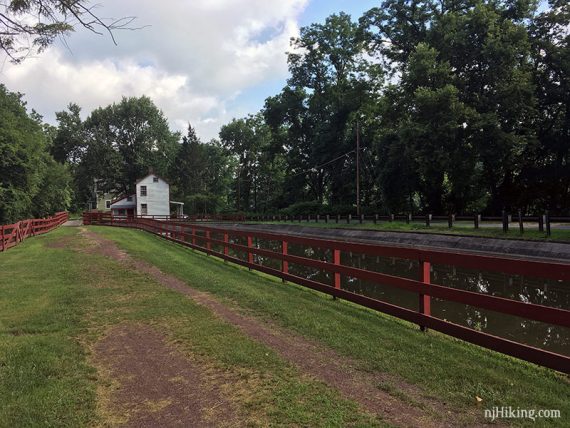 Looking back south towards the parking lot at Theodore Roosevelt.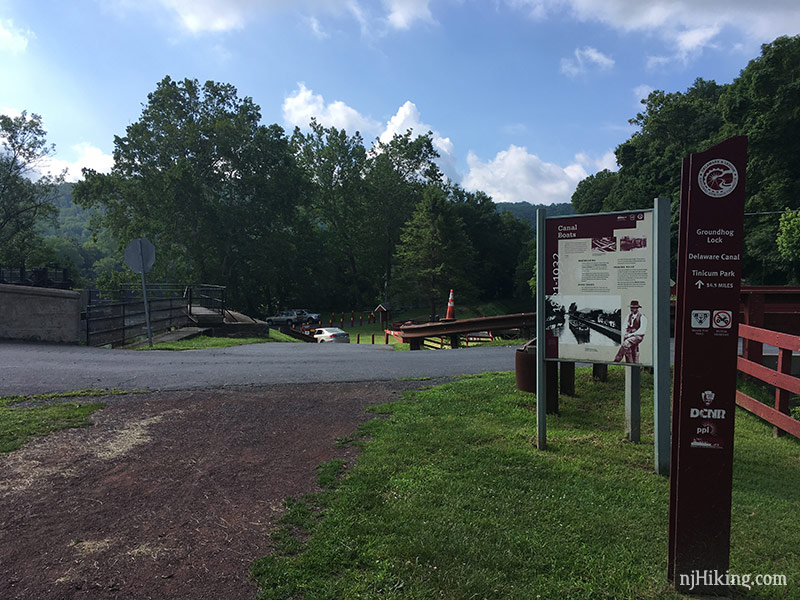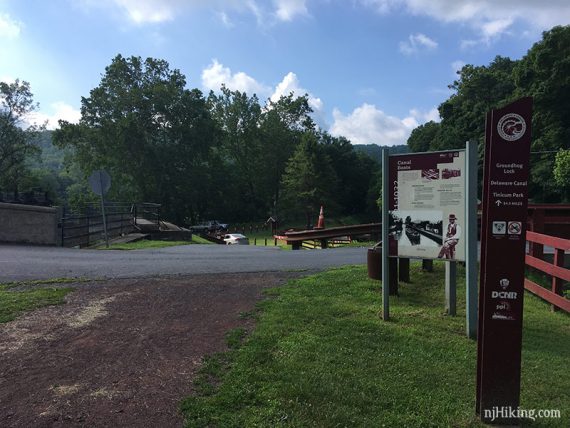 View of the Delaware River from the parking lot.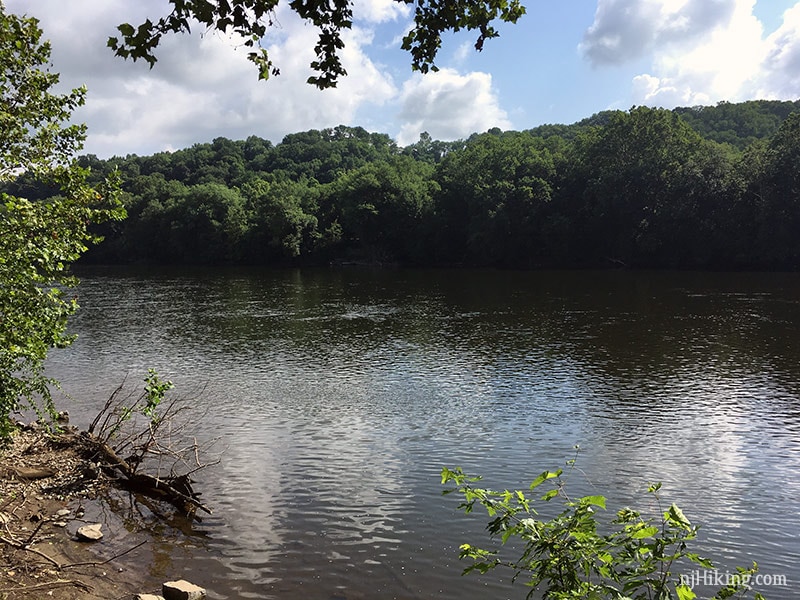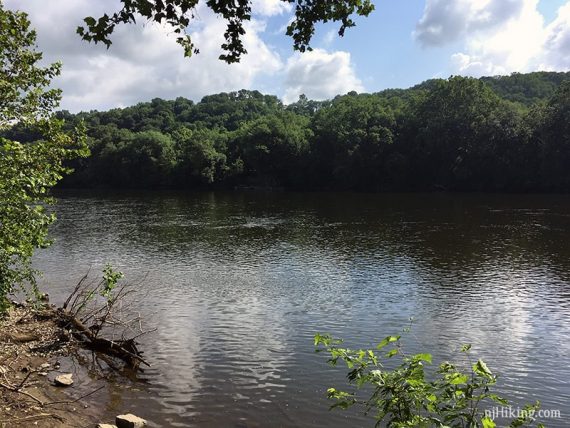 Snazzy restroom building: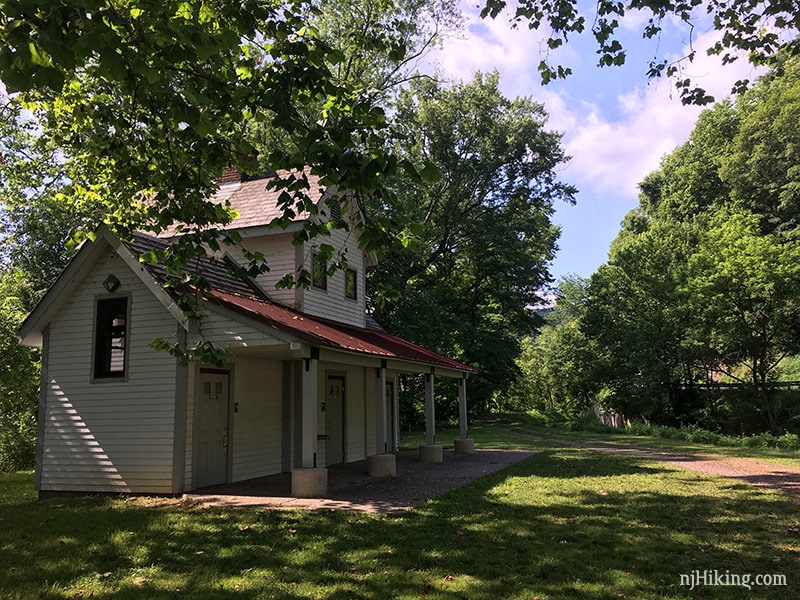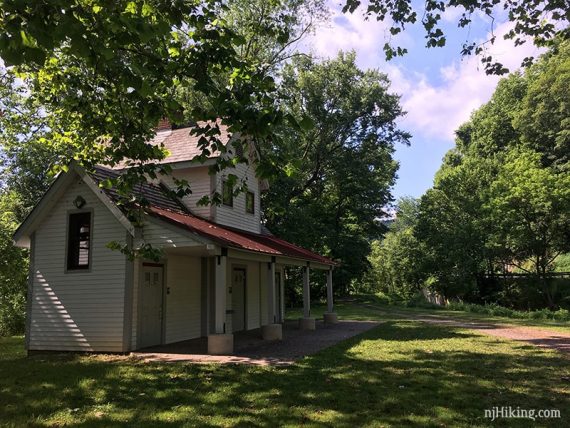 Picnic tables at Lock 22/ Theodore Roosevelt Rec. Area make a nice rest spot.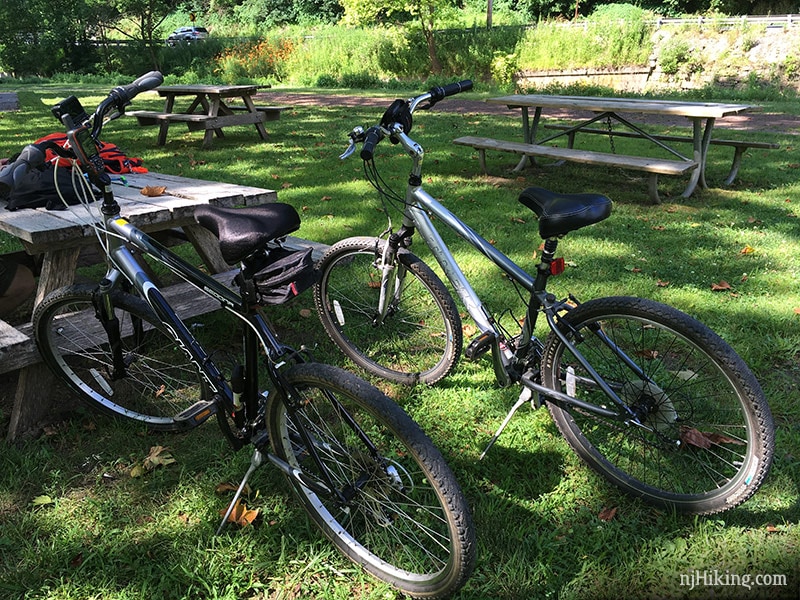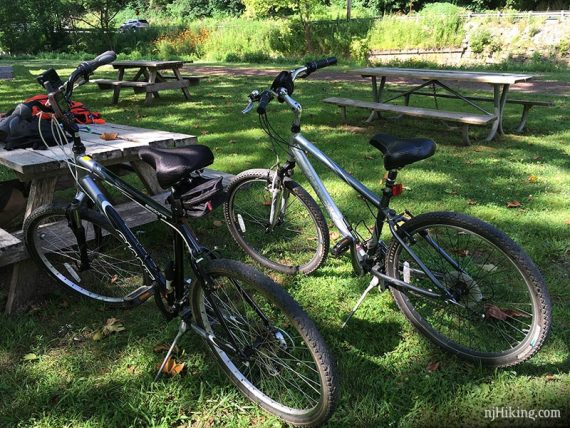 Turn around and retrace the route back.
…or, keep going. We actually continued about 0.7 miles further but stopped when we reached a few steps that we'd need to carry the bikes over.
Doable, but we were so close to our turn around mileage for the day we saw no point in carrying them over just to do it again shortly.
Besides, ice coffee from Homestead was already whispering our names…
---
9 Lodi Hill Rd, Upper Black Eddy, PA 18972. Small paved lot near the park office.
Restrooms:
Bathroom building at the Lock 19 parking area and also at Lock 22/23 Theodore Roosevelt Rec Area.
Trail Maps:
Check the D&L section on our Delaware Canal Towpath page.
Trail Surface:
Ranges from nicely crushed red gravel to packed dirt. The path narrows to single-file track further up the route.
Food:
Homestead General Store Coffee Roasters – A small market with a bike rack and outside seating RIGHT on the trail. Breakfast wraps, sandwiches, packaged goodies, and coffee. Mmmmm coffee.
We hit this on the way back and slightly surprised the clerk by ordering lunch sandwiches at 11am (breakfast was ages ago by this point) and washed it down with a nitro coffee.
We stuffed Tom's backpack with "Dead Man's Brew" whole beans and chocolate covered espresso beans (we got these last time too… they are so goooood here) and biked the last bit back to the car.
Wildlife:
Geese were blocking the trail in several areas and hissed at us as we slowly picked our way through. A deer jumped into the canal and waded across to the other side.
Perfect Timing Bonus:
The forecast had called for rain and storms in the early afternoon so we were sure to get a really early start to beat those and this summer's relentless heat.
It started drizzling juuuuust as we put the bikes on the rack. The skies opened up into a monsoon just as we got into the car.
Whew. Wouldn't want our coffee beans getting wet.
—-
Biked: 7/6/19. 22.7 miles.