Hike through a beautiful section of the pine barrens and around old cranberry bogs.
7.7 miles. Easy, flat, no elevation changes. Soft sand and pine needles, some potentially soggy areas, a few water crossings on logs.
Hike Info:
Our two cents:
This park contains some of the nicest hiking in the pine barrens. RED is mostly through forest, while GREEN follows along old cranberry bogs.
RED is a well planned out, really enjoyable trail and is the more interesting of the two trail loops from this lot – and gets bonus points for a cool suspension bridge.
GREEN has more open views of the water areas but it's mostly straight sand roads can get a wee bit tedious – and may push the definition of "hiking" for some.

Map:
Print the map ahead, no trail kiosk with maps.
Books:
Not in any that we're aware of.
We took the Turnpike S to Rt. 206 South; L on New Rd to Patty Bowker Rd. to Chatsworth Rd and turned right at the NJ Conservation sign.
This is down a sand road (ok for cars) to a large lot – but there are directions from around NJ on the park's site.
Note: Google thinks there is a "convenience store" further down the sand road but in reality there is a gate after the parking lot and we can't imagine there is/was actually a store down there.
Restrooms:
None, and none at the other Speedwell lot. Near the park there isn't much around.
We hit the super Wawa coming south on 206, though that is not ideal as it's about 20 min. from the trailhead.
Hike Directions:
Overview: RED — RED/GREEN — GREEN — RED
Trails are well marked but become scarce once on the sand roads after the bogs… in general, keep going straight and there will be a marker there when you need to turn.
0.0 – When facing the gate, start following the RED trail on the right side (it's also on the left and will be the return route).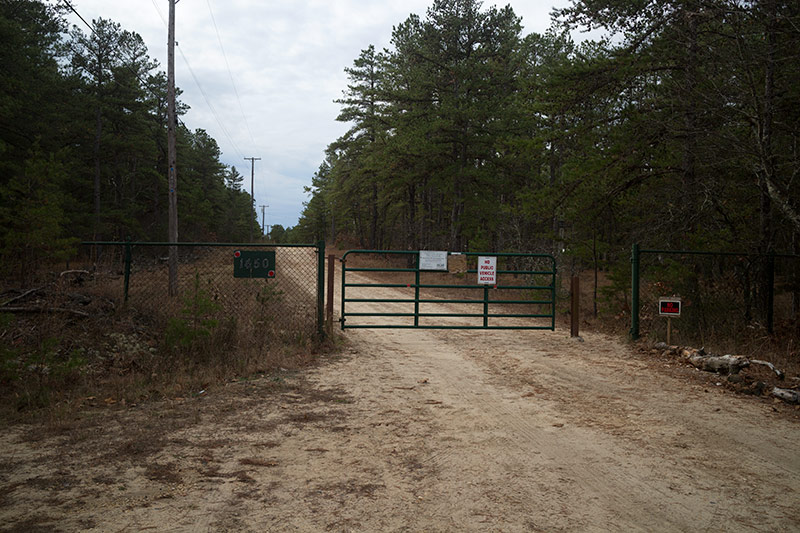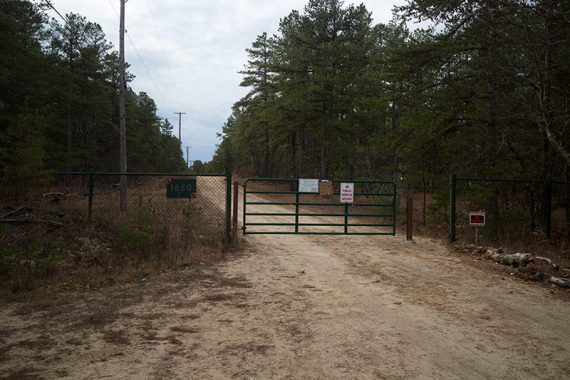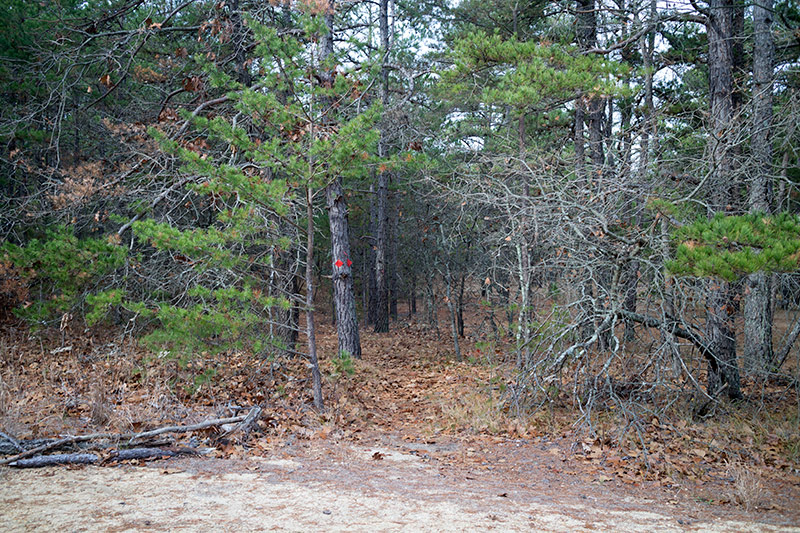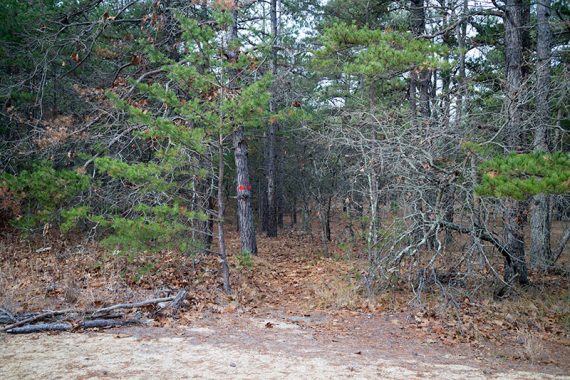 RED meanders through pine forest, along Bertha's Canal, on berms, over wooden bridges, and skirts a field… we really enjoyed this section.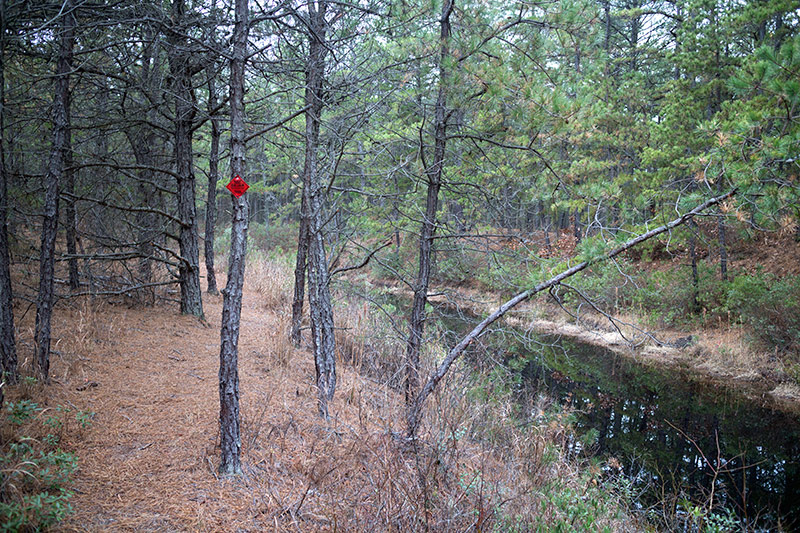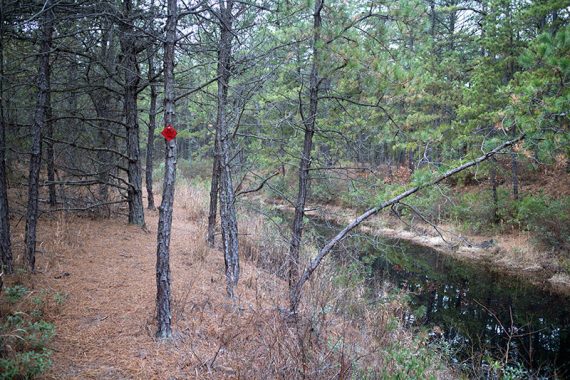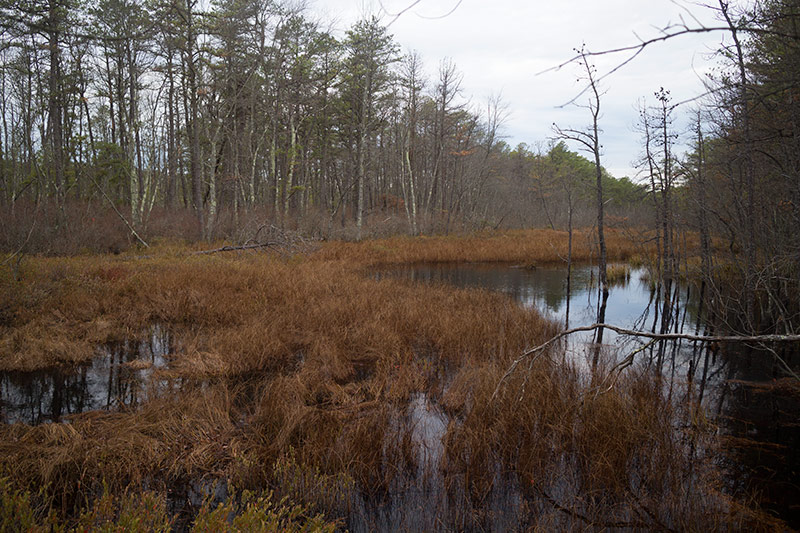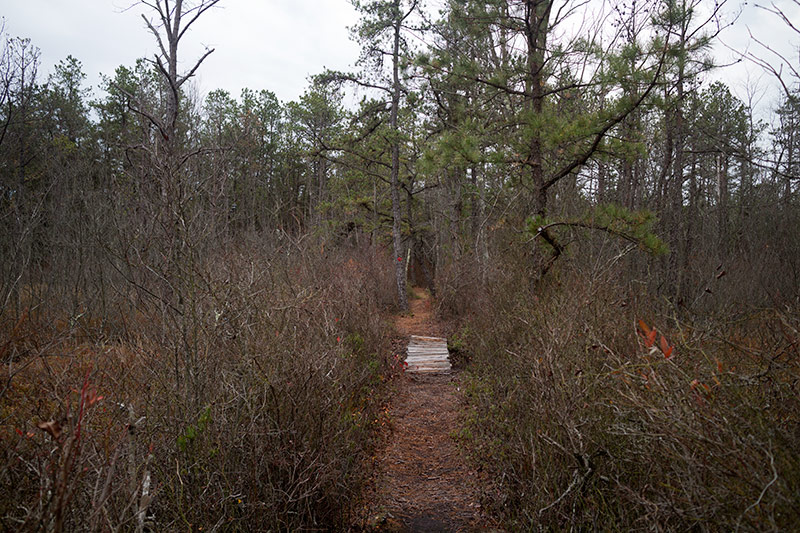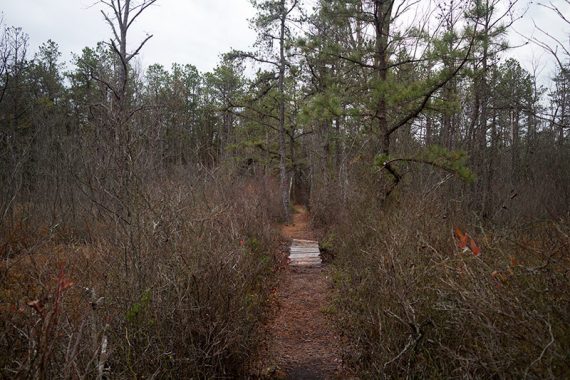 Continue following RED.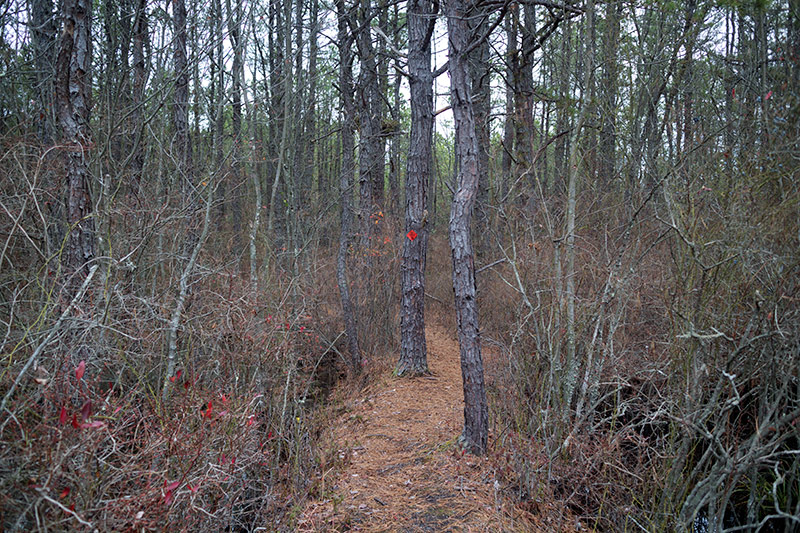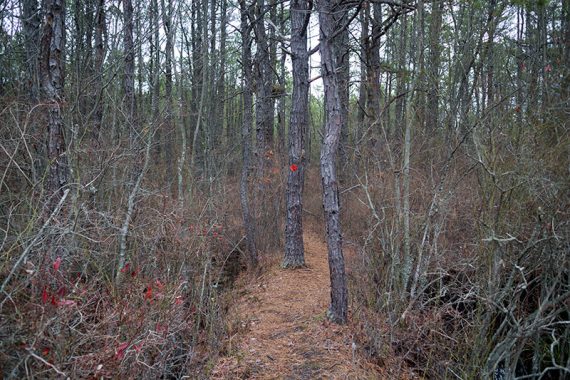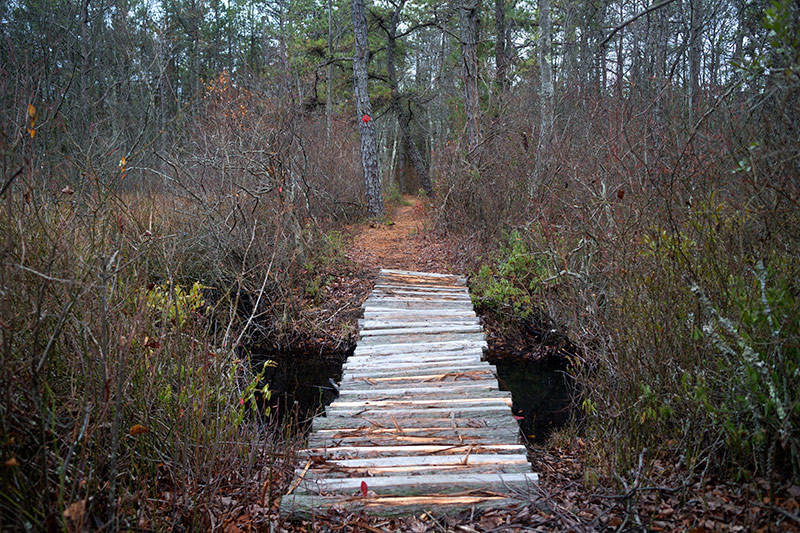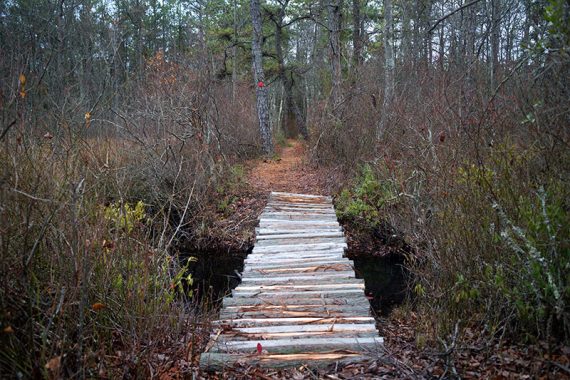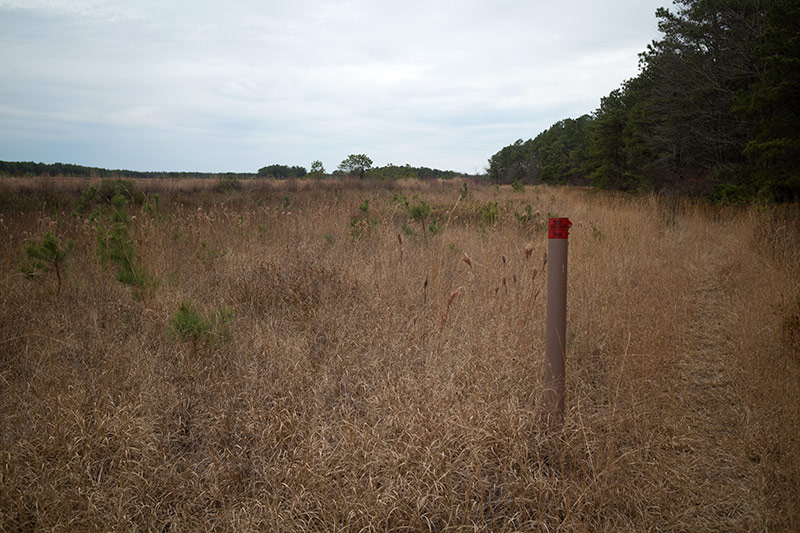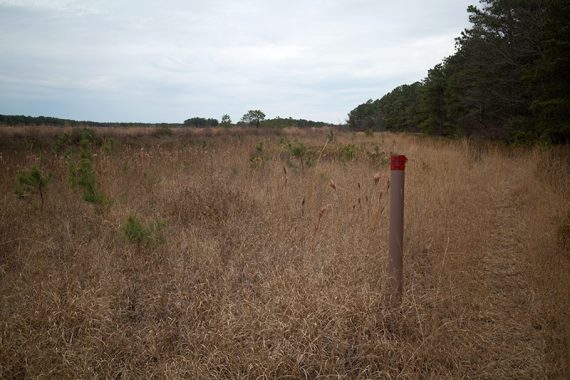 Irrigation ditch from the cranberry farm.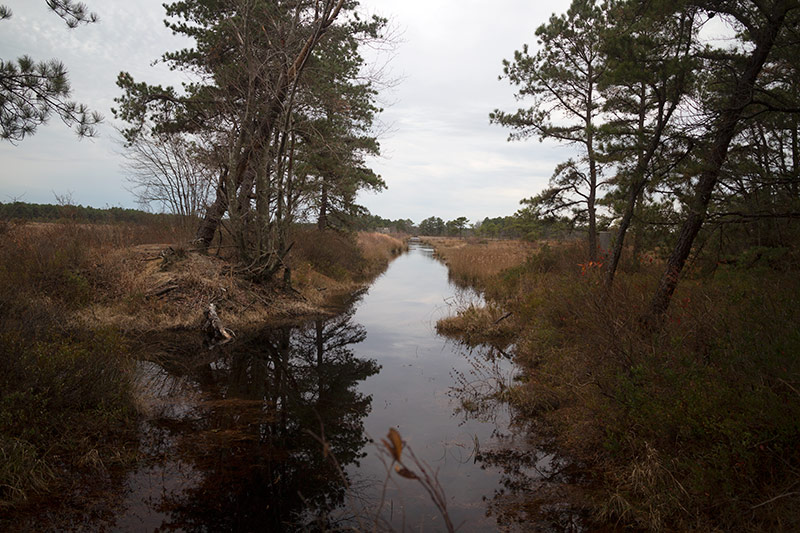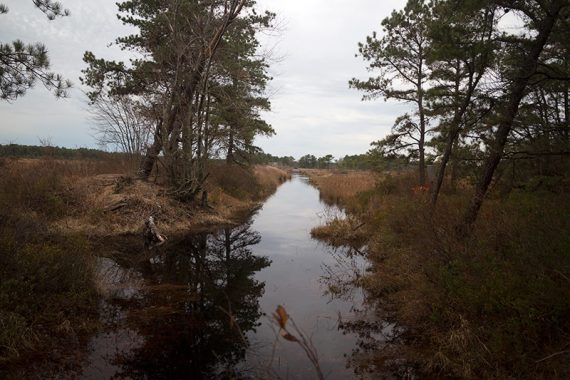 1.0 – Cross old railroad tracks.
1.4 – Arrive at a sand road and turn RIGHT, now following RED/GREEN on sand roads through old cranberry bogs.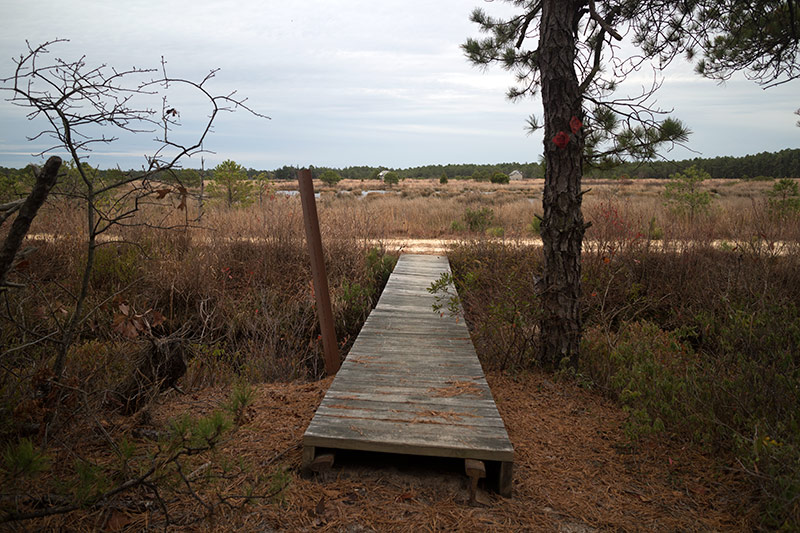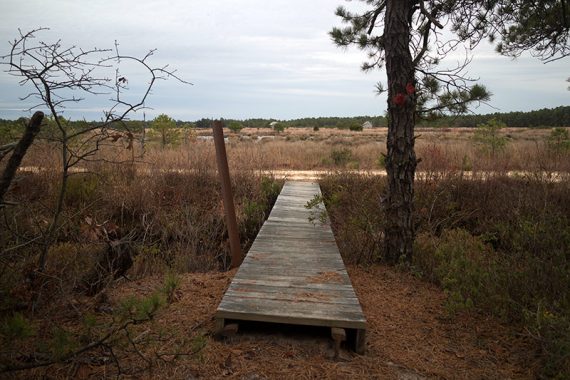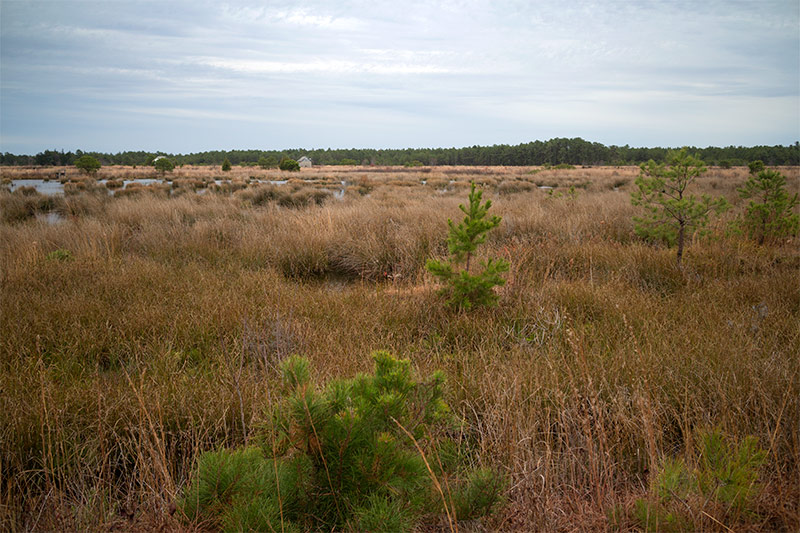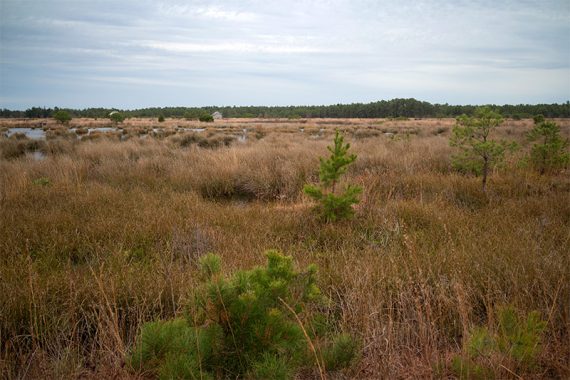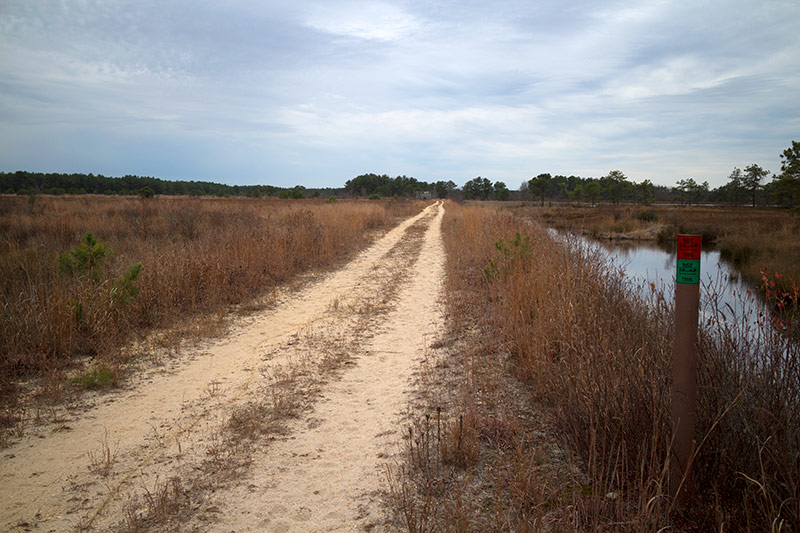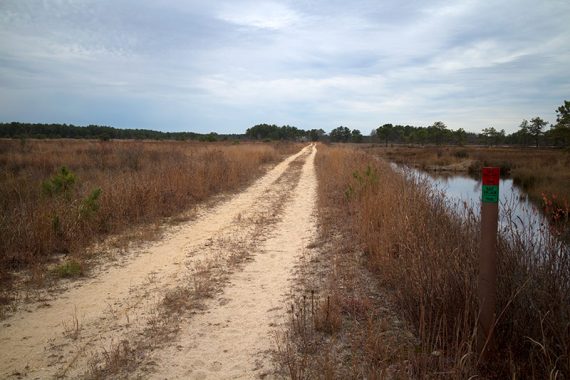 1.7 – Observation platform.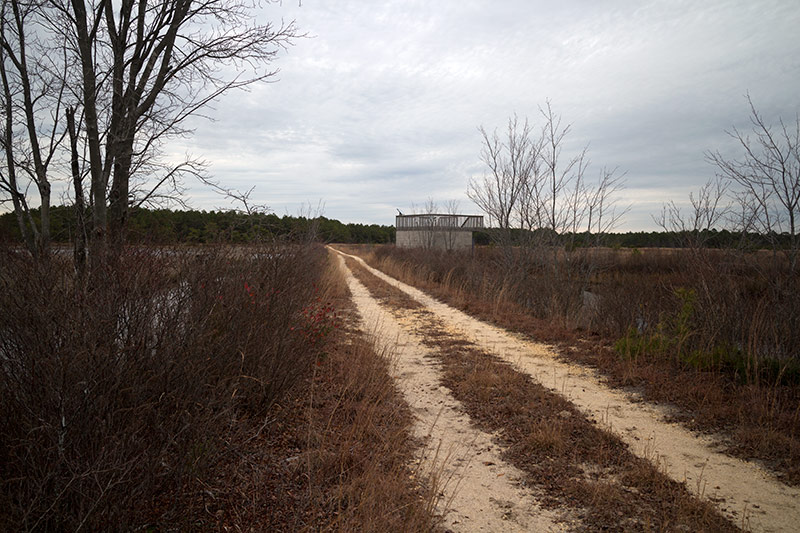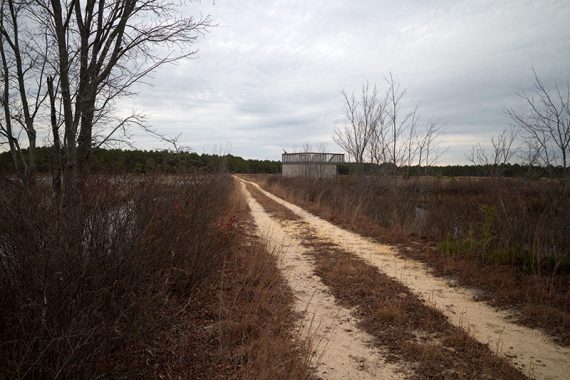 Looking down from the observation deck.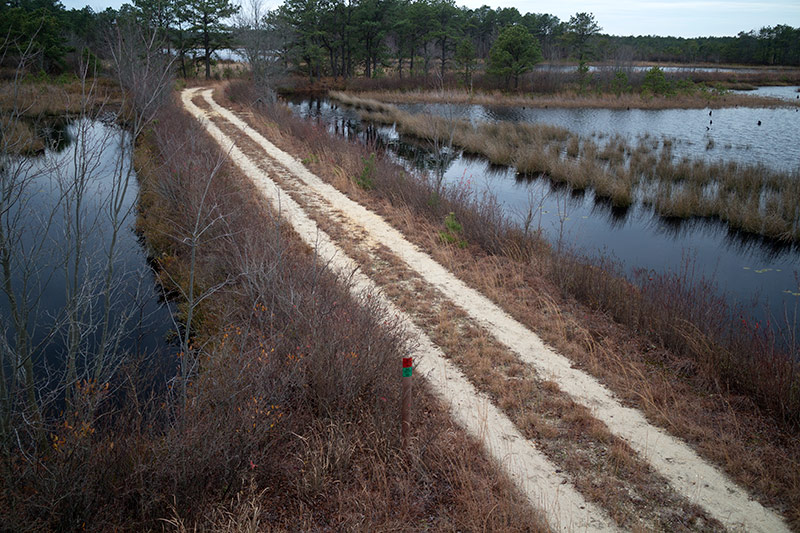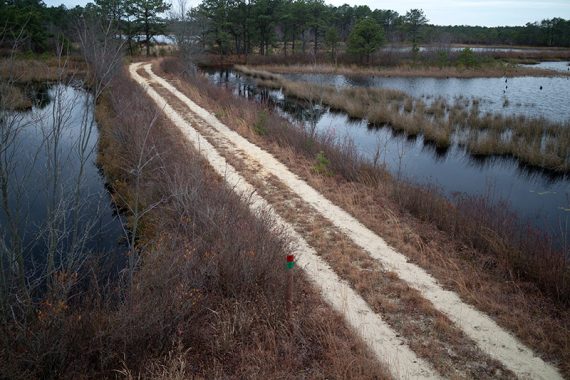 Old bogs along RED/GREEN trail.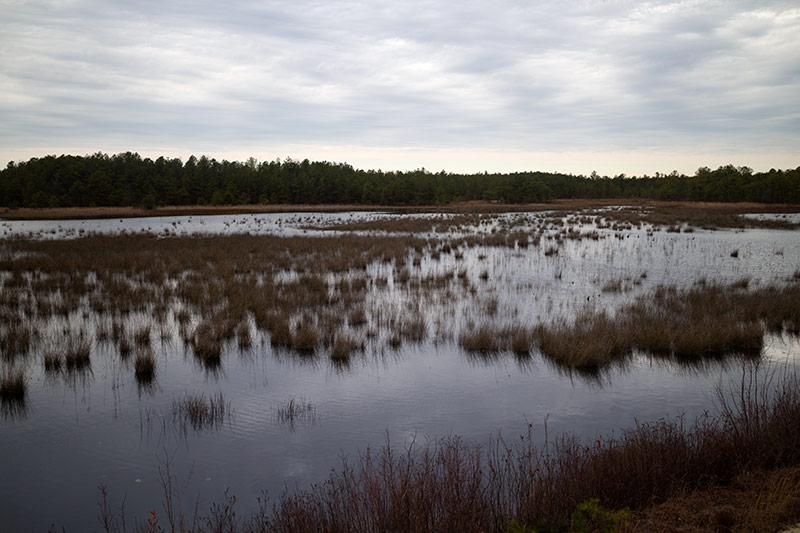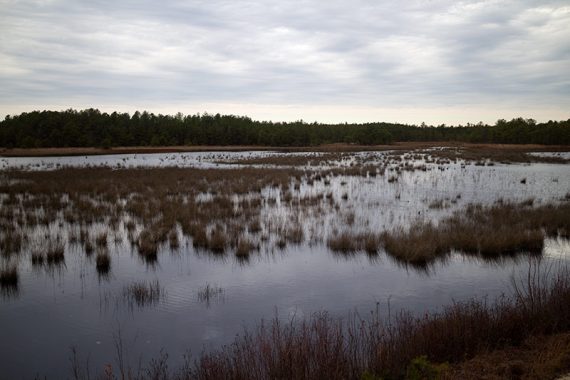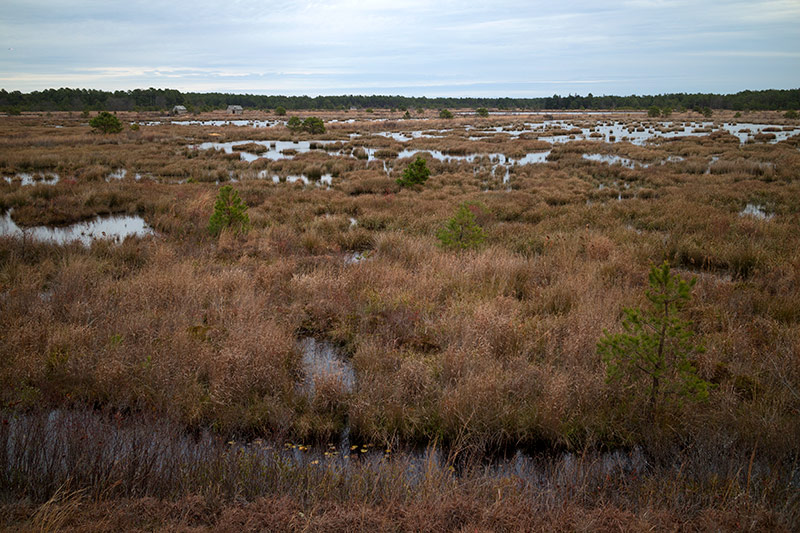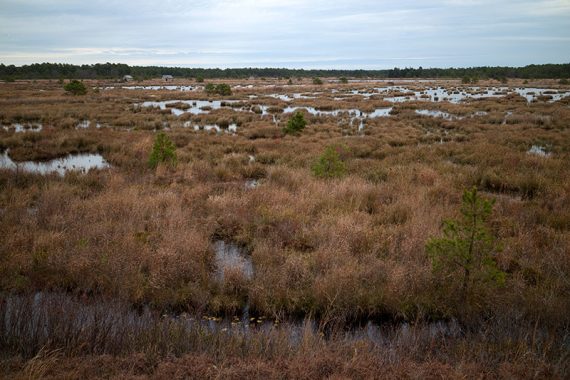 2.1 – Turn RIGHT and follow RED [GREEN continues straight and will meet up with it shortly].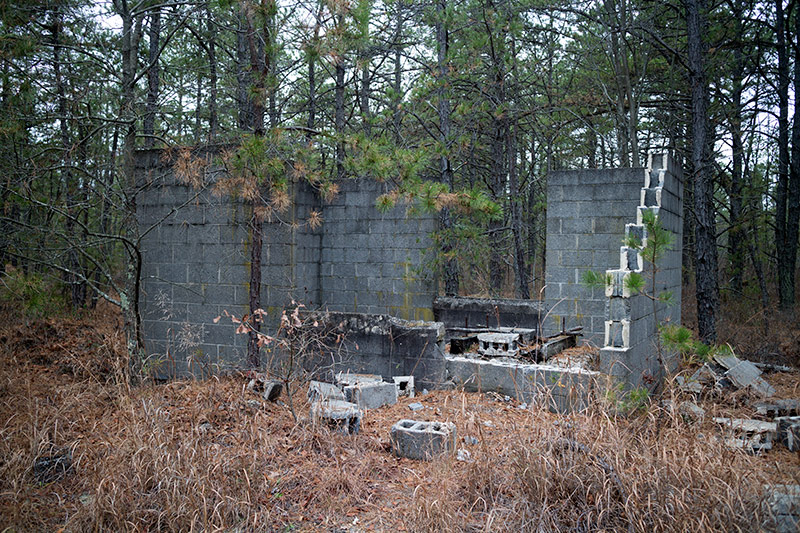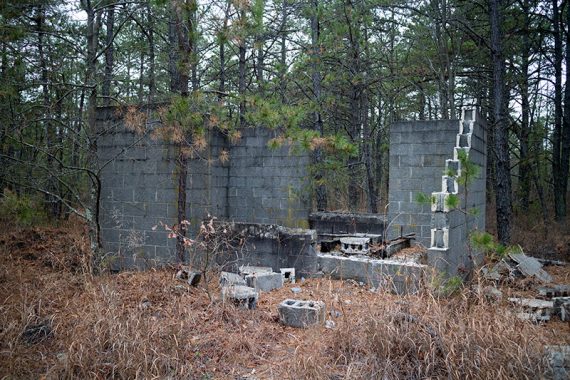 Pass an old unfinished building. There are a handful of old farm buildings along the trail.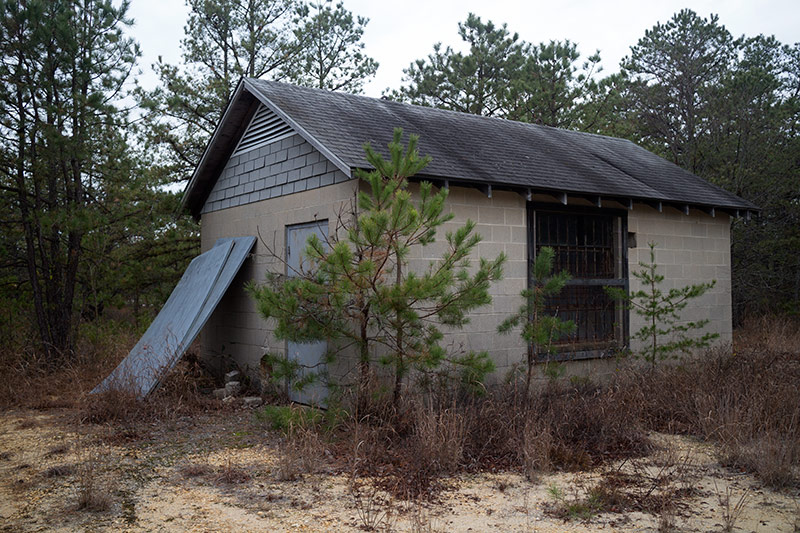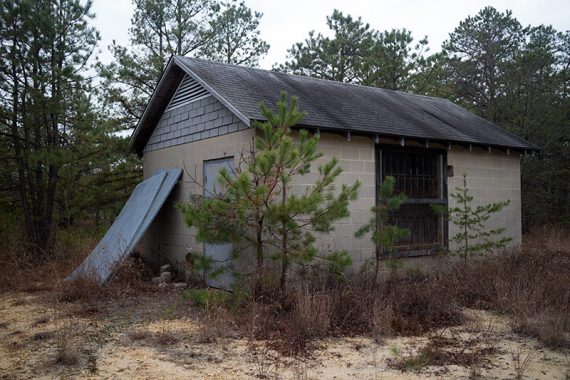 2.3 – Turn RIGHT onto GREEN, the sand road. In a few steps, RED leaves to the left. Continue straight on GREEN.
2.9 – Pass RED on the left, and then in a few steps, RED leaves to the right. Continue following GREEN, along sand roads (not near the bogs now).
3.4 – Arrive at an intersection with no markings other than a small "Northgate Rd" wooden post.
Go straight, pass another road, and eventually a marker will indicate a left turn (at 3.6 miles). Continue following GREEN.
4.2 – Turn LEFT, continuing on GREEN. The marker was hard to spot in this direction, but there is an old building at this intersection, and before that there was a blue bird feeder along the trail.
4.6 – Continue following GREEN [WHITE leaves to the right].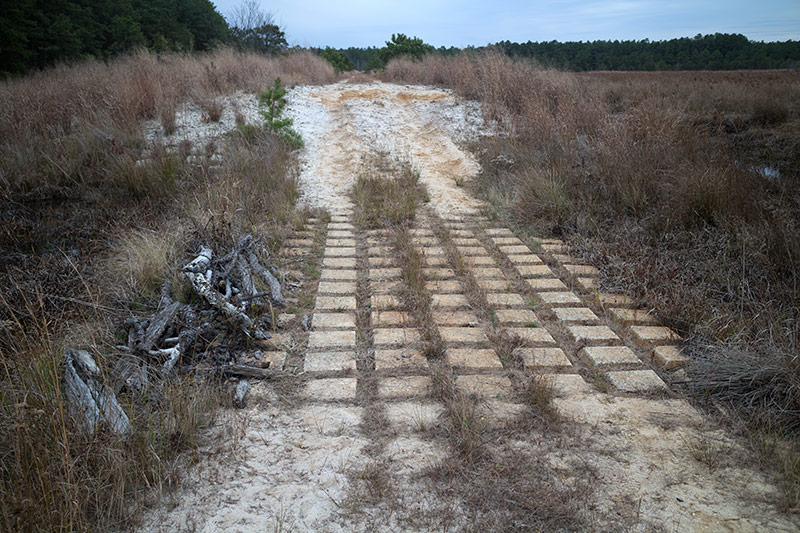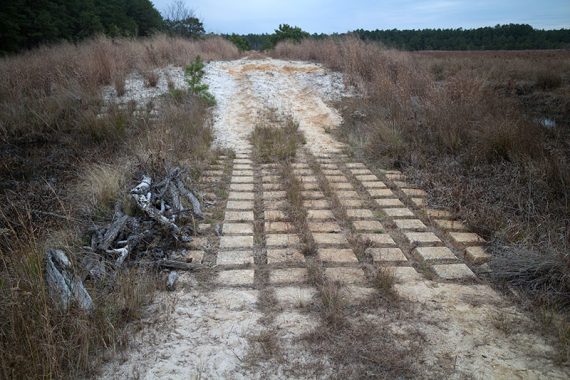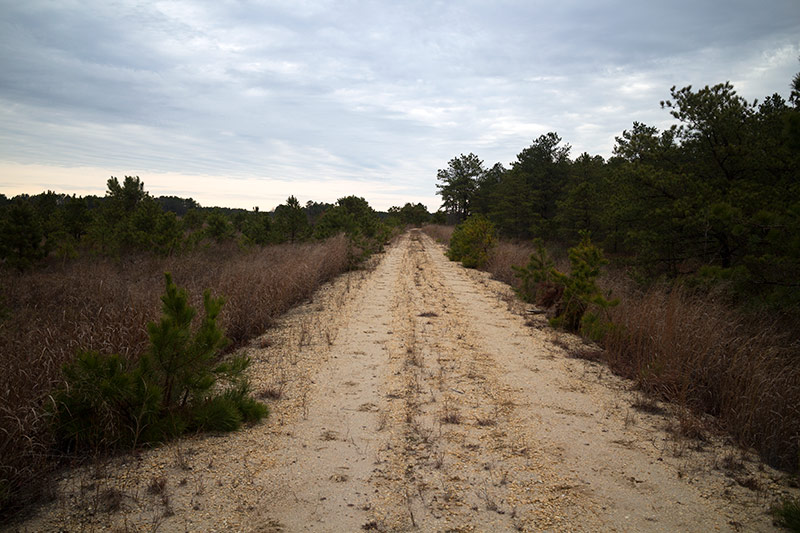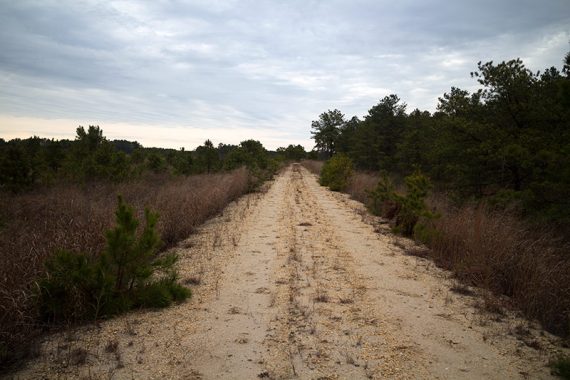 5.2 – Turn RIGHT at a T-intersection and follow RED/GREEN. [RED also goes to the left].
In a short bit, near a picnic table, start following just RED and head back into the forest.
5.7 – Cross the BLUE trail. Continue on RED, which eventually gets near water again.
Some water crossings are on logs or boards – this one was especially questionable…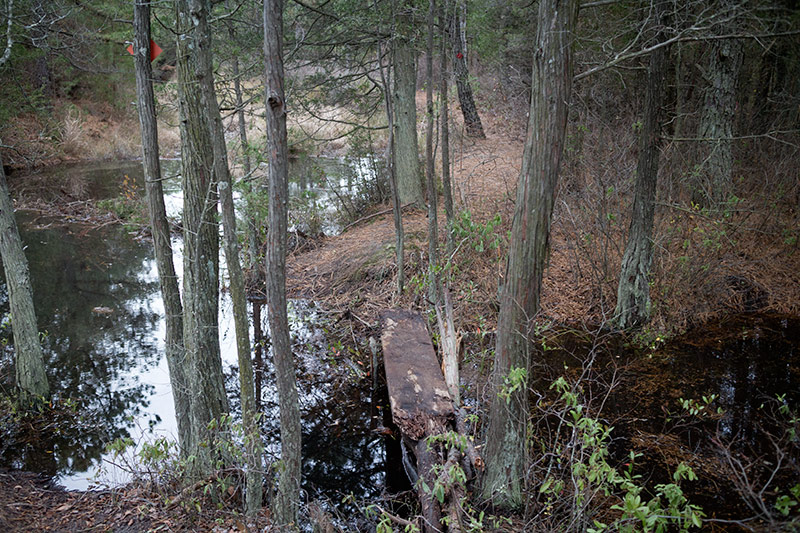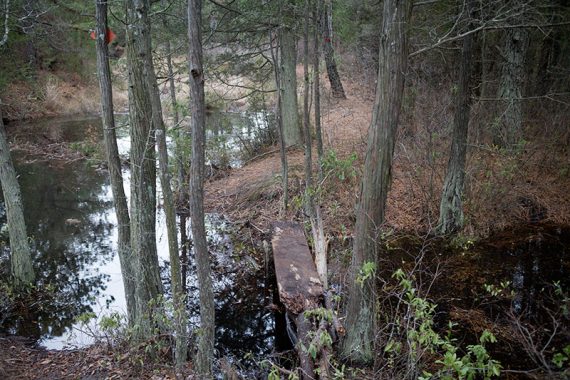 …and then there is this suspension bridge that is so swanky…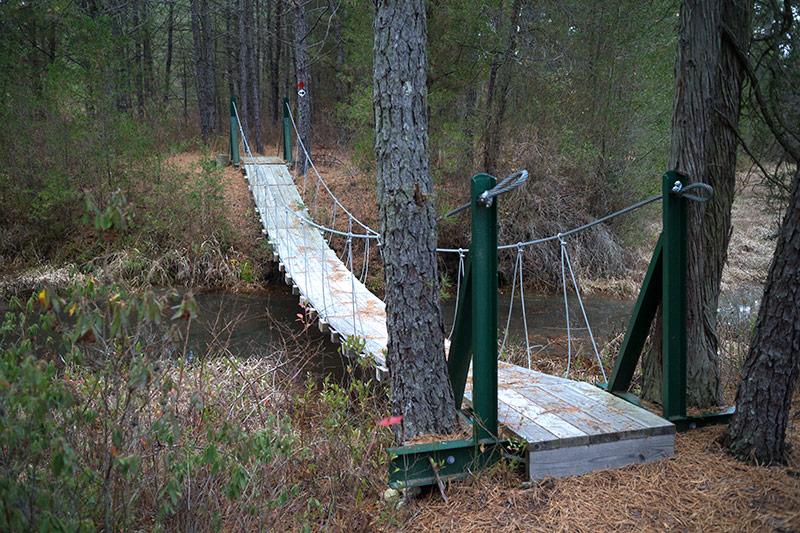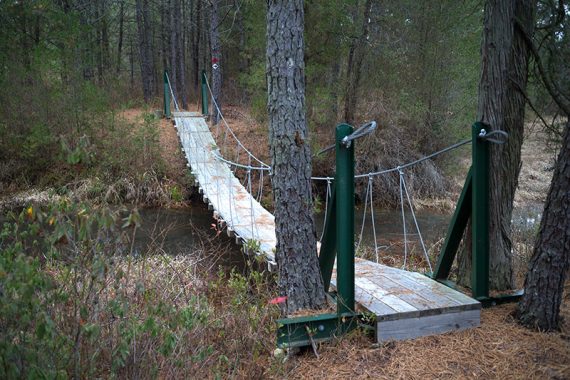 …it needed a second photo.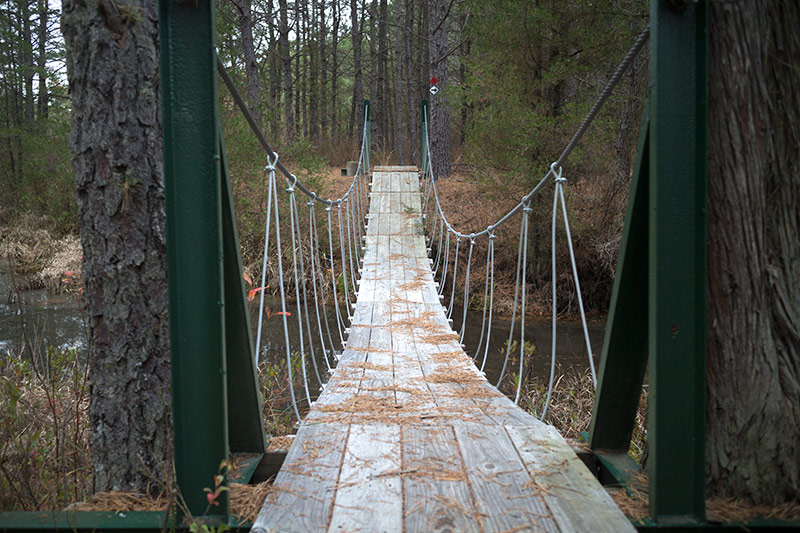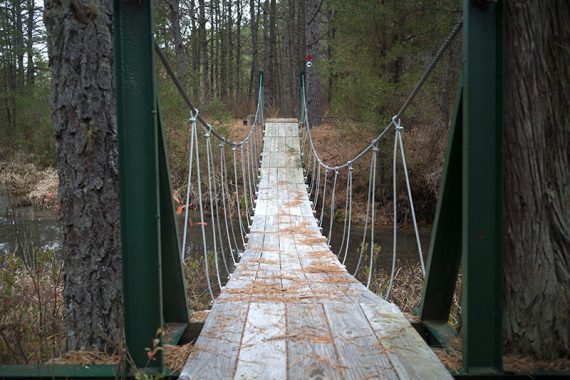 6.3 – Continue on RED as GREEN leaves to the left. There are 2 benches.
7.5 – Cross old railroad tracks again (you've seen them early on in the hike too).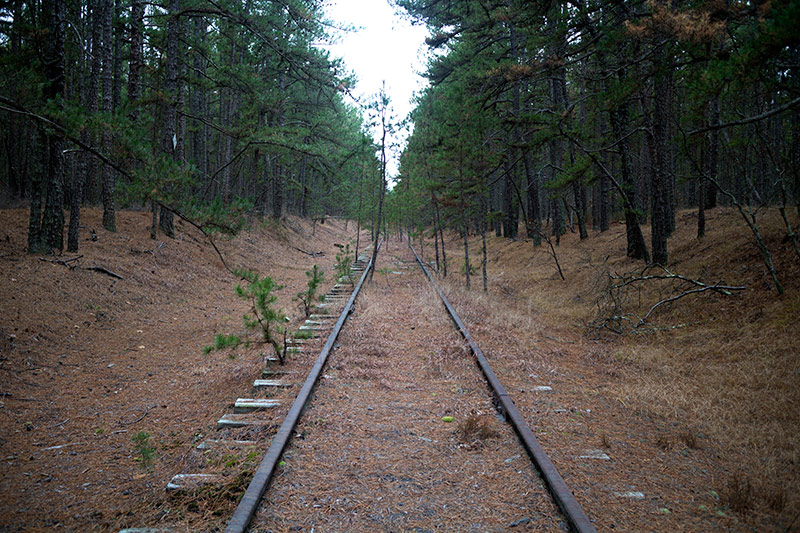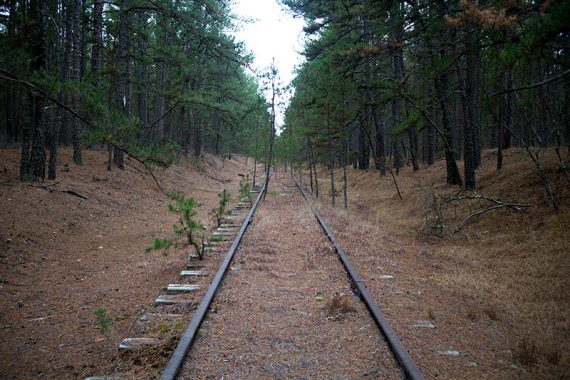 —
Hiked: 11/22/15