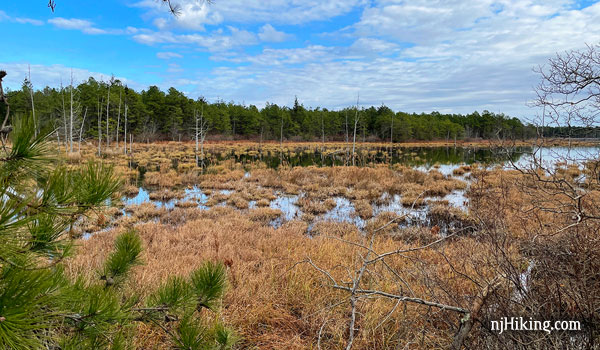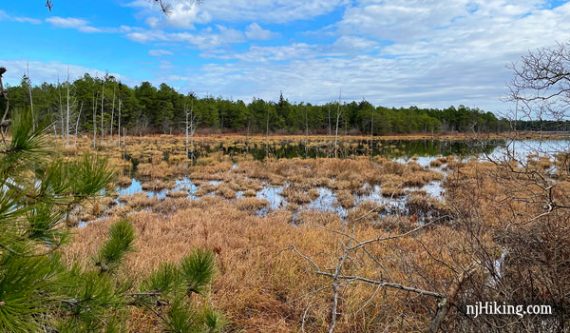 Hike around old cranberry bogs through a beautiful section of NJ's Pine Barrens, and look for wildlife from an observation platform.
6.6 or 5.0 or 3.0 miles. Easy, flat, no elevation changes. Soft, pine needle or sand surface. Potentially wet areas and crossings.
Shorter: From this lot, just do WHITE (3 miles) or YELLOW (5 miles).
Longer: Combine with portions of RED or GREEN to get about 10-11 miles in.
Same park: Hike other trails starting from the Franklin Parker – Chatsworth lot.
Hike Info:
Our two cents:
There is a lot of variety in this park and plenty of visually interesting areas to photograph.
The trail network is well planned and offers a lot of route flexibility. In addition to the marked trails, there are many paths around the bogs.
But like many areas in the Pine Barrens, a good portion of this park is on wide sand roads or around old cranberry bogs which might push the definition of 'hiking' for some.
Lots of sun exposure – great for winter, not so great for summer.
Updated: 12/2020 – Re-hiked; added Interactive Map, added more photos; adjusted route and description as the impassible section of YELLOW we ran into last time was no longer an issue.
---
Map:
Print the map ahead in case none are in the trail kiosk.
Books:
Not in any that we're aware of.
---
Speedwell lot on Rt. 563. From the north: Turnpike S to exit 7, Rt. 206 S, 532 to 563.
Small area near a gate with room for a few cars (1st photo), or across the street head down the sand road to a parking area with a portable toilet near another gate (2nd photo).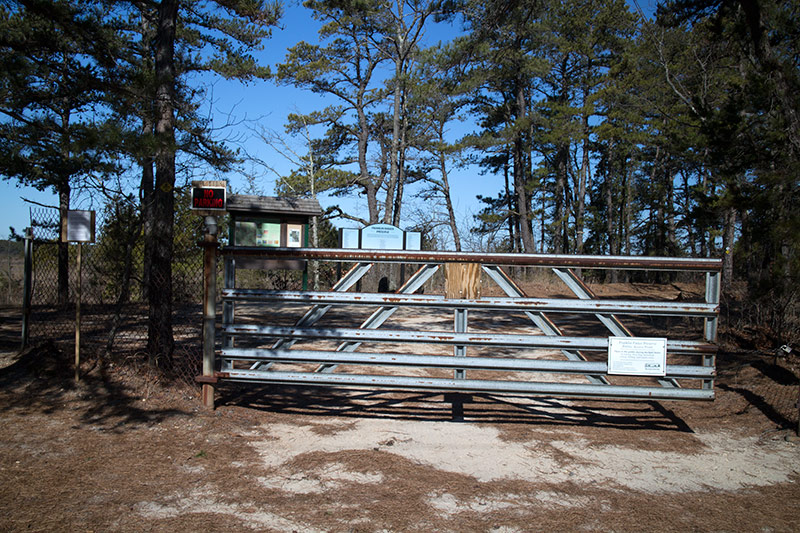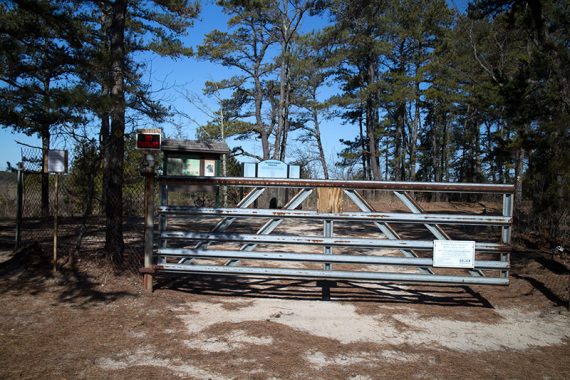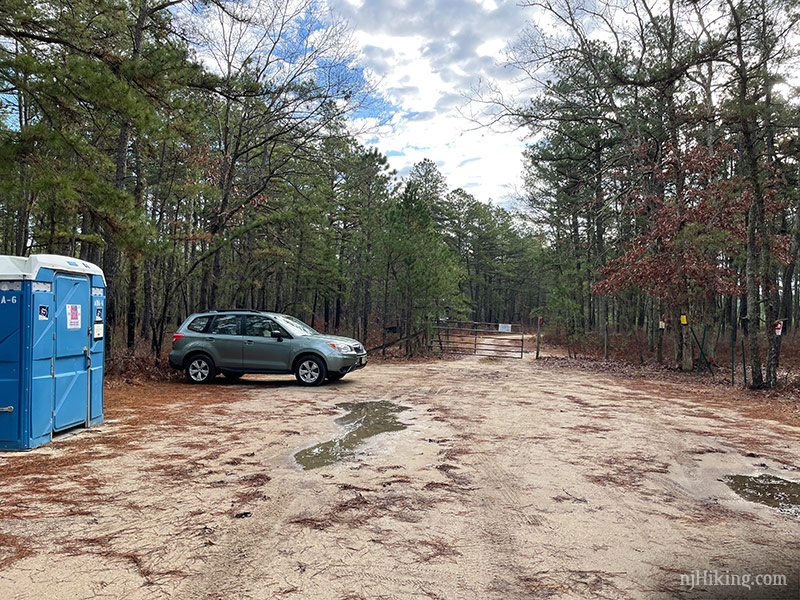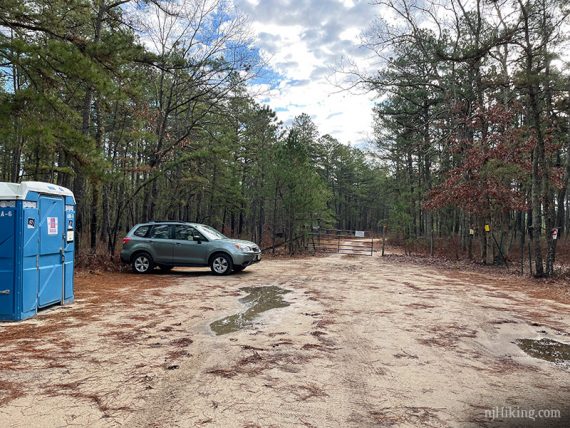 Restrooms:
Portable toilet (11/2020: locked due to the current health situation). Depending on the route taken, there are Wawas and gas stations, but right near the park there isn't much around.
Reliable option if coming from 206 S: The large Wawa at the corner of 206 and 530/Pemberton Road is about 20 min. from the trailhead.
---
Hike Directions:
Overview: YELLOW – WHITE
0.0 – From the parking area at the gate, cross Rt. 563 and walk down the sand road on the YELLOW trail. If you've parked at the lot down the sand road you're already at the next step.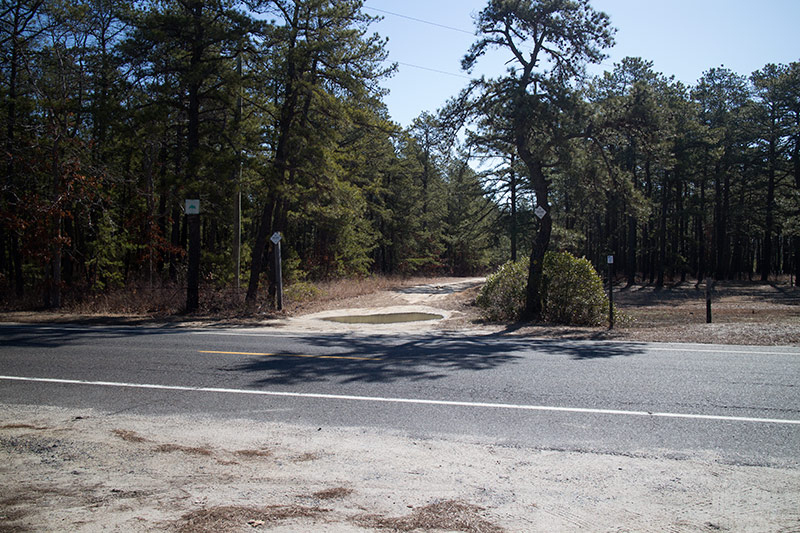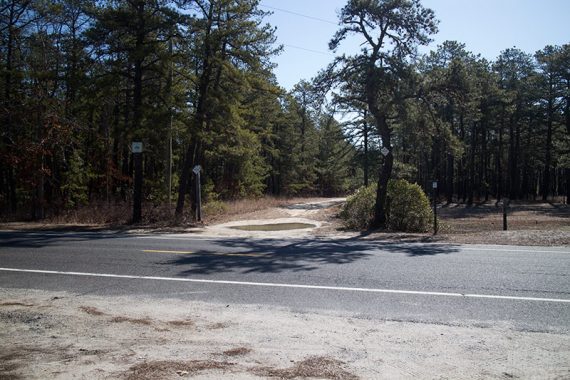 Pass a gate and wooden trail kiosk.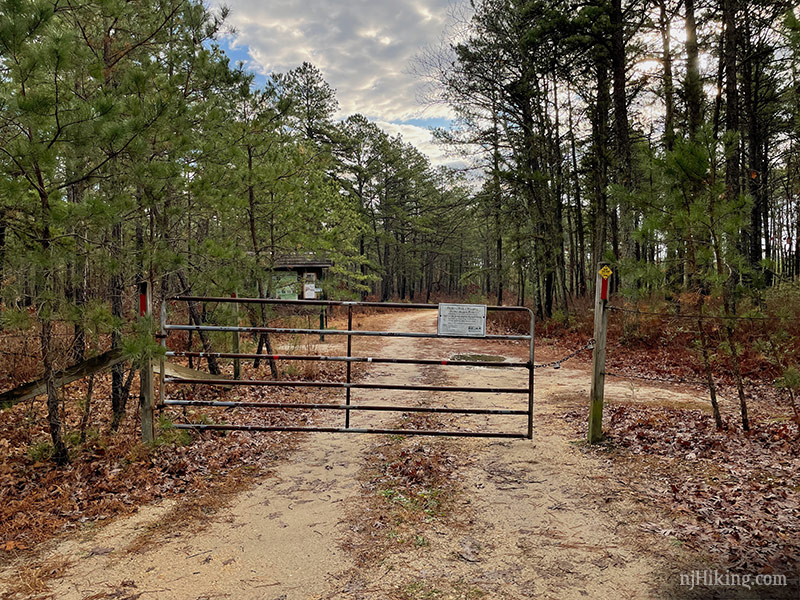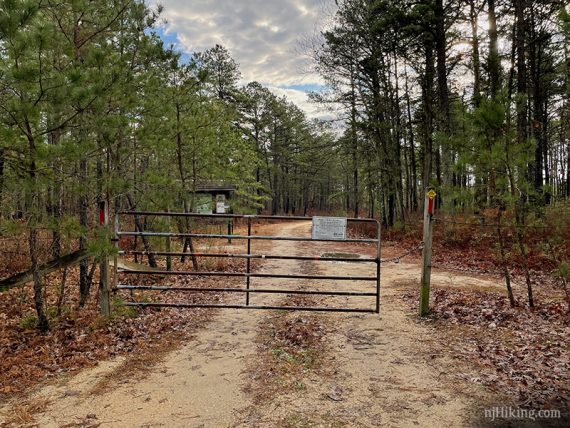 The map shows a BLUE connector trail to the left very early on, but we didn't notice it. The trail is a wide sandy path.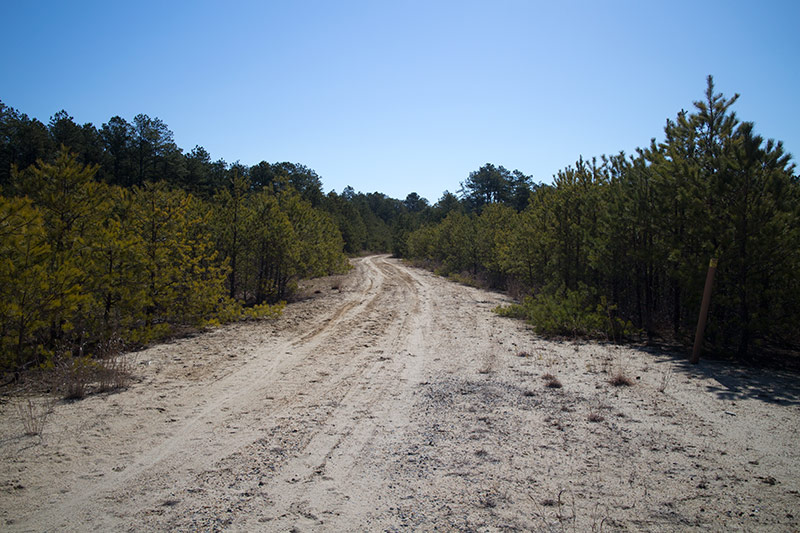 Continue following YELLOW past a few small areas of water.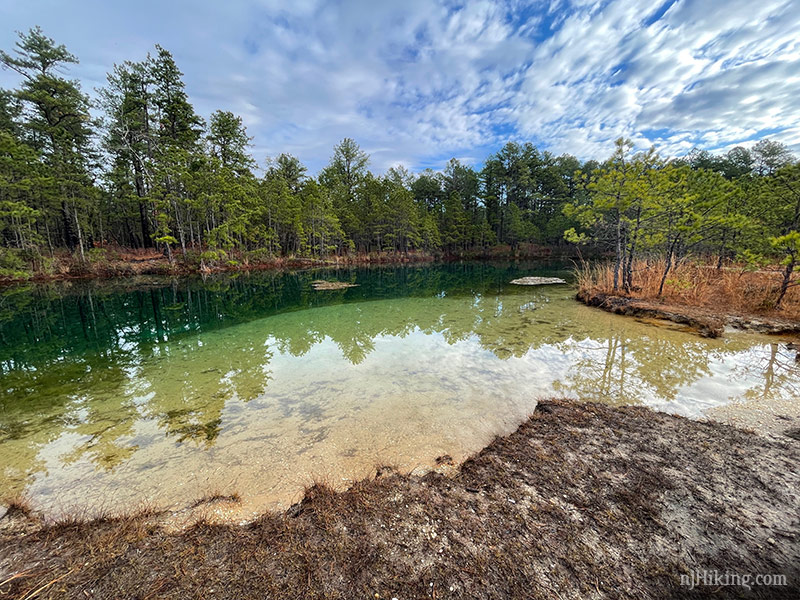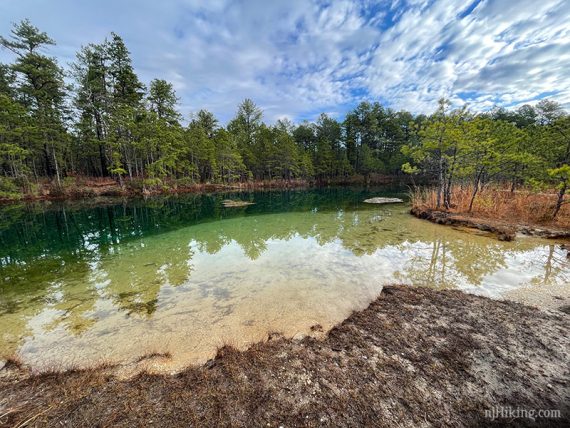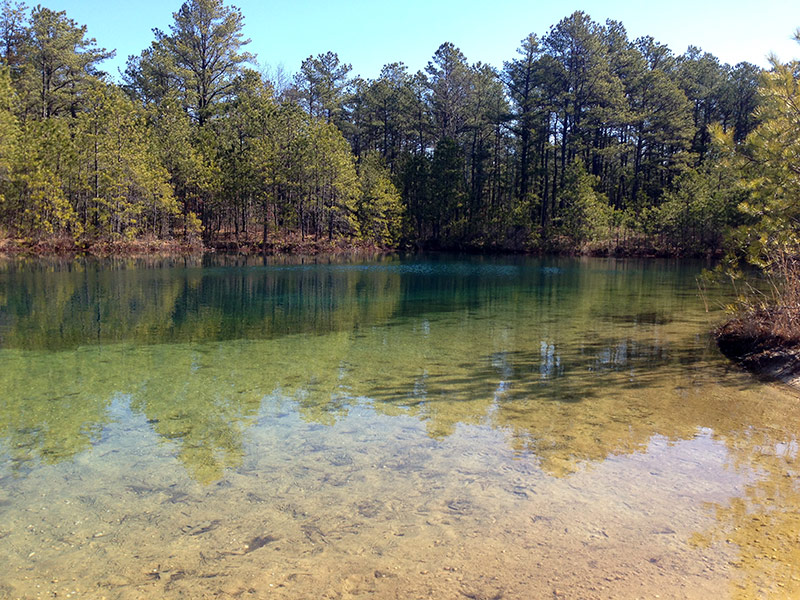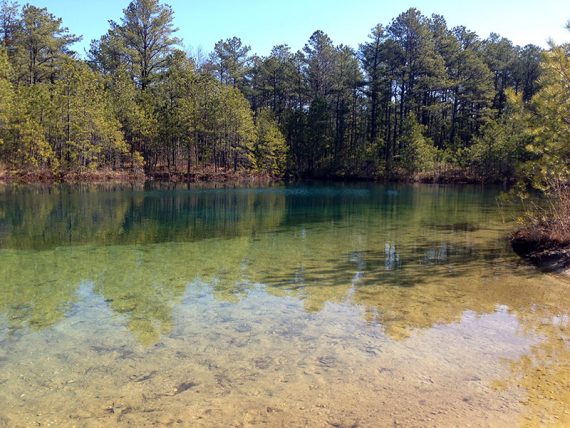 0.6 – Pass a BLUE connector trail off on the left.
Continue following YELLOW straight.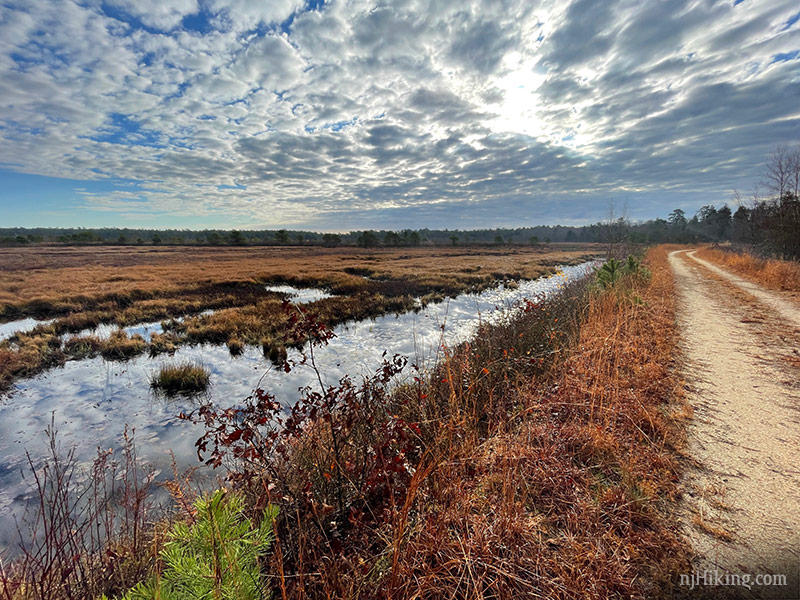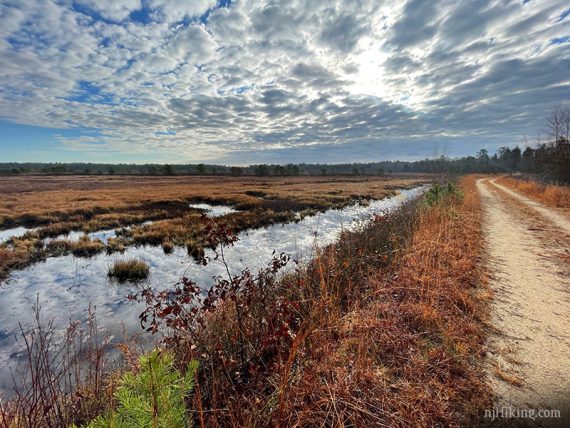 When we hiked here in 2015 the YELLOW trail was flooded out at this point (below photo) but this is no longer the case.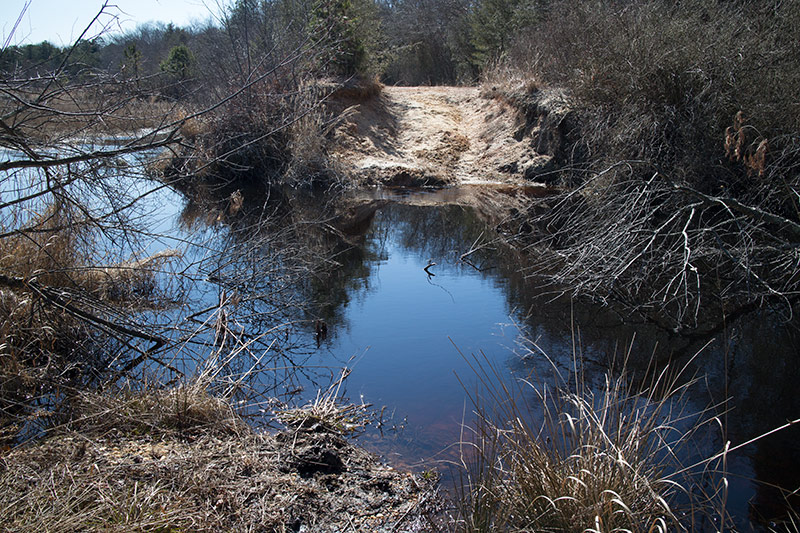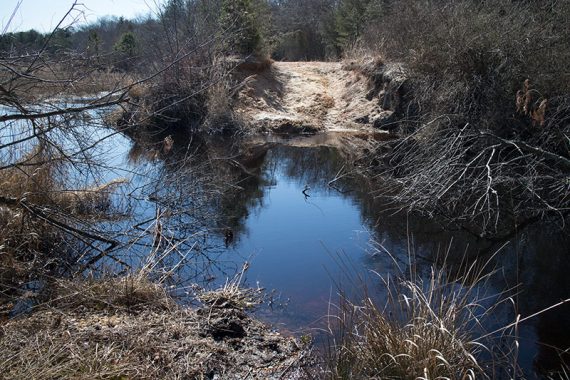 Cross an area of blocks, likely to deal with drainage issues.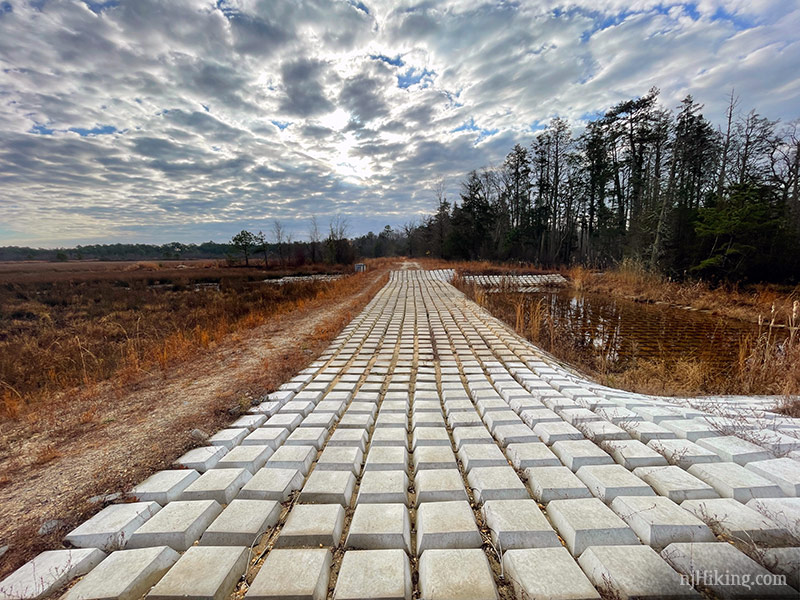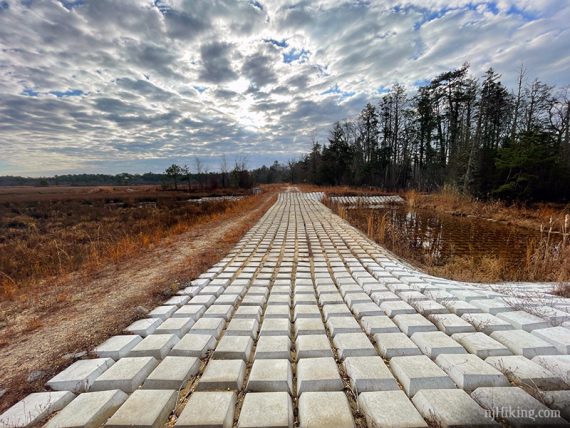 1.0 – YELLOW turns LEFT near a shack. Ignore the path leading away that has a 'no motorized vehicles' sign.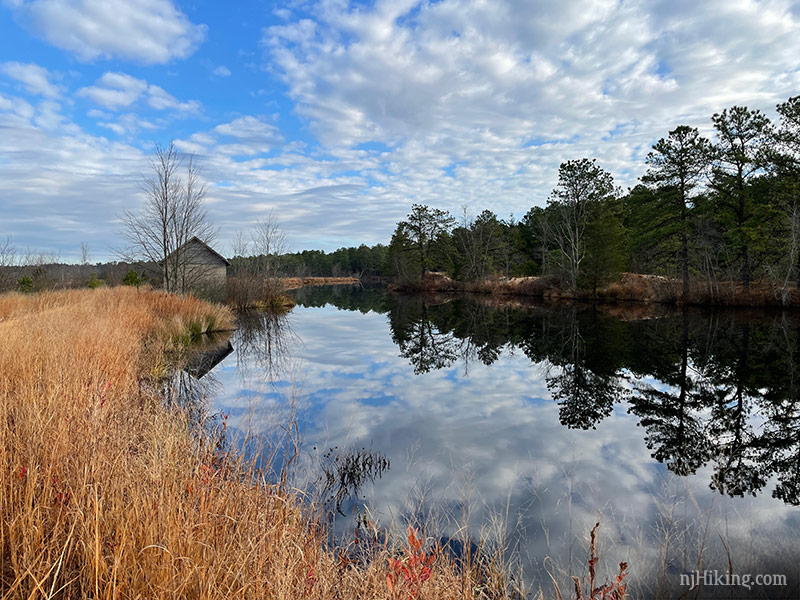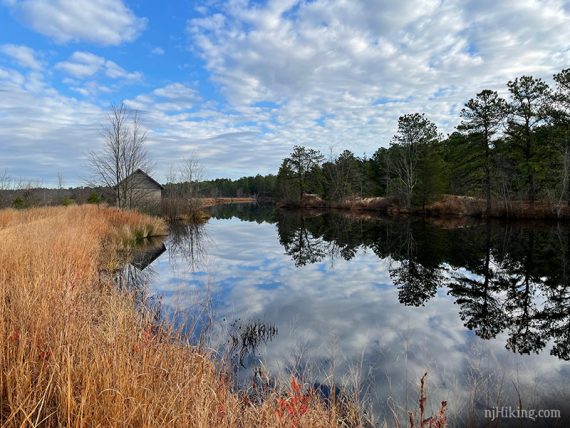 Follow YELLOW on a wide dirt path with water and bogs on either side.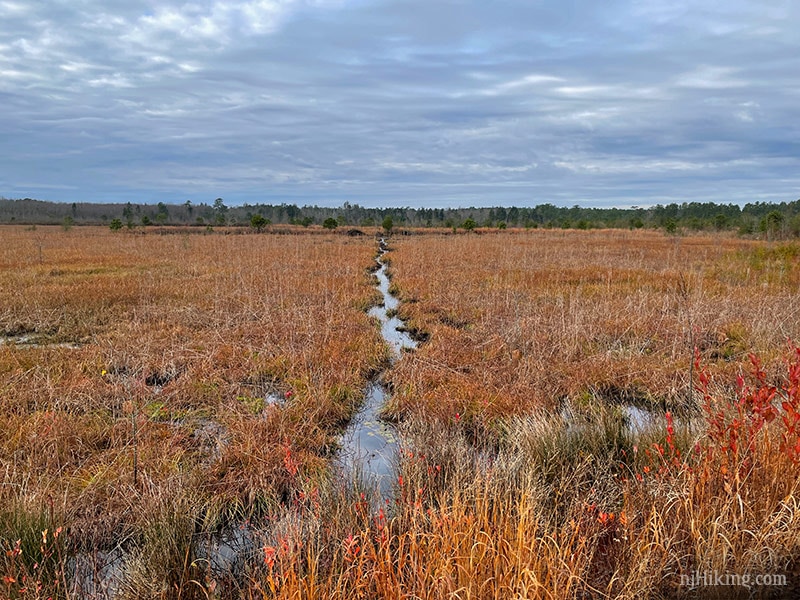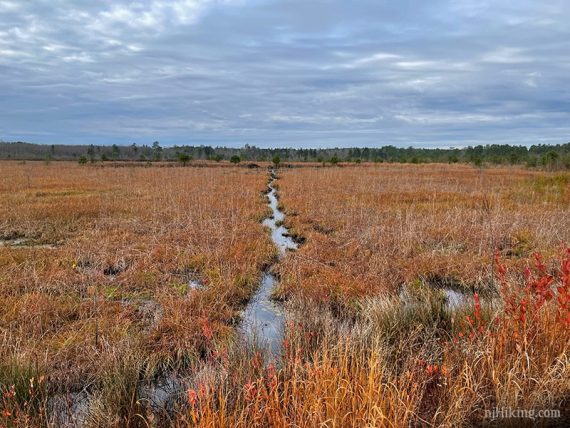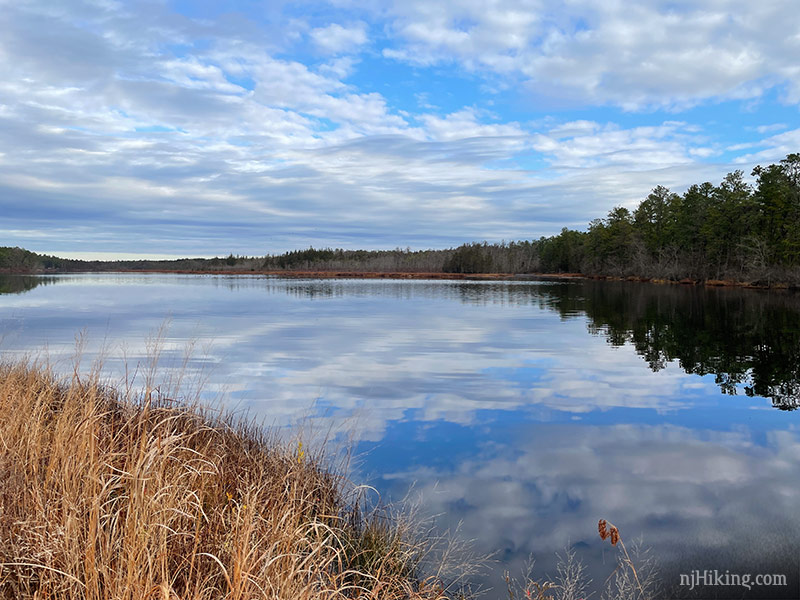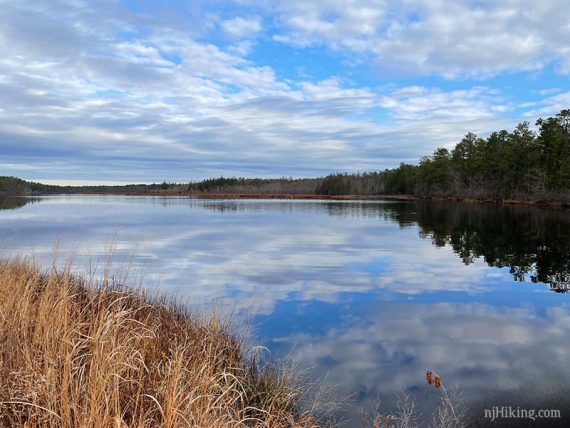 Follow YELLOW as it turns again to the left.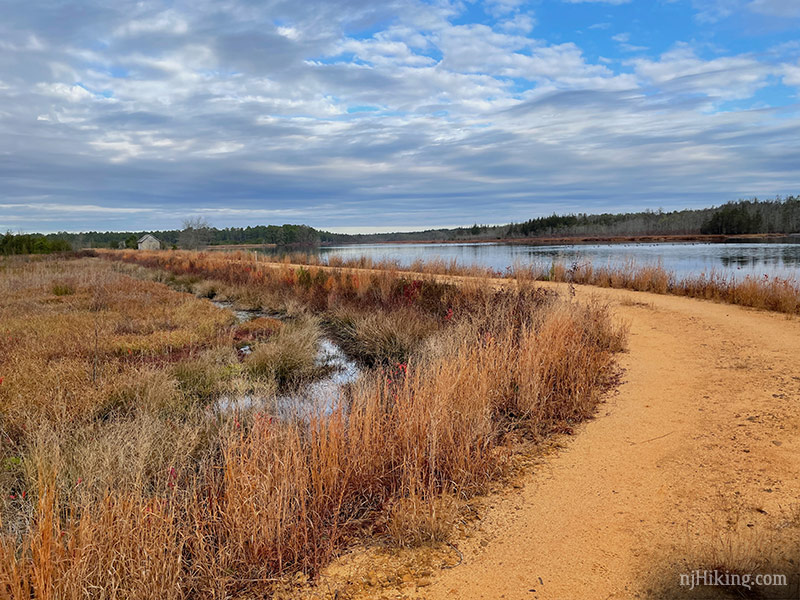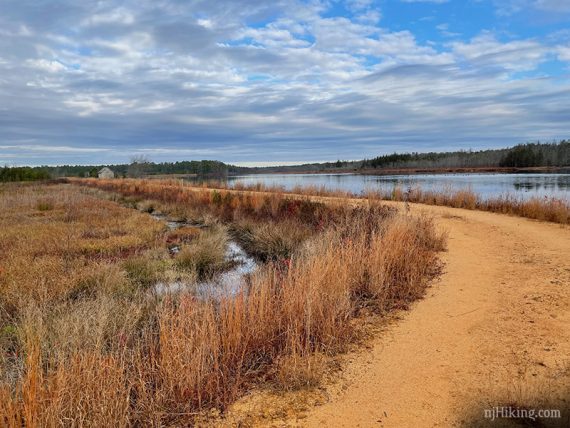 1.8 – Continue straight on YELLOW, passing a BLUE connector trail on the left. Shortly after is another marker for it.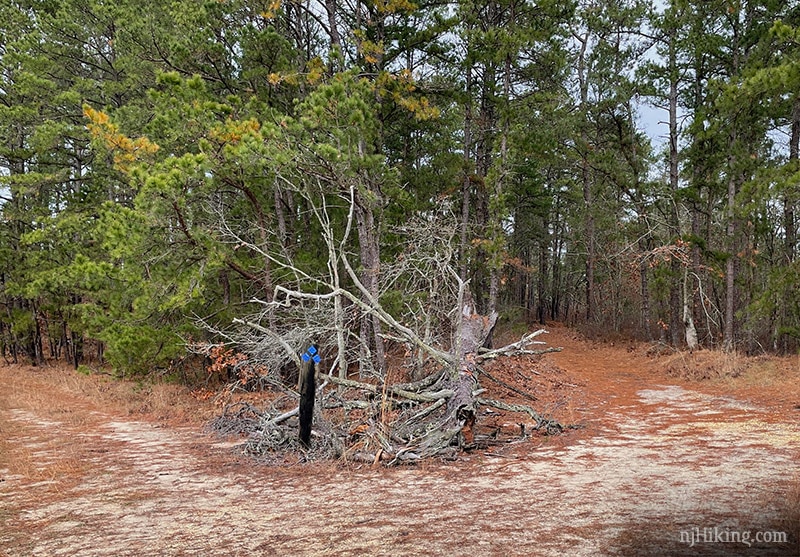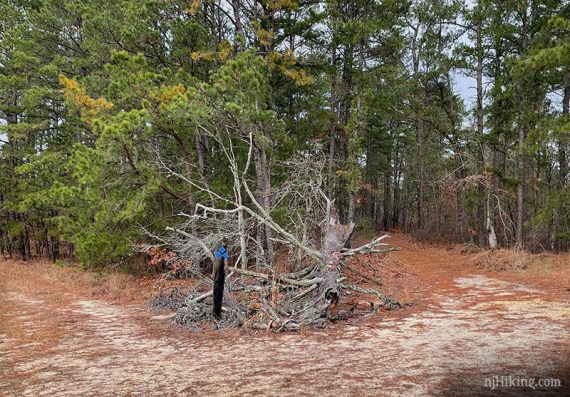 Pass a small pavilion and bench on the right with a view of the Wading River.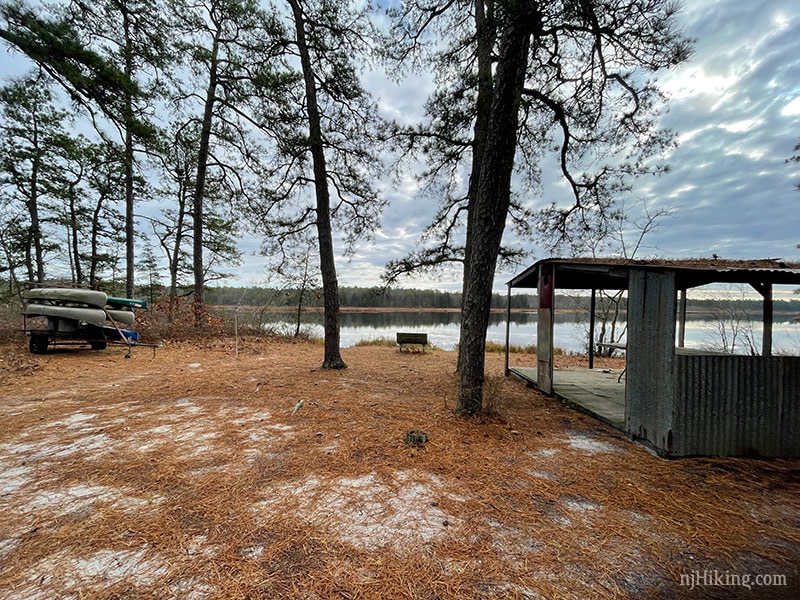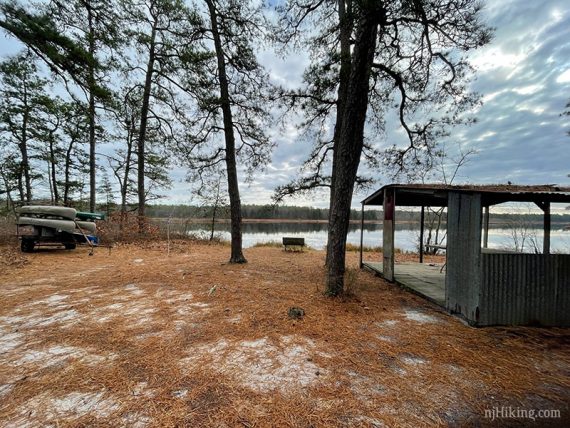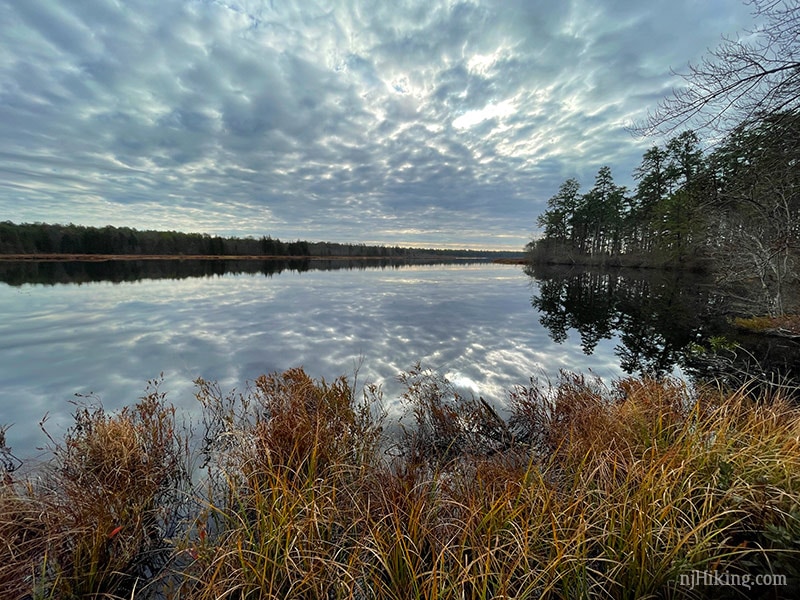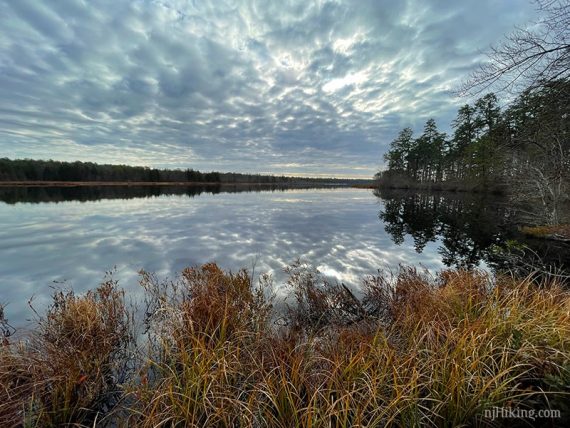 2.2 – Pass a BLUE connector trail on the left. Continue following YELLOW.
2.6 – Cross Rt 563. Continue following YELLOW. The trail becomes a narrower footpath.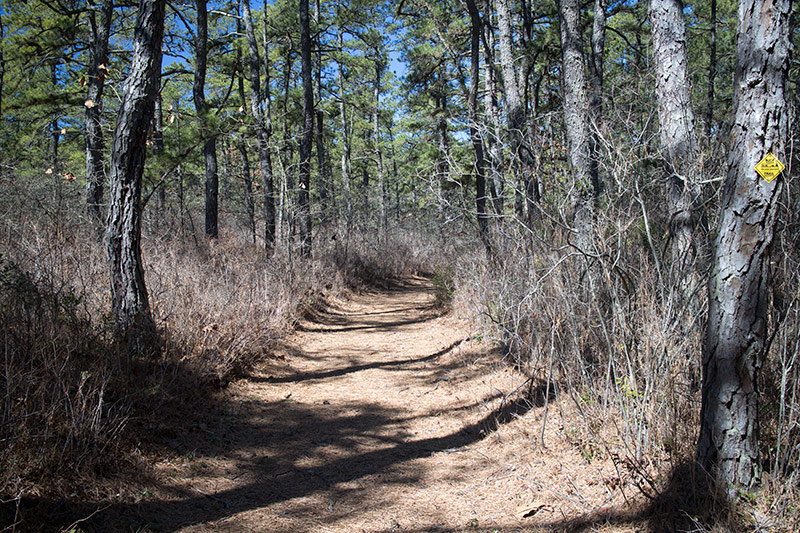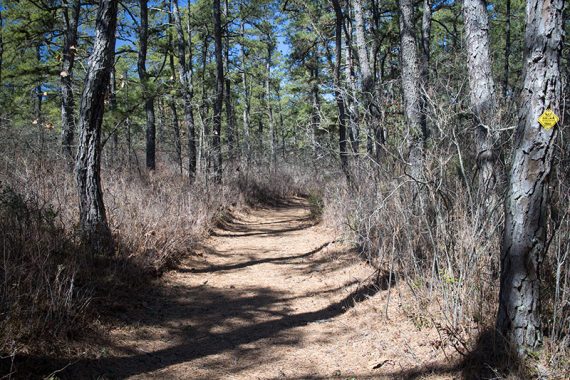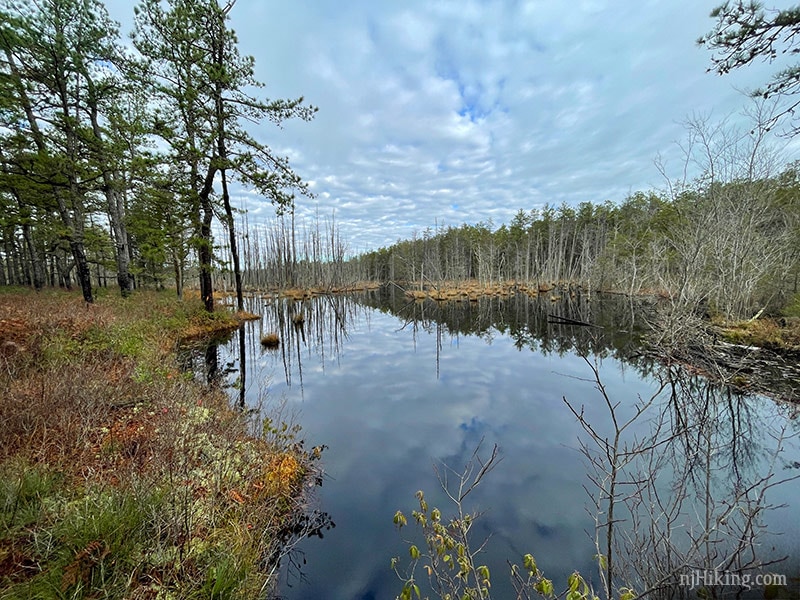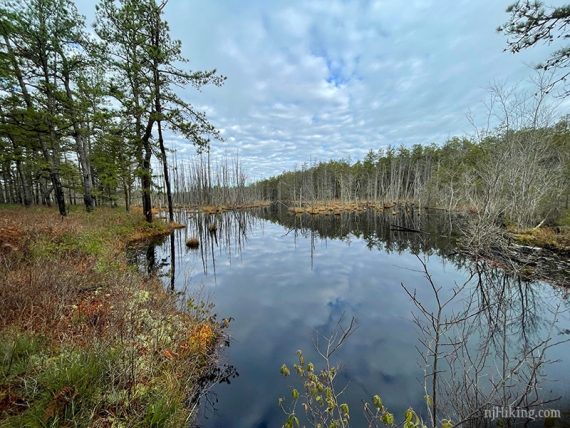 3.6 – Continue following YELLOW as it turns LEFT. [An unmarked trail goes straight].
3.8 – Continue following YELLOW as it turns LEFT. [A BLUE connector trail goes right, this meets up with RED/GREEN in the rest of the park]
4.6 – Arrive at a wide sand road and turn RIGHT to start following WHITE.
[YELLOW/WHITE is a faster route back to the parking lot]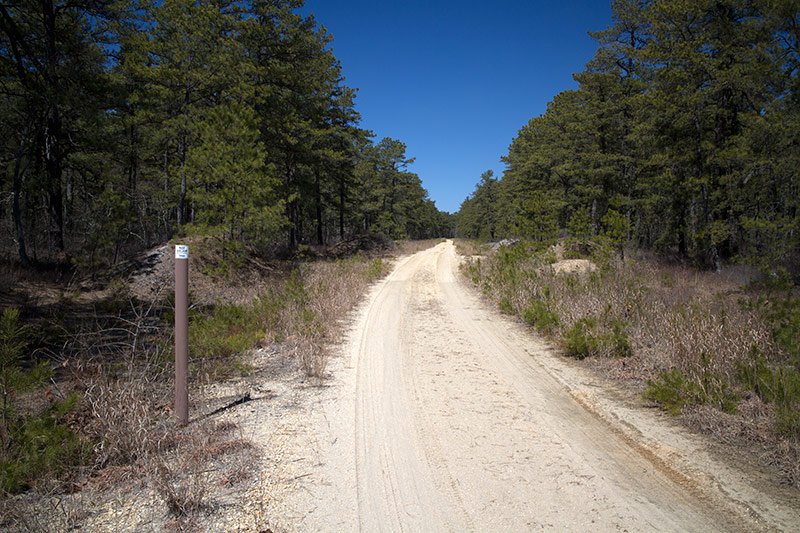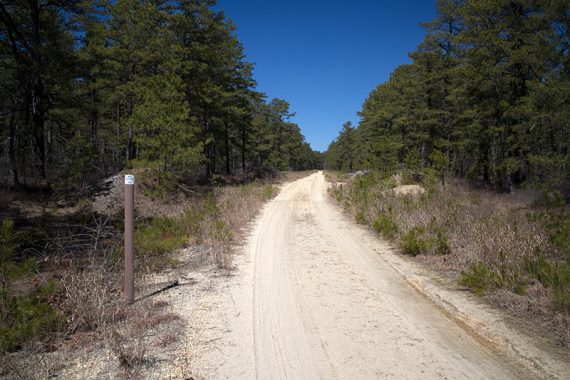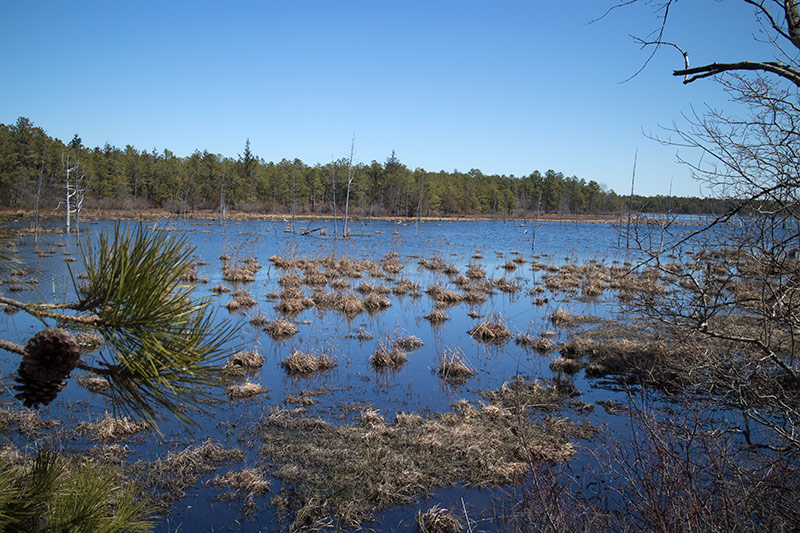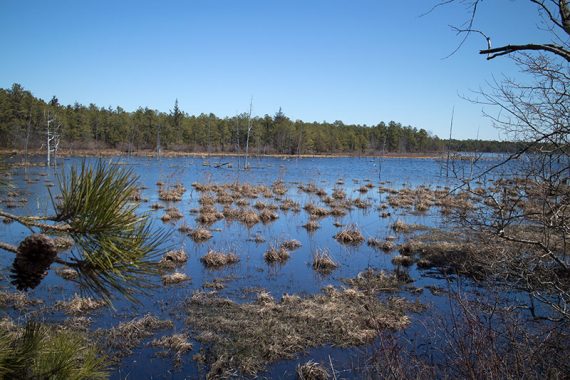 4.9 – Continue following WHITE, passing a BLUE connector.
5.3 – Arrive at more bogs and turn LEFT, now following WHITE/GREEN. There is a bench along this stretch.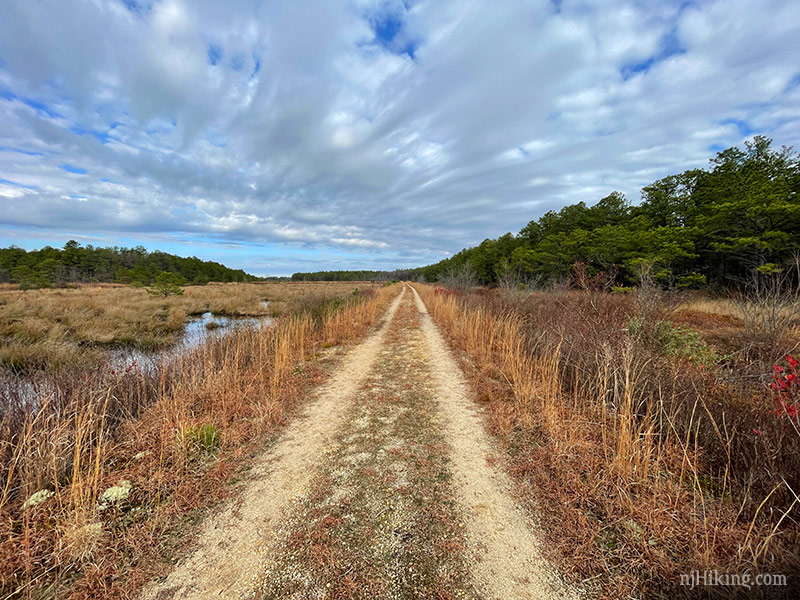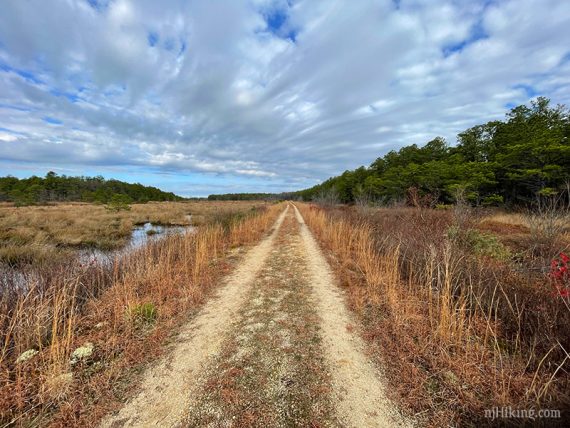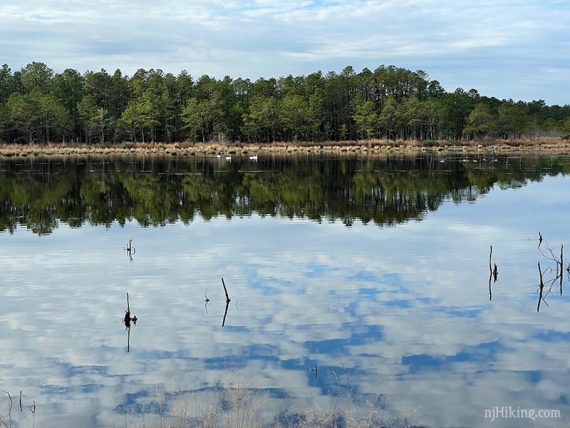 5.7 – Turn LEFT, now following WHITE. [GREEN goes right]
5.9 – Continue following WHITE as it turns to the right. [BLUE connector goes straight where a footbridge is visible].
Hike a narrow strip of land with bogs on either side.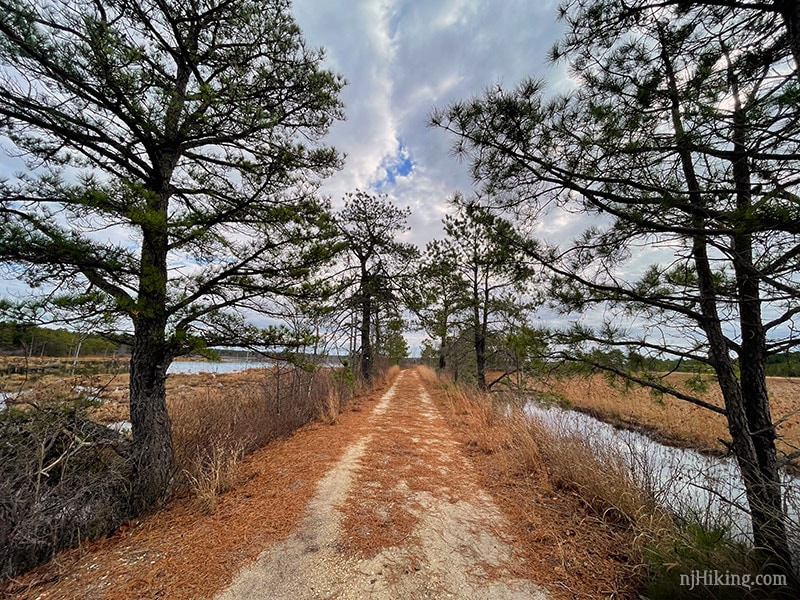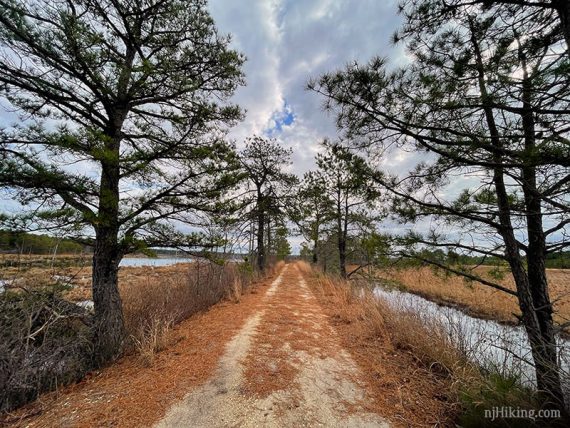 View of "Bald Eagle Reservoir".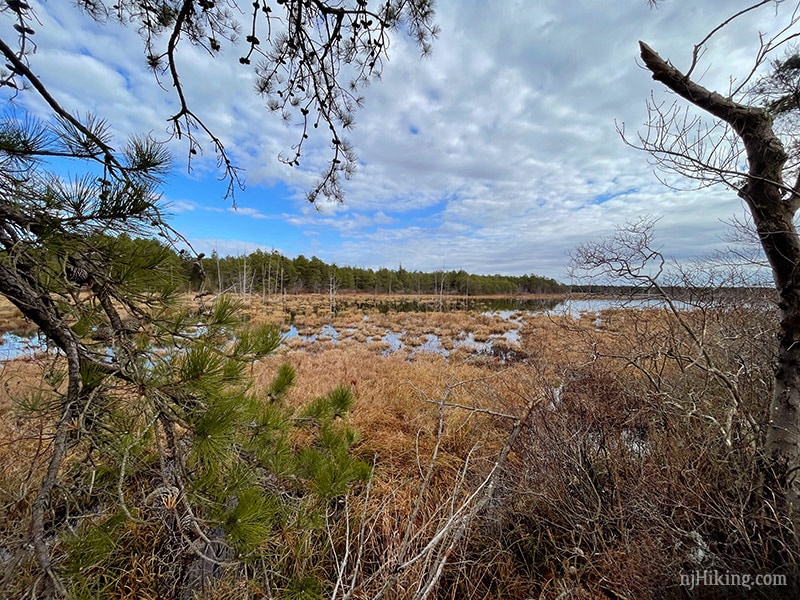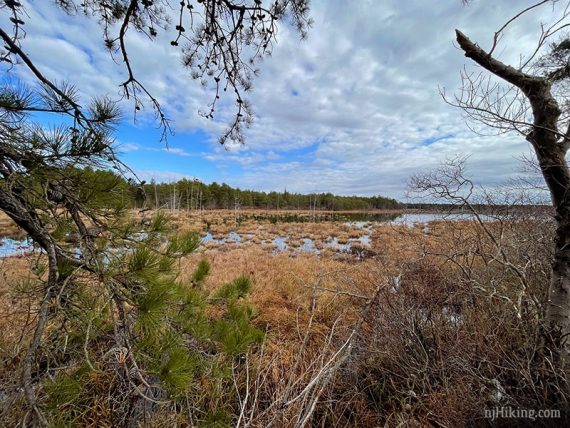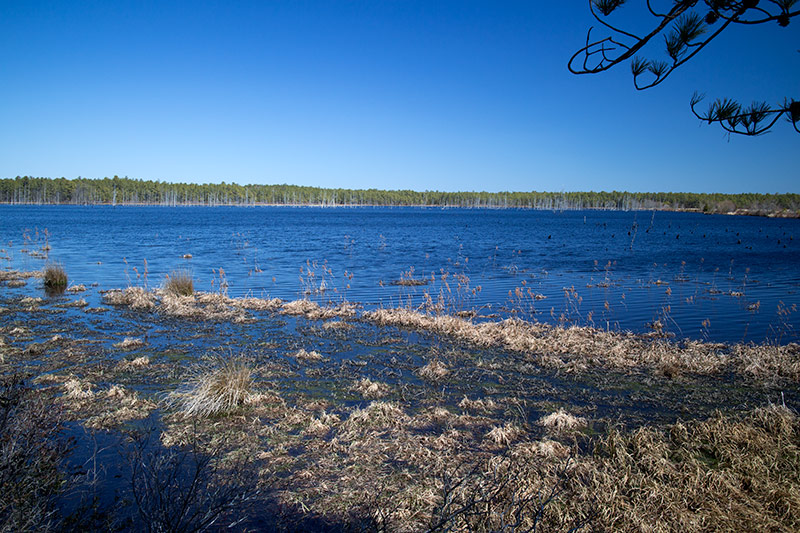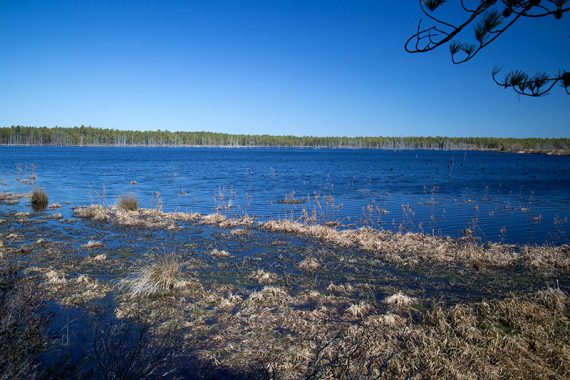 6.4 – Turn LEFT at a t-intersection after this to continue following WHITE.
Soon after is a wet crossing.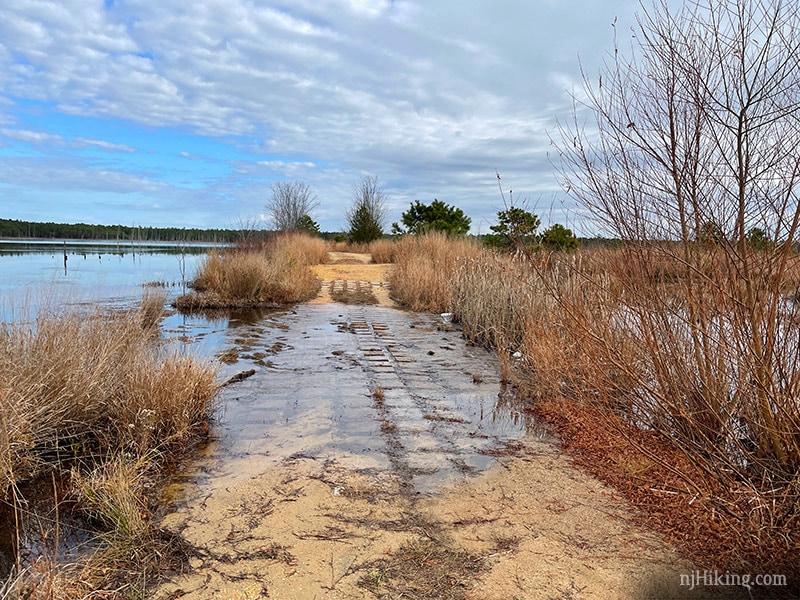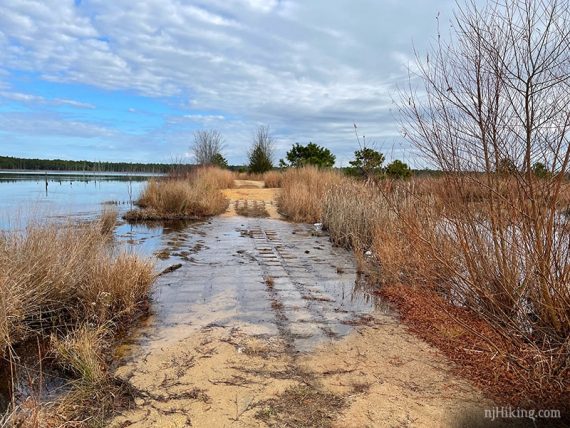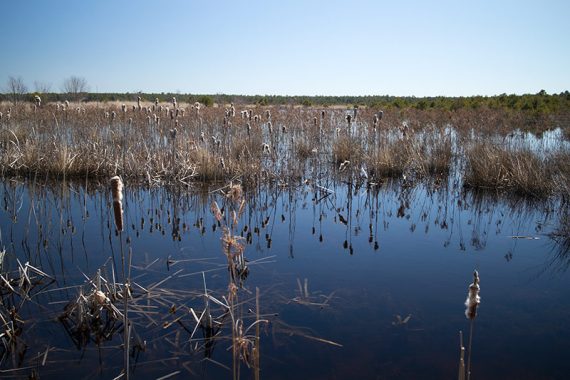 6.6 – Turn RIGHT to go to the wildlife observation platform that overlooks "Bald Eagle Reservoir".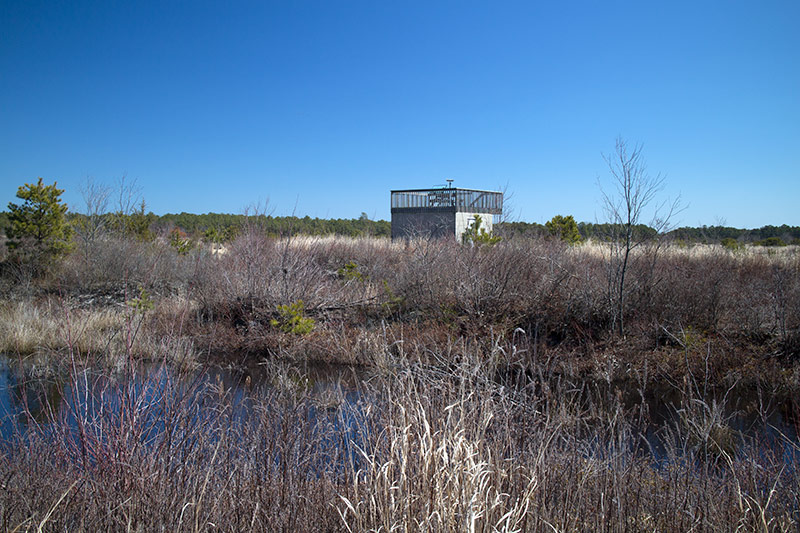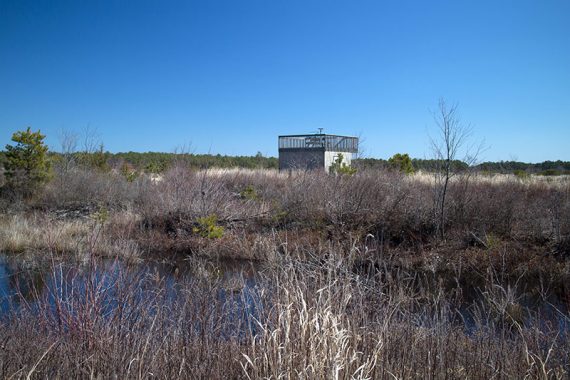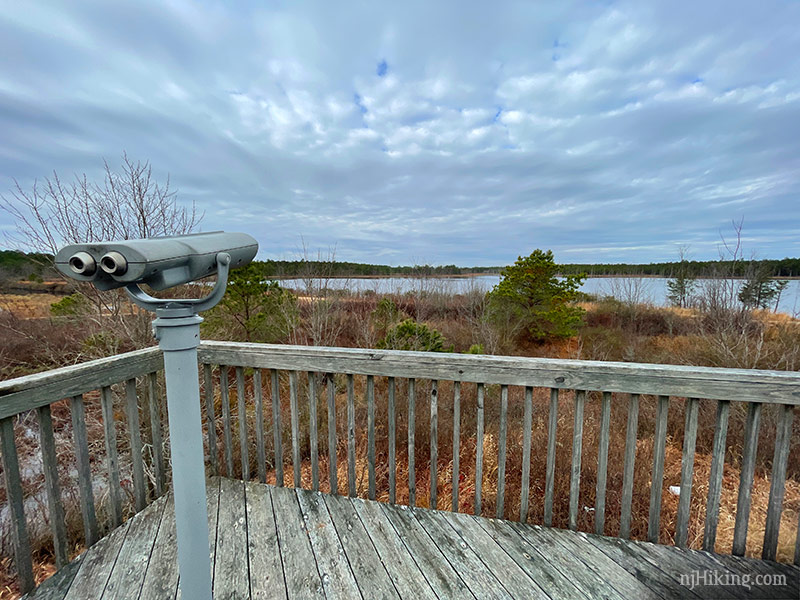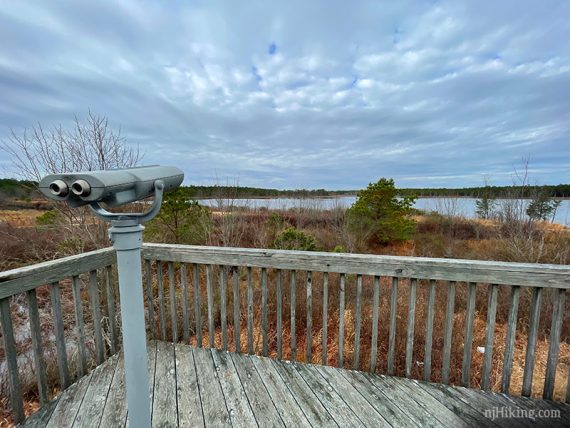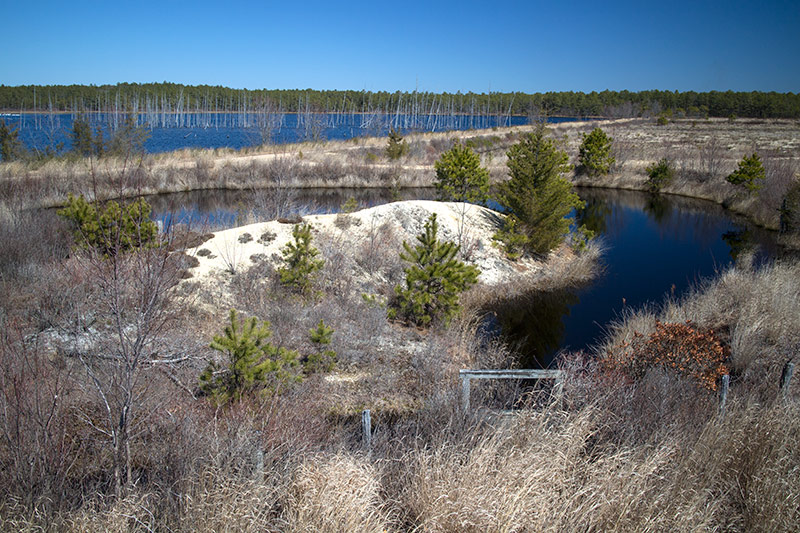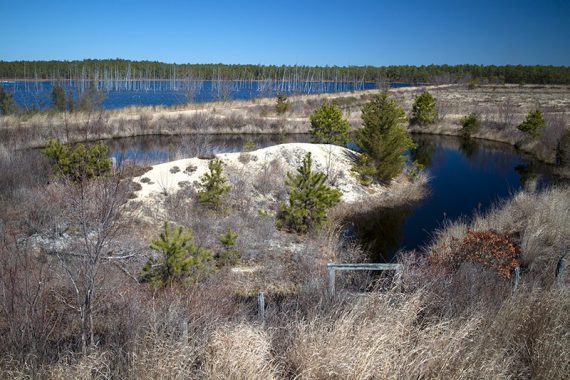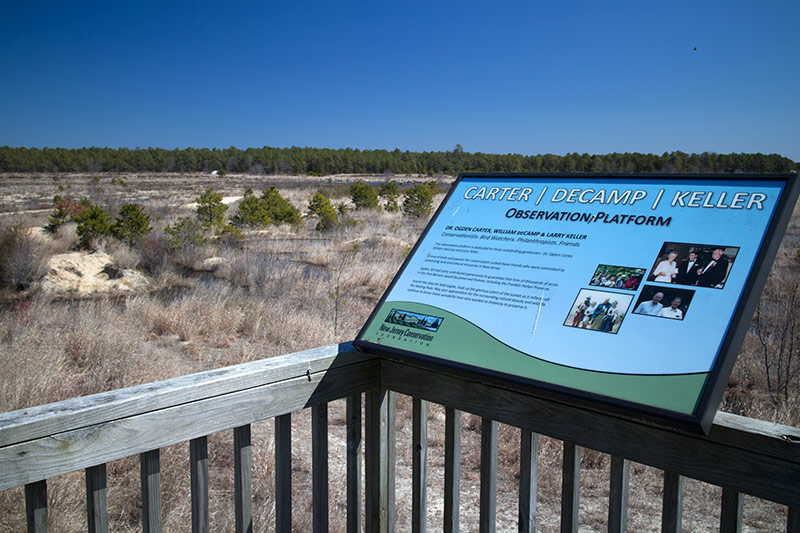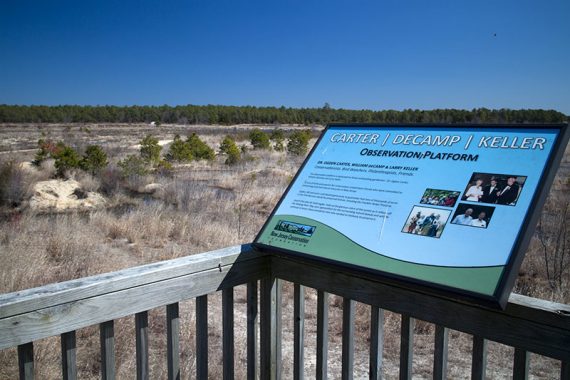 When ready, continue on WHITE. Shortly after the platform, continue following WHITE as it veers RIGHT.
7.1 – Follow WHITE as it turns LEFT and soon arrives back at the lot.
—
Hiked: 11/27/20. Full route.
Hiked: 3/29/15. YELLOW not passable.