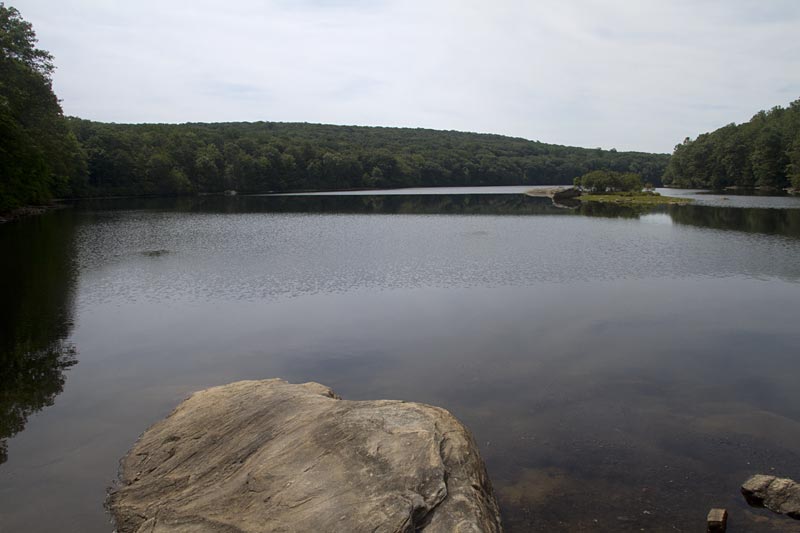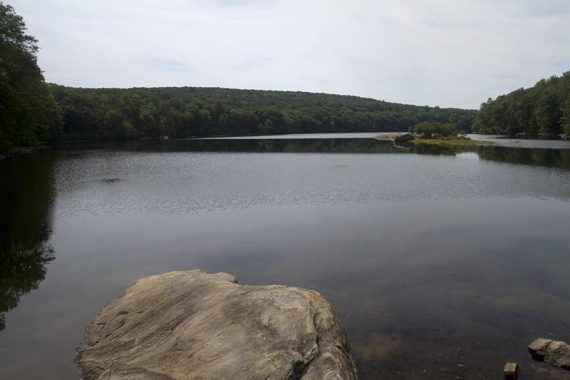 Highlights of this loop include views of Lake Skannatati and Lake Askoti, the Hasenclever Mine, and a small cemetery with graves from the 1800s.
We were poking around our GPS data for Harriman State Park, looking for an area that we hadn't done and ended up doing a loop from Lake Skannatati.
We'd done another route from this trail head in 2006 , and oddly, it was on August 13th as well.
(Update 6/2020 – Just realized I'd made a brief entry for it: "Long Path from Lake Skannatati". Yes, yes, we know, it's geeky to have years worth of hike data – but it can be handy as a trail journal).
8.8 miles. One steep uphill and a small scramble right in the beginning, then just moderate after that.
Hike Info:
Our two cents:
A decent amount of this trail was tight with bushes and dense undergrowth, and some blind curves – be sure to be talking, making noise, clapping etc to alert any bears in the area that you are comin' through.
Because the route crosses park roads several times, there is some road noise but it's not bad.
Updated: 6/2020: Page refreshed, not re-hiked.
Map / Books:
Harriman-Bear Mountain Trails map set, # 119 is best.
For detailed descriptions, mileage charts, and historical info for all Harriman Trails, the Harriman Trails: A Guide and History is really nice to have too (a new version came out in 2010).
Harriman has lots of woods roads so pay attention to the colored blazes at intersections.
Parkway to the NY border, pick up the NY State Thru-Way North to exit 15a. Take 17N, turn right onto Seven Lakes Drive.
Trail head is in the parking lot for Lake Skannatati and Lake Askoti, which is just past the Kanawauke Circle, on the left.
The Arden-Surebridge trail starts from the entrance end of the lot (on the right if you are facing the water).
Restrooms:
No facilities; the ones at the Reeves Meadow Visitor Center as you enter the park (open weekends and holidays) is probably your best bet. (soda machine there as well)
Details:
ROUTE: Arden-Surebridge (Red Inverted Triangle) – Red Cross – Beech (Blue) – Long Path
Arden-Surebridge trail has a minor scramble, on the right of this photo.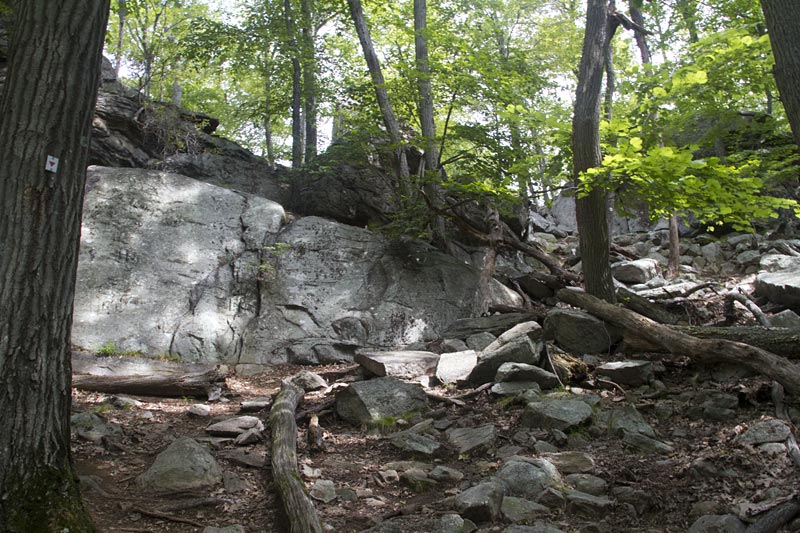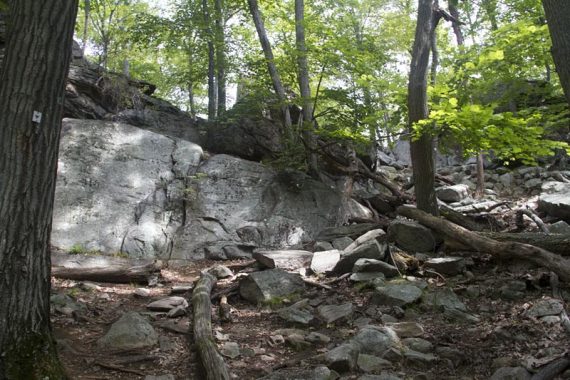 There is a nice viewpoint of Lake Skannatati right in the beginning. The viewpoint over Lake Skannatati is just past the start of Red Cross, so backtrack to Red Cross after the viewpoint.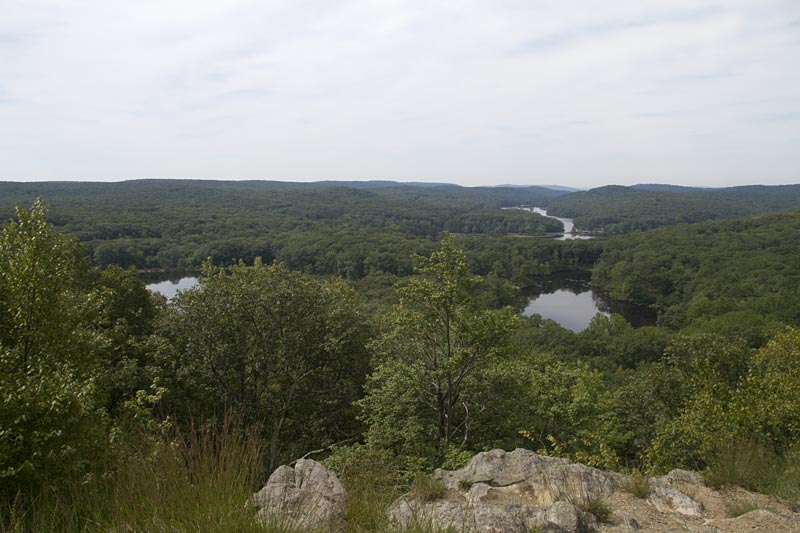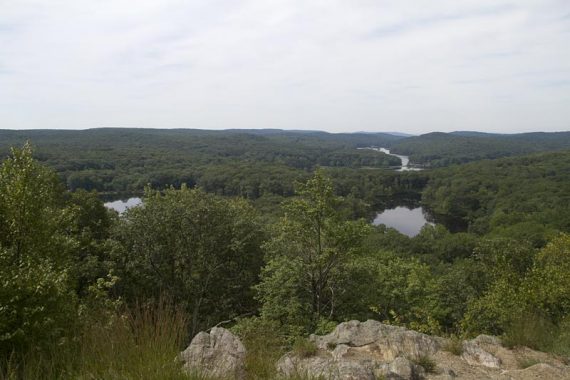 The viewpoint was obvious, Red Cross trail… not as much. Approaching Tiorati Brook Road, it's easy to miss that the Red Cross trail veers to the right, and is overgrown.
After crossing the road, into an overgrown field, the next trail marker is hard to spot. Head across the field and toward the left and there is a little opening in the brush. Cross the stream and there is a waterfall to the left, off the trail.
A view of Lake Askoti from some rock slabs (above photo), the Hasenclever Mine (large deep hole filled with water).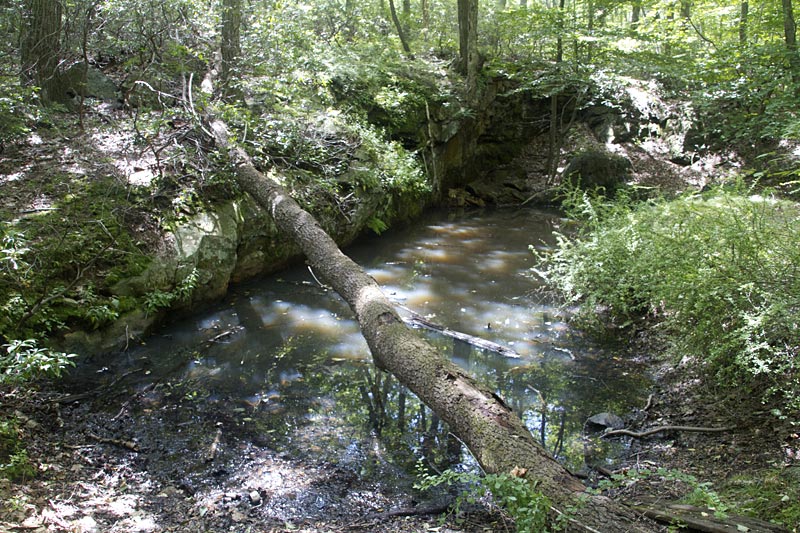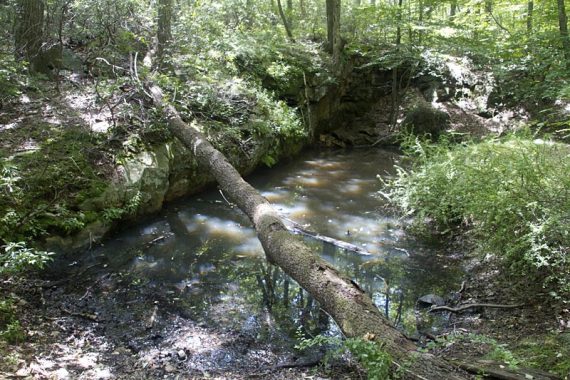 Red Cross trail near Lake Askoti: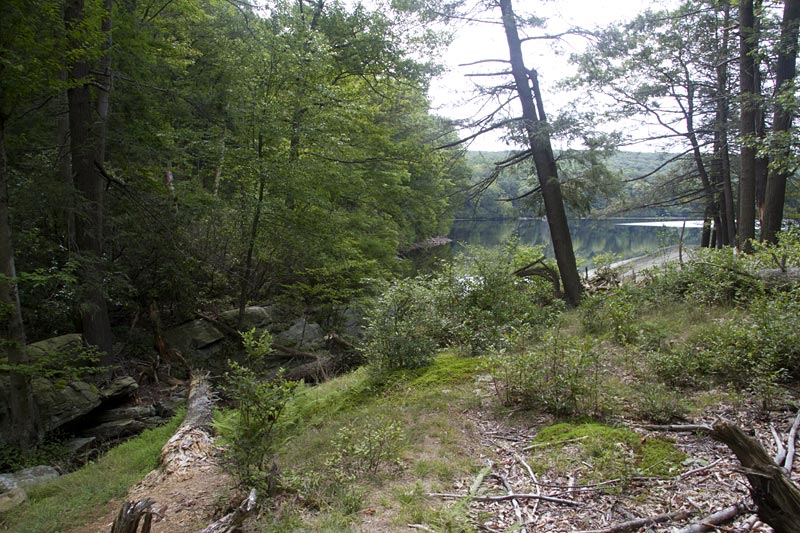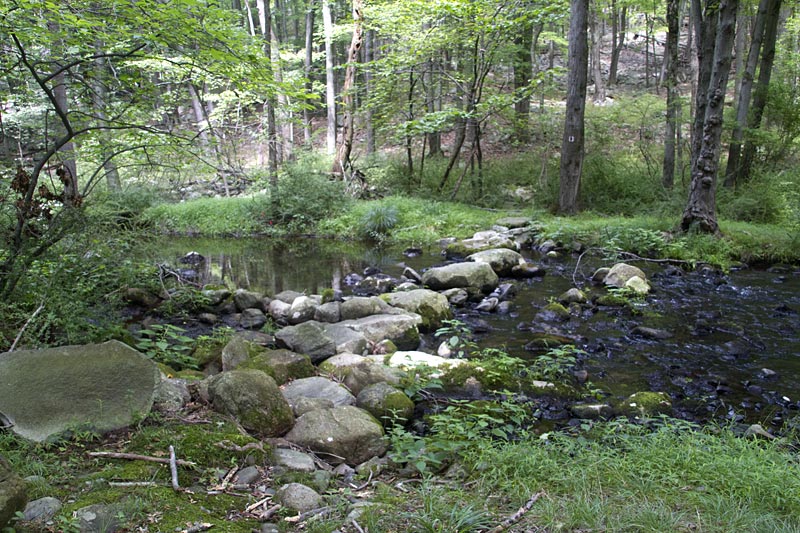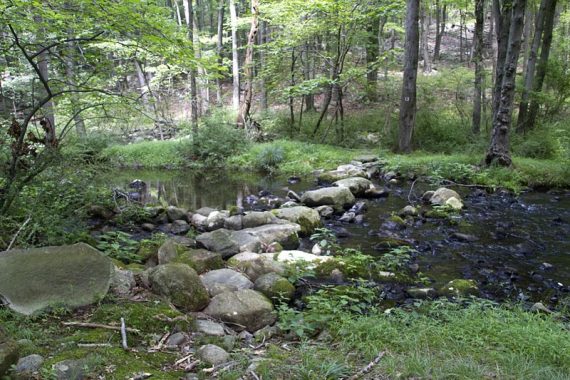 Along the Beech trail is a small cemetery contains graves from the 1800s and of Civil War veterans.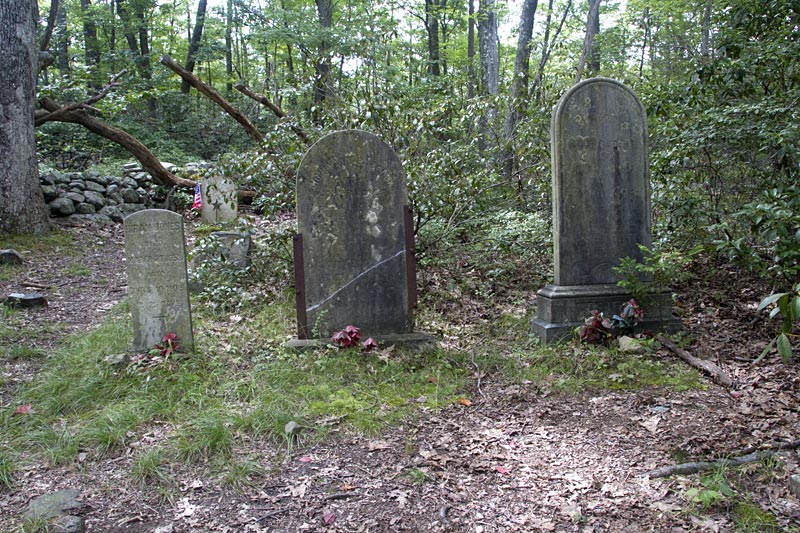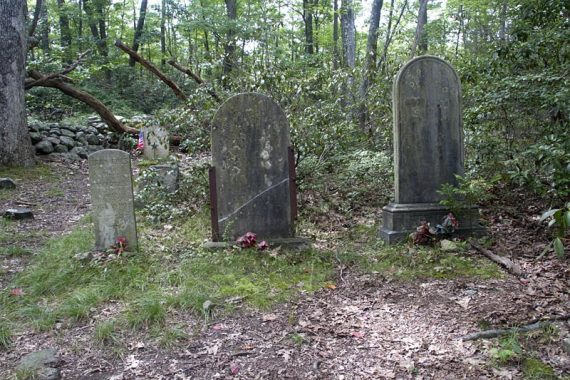 There is a waterfall a bit off the Red Cross trail, and another area with cascades near the road.
The rest of the trail is just nice hiking, typical of Harriman (there really isn't a bad trail choice in this park).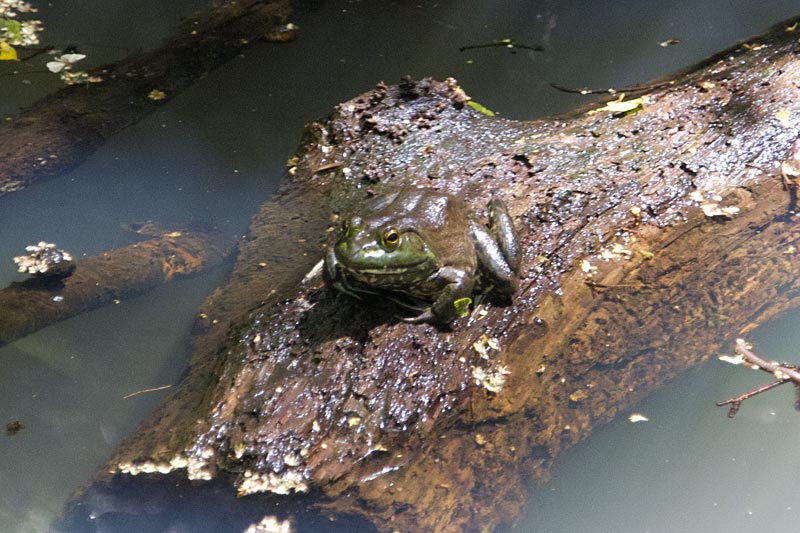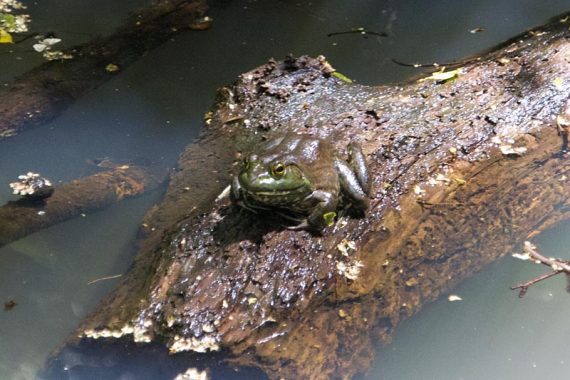 Wildlife spotted: Fishies in Lake Askoti, bullfrogs at the mine (in some seriously murky and stagnant water); and a ton of deer.
We came upon two laying in a grassy area, just chillin'. They finally got up and wandered off nonchalantly as we passed… probably annoyed that we interupted their picnic.
Later, when we sat down for snacks, we looked up to see a deer staring back at us. He milled around doing deer things, ignoring us, as we ate our trail mix.
Other randomness: This was our first test hike with our new GPS – a Garmin 62S. We'd been putting our 60cs through the ringer for years now, it was time to upgrade.
So far, we're really happy with the 62s. It feels solid and very responsive, and the reception is way better than 60cs, which tended to drop satellites in a lot of tree cover or near rocks (and drove us a little bonkers).
The only issue we have is that the price dropped after we bought ours – of course.
—
Hiked: 8/13/11.
Hiked: 8/13/06. Different route, same parking. "Long Path from Lake Skannatati"