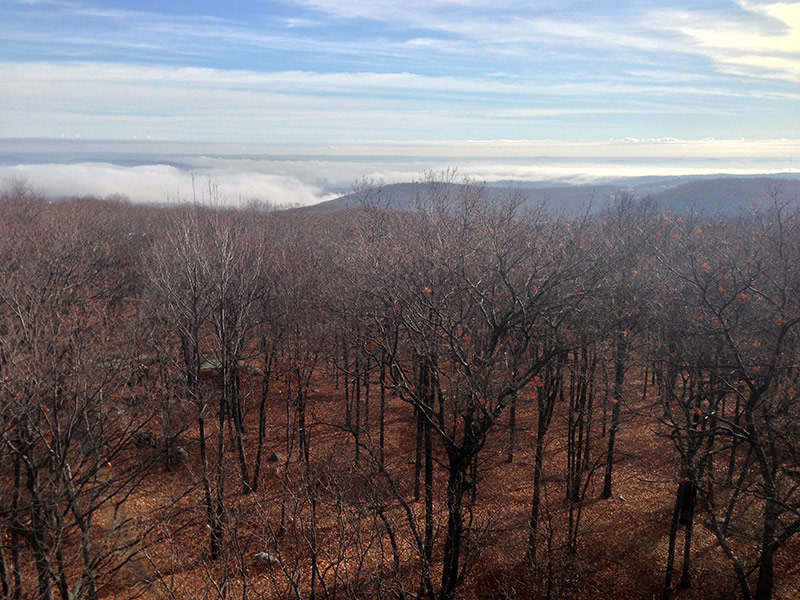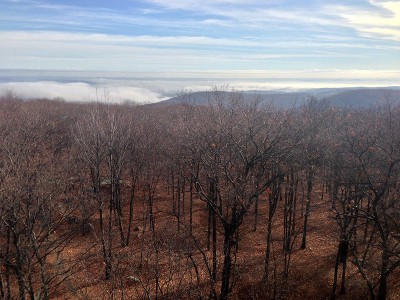 Expansive views from a fire tower and Big Hill, a few ruins, and hiking old woods roads past three pretty reservoirs.
We were looking for a less traveled and non-hunting area for our usual post-Thanksgiving hike and I noticed a mostly empty spot in our GPS data in Harriman State Park, New York.
Hike Info:
From a parking area off of Rt. 106 we only had one long out-and-back, circa 2007. I decided to crack open the new (2015) Circuit Hikes in Harriman to see if it had any hikes in that area for ideas.
The book had a route that took several unmarked woods roads past reservoirs in addition to hitting the ORAK ruin, as well as the Jackie Jones fire tower and Big Hill shelter that we did last time. We decided to do that route but then extend it to add another reservoir.
Miles: 7.0; rugged, rocky trails with some decent hills.
Book: Detailed hike directions for a similar but shorter hikes are in Circuit Hikes in Harriman. Info for all trails in this park is in Harriman Trails: A Guide and History.
Route: Suffern-Bear Mountain (S-BM – YELLOW) past ORAK ruin, Jackie Jones fire tower, Big Hill. Leave Suffern-Bear Mountain (S-BM – YELLOW) and continue on unmarked woods road past Third and Second reservoirs. Pick up unmarked Woodtown Road to First reservoir. Then follow unmarked 'Old Turnpike' to Unmarked back to Suffern-Bear Mountain (S-BM – YELLOW).
Our two cents: The Harriman-Bear Mountain Trails is a must-have but for this hike as half the route is on unmarked trails and we do not recommend doing this route without it. For shorter and much easier-to-follow hikes that hit all the major bits minus the reservoirs… simply follow S-BM (YELLOW) to these points and then retrace the route back. Distance is one-way, i.e. to Big Hill and back is 4.2 miles round trip:
0.4 miles – ORAK Ruins
1.2 miles – Jackie Jones fire tower
2.1 miles – Big Hill shelter
Parking: N41° 13.787′ W74° 03.623'
Parkway N to Palisades Interstate Parkway to Exit 14. W on Willow Grove Rd. which turns into Kanawauke Rd (Rt. 106). Small dirt pullout lot on the left side.
Restrooms: None. The last rest area on the Parkway is the easy option, though not ideal as it's still 20-25 min. from the trailhead. Potential options we have not tried: After exiting Palisades Parkway at 14, turn right and head into town – google shows a small gas station/Dunkin. The exit before that, Mt. Ivy, also shows that. Past the parking is Lake Welch which probably has facilities but are likely seasonal.
From the parking lot, walk down Rt 106 a bit and turn left to a gate. There are YELLOW markers for Suffern-Bear Mountain (S-BM – YELLOW) at the gate but it's not immediately obvious that the paved road is followed for a bit before YELLOW turns left onto a trail.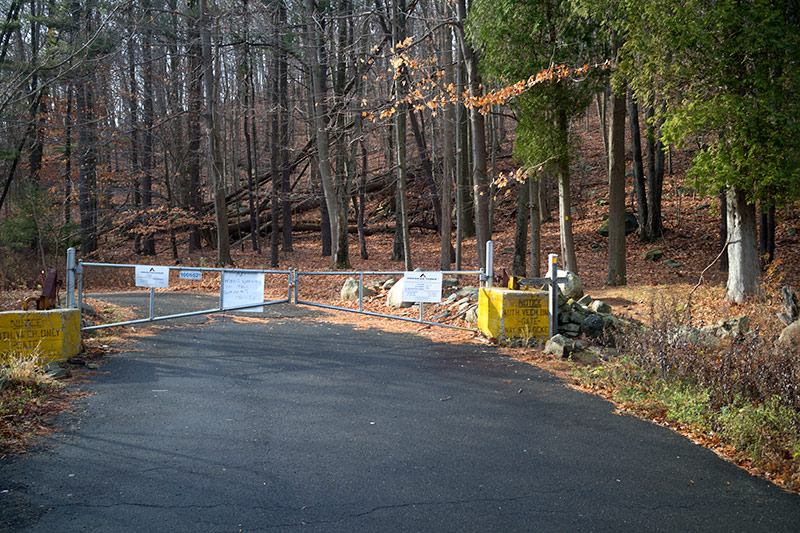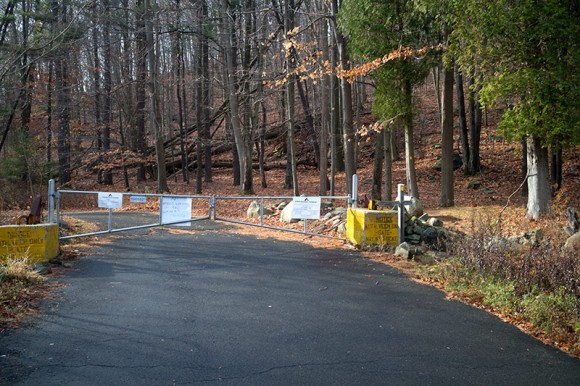 Early on in this hike are the "ORAK ruins" – a gate house, stone foundations, and an archway that are remnants of a mansion from executive at Karo syrup back in the day. (ORAK is Karo backwards).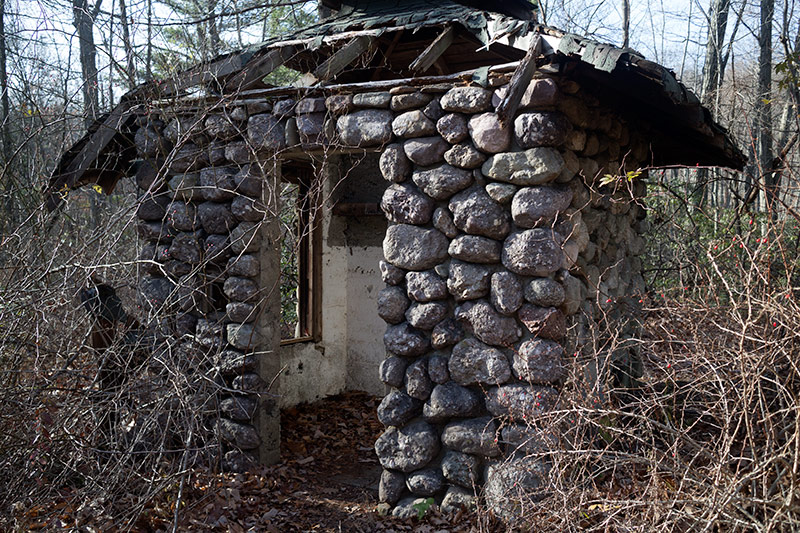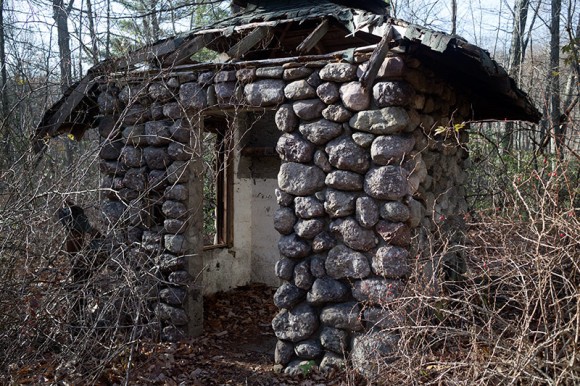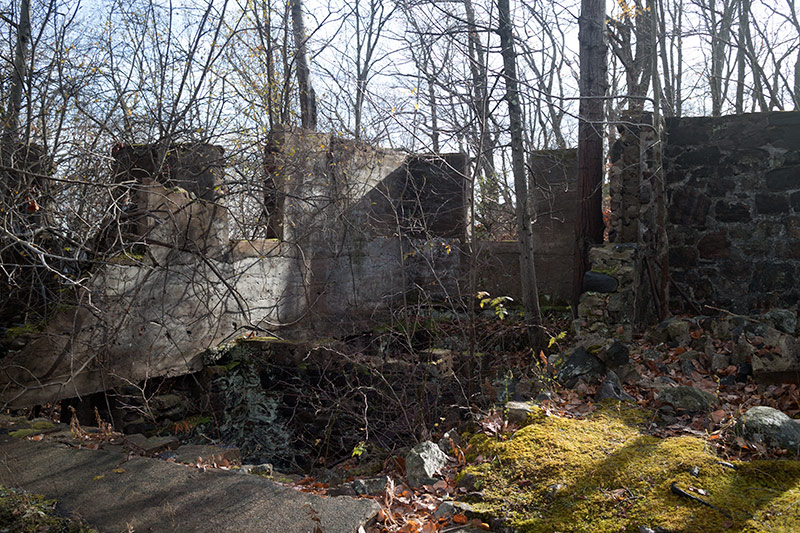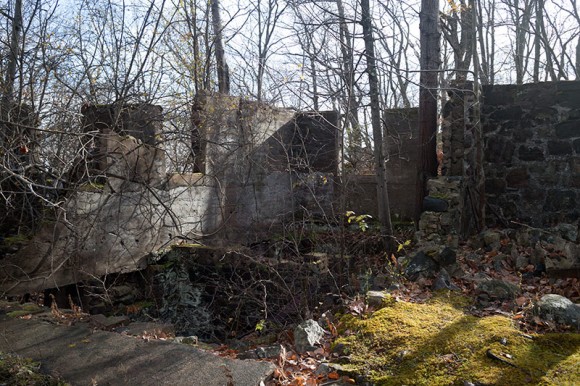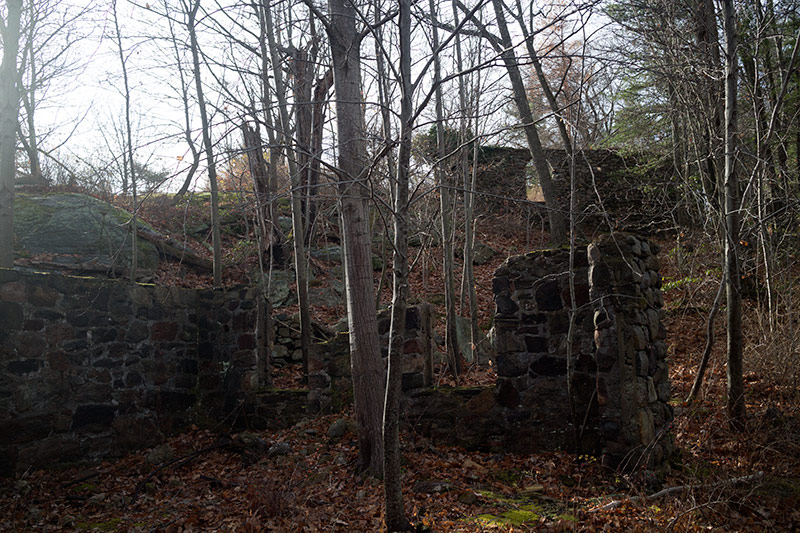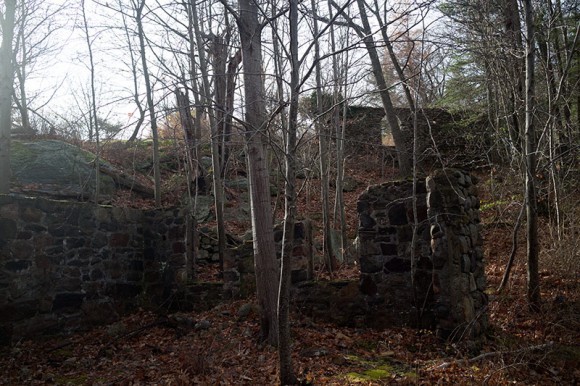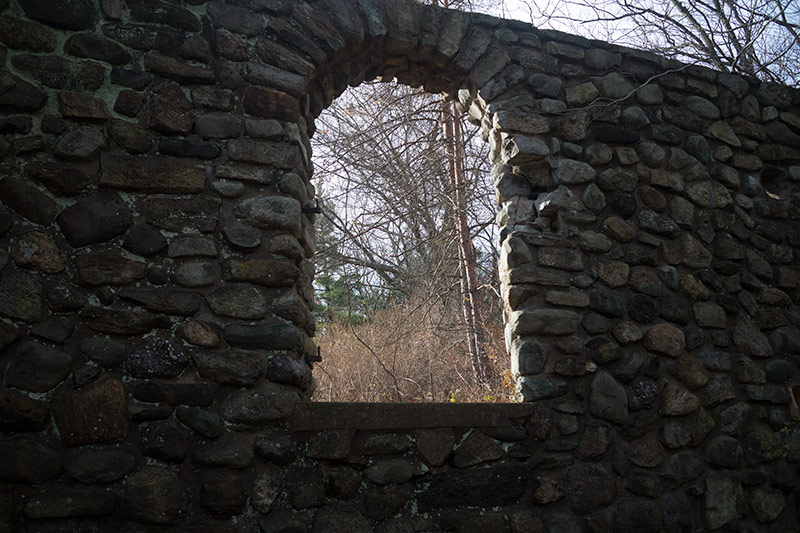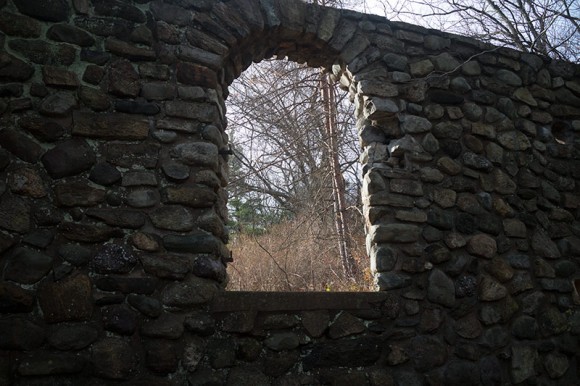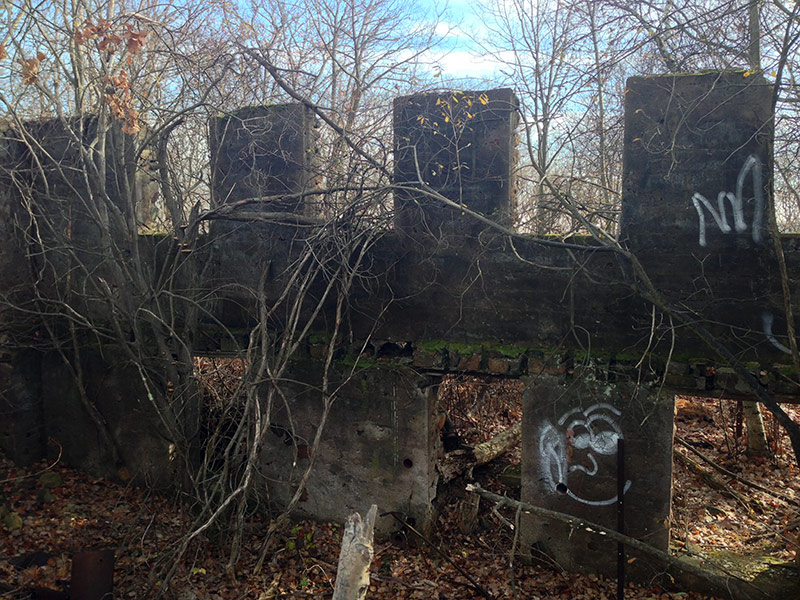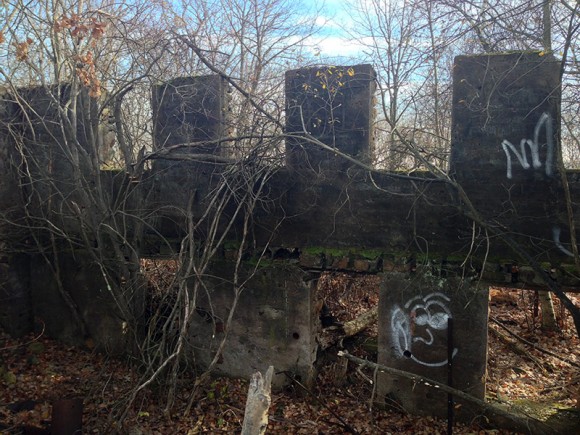 Just past a communication tower/building is the Jackie Jones fire tower that can be climbed for vast views over Lake Welch and toward the Hudson River – if it's clear. The tower is also visible.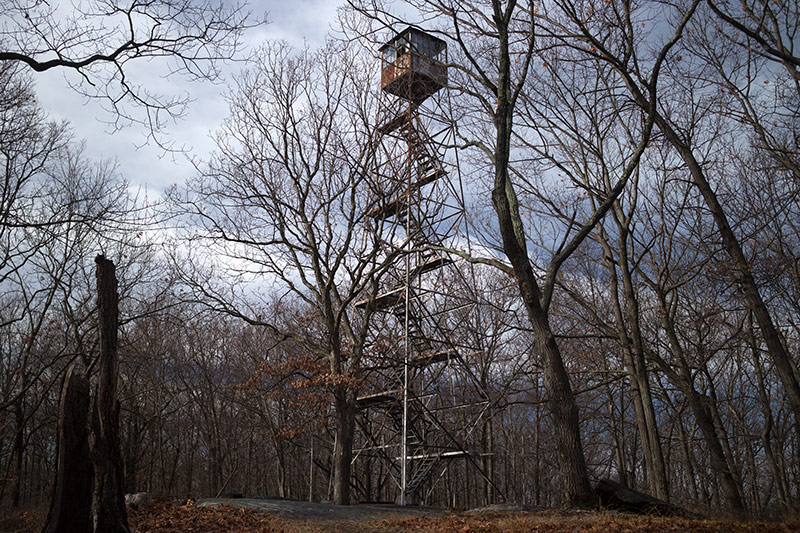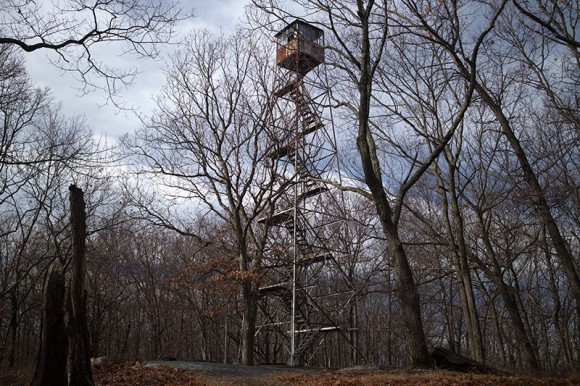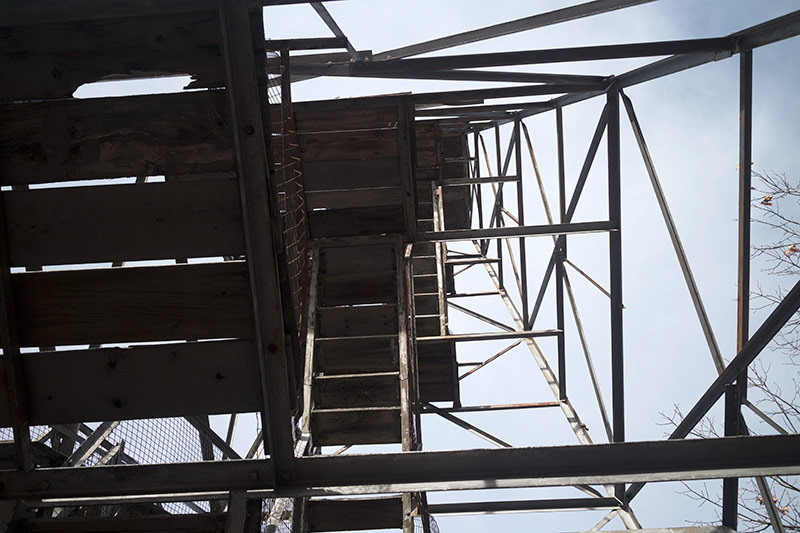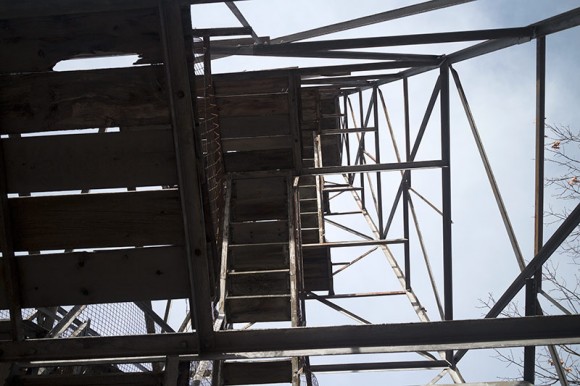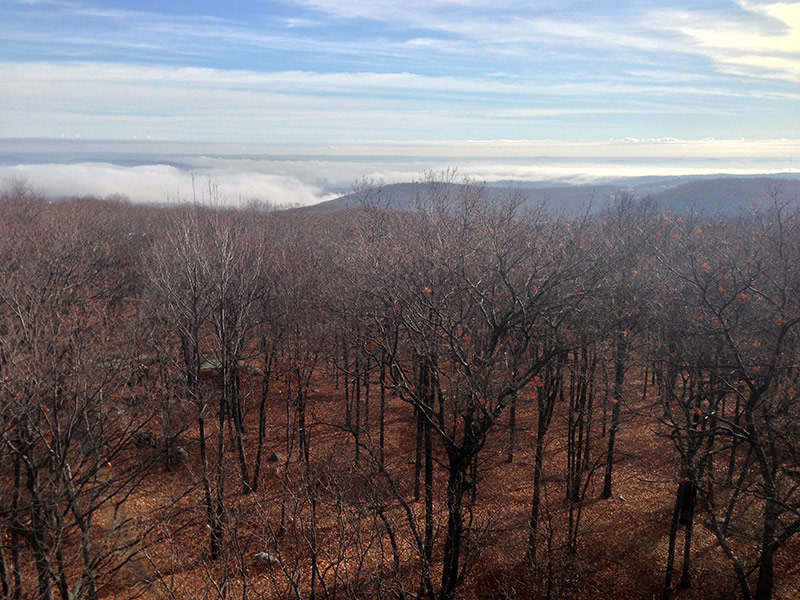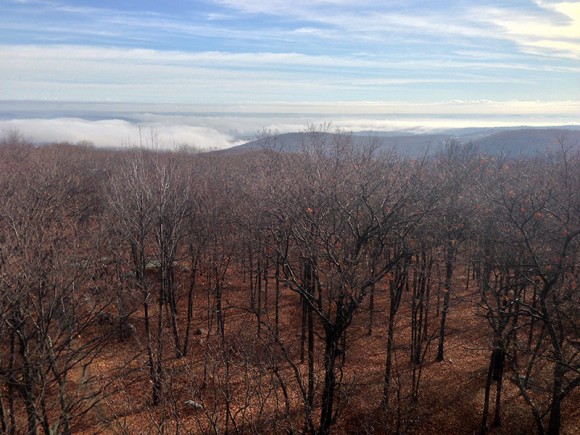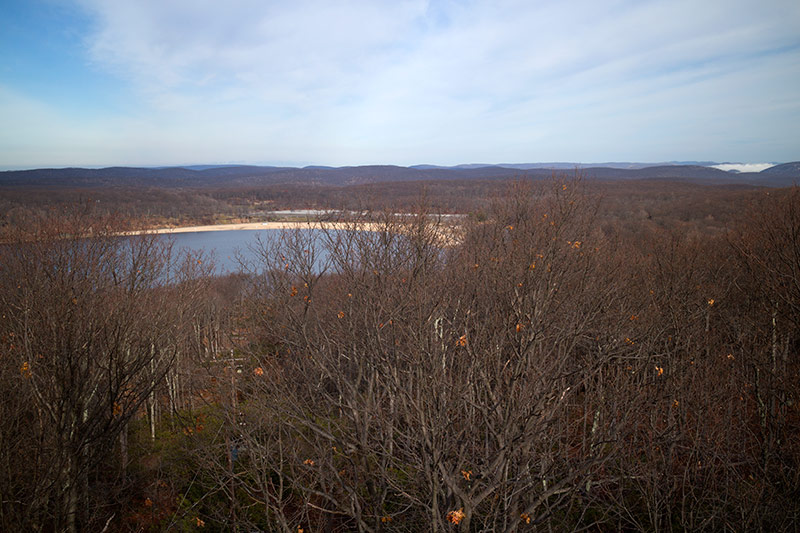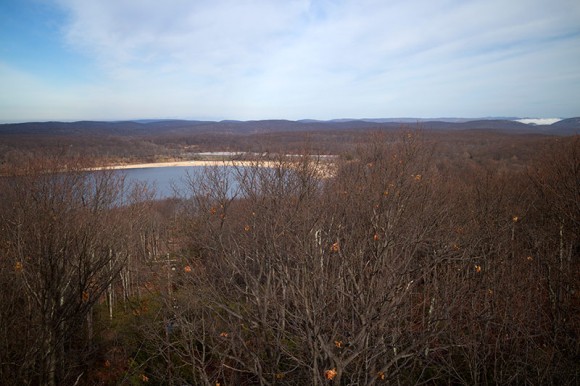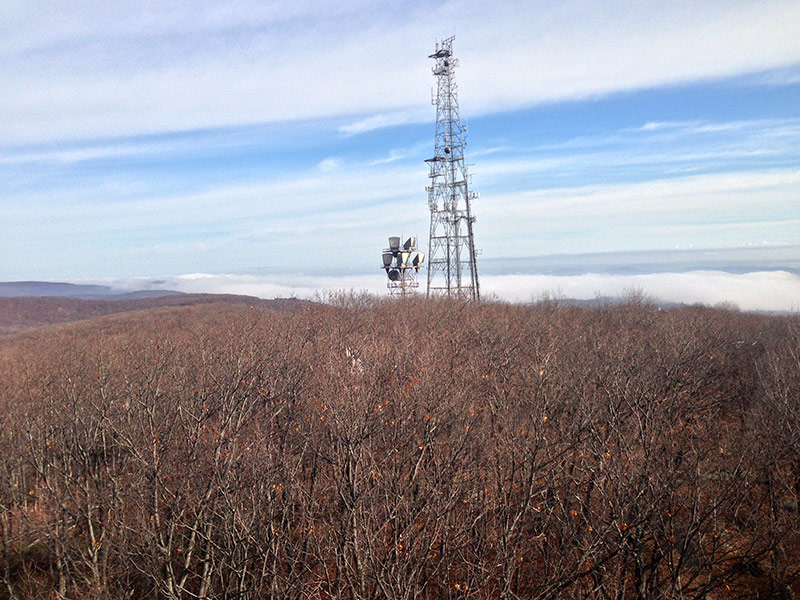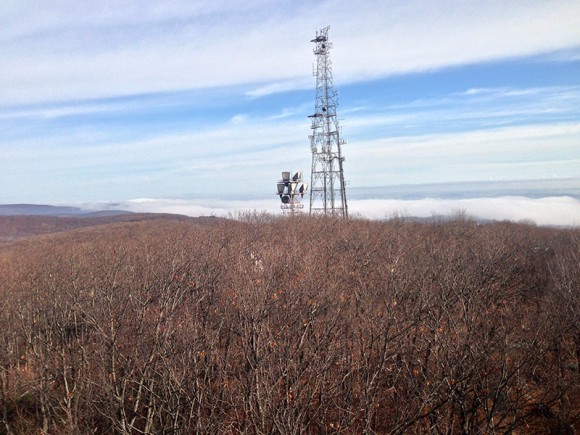 Fire towers can vary widely and for those who aren't into heights or are iffy when it comes to towers: This one felt sturdy enough and was perfectly fine to climb, but looks rickety and in rough shape. The steps are wooden and not see-through grates so that helps when looking down – but several of the wooden steps were missing.
That first step's a doozy: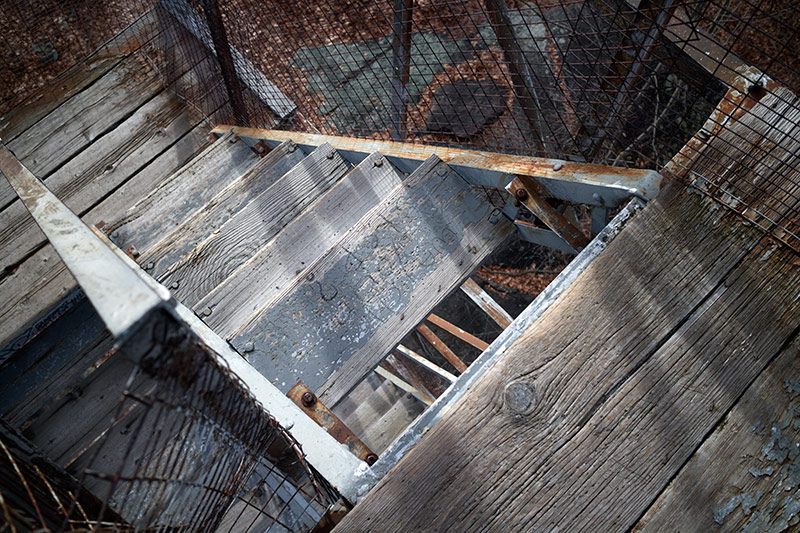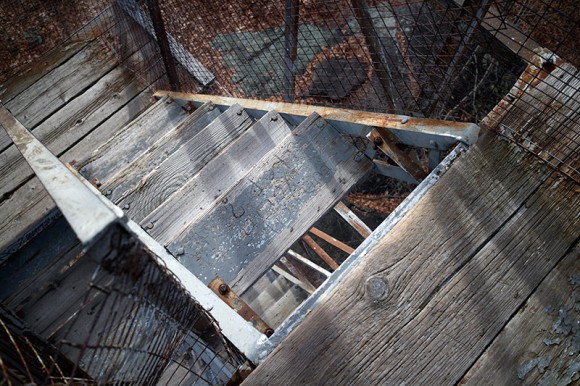 Not sure if some steps got too worn out and were removed, or they actually broke when people stepped on them so we came down even slower than normal just in case. We both ended up with thigh cramps after from reaching down twice as far on some steps and tensing muscles while coming down extra-carefully.
At any rate… still totally worth going up it.
The S-BM (YELLOW) trail continues, heading down downhill rather steeply, crosses unmarked Old Turnpike and Long Path (AQUA) before arriving at the Big Hill shelter.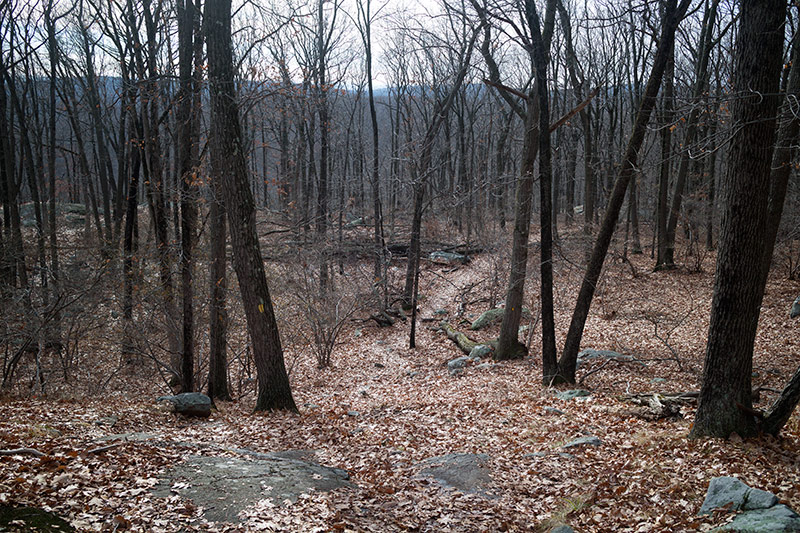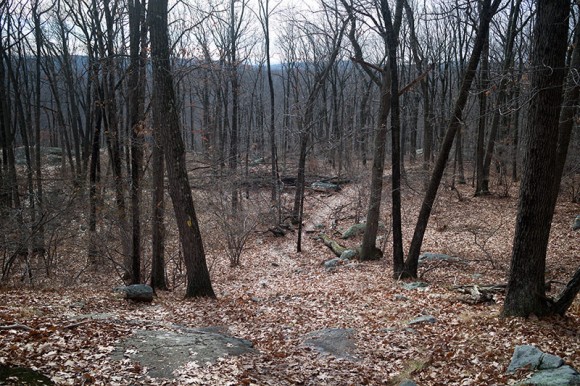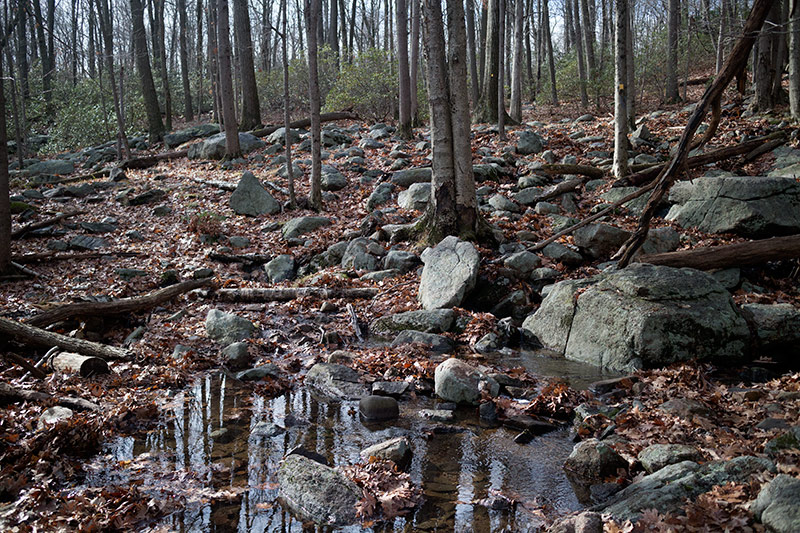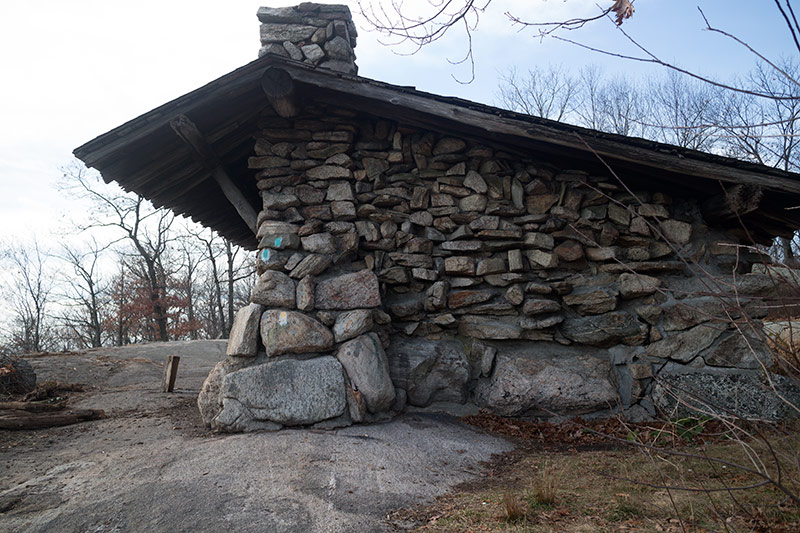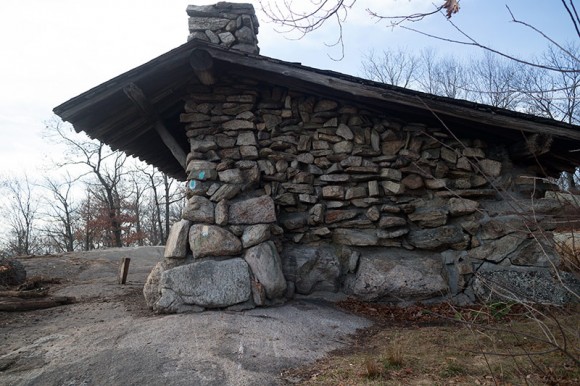 On a clear day there are nice views from Big Hill, including of the NYC skyline. But it was not clear and the light wasn't ideal. With our trusty monocular we could spot the tips of the buildings poking out of the fog but our pics from this vista are very eh.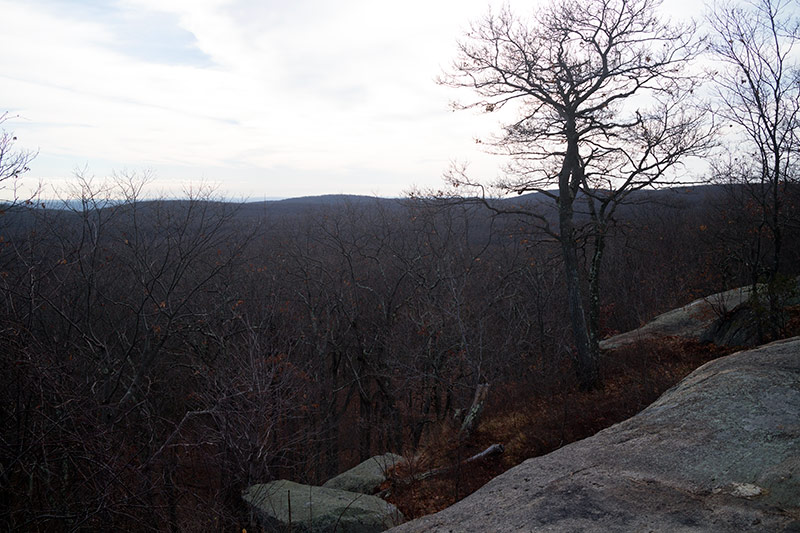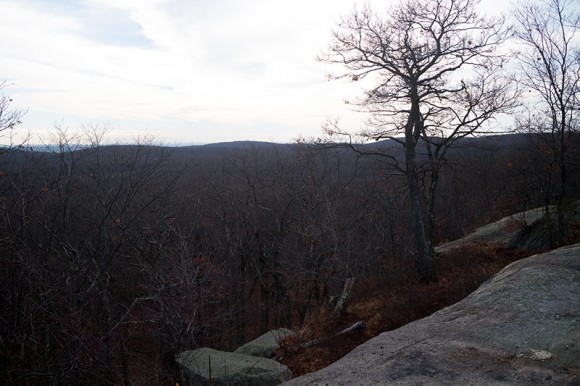 S-BM (YELLOW) continues past the shelter and then takes a hard left where it meets the start of the Breakneck Mountain (WHITE) trail before heading downhill toward Third Reservoir. At this point we turned LEFT and started following an unmarked woods road along Third Reservoir…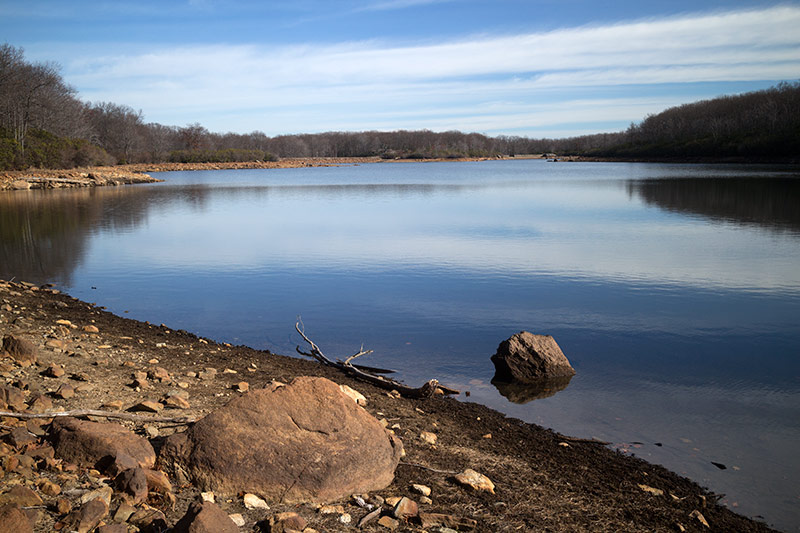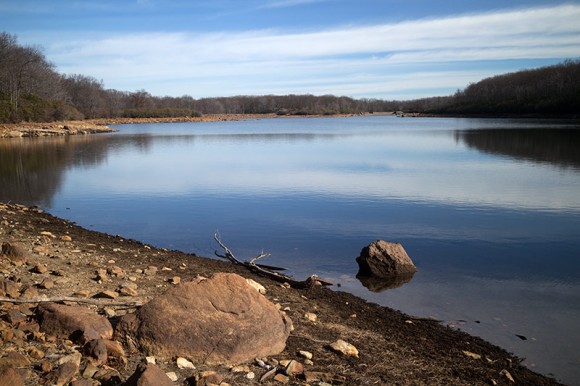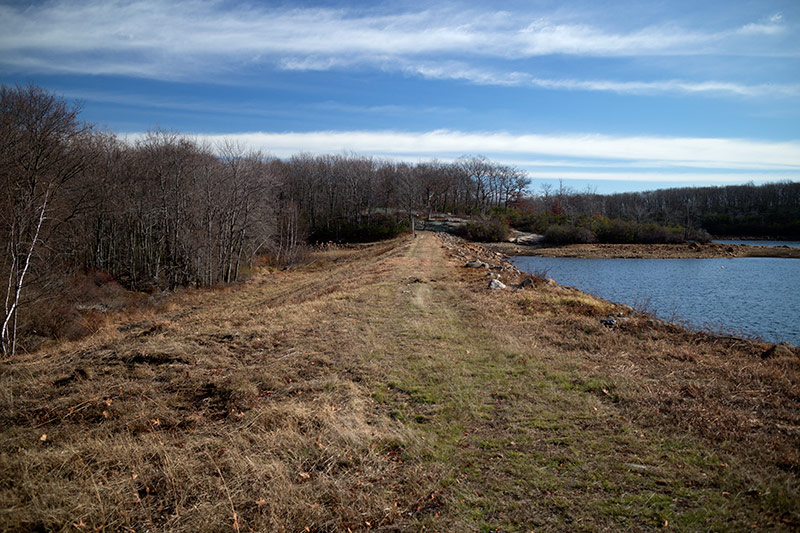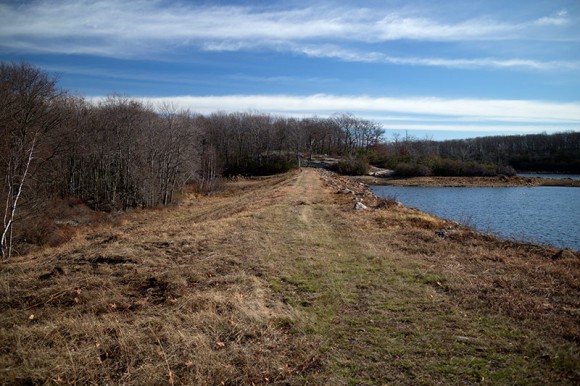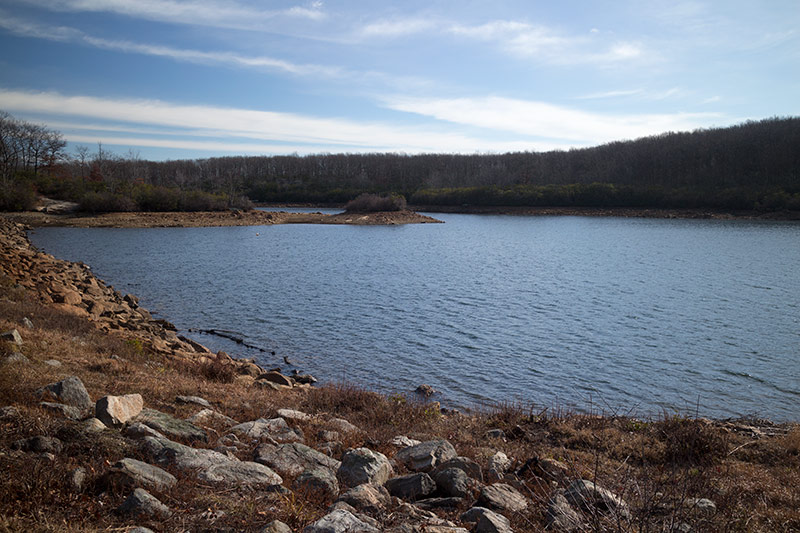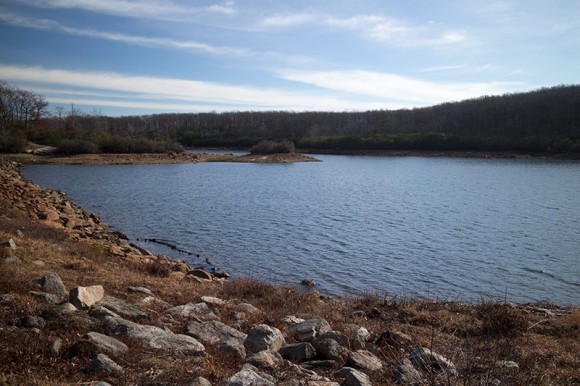 … and Second Reservoir: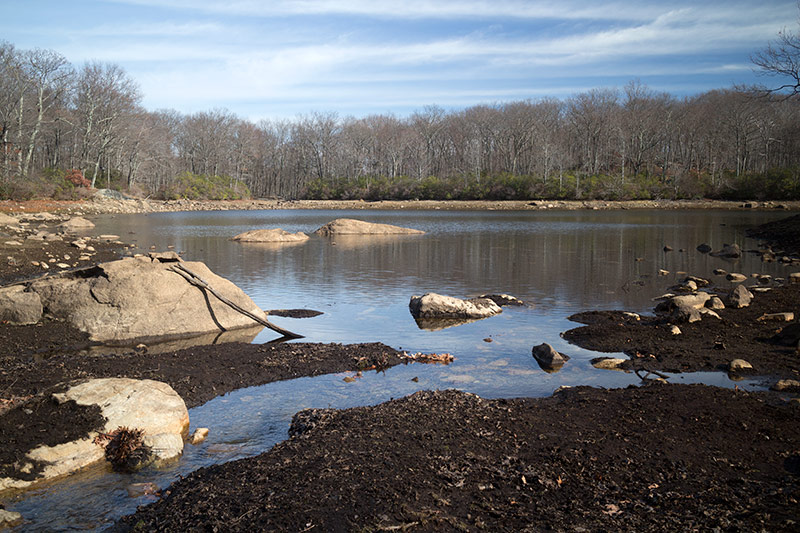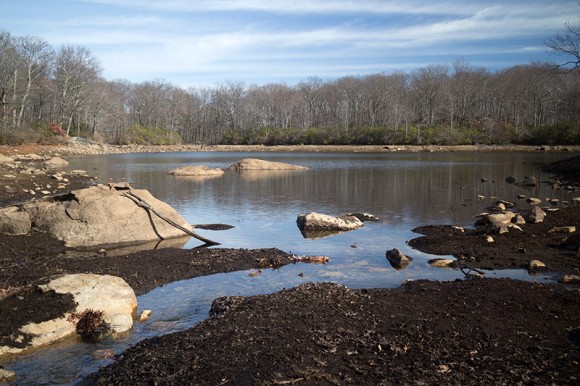 After Second Reservoir we picked up "Woodtown Road" but it is also unmarked. The woods roads in this area are rather level and often contain gravel: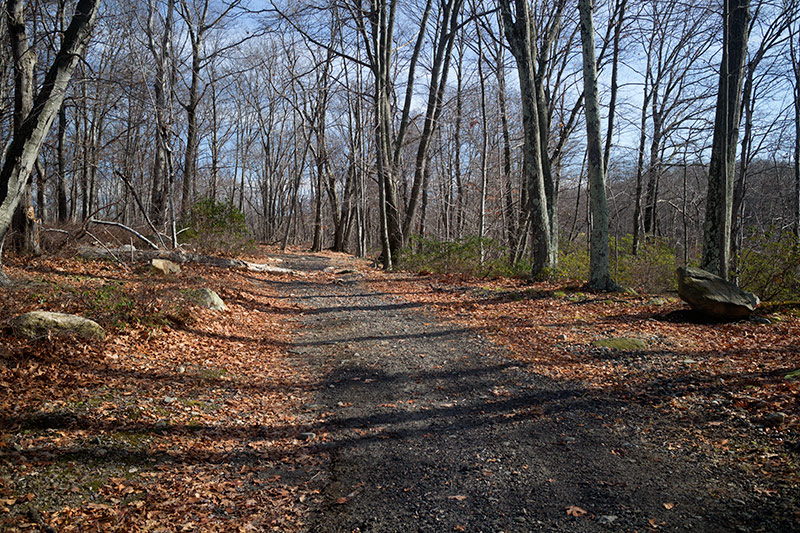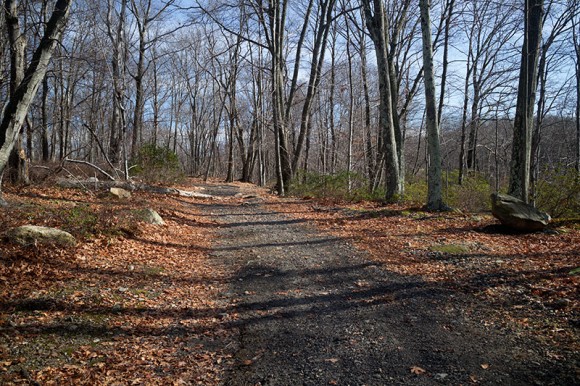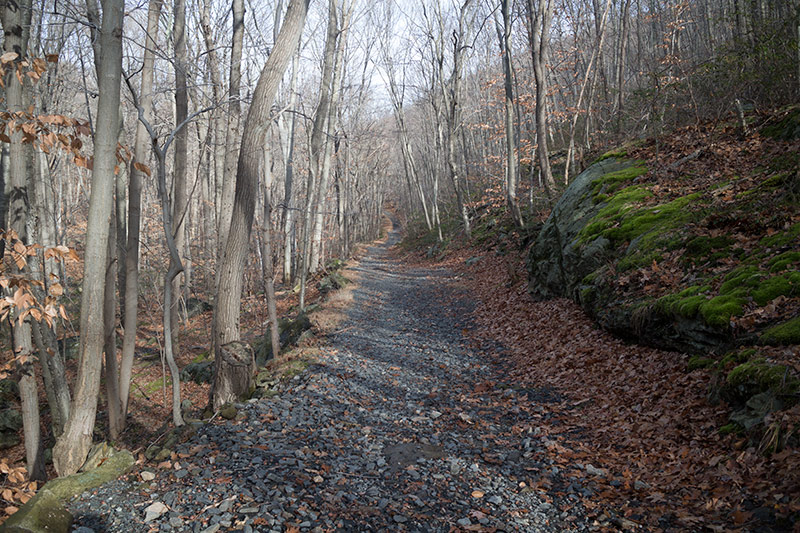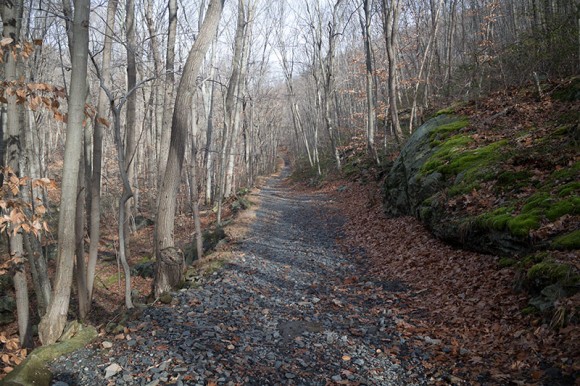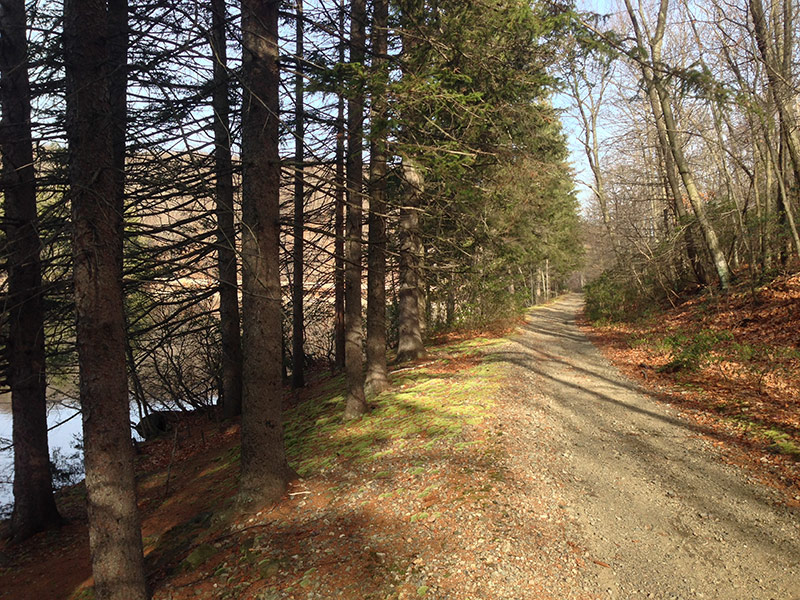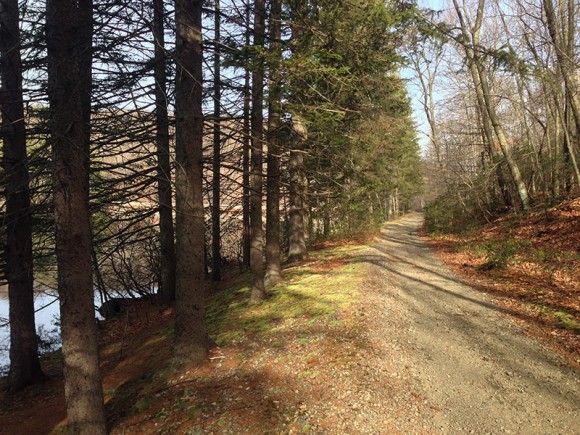 And finally arrive at First Reservoir.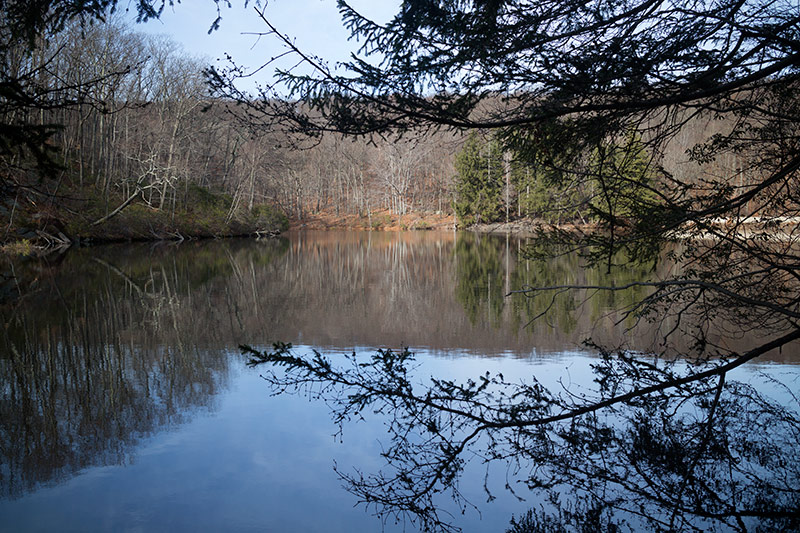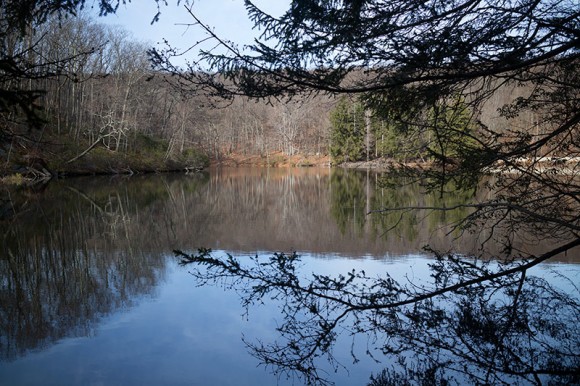 The large communications tower from early in the hike is visible in the distance. It's always fun to get that sort of perspective on how far you've hiked.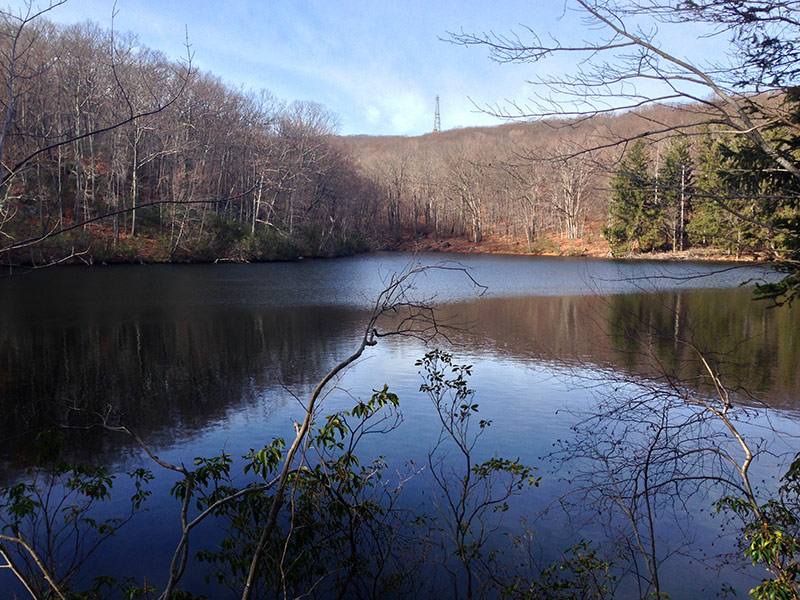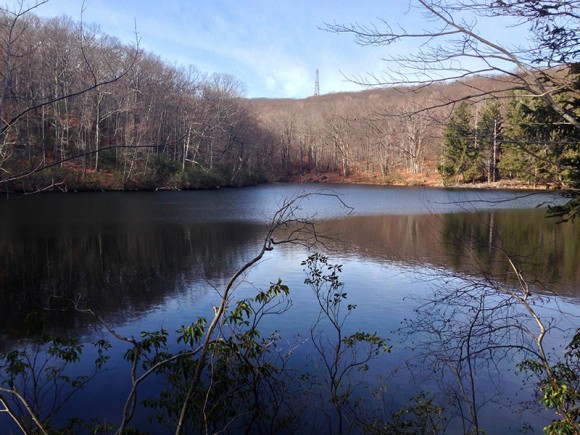 There is small building near the dam, and the trail turns and crosses the dam (heading straight past a large utility building instead would lead out to parking on Cal Hollow Rd.)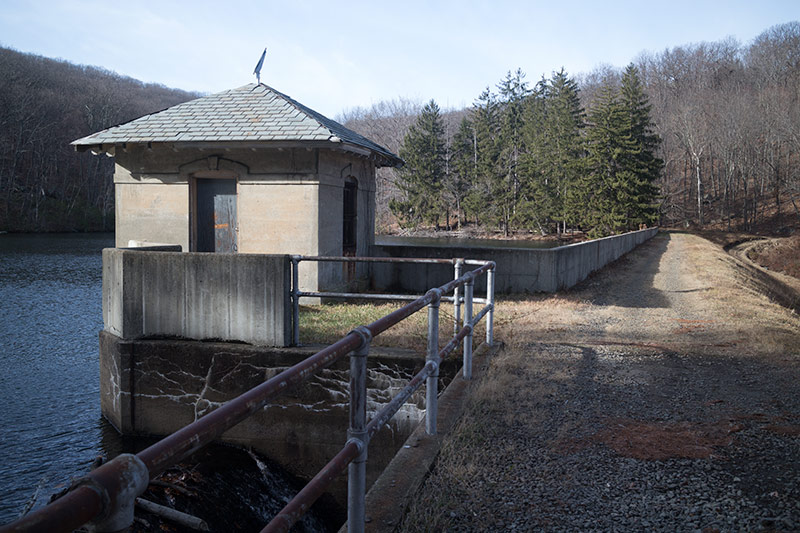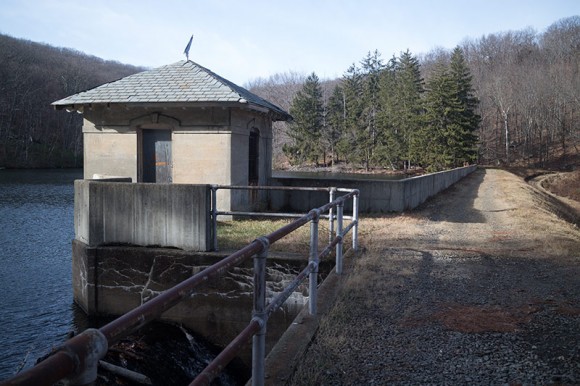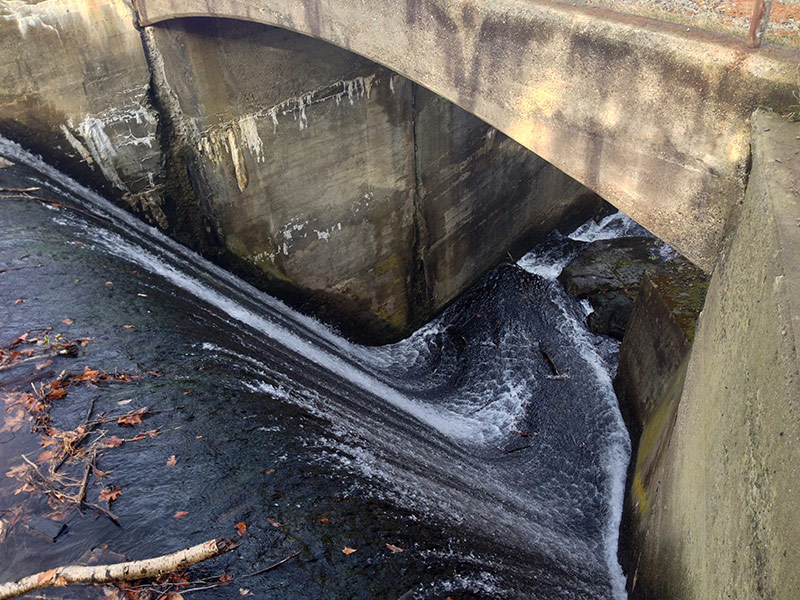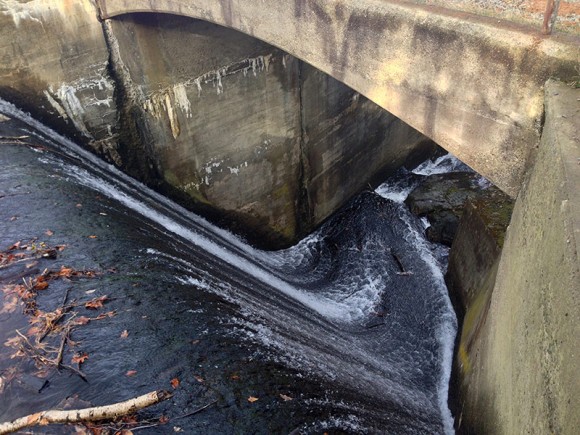 There were a LOT of small trees felled by beavers… we've never seen so many trees gnawed down in one area before.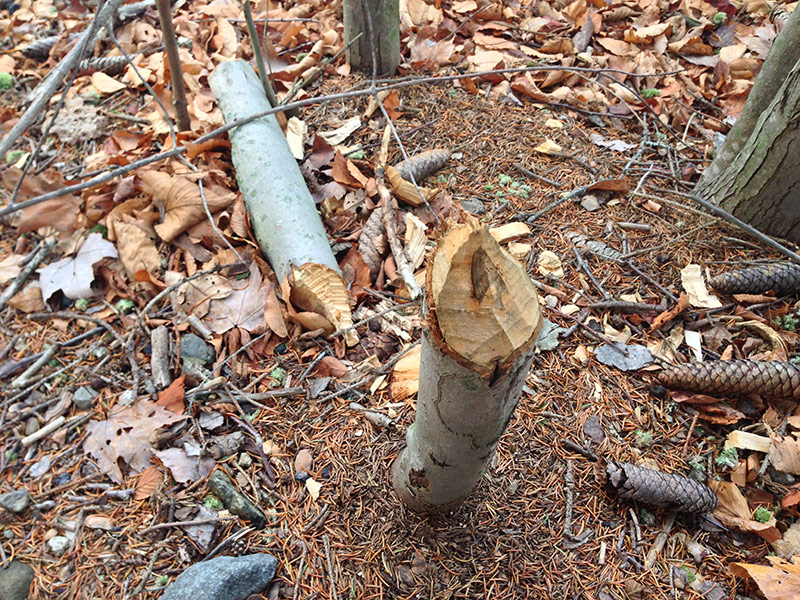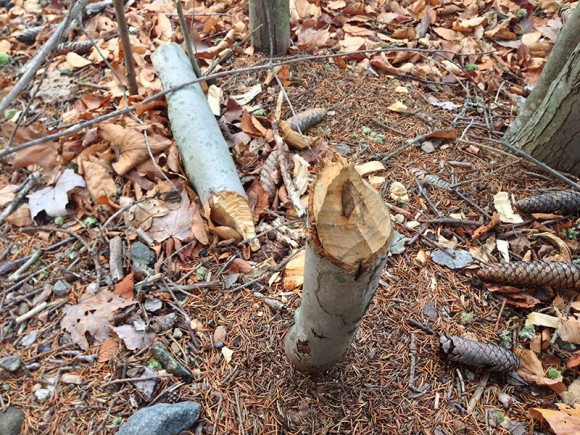 From this point, the unmarked woods road is "Old Turnpike". After crossing the Long Path (AQUA), turn RIGHT onto another unmarked trail and once at S-BM (YELLOW) again, turn RIGHT and retrace the route from earlier.
We have no photos from the section because we encountered a lost group of hikers and they followed us out, so we were chatting and not take pics (there wasn't anything else of interest however).
One last bonus shot: half of an 8-track tape was laying in the sun at our break spot at Third Reservoir. I probably haven't seen one since my mom's stationwagon as a kid. We wondered how many hikers have seen this but had no idea what it was.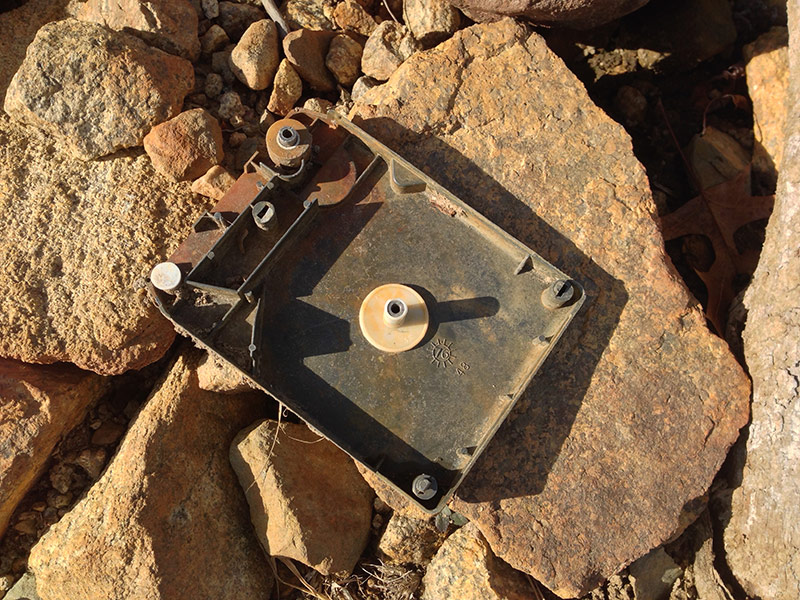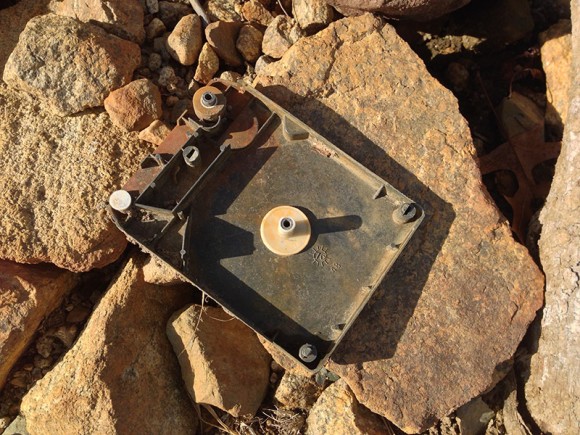 —
Hiked 11/27/15.