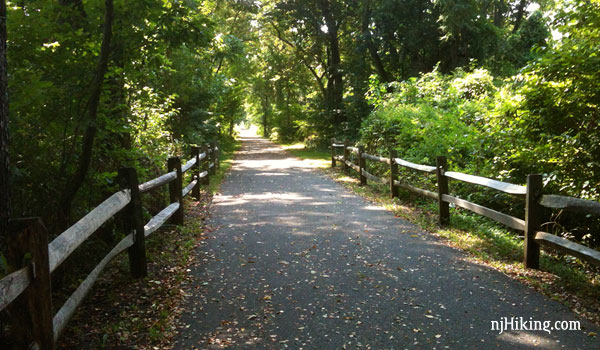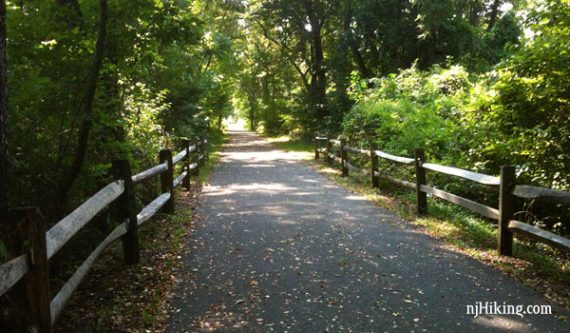 A mostly shady and paved rail-trail, with just a few minor hills, in two sections from Freehold to Aberdeen.
Miles: 11.6 ~estimated. Our rechargeable batteries apparently no longer hold a charge. (And the one time I don't chuck spares into the bag…).
The trail website has the trail as 5 miles one way, but I believe that is not taking into consideration the connector through Big Brook.
Though we don't have our own data to use, Google actually shows the Henry Hudson Trail… so check out this Henry Hudson route on Google Maps.
Coming from central NJ, take Rt 18 S to exit 29 for Rt 520 (toward Tennent/Red Bank). Continue east on 520. Not far from crossing Main St, Big Brook Park is on the right.
Books:
Rail-Trails New Jersey & New York and The New Jersey Walk Book.
For resources/maps, see our Henry Hudson Trail overview page.
We actually had no plans to do this section of the Henry Hudson.
At only around 10 miles roundtrip we felt it wasn't really worth hitching up the bikes and driving over, even though we'd done the northern section and enjoyed it ("Henry Hudson Trail and the Bayshore Bike Trail").
But when we needed to pick up a gelato cake* in Freehold and I realized the store was near the trail so we decided to go check it out first.
While we like to get ice cream after a hike or bike… this is the first time we did a trail because of it.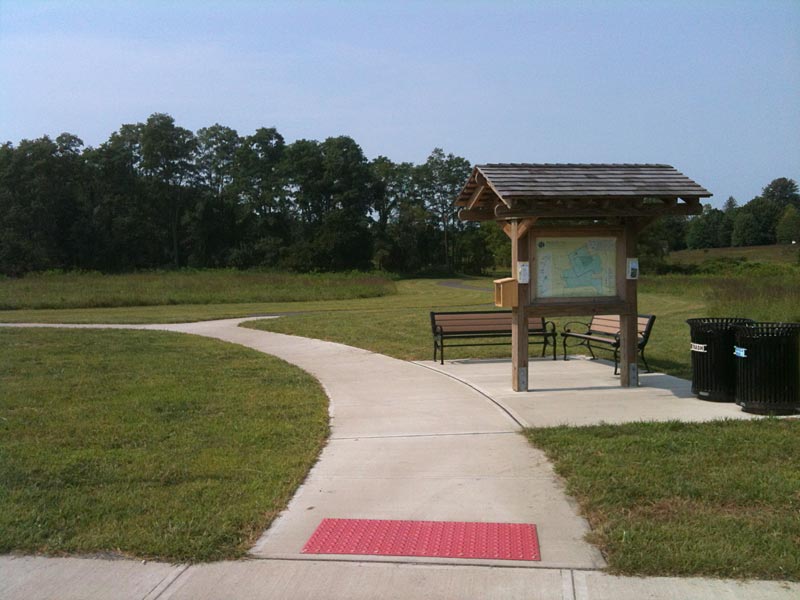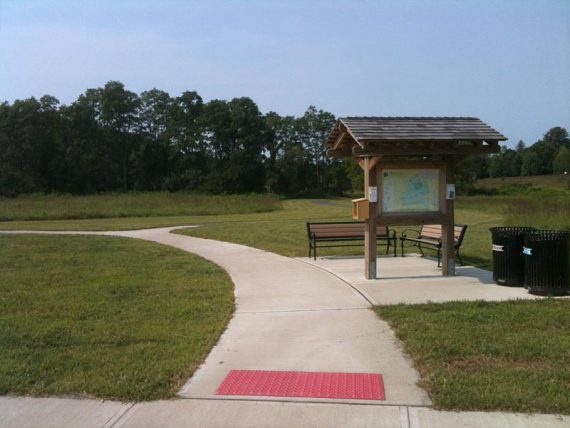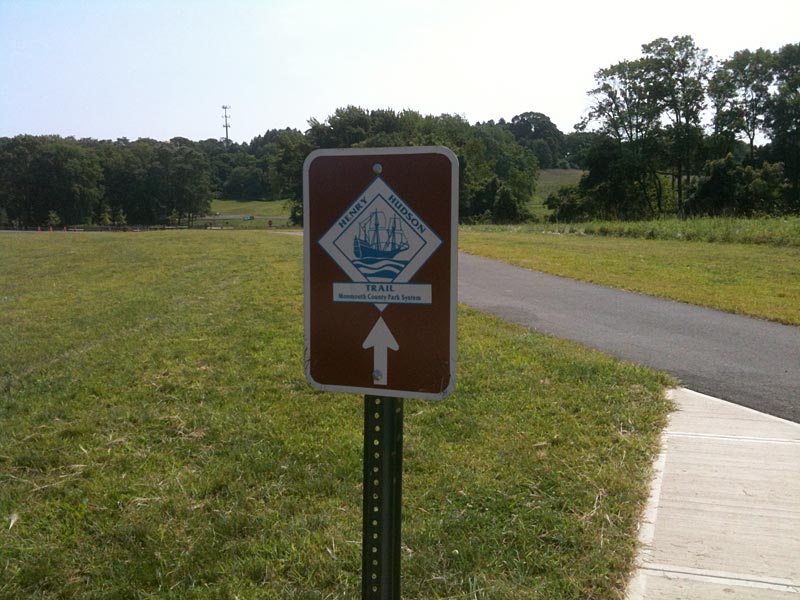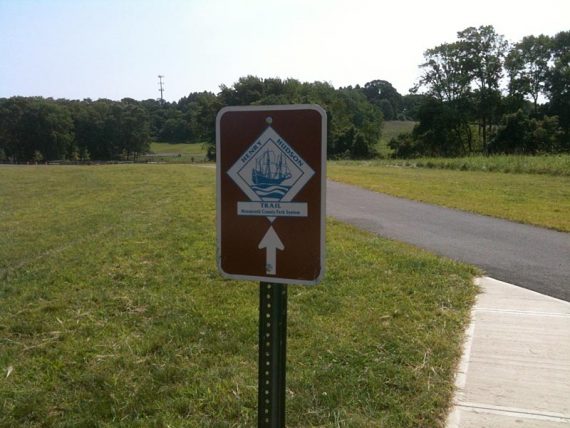 We started at the parking lot in Big Brook Park where there is trail kiosk with paper maps and a porta-john. A short ride down a sidewalk leads to a paved route through Big Brook Park that links up with the Henry Hudson.
The asphalt through Big Brook is quite rough with grass poking up and large potholes. This park is mostly fields with mowed paths to hike through.
Asphalt and fields through Big Brook Park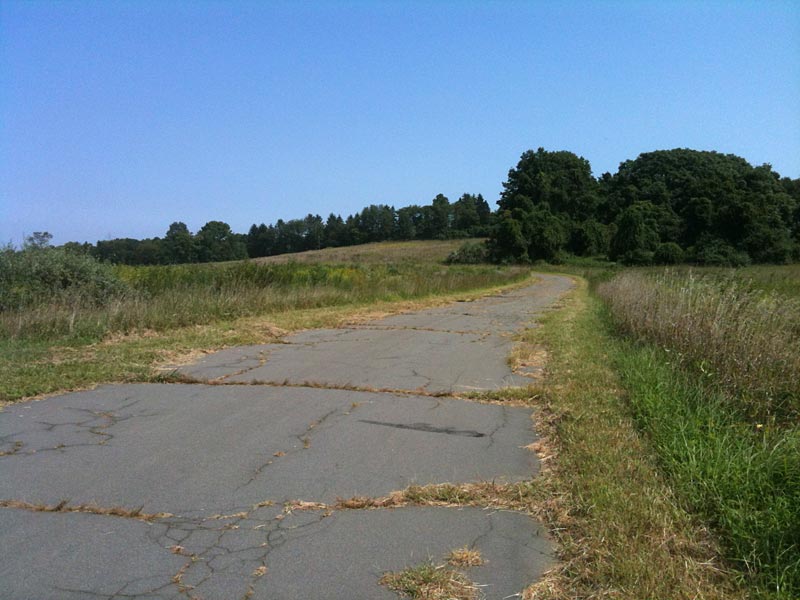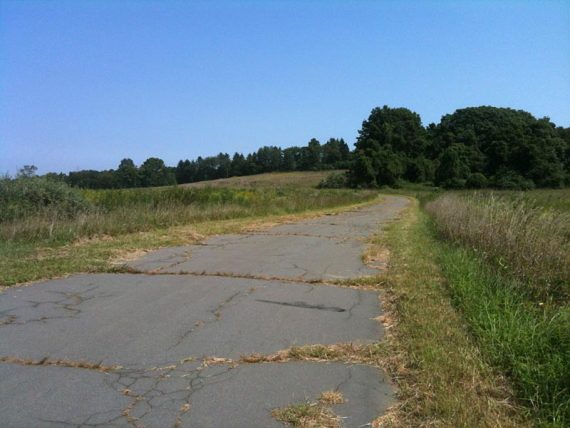 The trail turns to the left after the fields and onto the actual Henry Hudson Trail. There was no signage indicating it. (The path also took a right as well, which must lead out of the park in another direction).
The asphalt on this entire section of trail was in good shape and did not have the root bumps like the northern section.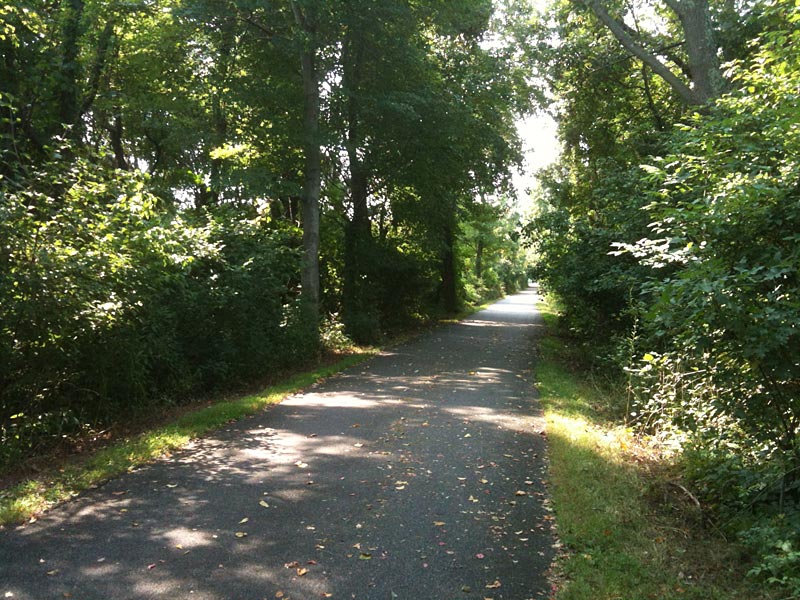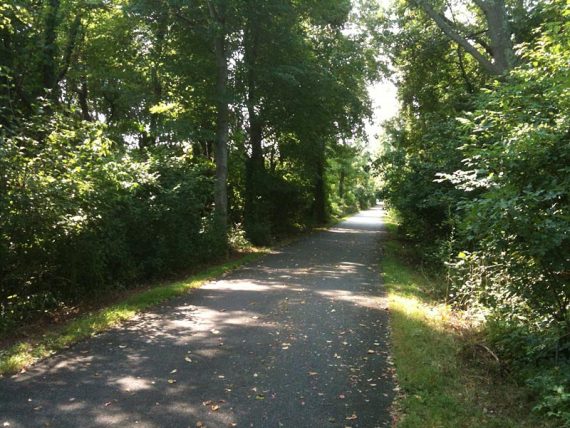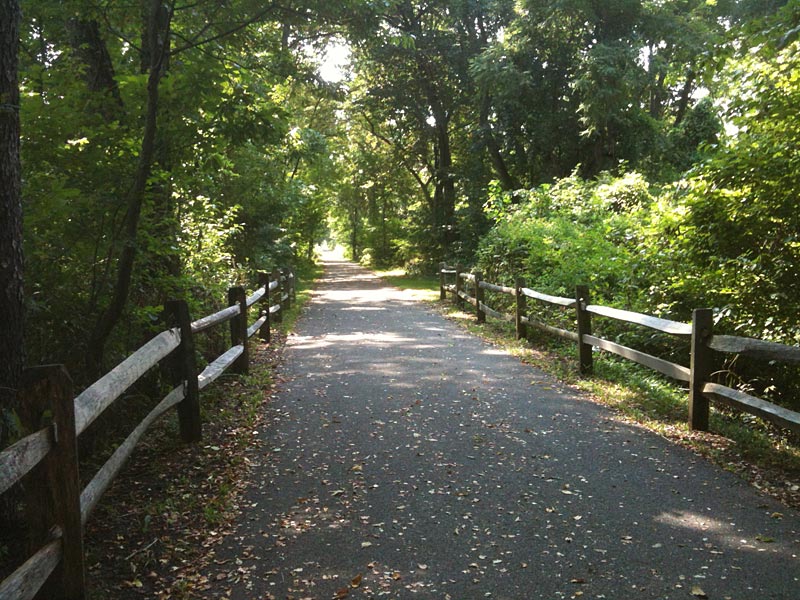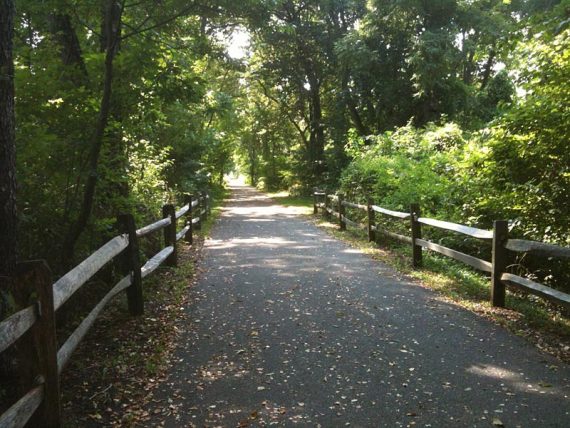 It's a mostly shady and easy ride the whole way, with just a few minor hills. The street crossings mostly aren't too busy or frequent.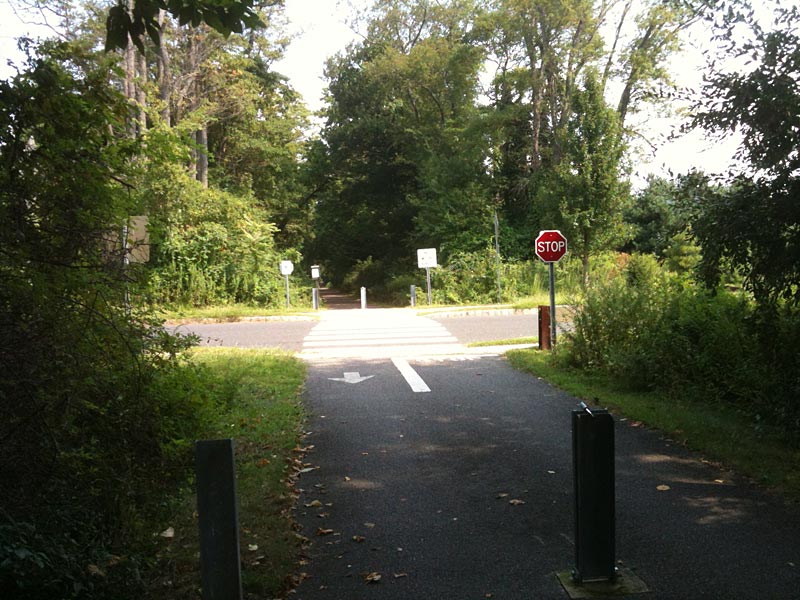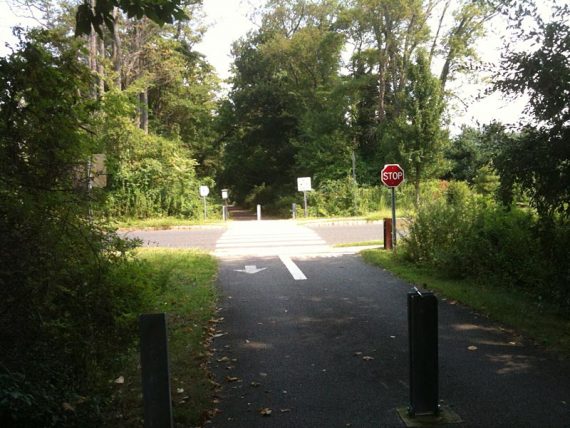 The most major street crossing is at the intersection with Koslozski Rd, where the trail jogs over to the crosswalk and then back.
The trail terminates unceremoniously at Main St (Rt 537) where we turned around.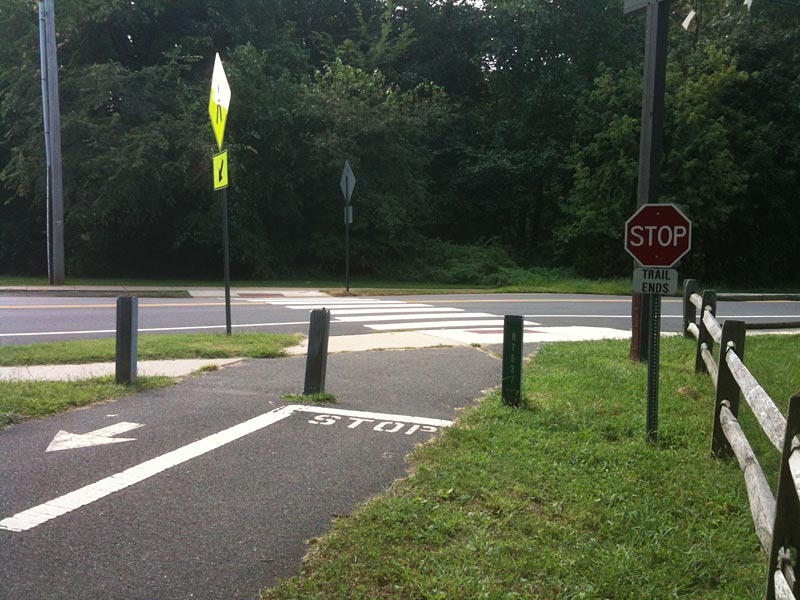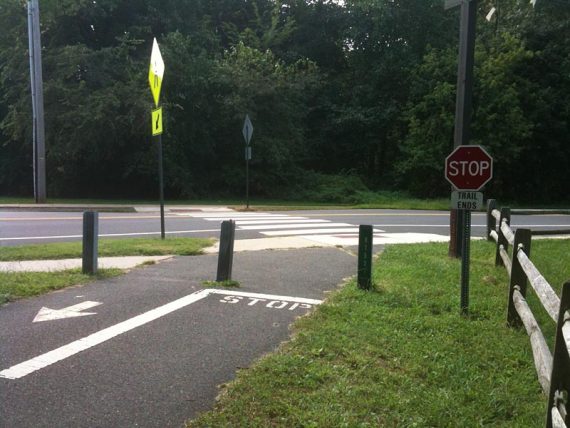 From here, a right turn would lead into downtown Freehold but we don't know how busy a ride that would be.
Henry Hudson Trail on the way back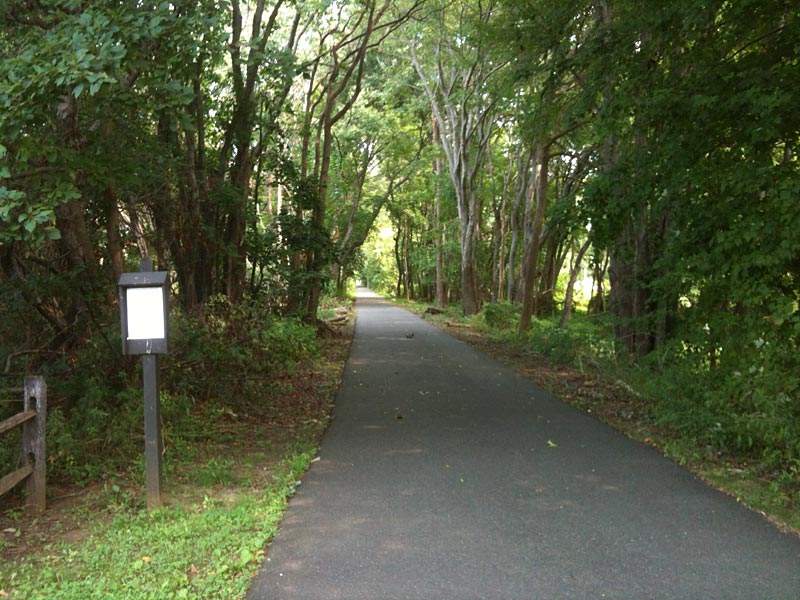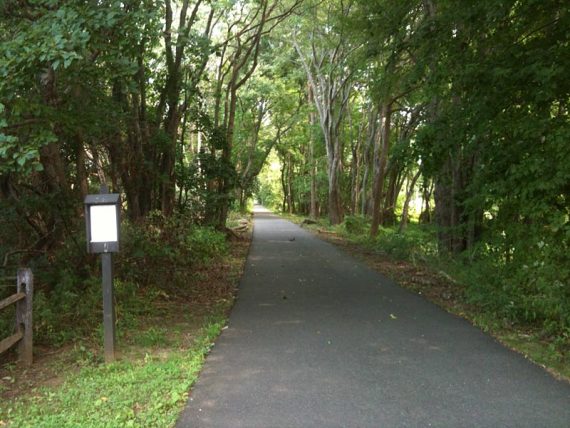 Wildlife Spotted: three deer romping in the fields at the end of our ride.
*Gelato Quest: If you've been on this site before you might have noticed our affinity for having ice cream post-hike… but we became smitten with gelato while in Italy earlier this year (as in: we ate it every single day of the trip – sometimes twice).
I googled for local gelato when we returned and stumbled on the cakes. Every August we get together to celebrate a bunch of birthdays with an ice cream cake so this was a perfect fit.
—
Biked 9/2/12.