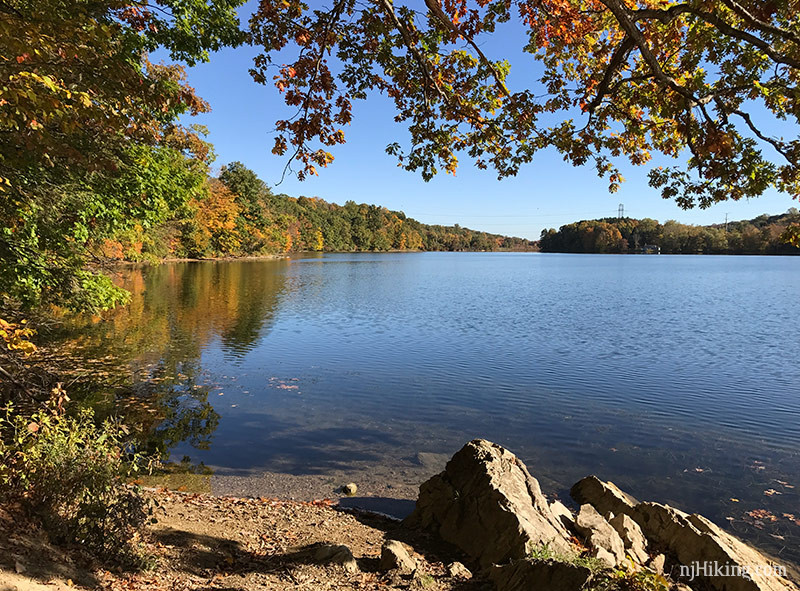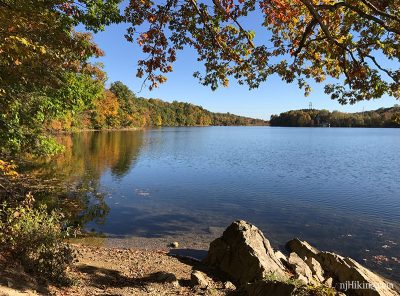 Moderate hike with views of Lake Aeroflex, Whites Pond, and planes taking off from a small airport.
5.2 miles, some rocky/rooty areas mixed with more moderate trail. Minor elevation changes overall. Multi-use trails.
Shorter: Stick to the trails in the center and near the lake, removing RED and BLUE from the directions below.
Longer: Add in the trails around Twin Lakes or a portion of the Sussex Branch rail trail.
Our two cents: Moderate hiking in a compact park. WHITE trail along the lake has the nicest views. Watching planes take off is a fun extra; there are a couple benches near the runway. Nice option during hunting season.
Note: No hunting in the main section of the park, between Goodale Rd. and Limecrest Rd.
Map: Print out ahead, or check the visitor center.
Books: None that we know of.
Parking: N41° 01.001′ W74° 44.584′ [Goodale Rd/Sussex Branch lot]
Restrooms: Composting toilet in the parking lot; bathrooms at the visitor center.
Hike Directions: Overview: WHITE (Glacial) – Park Road – RED (Andover Junction) – Unmarked Administrative Road – Sussex Branch to Whites Pond view and back – BLUE (Limestone) – YELLOW
NOTE: While this park is pretty well marked there are multiple unmarked paths or park roads that end up in the same place, making directions possibly more confusing that helpful. It may be easier to follow the map or make your own route as you go opposed to following the basic directions here.
0.0 – Start following the WHITE trail near the composting toilet at the corner of the parking lot. Follow WHITE as it makes it's way around towards Lake Aeroflex. Pass a few unmarked connector trails that lead to and interior trail loop (Black).
WHITE follows the edge of the lake, with multiple spots for views. Arrive at a short stone wall (there is a path around the right) and a small dock. Continue on WHITE.
2.4 – Arrive at an open grassy area near the runway, with a few benches neaby. [WHITE ends]. Now follow the park road.
[Shorter Option – This is a good point to head back, taking the Administrative Road or one of the other trails leading through the center of the park back to the lot.]
2.5 – Turn RIGHT at the sign that says "TRAIL" and follow an unmarked path past an old building. Just past the building, the path veers briefly off to the right and comes to a T. Turn LEFT at the T.
2.8 – In a short bit, the path splits. Veer RIGHT to now follow RED (Andover Junction). RED markers might not be obvious right away.
3.6 – RED (Andover Junction) rounds a corner and starts to head back. This area has several unmarked paths, including an orange triangle not on the map. That likely leads out to The Sussex Branch trail which runs parallel and out of view.
Keep following the unmarked path, veering left if there is an option. [This is a vague area on the map!].
4.0 – End up at BLUE (Limestone), though blue blazes may not be at this junction.
Take a side trip out to Whites Pond: Turn LEFT and follow BLUE for few steps to the Sussex Branch rail trail. Turn RIGHT on Sussex Branch to check out Whites Pond and then retrace to this point.
Now follow BLUE (Limestone).
4.8 – At the 4-way intersection, turn LEFT and now follow YELLOW (Explorer) [BLUE (Limestone) continues straight. YELLOW (Explorer) goes right. Can't recall if YELLOW was actually blazed yellow.]
Continue on YELLOW, eventually coming to a field to cross to return to the parking lot.
—
Hiked: 10/15/16.