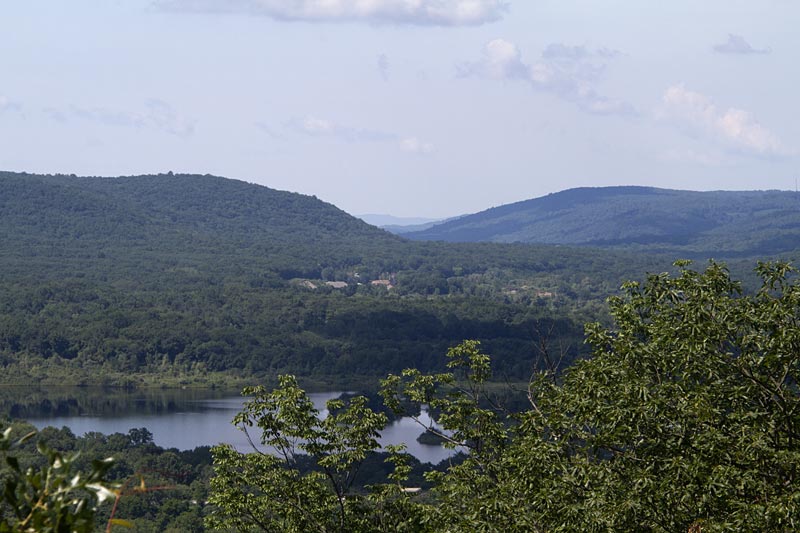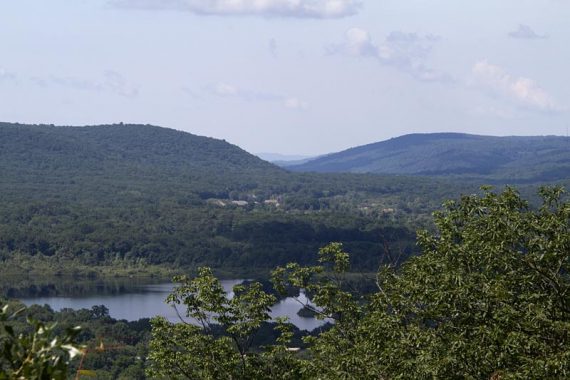 Long hike through the northern section of Allamuchy Mountain S.P. North, on the Waterloo Trail
In our usual effort to avoid holiday weekend crowds by pointing the car away from the beach, we ended up at Allamuchy Mountain S.P. (North).
It had been years since we last hiked at Allamuchy. Back then there wasn't a decent trail map available and the trails were confusing – so much that we just hadn't bothered with it again.
Hike Info:
Somewhere along the way, I stumbled upon an excellent trail map created by JORBA so we added the park back on our to-do list.
Before we got to try that out, the new map set Jersey Highlands Trails came out, which is what we prefer to use. The park is much easier to navigate now using either map.
There aren't a lot of views or destinations in this park: it's mostly about hiking though dense, shady, lush, beautiful forest. Early in this route we did have a really lovely viewpoint on the Highlands Trail.
We expected a 2nd viewpoint on the Ditch/Cardiac Trail (PURPLE) but did not find where it would be. Not sure if it's a seasonal view and the foliage blocked it, or we needed to take a side trail to it and missed it.
Waterloo Trail: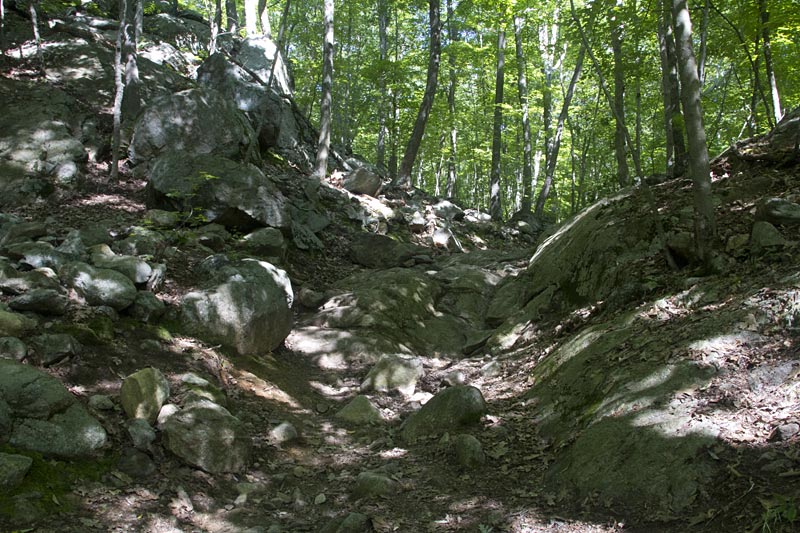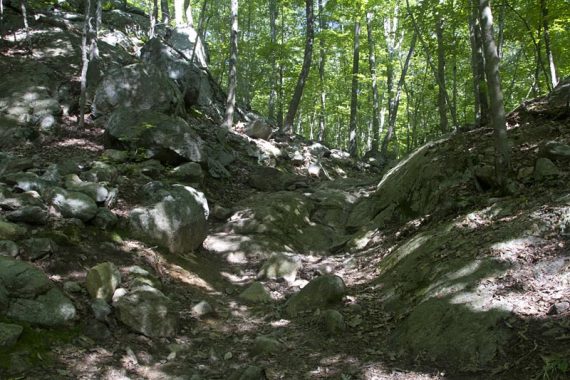 Our two cents:
Again, this park is mostly about hiking through a forest that feels secluded, it's not about views or streams or waterfalls. Due to the proximity of Rt. 80, there is traffic noise in a lot of the park.
Pebble Loop: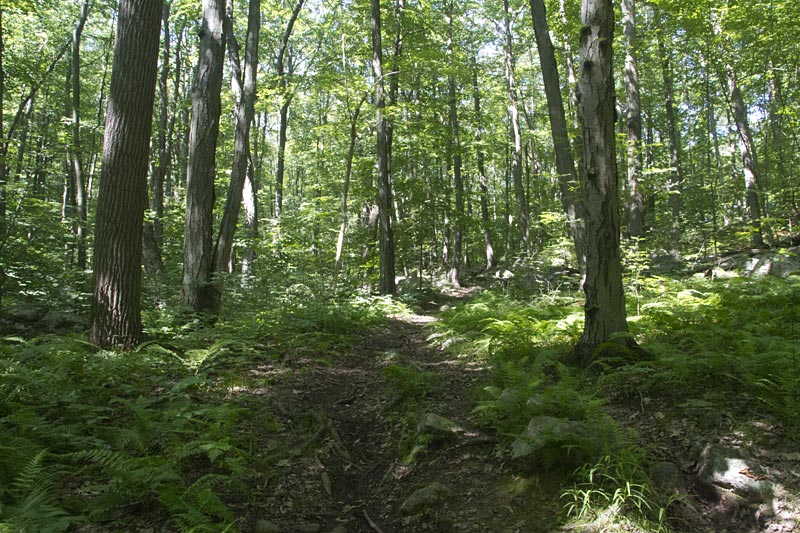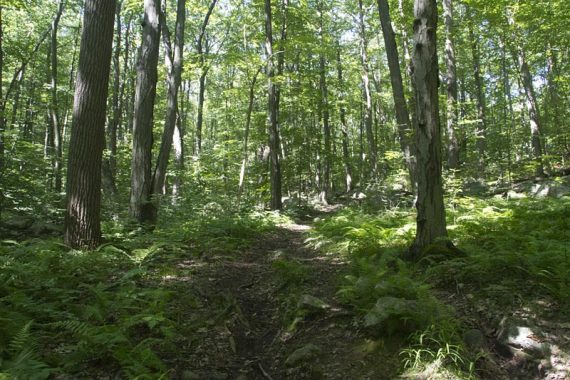 The trails are multi-use and a favorite destination for mountain bikers (though we were utterly surprised to encounter only 1 biker the entire day).
This also makes the trail surface kinda bleh in many areas: beat up trail, lots of loose little rocks, rutted muddy areas etc. Ditch/Cardiac (PURPLE) was a little overgrown/grassy and had poison ivy.
Updated: 4/2020: Page refreshed, not re-hiked.
Viewpoint on Highlands Trail: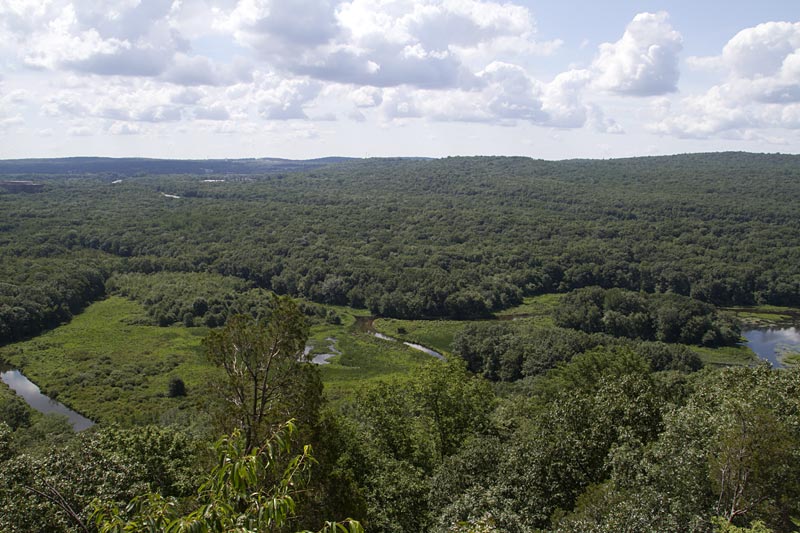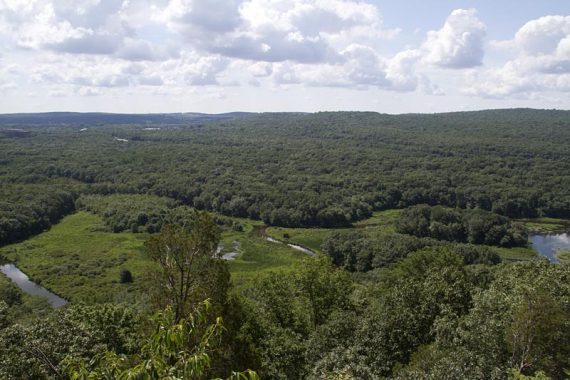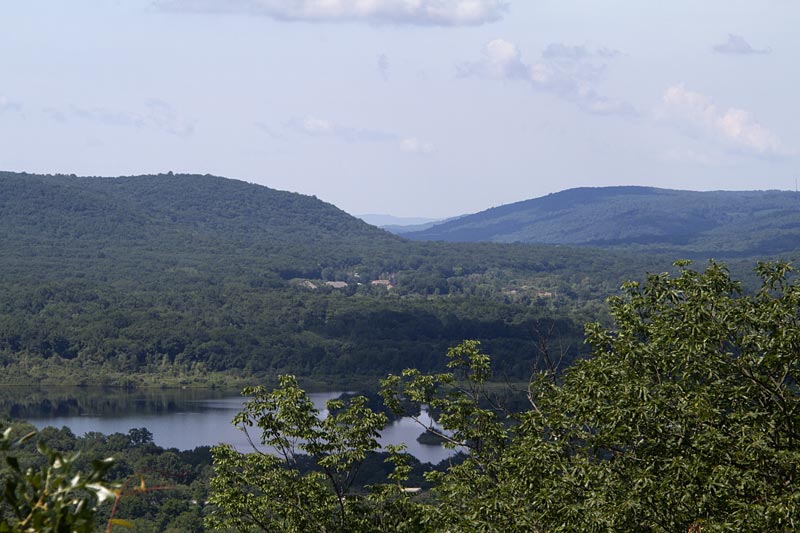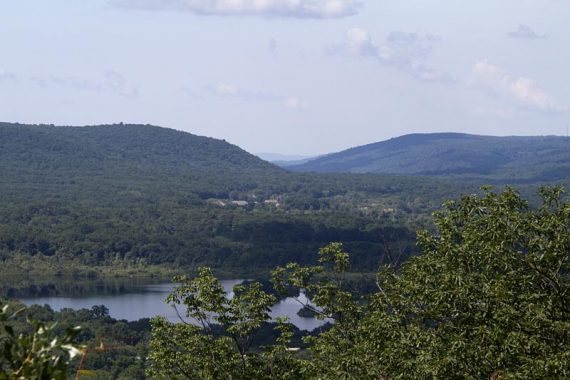 Miles: around 12.5-13
Our GPS did not like this park at all. Not only did we lose satellites twice, but we were also testing an update to Motion-X GPS on the iPhone and that was having GPS hiccups as well.
Basing the total mileage on what data we have; it may actually be longer.
Now, most people do not want to hike that far… there are several short loops off the main Sussex Branch rail trail for the non-crazy hiker:
Pebble Loop (Yellow), Ranger Loop (Red) or Iron Mine (Blue).
Another option is an easy-peasy stroll down the Sussex Branch rail trail.
For the other side of this park, check out
Map:
Jersey Highlands Trails. The park is well-blazed but there are tons of unmarked trails that crisscross the park – make sure you have a map with you and watch the trail markers.
Seriously, do not wander around this park without a map – even for a short hike.
On our way back we ran into not one, but TWO people who were lost – one lost hiker had decided to follow the other and now they were going in the opposite direction of the parking lot.
They were surprised when we mentioned we were out for a 12+ mile hike, and that was the direction they were headed.
Many people have no idea you can even hike that far in Jersey without hitting a road. We had them hike with us back out to the parking lot.
The Pebble: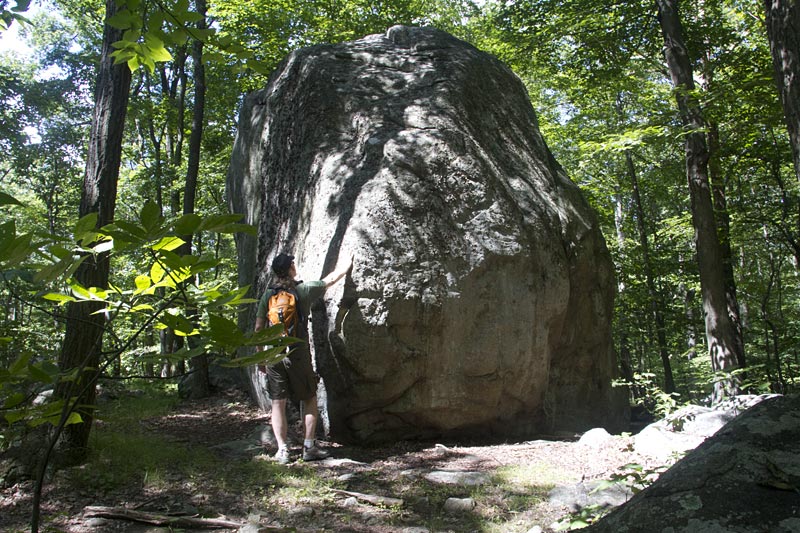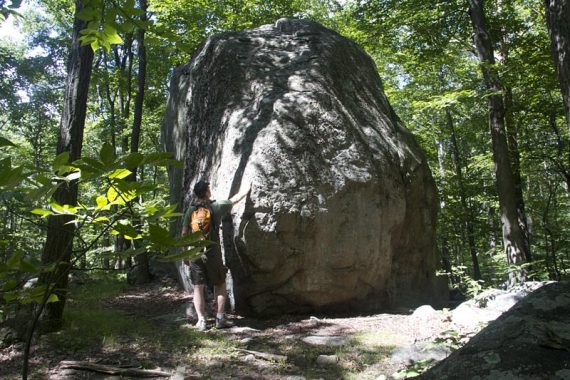 Books:
None that we know of for the North section of Allamuchy, but the Deer Park section is covered in 60 Hikes Within 60 Miles: New York City and Hiking the Jersey Highlands.
And if you still have your worn-out 1998 version of 50 Hikes in New Jersey hanging around like we do, then there is one in there too.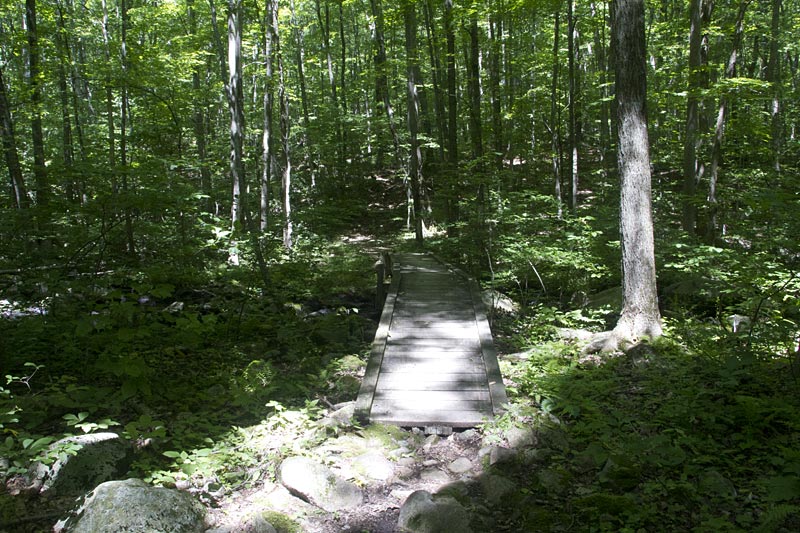 Route:
Sussex Branch – Waterloo/517 (WHITE) – Pebble Loop (YELLOW) – Highlands (Teal) to viewpoint – Backtrack to unmarked trail and pick-up Pebble Loop (YEL) – Waterloo/517 (WHITE) – Ditch/Cardiac (PURPLE) – unmarked shortcut trail barely noticeable on map back to Waterloo/517 (WHITE) – WHITE/YELLOW co-joined – Waterloo/517 (WHITE) – Sussex Branch
Rt. 80. W to Exit 25 to 206 N. Continental Dr to parking area on Waterloo Road.
Restrooms:
Composting toilet at trail head.
Wildlife Spotted: a large toad.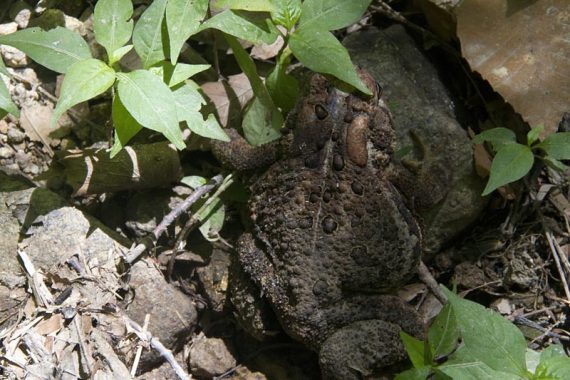 —
Hiked 7/2/11.
Hiked 3/19/06. Trail Blog: "Allamuchy Mountain North in March"