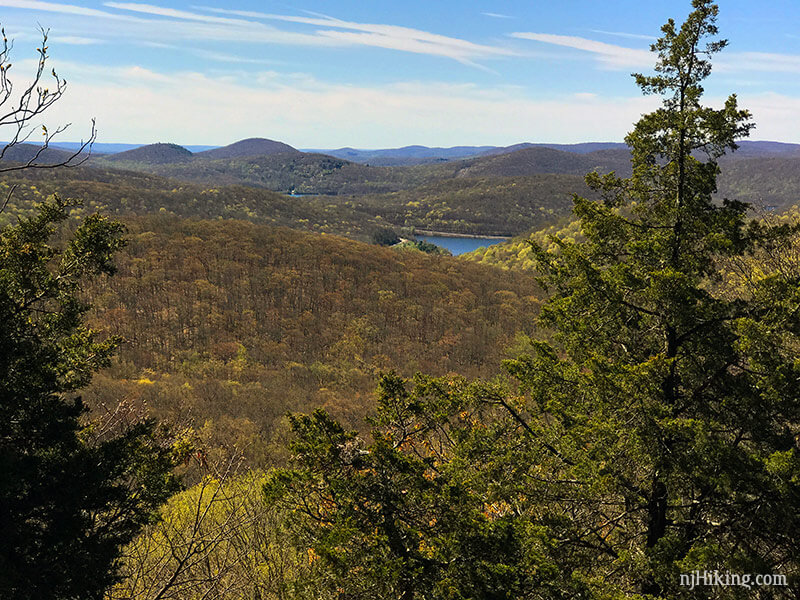 Explore the remains of a Revolutionary-era Ironworks plantation, scramble to a viewpoint, and hike across the NJ/NY border.
7.4 miles. Moderate; mix of easy woods roads and rugged Highlands terrain, some uphill scrambling approaching the viewpoint, several minor rock hops over wet areas or streams.
Shorter: 4.4 miles. Out-and-back on sterling to the viewpoint only. In Hiking the Jersey Highlands.

Longer: Two add-ons listed below, to a mine, and/or additional viewpoint; or continue further into Sterling Forest, NY.
Shorter, variation: Do Jennings Hollow as a loop instead: Follow the route below, but bear left onto YELLOW instead of keeping on BLUE. Follow it around in a lollipop loop past the swampy area, you'll return to the same spot, following BLUE back. About 5.5-6 miles RT, though we haven't done this exact loop.
Hike Info:
Our two cents: We like this route, but many hikers might prefer the shorter out-and-back to the viewpoint as the trail can be a little sloppier once on Lake to Lake. The new bridge has a longer span so it has a little wiggle/sway, and when crossing perhaps keep a hand on the kids as the sides are quite open. Since we've hiked it, the park service and volunteers from the NY-NJ Trail Conference have made further improvements to the bridge.
Marked on recent maps is a "difficult crossing" on Jennings Hollow (YELLOW), but trail volunteers have created a sturdy crossing using large flat rocks and even included ropes to hold. When we last hiked this, it was a rock hop over a stream with not a lot of water flowing. The other part of the Jennings loop has one marked too, but we've not hiked it.
Update 4/2017: Re-hiked, description updated, changed parking lot start, new photos, moved old gallery to 2009 trail blog. 12/2016: Bridge over the Wanaque River has been replaced.
Map: Use North Jersey Trails or Sterling Forest Trails. Check the visitor center for brochures on the historical areas.
Books: Hiking the Jersey Highlands has 2 hikes in Long Pond: a shorter out-and-back that is contained within this route, the other is south of the trailhead. A longer variation is found in 60 Hikes Within 60 Miles: New York City. Trail descriptions can also be found in the The New Jersey Walk Book.
For some history of the area and information about the ironworks, check out the online article on "Long Pond Ironworks", by Mary Jasch.
Parking: N41° 08.466′ W74° 18.549′
Rt 287 to exit 55, follow 511 North. Follow 511 through Wanaque. Bear left at the Y-intersection of Skyline Drive by the reservoir and travel past Monksville Reservoir. Just after crossing the water, the small lot at Long Pond Ironworks Visitor Center is on the right.
Note: The actual trail head parking is just past the visitor center and is now marked "seasonally closed May-Sept" on maps. This is a large dirt area on the left with a trail kiosk… but it's been blocked off every time we've been in this area, most recently April 2017. If it is open and you park here: the trail starts across the street, to the right of the road facing you (East Shore Rd). It's hard to see but there are trail markers and a guardrail to hop over (…or at least there was in 2009). This will meet up with the description below.
Restrooms: Gas or stores along 511 are the best bet. There are nice clean ones at the visitor center, but that is only open weekends 1pm-4pm, Apr-Nov. Options closer to the trail head are limited. There are porta-johns at both Monksville boat launches, but they can be a mixed bag… throughout the years we've encountered new or locked or hideous.


Hike Directions: Overview: Unmarked connector trails – Sterling Ridge (BLUE DOT on WHITE) – Lake to Lake (RED BAR on WHITE) – unmarked – Jennings Hollow (YELLOW) – Sterling Ridge (BLUE DOT on WHITE)
Sterling Ridge (BLUE DOT on WHITE) is co-aligned with Highlands Trail (TEAL DIAMOND), for simplicity we're using just Sterling.
0.0 – Start following the unmarked trail from the left side of the parking lot. This ends at a gravel path, turn RIGHT on that. Pass the "Stone Double House" on the left before going over a bridge. Sterling Ridge (BLUE DOT on WHITE)/Highlands Trail (TEAL DIAMOND) joins in from the left.
0.3 – Pass the Company Store building on the left.
0.5 – Arrive at the main buildings. Wander over to look at the furnace remains, and 2 waterwheels housed in protective coverings. Up behind the last waterwheel is a small bridge that overlooks an old foundation.
Retrace your steps and cross the Wanaque River on a footbridge to follow Sterling Ridge (BLUE DOT on WHITE).
0.7 – Continue following Sterling Ridge (BLUE DOT on WHITE). [Hasenclever (YELLOW) leaves on the right.]
1.3 – Bear RIGHT to continue following Sterling Ridge (BLUE DOT on WHITE). [Jennings Hollow Loop (YELLOW) starts straight].
1.6 – Bear LEFT to continue on Sterling Ridge (BLUE DOT on WHITE).
[Optional add-on: Head straight on the woods road to open mine pits of the Paterson Mine. They are unmarked but a trail leads to them. Then backtrack to this junction. Adds 0.5 miles RT.]
Cross over a little stream. The trail becomes more rugged and wet in spots from this point, and heads uphill with some rock scrambles to negotiate.
2.2 – Overlook on Big Beech Mountain with view of the Monksville reservoir and the mountains around it. A good spot for a snack. [Option: Turn around and retrace from here for a 4.4 mile hike]
2.4 – 2nd overlook, with limited views. Continue following Sterling Ridge (BLUE DOT on WHITE).
2.8 – Walk across the NJ/NY border (there is a little sign on a tree). An optional "I just walked from NJ into NY" dance/jig is up to you.
3.0 – Turn LEFT to start following Lake to Lake (RED BAR on WHITE). A trail sign has directions and distances posted.
[Optional add-on: Instead continue straight on Sterling Ridge (BLUE DOT on WHITE). Scramble up a steep section to another viewpoint. Retrace back to intersection. On the trail map, it may look like the starred view is off Lake to Lake to the east, but it's not. Adds about 0.4 miles RT.]
Lake to Lake (RED BAR on WHITE) is woods road that is rutted and very muddy or flooded in spots. There are also unmarked woods roads here and there, some marked on trail maps and others not… just pay attention to the blazes.
3.4 – Sterling Ridge (BLUE DOT on WHITE) dips back into NJ for a bit…
3.6 – … and then enters NY again. Look to the left of the trail for a stone marker with NJ and NY and "24" – which means this point is 24 miles from the Hudson River. [For some history on these boundary stones see "Searching for boundaries at Bearfoot Mountain".
3.9 – Continue following Sterling Ridge (BLUE DOT on WHITE) on a bridge over a small stream.
Watch the markers as Lake to Lake (RED BAR on WHITE) will bear LEFT off the main woods road.
4.2 – Come to a 4-way intersection, and turn LEFT to start following an unmarked woods road. [Lake to Lake (RED BAR on WHITE) also continues straight. West Valley (GREEN) is on the right.]
4.4 – Turn RIGHT to start following Jennings Hollow (YELLOW). [Jennings Hollow (YELLOW) also goes sharply left and will end up in the same place, at the end of the lollipop loop.]
An interesting swampy area will come into view on the left, with a beaver dam out in water. A good spot to watch for wildlife. The route will bear right away from the swamp, just before the path ends in water.
5.2 – Cross a stream on a bunch of rocks, with ropes for hand holds. This may be marked "difficult crossing" on some trail maps.
5.5 – Arrive at the start of the Jennings Hollow loop. Continue straight on Jennings Hollow (YELLOW). [Jennings Hollow (YELLOW) also goes left, which will go back around whence you came… which you don't want to do.]
6.3 – Start following Sterling Ridge (BLUE DOT on WHITE), retracing the route back to the lot. [Jennings Hollow (YELLOW) ends].
—-
Hiked: 4/23/17.
Hiked: 9/19/09. Trail Blog: "Long Pond Ironworks in September"
Hiked: 10/6/07. Shorter; Trail Blog: "Highlands to Lake to Lake"
Hiked: 9/29/07. Nearby area; Trail Blog: "Hewitt Butler, Horse Pond, Burnt Meadow"