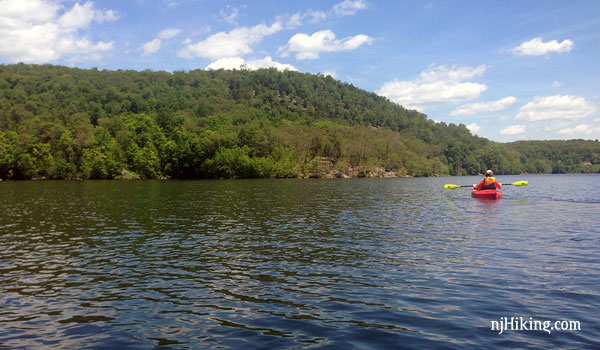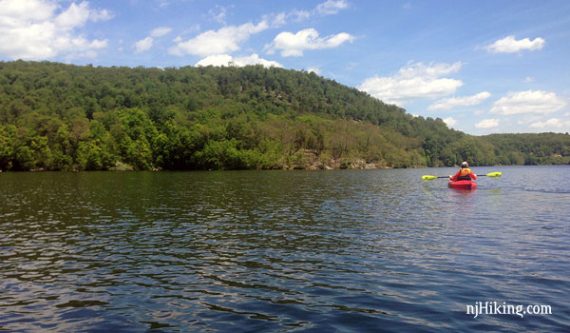 Paddle a horseshoe shaped reservoir surrounded by Monks and Horse Pond mountains.
The reservoir is crossed by the Rt 511/Greenwood Lake Rd. bridge. South of the bridge is the main part of the reservoir and a north and south boat launch.
This large area curves all the way down to the Monksville Dam. North of the bridge includes an area of submerged trees and the Beech Rd. launch.
Our two cents:
Large area of quiet paddling in a reservoir circled by mountains. Be sure to explore north of the Rt 511/Greenwood Lake Rd. bridge, where there is an interesting area of submerged trees to navigate through.
There are large power lines crossing the water but you'll be distracted by the pretty scenery enough to mentally Photoshop them right out.
Rt 511 bridge.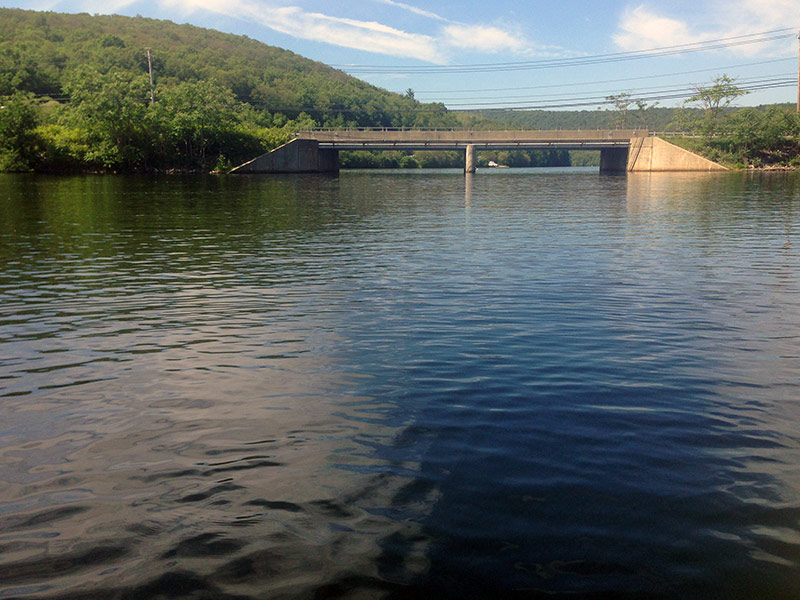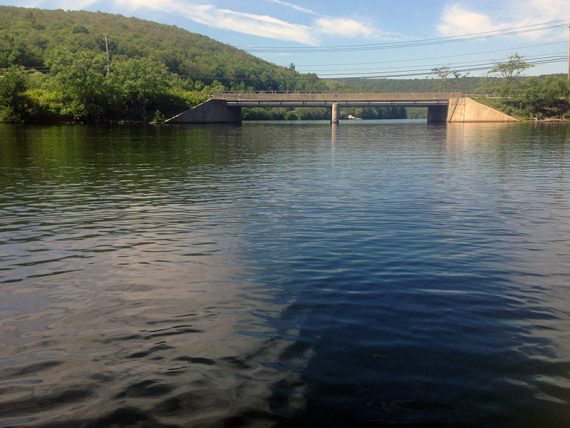 Submerged trees on the north side of the reservoir.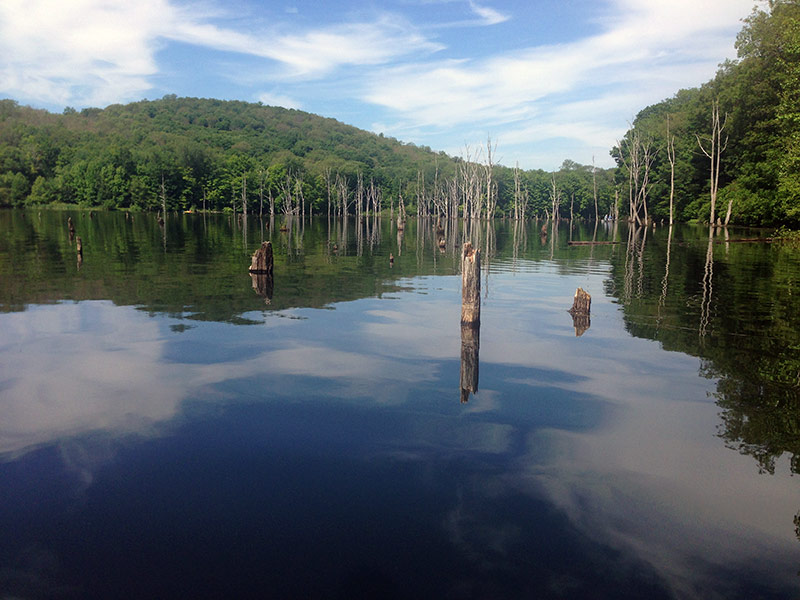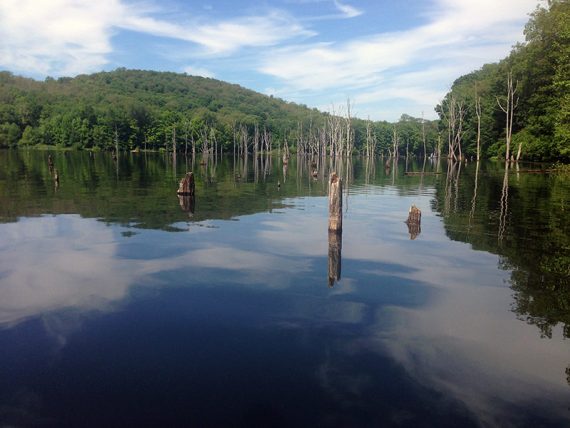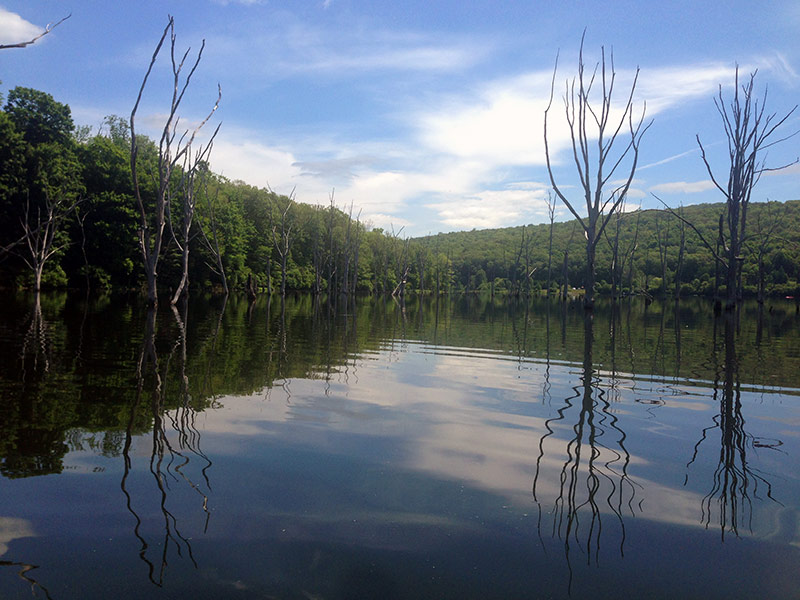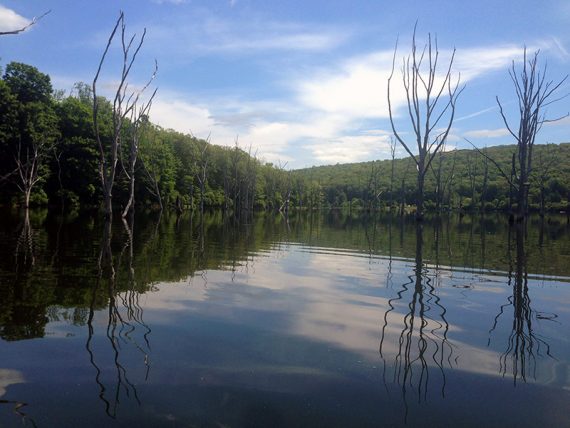 South side of the bridge: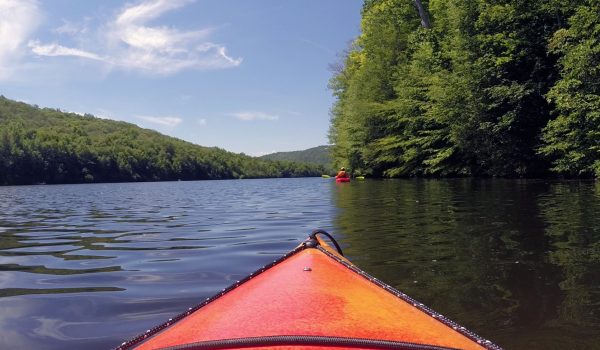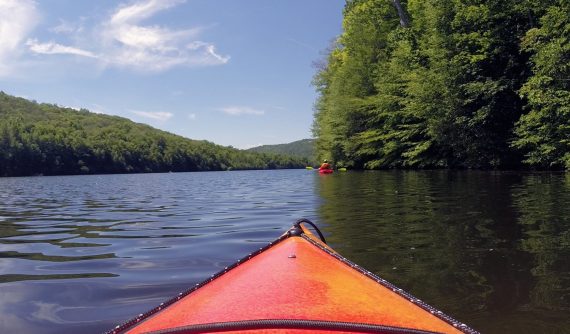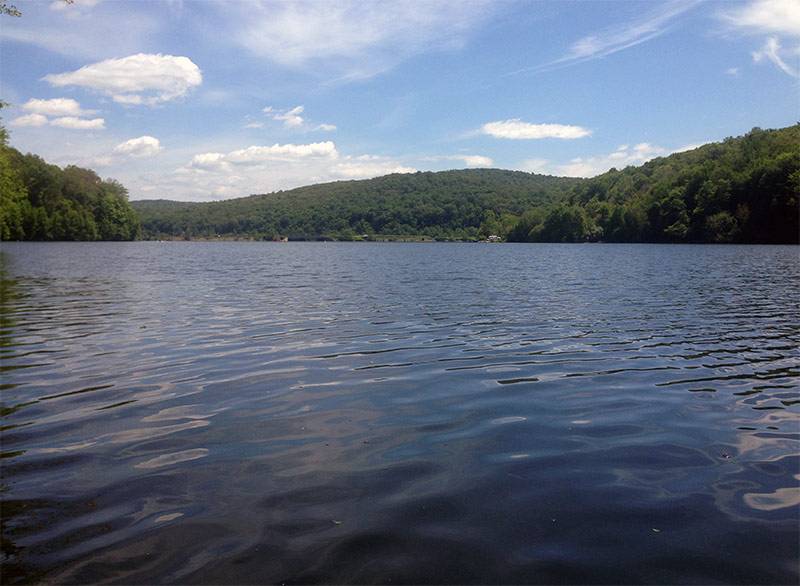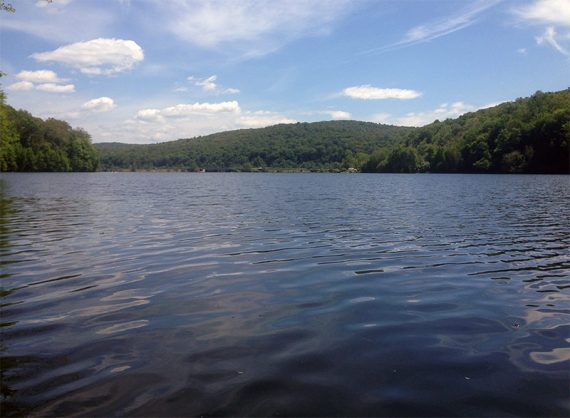 Details
Miles:
We did 5; probably could get around 7, possibly more.
Parking/launch:
North Launch: N41.13660° W74.30710° – Cement ramp.
From the south: 287N to exit 55 towards 511/Wanaque/Pompton Lakes. Right at bottom of ramp and follow 511/Ringwood Ave/Greenwood Lake Turnpike through town. The road will curve left.
Pass the South Launch on the left, and then turn left at the sign for the North Launch. A right turn here leads to the Beech Road launch.
South Launch: N41.12711° W74.30108° – Cement ramp.
Beech Road launch: N41.14230° W74.30065° – Dock.
Park Info:
The reservoir is part of Long Pond Ironworks State Park.
Size:
505 acres, average depth: 43', max depth: 90'.
Restroom:
Porta-john in the north lot; likely in the south and Beech Road lots (haven't been to those in awhile to confirm).
Book:
Quiet Water New Jersey (2010), Trip # 4
Note: Quiet Water New Jersey is available as an online Kindle book but sadly the print version is no longer available – other than used copies that are generally going for absurd prices for some reason.
An option is "AMC's Quiet Water Mid-Atlantic" from 2018 which contains 13 of the 52 ones in the New Jersey-only book.
Nearby:
For general info, check out our Kayaking NJ page.
—
Kayaked 6/14/15. 5.1 miles.