Paddle a beautiful lake with islands and surrounded by an interesting shoreline.
Our two cents: Scenic but very popular. Rentals available and this is a good place for beginners. Pack a lunch and land on an island for a picnic.
Note that the park often closes temporarily due to capacity on summer days… sometimes by early morning. It's more crowded closer to the launch. Avid paddlers can head out to the far end to try for more solitude, but we found this to be a busy place even with an early start.
Description
Wawayanda Lake is in the center of the state park and getting out on the water gives a different perspective than hiking the trails, many of which hug the shore line.
Immediately to the left of the launch is a small cove with a lot of lily pads near a spillway.
In the center of the lake are several islands of different sizes. All the way out to the southern most reaches is another large area of lily pads. Some pumphouse remains are also visible on the shore, near a view point off the Pumphouse Trail.
Launch area: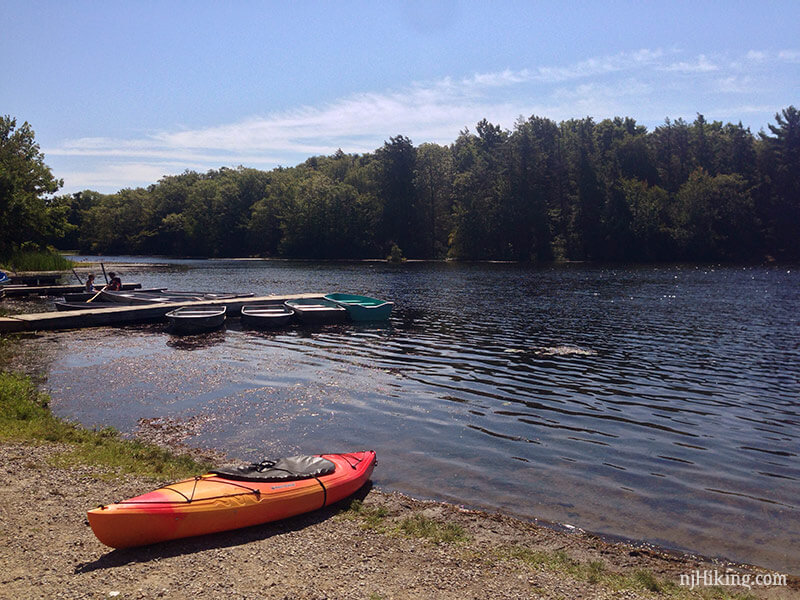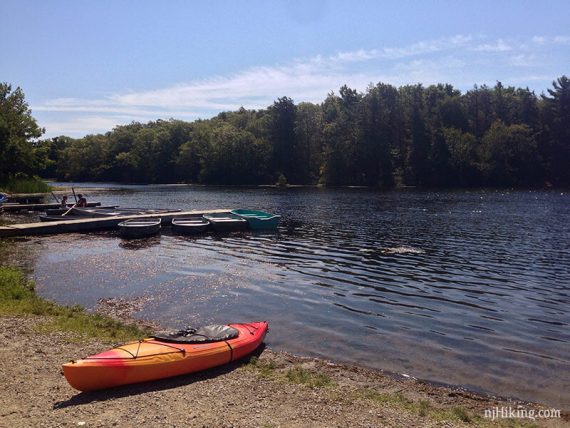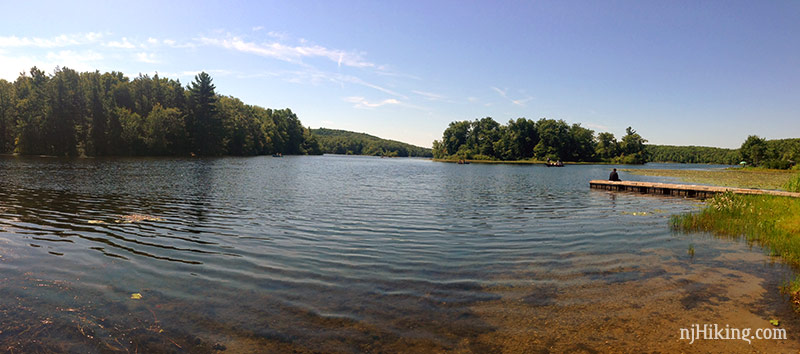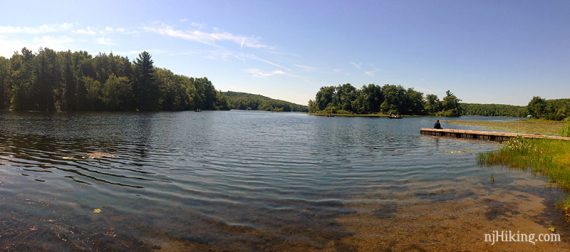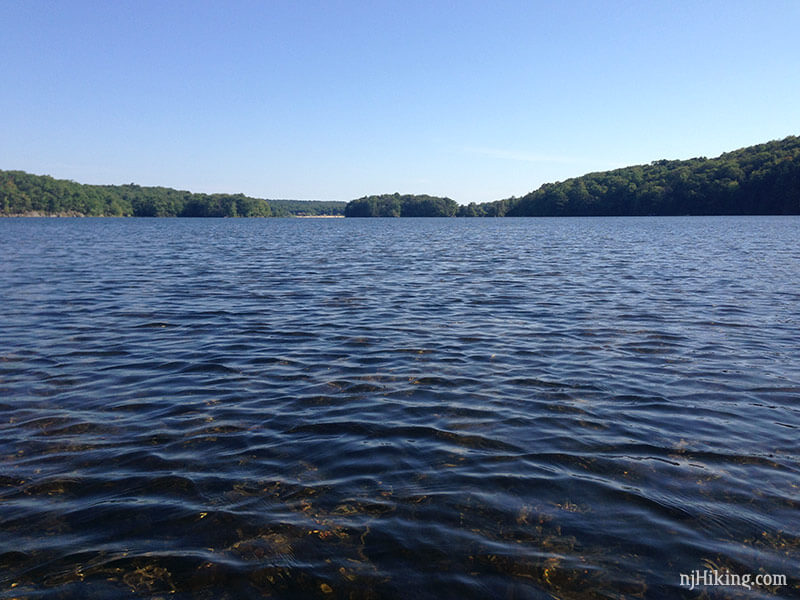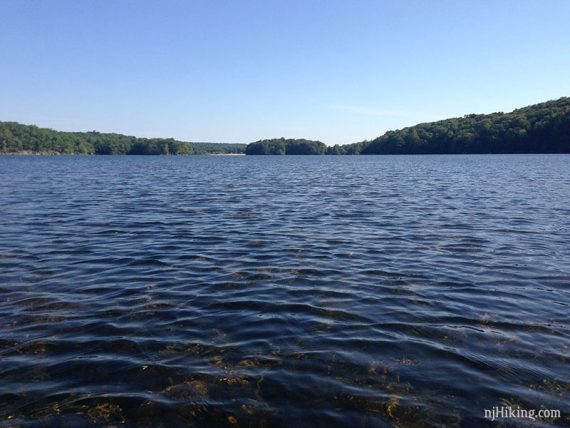 One of the larger islands is on the right.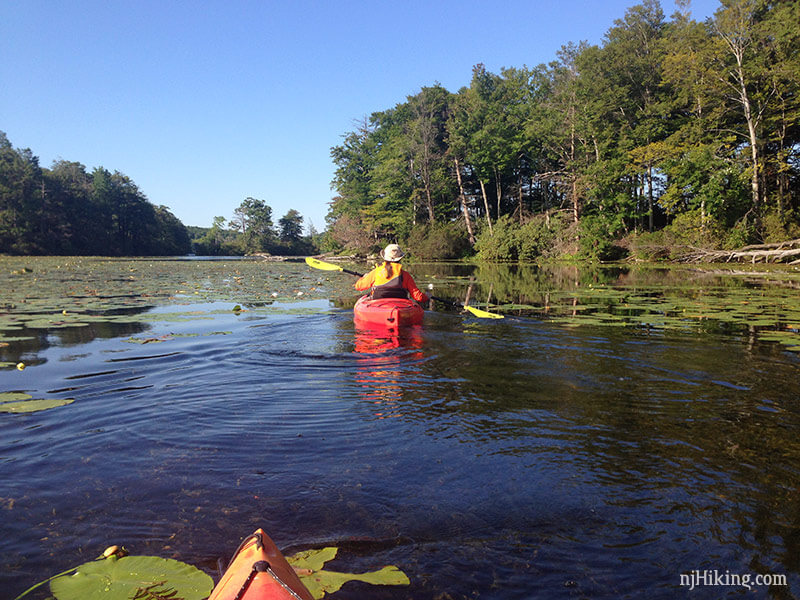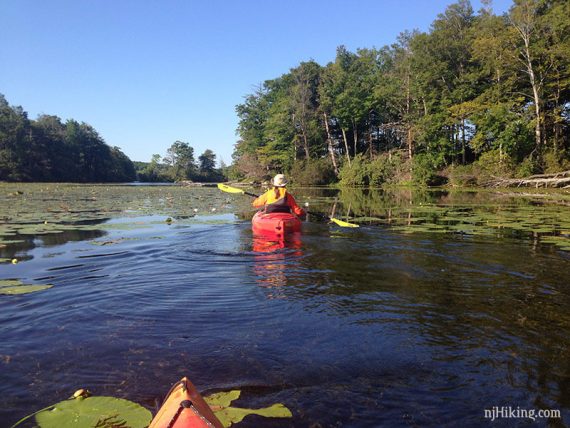 Rocky shoreline.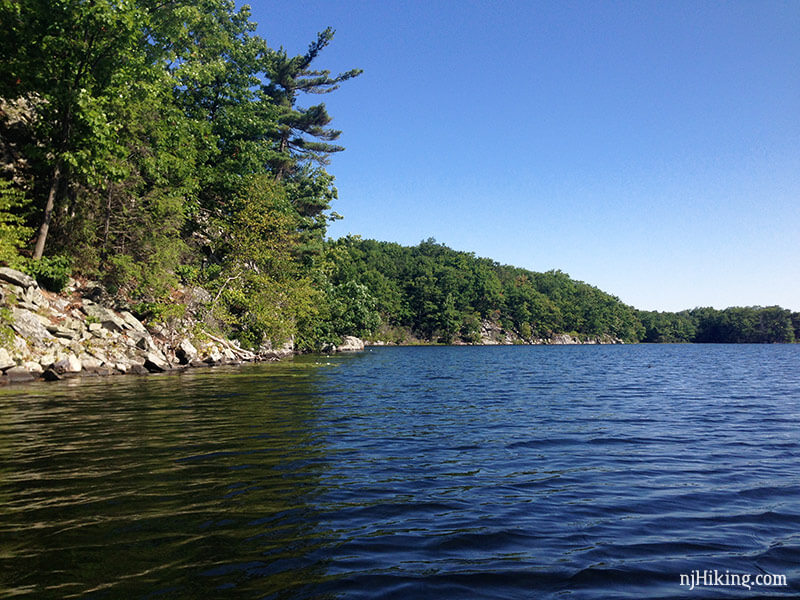 Lily pads at the south end of the lake.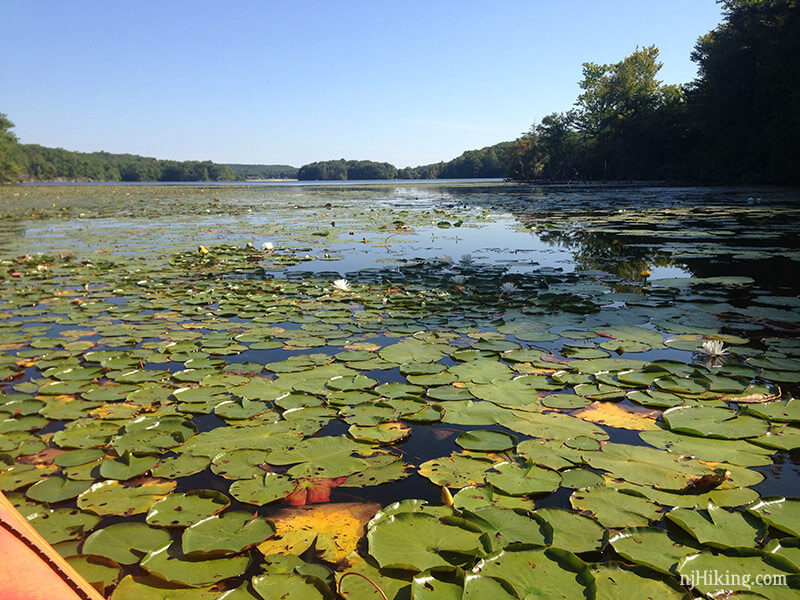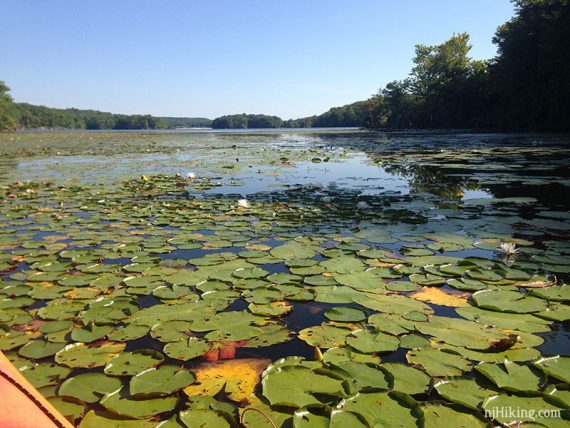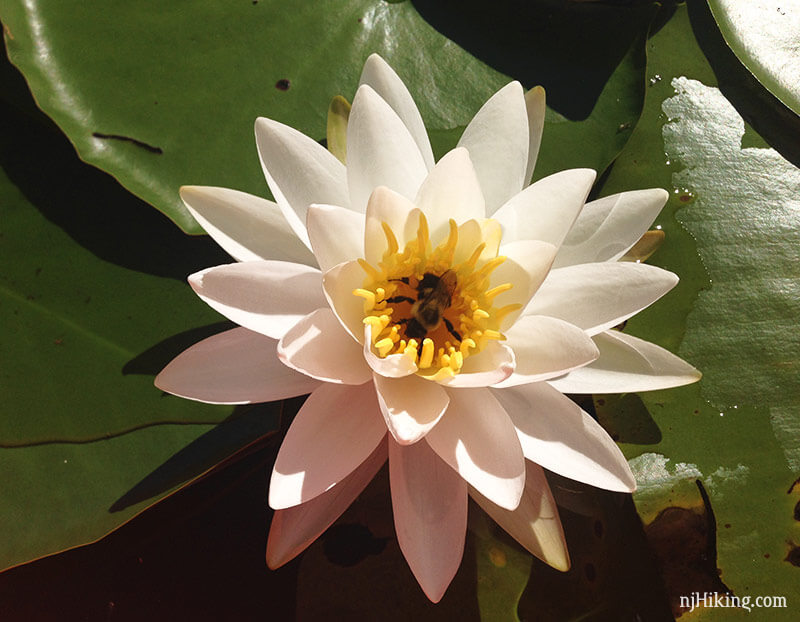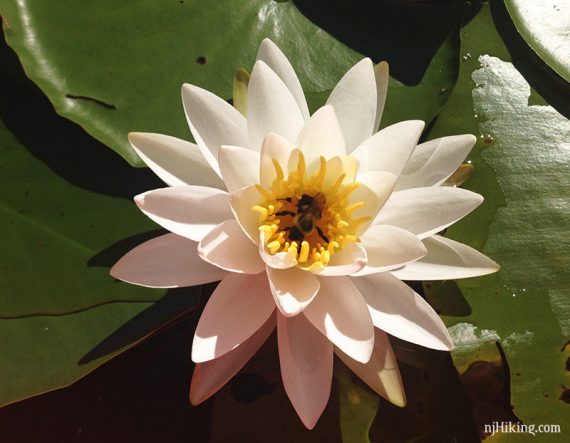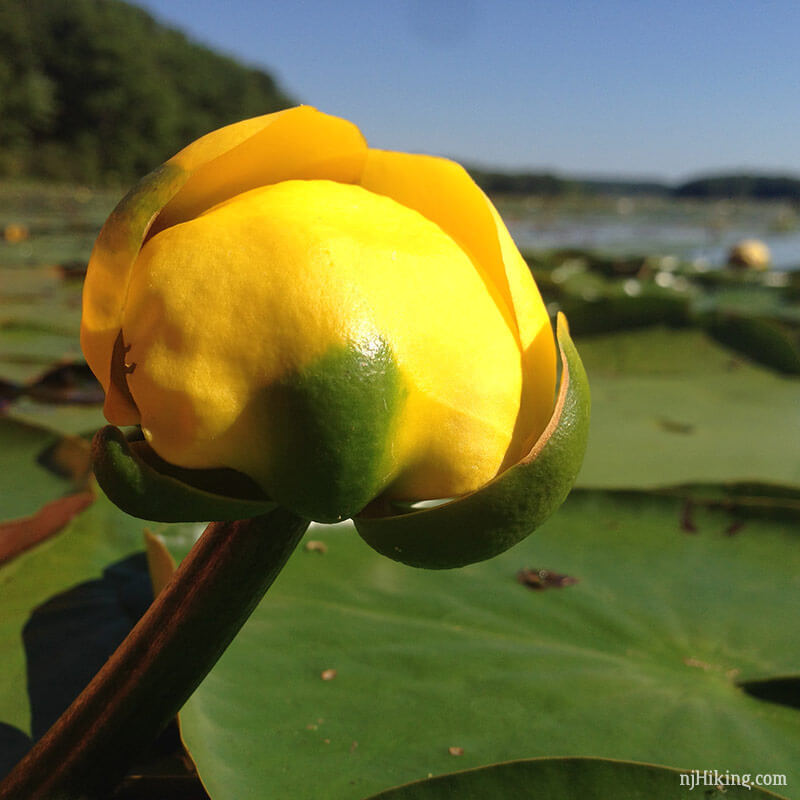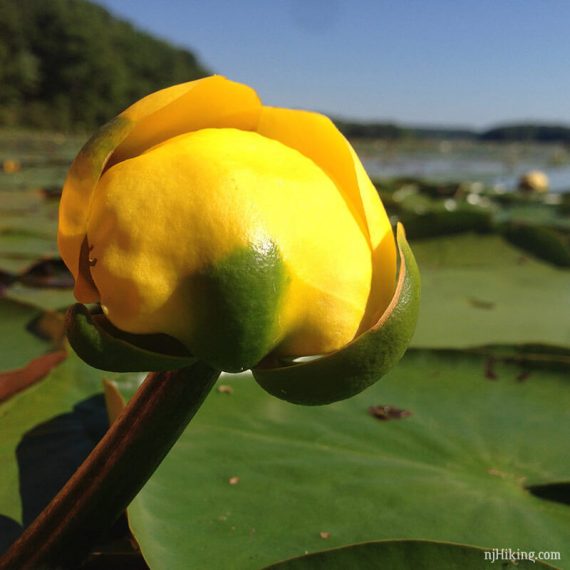 Heading back, the beach visible in the distance.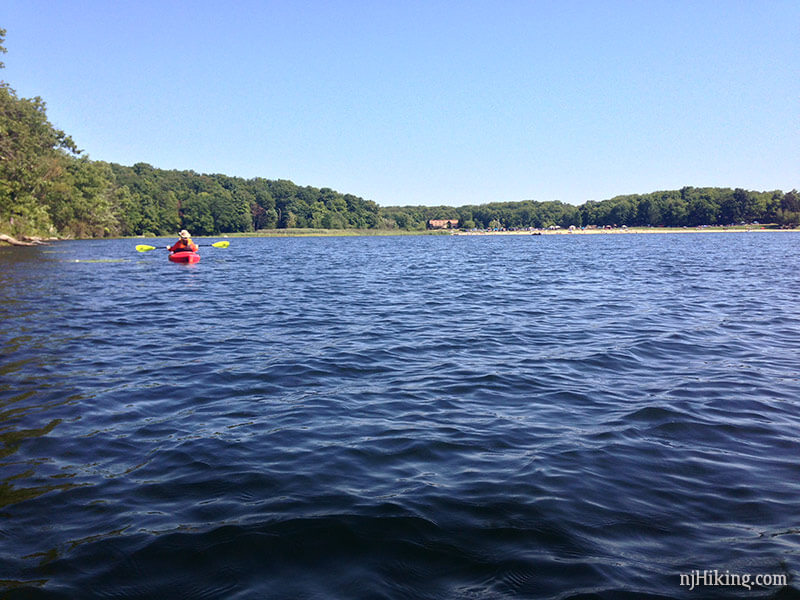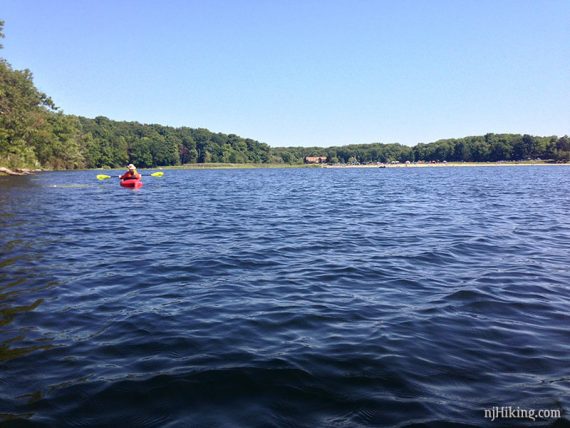 Details
Miles: 4.0
Parking: N41° 11.316′ W74° 25.604′ [Boat Launch Lot]
Large paved lot.
From the south: 287N to exit 55 towards 511/Wanaque/Pompton Lakes. Right at bottom of ramp and follow 511/Ringwood Ave/Greenwood Lake Turnpike through town. The road will curve left and pass Monksville Reservoir and then Greenwood Lake. The road name changes to Warwick Turnpike. The park entrance on the left, about 19 miles since getting on 511.
Drive past the visitor center lot (fee gate in season) and follow the park road. Turn left at the sign for Wawayanda Lake. Pass the first parking lot, and continue to the boat lot.
Launch: Easy; from a dock or walk in from the sandy shore.
Park Info: Wawayanda State Park
Fee: Charges an entrance fee Memorial – Labor Day; which is covered by the NJ State Park Pass.
Rentals: Yes.
Size: 255 acres.
Restroom: Regular bathroom in the main lot by the visitor center and at both Wawayanda lake parking lots – the first (beach lot) and the second (boat launch lot). Seasonally, a composting toilet may be in the boat lot.
Book: Quiet Water New Jersey (2010), Trip # 2
For general info, check out our Kayaking NJ page.
—
Kayaked 8/28/16. 4.0 miles.