Lots of views on a hot and humid summer day plus a bear spotting.
Somehow, the last time that we hiked from this trailhead was nearly 5 years ago (Overlook Rock and Manaticut Point in the Fog).
We'd cut that hike short due to the weather and had meant to return… how time flies.
There were "heat warnings" that I didn't notice until late the night before, but we get an early start and this hike has a good bail-out point just in case.
It was hot and humid for sure but the views and prettiness of the trail make up for it.
This route has a lot of big overlooks so this post contains a lot of panoramas.
There are even more photos in our hike guide (Lake Sonoma, Overlook Rock, Manaticut Point) which also details a shorter version of this hike.
And because hiking in New Jersey is seldom normal, this week's hike included… spider webs, gargantuan mushrooms, lost sunglasses, koi, a gazebo, and Mama and her three bears.
View from Overlook Rock: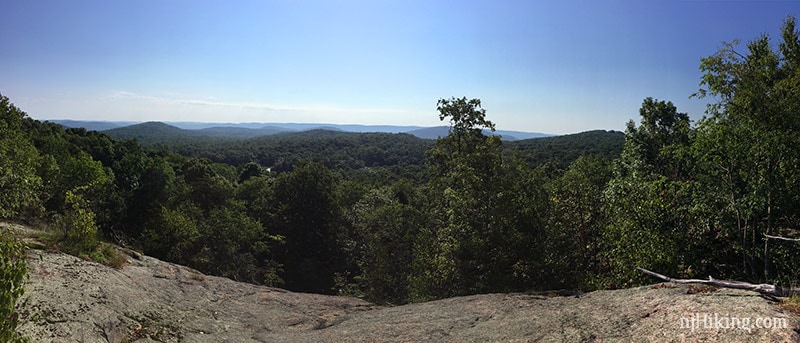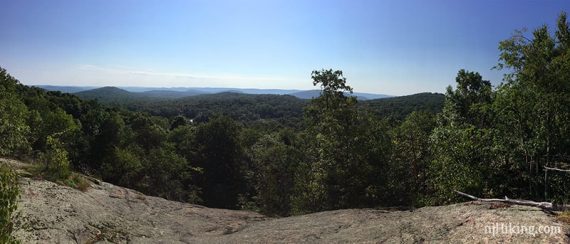 Score a few more viewpoints along Overlook Rock Trail: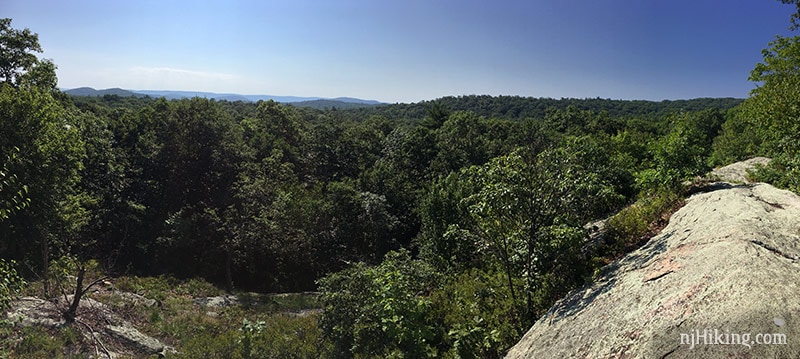 I always keep my trekking poles in the Hikemobile but forgot to put them back in after cleaning it last week. I grabbed a walking stick near the trailhead because I am too clutzy to be trusted without one.
After I walked face-first into at least three-thousand webs – huge spiders often dangling near my face – I ended up using it more to wave in front of me like a drunk Jedi.
Any web over my head, Tom caught with his face. It's a good thing we saw zero other hikers all day because we were often flailing around doing the spider web dance.
Which is probably how Tom dropped his sunglasses. He didn't realize that until the power line cut, so somewhere along the trail before that is a pair of sunglasses.
They're probably trussed up in one of those huge webs by now.
Huge mushrooms of every shape and color were everywhere on this hike.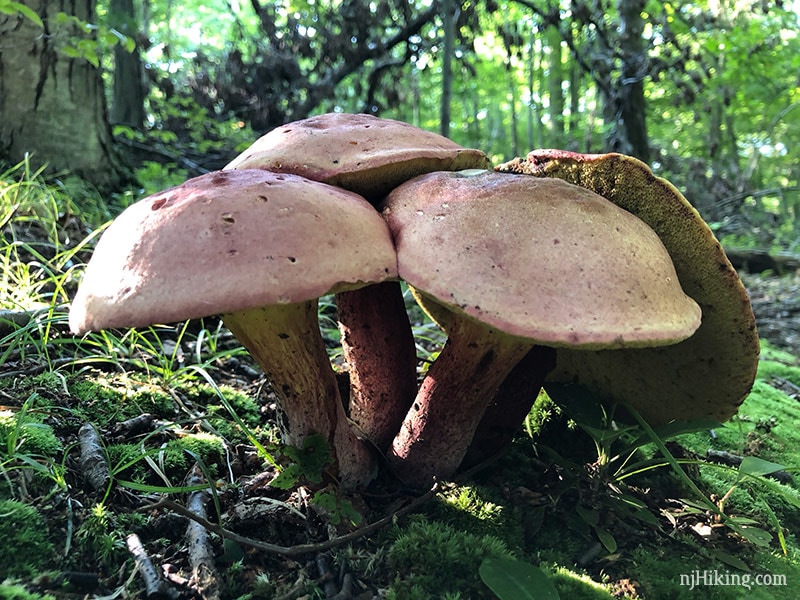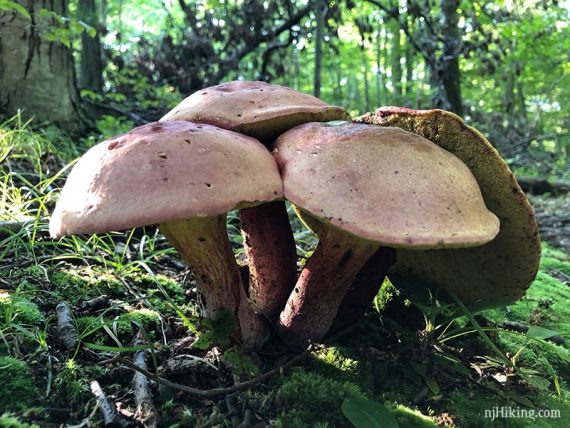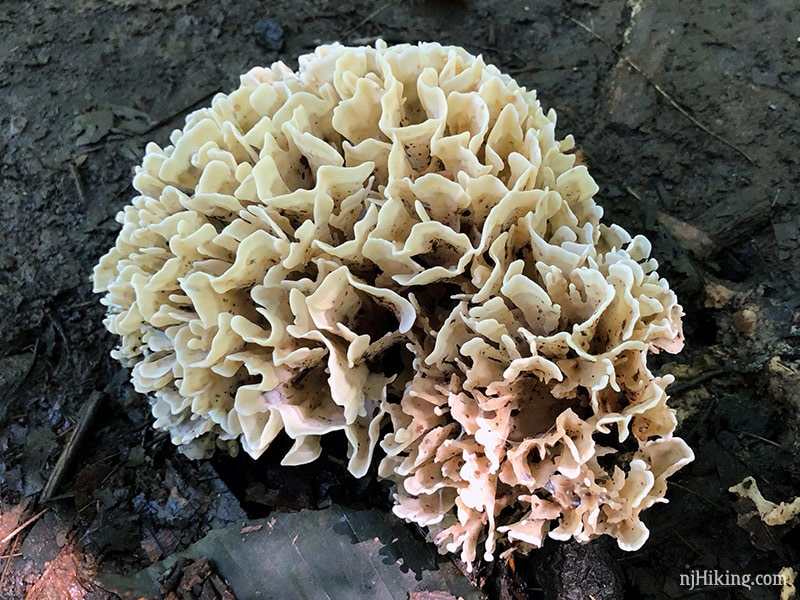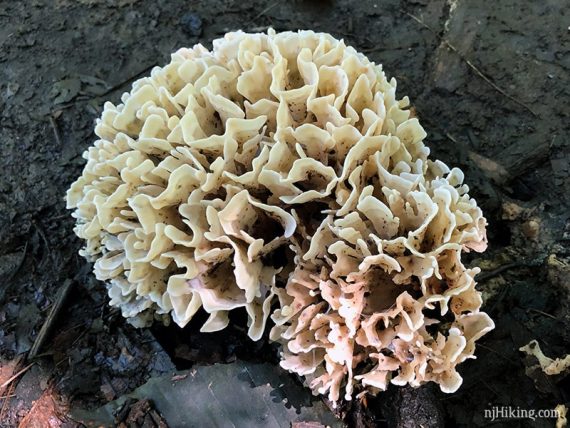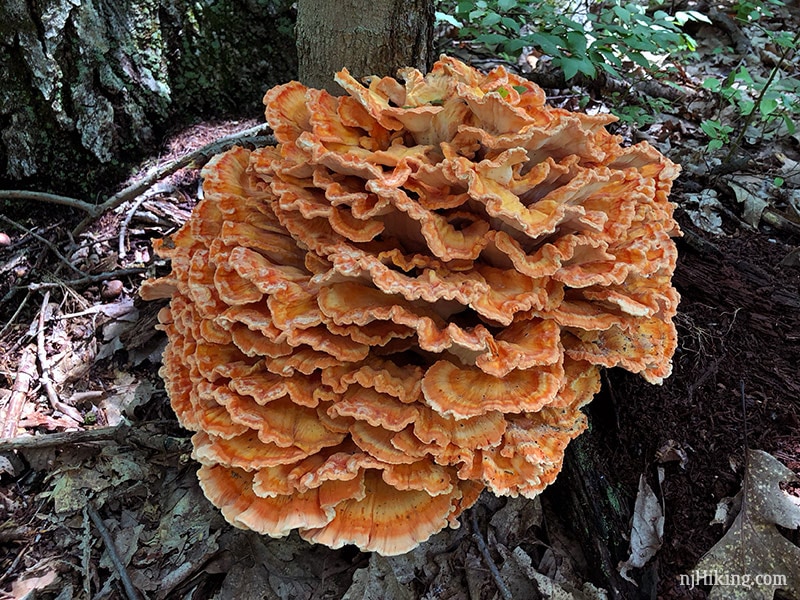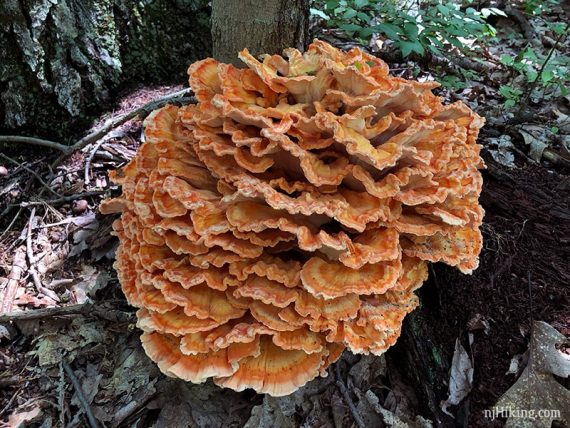 Back around on the Manaticut trail, we passed a viewpoint not marked on the map: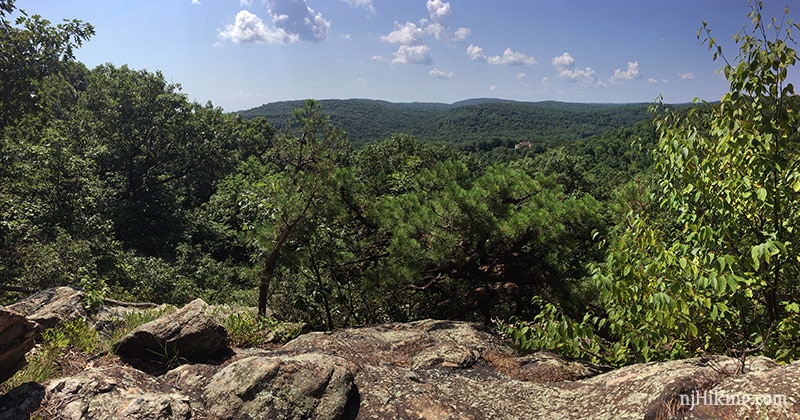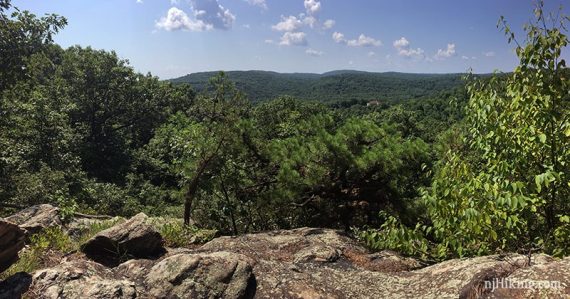 The trail was completely fogged in last time, so I wasn't expecting some water to come into view on the right.
I spotted a structure so I wandered over to check it out. It was a gazebo and a boat at the end of a pond. Hunh.
I assumed this wasn't public so I wandered back to Tom, who'd found some nice rocks to sit on overlooking the water. We saw a flash of orange. What?
With my trusty monocular, I saw that it was indeed a huge koi fish. Then we spotted more swimming around. Well alrighty.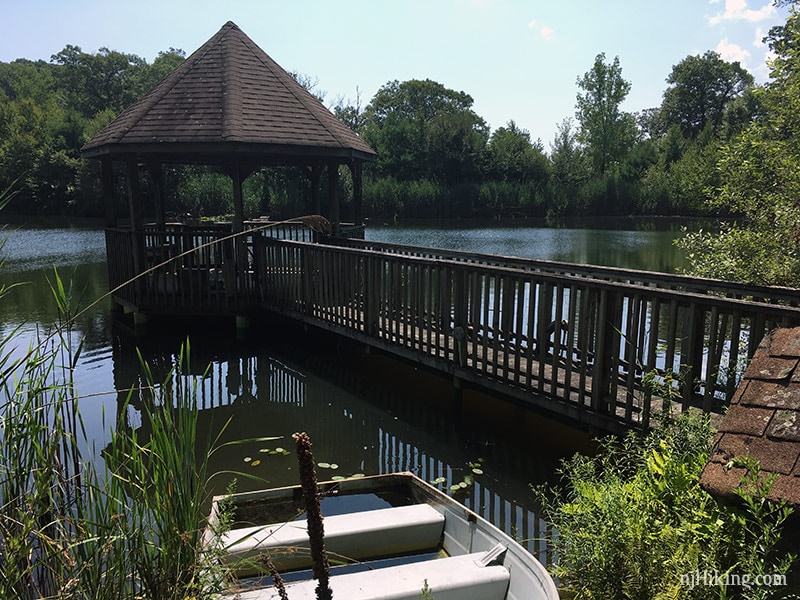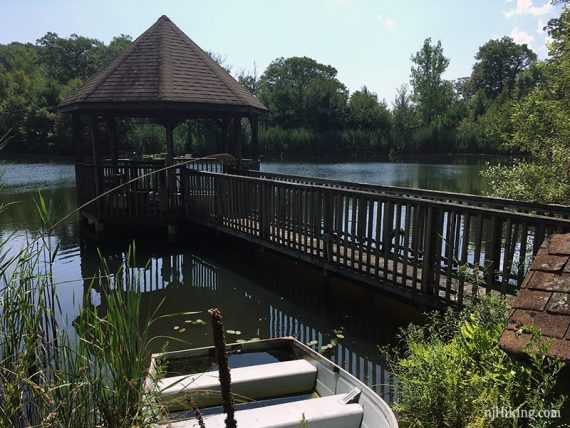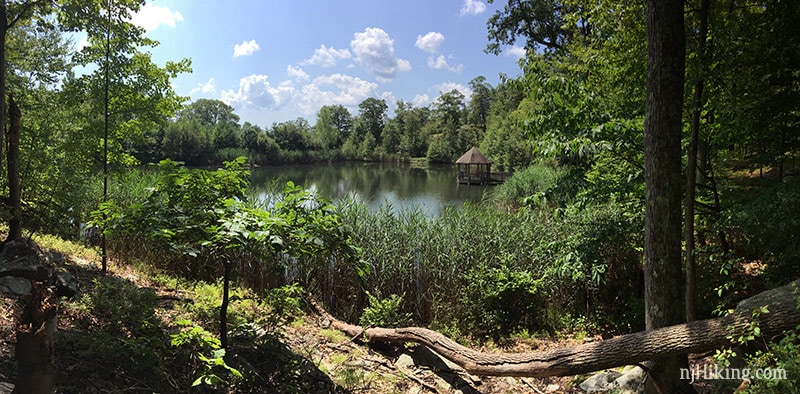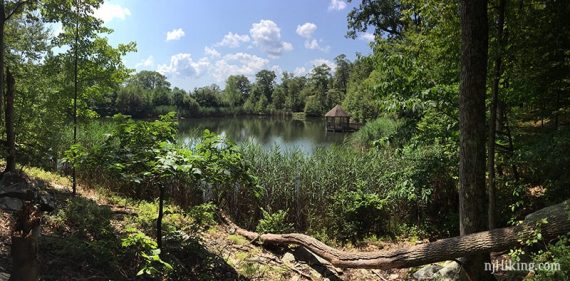 We continued on to Manaticut Point, a wide view over Norvin Green and the surrounding mountains.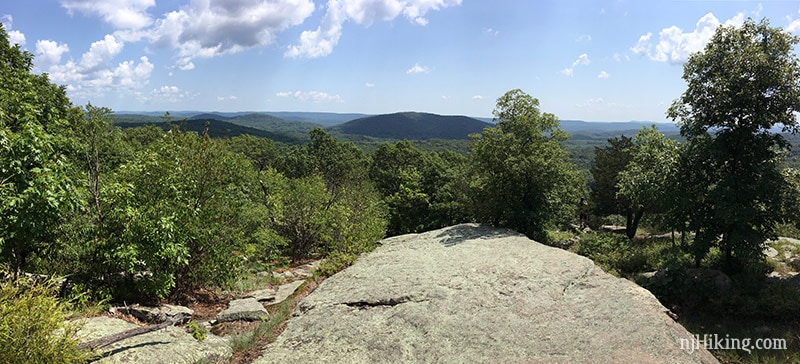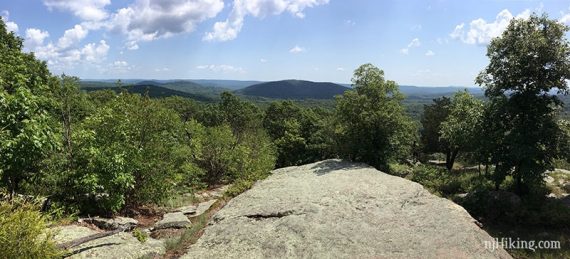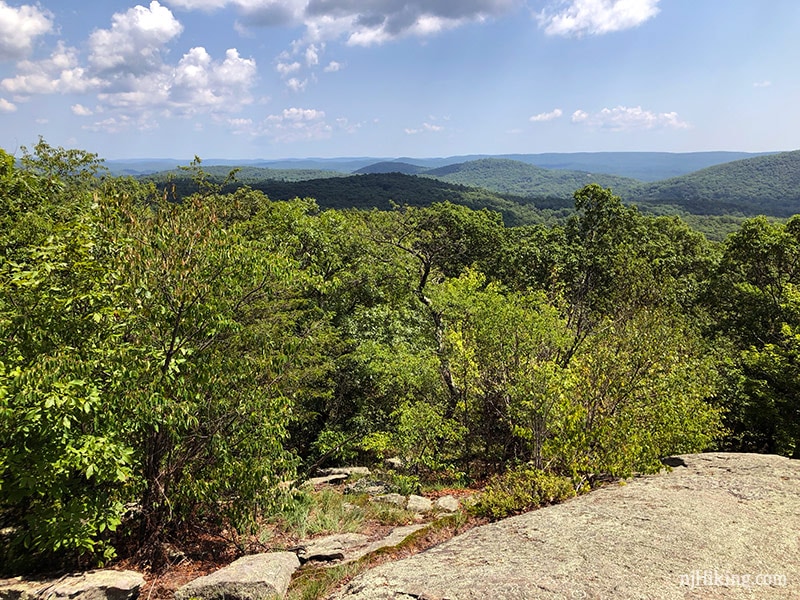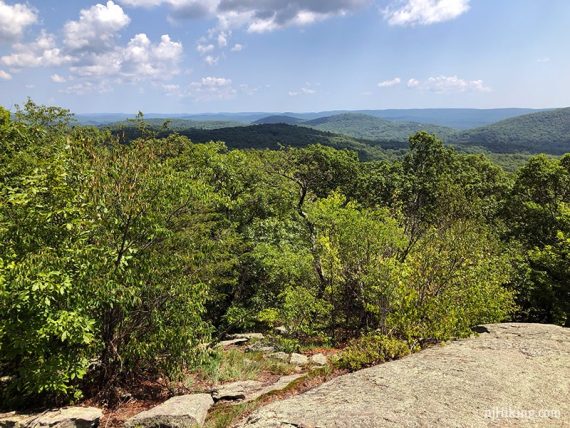 Near the end of the hike, maybe a mile to go, Tom stopped abruptly.
"BEAR."
Ahead was a cub, which kicks us right into scanning mode to locate mama to make sure we're not between her and a cub.
Big Mama quickly appeared (she was a large lady) along with two other cubs.
Fortunately, the trail was turning sharply left instead of straight towards them and we were able to continue in our planned direction while keeping an eye on them. She watched us a brief moment before gathering the cubs and scampering off in the other direction.
We have no photos of this because our focus is on safety, but it's always a thrill. And the cubs are so adorable, little squishy bundles of jet black fur.
For detailed hike directions, maps, GPX, and photos visit our "Lake Sonoma, Overlook Rock, Manaticut Point" page.
Miles: 6.8
Route: YELLOW with BLACK DOT – Manaticut (YELLOW) —Overlook Rock (WHITE) – Manaticut (YELLOW) – YELLOW with BLACK DOT
Wildlife spotted: Koi in a pond and Mama and her three cubs.
Bonus: Post-hike venti iced vanilla lattes.