Review of Black Diamond Trail Shock plus some things to consider when buying trekking poles.
We've been using trekking poles since before they were really common to see along the trail and used to have to explain that no, we weren't carrying around ski poles.
We hike frequently and over rugged terrain so trekking poles makes sense for us.
Note: These are our own purchases and were not supplied by any company for review.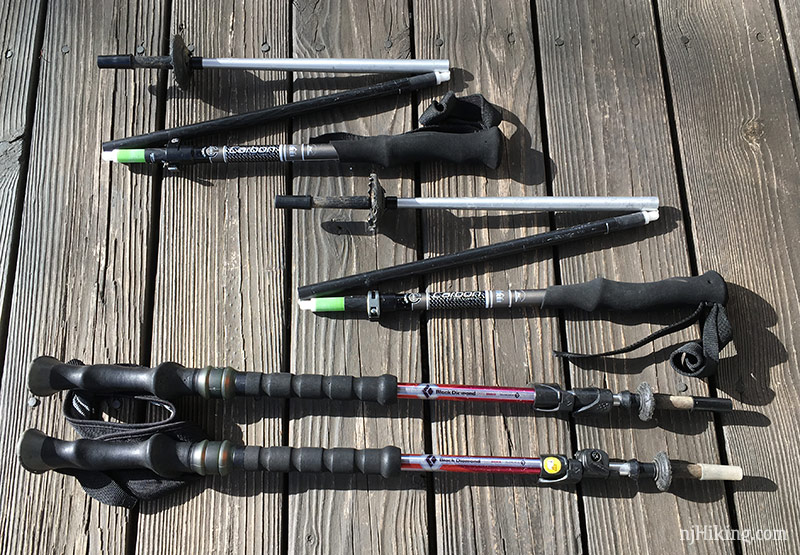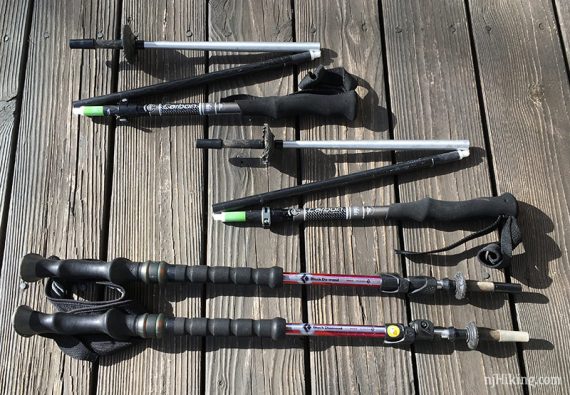 ---
Do you need trekking poles?
There is plenty of discussion online as to whether poles are helpful or not.
Realistically, a sturdy stick found along the trail might do the trick for you – especially if your focus is on light hiking. Good walking sticks are often left at trailheads, propped up against a tree or trail sign.
But we've found trekking poles invaluable to reduce impact on joints, for cranky knees that hate downhills, and for stream crossings.
Being a bit of clutz, they've saved my butt countless times.
---
Considerations
How much will you use them?
I use trekking poles for nearly every hike that isn't flat or short, so I need a good pair that can take a lot of use.
Tom seldom uses them unless we're doing a tough/steep or really long hike, so a lighter and more packable pair makes more sense.
Do you snowshoe?
Poles will do double-duty for you then – just make sure your poles can accept "snow baskets".
These are wider than the normal disc at the bottom and prevents the pole from punching through the snow. Some will come with ones you can swap out, or you can buy them separate.
---
Related: Snowshoe Guide
---
Weight
Generally, you want the lightest you can afford because you're holding them all day or carrying in a pack. Even a little less weight makes a difference over the course of a hike.
When handling all of our poles at once to shoot these photos, the weight difference between them was striking.
Shocks
These add weight but help cushion arms/elbows a bit.
My first pair had them, then I got ultralites without, and now my current pair has them.
I am somewhat undecided as to which I prefer, but the shocks probably slightly edge out the weight savings for me.
If you often pack them away, consider going without the shocks.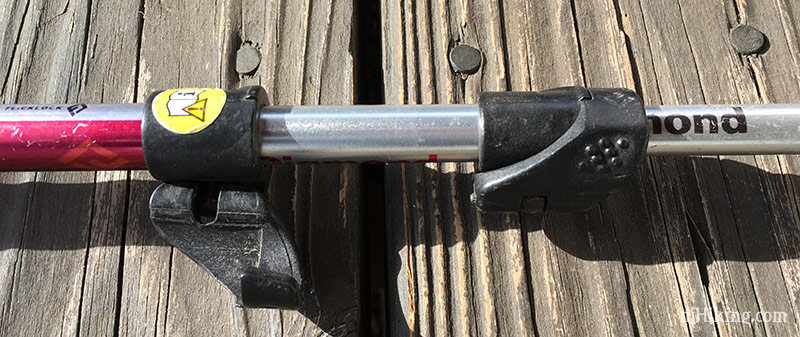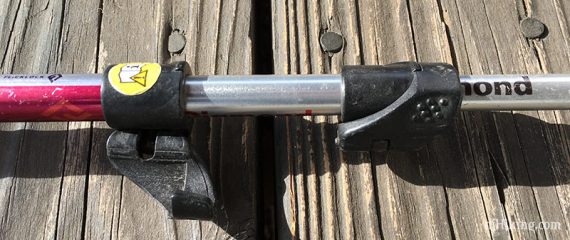 Lever Lock vs Twist Lock
I totally prefer lever locks to twist locks (which just seem to fail eventually).
Instead of twisting to lock the sections in place, tabs that flip open to allow the sections to be telescoped to the desired length and then the locks get clamped back down.
Once in awhile the screw on the lock needs to be adjusted if they get tight to open.
Single Staff or a Pair
Most poles are sold as a pair, but there are single hiking staffs available. But to really get the full benefit you need to be using a pair.
Scrambling
For me, this is the biggest downside to using poles.
Scrambling up is fun, but holding poles totally ruins it. They are utterly in the way.
And especially here in Jersey, scrambling sections are usually short so it doesn't make sense to stop to collapse them or put them in your pack.
If you often hike in scrambly areas then you might not want to bother with poles. Same with narrow, brushy trails – there is no where to plant the poles or they get caught on the vegetation.
Tip replacement
Most pole tips can be replaced if they get worn out… but we've never bothered to do so. Not sure it would make a difference.
Tip protectors
It's a good idea to have them if the poles are strapped on a pack, but also if they're in your luggage.
Poles should come with them, but expect to lose tip covers despite your best efforts!
(Somehow we always find them on the trail or in parking lots just as we need to get replacements – I once lost one but found three others in the same day on the Appalachian Trail).
---


Our Poles
We started using trekking poles somewhere in early 2000s, or possibly the very late 90s.
My first was a basic Eastern Mountain Sports pair with shocks that lasted until 2005 when one pole decided to lock up (neither extend nor collapse) while descending into the Grand Canyon (awesome timing – the first day of the trip).
Tom had been using Leki Makalus (with shocks), so I picked up Leki's Makalu Ultralites in the park gear shop. These compact, super light titanium poles (no shocks) served me well for 5 years… until one started collapsing.
Not dramatically, but as the day progressed I'd realize that one pole had slipped an inch or two shorter. Despite adjusting and futzing with the twist lock, it was obvious it was time for new poles.
---


Black Diamond Trail Shock Trekking Poles
I've been using this basic pair of Black Diamonds Trail Shocks since 2010, for hikes nearly every weekend and on a couple trips a year.
While we take pretty good care of our gear, I don't do much to these other than wipe them down once in awhile.
Aluminum
Dual FlickLock
Shocks
Foam grip with extension
Adjusts up to 55″
Storage length: 26″
I don't have to think about them, they just work. They collapse enough to easily fit in our luggage, and while they do stick out of my backpack a decent amount, it's not unwieldy.
The comfortable foam handle has held up, and I really like the grip that extends well below the handle. I use this all the time for uphills to lower my hand position instead of shortening the pole.
---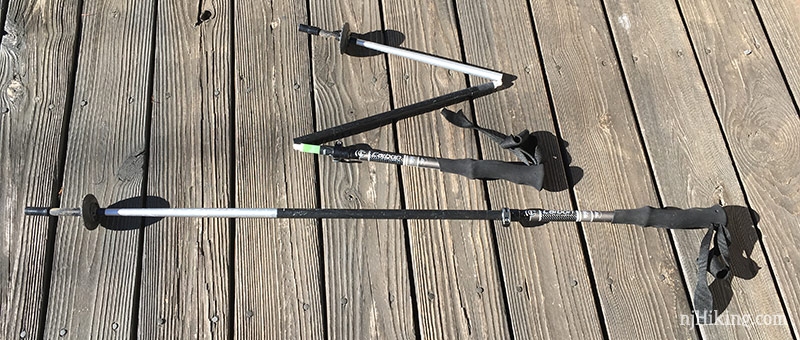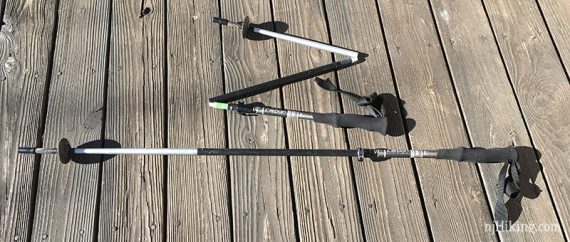 Carbon Exp Vario Trekking Poles
Note: Update 11/2017 – The Carbon Exp Vario is no longer made. Other brands make similar Z-fold poles such as the Black Diamond Distance FLZ.
Tom got the Carbon Exp Vario for a trip in 2015 to replace his aging Lekis (which still work fine but are quite heavy compared to new poles, and have always been a tight fit in our luggage).
The Z-fold style looked cool when they came out, and we thought they'd pack and carry better.
Ultralight, carbon composite
Power Lock twist lock
Compact, Z-folding design
Foam grip
Adjusts up to 53″
Storage length: 16.9
These are super super light, very sturdy, the Power Locks are twist shut but very secure (never slipped at all), and unlike many folding poles, the length is adjustable so we both could use these.
They do have some drawbacks:
Handle is not that comfortable. They are meant more for occasional use – heading up or downhill, stream crossings and then put away – as opposed to being used all day and they've sacrificed some comfort for weight savings.
Bulky when folded. They are short in length but take up odd-sized room in our luggage and are awkward to shove in a backpack. Perhaps a bag would help smooth things out, but this was a surprise to us. Not a deal breaker, but annoying.
Not that quick to unscrew and collapse. We expected these to break down quicker so we'd actually bother to put them away and take them out while hiking, but they need to be unscrewed and it's also a little fussy to get the carrying clip on. Again, not a deal breaker.
Can't change to snow baskets. We didn't think to check this when researching the poles. We'd had them for months before winter rolled around and we went to get baskets… and realized you can't. The ones on there are for hiking and don't quite cut it for snow.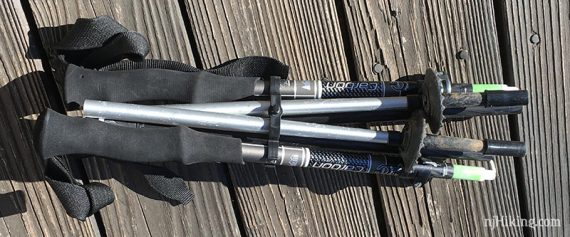 ---
Overall
You really can't go wrong with a pair of Black Diamonds for solid, long-term function and value for money (your choice on shocks or not).
But Leki is a good pick, too, as we got long-term use out of our two pairs. In fact, we've gotten 5+ years of hard use out of every one of our trekking poles.
Trekking poles that are popular on our site (but we have not tried) are the Hiker Hunger Carbon Fiber Poles.
Consider a folding pair if you tend to use poles just sometimes, and will have them stored in a pack a good part of the day.