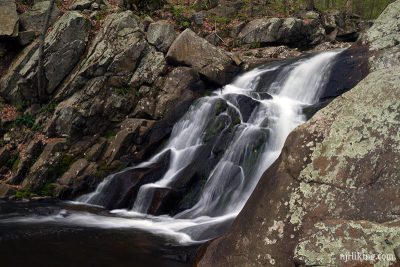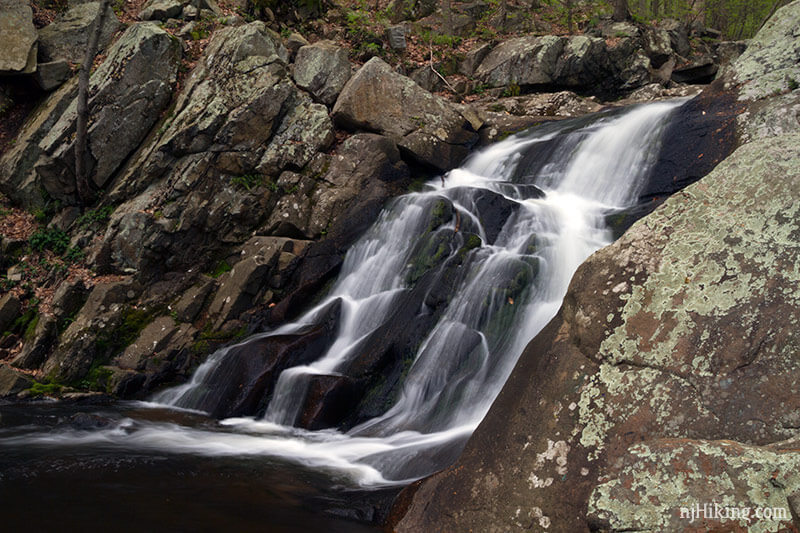 Short but rocky hike in a beautiful gorge to waterfalls along Electric Brook plus a viewpoint over a valley.
2.4 miles. Very rocky along Electric Brook; a scramble down to get around the falls. The other trails are more dirt than rocks.
Shorter: Easily cut this short hike even shorter, see notes below
Longer: Include WHITE and BEELINE. (Might be better to start at the lot on Fairview Ave for that)
Longer: Continue out of the park using the Patriot's Path
Longer: Combine with Hacklebarney or Black River – Cooper Mill, either is roughly 15 min away.
Hike Info:
Our two cents: The Falling Waters trail is very rocky but this hike offers a solid reward-to-effort ratio. Just to the falls and back is less than 1 mile round trip but it's very scenic the entire way, shady, with a pretty waterfall as your reward. The viewpoint is decent and worth continuing for. From that point on, the hike is pleasant but nothing amazing so if you aren't into getting miles, we've included notes below on bail-out options.
Map: Print map ahead, did not see any at the trail kiosk.
Books: A more detailed description of this hike is in 50 Hikes in New Jersey. A different hike is in Hiking New Jersey.
Parking: N40° 48.057′ W74° 47.024′
Rt 206 N to Chester, L on Main St/Rt 5. R on Coleman into Naughright Rd., L on Springtown Rd., L into park.
Restrooms: Bathroom building is at the last parking lot, closest to the trailhead. However, this was locked on a nice weekend day in April 2017 so it's possibly seasonal. And, oddly, not a porta spotted anywhere in the park. There is usually a porta in the Cooper Grist Mill lot on the way, or multiple stores around the intersection of Rt 206 and Main St. in Chester.

Hike Directions:
Overview:
Unmarked path towards lake – Falling Waters (BLUE) – Patriot's Path (WHITE) – Quarry Stone (PINK) – Grand Loop (YELLOW)
0.0 – From the far right corner of the lot, take one of the unmarked paths to Lake George. Turn LEFT and follow the edge of the lake to the dam.
0.2 – Start following Falling Waters (BLUE), which is just past the dam.
A very rocky path follows along Electric Brook. There are small cascades early on.

0.4
– The main falls. Scramble down a bit to see it better, and keep going down to see the 2nd falls.
[Shorter: Backtrack from here for a short but rewarding 0.8 mile hike.]
The rocky trail continues along the brook for a bit, past a fenced private property area, before heading uphill.
0.6 – Trail intersection and a bench. [Falling Waters (BLUE) ends, Quarry Stone (PINK) and Patriot's Path (WHITE)]
Turn RIGHT on Patriot's Path (WHITE) to for a just a short bit to a rock outcrop and check out the view across the valley below. Return back to the intersection.
At the intersection, continue straight to start following Quarry Stone (PINK – it's simply marked PINK on the trail map but book diagrams have it named as Quarry Stone).
[Shorter: Backtrack on Falling Waters (BLUE), or take Patriot's Path (WHITE)] back, ensuring you aren't going the wrong way on WHITE towards the Fairview Ave lot.]
0.9 – Turn RIGHT for a short unmarked trail to "rock outcrop" marked on the map. A large clump of rocks and a limited view awaits (with full leaves on the trees, probably won't see much). Continue around the unmarked loop.
1.1 – Trail intersection of Quarry Stone (PINK) and Grand Loop (YELLOW). Turn RIGHT to now follow Grand Loop (YELLOW). [Quarry Stone (PINK) ends; Grand Loop (YELLOW) also goes straight back to the lot]
[Shorter: Take Grand Loop (YELLOW) towards the lot to head directly back. While we continued on because we like longer loops, you've already seen the best bits and won't be missing anything by cutting it short]
1.3 – Turn LEFT to continue on Grand Loop (YELLOW). [Beeline is on the right]. Head uphill.
1.7 – Pass Highlands Cut (RED) on the right. Head downhill.
Grand Loop (YELLOW) turns LEFT, with an unmarked trail ahead.
1.9 – Pass Upland Meadow (ORANGE) on the right.
The trail ends at a grassy area, turn LEFT and head towards the parking lot.
—
Hiked: 4/29/17.