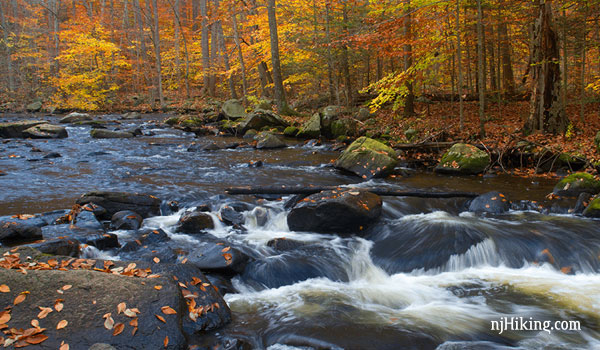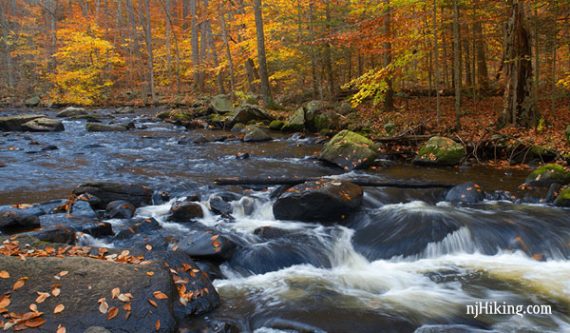 Gorgeous park that has the Black River as it's centerpiece and is stunning in the fall.
3.7 miles. The trail surface is mostly easy but the trail along the river can be rough in sections, with large roots and rocks to negotiate.
Shorter: The hike detailed below tries to make the longest available in the park with the least back-tracking… but it's very easy to make shorter hikes and we've noted some options in the route below.
Longer: Combine with Schooley's Mountain, Kay's Cottage Ruins or Black River – Cooper Mill, all roughly 15 min away.
Hike Info:
Our two cents:
There are only about 6 miles of overlapping trails available and a lot of that is paved/gravel – this is not the park for an experienced hiker looking for a long/challenging trail.
It's also extremely popular so don't expect solitude.
Trails here are good for a beginner or quick hikes, hiking with kids (lots to look at and never far from the car), picnicking (TONS of tables scattered throughout), or basically anyone who wants to experience a wonderful outdoor setting without a lot of effort.
Map:
Print ahead, or the trail kiosk at the end of the parking lot may have paper maps.
Updated: 8/2020 – Page refreshed, not re-hiked. 5/2017 – re-hiked, adjusted description for trail name/color changes, changed route to remove a section that is no longer a blazed trail, revised GPX/Interactive Map.
3/2017 – changed the link to the newer map: There is a pink "Upland Trail" loop now where there was just a connector to 'wildlife viewing' – which doesn't affect the directions below.
2015: The park page now has a map. The trails are colored different than the map we scanned several years ago. Both are linked in the resource box above. 12/2012 – Trail description updated, new photos, video, and revised GPX.
Books:
A variation is in Hiking the Jersey Highlands.
Rt 206 to 513 W. Just past Cooper Mill make a left onto State Park Road. (There are signs) Continue for about 2 miles and make a right onto Hacklebarney Road.
Park entrance on the left. Small parking lot with a monument just as you enter, turn left within that lot and follow the park road to a larger lot.
Restrooms:
On the main path just beyond the ranger station and kiosk, they are on your right.
Hike Directions:
Overview: Main (WHITE) – Riverside (RED) – Windy Ridge (YELLOW) – Main (WHITE) – Haki (LIGHT BLUE) – Wintershine (ORANGE) – Riverside (RED) – Waterfall (PURPLE) – Main (WHITE)
Note: A newer park map came out after this was last hiked, and our description may not match the names/blaze colors even though the trails are nearly the same.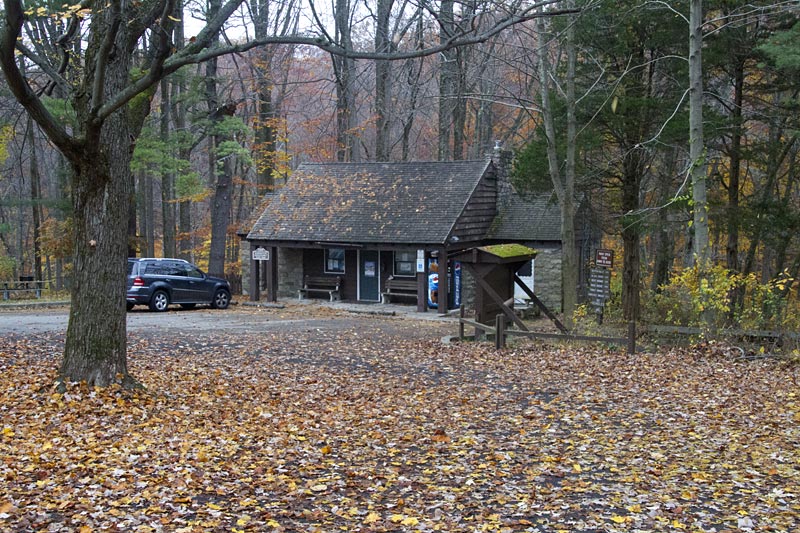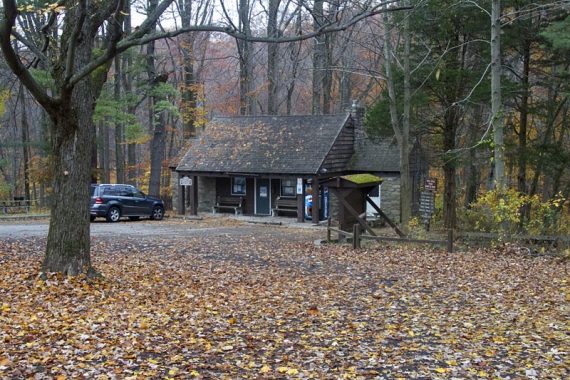 0.0 – The Main (WHITE) starts at the map kiosk and is paved.
Pass restrooms on the right. Turn LEFT down the stairs to start following Riverside (RED). Cross over Trout Brook on a bridge.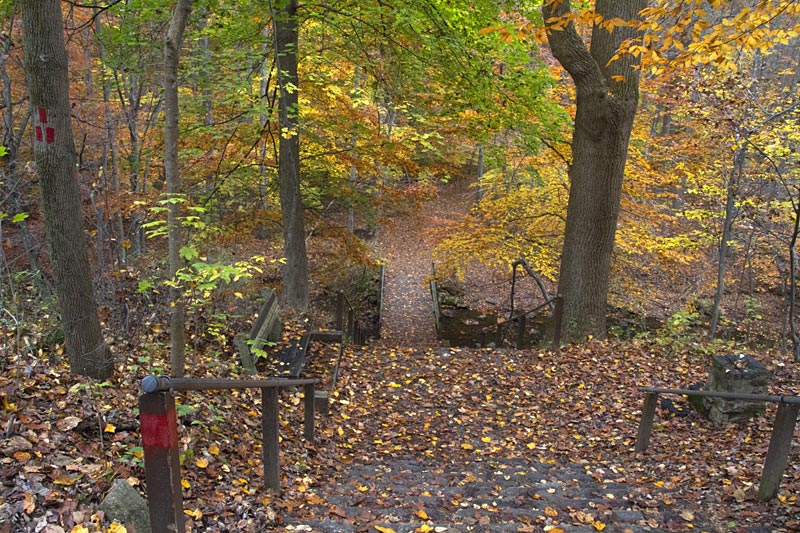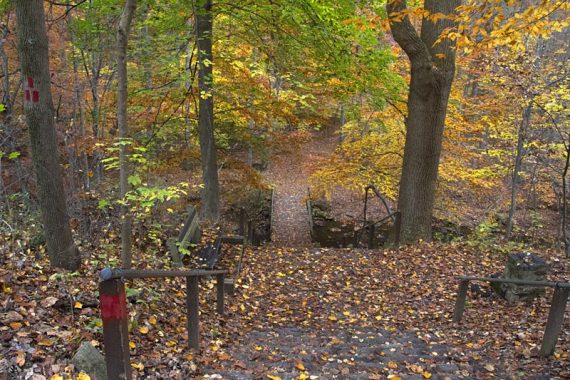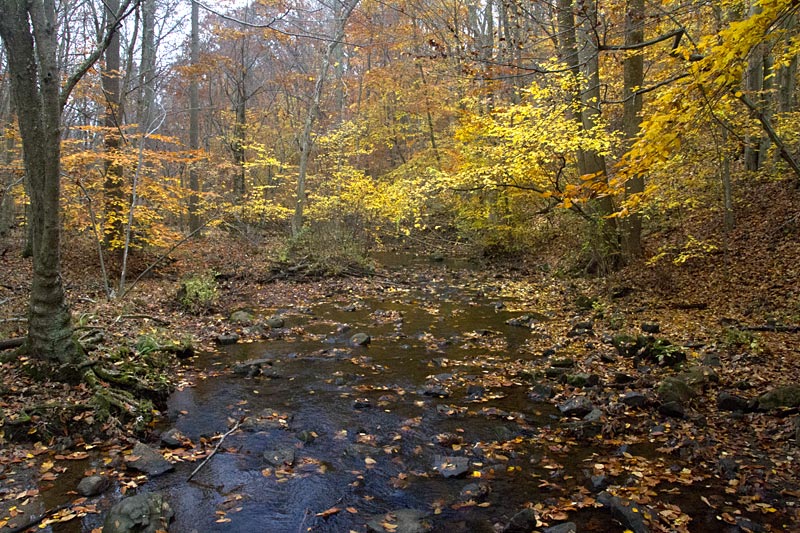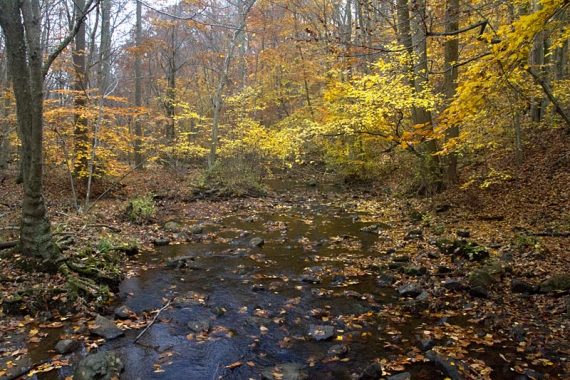 0.3 – Pass a bridge with #2 on it, as well as the start of PURPLE (Waterfall) on the right.
A waterfall is just past the bridge. Either scramble down the rocks to get a look, or continue a bit on RED and take steps down to the water. Return to Riverside (RED) when done checking out the waterfall.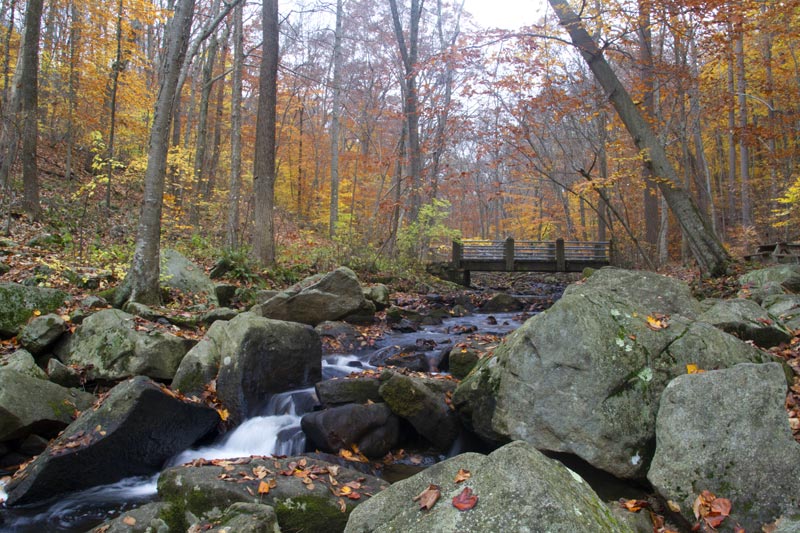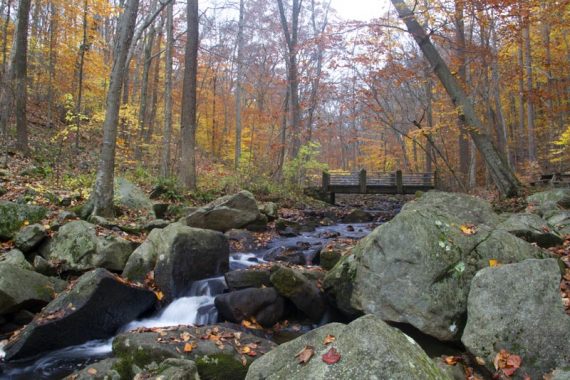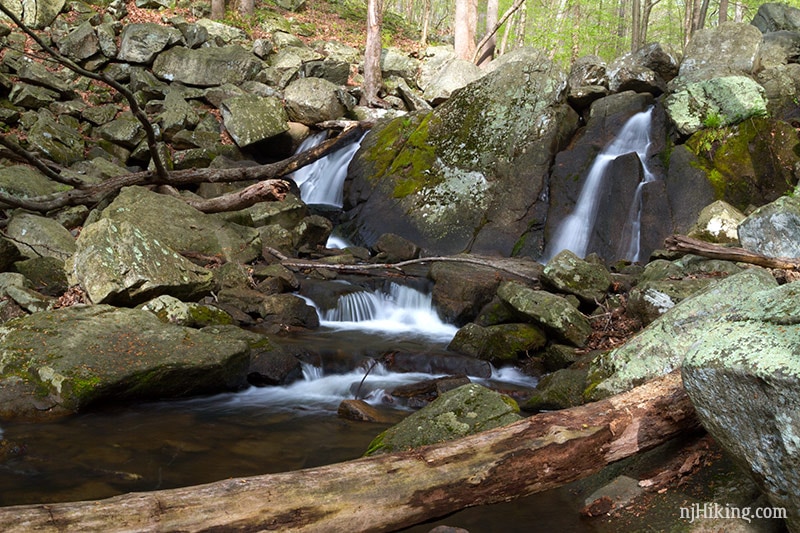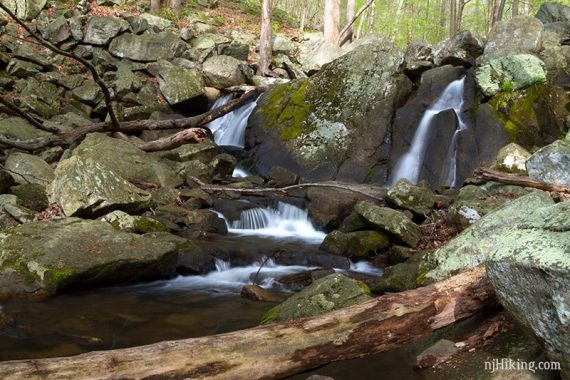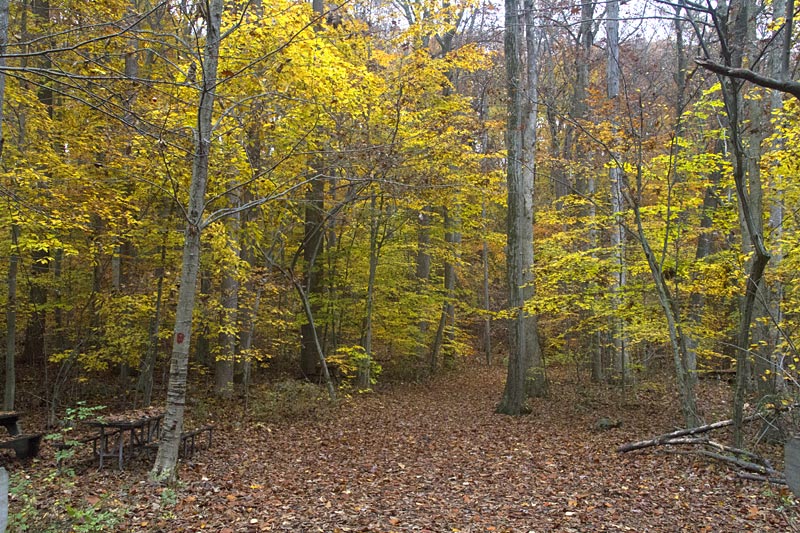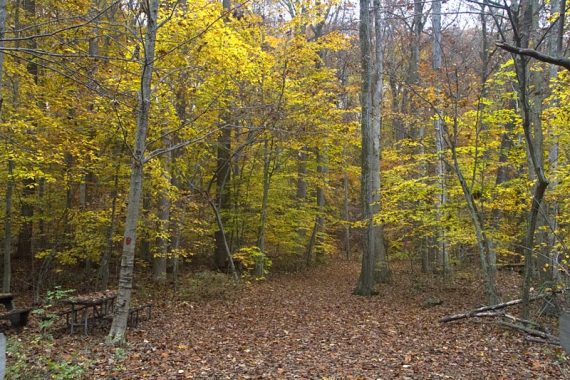 0.6 – Riverside (RED) curves around. [Pass the start of Wintershine (ORANGE) on the right.]
0.8 – Riverside (RED) curves down to the edge of the Black River, to follow along it. The trail can be very rocky and full of roots in spots.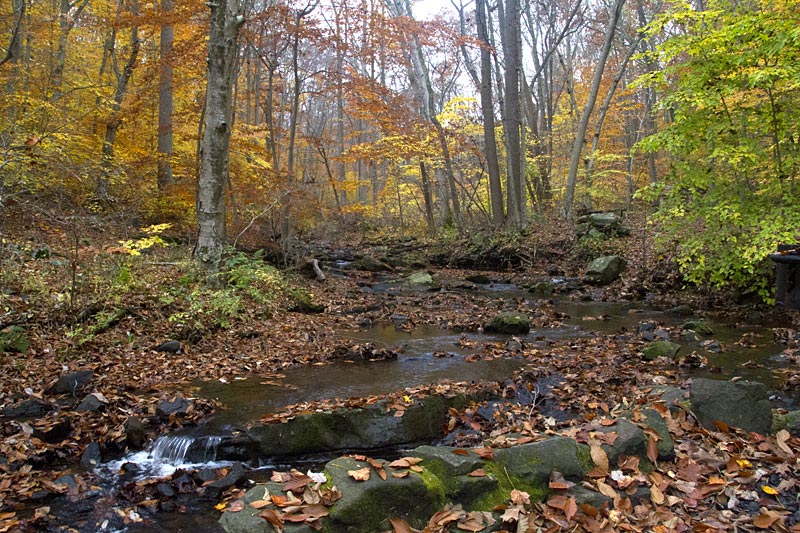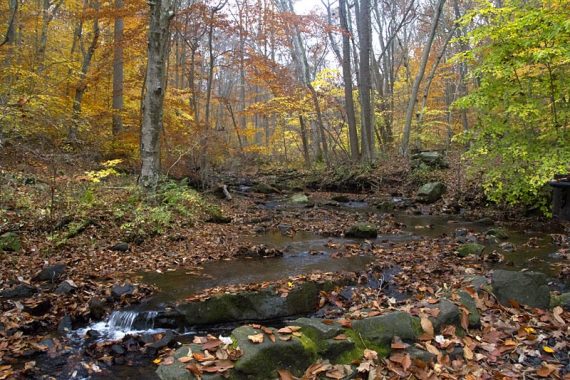 1.1 – Riverside (RED) crosses a bridge, continue straight on this as it hugs the water. [Shorter: On the other side of the bridge, Haki Trail (LIGHT BLUE) goes to the RIGHT and can be used to cut the hike short]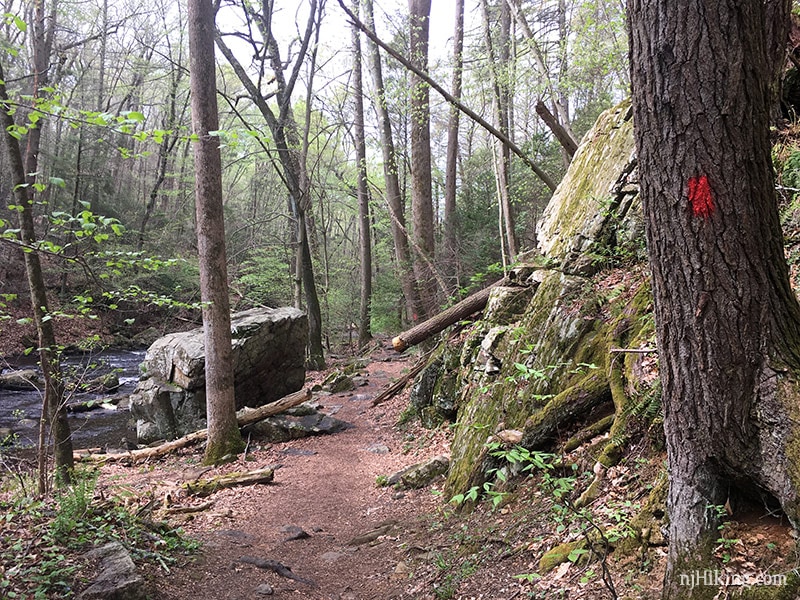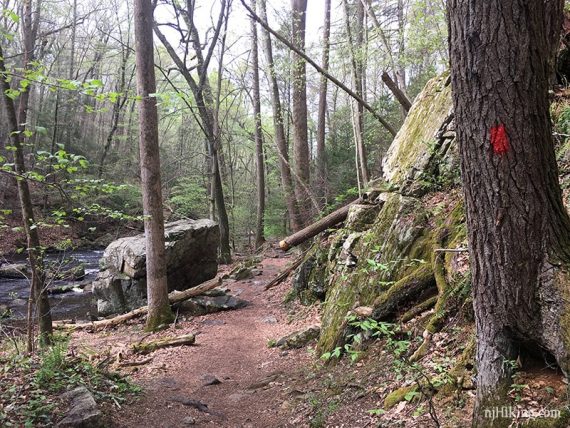 1.5 – Continue on Riverside (RED) as it veers LEFT where Three Pools (BLUE) goes straight.] [Shorter: Three Pools (BLUE) leads directly back to the Main Trail (WHITE) to cut it shorter]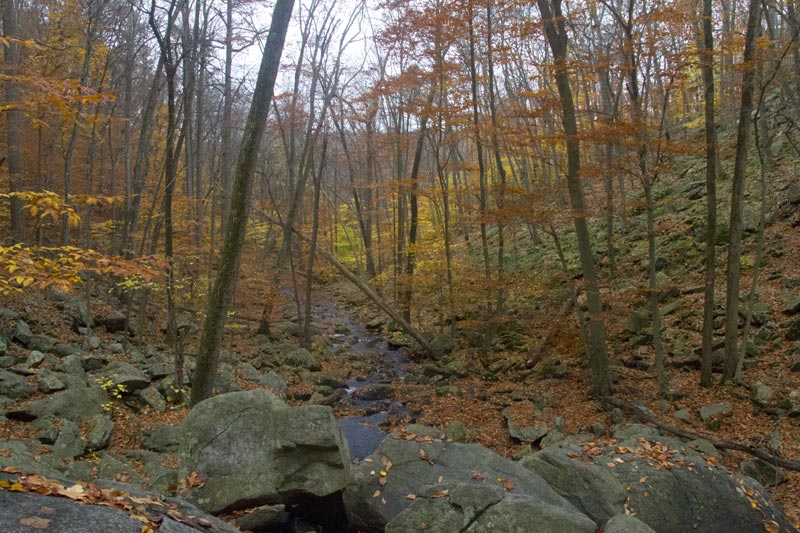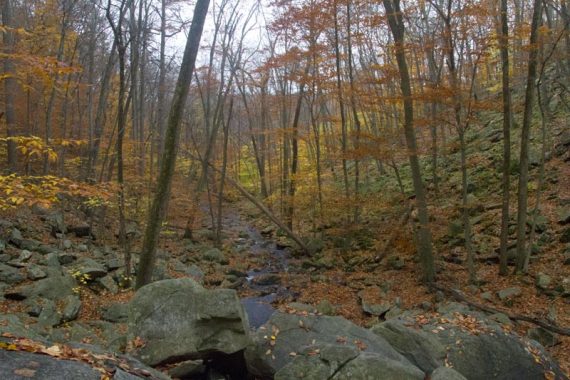 Cross bridge #6 with cascades on either side of it.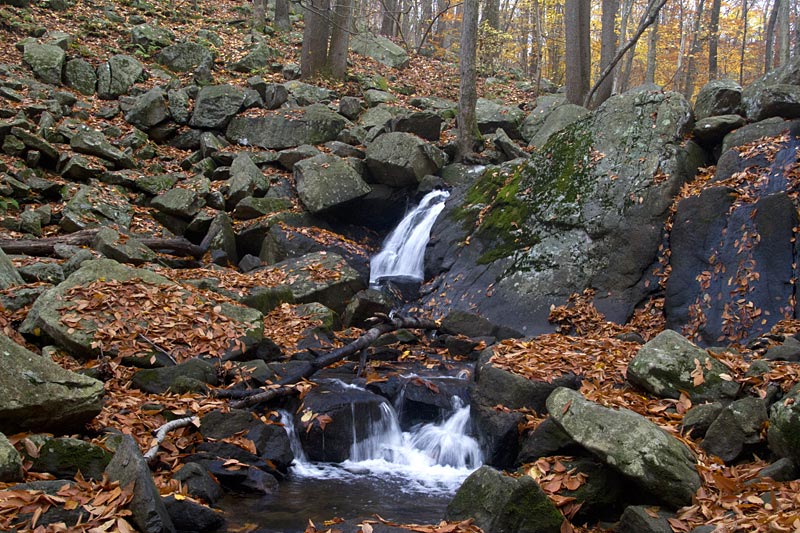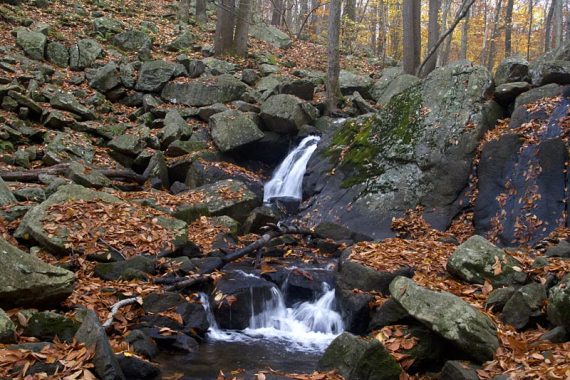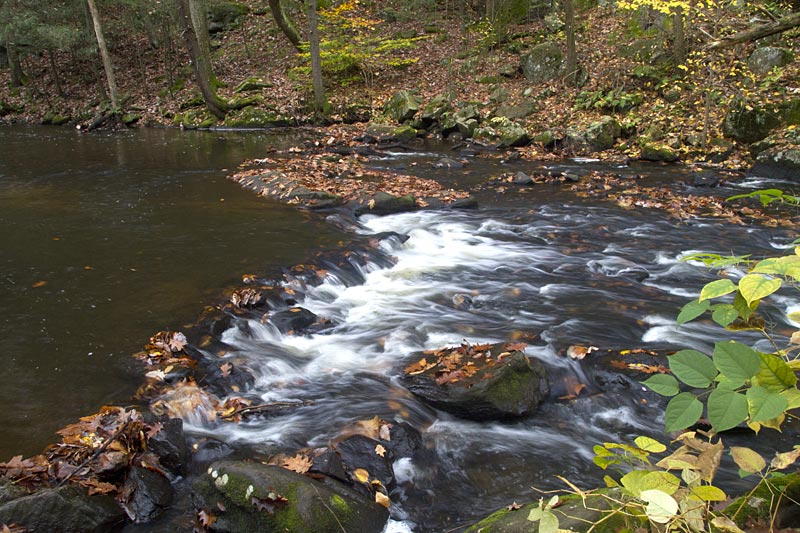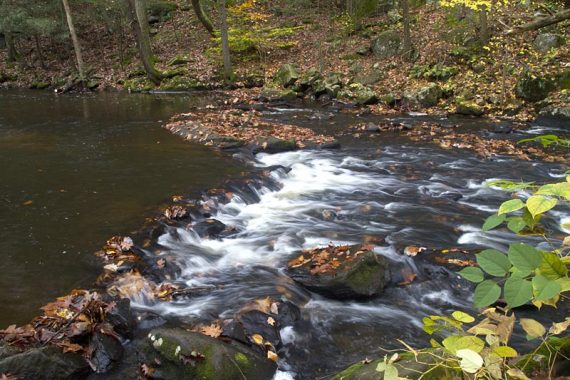 1.7 – At a T-intersection, turn RIGHT to continue following Riverside (RED).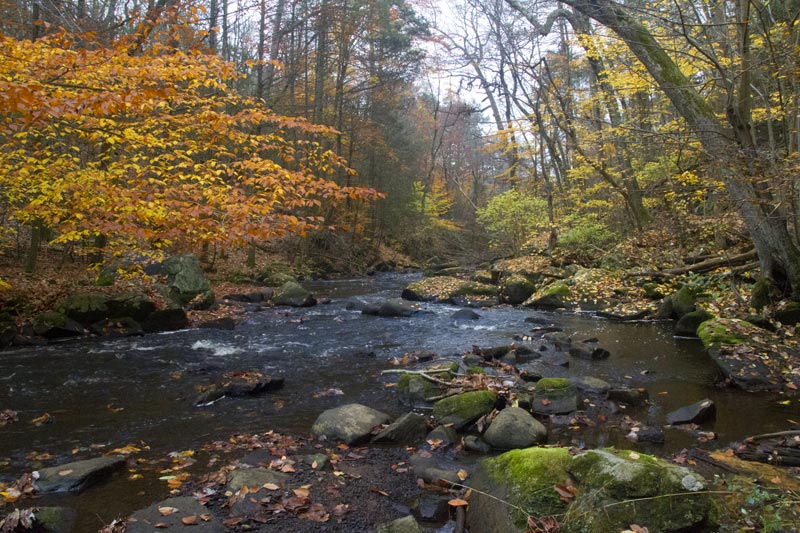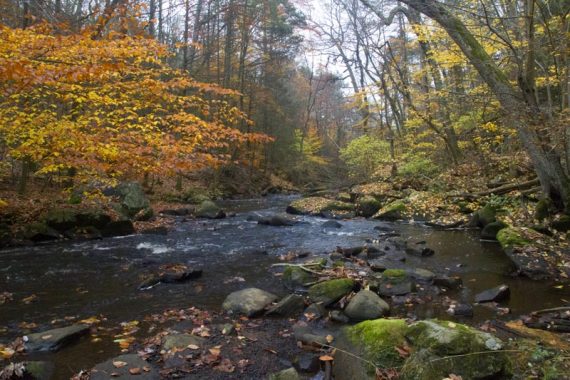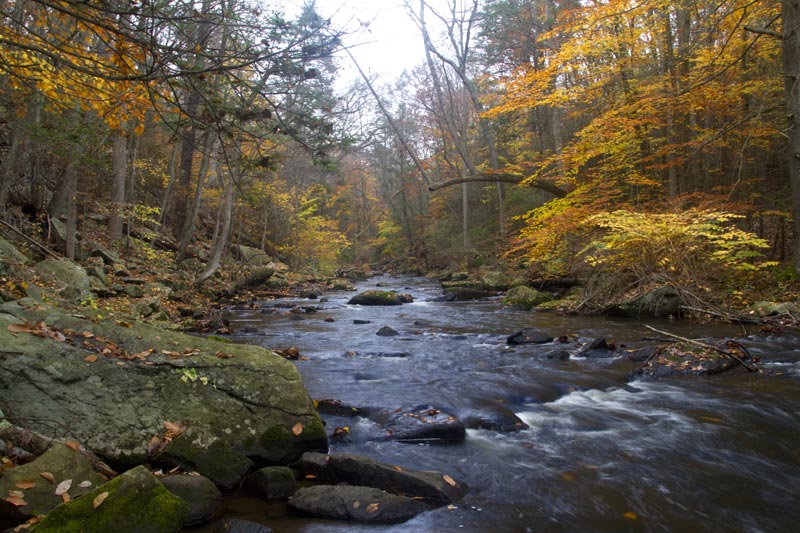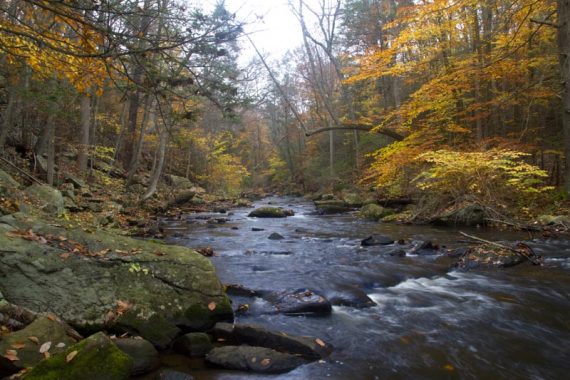 ———
Optional add-on: Instead, turn left and take a very short connector trail to stone boundary markers for Susan Parker Borie and Hacklebarney, and a bench with a view over the river.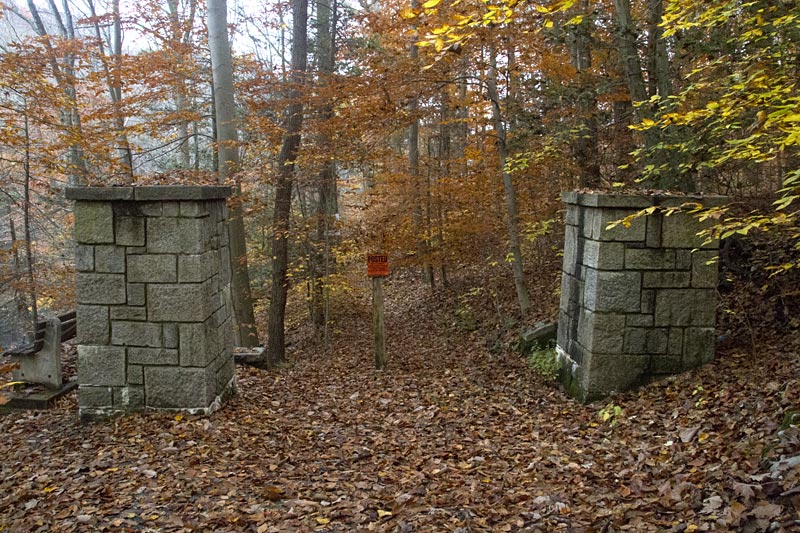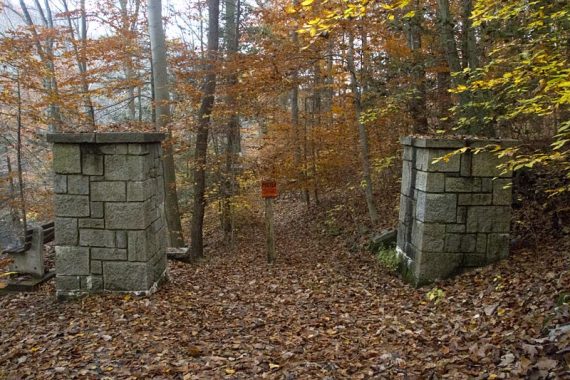 Beyond that is posted Private Property so you can't continue further. Backtrack to the junction and continue straight on Riverside (RED).
———
1.9 – Cross a bridge. A tree has Riverside (RED) and Main (WHITE) blazes. [Riverside (RED) ends.]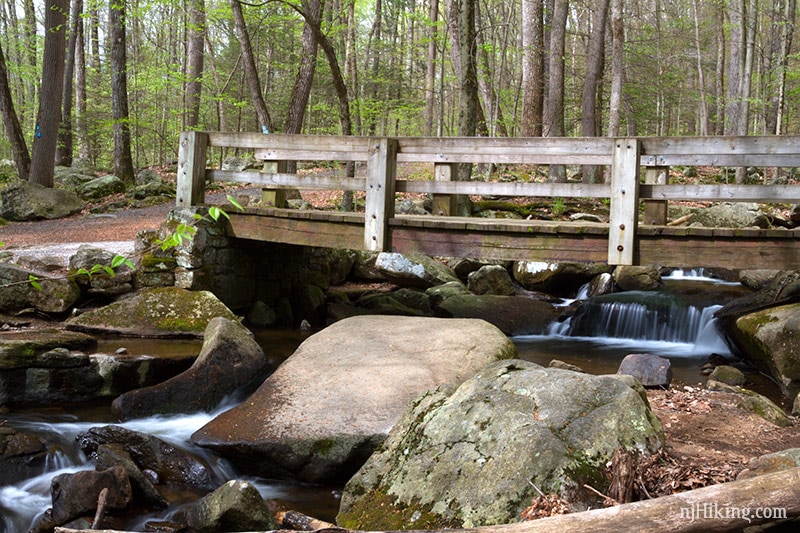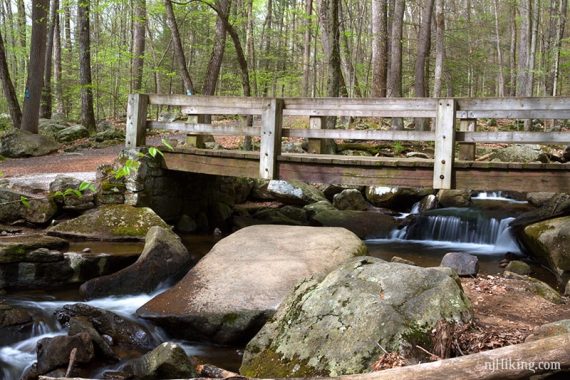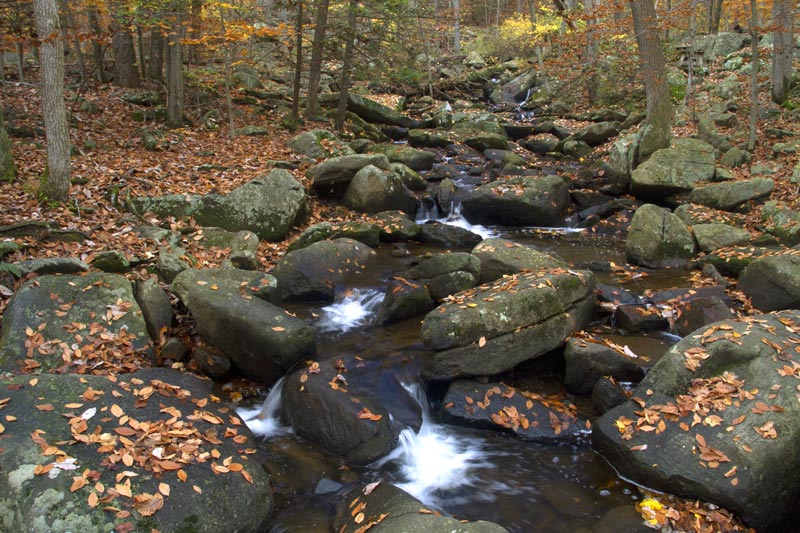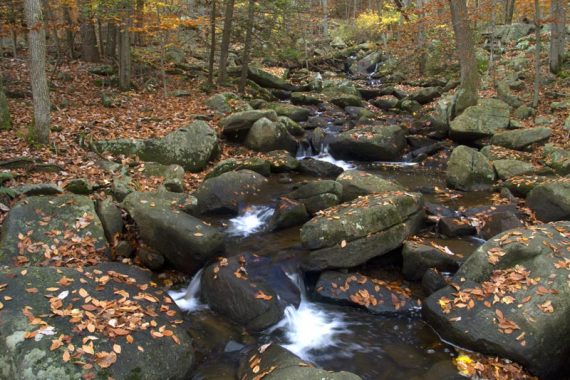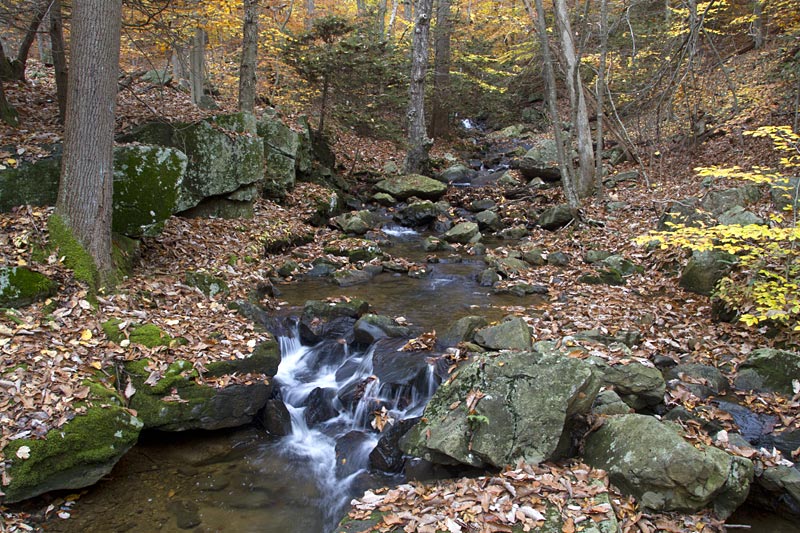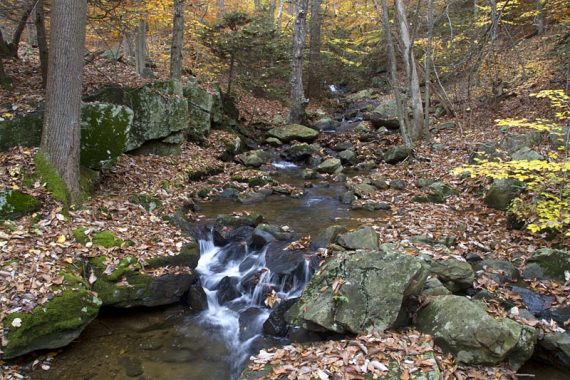 Walk toward the small stone pillar, and turn LEFT to start following Windy Ridge (YELLOW). This heads steeply and steadily uphill.
[Shorter: Main (WHITE) goes to the right, take this for an easier and shorter route back. Riverside (RED) ends.]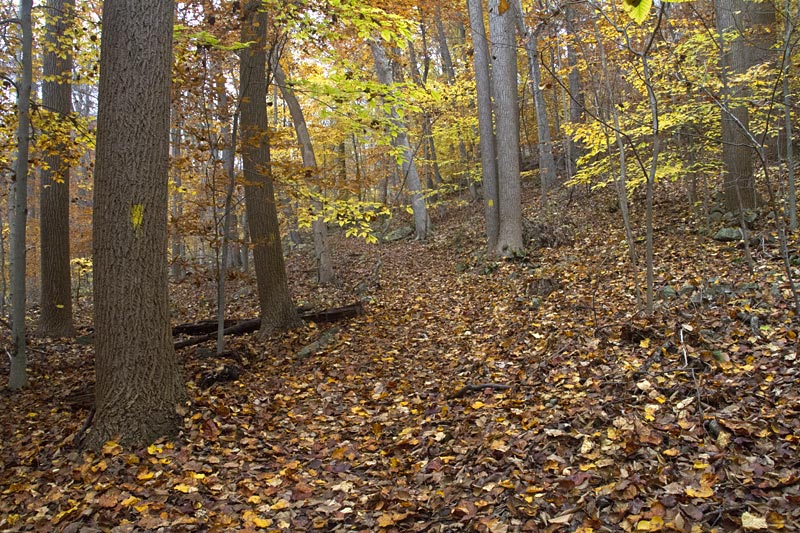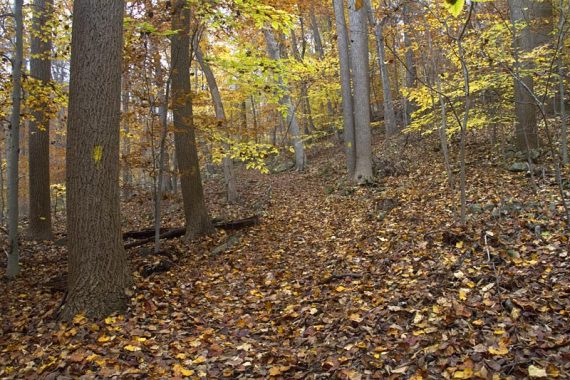 2.4 – Make a sharp RIGHT to now follow paved Main (WHITE). [Main (WHITE) also continues to the left and will head much more directly back to the parking lot].
2.5 – Make a sharp LEFT to now follow Haki (LIGHT BLUE) downhill.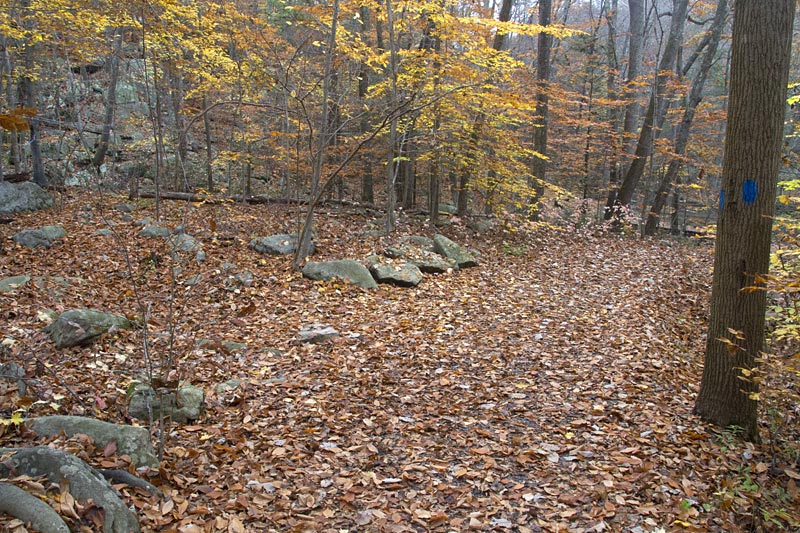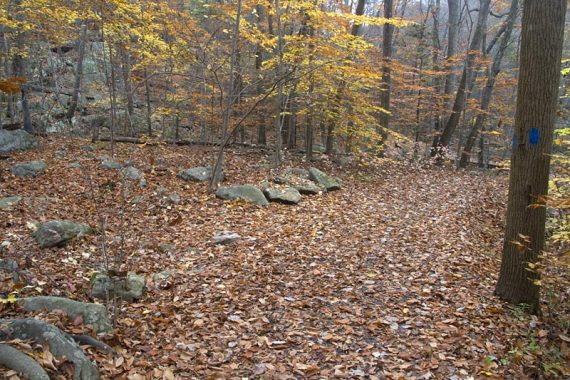 2.7 – Veer LEFT, to now follow Wintershine (ORANGE). Cross bridge #3, with more cascades. Continue following Wintershine (ORANGE) along a ridge, with the river below and off to the right.
3.1 – Turn LEFT and now follow Riverside (RED) – you were at this intersection earlier in the day.
3.4 – Turn LEFT to cross bridge # 2. After crossing, turn RIGHT to follow the Waterfall (PURPLE) which ends at Main (WHITE).
3.5 – Turn RIGHT and follow Main (WHITE) back to the lot.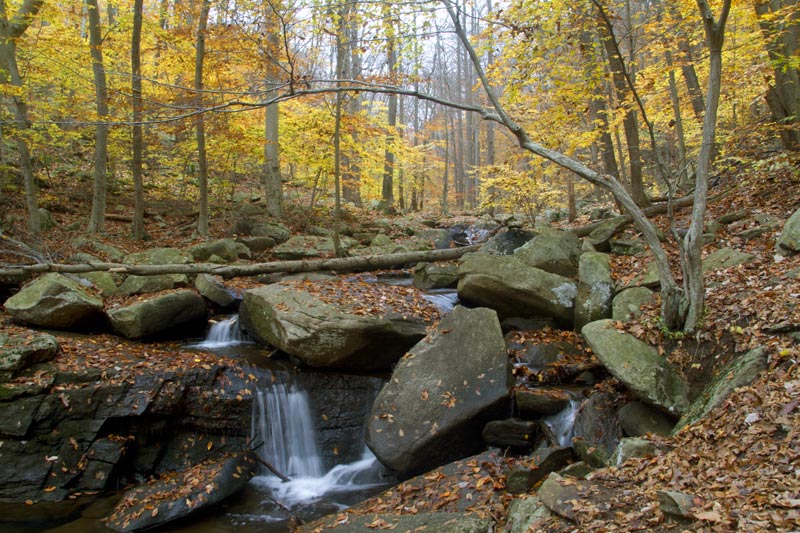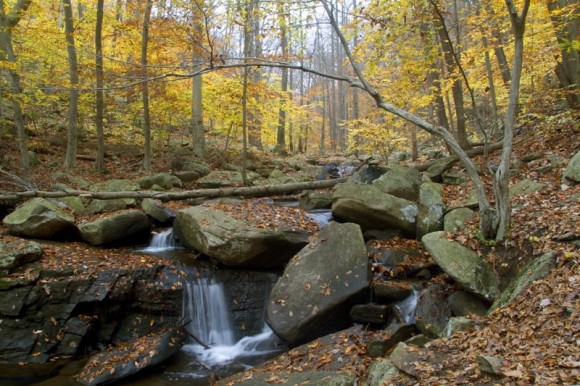 —
Hiked: 4/29/17.
Hiked: 10/27/12 – Trail Blog: "Hacklebarney State Park in the Fall"
Hiked: 04/26/09 – Trail Blog: "Hacklebarney State Park in April"